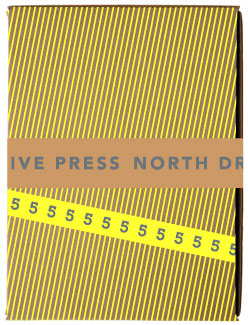 I first heard about North Drive Press while working at Ooga Booga. It was selling well because it had been featured on Daily Candy, an insider newsletter on the "latest in fashion, food, and fun." I think North Drive Press counts as fun. Daily Candy had pegged it as a tool to impress art snobs, a key to unlock the world of contemporary art.
Technically, North Drive Press is a cardboard box of artist multiples, interviews and texts. It was started in 2003 by best friends Matt Keegan and Lizzy Lee and named after the street that connects their childhood homes. The project was originally designed to function as a mobile exhibition for emerging artists, but quickly evolved into an annual non-thematic publication. Issue 5 is the final issue.
Like past issues #5 contains a variety of formats, from a Bart Simpson t-shirt to a photo of Damien Hirst's penis. Although I don't smoke I like handling Aurel Schmidt's faux cigarette butt, a three-dimensional translation of her detritus drawings. For my fellow non-smokers there is also a mashed-up 'no smoking' sign by NY-based Nick Relph that would look amazing on an apartment wall.
What I like best about North Drive Press is that it can act as both an archive and a fanzine. It's as important as you want it to be. You could re-gift each multiple or earnestly collect each issue. In his recent documentary,How do you document a city?, Keegan interviewed archivists in San Francisco about their city and the relationship between objects and social history. With that concept in mind, North Drive Press could be called How do you document a scene?
All of the interviews and texts from issues 1-5 are available for free on the North Drive Press website. North Drive Press #5 is available at Golden Age in Chicago, Ooga Booga in Los Angeles, and Printed Matter in New York.
View Matt Keegan's 22-minute documentary How do you document a city? here.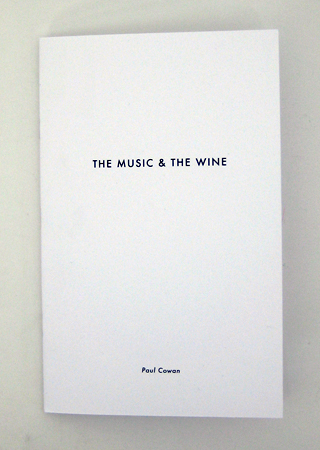 I just started reading Six Nonlectures by E.E. Cummings and I love it. Each time I set down my book I fantasize about being a Harvard grad class of 1936 (or earlier) and I want to write in that canonical W.A.S.P.-y  literary style. A style first introduced to me in middle school through The Great Gatsby and Catcher in the Rye, and later impressed upon me in college through Burroughs, Stevens, Kerouac, and other dudes. These frequently referenced stories are part of an American myth that I can't seem to shake.
My friend Paul Cowan knows what I'm going through. He recently released a collection of short stories entitled The Music and the Wine that follow a series of unnamed protagonists through everyday scenarios. The vignettes are about "nothing," meaning ideas that are hard to describe: why your favorite pants are your favorite or what it feels like when someone steals your jokes. Paul once told me that he thought reading fiction was indulgent and his writing is decidedly enjoyable.
The Music and the Wine is a bizarre homage to the great American novel. In Wilke Dairy Co. Cowan acknowledges his indirect nostalgia for a time that only really exists in retrospect. He celebrates the Midwest and the 1950s. In Wilke Dairy Co. the narrator recalls a perfect night making out with Ann Wilke, a dairy heir, in her parents' basement. The narratives are funny, nearly satirical, and my favorite is about a divisive social butterfly. It begins, "It's a thin line between love and hate. And I never walk that line."

The Music and the Wine is available from Paul Cowan and Golden Age. On Saturday, March 27th 7-10pm please join us at Golden Age for Alla Prima, a show of new works by Paul Cowan. Visit www.shopgoldenage.com for more information.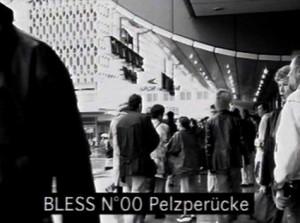 During a recent visit to Los Angeles I picked up the video compilation BLESS: Celebrating 10 Years of Themelessness at Ooga Booga. When I asked Wendy, the shop owner, about the dvd I was told "It's not for people new to Bless. You won't learn more anything about them. It's for the true Bless fan." For a moment I considered whether or not I was a true Bless fan and decided that I was.
Bless is a conceptual fashion house based in Paris and Berlin started by Desiree Heiss and Ines Kaag in 1996. They release products designed to "make the near future worth living for." They make thoughtful garments, jewelry for electronic cables, hanging wardrobe mobiles, and other items intended to be used, lived with, and sometimes discarded.
BLESS: Celebrating 10 Years of Themelessness, released by Bureau des Videos, collects 15 short videos from the Bless archive. Many of the pieces are documentation from the public presentations of their varied collections. In No25, Uniseasoners, as people enter the dining area of a restaurant they are seated by servers wearing Bless clothing. The servers take orders, bring wine, and later bring food. Everything is normal, maybe even boring, except for occasional pauses to highlight elements of the clothing. A scarf turns into a hooded sweater. In another video, No13 Basics, a narrator lets me know that we're in an apartment in Paris where several friends have spent the day together "wearing sweaters, bodysuits, trousers and customized Levi's jeans" as if they were their own.
There is nothing precious about Bless. Bless is a project that presents ideas about living. There is no lifestyle to buy, you must bring your own. As their modest iWeb page says, FITS EVERY STYLE.
Henry Roy's Spirit seems to live even as it lay open on my kitchen table. The cover image depicts a sleeping man in breathtaking color. The man's rich, dark skin and the green of a plant in the background pop against the amorphous beige interior that surrounds the scene.
Spanning the past ten years of his career, Spirit collects nearly 50 photographs and 6 short stories that capture a mystical energy. With the eye of a portraitist, Roy skillfully isolates his subjects and obscures their circumstance. Working in a "very intuitive, almost mediumnic way," Roy manages to express a poetic tension between reverie and the mundane in his images.
My favorites stories in the book are Paris In October and A Night In Africa. The former is a brief ode to the Parisian autumn, while the latter tells of a half-drunken protagonist urinating on a bathroom wall. Both stories are narrated by an urbane young man suffering from a bout of ennui. The ordinary settings of the narratives provide a nice counterpoint to the dreamy images, and make me a little less jealous of Henry Roy's life.
Spirit was released in October by Gottlund Verlag, a small publishing house based in Kutztown, Pennsylvania. Available at Gottlund Verlag online and Golden Age in Chicago.
Got a response to this post? Let us know! Email your comments to mail@badatsports.com. We'll feature thoughtful responses to issues generated by our posts in our Letters to the Editors Feature on Saturdays.
Sometimes I think that art writers, before launching into a review of this or that exhibition, should overshare in the manner that's fashionable today and note the mood they were in whilst viewing the show in question. Such status updates would function as a form of disclaimer by revealing the external (or are they internal?) factors that may insidiously affect the reviewer's state of mind. Today, mine would have been:
plagued by a gnawing hunger
headachey
really need to pee (unsmiley face)
Who can say how this physical discomfort may have affected my take on Gallery 400's "Our Literal Speed: events in the vicinity of art and history" exhibition, but I'll tell ya, I thought the show was a hoot. Just to clarify, I'm talking about the exhibition that's up through July 4th, not the conference events that already took place over the April 30th weekend, which I couldn't attend. The exhibition is not a documentation of those weekend events but is pretty much a discrete thing-in-itself, although its conceptual links to the conference are obvious. Both exhibition and conference bill themselves as
"a kind of 'media pop opera' or 'administrative gesamtkunstwerk' that includes fluid and/or jagged transitions among scholarly presentations, panel discussions, artist's talks, performances, and an art exhibition within an academic conference….The project offers a temporary laboratory in which a concerned public can investigate non-formulaic, experientially vibrant and theoretically precise responses to the modes of distribution, consumption, and circulation that drive contemporary art."
It seems fairly clear that everyone involved was in it for the laughs (such as they are), while at the same time being perfectly serious. One of the exhibition's central visual conceits is that of the performance and the stage, with academicians and other arts professionals as the role-playing performers. But what we see in the gallery are empty and disembodied stages, while audiences (when shown) appear bored or distracted as they observe something that's been obscured from our own view. The audience in Sharon Hayes' single channel video "10 Minutes of Collective Activity," for example, fidget and yawn as they listen to an archival audiotape of Connecticut senator Abraham Ribicoff's controversial 1968 speech to the Democratic National Convention in Chicago, in which Ribicoff nominated George McGovern for President while violent street protests erupted outside.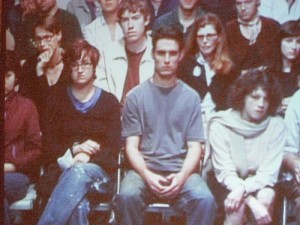 Even the people who are onstage appear alienated from the proceedings. Jackson Pollock Bar's "Picasso/Braque 1989," (2009), which is described as an "installed theory installation," reenacts a panel discussion with the art historians Edward Fry, Yves Alain Bois, Rosalind Kraus and Leo Steinberg that took place twenty years ago during the 'Picasso and Braque' exhibition at MoMA. The video and (barely audible) audio tracks are out of sync, because the voice track–based on an edited transcript of the original 1989 discussion–was recorded by one group of people and then acted out by a different group who essentially lipsynced the recorded discussion, giving voice and gesture to the text in puppet-like fashion. (The woman who performs Rosalind Krauss as a snippy, hair-flipping drama queen is hilarious, stealing the show when she apes lines like, "Your interpretation is wrong!" and "I find this repellent!" Ah, theory humor. You gotta love it.)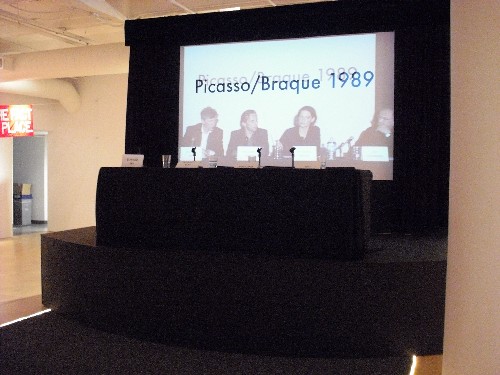 Critic Jan Verwoert (who's a dead-ringer for a certain parodic ex-SNL character) checks his cell phone while presiding over the mock-trial in Hila Peleg's 100 minute dvd, "A Crime Against Art," 2007 (click on the link for a brief clip). Peleg's film is based on a staged trial at an art fair in Madrid, which was itself fashioned after Andre Breton's mock trials of the 1920's and 30's. The idea is that an art crime has been committed, and there are "experts" and "witnesses" who take the stand to testify, but no one can get at exactly what the crime is, or who's responsible.
A stream of familiar buzzwords flow from the mouths of these critics and curators-cum-performers, like old friends from high school who you once thought were cool, but seem sort of sad and adrift now, twenty years later: words like 'agency,' 'strategical' (yep), 'opacity,' 'reification,' 'criticality.' My head was starting to ache from it all, but then again it could have been the hunger. I took off the headphones before Verwoert rendered a decision of guilt or innocence, but not before taking note of Bard College's Center for Curatorial Studies director Maria Lind's bright red fingernail polish. Did she get them done just for the trial, I wondered, or do they always look that nice?
A sense of the gamely absurd, of Beckettian tragicomedy, hangs over Our Literal Speed. I had initially thought it might not be worth it to see the show if all "the good stuff"– i.e. the live events–had already happened, but I now think I saw this exhibition under exactly the right conditions: several weeks after all the talks, events, and parties were over, in a gallery that was empty of live bodies (save for my own and those of a few staff members). My pounding headache and desperate need for food and coffee finally drove me from the gallery, but poor Rosalind, Jan and Maria were forced to remain there, their discursive performances replayed over and over in an endless loop, like Beckett's pantsless Estragon and his pal Vladimir, still out there somewhere waiting for Godot.
Estragon: I can't go on like this.
Vladimir: That's what you think.
Through July 4th, 2009 at Gallery 400.