I know it was a long time ago. We're nearing the end of October, already, and for my tardiness I apologize. It's just that this show has stuck with me for a couple months now, I've been doing some writing about it here and there, on scraps of paper or loose napkins–sites for thinking that get lost, wilt, tear or bleed. I wanted to take this opportunity to compile what I remember of those thoughts. I hope you'll bear with me. I've always been the sort of person to write at a distance. It takes me a while to process things and put them in perspective. Perhaps for that reason, I have been unable to let On The Make go.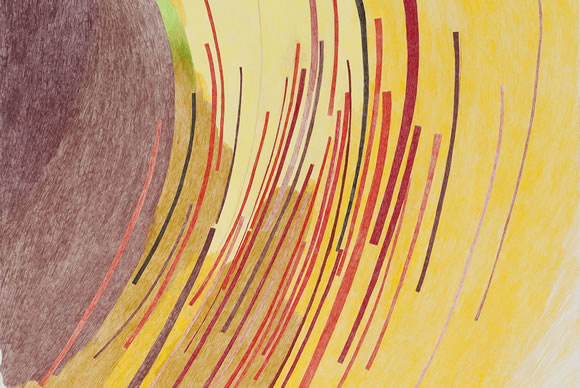 Studio as Portal:Â  Musing Carrie Gundersdorf
a summer 12×12 at the MCA

by Caroline Picard
We have not only traversed the region of pure understanding and carefully surveyed every part of it, but we have also measured it, and assigned to everything therein its proper place. But this land is an island, and enclosed by nature herself within unchangeable limits. It is the land of truth (an attractive word), surrounded by a wide and stormy ocean, the region of illusion, where many a fog-bank, many an iceberg, seems to the mariner, on his voyage of discovery, a new country, and, while constantly deluding him with vain hopes, engages him in dangerous adventures, from which he never can desist, and which yet he never can bring to termination. – Kant, Critique of Pure Reason
Gundersdorf's show at the MCA this last summer included abstract drawings of planetary bodies. These works simultaneously point to the limits of human perception while embracing the uncertainty those limits provide. Such a philosophical position is difficult to occupy, for it confounds one's preferred sense of security. Likely for that reason I was totally smitten with the show. While investigating a conceptual perception, Gundersdorf aligns herself with the history of painting, stepping off from Modernism's abstract platform while incorporating contemporary tools for research and celebrating the very literal limitations of human understanding.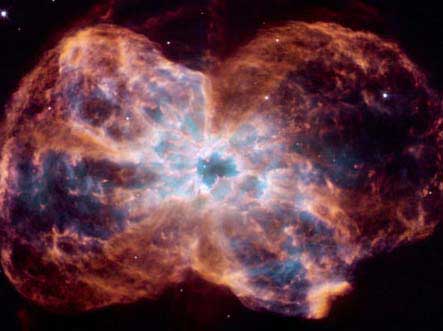 Months ago I heard a program on the radio about stars and galaxies. In that program a woman called up in order to ask if the images she'd seen of planets and stars were accurate. She wanted to know in order to anticipate what her world would look like when she died (and went to heaven). The ensuing conversation was remarkable as the host tried to answer her question. "Will it look like those pictures when I die, that's what I want to know," she said. "What will I see?" Although unruffled, he nevertheless paused. "It could look that way?" he said. "At the same time all of the images you see in books have been manipulated to highlight different data. It wouldn't be as colorful, although I really don't know what your eyes would be like and how you would see, so you might actually see a whole host of other colors. Or perhaps you wouldn't see anything. It might be completely dark.  You might only
feel the universe." I believe the caller hung up unsatisfied.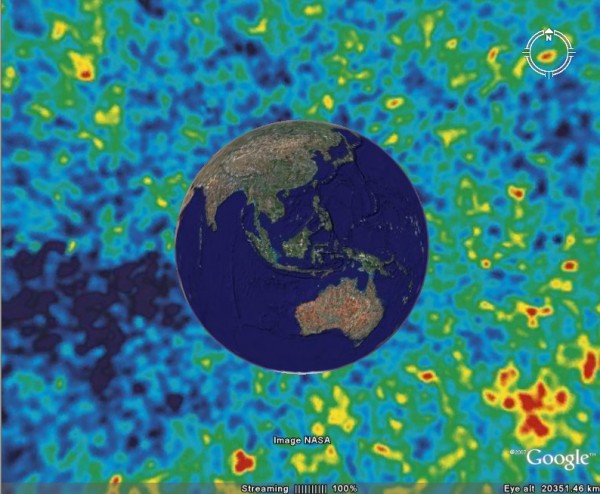 The Cosmic Microwave Background is another illustration of the literal bounds of human knowledge. With a radio-wave telescope, scientists measure the microwave region of that wavelength. In doing so, it is possible to measure the Big Bang's residual radiation. Because no one can explain this radiation without using the Big Bang as a model, it has become the preferred explanation of where "we" come from. Even with that theory, however, there is a 'beyond' to that microwave background. It is a conceptual beyond, however; we cannot "see/feel/measure"  it. We only posit its existence because the alternative would suggest a kind of Shel Silverstein drop off, where the universe ends as his infamous sidewalk. Just as Kant described the limits of understanding so the human being is incapable of going beyond certain perceptual bounds. Nevertheless there is a deep-seated impulse is to press past and conquer.
Not so with Gundersdorf.
She celebrates those boundaries in her work, using a combination of abstraction and lo-fi production (paper, color pencil) that seem so far removed from traditional celestial explications as to be unrelated. Her images, while based on scientific astral data, deconstruct that high-resolution imagery, breaking it down and simplifying it's celestial character into blocks of color and thick radiating, parallel lines. Via that transcription, Gundersdorf destabilizes the assumptions of knowledge, pointing to an obvious post-modern subjectivity and pairing it with a limited ability. It is not simply that each individual is the center of his or her own universe (and thus create discrepancies in experience because of perception). It is also that our eyes are not astute enough to see  unequivocally. The customary images of outer space suggest an apprehension of that space, a mapping that conveys an impossible physical/visual experience. Consequently Gundersdorf's work offers a more accurate depiction of my understanding of the environment outside the earth.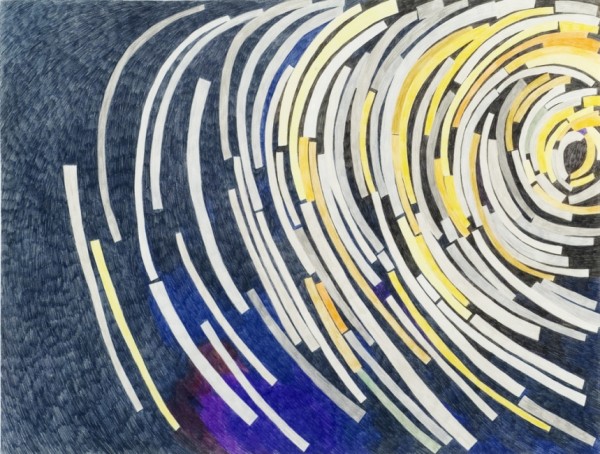 While referencing the language of modernism, she also undermines its self-assurance. As I see it, Modernism was an attempt to simultaneously dispute the previously accepted coherent universe (wherein the creator is a watchmaker and the world a watch, for instance) while celebrating the ability of a single individual to create monuments within an otherwise chaotic world. While Gundersdorf embraces and incorporates the impulse of abstraction, just as she is fully aware of the cannon she participates in, she nevertheless undermines the idea of a apprehension. While she interprets light, that light is artificial or illustrative. Even through the process of a single painting, during which time she no doubt studies a single image, she comes no closer to an objective "truth" of that image. Instead she develops a subjective relationship to her already interpretive source material. The light she works from is conceptual, intended to highlight certain scientific truths. The resulting work has a personal touch, creating a signifier of a faraway place.
In each piece her hand is ever present—this is not a slick photorealist surface, rather it is a surface that questions itself, borrowing naive materials to illustrate the naivete of our assumptions. It admits some deep insecurity, one perhaps endemic to present times, where the footing of an individual and his or her beliefs is unstable, shifting, subjective and flat. Nevertheless the character of her line, the painstaking way in which she colors the entire surface, is endearing to the subject and evidence of care. While it may examine unapprehendable distances and imperceivable phenomena, this work is not about alienation; perhaps it's most important feature. It demonstrates, by of example, a way to deal with subjectivity, a way to deal with historical precedents and dialogues, without feeling overwhelmed. Because this work is  unapologetic–large scale drawings, with large, unaffected blocks of color– Gundersdorf shows a way to embrace the unknowing, to celebrate forays into intuitive and immeasurable spaces—to consider the space beyond one's ken as a place for inspiration rather than fear.
Astral systems have always been fascinating places—almost inconceivable landscapes through which the earth sails. Rife with different phsyical properties and laws, outer space is bold and full of myth. It is a place we go to examine philosophical questions: Who am I? Where did I come from? It is also a space of hypothesis and conjecture, for outer space does not speak our language directly. It does not afford concrete answers. That's why On The Make was so compelling to me, even relieving–because it began to talk about translating that space and gently soothing the out-of-focus-ness of existential answers. The answer, after all, is in divining those answers and putting them to paper. Perhaps those modernists were right about monuments after all?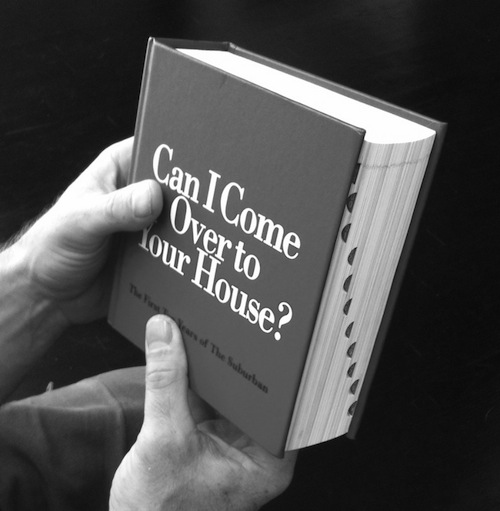 Can I Come Over to Your House?, the anthology commemorating the first ten years of The Suburban, has a strange power to make its beholders confess to their unwavering love of co-founder Michelle Grabner. "I know I'm impulse buying, but I have to get this because Michelle Grabner is my hero," a buyer admitted before purchasing a copy. A few days earlier another artist had disclosed that she "wanted to impress Michelle Grabner" while she fondled the stout red volume. Some visitors have taken to staring deeply into the cover and clasping their hands around the book. I try not to interrupt them.
I was surprised to hear this outpouring of devotion to Grabner from so many artists. I thought I was the only who dreamed of being her best friend. Everyone loves Michelle, especially those who "hate" her, and this little book reminds us why. The encyclopedic publication features contributions from the art world's heaviest hitters from James Welling to Olivier Mosset to Wade Guyton to the Midwest's patron saint of art David Robbins. Anyone who had ever exhibited under the umbrella of The Suburban was asked to submit four to six images and a brief text that "would best represent" their practice.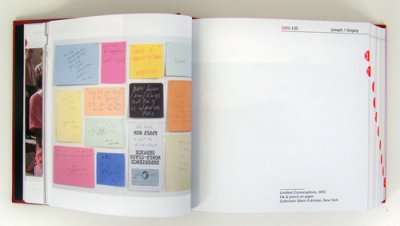 Karl Haendel's provocative text, Questions For My Father begins, "Why did you decide to have children? What if I came out retard? How close did you come to hitting me?" Amy Granat opts for the traditional artist statement, while David Hullfish Bailey provides two (three?) artist statements AND an essay by Danish curator Jacob Fabricius. Novelist Jonathan Safran Foer gives us no words and only images. If an exhibition at The Suburban is "more closely related to what happens in your studio" as Grabner said in a recent interview, then Can I Come Over to Your House? successfully translates that practice to print in this thousand page guestbook-cum-sketchbook.
Can I Come Over to Your House? is available at Golden Age in Chicago. Visit The Suburban this Sunday for the opening reception of Jeff Gibson and Geoff Kleem and come to Golden Age on September 25th for the launch party of Can I Come Over to Your House?.
Review of the Art documentary "William Kentridge: Anything is Possible"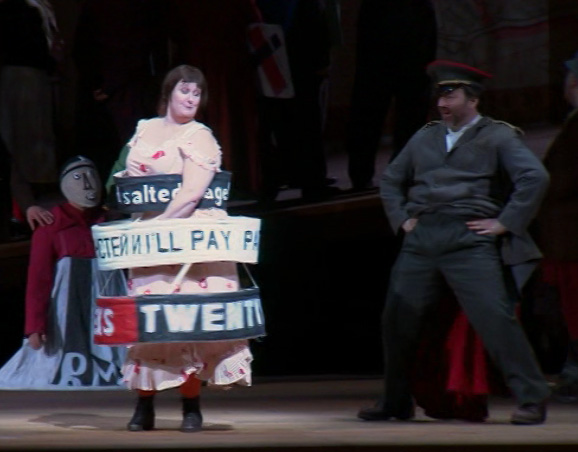 I love Art documentaries, I have watched almost every one that I could get my hands on over the years much to the displeasure of my wallet (they are always more expensive then the average film) and anyone I share a Netflix account with (watch enough art films and Netflix will make all sorts of assumptions about you in it's recommended films algorithm).
Art docs have always been for me a great way to survey the work, personality, and tone of any artist. Its rare that the average person can get one on one time with an Artist of interest and when you do it's more often after they have talked to 40 people before you and are 8 cups deep into the free beer or wine the gallery/school/institution/art fair put out. So in effect you get less then stellar conversations (not always mind you, the exceptions are often amazing) or and this is the truth for anyone artist, politician, scientist, what have you; that its hard to always be "on" and be able to talk extemporaneously and with give and take about your work. Art professors the world over try to beat the need for this skill into their students but the dirty secret is the professors often times are no better and have been no better for 20+ years. Fact is it's a hard skill to learn for anyone and Art docs help with the magic of editing to give you the best moments of conversation possible.
Thats why its so saddening when you often times see artists speak vaugly, paradoxically, or with a straight faced serious non sequitur, much as the case with Art:21's first feature length, solo artist film outside of the biennial Art in the Twenty-First Century series. Art:21's "William Kentridge: Anything is Possible" is a well directed film with good production values. "Anything is Possible" has everything I look for in a good Art doc except William Kentridge is the typical "say nothing by saying much" artist in the film and this is after the director/editor has worked to make it as structured, poignant & narratively focused as possible since it is in their best interest to do so.
It's kind of painful to watch after a while since it is clear with how Kentridge's monologues are woven into the tapestry of the film as intros or outros to scenes and quickly cut that the production team didn't really know how to make use of statements like "making art was a way of arriving at knowledge that was not subject to cross examination" and treated his narration more like a soundtrack to pop a scene or set a tone, not to make a statement to be followed by the audience. Very little of what William Kentridge says in the film sheds light on his youth, early career, family, later career or deeper intent other then then the very basic themes of a piece or style.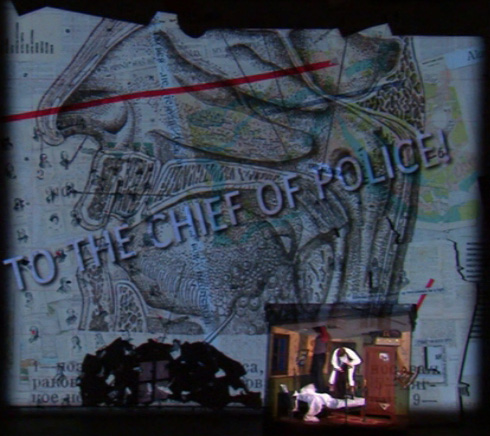 Having said this his skill as a stop motion filmaker, animator & stylized puppeteer is very facinating. His highly graphic, russian constructivism style of working has great impact and the director of "Anything is Possible" made strong use of this fact. The film by and large is a visual symphony of the various components that Kentridge uses in his practice, introducing them one at a time and then at the last movement bringing them all together in one operatic scene with as much scope as possible. Where the end of the film centers around the Artists collaboration with the Metropolitan Opera in a performance of Shostakovitch's 1928 work "The Nose". Then you see the shadow puppets, the animated drawing, the mix of 3d & 2d interaction, the projections that swallow the entire stage making humans look like ants & the political pageantry that winds it's way through much of Kentridge's work. Then and saddly only then does the film start to pay off.
I love the series Art:21 and know how difficult it is to organize, finance and execute interviews, artists, performances & such but I walk away from this first long form solo film wishing they had picked someone else to showcase and the feeling it was actually a behind the scenes for a yet to be released Met Opera DVD. Kentridge's work and in many ways the man himself is so esoteric that few will be able to really sink their teeth into this or even care to try? I am not saying make the first film on anything as extreme as the out of favor Chapman brothers or zeitgeist Shepard Fairey but something more accessible and of interest to the twenty first century might be apropos.
The first line of the film is "My job is to make drawings not sense" which I realize he says to elicit a response from the audience of 60-70 year olds that are in attendance (watch the film and like Where's Waldo find someone born after Tang was invented) but it is sadly true of his general take on this opportunity to speak to a larger audience, an occasion that he drops and never picks up. You see when I said earlier that the average person rarely gets a one on one with an Artist they are interested in it is doubly so for an artist to get the opportunity to broadly speak to a captive audience in such a way as this and when you do: teach us, illuminate us, speak to us, move us for sadly in life you get one or two chances at most and we move on to someone who will.
The broadcast premiere of "William Kentridge: Anything Is Possible" takes place this October 21 at 10:00 p.m. ET on PBS (check local listings). Susan Sollins, Art:21's Executive Director & director of this documentary made a good film out of a poor subject choice, hopefully next time a more fitting and engaging person will be showcased.
Manystuff is a blog, edited by the mostly anonymous Charlotte Cheetham, that offers a "daily selection" of graphic design. Manystuff has a devout, international following of 5,000+ visitors a day, they regularly organize design exhibitions and recently began publishing a magazine. Manystuff #1 is actually the second issue. Manystuff #0, More Real Than Fiction was released in 2008, but I wasn't able to get my hands on it, so it remains less real to me.
Manystuff #1, One Possible Catalyst states its case modestly. The objective is to "fix a laboratory of experiments and meditations released from formal and theoretical prejudices." One Possible Catalyst is not for those seeking a practical treatise about running your own studio or how to do-it-yourself, nor those looking for a barrage of striking images to consume. It comes as a refreshing counterpoint to the glut of design thinking, design within reach, and design sponging that currently abounds. One Possible Catalyst is for serious thinking about Design. Read it when you're feeling cynical, but not when you're feeling sleepy.
(Contributors were asked to diverge from the following three themes:)
Less is more
This way of life has become a cliché and/or vice versa. Less is More is an argument for minimal graphic design that features an essay on the public notice by Rob Giampietro, a collection of business cards from Christian Brandt and a historical survey by Olivier Marcellin. Succinctly, "Use of a sans-serif and a uniform background."
Support Graphic Design
Support Graphic Design is a catalog of structures used to hold posters and other designed objects, including outdoor benches from EventArchitectuur, billboards from Experimental Jetset, and a mobile bookshop from Robin Gadde. I was struck by the beauty and economy of the mobile bookshop, a succession of plywood sheets with rectangle cut outs for shelves.
Transmission
The headline asks "What about intergenerational relations between designers?" I often wonder if it's even possible to establish intergenerational relationships outside of an institution. Sometimes I lament that the only way I'll be able to meet so-and-so is to go to X school or secure another internship with no pay but lots of prestige. Although One Possible Catalyst provides no alternatives, it does offer a series of texts pairing educators with students and employers with interns that contemplate the role of generational exchange within the field.
Manystuff #1, One Possible Catalyst features contributions from Christian Brandt, Lorena Cardenas, Change is good, David Conte, Pinar Demirdag, Neil Donnelly, Laurent Fétis, Kees de Klein, Wayne Daly, Bear Demen, EventArchitectuur, Experimental Jetset, Robin Gadde &team, Rob Giampietro, Hannes Gloor & Stefan Jandl, Catherine Guiral & David Cluzeau, Arnaud Daffos, Vincent Lalanne, Aurélie Guérinet, Rikard Heberling, Hey Ho, Hyoun Youl Joe, Julia, Konst & Teknik, Sacha Leopold, Olivier Marcellin, Fanette Mellier, Pipi Parade, Please Let Me Design, Thibaut Robin, Grégoire Romanet, Mathias Schweizer, Maki Suzuki (Åbäke), Pierre Vanni, Karen Willey, and Ivor Williams.
It is available now at Manystuff.
Scott Wolniak was the proprietor of Suitable, an alternative (garage) space in Humboldt Park, from 1999-2004. He started the space after receiving his MFA from the University of Illinois at Chicago and ended it when the roof collapsed. The goal of Suitable was to provide young Chicago artists with an opportunity to show their work. Recently, Wolniak curated a show at Western Exhibitions consisting of videos that had been seen years earlier at Suitable. In conjunction with the exhibition, Suitable Video, Wolniak released a limited edition compilation of the works under the same name. Suitable Video: Volume 1 has a run-time of about an hour and includes work from Charles Irvin, Julia Hechtman, Sterling Ruby, John Neff, Kirsten Stoltmann, Marc Schwartzberg, Paul Nudd, Reed Anderson & Daniel Davidson, Sarah Conway, Miller and Shellabarger, Ben Stone, and Siebren Versteeg.
Sterling Ruby's contribution, Cook, is a one minute montage that combines several documentary-style sequences of clandestine meth labs while a distorted voice over repeats, "I'm a chemist, I'm a cooker, I'm a manufacturer, and a distributor. I'll do whatever the fuck I want in the privacy of my own home." The phrase is oddly catchy and I found myself singing it throughout the day. Paul Nudd's Wurmburth also stuck with me, out of disgust, it's really gross. I said this to a friend and she asked "Gross-sexual or gross-dirty?" For three minutes an amorphous phallus goes in and out of various neon green caverns, while smoke, mucus, and spit ooze out. It's both dirty and sexual. The piece I enjoyed most was Untitled (Nixon/HAL) by John Neff. In it a man gives two monologues against a solid blue background. The first is a statement that was prepared for President Nixon in the event of a moon disaster and the second is HAL's final monologue from 2001: A Space Odyssey. The melodrama and humanity of the texts are rendered emotionless by their messengers, creating an amusing tension.
I was a film student at the School of the Art Institute of Chicago and I recognized a few of the pieces from my video classes. During my senior year of college I wouldn't have considered Sterling Ruby young, Chicago-based, or in need of exhibition opportunities. When I saw these works at school they were presented out of context, completely removed from the community that is very apparent when I watch the Suitable Video anthology. "There is no thematic or conceptual agenda," Wolniak acknowledges in his curator's note. "There is a tangible sense of utility in much of the work– they do not seem fussed over, they communicate directly." Unfussy, direct communication is a fitting theme for a compilation meant to encapsulate the efforts of a DIY exhibition space. These type of spaces pop up when a group of artists, with the help of their most entrepreneurial peers, need the most immediate way to connect with an audience. Alternative spaces stop being effective once they fulfill that need and when they close their doors, they take that history with them. Last year's Artists Run Chicago at the Hyde Park Art Center was one way of telling the history of alternative spaces, Suitable Video is another.
Suitable Video: Volume 1 is available at Golden Age in Chicago.