The sound switches. Loud intensity and vibration. My body is permeated by the sound and radio waves. While watching the dancer move, I realize that all the cells of my own body are moving, oscillating, with the sound waves.

The dancer runs across the stage, throws herself towards the floor, glides. My body feels the impact of the floor on skin, skidding, sliding, perhaps squeaking.

Darkness and light, spotlights on my sight horizon. The moving horizon line, the white board, shifts my bodily perspective and orientation.
Jennifer Monson premiered her latest evening-length performance Live Dancing Archive at The Kitchen in New York's Chelsea neighborhood for a two-week run February 14th – 23rd, 2013. The project Live Dancing Archive comprises three components, which consist of three different archival practices: dance, video, and digital archive. The "Program Notes" for the performance states that "Each of these captures how bodies hold, transmit, and convey experiences and understandings of ecological systems as they relate to human movement through the specificities of their medium." [1] Monson's work explores the ability of movement itself as an archival practice; she is interested in the particular capability movement has to archive, record, and store the ecological systems that we experience.
For the two-week run, the video component of the archive was a a video installation which was on view during the day before the evening performances in The Kitchen's Theater. This part of the work, made by Robin Vachal, a videographer, video installation producer, editor, and teacher, consisted of editing approximately 50 hours of footage Vachal captured during the BIRD BRAIN Osprey Migration from 2002, an "8-week research project in which dancers followed the migration of ospreys along the Atlantic Flyway from Maine to Venezuela." [2] Watching the video, the audience experiences the dancers' improvisation solos, conversations with park rangers at nature centers and preserves, public performances, and public workshops Monson and iLAND held with park patrons.
Another component of Live Dancing Archive is the digital archive which was designed and implemented by Youngjae Josephine Bae, who completed her MA in Library and Information Science, in collaboration with Monson and Vachal. The digital archive consists of video footage, photographs, dancers' journals, project notes, plans and schedules for performances and workshops, and other ephemera generated from the BIRD BRIAN Osprey Migration. The aim of the digital archive is to "make available to the public as much of this material as possible." [3] The program notes encourage the audience to "peruse the archive in your own time as a supplemental experience to your participation in the audience tonight." [4] The performance need not "end" once the audience member leaves the theater; she can continue to experience the work through the material which was archived in the movement of the performance.
Live Dancing Archive's live performance aspect involves the audience as well.  The audience's participation in the live performance is that of the ocean. Monson describes her process of choreographing the movement in the program notes as:
"A significant amount of the dance material was learned from video documentation of four improvised solos on the beach at Ocracoke Island, NC. The dancers were Javier Cardona, Morgan Thorson, Alejandra Martorell, and myself. The camera angle was always moving so deciding how to orient myself in the dancing was a challenge. Eventually I arrived at orienting myself always towards the ocean. The audience is the ocean." [5]
The audience gets to experience a journey of the spaces and ecologies that Monson and the other dancers migrated in Monson's choreography, and it also gets to become part of that environment itself. Monson's choice to make the ocean the point of orientation and her further choice to allow the audience to occupy that position, creates a complex dynamic of waves and force that oscillate between the performer and the audience. It is also in Monson's processes of research and choreography that point to the ecological systems along the migratory path. Monson describes her work as dance research; the movement generated during the migration is knowledge-making. I would further argue that the audience's experience of viewing the video, the digital archive, and the live performance, while also becoming a participatory element of the system created in the theater are all knowledge-making practices which coalesce in a system of bodies and the environments in which they inhabit. Describing this process of knowledge-making, Monson states that
"the knowledge has to do with understanding the relationships between events and systems. When I'm dancing, I'm bringing multiple ways of perceiving information of movement, sensory, imaginative, and analytical registers. I'm processing information of the world and using it to make choices about movement in the world. The multiple systems I am moving and that are moving me help me to understand the complex systems I am perceiving. There is also the phenomenological approach – as I am moving, the world is showing up for me, it's changed by my moving, and as I move I also show up for the world. The knowledge is about ways of putting things together in multiple modes, holding unstable relationships of meaning and conditions of existence." [6]
Phenomenologist Maxine Sheets-Johnstone writes about the primacy of movement in our consciousness of the world. In her book The Primacy of Movement, she states that "We make sense of ourselves in the course of moving." [7] However, movement is not only sense-making, but constitutive and generative of the self that is moving. Further, Sheets-Johnstone claims that "In effect, movement forms the I that moves before the I that moves forms movement." [8] These two phenomenological statements seem to permeate Monson's process of research and performance. Her work explores the ways in which ecological systems function and the dancing body's relationship with and in these systems.
The live performance of Live Dancing Archive was itself a system. This component of the archive also consisted of multiple parts including the movement, live sound, and live stage and lighting design changes and manipulations. The sound, composed and performed by Jeff Kolar, an audio artist based in Chicago, is "generated live through field experiments in the AM/FM, Shortwave, Citizens, and Unlicensed radio spectrums. The instrument arrangement of handmade radio transmitters and receivers respond directly to external weather phenomena, wireless technology systems, and human activity." [9] After the performance I attended, Kolar explained that there were more "ghosts" being picked up by the receivers that night than had usually been happening for the other performances. The fluctuations occurring in the systems of the electromagnetic spectrum and the Hertzian space surrounding and emanating from the instruments, the electronic objects of the audience members, and the other technologies that exist in and around the space of The Kitchen directly impacted the sound performance and thus the entire ecology of the live performance.
The live manipulation of the lighting and stage, performed and designed by Joe Levasseur, who has received two Bessie awards for his design work, was a continual shifting of the ecology of the theater space. The minimal stage props and lighting, reminiscent of Isamu Noguchi's stage designs for Martha Graham, seemed to create the boundaries of space and time. The stage prop, a long wooden board on wheels, serves as the "horizon line" that can move and shift. At times, Monson herself moved the horizon line, thus changing the orientation of the horizon and its relationship to the audience, the ocean. The lighting was able to move around the stage as well and was manipulable by Monson and Levasseur. The turning on and off of the light, sometimes a single light that was moved around the stage, seemed to control the limits of the perceptual experience of the work. Our perception is always bounded; we cannot see the backs of our heads, our eyes even work through an amalgamation of small focal points, congealed in our brains – we don't see the world as a clear image; our perception of the world is a complex system composed of interweaving aspects that need to work together to form a coherent experience of the world.
Phenomenology, the philosophical study of our experiencing of the world's phenomena, understands our bodies as the entities that world the world. The world is mediating through our perceptual experience of it and the world appears for us through our engagement with it. Monson's work takes this phenomenological understanding of the world seriously in her research processes and the performances that result from them. Much of the research process involves improvisational movement in the places along the migratory route Monson was following. In Ann Cooper Albright's article "Situated Dancing: Notes from Three Decades in Contact with Phenomenology," she describes the transition from considering the aesthetics of dance to the phenomenology "because phenomenology focuses attention on the circumstances of this active "becoming." [10] Though Albright is discussing more specifically Contact Improvisation, she incorporates the notion of embodied research, an important aspect of Monson's work. Albright describes embodied research as a process that "requires that one engages seriously with the ambiguity that results from trying to conceptualize bodily experience that can be quite elusive. It requires patience with the partiality of physical knowing as well as a curiosity about how theoretical paradigms will shift in the midst of that bodily experience." [11] This situated-ness of research also can be placed in a feminist tradition stemming from feminist epistemology and the notion of situated knowledge explored by Donna Haraway in her essay "Situated Knowledges: The Science Question in Feminism and the Privilege of Partial Perspective." Monson's method of phenomenological epistemology of ecology speaks well to feminist conversations about science and the generation of scientific knowledge.
In thinking about what this means for an archive and the processes of archival practices, Live Dancing Archive speaks to the ways in which archives have to be generated; they do not simply exist in the world. They are always subject to the particular bodies controlling their collection, documentation, storage, and availability. The interesting aspect of Monson's work for conversations about the archive is the tension of the usual goal of the archive — infinite storage for an infinite amount of time — and the ephemerality of movement. Can we ever say that an archive is a permanent collection of materials that simply narrate history? Archives are subject to the circumstances of the world — floods, unemployment, politics, fires — and any notion that we can make a truly permanent archive is contingent on the resources available and ideologies of the day. Monson's Live Dancing Archive made me think critically about these aspects of making and transmitting history. Her movement, some of which I was able to glean from the video installation, is able to capture the singularity of the movement in its original form, though changed, made into something different in its repetition. Her attention to the specificities of place and the ecological systems constituting it along with bodily and movement singularities, creates a complex of environmental knowledge and history within the performance and the dancing body.
Live Dancing Archive is featured in the upcoming 2013 Dance Improvisation Festival organized by Columbia College Chicago's Dance Center and curated by Lisa Gonzales with support from Links Hall, taking place June 3-8, 2013. Monson's Live Dancing Archive will be performed Thursday, June 6, 2013 at 8PM. Be sure to visit the Dance Improvisation Festival's website for tickets, information, and schedule of other workshops. http://www.colum.edu/Dance_Center/performances/2013improvfest/
Live Dancing Archive Collaborators:
Jennifer Monson: Choreography
Robin Vachal: Video Installation
Jeff Kolar: Composer
Joe Levasseur: Lighting
Susan Becker: Costumes
Betsy Brandt: Dramaturge
Davison Scandrett: Production Manager
Youngjae Josephine Bae: Digital Archive
Tatyana Tenenbaum: Dresser
Notes
[1] Jennifer Monson, "Program Notes," in Jennifer Monson/iLAND Live Dancing Archive (New York: The Kitchen, 2013), 4.
[2] Ibid., 5.
[3]Â Ibid., 5.
[4]Â Ibid., 4-5.
[5] Ibid., 4.
[6] Personal Interview with Monson, 4.16.2013.
[7] Maxine Sheets-Johnstone, The Primacy of Movement, expanded second edition (Amsterdam and Philadelphia: Johns Benjamins Publishing Company, 2011), 117.
[8]Â Ibid., 119.
[9] Monson, "Program Notes," 4.
[10] Ann Cooper Albright, "Situated Dancing: Notes from Three Decades in Contact with Phenomenology," Dance Research Journal, vol. 43, no. 2 (Winter 2011), 9.
[11]Â Ibid., 14.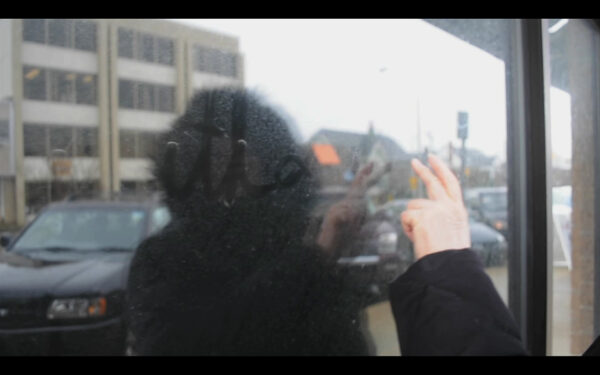 You've never heard of Judith Louise Marone, an employee of a Kroger Grocery Store in her early sixties, but then, she had never heard of Joseph Pablo Sobel until meeting him in the magazine aisle. Starting from a quick video of her in front of the magazines as she replies to one question he asks her, the project developed over the course of the next year and a half into what became a 26 minute digital video simply titled Judy. Thats a nice chunk of time to get to know someone, interacting with them through each season, for an entire year plus, showing the audience the transformation of perfect strangers who by chance became entwined in each others lives. Boy meets girl with a bit more realism.
Judy had never confronted the failings and missed opportunities in her life until meeting Joe and agreeing to be the subject of a video project for his graduate work (and later became his thesis). Through several close ups and voice overs, we learn about Judy's desires and fears, her failings and deeper secrets. She confronts bad habits, personal hurdles and dark childhood memories. She invites Joe and his camera into her home at its most disorganized – completely covered in an intricately woven sea of clutter, with little more than a path to navigate and a spot to sit on the couch. Although at times her monologues become more like therapy at the expense of narrative, her honesty, bravery and stage presence cannot be denied some credit. It is hard, also, not to reflect on your own shortcomings as well, confronting fears of failure while watching her at what she remarks is "the lowest point of her life."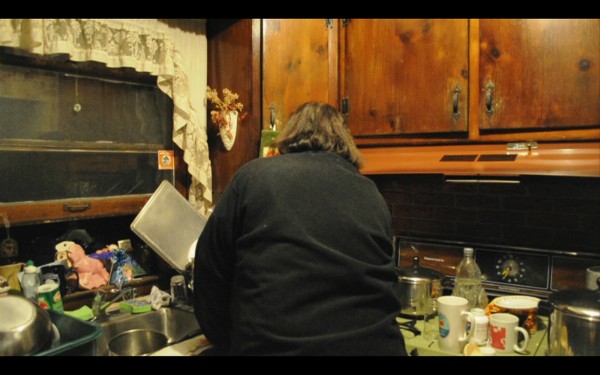 About halfway through the film, Joe starts inserting himself into the narrative. From the months of interviewing and time spent together, a relationship has formed between the two, and now Judy's thoughts delve less into her problems and more into their relationship. While she seems much happier, things are not perfect. Instead of reflecting on her past, the topic has moved to their present, even reflexively focusing on the film itself. Life happens on camera, and maybe because of the camera. She constantly fluctuates between referring to Joe in the 1st and 3rd person, even though it is obvious he is always behind the camera, that this is his life too that he is filming.
This presents him equal to his subject, investigating how connectivity between anyone is possible. That Judy is much older than Joe is important: the film starts as she celebrates her 60th birthday and by the time we learn of a brewing romance, they are on their way to celebrate his 25th. The tendency to view this as somewhat shocking allows the truth behind their relationship to be questioned, particularly as it relates to film and the creation of narrative by stressing the creator and creation of the film. Most obvious is when they kiss on camera, though not unreal, it looks entirely scripted. Questions linger to the status of their relationship, as we only hear Judy speak of it, and her thoughts change with every shot. Joe does not speak until the end, and so his opinion carries with it a great deal of importance. In the final shot, the camera is pointed down at a table with a microphone and recorder on it, with only her feet and his arm in the edges of the shot. Joe tries to remember what he had said only moments before. In restating the line over and over, leaving it incorrect ("What the f*** did I just say?") reaffirms the present over the past, that the past can be redeemed by the present by moving forward.
Tom Friel: What led you to make this work? How is it a departure from previous work?
Joe Sobel: I was an illustration major making paintings before I was a photographer. I nestled myself into the studio from open to close. Drawing nude models and being one myself probably led me to subtly explore the subjection in looking and the gaze. It was such a closed and an immersive feeling that I enjoyed heavily.
I like that word "departure." In the nautical usage of the word it signifies an east to west distance between two points traveled by ship. When I decided to switch my major to photography, which I need to thank Christine Flavin for, my photography professor at Northern Michigan University. I went on a picture taking expedition (Distortions, 2009-2010) that comprised 200+ individuals that were more or less mentally or physically disabled. They were shot whenever I was downtown or on a breezy Lake Superior walk. The intention was to show how subjective a photograph could be by severing its objectivity. At this point I was taking a photo history class and was kind of amazed by the fact that this medium of picture taking had such a political difference in its upbringing from Edgar Allen Poe, Lady Elizabeth Eastlake, Charles Baudelaire, Emerson to Valery, Benjamin and Roland Barthes. It questioned its historicity and shined light on such disparities like class and gender. So coming full circle, I don't want to create this mythology about me of how painting kept me inside away from prevalent issues and photography allowed me to create a documentary work, but that is basically how it went.
I was in the second semester of my first year at Cranbrook and for the most part I was already thinking about thesis, which was about a year away…. I was producing work in critiques surrounding the effects of subjugation, power and exploitation; enslaving qualities, that John Tagg would attribute to photography as "tool[s] of repression that signify and objectify the other." I guess I took the more serious, out dated approach to picture making and conveying, but they were subjects I really had a problem with. Maybe somebody can see the correlation of how photography gave a nation its cultural identity and how somebody like Judy could get a role in my first filmic endeavor.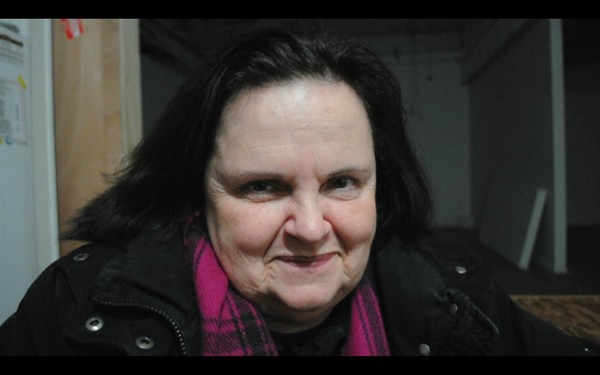 The film Judy was more of an extensive project. I still used a lens based medium but instead of the interaction and snapshots being so immediate through stills, the condition of time and moving image was key. (She said it was divine intervention but I don't believe that. This is one disagreement out of many that separates us from being compatible. If you asked her she would tell you we are complete opposites. Ironically, this is what I was looking for.)
TF: The idea of cultural identity via photography is important to note, with Walker Evans being a prime example. Film has taken over this condition in terms of supporting American Mythologies. Photography has led to seeing the subject as equal to the viewer. I think in this way your documentary, focusing on an average person and explicitly shown as equal to you still has a closer relation to photography than to film documentaries, which serve to mythologize the person.
JS: And that's the thing about film, even photography sometimes. It's that intention to hone in on somebody and once you do that, boom- they're like quasi-famous. Plus, it makes the subject feel wanted in that way. That way of recording can be quite humanistic and rewarding, but apprehending at the same time…. I am really glad you mentioned Evans because like him, and unlike him, August Sander had a huge role, too. [Sander had the] ability to capture these people from all kinds of different backgrounds in a time of complete destruction. Evans, too, but if you didn't know the history, you'd think that Sander's photographs would be completely genuine. Most of his subjects paid him to portray them how they would want to appear in the future. But he didn't name his subjects, leaving them with an uncertainty as to which ones were commissions and simply ones of his own expressive aims. The clothes they chose to wear were more truthful than the expressions on their face. He ended his seven-volume book with the face of his son who was murdered by his jailers of that time. So because it's a blend of truth and metaphor, and talking about American mythologies, I find a correlation in Walker Evans' set of portraits he took with a Polaroid camera in the '70s, a couple years right before his death. They are wholly private, taken without an ounce of calculation versus his earlier, public aims in objectivity and eye of the photographer.
TF: You have had a steady screenings of this work since graduating this past spring. (Congratulations, of course!) Is the ideal place to show the work film and video festivals, or more traditional art galleries? Since the space and type of event where it is screened alters your audience and how it is perceived (closer to the fine art world or documentary and film culture), how are you trying, and are you trying, to dictate it's future?
JS: Have you seen Miranda July's newest film, The Future? Even though she is so odd and interesting, doesn't she seem like a brand to you? It's almost like people put on a sort of
mimesis of her in the morning. I don't know, man. I know she can't help it but still. Maybe we're in a cultural identity crisis or something.
I think restricting it to a specific audience is limiting, and taking the Joseph Beuys approach is a little more satisfying on this issue. Context matters indefinitely, yes. If you place it in a whole bunch of different scenarios and environments, each one is going to have a multitude of interpretations. Just like the artist and subject is in contrast, so is the film in its environment and vice versa. Although a film is inevitably inside itself referencing the outside maybe it doesn't matter if we position that kind of ontology that way. I think it's an interesting idea that a film, especially one made for projection no matter where it is, is a displacement for the viewer; novel introductions. It's this mediation between somebody and their environment that matters most for me. It's like, they've decided to come here instead of somewhere else. Oh! Now I see Judy's point in divine intervention; but I still disagree with her.
TF: Haven't seen it but I think I know what you mean. Overall, I like her work though. I imagine there were a lot of hands in that film, as it is nearly impossible to get a feature length film out otherwise. So, just from seeing the trailer, which I doubt she is responsible for, as well as a few clips, it looks like a lot of current indie dramas: dry jokes, physical action replaced by rapid fire dialogue and frail people with big hair. So its more that is branded by a system that bases everything on archetypes.
Do you mean that by watching a film, we choose to enter an environment within the one we are physically in, and this is different from a home viewing experience, or am I missing the point?
JS: Well, yeah. Instead of being in your private home you're somewhere else. I guess it's as simple as being in a space you're not familiar with, or maybe being confronted by it or something.
TF: How much of the film is scripted, where you may be filming Judy responding to a previous undocumented conversation, or giving her time to think about the questions you may ask, and how much of her responses are completely of the moment?
JS: Most of the time her responses would be of the moment but I would insert myself in there somewhere like asking her to repeat things, or telling her to stand in a specific place. Throughout the editing process I repeatedly went back and forth, deciding whether or not I wanted to let the viewer in. I do have to thank Liz Cohen (Artist in Residence in Cranbrook's Photography Dept.) and some of my classmates for this.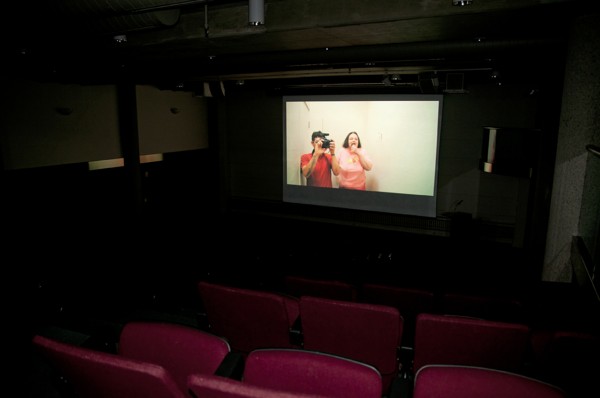 The scene you are asking about where we were inside the dressing room right before her cut and tint? I think that's the scene you're alluding to? Where she takes her shirt off and changes? This one is particularly interesting. A week before this I really wanted a formal, well lit and composed picture of Judy. The only stipulation I told her was that she'd have to be unclad. I mean, right off the bat, out of the gate, she staunchly declined. Maybe it was because I asked her to do it in the bathroom, or her room that turned out to be her sister's… Anyway, this led to this scene where she literally pulled me in and closed the door. I kept asking her what we were doing, obviously with the thought in my mind that she was going to change, but no answer. It's almost like she knew it was going to be a really good one and wanted to surprise me. I take it as a mixture of good and bad. Judy was explaining how I did her wrong a couple of nights prior to this and because of that, she invited me in this way, cause she felt bad, in a victimless way. Either way we talked it out, and I got her to curse.
Considering there was no official script I was the one who needed to work spontaneously in almost every way, but she gets the credit mostly. To her, I was the male behind the camera. The times they were scripted were when Judy and I were going through something emotional, or when things didn't exactly sync up. Judy then would cast out and talk about it. There would always be an underlying skepticism between both of us that made it unnerving and exciting at the same time. It's not easy to wholeheartedly trust another human being, especially if you find them in the magazine aisle of a grocery store. But it worked. I was lucky enough to find such a spellbinding and talented individual such as Judy.
TF: Your role as both documentary filmmaker and as subject is continually in flux. What is the impetus for this approach?
JS: Unlike Leigh Ledare where his mother is his subject for 8 years, it was a developing relationship between Judy and me, so I needed to have a presence. A relationship is not a relationship unless both people try, Tom. Coincidentally, Ledare is showing at WEILS Contemporary Art Center in Brussels until November. I just got an email from e-flux.
Like him, I wanted to show both of our vulnerabilities through difference and what that meant to the viewer. Whether it be provocative, sensual, romantic, disgusting… whatever it may be, my role was to be individually constructed, set up to be portrayed in a specific manner. It's like when you were an infant and your mother placed you in front of a mirror and told you that it was in fact you. There are mirrors, and reflections and misperceptions.
TF: I think this point comes through very strong in the work. We have such rigid cultural ideas about how we should behave, and class, gender, sex and age play a huge part in this.
JS: For sure. And in a way, we are obligated to play this part. Otherwise we'd be subjects for another photographer in another time, so-to-speak. You just have to abide, because we didn't choose where and when to be born and into what situation. The cards of life, man. They're kind of dealt already, but I have this stubbornness in refusing to believe that.
TF: The explanatory letter by Judy that is posted on your website offers viewers an additional view to her thoughts to the project, allowing her to clear up immediate responses to the work as misconceptions. (The first and possible most obvious question "are you exploiting Judy?" with the firm answer of "NO" from her.) Is this sense of transparency, which is conveyed throughout the film, ultimately one of the most important elements of this project? Or does it emphasize a collaboration of mutual trust between the two of you while creating the film?
JS: Having the letter come after the film was really good because it did clarify a few things. The writing is something different from the film all together, though. The issue of exploitation is meant to be there and I am supposed to be questioned. I was scolded, too. This was a primary reason in picking and sticking with Judy. So yeah, Tom, you are right in that the terms were explicated earlier and it was a mutual understanding. It eventually turned out to be an inverted investigation of power, work, exploitation, gender and sex that she understood. Did I answer that correctly?
Joe Sobel is a recent graduate of Cranbrook Academy of Art in Bloomfield Hills, MI, having received an MFA in Photography this past spring. He has shown his work throughout the US as well as China, England, Poland, and most recently, Scotland. "Judy" is currently on view at the Detroit Center for Contemporary Photography, in the Russell Industrial Building until Sept. 8. 
You can watch "Judy" in its entirety on Joe's website: www.joesobel.com
All images from "Judy", by Joe Sobel. Digital video, 25 min 50 sec, 2011-12
Three Art Review Haiku's for three of the artists at The Hole Gallery in NYC.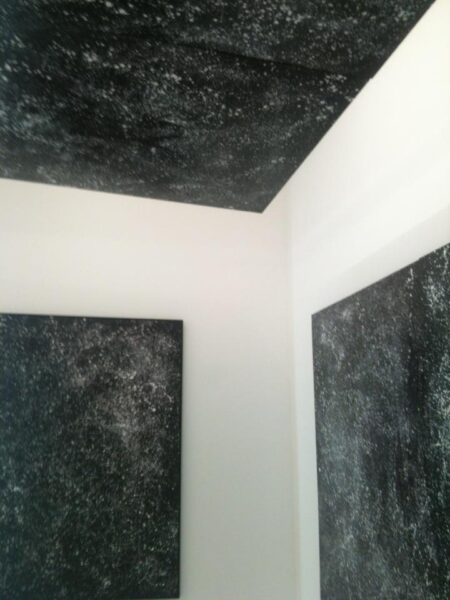 Matt Jones
Solar pleixs edge
Sneezed stars with tomb resonance
Square held universe
Kadar Brock
Pretend depth via,
skimmed surface deconstructed
Each hole dripped with sharp
Scott Reeder
Uh, Seriously!!!
A tape worm home kit is good
Food removed with glee
The exhibition they participated in was called "…"
http://theholenyc.com/2011/12/09/1407/
HAPPY NEW YEAR! 
Here are a few last minute Art Review Haikus for then end of the year. It's been a productive year in NYC. Shout outs from the NYC Bureau.
Siebren Versteeg at Meulensteen
Auto-Frankenthaler
Culture wash, Al-Gore-rhythms
Neigh! painted…printed
Maurizio Cattelan at the Guggenheim
Hung, like a nude clown
A taxidermic history
Last stand or fake death?
Sarah Braman at Mitchell-Innes & Nash
Domestic dirt tag
Suburban kaleidoscope
Ripped trailer sunset
Rebecca Goyette film "Lobsta Rollin" and "Touch My Hull"
Golden lobster porn
Jiz blushed mayo shifts starboard
Salty sinister lick
– a note about these Haikus. I wrote them before the passing of Helen Frankenthaler, this is dedicated to her, one of my favorite Color Field painters. – amanda

Wave Int'l isn't like any of the publications I've previously reviewed. Wave is a network that is documented in a quarterly exhibition and journal. Wave Int'l is co-directed by Brian Khek and Jasmine Lee, two students at the School of the Art Institute of Chicago. In Issue 01 artists Ida Lehtonen, Micah Schippa and Bret Scheider were commissioned to tackle "office iconography." I chatted with Jasmine Lee about the relationship between publishing and curating and she explained how Wave seeks to innovate in both areas.
Martine Syms: How did you and Brian [Khek] meet and why did you decide to start working together?
Jasmine Lee: I had just moved to Chicago last summer from San Francisco for the VCS program at SAIC and I wanted to start a publication. Brian and I met in the fall. We went to school together and he lived down the street from me.We started cooking together. Brian makes the best Pad Thai. We would cook, talk art and we'd look at publications together. It was a nice welcome to Chicago.
MS: A friend of mine thinks that every artist/designer should be  an adept cook. He puts it on the same level as technical or communication skills. Would you agree?
JL: Yes, absolutely. We talk about this a lot. Cooking or creating anything for consumption requires a prior knowledge which isn't unlike art. It's funny to us that art and food are still sort of in their own fields. We look at lot of different fields for fodder, like science or technology. What we like about food and technology is their ability to bring people together.
MS: Do you see Wave Int'l functioning in a similar way?
JL: Yes, we love to invite people over for food. The conversations we have are a lot of fun. We're obsessed with the idea of connectivity
MS: So why a publication?
JL: A lot of our work is done online.
MS: What do you mean by work? Artwork, homework, client work?
JL: Yes, all of it. Life work. When you work this way, there's this feeling of fluidity. We wanted a publication because it's more tangible. It's less abstract than say a blog.
MS: When you work on a computer each activity blends into the next. A publication is more discrete, more representative of a specific moment/event.
JL: The publication and exhibitions are meant to be meeting points. A moment for us to gather our thoughts, reflect and move on. It's meant to be transient, like a network.
MS: Tell me about your curatorial process. How did you find the artists in the show? Was there a particular narrative you and Brian were trying to express with the exhibition?
JL: We're interested in bringing together people who's work reflects ideas we've been contemplating. We're not so interested in regionalism. Because of how we all experience a lot of the same things, regardless of where we live we have a starting point.
It's kind of crazy how many people are making work. Bookmarks help. Brian and I exchange readings and work we like. As with most things, we wanted to work with people whose work we'd admired and respected, and most importantly, were curious about. As connected as we are with each other [online], a lot of this critical discourse that's engaged by the visual work is often overlooked. Wave wants to welcome everyone to the conversation.
MS: On your website you use the term "network" and call yourselves the directors. Do you see Wave operating in the tradition of the gallery or the magazine?
JL: We see ourselves as facilitators. Wave Int'l is a platform for critical discourse. We're not so much concerned with the tradition of the gallery or magazine. We're concerned with the responsibility that goes along with putting work out there, the push and pull of things that last and don't last. We don't just want to talk about something and throw it out there into space. We're thinking about what happens after a show or even after the opening.
MS: In using the term director you're acknowledging your responsibility, but in using network, you reconcile what happens afterwards, once the work is up, or the show is taken down.
JL: Yes. We're interested in the potential of the ephemeral.
MS: Tell me about Ida Lehtonen and Micah Schippa, the artists in the show/issue.
JL: Micah is graduating from SAIC this fall. He's from Holland, Michigan. He's one of our cooking buddies! He makes the best soups and is awesome at baking. He's someone we talk with a lot. We met Ida for the first time this week, after being in contact with her online for a year. Ida attends the School of Photography at the University of Göteburg in Sweden. Her work is very playful. Both Ida and Micah deal a lot with iconography in their work. Which is inherent in the medium [internet art]. I think there's a lot of "net art" out there that's really unapproachable, because of how esoteric it tends to be. It's intimidating, but their work isn't like that.
MS: What's next for Wave Int'l?
JL: We want to travel. It's another part of the practice, geographic diversity. Kind of like a tour. We're currently building an ongoing program, which involves a library of visual, audio and literary appropriations from our own archives and that of our peers. We also have a printed version of the PDF, edition of 25, very very slick. Email waveintl@gmail.com for more info.
Download a copy of Wave Int'l: Issue 01 featuring Ida Lehtonen, Micah Schippa and Bret Schneider at www.waveintl.info. The printed version can also be purchased at Golden Age, where you'll find Jasmine Lee working hard each Thursday!