Audio clip: Adobe Flash Player (version 9 or above) is required to play this audio clip. Download the latest version here. You also need to have JavaScript enabled in your browser.

download


This week, Duncan and Richard talk to Deb Sokolow! We talk about Deb's work, drug lords, Rocky, the merits of Sylvester Gardenzio Stallone's painting, Oliver North, how many people on the Bad at Sports staff have actually smoked crack, serial killers, meth labs, Jerry Saltz, Gary Busey, art school, and more, more, more! This is a great interview.
As a special bonus Geoffrey Todd Smith preps panels with a roller (that is the odd sound you hear in the background) and chimes in occasionally off mic!
Shamelessly lifted blurb:
Deb Sokolow's text-driven drawings map the obsessive, inner-dialogue of a nameless, paranoid narrator who speculates on various topics relating to popular culture, conspiracy theory and human nature. Recent projects include large-scale, site-specific drawings for the Van Abbemuseum in the Netherlands, Kemper Museum of Contemporary Art in Kansas City, Inova in Milwaukee, a new piece currently up at the Spertus Museum in Chicago and an upcoming group exhibition at the Smart Museum at University of Chicago in Oct. 2009.
Sokolow's work is in the permanent collection of the Museum of Contemporary Art in Chicago, and she received her MFA from the School of the Art Institute of Chicago in 2004. Sokolow lives and works in Chicago. [Read more]
Audio clip: Adobe Flash Player (version 9 or above) is required to play this audio clip. Download the latest version here. You also need to have JavaScript enabled in your browser.
This week Bad at Sports celebrates its 200-th episode by getting back to the known- Review-o-rama. We welcome guest reviewers Tony Tasset and Lori Waxman to take the pulse of Chicago's west loop.
[Read more]
Audio clip: Adobe Flash Player (version 9 or above) is required to play this audio clip. Download the latest version here. You also need to have JavaScript enabled in your browser.
This week Duncan and Richard go to Gallery 400 and talk to Director Lorelei Stewart and Assistant Director Anthony Elms about the current exhibition Our Literal Speed the end of the At the Edge: Innovative Art in Chicago series, and the new approach they are taking to commission and exhibit the work of emerging and mid-career artists.
Gallery 400, a not-for-profit arts exhibition space at the University of Illinois at Chicago, was founded in 1983 to exhibit and support art, design and architecture. Over its 26 year history Gallery 400 has grown into a nationally recognized gallery that presents consistently acclaimed exhibitions, lectures, and artist commissions. The exhibitions and programs present a broad range of recent developments and aesthetic concerns and have included more than 1,000 artists to date.
Audio clip: Adobe Flash Player (version 9 or above) is required to play this audio clip. Download the latest version here. You also need to have JavaScript enabled in your browser.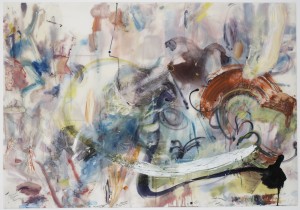 This week Mark Staff Brandl interviews ex-pat artist Leonard Bullock.
Originally from North Carolina and New York City, Bullock has lived in Europe for the last 15 years, frequently exhibiting in Switzerland and Germany. He was often involved in significant events of the artworld in important locations, including starting an artist run gallery in the 80s in NYC, assisting Leon Golub and more, thus making him the source of a wealth of interesting anecdotes and unique criticisms.
Bullock is a painters' painter especially in his mark-making; his direct facture has influenced many better-known contemporaries. He often paints on surprising surfaces such as fiberglass or silk and includes text and images with pure abstraction.
In the "outro" to this weeks show, Duncan defends the good name of Joseph Mohan, against Richard's inappropriate commentary. [Read more]
Audio clip: Adobe Flash Player (version 9 or above) is required to play this audio clip. Download the latest version here. You also need to have JavaScript enabled in your browser.

download


This week Duncan and Christian Kuras talk to YBA artist Mark Francis, all the way from London. Duncan is not afraid to commit to go the distance to get an interview. [Read more]