Audio clip: Adobe Flash Player (version 9 or above) is required to play this audio clip. Download the latest version here. You also need to have JavaScript enabled in your browser.
This week for your listening pleasure Bad at Sports has dispatched Shannon Stratton and Duncan MacKenzie to Illinois' glorious Kankakee to meet up with the artists of Temporary Services. They query Brett Bloom, Salem Collo-Julin, and Marc Fischer about social practice and the group's decade long history.
The new www.badatsports.com is here! Come check out our redesign!
Sunday the 8th we all need to once again make a trek down to Hyde Park to pick up the Artists Run Chicago Digest. In it you will find contributions by Lori Waxman, Dan Gunn, and little ole Bad at Sports!
What follows is from http://www.studiochicago.org/arc-release/
Artists Run Chicago Digest Release
Sunday, November 8, 2:00 – 5:00pm
Hyde Park Art Center
5020 S. Cornell
Chicago, IL 60615
Join the Hyde Park Art Center, threewalls and The Green Lantern Press, as they celebrate the release of the Artists Run Chicago Digest.
The A.R.C. Digest: Published by threewalls and The Green Lantern
Press, The Artists Run Chicago Digest documents Chicago artist-run 'spaces' active between 1999 and 2009 offering a look at the various platforms that often act as extensions to studio practice.
As the official catalog of Artists Run Chicago, an exhibition that
featured 34 artist-run spaces from around the city from May 10-July 5, 2009 at the Hyde Park Art Center, The A.R.C. Digest acts as compliment to and extension of the exhibition, with interviews, essays, and an audio supplement presenting a 10-year time period in Chicago's artist-run culture while providing history, reflection, critique and dialog about artist-run culture, its importance, difficulties, sustainability and necessity as well as its specificity to a community and generation. [Read more]
Audio clip: Adobe Flash Player (version 9 or above) is required to play this audio clip. Download the latest version here. You also need to have JavaScript enabled in your browser.
This week Duncan and Christian check in from the Banff Centre for the Arts.
They sit down with the Director of Visual Arts, Kitty Scott to discuss what the Banff Centre is and does.
Then they hijack a moment of performance art to "guerrilla" style interview Jan Verwoert, a contributing editor to Frieze magazine, a regular writer for Afterall and Metropolis M, and the leader of their summer residency. [Read more]
Audio clip: Adobe Flash Player (version 9 or above) is required to play this audio clip. Download the latest version here. You also need to have JavaScript enabled in your browser.
This week Duncan and Richard talk to Anthony Elms about WhiteWalls! Also the book review has made its glorious return. Terri and Joanna review "The American Painter Emma Dial" by Samantha Peale. Rejoice and be glad!
Audio clip: Adobe Flash Player (version 9 or above) is required to play this audio clip. Download the latest version here. You also need to have JavaScript enabled in your browser.

download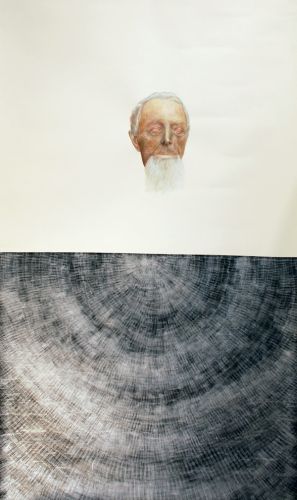 This week Bad at Sports has it all: tattoos, surfing accidents, sexual deviants, motorcycle races, newborn babies, starring death in the eye, and a walk down the red carpet at the Emmy's.
Brian and Patricia probe artist Paul Urich about the connections between his studio practice and the craft of tattooing.
Paul Urich has had exhibtions at the Headlands Center for the Arts, Yerba Buena Center for the Arts, Eleanor Harwood Gallery, Fecal Face Dot Gallery, and created a limited edition sneaker for Nike. [Read more]
Audio clip: Adobe Flash Player (version 9 or above) is required to play this audio clip. Download the latest version here. You also need to have JavaScript enabled in your browser.

download


Episode 214: Constellations: A conversation with Julie Rodrigues Widholm, Wesley Kimler, Vera Klement and Paul "The Knife" Klein.
This week we talk Painting.
We assembled a crack team team of two Chicago painters (Wesley Kimler and Vera Klement), one Art Provocateur (Paul Klein), and a Curator from the MCA (Julie Rodrigues Widholm) and we talk painting and what makes the show "Constellations," currently on display at the MCA, an important show for Chicago.
During the interview you will also hear the flock of parrots that inhabit Kimler's studio and his daughter playing in the background, please do not be alarmed. You may also hear Duncan being made fun of for his love of Chris Wool, but if loving Wool is wrong, Duncan may never be right. [Read more]