Audio clip: Adobe Flash Player (version 9 or above) is required to play this audio clip. Download the latest version here. You also need to have JavaScript enabled in your browser.
This week, Duncan, Amanda and Tom talk to artist Steven Rand, who is the founder and Executive Director of apexart in New York.
If you are in or around NYC this is the last week of "Don't Piss On Me and Tell Me It's Raining" the Bad at Sports organized show, go check it out while you still can!
Audio clip: Adobe Flash Player (version 9 or above) is required to play this audio clip. Download the latest version here. You also need to have JavaScript enabled in your browser.
Painter and Bad @ Sports NYC correspondent, Tom Sanford will moderate a panel of 5 other painters who will talk about painting. Kamrooz Aram, Holly Coulis, David Humphrey, Dike Blair and Deborah Kass not only represent three or four generations of New York painters and are all prominent voices among their cohort, but also represent a wide variety of approaches to the medium.
These, "the Painters of Painting", will discuss the current concerns in painting as well as painting's enduring relevance as a humanistic and idiosyncratic antidote to the prevailing corporate culture of consensus and commodification.
Tom's wrap up e-mail sent to all involved afterwards-
-----Original Message-----
From: Tom Sanford 
Sent: Thursday, April 29, 2010 7:13 AM
To: Tom Sanford
Subject: Thanks from PAINTERS/PAINTING

Hi Guys

I just wanted to send y'all a note to thank the many many of you who

came out to the panel and offer my apologies to those who weren't

able to get in! I am so sorry that a super turnout put apexart in the

position that they had no choice but to not allow a few people in. It

was totally packed inside - i actually had an audience member sitting

on my lap for most of the talk. But thank you all ever so much for

making the effort, i sincerely appreciate the overwhelming show of

interest!

The incredible turn out certainly speaks to the great enthusiasm for

painting in the medium's global capitol city and I think the talk was

a success. The panelists (David, Deb, Holly, Dike & Kamroos) were

charming and interesting and insightful, i did my best to keep us on

course, and Steven Rand and the apexart crew (Cybele, Julia & Julien)

were gracious and generous hosts.

Best of all the audience has plenty of great questions comments and

the occasional well timed out-burst! Special thanks to for really

great questions and comments from Daniel Davidson, Alfred Steiner,

Michael Anderson, Carlos Fragoso, and George Rodart among others

whose names I didn't know - great hustle guys!

Anyway, thanks a million for all of your support and interest and

remember the most important thing is to keep those brushes wet - and

Michael Anderson pointed out with the optimism that we all share for

painting and picture making "There are about 9 million new kinds of

paintings yet to be made!!"

Cheers

Tom
Audio clip: Adobe Flash Player (version 9 or above) is required to play this audio clip. Download the latest version here. You also need to have JavaScript enabled in your browser.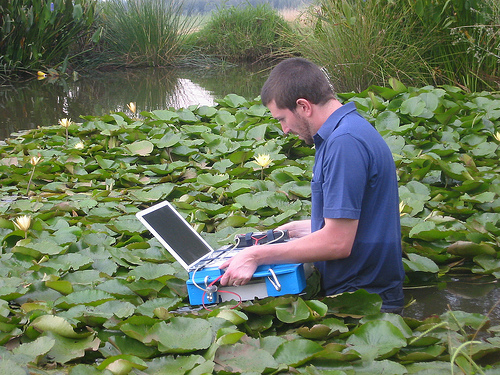 This week: Duncan talks to artist/educator/agitator Nathaniel Stern.
Nathaniel Stern (USA / South Africa, born 1977) is an experimental installation and video artist, net.artist, printmaker and writer. He has produced and collaborated on projects ranging from interactive and immersive environments, networked art and multimedia physical theater performances, to digital printing and collage, stone lithography and slam poetry.
He's won many awards, fellowships, commissions and residencies between South Africa, America, and all over Europe. Nathaniel holds a design degree from Cornell University, studio-based Masters in art from the Interactive Telecommunications Program (NYU), and research PhD from Trinity College Dublin. He is an Assistant Professor in the Department of Art and Design at the University of Wisconsin – Milwaukee.
Nathaniel has held solo exhibitions at the Johannesburg Art Gallery, the Johnson Museum of Art, the Museum of Wisconsin Art, the University of the Witwatersrand, and several commercial and experimental galleries throughout the US, South Africa and Ireland. His work has been shown at festivals, galleries and museums internationally, including the Venice Biennale, Sydney Museum of Contemporary Art, South African National Gallery, Kunsthalle Exnergasse, International Print Center New York, Milwaukee Art Museum, Modern and Contemporary Art Center (Hungary) and Grahamstown National Arts Festival (South Africa). Public collections include the Johannesburg Art Gallery, The Rose Goldsen Archive of New Media (Cornell University), turbulence.org, Contemporary Irish Art Society, and the Universities of South Africa (UNISA) and the Witwatersrand; he is in private collections all over the world. Recent features on Nathaniel's work can be seen in the Leonardo Journal of Art, Science and Technology, Leonardo Electronic Almanac, NY Arts and Art South Africa magazines, Rhizome.org, PBS.org, the Wall Street Journal and the Milwaukee Journal Sentinel.
Audio clip: Adobe Flash Player (version 9 or above) is required to play this audio clip. Download the latest version here. You also need to have JavaScript enabled in your browser.
This week Brian sits down with Eleanor Hanson and Oliver Wise, the Oakland-based founders of The Present Group, who describe the project as "like a mutual fund that produces art instead of profits."; A quarterly art subscription project, The Present Group enables a community of subscribers to create a new avenue of support for contemporary artists.
They produce thought-provoking work in a variety of media, and each of the four annual limited editioned art works is paired with an essay contextualizing the edition.
Their goal is to engage art enthusiasts who never thought of themselves as art collectors and to introduce them to the experience and pleasures of owning contemporary art. This is the next installment of the collaboration between Art Practical and Bad At Sports.
An abridged transcript of this interview appears in AP Issue 13. http://www.artpractical.com
Image: David Horvitz. Hermosa Beach, CA, Issue 9, Winter 2009; viewmaster reel, viewer, and Somerset cotton rag paper card. Courtesy of The Present Group.
Audio clip: Adobe Flash Player (version 9 or above) is required to play this audio clip. Download the latest version here. You also need to have JavaScript enabled in your browser.
This week: Richard and Duncan speak with Chicago based artist and 2010 Whitney Biennial participant Julia Fish about her work, Japanese architecture and more!
Before that starts, there is a short pithy segment on C2E2, which was awesome (the show not our bit).
Yes I made a stupid Front 242 musical joke which only I will find funny.