Audio clip: Adobe Flash Player (version 9 or above) is required to play this audio clip. Download the latest version here. You also need to have JavaScript enabled in your browser.

download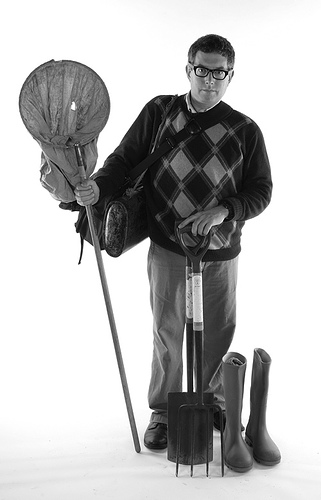 This week: We talk to artist Mark Dion, about social practice, the Museum of Jurassic Technology, cabinets of curiosity. The word "taxonomy" is bandied about at great length.
Mark Dion was born in 1961 in Massachusetts; he lives and works in Pennsylvania.
Dion is known for making art out of fieldwork, incorporating elements of biology, archaeology, ethnography, and the history of science, and applying to his artwork methodologies generally used for pure science. Traveling the world and collaborating with a wide range of scientists, artists, and museums, Dion has excavated ancient and modern artifacts from the banks of the Thames in London, established a marine life laboratory using specimens from New York's Chinatown, and created a contemporary cabinet of curiosities exploring natural and philosophical hierarchies.
His approach emphasizes illustration and accuracy but is charged with a biting undertone. Dion has a longstanding interest in exploring how ideas about natural history are visualized and how they circulate in society. Dion's work has been presented at many U.S. and international museums and galleries, including solo exhibitions at the Vancouver Art Gallery, Vancouver; Galleria Emi Fontana, Milan; Wexner Center for the Arts, Columbus, Ohio; Tanya Bonakdar Gallery, New York; and Deutsches Museum, Bonn. Dion has been commissioned to create works for Aldrich Museum of Art, Ridgefield, Connecticut; the Tate Gallery, London; the Yerba Buena Center for the Arts, San Francisco; and The Museum of Modern Art, New York.
Audio clip: Adobe Flash Player (version 9 or above) is required to play this audio clip. Download the latest version here. You also need to have JavaScript enabled in your browser.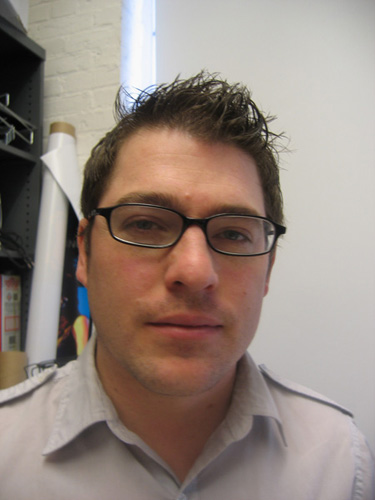 This week: Holy bicenquinquagenary Batman! Brian and Duncan (and guest stars including but not limited to Randall Szott) talk to Creative Time chief curator, author, and all around interesting guest Nato Thompson.
This show is the second in the series of interviews recorded at the Open Engagement conference at which Mr. Thompson was a guest. This series already charts among some of my favorites in the history of the show. Enjoy!
Since January 2007, Nato has organized major projects for Creative Time such as Democracy in America: The National Campaign (2008), Paul ChanÂ's acclaimed Waiting for Godot in New Orleans (2007) and Mike Nelson's A Psychic Vacuum. Previous to Creative Time, he worked as Curator at MASS MoCA where he completed numerous large-scale exhibitions such as The Interventionists: Art in the Social Sphere (2004), a survey of political art of the 1990s with a catalogue distributed by MIT Press.
His writings have appeared in numerous publications including BookForum, Art Journal, tema celeste, Parkett, Cabinet and The Journal of Aesthetics and Protest. The College Art Association awarded him for distinguished writing in Art Journal in 2004. He recently curated an exhibition for Independent Curators International titled Experimental Geography with a book available by Melville House Publishing. His book on art and activism is due out by Autonomedia in October 2009.
Audio clip: Adobe Flash Player (version 9 or above) is required to play this audio clip. Download the latest version here. You also need to have JavaScript enabled in your browser.
This week: The first in our series of interviews from the Open Engagement conference that took place in Portland this past May. We start off with an excellent discussion that Randall Szott, Duncan, Brian and the occasional Incubate person had with artist, writer, lemon tormentor Ted Purves. Topics include; Ted's work, the past present and future of Social Practice and what it means to be an artist today.
This series of interviews (thusfar, I've only gone through the first two) are some of my favorite discussions that (the royal) we have had in the 5 years of the show. Great stuff!
Ted Purves is a writer and artist based in Oakland. His public projects and curatorial works are centered on investigating the practice of art in the world, particularly as it addresses issues of localism, democratic participation, and innovative shifts in the position of the audience. His two-year project, Temescal Amity Works, created in collaboration with Susanne Cockrell and based in the Temescal neighborhood of Oakland, facilitated and documented the exchange of backyard produce and finished its public phase in winter 2007. His collaborative project Momentary Academy, a free school taught by artists over a period of 10 weeks, was featured in Bay Area Now 4 in 2005 at Yerba Buena Center for the Arts in San Francisco.
Ted recently received a visual arts grant from the Creative Capital Foundation and a Creative Work Fund grant from the Elise and Walter Haas Foundation.
His book, What We Want Is Free: Generosity and Exchange in Recent Art, was published by State University of New York Press in 2005.
The Open Engagement conference is an initiative of Portland State University's Art and Social Practice MFA concentration and co-sponsored by Portland Community College and the MFA in Visual Studies program at Pacific Northwest College of Art and supported by the Cyan PDX Cultural Residency Program. Directed by Jen Delos Reyes and planned in conjunction with Harrell Fletcher and the Portland State University MFA Monday Night Lecture Series, this conference features three nationally and internationally renowned artists: Mark Dion, Amy Franceschini, and Nils Norman. The conference will showcase work by Temporary Services, InCUBATE, and a new project by Mark Dion created in collaboration with students from the PSU Art and Social Practice concentration.
The artists involved in Open Engagement: Making Things, Making Things Better, Making Things Worse, challenge our traditional ideas of what art is and does. These artist's projects mediate the contemporary frameworks of art as service, as social space, as activism, as interactions, and as relationships, and tackle subject matter ranging from urban planning, alternative pedagogy, play, fiction, sustainability, political conflict and the social role of the artist.
Can socially engaged art do more harm than good? Are there ethical responsibilities for social art? Does socially engaged art have a responsibility to create public good? Can there be transdisciplinary approaches to contemporary art making that would contribute to issues such as urban planning and sustainability?
Open Engagement is a free conference May 14-17, 2010, in Portland, Oregon. This annual conference will be a focal point of a new low residency Art and Social Practice MFA that PSU hopes to launch in Fall of 2010.
This years conference will host over 100 artists, activists, curators, scholars, writers, farmers, community organizers, film makers and collectives including: Nato Thompson, The Watts House Project, Linda Weintraub, Ted Purves, Henry Jenkins, Wealth Underground Farms, Brian Collier, Anne E. Moore, David Horvitz, Chen Tamir, and Parfyme.
Audio clip: Adobe Flash Player (version 9 or above) is required to play this audio clip. Download the latest version here. You also need to have JavaScript enabled in your browser.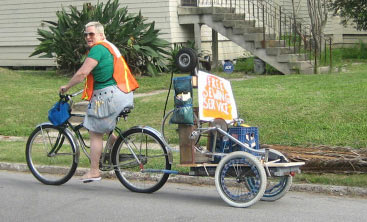 This week: Brian Andrews and Duncan MacKenzie check in with Judith Leemann and Shannon Stratton while visiting Portland, Oregon and discuss their most recent curatorial endeavor the "Gestures of Resistance" exhibition at Portland's Museum of Contemporary Craft.
We talk about problematizing the standard static exhibition, how a viewer can access a dynamic and evolving show, what an object be "loaded" with, and the problem with placards.
The exhibition includes…
Sara Black and John Preus, Anthea Black, Carol Lung, Cat Mazza, Mung Lar Lam, Ehren Tool, and Theaster Gates.
http://www.performingcraft.com/
http://www.shannonstratton.com/
http://three-walls.org/
http://www.judithleemann.com/
http://material-exchange.org/home.html
http://www.youtube.com/watch?v=Tfi3DIlaXqg
http://www.fraufiber.com/
http://www.post-craft.net/catmazza.htm
http://www.munglarlam.com/
http://www.bquayartgallery.com/archive/access_tool2007.html
http://theastergates.com/home.html
http://www.museumofcontemporarycraft.org/
Audio clip: Adobe Flash Player (version 9 or above) is required to play this audio clip. Download the latest version here. You also need to have JavaScript enabled in your browser.
This week: The third in the lecture series that was in conjunction with the Bad at Sports organized exhibition "Don't Piss on Me and Tell Me it's Raining". Tom and Amanda talk to Bridget Elmer and Emily Larned of Impractical Labor in Service of the Speculative Arts.
Founded by two letterpress printers, Impractical Labor in Service of the Speculative Arts (ILSSA). ILSSA is a membership organization for those who make conceptual or experimental work with obsolete technology. Consisting of a Union and a Research Institute, ILSSA seeks to build community and create resources, promoting the creative re-use of discarded innovations and the values embedded within them. Since its inception in 2008, ILSSA has grown to over 100 members, including a social sculpture weaver, a clip art librarian, a blogger who posts in needlepoint, a designer/builder of vacuum tube electronics, and an heirloom farmer.
On this evening with the use of an overhead projector and a portable anachronistic sound system, the ILSSA co-operators will provide an overview of the organization, its activities and members, and the philosophy behind their collective interests.