Audio clip: Adobe Flash Player (version 9 or above) is required to play this audio clip. Download the latest version here. You also need to have JavaScript enabled in your browser.
This week: The third of our NADA shows from Miami. This time Amanda and Duncan talk to Brendan Fowler and Paul Gabrielli.
Brendan Fowler (born 24 March 1978 in Berkeley, California) is a musician, best known for his work under the moniker BARR, based in Los Angeles. He is a regular performer at The Smell, a DIY music venue. He also co-runs Doggpony Records and is a co-editor of ANP (Artist Network Program) Quarterly – an Orange County based arts and culture publication funded by RVCA. He has recently played at the New York performance space, The Kitchen, and has been featured in Artforum Magazine. In 2006 Fowler curated a show at David Kordansky gallery in Los Angeles. New England Roses, a band consisting of Fowler, Sarah Shapiro, and Le Tigre's JD Samson, released their debut, Face Time With Son, in 2005. His new electronic-folk-pop band, Car Clutch, with Ethan Swan, had their debut performance in fall of 2006.
New York-based artist Paul Gabrielli offers work of quiet maximalism. He approaches sculpture as an act of appropriation, assimilating other media into one comprehensive system. While Gabrielli's practice can be seen as a continuation of his minimalist lineage, his specific objects are infused with a thwarted eroticism of both desire and restraint.
Gabrielli's works straddle the boundaries of sculpture, photography, work on paper and video, experiments in form designed to encapsulate the physical manifestation of a single thought, with all its lyricism and paradox, desire and restraint. His pieces represent both interior visions and the very real destruction of the well-defined and corporeal. [Read more]
Audio clip: Adobe Flash Player (version 9 or above) is required to play this audio clip. Download the latest version here. You also need to have JavaScript enabled in your browser.
This week Amanda and Duncan rock the Miami area with a three-fer of NADA interviews with Ruba Katrib, Scott Hug, and Atsushi Kaga.
They surf the the tricky waters of "The Reach of Realism", the space of design, art, and cool conceptualism, and what you get out of cute? Rock. Roll and love. With two brilliant young artists and a dynamite curator!
This is the closest I have come to blowing the Sunday posting deadline in years, damn you influenza! [Read more]
Audio clip: Adobe Flash Player (version 9 or above) is required to play this audio clip. Download the latest version here. You also need to have JavaScript enabled in your browser.

This week Bad at Sports begins a three or maybe four part series that we produced at NADA (the New Art Dealers Alliance) Art Fair for 2009.
This week Amanda Browder and Duncan MacKenzie we sit down with Heather Hubbs, NADA's Director and Chris Duncan, a San Francisco based artist showing with Baer Ridgway Exhibitions. The conversations span a huge gulf as Heather talks about the roll she played in Chicago, galvanizing a scene and what she has done with NADA, while Chris talks about being in the studio, making and what things are like in SF.
Great conversations to kick off a great series that was produced inside one of the best fairs in the country.
We produced a set of limited edition Bad at Sports T-Shirts for the event and have a small number of L, XL, and XXL's (maybe one or 2 mediums or smalls) left which are available from us for $20.00 a piece. Contact us at mail@badatsports.com if you are interested. [Read more]
Audio clip: Adobe Flash Player (version 9 or above) is required to play this audio clip. Download the latest version here. You also need to have JavaScript enabled in your browser.
This week: The AMANDA BROWDER SHOW! Amanda and Tom start 2010 off with an interview with Miami artists Alain Guerra and Neraldo de la Paz about their collective Guerra de la Paz (awesome composite of their names) about their work, and how clothing can be more than just a shell over one person's nubile body..but a story and a basis for sculptural exploration.
Then, Mike Benedetto returns!!! He offers up a meditation on Steven Seagal, Lawman.
Guerra de la Paz is the composite name of Cuban born, American artist duo Alain Guerra (born 1968) and Neraldo de la Paz (born 1955), who have been collaborating since 1996. They are based in Miami.
Guerra was born in Havana and de le Paz in Matanzas. Guerra de la Paz work in sculpture, installation and photography. Their work references the politics of modern conflict and consumerism alongside symbols of faith; they often use old clothing to build their sculptures.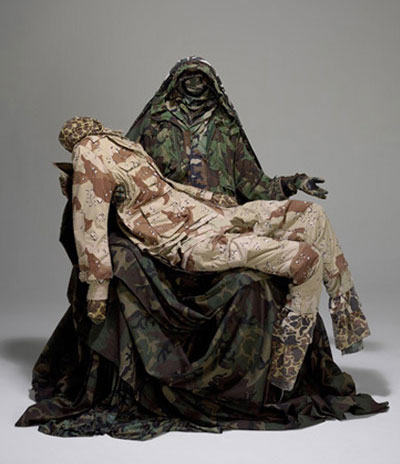 [Read more]
Audio clip: Adobe Flash Player (version 9 or above) is required to play this audio clip. Download the latest version here. You also need to have JavaScript enabled in your browser.
This week: recent addition to the BAS family Anna Kunz talks to indie rock legend Lou Barlow (Dinosaur Jr., Folk Implosion, Sebadoh, Sentridoh, and his own solo work) about the creative process, his music, and other exciting stuff. Lou recently released a spectacular new album out Goodnight Unknown. Richard will kick himself for a long time that he wasn't there for this interview. Bad at Sports congratulates the Barlow family on the addition of a recent bundle of joy! The baby thing is catching kids, watch out. Before you realize it everyone you know will have a couple ankle biters running around.
Clipped from Wikipedia, and redundant:
Lou Barlow is an American alternative rock singer, songwriter and multi-instrumentalist.
A founding member of the groups Dinosaur Jr., Sebadoh and The Folk Implosion, Barlow is credited with helping to pioneer the lo-fi style of rock music in the late 1980s and early 1990s. Barlow was born in Dayton, Ohio and was raised in Jackson, Michigan and Westfield, Massachusetts. [Read more]