Audio clip: Adobe Flash Player (version 9 or above) is required to play this audio clip. Download the latest version here. You also need to have JavaScript enabled in your browser.

download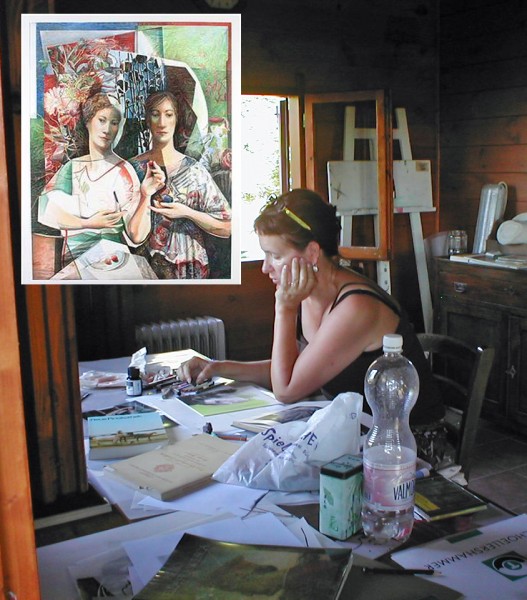 This week: Mark Staff Brandl talks to Martina AltSchaefer.This is the first of two interviews with German artists conducted by Mark Staf Brandl on the island of Elba, Italy. Martina AltSchaefer is an artist living in Ruessellsheim, Germany. She studied with the famed Konrad Kapheck and her creative work centers on very large, labor-intensive drawing in colored pencil on translucent paper. AltSchaefer has exhibited in many prestigious galleries and museums.
She also does printmaking and is an expert on mezzotint, about which she has curated shows and written essays. She was in an invitational retreat in July as a working guest of a foundation on the island of Elba along with Viennese jazz pianist and composer Martin Reiter, New York playwright Sony Sobieski, Berlin artist Alexander Johannes Kraut (the interviewee in part two) and Mark Staff Brandl, the Bad at Sports Continental and now also islandal European Bureau.
Also for all the Napoleon fans, especially those commenting on facebook, they were not in exile and even Mark was allowed back on the mainland without having to invade it.
Audio clip: Adobe Flash Player (version 9 or above) is required to play this audio clip. Download the latest version here. You also need to have JavaScript enabled in your browser.

download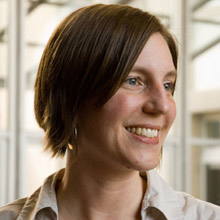 This week: Duncan talks to "super G" certified genius artist Camille Utterback.
Camille Utterback is an internationally acclaimed artist whose interactive installations and reactive sculptures engage participants in a dynamic process of kinesthetic discovery and play. Utterback's work explores the aesthetic and experiential possibilities of linking computational systems to human movement and gesture in layered and often humorous ways. Her work focuses attention on the continued relevance and richness of the body in our increasingly mediated world.
Her work has been exhibited at galleries, festivals, and museums internationally, including The New Museum of Contemporary Art, The American Museum of the Moving Image, New York; The NTT InterCommunication Center, Tokyo; The Seoul Metropolitan Museum of Art; The Netherlands Institute for Media Art; The Taipei Museum of Contemporary Art; The Center for Contemporary Art, Kiev, Ukraine; and the Ars Electronica Center, Austria. Utterback's work is in private and public collections including Hewlett Packard, Itaú Cultural Institute in São Paolo, Brazil, and La Caixa Foundation in Barcelona, Spain.
Awards and honors include a MacArthur Foundation Fellowship (2009), a Transmediale International Media Art Festival Award (2005), a Rockefeller Foundation New Media Fellowship (2002) and a commission from the Whitney Museum for the CODeDOC project on their ArtPort website (2002). Utterback holds a US patent for a video tracking system she developed while working as a research fellow at New York University (2004). Her work has been featured in Art in America (October, 2004), Wired Magazine (February 2004), The New York Times (2009, 2003, 2002, 2001), ARTnews (2001) and many other publications. It is also included in Thames & Hudson's 'World of Art – Digital Art' book (2003) by Christiane Paul.
Recent public commissions include works for The Sacramento Airport, The City of San Jose, California, The City of Fontana, California, and the City of St. Louis Park, Minnesota. Other commissions include projects for The American Museum of Natural History in New York, The Pittsburgh Children's Museum, The Manhattan Children's Museum, Herman Miller, Shiseido Cosmetics, and other private corporations.
Utterback holds a BA in Art from Williams College, and a Masters degree from the Interactive Telecommunications Program at New York University's Tisch School of the Arts. She lives and works in San Francisco.
Audio clip: Adobe Flash Player (version 9 or above) is required to play this audio clip. Download the latest version here. You also need to have JavaScript enabled in your browser.

download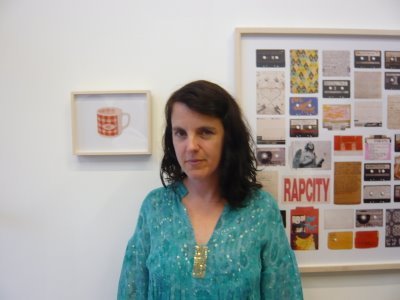 This week: The kick off of a series of programs recorded at Baer Ridgway Exhibitions in San Francisco during BAS's mini residency as a guest of Chris Duncan during his "Eye Against I" exhibition. Brian and Duncan talk with Chris about the series, and then the main event Tammy Rae Carland! In addition to being a fascinating guest, Tammy is the only guest we've had who has a song written about them to utilize as their intro/outro clip (by the awesome band Bikini Kill no less).
Bio lifted from Tammy's site:
Tammy Rae Carland was born in Portland Maine in 1965. She received her MFA from UC Irvine, her BA from The Evergreen State College in Olympia Washington and attended the Whitney Independent Study Program. She is an Associate Professor at the California College of the Arts where she also Chairs the Photography Program. She is represented by Silverman Gallery in San Francisco and primarily works with photography, experimental video and small run publications. Her work has been screened and exhibited in galleries and museums internationally including New York, Los Angeles, San Francisco, Berlin and Sydney. Her photographs have been published in numerous books including The Passionate Camera; Queer Bodies of Desire and Lesbian Art in America.
Her fanzine writing has been republished in A Girl's Guide to Taking Over the World. She has also published photographs and received reviews of her work in numerous national media including: The New York Times, Big, The Los Angeles Times, Spin, Details, Out and The Village Voice. In the 1990's Carland independently produced a series of influential fanzines, including I (heart) Amy Carter. She has collaborated on the record art of some seminal underground music releases for the bands Bikini Kill, The Fakes and The Butchies. From 1997-2005 she co-ran Mr. Lady Records and Videos, an independent record label and video art distribution company that was dedicated to the production and distribution of queer and feminist culture. Tammy Rae Carland lives in Oakland California.
PS: A hearty "Fuck You" to Libsyn and their crappy software. This is the third time I've written this. Turn off or down the "time out" function on your site, jerks.
Audio clip: Adobe Flash Player (version 9 or above) is required to play this audio clip. Download the latest version here. You also need to have JavaScript enabled in your browser.

download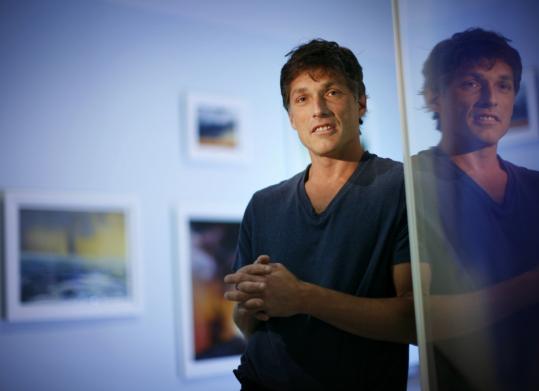 This week: Tom and Duncan talk to super-talented painter Alexis Rockman. There is a Smithsonian retrospective
that opens this month so check it out.
The following stolen from the Greenpeace site:
Alexis' paintings visualise the hopes and popularly held fears about scientific progress and the wide-ranging effects of human intervention on animal species, ecosystems, and the natural world.
We are brought face to face with a future that is at once surreal and unsettlingly familiar. Mutant animals, geometric landscapes, alternative environments either sterilized by science or unredeemably altered due to pollution. All this makes for some uncomfortable viewing.
"My position is one of ambivalence as the horse is already out of the barn so to speak; it is not biotechnology that is the problem but corporate America or globalism or colonialism. The implications of using this technology are far more devastating because of the unknowable effects. This is something that is very disturbing and visually compelling to me," explains Alexis.
Despite the questions that Alexis' work throws up about humanity's role in shaping a dystopian future, there's no obvious judgement in it.
Every element in the art is painstakingly researched. All the biological images have been developed through extensive collaboration with specialists in molecular biology, genetics, natural history and medical science.
"I really have to say these are relatively neutral images even if I use information that tends to make people feel uncomfortable. But I don't see that as negative. I try to show things that are obviously familiar but also inform them with as much cultural and scientific history as I can, so that they are credible.
"The stuff that may not be noticed – for instance the geometry of the landscape in 'The Farm'- to me is far more scary than an albino hairless mouse with cartilage growing on its back. I am also trying to make an emotionally resonant image that reaches people. I try to make it as credible as possible without making it boring."
Alexis is aware of the political power of his work. As an American, he believes he is well placed to bring attention to the consequences of his homeland's environmental, economic and political policies.
"I am of a generation whose relationship with the government and big business comes out of a post-Watergate scepticism. How could my work not have a political effect? I feel like I am in such a privileged position I would find it unconscionable if I didn't take advantage of that as someone who cares about these issues."
Collectively, the paintings presented in 'Wonderful World' offer a graphic vision of a bio-engineered near future in which human and animal bodies, crops and plants have been genetically altered to suit a variety of needs – whether commercial, aesthetic, medical or gastronomic.
Despite the potentially complex nature of the exhibition he makes a point of not being elitist, as his subject is something that touches every person on the planet.
"I don't expect anyone to know anything. That is why I am a populist. If I have a show and people from different demographics come to find out about global warming, I don't want to lose half of my audience due to my arrogance. It has to be decipherable to a six-year-old child. I try to construct it as an onion with different layers of meaning and iconography."
The negative consequences of industrial and technological progress are rarely addressed in a modern culture fuelled by the products of multinational entertainment conglomerates. Alexis' paintings hang out on the edge of complacency, forcing us to confront a vision of the future implicit in the choices we, as a society, make today.
This weeks show is dedicated to the memory of Penny Zeidman.
Audio clip: Adobe Flash Player (version 9 or above) is required to play this audio clip. Download the latest version here. You also need to have JavaScript enabled in your browser.
This week: Amanda and Patricia have a …. spirited….discussion with two of BAS's favorite artists (and the greatest oversight in our interview history until now) Stan Shellabarger and Dutes Miller. Go see their show, it's awesome!
Next, Brian and Duncan talk to Courtney Fink of Art Publishing Now while at Southern Exposure.
Did we really get the "bums rush" from politely denied by the Propellor fund, oh yes we did! Who received support? No word yet but watch the projects area of their site. prop grant winners coming soon
Lifted relevant info:
Art Publishing Now is a two-day event dedicated to the investigation and showcasing of art publishing practices in the Bay Area. It includes a day of presentations and critical discussions, an after-party, an art publishers fair, library and archive.
Western Exhibitions is pleased to present an exhibition by husband-and-husband artist team Miller & Shellabarger. The show opens on Friday, October 15 with a reception, from 5 to 8pm, which is free and open to the public.
This second showing at Western Exhibitions of Miller & Shellabarger's collaborative pursuits will focus on works from several inter-related projects including Volume 6 of their large-scale silhouette artist books, documents from a recent performance involving funeral pyres and intimate, discrete objects that utilize embroidery and carved shells.
The silhouette is a key component in several of these new works. Miller & Shellabarger first employed silhouettes in large-scale artist books that contained their individual profiles, each one cut by the other. We will show the most recent book in this series as well as other silhouette-based works that use the silhouette as a starting point, including conjoined beard silhouette collages traced by friends and two embossed lead pieces that feature similar imagery. We will also show larger-than-life, phantasmagorical images, created during their  "Summer Studio" artist residency at the School of the Art Institute of Chicago's Sullivan Galleries in 2010 which take advantage of the distortions of the silhouetted figure in light and shadow. Life-size body tracings of each other are realized in large drawings on paper made with gunpowder, and in a small book of photographs of body tracings made with seeds.
Additional work will include a twin set of pillowcases, each monogrammed with their initials using hair from their beards as thread, a delicate cameo depicting the two with their beards intertwined carved out of sardonic shell by an Italian master carver, and photographs from a recent performance "Untitled (Pyre)" where they found two naturally fallen trees in the forest, chopped them, and stacked the fireplace-sized pieces into roughly human-size forms, and burned these pyres at dusk.
Miller & Shellabarger are a 2009 recipient of the Peter S. Reed Foundation Grant, 2008 recipient of an Artadia Award, and a 2007 recipient of a Louis Comfort Tiffany Foundation award. Their work is in the collections of the Nerman Museum of Contemporary Art and the National Gallery of Canada in Ontario. In 2010 they showed a major selection of work at the Institute of Contemporary Art, Portland, Maine, participated in the Time-Based Arts (TBA) festival in Portland, Oregon and will have a solo exhibition in 2011 at the Illinois State University Galleries in Normal, Illinois. Their work has been written about in Artforum.com, Art & Auction, Frieze, Artnet, The Art Newspaper, Flash Art, TimeOut Chicago, and the Chicago Sun-Times. Dutes Miller and Stan Shellabarger also maintain separate artistic practices. They live and work in Chicago