Audio clip: Adobe Flash Player (version 9 or above) is required to play this audio clip. Download the latest version here. You also need to have JavaScript enabled in your browser.

download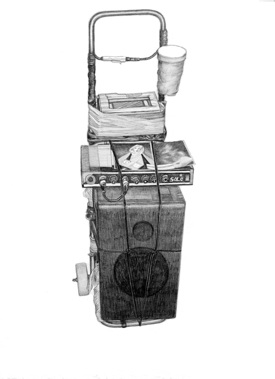 This week: Brian, Patricia, and Duncan engage in a round table with Julio César Morales about collaboration, curation, pedagogy, and his recent exhibitions. Julio César Morales is an artist, educator and curator currently working both individually and collaboratively.
Morales utilizes a range of media including photography, video, and printed and digital media to make conceptual projects that address the productive friction that occurs in trans-cultural territories such as urban Tijuana and San Francisco, and in inherently impure media such as popular music and graphic design. This is the second in our series of interviews conducted at Baer Ridgeway as part of Chris Duncan's exhibition Eye Against Eye.
Audio clip: Adobe Flash Player (version 9 or above) is required to play this audio clip. Download the latest version here. You also need to have JavaScript enabled in your browser.

download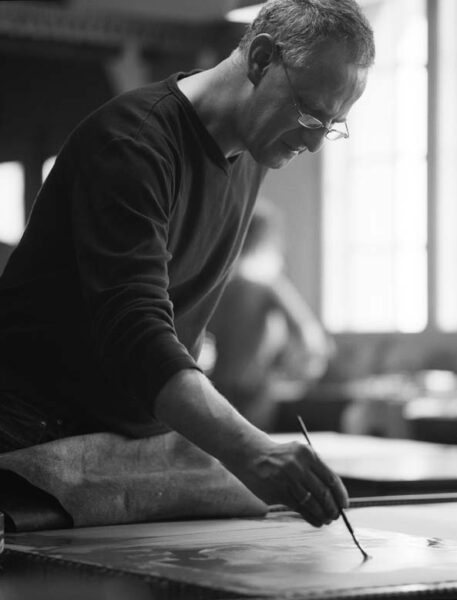 This week: Duncan and Richard talk to art superstar Luc Tuymans!
The following is shamelessly lifted from the MCA site:
Luc Tuymans (Belgian, b. 1958) is considered one of the most significant European painters of his generation and he has been an enduring influence on younger and emerging artists. Born and raised in Antwerp, where he lives and works, Tuymans is an inheritor to the vast tradition of Northern European painting. At the same time, as a child of the 1950s, his relationship to the medium is understandably influenced by photography, television, and cinema.
Interested in the lingering effects of World War II on the lives of Europeans, Tuymans explores issues of history and memory, as well as the relationship between photography and painting, using a muted palette to create canvases that are simultaneously withholding and disarmingly stark. Drawing on imagery from photography, television, and film, his distinctive compositions make ingenious use of cropping, close-ups, framing, and Luc Tuymans sequencing, offering fresh perspectives on the medium of painting, as well as larger cultural issues.
The artist's more recent work approaches the post-colonial situation in the Congo and the dramatic turn of world events after 9/11. These series have led Tuymans to a sustained investigation of the realms of the pathological and the conspiratorial.
Audio clip: Adobe Flash Player (version 9 or above) is required to play this audio clip. Download the latest version here. You also need to have JavaScript enabled in your browser.

download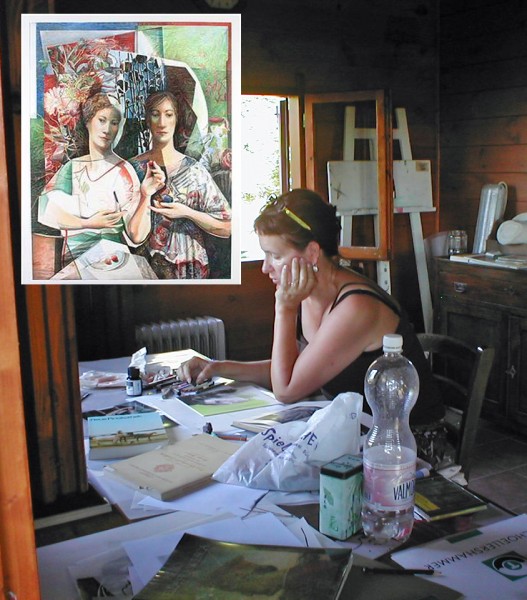 This week: Mark Staff Brandl talks to Martina AltSchaefer.This is the first of two interviews with German artists conducted by Mark Staf Brandl on the island of Elba, Italy. Martina AltSchaefer is an artist living in Ruessellsheim, Germany. She studied with the famed Konrad Kapheck and her creative work centers on very large, labor-intensive drawing in colored pencil on translucent paper. AltSchaefer has exhibited in many prestigious galleries and museums.
She also does printmaking and is an expert on mezzotint, about which she has curated shows and written essays. She was in an invitational retreat in July as a working guest of a foundation on the island of Elba along with Viennese jazz pianist and composer Martin Reiter, New York playwright Sony Sobieski, Berlin artist Alexander Johannes Kraut (the interviewee in part two) and Mark Staff Brandl, the Bad at Sports Continental and now also islandal European Bureau.
Also for all the Napoleon fans, especially those commenting on facebook, they were not in exile and even Mark was allowed back on the mainland without having to invade it.
Audio clip: Adobe Flash Player (version 9 or above) is required to play this audio clip. Download the latest version here. You also need to have JavaScript enabled in your browser.

download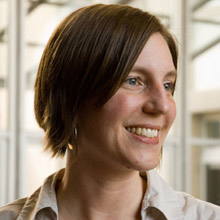 This week: Duncan talks to "super G" certified genius artist Camille Utterback.
Camille Utterback is an internationally acclaimed artist whose interactive installations and reactive sculptures engage participants in a dynamic process of kinesthetic discovery and play. Utterback's work explores the aesthetic and experiential possibilities of linking computational systems to human movement and gesture in layered and often humorous ways. Her work focuses attention on the continued relevance and richness of the body in our increasingly mediated world.
Her work has been exhibited at galleries, festivals, and museums internationally, including The New Museum of Contemporary Art, The American Museum of the Moving Image, New York; The NTT InterCommunication Center, Tokyo; The Seoul Metropolitan Museum of Art; The Netherlands Institute for Media Art; The Taipei Museum of Contemporary Art; The Center for Contemporary Art, Kiev, Ukraine; and the Ars Electronica Center, Austria. Utterback's work is in private and public collections including Hewlett Packard, Itaú Cultural Institute in São Paolo, Brazil, and La Caixa Foundation in Barcelona, Spain.
Awards and honors include a MacArthur Foundation Fellowship (2009), a Transmediale International Media Art Festival Award (2005), a Rockefeller Foundation New Media Fellowship (2002) and a commission from the Whitney Museum for the CODeDOC project on their ArtPort website (2002). Utterback holds a US patent for a video tracking system she developed while working as a research fellow at New York University (2004). Her work has been featured in Art in America (October, 2004), Wired Magazine (February 2004), The New York Times (2009, 2003, 2002, 2001), ARTnews (2001) and many other publications. It is also included in Thames & Hudson's 'World of Art – Digital Art' book (2003) by Christiane Paul.
Recent public commissions include works for The Sacramento Airport, The City of San Jose, California, The City of Fontana, California, and the City of St. Louis Park, Minnesota. Other commissions include projects for The American Museum of Natural History in New York, The Pittsburgh Children's Museum, The Manhattan Children's Museum, Herman Miller, Shiseido Cosmetics, and other private corporations.
Utterback holds a BA in Art from Williams College, and a Masters degree from the Interactive Telecommunications Program at New York University's Tisch School of the Arts. She lives and works in San Francisco.
Audio clip: Adobe Flash Player (version 9 or above) is required to play this audio clip. Download the latest version here. You also need to have JavaScript enabled in your browser.

download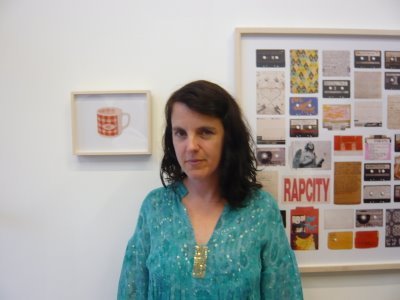 This week: The kick off of a series of programs recorded at Baer Ridgway Exhibitions in San Francisco during BAS's mini residency as a guest of Chris Duncan during his "Eye Against I" exhibition. Brian and Duncan talk with Chris about the series, and then the main event Tammy Rae Carland! In addition to being a fascinating guest, Tammy is the only guest we've had who has a song written about them to utilize as their intro/outro clip (by the awesome band Bikini Kill no less).
Bio lifted from Tammy's site:
Tammy Rae Carland was born in Portland Maine in 1965. She received her MFA from UC Irvine, her BA from The Evergreen State College in Olympia Washington and attended the Whitney Independent Study Program. She is an Associate Professor at the California College of the Arts where she also Chairs the Photography Program. She is represented by Silverman Gallery in San Francisco and primarily works with photography, experimental video and small run publications. Her work has been screened and exhibited in galleries and museums internationally including New York, Los Angeles, San Francisco, Berlin and Sydney. Her photographs have been published in numerous books including The Passionate Camera; Queer Bodies of Desire and Lesbian Art in America.
Her fanzine writing has been republished in A Girl's Guide to Taking Over the World. She has also published photographs and received reviews of her work in numerous national media including: The New York Times, Big, The Los Angeles Times, Spin, Details, Out and The Village Voice. In the 1990's Carland independently produced a series of influential fanzines, including I (heart) Amy Carter. She has collaborated on the record art of some seminal underground music releases for the bands Bikini Kill, The Fakes and The Butchies. From 1997-2005 she co-ran Mr. Lady Records and Videos, an independent record label and video art distribution company that was dedicated to the production and distribution of queer and feminist culture. Tammy Rae Carland lives in Oakland California.
PS: A hearty "Fuck You" to Libsyn and their crappy software. This is the third time I've written this. Turn off or down the "time out" function on your site, jerks.