Audio clip: Adobe Flash Player (version 9 or above) is required to play this audio clip. Download the latest version here. You also need to have JavaScript enabled in your browser.
Emerging in the late 1960s alongside artists including Richard Long and Gilbert and George, Hamish Fulton's work began to explore new possibilities for sculpture and for a direct relationship between landscape and art, shifting the focus from the resulting art as an object on to the experience of the landscape. With influences ranging from American Indian culture to the subject of the environment itself, Fulton began to take short walks and take photographs to document the experiences of these walks.
After a monumental journey walking 1,022 miles from John O'Groats to Lands End Fulton made walking the sole subject of his art claiming to then make "only art resulting from the experience of individual walks". He believes that each walk has a life of its own, and this cannot be rendered into a physical artwork; as the artist says "an artwork may be purchased but a walk cannot be sold".
Fulton undertakes these walks by himself and so is the only person to directly experience them; however the images, photographs and text allow viewers to engage with the artist's experiences.
Born in London in 1946 Hamish Fulton studied at St Martin's College of Art, 1966-1968, and the Royal College of Art, 1968-1969, both in London and has had numerous solo shows at various institutions, amongst them Tate Britain and Kunst Museum, Basel, and has exhibited internationally including shows in New York, Tokyo and Munich.  Fulton's work is also kept by collections ranging from the British Council and the Victoria and Albert Museum, to the Museum of Modern Art, New York.
Audio clip: Adobe Flash Player (version 9 or above) is required to play this audio clip. Download the latest version here. You also need to have JavaScript enabled in your browser.
This week: Richard talks to Paul Klein about his new project Klein Artist Works!
Audio clip: Adobe Flash Player (version 9 or above) is required to play this audio clip. Download the latest version here. You also need to have JavaScript enabled in your browser.

download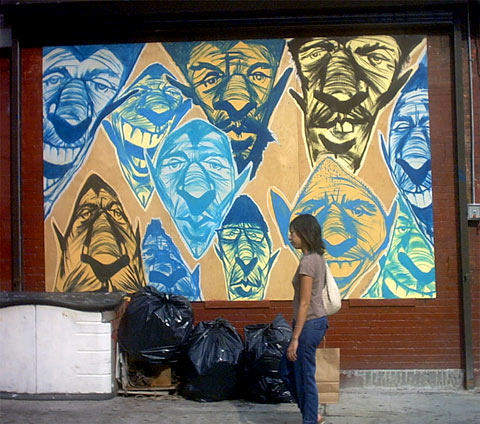 This week: Chris Duncan joins Brian and Duncan in a round table with Rich Jacobs. Jacobs work draws from by graffiti, psychedelic and folk art, and frequently appears on a broad range of materials beyond the gallery including magazines, books, CD and LP covers.
The raucous group discusses building a scene outside the system, the decline in the relevance of graffiti, why punks end up making hippie art, and why we all should endeavor to make more honest artwork. This is the final interview recorded in our series at Baer Ridgeway Exhibitions.
Audio clip: Adobe Flash Player (version 9 or above) is required to play this audio clip. Download the latest version here. You also need to have JavaScript enabled in your browser.
This week: This is the second of two interviews with German artists conducted by Mark Staff Brandl on the island of Elba, Italy. Alexander Johannes Kraut is an artist who concentrates on drawing and printmaking, sometimes reaching installative proportions. He has also created an amazing thirteen chapter wordless graphic novel. Kraut comes from a farming village in the Allgäu, and is now based in Kreuzberg in Berlin. He has lived in many places and exhibited widely in important museums and other venues including in Mexico City, Paris and New York as well as several places in Germany.
The artist was in an invitational retreat in July as a working guest of a foundation on the island of Elba along with Viennese jazz pianist and composer Martin Reiter, New York playwright Sony Sobieski, Ruessellsheim artist Martina AltSchaefer (the interviewee in part one) and Mark Staff Brandl, the Bad at Sports Continental and now also islandal European Bureau. As a note to English speakers: Kraut's name is not only amusing as the English-language slang for 'German,' but also means 'herb' in German, and 'Johannes Kraut,' called 'St. John's wort' in English, is a plant traditionally used to combat depression and, in ancient times, to ward off evil.
Audio clip: Adobe Flash Player (version 9 or above) is required to play this audio clip. Download the latest version here. You also need to have JavaScript enabled in your browser.

download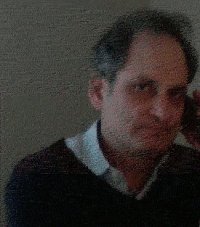 This week: Patrica, Brian, and Duncan chat with one-of-a-kind private art dealer and fountain of knowledge Steven Leiber. Steven Leiber is most commonly known for operating Steven Leiber's Basement which specializes in the sale of contemporary art and contemporary art documentation: artist's books, artist's ephemera, multiples, works on paper and reference materials. The conversation delves in to the history of Steven's artist ephemera collections and the unique catalogs his endeavors produce. This episode is part of the series recorded this fall at Baer Ridgeway Exhibitions.