Audio clip: Adobe Flash Player (version 9 or above) is required to play this audio clip. Download the latest version here. You also need to have JavaScript enabled in your browser.
This week Brian sits down with Eleanor Hanson and Oliver Wise, the Oakland-based founders of The Present Group, who describe the project as "like a mutual fund that produces art instead of profits."; A quarterly art subscription project, The Present Group enables a community of subscribers to create a new avenue of support for contemporary artists.
They produce thought-provoking work in a variety of media, and each of the four annual limited editioned art works is paired with an essay contextualizing the edition.
Their goal is to engage art enthusiasts who never thought of themselves as art collectors and to introduce them to the experience and pleasures of owning contemporary art. This is the next installment of the collaboration between Art Practical and Bad At Sports.
An abridged transcript of this interview appears in AP Issue 13. http://www.artpractical.com
Image: David Horvitz. Hermosa Beach, CA, Issue 9, Winter 2009; viewmaster reel, viewer, and Somerset cotton rag paper card. Courtesy of The Present Group.
Audio clip: Adobe Flash Player (version 9 or above) is required to play this audio clip. Download the latest version here. You also need to have JavaScript enabled in your browser.
This week: Richard and Duncan speak with Chicago based artist and 2010 Whitney Biennial participant Julia Fish about her work, Japanese architecture and more!
Before that starts, there is a short pithy segment on C2E2, which was awesome (the show not our bit).
Yes I made a stupid Front 242 musical joke which only I will find funny.
Audio clip: Adobe Flash Player (version 9 or above) is required to play this audio clip. Download the latest version here. You also need to have JavaScript enabled in your browser.

download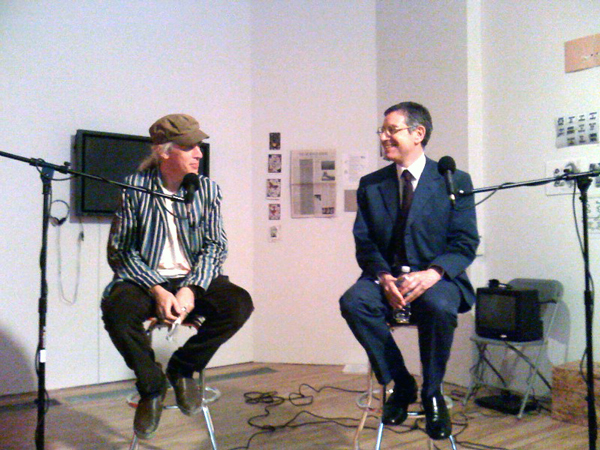 This week Jeffrey Deitch interviewed by Carlo McCormick!!! Recorded before a live studio audience at the BAS apexart show "Don't Piss on Me and Tell Me it is Raining."
Carlo McCormick is a leading New York art writer and a champion of "the downtown scene". For almost decades Jeffrey Deitch has been perhaps the most important taste maker and facilitator of emerging contemporary art in New York City and the world. On the eve of Deitch's departure from New York, Carlo will talk to Jeffrey about his time and legacy as one of the most visible, dynamic and controversial players in the the New York art world.
Audio clip: Adobe Flash Player (version 9 or above) is required to play this audio clip. Download the latest version here. You also need to have JavaScript enabled in your browser.
This week: HOLY CRAP OUR SHOW AT apexart OPENS!!! April 7th 6-8 p.m. http://www.apexart.org/exhibitions/badatsports.htm.
Also this week: Duncan talks to Peter Otto!
Peter Otto's work reports on the constituent factors of a human condition continually shifting between beguiling and highly disturbing. He reveals the state to which humanity – ever tested by social, cultural and political forces – bends, breaks and at times collapses. His paintings and sculptures show a reality emerging from the darkest moments. The themes are somber; the work though is delicately formed and teeming with graceful facture.
Otto, who lives in Arnhem, The Netherlands, has been featured in solo and group exhibitions throughout Europe including projects at Museum Beelden aan Zee in Scheveningen, the Kröller-Müller Museum, Boÿmans van Beuningen in Rotterdam, Galerie Reuten and Galerie Swart in Amsterdam, the Museum Kurhaus Kleve and the Pushkin Museum in Moscow.
Audio clip: Adobe Flash Player (version 9 or above) is required to play this audio clip. Download the latest version here. You also need to have JavaScript enabled in your browser.
This week: Patricia sits down with artist Mads Lynnerup during his recent sojourn in San Francisco. They talk about spotting Cyndi Lauper at the New Museum, precocious nerdy kids at the Guggenheim, navigating the ever-growing professionalization of the art world, everyday routines, and the merits of being a prankster.
Mad Lynnerup was born in Copenhagen, Denmark and lives and works in Copenhagen and New York. He completed his MFA from Columbia University in 2007 and received a BFA from San Francisco Art Institute in 2001. He has shown his work at the San Francisco Museum of Modern Art; The Mori Art Museum, Tokyo; P.S. 1 and Socrates Sculpture Park, both New York; and Zacheta National Gallery of Art, Warsaw. Lynnerup works across such diverse media as video, sculpture, drawing, and printmaking. Many of the themes in his work have roots in his constant interest in the everyday and his surroundings.
This is the third collaboration between Art Practical and Bad At Sports.
Image: Routines (Sønder Boulevard), 2008 (video still); installation, video and poster series. Courtesy of the Artist and Baer Ridgeway Exhibitions, San Francisco.
[Read more]