Audio clip: Adobe Flash Player (version 9 or above) is required to play this audio clip. Download the latest version here. You also need to have JavaScript enabled in your browser.

download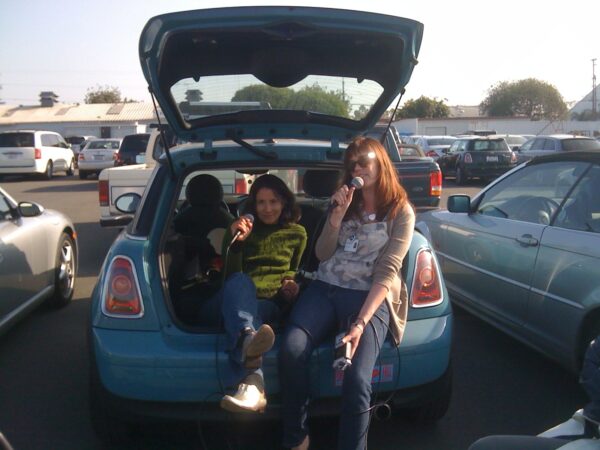 This week: Patricia tailgates with Lisa Anne Auerbach and Michael Parker!
As part of the Art Los Angeles Contemporary art fair, which took place January 27-30 at the Barker Hanger of the Santa Monica Airport, the crew from Art Practical produced "In and Out of Context: Artists Define the Space between San Francisco and Los Angeles," a series of conversation that imagined the two cities as "a continuously evolving constellation of dialogues, shared interests, and overlapping approaches."
In this episode Patricia Maloney, Catherine Wagley, and artist Elyse Mallouk tailgate with LA-based artists Lisa Anne Auerbach and Michael Parker from the back of Auerbach's aqua blue Mini Cooper, parked behind the airport hanger. As prop planes rumble by on their way to takeoff, Auerbach and Parker discuss topics ranging from torn porn and being one's own bumper sticker to the Shakers and how artists can make change in the work.
Lisa Anne Auerbach's practice is interdisciplinary and takes the form of photography, publications and, more often than not, knitting. Combining humor with a biting critique of the complacency and routine of modern life, her work inserts itself into the visual and social fabric of the communities that she engages. She received her BA from the Rochester Institute of Technology and her MFA from Art Center College of Design. She is represented by Gavlak, West Palm Beach, Florida.
Michael Parker work makes use of the concept of Temporary Autonomous Zones to produce microtopias, experiments that are situated between idealist notions of community and pragmatic methods for narrating the actions of individuals and groups. He received his BA from Pomona College and his MFA from the University of Southern California. His work was recently featured in in "Landfill, Part 2." in Art Practical.
Audio clip: Adobe Flash Player (version 9 or above) is required to play this audio clip. Download the latest version here. You also need to have JavaScript enabled in your browser.

download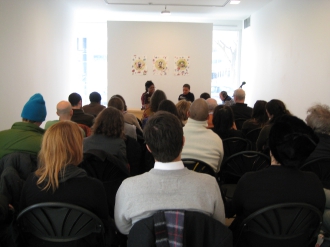 This week: A conversation with Ebony G. Patterson & Tumelo Mosaka at Monique Meloche Gallery. Patterson (Jamaican, born Kingston Jamaica 1981, lives Lexington, KY) will have a dynamic mixed-media installation that investigates Jamaican dance hall culture in the gallery's window facing Division Street. Mosaka included Patterson in his 2007 exhibition Infinite Island: Contemporary Caribbean Art at the Brooklyn Museum of Art where he was formerly Associate Curator of Exhibitions. Recently, Mosaka has become the Contemporary Art Curator at the Krannert Art Museum, Champaign, Illinois. Patterson's installation Gully Godz in Conversation-Conversations Revised I, II and III will continue through March 26 as our 4th on the wall project.
link to series…
http://moniquemeloche.com/winter-experiment-2011/
Audio clip: Adobe Flash Player (version 9 or above) is required to play this audio clip. Download the latest version here. You also need to have JavaScript enabled in your browser.
This week: Amanda and Martin talk to artists and gallerists at differing 2011 NY art fairs. Breaking away from the megahub of the ARMORY, we visit exemplary booths at the Manhattan "satellite" shows, getting a feel for the variety within the ever growing gala.
With Volta's one-artist-per-booth, we focus on Bradley Castellanos at MARX & ZAVATERRO with his ominous photomontages. Kimberly Johansson of Oakland's Johansson Projects introduces us to Jennie OTTINGER and her lively novel-inspired pieces before a surprise by a mock art tour.
The SCOPE fair finds interviewing in a bodega cooler typical of the art installed by artist Andrew Ohanesian. At SPINELLO PROJECTS we meet with featured artist Barnaby Whitfield and Paul Bruno of DIRTY MAGAZINE. Bruce Livingstone and Peter Teodoric talk about the SAATCHI ONLINE project.
On the Hudson River's panhandle barge, Tom Burtonwood of WHAT IT IS captures the boisterous atmosphere of the floating FOUNTAIN fair.
The party continues with Amanda speaking with Hudson of FEATURE INC. at INDEPENDENT fair's second year after its' upstart inauguration.
Martin Esteves can be found here… http://thelifeofstmartin.blogspot.com/
There you will also find his textual perceptions of the Armory.
Audio clip: Adobe Flash Player (version 9 or above) is required to play this audio clip. Download the latest version here. You also need to have JavaScript enabled in your browser.

download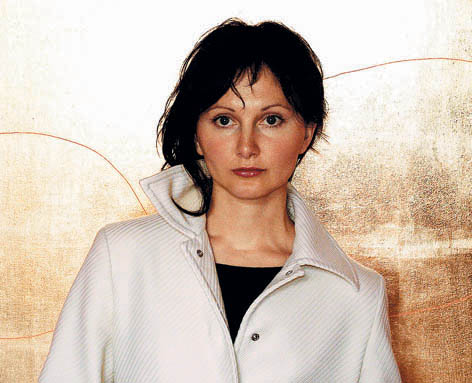 This week: Mark Staff Brandl talks to Ieva Maurite. Ieva Maurite is a young Latvian artist living in Riga. For the show this week, Mark Staff Brandl, (the Bad at Sports Continental European Office and EuroShark) interviewed her during her visiting artist gig in the Principality of Liechtenstein. Maurite is a painter, book artist and art academy instructor who has also had residencies in Paris, Iceland and many other parts of Europe.
Maurite and Brandl discuss the itinerant European artist life, art study and the artworld in Latvia, Maurite's difficult-to-photograph linear imagistic paintings and generally have fun meandering around art topics while Brandl fails to pronounce anything in Latvian correctly including her name (which begins with an "i", by the way, in case Richard and Duncan screw up this paragraph.)
Audio clip: Adobe Flash Player (version 9 or above) is required to play this audio clip. Download the latest version here. You also need to have JavaScript enabled in your browser.

download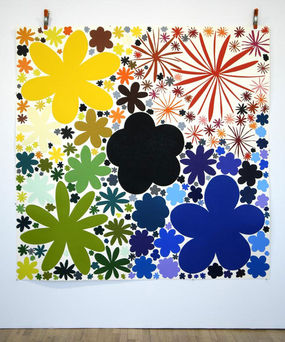 This week: Tom and Amnda talk to contemporary artist, and all around interesting person Polly Apfelbaum!