Audio clip: Adobe Flash Player (version 9 or above) is required to play this audio clip. Download the latest version here. You also need to have JavaScript enabled in your browser.
This week Amanda and Duncan rock the Miami area with a three-fer of NADA interviews with Ruba Katrib, Scott Hug, and Atsushi Kaga.
They surf the the tricky waters of "The Reach of Realism", the space of design, art, and cool conceptualism, and what you get out of cute? Rock. Roll and love. With two brilliant young artists and a dynamite curator!
This is the closest I have come to blowing the Sunday posting deadline in years, damn you influenza! [Read more]
Audio clip: Adobe Flash Player (version 9 or above) is required to play this audio clip. Download the latest version here. You also need to have JavaScript enabled in your browser.

This week Bad at Sports begins a three or maybe four part series that we produced at NADA (the New Art Dealers Alliance) Art Fair for 2009.
This week Amanda Browder and Duncan MacKenzie we sit down with Heather Hubbs, NADA's Director and Chris Duncan, a San Francisco based artist showing with Baer Ridgway Exhibitions. The conversations span a huge gulf as Heather talks about the roll she played in Chicago, galvanizing a scene and what she has done with NADA, while Chris talks about being in the studio, making and what things are like in SF.
Great conversations to kick off a great series that was produced inside one of the best fairs in the country.
We produced a set of limited edition Bad at Sports T-Shirts for the event and have a small number of L, XL, and XXL's (maybe one or 2 mediums or smalls) left which are available from us for $20.00 a piece. Contact us at mail@badatsports.com if you are interested. [Read more]
Audio clip: Adobe Flash Player (version 9 or above) is required to play this audio clip. Download the latest version here. You also need to have JavaScript enabled in your browser.
This week: The AMANDA BROWDER SHOW! Amanda and Tom start 2010 off with an interview with Miami artists Alain Guerra and Neraldo de la Paz about their collective Guerra de la Paz (awesome composite of their names) about their work, and how clothing can be more than just a shell over one person's nubile body..but a story and a basis for sculptural exploration.
Then, Mike Benedetto returns!!! He offers up a meditation on Steven Seagal, Lawman.
Guerra de la Paz is the composite name of Cuban born, American artist duo Alain Guerra (born 1968) and Neraldo de la Paz (born 1955), who have been collaborating since 1996. They are based in Miami.
Guerra was born in Havana and de le Paz in Matanzas. Guerra de la Paz work in sculpture, installation and photography. Their work references the politics of modern conflict and consumerism alongside symbols of faith; they often use old clothing to build their sculptures.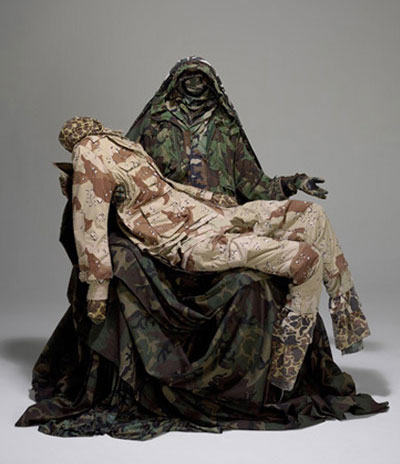 [Read more]
Audio clip: Adobe Flash Player (version 9 or above) is required to play this audio clip. Download the latest version here. You also need to have JavaScript enabled in your browser.
This week: recent addition to the BAS family Anna Kunz talks to indie rock legend Lou Barlow (Dinosaur Jr., Folk Implosion, Sebadoh, Sentridoh, and his own solo work) about the creative process, his music, and other exciting stuff. Lou recently released a spectacular new album out Goodnight Unknown. Richard will kick himself for a long time that he wasn't there for this interview. Bad at Sports congratulates the Barlow family on the addition of a recent bundle of joy! The baby thing is catching kids, watch out. Before you realize it everyone you know will have a couple ankle biters running around.
Clipped from Wikipedia, and redundant:
Lou Barlow is an American alternative rock singer, songwriter and multi-instrumentalist.
A founding member of the groups Dinosaur Jr., Sebadoh and The Folk Implosion, Barlow is credited with helping to pioneer the lo-fi style of rock music in the late 1980s and early 1990s. Barlow was born in Dayton, Ohio and was raised in Jackson, Michigan and Westfield, Massachusetts. [Read more]
Audio clip: Adobe Flash Player (version 9 or above) is required to play this audio clip. Download the latest version here. You also need to have JavaScript enabled in your browser.
This week Duncan and Richard interview Monica Bonvicini about her work and her show Light Me Black which is the current Focus show at the Art Institute of Chicago. Well, it was largely Richard as he would not shut up and Duncan had to be wheeled into the interview on a gurney due to his case of swine/bird/monkey flu/pox, and therefore did not have the strength to lift the stun gun of containment which is typically used in these situations.
The following text was shamelessly lifted from the Art Institute's web site.
November 20, 2009–January 24, 2010
Gallery 182
Overview: Equal parts beautiful and menacing, Monica Bonvicini's sculptures, installations, videos, and drawings provoke an acute awareness of the physical and psychological effects of institutional, particularly museum, architecture. Favoring industrial materials that reference the modernist canon, such as metal and glass, often combined with the trappings of sexual fetishism—leather, chains, and rubber—Bonvicini confronts the power structures and contradictions inherent in built environments.
Text quoted from a variety of sources, including literature, psychoanalytic theory, popular music, and architects' own words, adds yet another layer to her wry commentary. More than any other artist working today, her projects aim to expose the disparity between the sexy, utopian, and avant-gardist claims of certain—largely male—"starchitects" and the realities of the spaces they create.
The first Focus exhibition in the museum's new Modern Wing, Bonvicini's project brings together three works that directly engage the Renzo Piano–designed building both formally and conceptually. Created specifically for the Art Institute, Light Me Black, an immense sculpture comprising 144 custom-made fluorescent lighting fixtures suspended from the ceiling, recalls the emphasis on light throughout the Modern Wing. In the now-iconic 1998 installation Plastered, re-created at the Art Institute, the entire gallery floor is constructed out of unfinished drywall panels that progressively crack and fragment as visitors move through the space.
The third part of the exhibition consists of three glass panels depicting altered renderings of earlier sculptural projects by Bonvicini and invoking the building's glass-curtain façade—replicated in a smaller scale in Gallery 182. The three discrete elements work together to acknowledge the aesthetic achievements of the building while hinting at its potential vulnerabilities. [Read more]