Audio clip: Adobe Flash Player (version 9 or above) is required to play this audio clip. Download the latest version here. You also need to have JavaScript enabled in your browser.

download


This week: Bad at Sports humbly presents Yael Bartana. We speak about her film work, identity struggles, the history of war and power, and just how an Israeli comes to represent Poland in the 2011 Venice Biennial.
Bio from Experimental Television Center
Yael Bartana was born in 1970 in Kfar-Yehozkel, Israel. She has a BFA from the Bezalel Academy of Art and Design in Jerusalem, an MFA from the New York School of Visual Arts and participated in the Rijksakademie artist-in-residence program from 2000-2001. She has had solo exhibitions in many countries including Germany, Israel, Australia and Japan and has won various prizes such as the Anselm Kiefer Prize (2003) and the Dorothea von Stetten-Kunstpreis (2005).
Her work focuses mainly on the relationship between ritual and identity in Israeli society, looking at the practices that constitute identity, especially in its relation with traditional and contemporary notions of gender, place and ethnicity. In most of the pieces Bartana uses documentary footage shot in public or semi-public spaces at collective events that contribute to identity formation, such as shooting drills for trainee female soldiers or the carnivalesque festivities of the Jewish holiday Purim. Bartana currently lives and works in Amsterdam and Tel Aviv.
http://www.experimentaltvcenter.org/history/people/bio.php3?id=40
http://www.berlinbiennale.de/blog/en/7th-biennale/jrmip-congress-in-berlin
Audio clip: Adobe Flash Player (version 9 or above) is required to play this audio clip. Download the latest version here. You also need to have JavaScript enabled in your browser.

download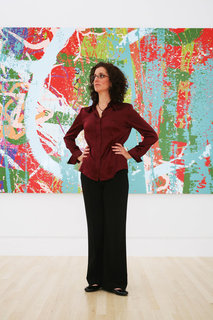 In this week's episode Duncan talks to Lisa Freiman of the Indianapolis Museum of Art. This wide-ranging discussion looks at her work with the 2011 Venice Biennial/Jennifer Allora and Guillermo Calzadilla, what it takes to make a relevant sculpture park, and what is up with our neighbor in the blogosphere Art Babble. Hold onto your hats it's bound to be a bumpy ride.
Lisa appears with the generous support of SAIC's Visiting Artist Program and we thank them for their assistance. And special thanks go out to Andrea Green and Thea Liberty Nichols.
The following bio was "borrowed" remorselessly from the 54th international art exhibition known as the Venice Biennial. Maybe you've heard of it?
Lisa D. Freiman is senior curator and chair of the Department of Contemporary Art at the Indianapolis Museum of Art. In fall 2010, Freiman was appointed by the United States Department of State to be commissioner of the U.S. Pavilion in the 54th International Art Exhibition, La Biennale di Venezia. In 2011, she will present six newly commissioned, site-responsive works by Puerto Rico-based artists Allora & Calzadilla, the first collaborative to be presented in the U.S. Pavilion. Under Freiman's vision and direction, the IMA opened 100 Acres: The Virginia B. Fairbanks Art & Nature Park to international critical acclaim in June 2010. 100 Acres offers a new  resilient model for sculpture parks in the 21st century, emphasizing experimentation, place-making, and public engagement with a constantly changing constellation of commissioned artworks. Inaugural installations included works by eight artists and artist collaboratives from around the world including Atelier Van Lieshout, Kendall Buster, Jeppe Hein, Alfredo Jaar, Los Carpinteros, Tea Mäkipää, Type A, and Andrea Zittel.
During her eight-year tenure at the IMA, Freiman has transformed the experience of contemporary art in Indianapolis. She has created a dynamic and widely  renowned contemporary art program that has become an influential model for encyclopedic museums as they engage the art of our time. Actively seeking out the works of emerging and established international artists, Freiman continues to provide a platform to support artists' work through major traveling exhibitions, commissions, acquisitions, and publications. She has realized major commissions by artists including Robert Irwin, Kay  Rosen, Tony Feher, Orly Genger, Julianne Swartz, and Ghada Amer, and curated numerous exhibitions of works by international contemporary artists including  Amy Cutler, Ingrid Calame, Maria Magdalena Campos-Pons, Ernesto Neto, and Tara Donovan. Freiman has published extensively on contemporary art, including books on Amy Cutler (Amy Cutler, Hatje Cantz, 2006), and María Magdalena Campos-Pons (María Magdalena Campos-Pons: Everything Is Separated by Water, Yale University Press, 2007), and Type A (Type A, Hatje Cantz, 2010).
Prior to joining IMA, Freiman worked as assistant professor of art history, theory, and criticism at the University of Georgia, Athens and served in the curatorial department of the Institute of Contemporary Art, Boston. She earned her doctorate and master's degrees in modern and contemporary art history from Emory University and has a bachelor's degree in art history from Oberlin College. Freiman is currently editing the first collection of Claes Oldenburg's writings from the Sixties, which will be published by Yale University Press in London in 2013. She is also adapting her dissertation, "(Mind)ing The Store: Claes Oldenburg's Psychoaesthetics," into the first scholarly monograph on Claes Oldenburg entitled Claes Oldenburg and the Sixties.
Audio clip: Adobe Flash Player (version 9 or above) is required to play this audio clip. Download the latest version here. You also need to have JavaScript enabled in your browser.
This week: A summer double-header!
Richard goes to What It Is gallery in Oak Park, Illinois and talks to owners Tom Burtonwood and Holly Holmes and to their most recent artist-in-residence R. James Healy. They talk about the gallery, James' amazing zoetrope AND how he, in his own way, brought Harry Potter to life.
Next: Lawyer, collector, and all around great guy Troy Klyber interviews sculptor/toy maker/genius Randy Regier.
TWO SHOWS FOR THE PRICE OF ONE!
Audio clip: Adobe Flash Player (version 9 or above) is required to play this audio clip. Download the latest version here. You also need to have JavaScript enabled in your browser.

download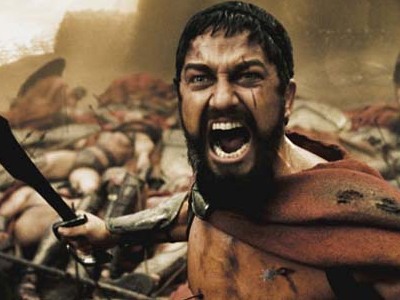 This Week: Our listeners take over. After a painfully silly intro with Richard, Duncan, and Claudine, we turn it over to those who recorded their own interviews at the MDW Fair 2011!!
Audio clip: Adobe Flash Player (version 9 or above) is required to play this audio clip. Download the latest version here. You also need to have JavaScript enabled in your browser.

download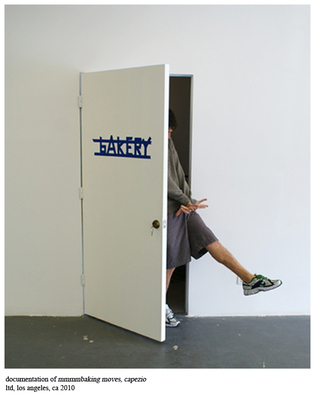 This week: San Francisco checks in with a discussion with Aaron GM and Ginger Wolfe-Suarez
In this episode Art Practical contributors Zachary Royer Scholz, Elyse Mallouk, and Patricia Maloney speak with artists Aaron GM and Ginger Wolfe-Suarez. This was one of several conversations held over the weekend of the fair as part of "In and Out of Context: Artists Define the Space between San Francisco and Los Angeles," a program that invited artists to consider the two cities as a continuously evolving constellation of dialogues, shared interests, and overlapping approaches. An abridged transcript of the conversation can be read on Art Practical.
Aaron GM lives and works in Los Angeles. He studied at both San Francisco Art Institute and UCLA. Recently he exhibited a solo presentation at the NADA Art fair in Miami Beach (2010). Other Recent solo exhibitions include capezio (2010) at ltd los angeles, Timeshares (2009) at Parker Jones Gallery in Los Angeles, and sales calls(2008) at Blanket Gallery in Vancouver. Aaron has shown in group exhibitions both nationally and internationally.
Ginger Wolfe-Suarez is an emerging conceptual artist, writer, and theorist. Her work often takes the form of large-scale sculpture, exploring the psychology of built space. Both an exploration into the experiential phenomena of body-object relationships, and a questioning of the material nature of sculpture interweave concepts of memory and process. Wolfe-Suarez teaches studio critique and art theory, and is currently Visiting Faculty in the graduate program at San Francisco Art Institute. Her writings on art criticism have been published internationally, and her artwork has been recently exhibited at Silverman Gallery, ltd Los Angeles, KUNSTRAUM AM SCHAUPLATZ in Vienna, Artist Curated Projects in Los Angeles, Mills Art Museum, Yerba Buena Center for the Arts, and High Desert Test Sites, among others. She studied at Goldsmiths College in London and later received her BFA from The School of the Art Institute of Chicago, and her MFA from the University of California at Berkeley. Wolfe-Suarez lives and works in Richmond, CA, where she raises her three-year-old son.