Audio clip: Adobe Flash Player (version 9 or above) is required to play this audio clip. Download the latest version here. You also need to have JavaScript enabled in your browser.

download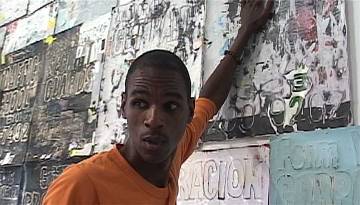 This week: Duncan and Claudine talk with Mark Bradford!
Deeply influenced by his experience growing up in South Central Los Angeles, the titles of his works often allude to stereotypes and the dynamics of class, race, and gender-based economies that structure urban society in the United States, specifically those of Los Angeles where he lives and works.
An anthropologist of his own environment, Bradford describes himself as a "modern-day flaneur," saying, "I like to walk through the city and find details and then abstract them and make them my own. I'm not speaking for a community or trying to make a sociopolitical point. At the end it's my mapping. My subjectivity."
Audio clip: Adobe Flash Player (version 9 or above) is required to play this audio clip. Download the latest version here. You also need to have JavaScript enabled in your browser.

download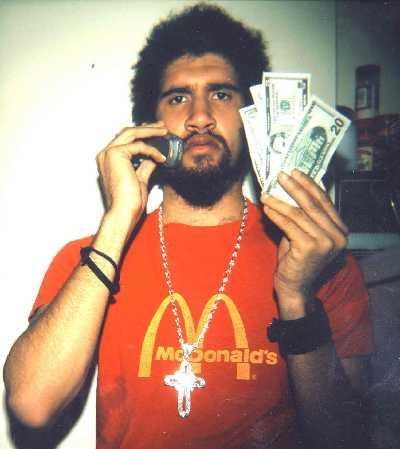 This week: Tom talks to Hennessy Youngman. Hennessy Youngman (aka Jayson Musson) is the host and visionary behind Art Thoughtz, a video series that is insightful, smart as fuck, and hilarious.
Audio clip: Adobe Flash Player (version 9 or above) is required to play this audio clip. Download the latest version here. You also need to have JavaScript enabled in your browser.

download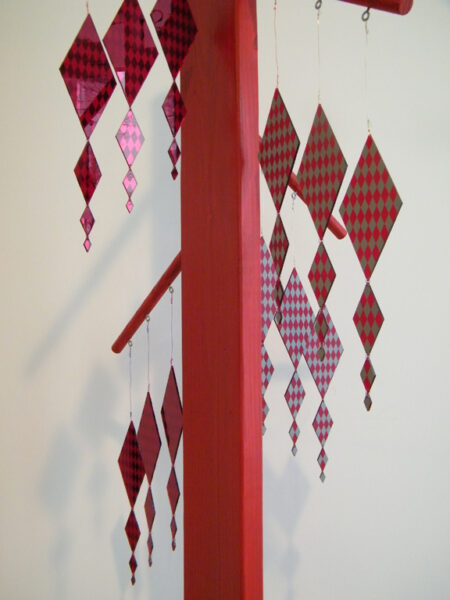 This week: Recorded live at the Winter Experiment at Monique Meloche Gallery, Dan Gunn talking with Michelle Grabner.
From Dan's website, dangunn.com:
Winter Experiment 2011
January 18th to the 22nd, 2011.
Opening and conversation on the 22nd at 1pm.
Monique Meloche Gallery presents the Winter Experiment 2011. Four artists have been invited do one week long installations that end in a discussion open to the public. Please join me for my exhibition at that culminates in a Saturday afternoon "conversation" with Michelle Grabner. Chicago contemporary art podcast Bad At Sports will also be onsite covering the talks.
Saturday January 22, 1pm: Dan Gunn & Michelle Grabner
Michelle Grabner, who is an artist, curator, writer and the founder of The Suburban in Oak Park, teaches at the School of the Art Institute. After the conversation, follow us to Shane Campbell Gallery, for the open of Grabner's solo exhibition Like a rare morel.
Audio clip: Adobe Flash Player (version 9 or above) is required to play this audio clip. Download the latest version here. You also need to have JavaScript enabled in your browser.

download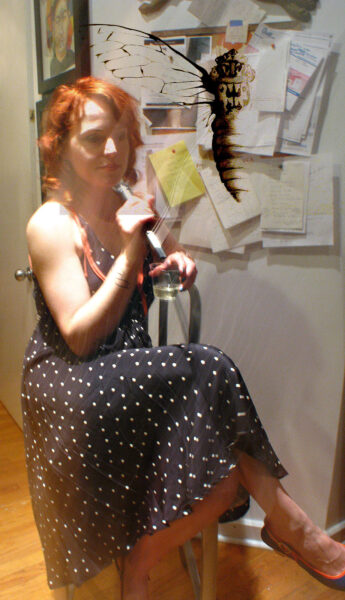 This week: Double header! First Brian and Patricia talk to the fine folks at the Kadist Art Foundation in San Francisco. Next Christopher Hudgens and Richard talk to Artist Lauren Levato about her new show at Firecat Projects "Lantern Fly Sex Cure".
Audio clip: Adobe Flash Player (version 9 or above) is required to play this audio clip. Download the latest version here. You also need to have JavaScript enabled in your browser.

download


This week: Bad at Sports humbly presents Yael Bartana. We speak about her film work, identity struggles, the history of war and power, and just how an Israeli comes to represent Poland in the 2011 Venice Biennial.
Bio from Experimental Television Center
Yael Bartana was born in 1970 in Kfar-Yehozkel, Israel. She has a BFA from the Bezalel Academy of Art and Design in Jerusalem, an MFA from the New York School of Visual Arts and participated in the Rijksakademie artist-in-residence program from 2000-2001. She has had solo exhibitions in many countries including Germany, Israel, Australia and Japan and has won various prizes such as the Anselm Kiefer Prize (2003) and the Dorothea von Stetten-Kunstpreis (2005).
Her work focuses mainly on the relationship between ritual and identity in Israeli society, looking at the practices that constitute identity, especially in its relation with traditional and contemporary notions of gender, place and ethnicity. In most of the pieces Bartana uses documentary footage shot in public or semi-public spaces at collective events that contribute to identity formation, such as shooting drills for trainee female soldiers or the carnivalesque festivities of the Jewish holiday Purim. Bartana currently lives and works in Amsterdam and Tel Aviv.
http://www.experimentaltvcenter.org/history/people/bio.php3?id=40
http://www.berlinbiennale.de/blog/en/7th-biennale/jrmip-congress-in-berlin