Audio clip: Adobe Flash Player (version 9 or above) is required to play this audio clip. Download the latest version here. You also need to have JavaScript enabled in your browser.

download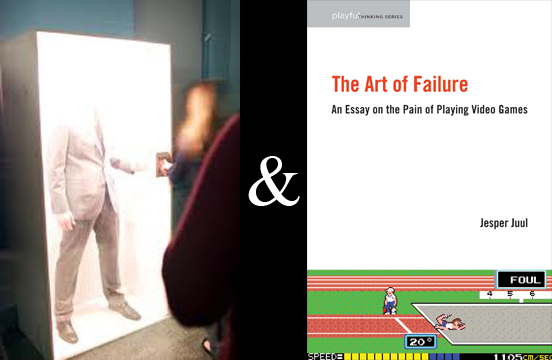 This week: Video games. Amanda talking about porn and boobs. People behaving badly. Oh, yeah, some art. It's after 3 AM.  I'm tired you aren't getting a huge, organized note, go and google stuff, you can do it. I am even more nasally than normal in the audio, damned airplane petri dishes.
This is a show for the ages.
Jesper Juul is an assistant professor at the New York University Game Center. He has been working with the development of video game theory since the late 1990's. His publications include Half-Real on video game theory, and A Casual Revolution on how puzzle games, music games, and the Nintendo Wii brought video games to a new audience. He maintains the blog The Ludologist on "game research and other important things". His most recent book is The Art of Failure: An Essay on the Pain of playing Video Games. http://www.jesperjuul.net
Oliver Warden (b. 1971, Cleveland, Ohio) is a multidisciplinary artist, working both in the realms of contemporary art and technology. When online, he goes as his avatar name, ROBOTBIGFOOT. The majority of his body of work is inspired by and culled from his experiences in the virtual world, as he spends about 40 hours a week inside the realms of Counter-Strike, Left 4 Dead, and various independent titles. It can be said that Warden essentially, and by 21st Century definition, lives in two worlds: online and off. His paintings, ranging in size of 1 ft to 21 ft canvases, are made by a unique process of pouring Galkyd onto canvas laid horizontally in his Bushwick studio. The semi-transparent and glossy layers build over each other in intricate and elaborate geographies, creating an effects-driven and technologically mediated super-world. His cameraless-photography is created on his computer, in virtual spaces. One series that I find especially innovative shows the "edge of world" in the video game Tribes; Warden literally played the game until there were no more challenges or objectives to complete, and after reaching the literal end of the map (where the playable area stops), he took thousands of screen shots. The results are works on paper, presented as pixelated photographs.  His performance pieces are the third factor of his work, creating a complete balanced and intentional body. Inspired by his interactive experiences, he built a body of work around notions of privacy, voyeurship and control.  Stalking people in Central Park at midnight and "capturing" them on video, living in a school wall for a week and pulling covert ops at night and sitting inside a chair as unknowing sitters sat on his lap, all challenged and occasionally broke the rules of engagement and participation.
Audio clip: Adobe Flash Player (version 9 or above) is required to play this audio clip. Download the latest version here. You also need to have JavaScript enabled in your browser.

download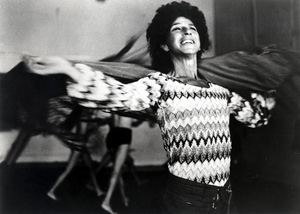 This week: San Francisco checks in with dance legend Anna Halprin!!!
Anna Halprin (b. 1920) is a pioneering dancer and choreographer of the post-modern dance movement. She founded the San Francisco Dancer's Workshop in 1955 as a center for movement training, artistic experimentation, and public participatory events open to the local community. Halprin has created 150 full-length dance theater works and is the recipient of numerous awards including the 1997 Samuel H. Scripps Award for Lifetime Achievement in Modern Dance from the American Dance Festival. Her students include Meredith Monk, Trisha Brown, Yvonne Rainer, Simone Forti, Ruth Emmerson, Sally Gross, and many others.
Printed Matter
Live Benefit Auction Event: March 9, 6-8:30 pm
Robert Rauschenberg Project Space
455 West 19th St, New York
www.paddle8.com/auctions/printedmatter
Printed Matter, Inc, the New York-based non-profit organization committed to the dissemination and appreciation of publications made by artists, will host a Benefit Auction and Selling Exhibition at the Rauschenberg Foundation Project Space to help mitigate damage caused by Hurricane Sandy.
As a result of the storm, Printed Matter experienced six feet of flooding to its basement storage and lost upwards of 9,000 books, hundreds of artworks and equipment. Printed Matter's Archive, which has been collected since the organization's founding in 1976 and serves as an important record of its history and the field of artists books as a whole, was also severely damaged. Moreover, the damage sustained by Sandy has made it clear that Printed Matter needs to undertake an urgent capacity-building effort to establish a durable foundation for its mission and services into the future.
This is the first fundraising initiative of this scale to be undertaken by the organization in many years, and will feature more than 120 works generously donated from artists and supporters of Printed Matter.
The Sandy Relief Benefit for Printed Matter will be held at the Rauschenberg Project Space in Chelsea and will run from February 28 through March 9th. The Benefit has two components: a selling exhibition of rare historical publications and other donated works and an Auction of donated artworks.
A special preview and reception will be held February 28th, 6-8 pm, to mark the unveiling of all 120 works and to thank the participating artists and donors. The opening will feature a solo performance by cellist Julia Kent (Antony and the Johnsons), followed by a shared DJ set from Lizzi Bougatsos (Gang Gang Dance) & Kyp Malone (TV on the Radio). The event is free and open to the public.
All works will then be available for viewing at the Rauschenberg Project Space March 1 – March 9, gallery hours.
All Selling Exhibition works may be purchased during this period and Auction works will be available for bidding online. Bids can be made at www.paddle8.com/auctions/printedmatter.
A live Benefit Auction Event will take place March 9, 6-8:30 pm with approximately 20 selected works to be auctioned in a live format. Bidding on these works will commence at 7pm sharp, while silent bids can be made on all other Auction works. Note, highest online bids will be transferred to the room. For absentee bidding of works, please contact Keith Gray (Printed Matter) at 212 925 0325 or keith@printedmatter.org. The evening will feature a performance by Alex Waterman on solo cello with electronics. Admission is $150 and tickets may be pre-purchased here. There will be only limited capacity.
Highlighted auction works include an oversize ektacolor photograph from Richard Prince, a woven canvas piece from Tauba Auerbach, an acrylic and newsprint work from Rirkrit Tiravanija, a large-scale Canopy painting from Fredrik Værslev, a rare dye transfer print from Zoe Leonard, a light box by Alfredo Jaar, a book painting by Paul Chan, a carbon on paper work from Frances Stark, a seven-panel plexi-work with spraypainted newsprint from Kerstin Brätsch, a C-print from Hans Haacke, a firefly drawing from Philippe Parreno, a mixed-media NASA wall-piece from Tom Sachs, a unique print from Rachel Harrison, a vintage xerox poem from Carl Andre, an encyclopedia set of hand-made books from Josh Smith, a photograph from Klara Liden, a table-top sculpture from Carol Bove, Ed Ruscha's Rooftops Portfolio, as well as original works on canvas and linen by Cecily Brown, Cheyney Thompson, Dan Colen, Adam McEwen, RH Quaytman, and many others.
These Auction works can be previewed at:Â www.paddle8.com/auctions/printedmatter
In addition to auction works, a vitrine-based exhibition of rare books, artworks and ephemera are available for viewing and purchase. This material includes some truly remarkable items from the personal collection of Robert Rauschenberg, donated by theRobert Rauschenberg Foundation in memory of the late Printed Matter Board Member, bookseller and publisher, John McWhinnie. Among the works available are books and artworks from Marcel Duchamp, Willem de Kooning, Alfred Steiglitz,Joseph Beuys, Brigid Berlin (Polk), as well as a Claes Oldenburg sculpture, a rare William Burroughs manuscript, and the Anthology Film Archive Portfolio (1982). Additional artists' books have been generously donated by the Sol LeWitt Estate. Works include pristine copies of Autobiography (1980), Four Basic Kinds of Straight Lines (1969), Incomplete Open Cubes (1974), and others. Three Star Books have kindly donated a deluxe set of their Maurizio Cattelan book edition. These works can be viewed and purchased at the space. For inquiries about available works please contact Printed Matter's Associate Director Max Schumann at 212 925 0325 or mschumann@printedmatter.org.
Co-chairs Ethan Wagner & Thea Westreich Wagner and Phil Aarons & Shelley Fox Aarons have guided the event, and Thea Westreich Art Advisory Services has generously lent its expertise and assisted in the production of the auction.
In anticipation of the event Printed Matter Executive Director James Jenkin said:
"Not only are we hopeful that this event will help us to put Sandy firmly behind us, it is incredibly special for us. To have so many artists and friends associated with our organization over its 36 years come forward and support us in this effort has been truly humbling."
Auction includes work by:Â 
Michele Abeles, Ricci Albenda, Carl Andre, Cory Arcangel, Assume Vivid Astro Focus, Tauba Auerbach, Trisha Baga, John Baldessari, Sebastian Black, Mark Borthwick, Carol Bove, Kerstin Brätsch, Sascha Braunig, Olaf Breuning, Cecily Brown, Sophie Calle, Robin Cameron, Sean Joseph Patrick Carney, Nathan Carter, Paul Chan, Dan Colen, David Kennedy Cutler, Liz Deschenes, Mark Dion, Shannon Ebner, Edie Fake, Matias Faldbakken, Dan Graham, Robert Greene, Hans Haacke, Marc Handelman, Rachel Harrison, Jesse Hlebo, Carsten Höller, David Horvitz, Marc Hundley, Alfredo Jaar, Chris Johanson, Terence Koh, Joseph Kosuth, Louise Lawler, Pierre Le Hors, Leigh Ledare, Zoe Leonard, Sam Lewitt, Klara Liden, Peter Liversidge, Charles Long, Mary Lum, Noah Lyon, McDermott & McGough, Adam McEwen, Ryan McNamara, Christian Marclay, Ari Marcopoulos, Gordon Matta-Clark, Wes Mills, Jonathan Monk, Rick Myers, Laurel Nakadate, Olaf Nicolai, Adam O'Reilly, Philippe Parreno, Jack Pierson, Richard Prince, RH Quaytman, Eileen Quinlan, Sara Greenberger Rafferty, Ed Ruscha, Tom Sachs, David Sandlin, Paul Mpagi Sepuya, Cindy Sherman, Josh Smith, Keith Smith, Buzz Spector, Frances Stark, Emily Sundblad, Andrew Sutherland, Peter Sutherland, Sarah Sze, Panayiotis Terzis, Cheyney Thompson, Rirkrit Tiravanija, Nicola Tyson, Penelope Umbrico, Fredrik Værslev, Visitor, Danh Vo, Dan Walsh and Ofer Wolberger.
Audio clip: Adobe Flash Player (version 9 or above) is required to play this audio clip. Download the latest version here. You also need to have JavaScript enabled in your browser.

download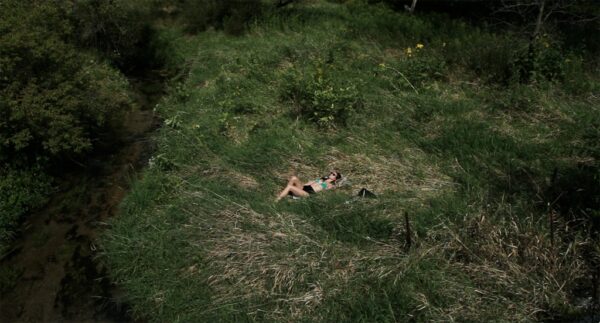 This week: Duncan and Claudine talk to Chicago-based artist Irena Knezevic, whose show "Night of the World" at Alderman Exhibitions closed earlier this month. They discuss Knezevic's background as a math genius and her involvement in the student activist movements in Serbia. There is some musing on the nature of evil. Artist Anna Shteynshleyger drops in and joins the conversation. Plus!! We hear live music by Irena and Joerg Becker, who perform selections from Knezevic's limited edition record "Sailors Sing Suicide Songs." Bourgeois notions of love are ridiculed. A good time is had by all.
Irena Knezevic works in various visual art formats, music, and architecture. Upcoming projects will be exhibited at New Projects, Chicago; Institute for Contemporary Art, Philadelphia; Hyde Park Art Center, Chicago; and Kunstraum München, Germany. For information on past exhibitions and selected projects, visit: 
http://allyouknowistrue.net/
.
Audio clip: Adobe Flash Player (version 9 or above) is required to play this audio clip. Download the latest version here. You also need to have JavaScript enabled in your browser.

download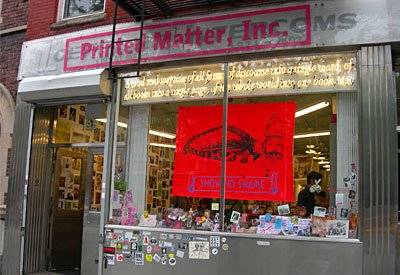 This week: James Jenkins Executive Director of Bad at Sports beloved place to spend our disposable income Printed Matter!
Printed Matter is the world"s largest non-profit organization dedicated to the promotion of publications made by artists. Founded as a for-profit alternative arts space in 1976 by artists and artworkers, Printed Matter reincorporated in 1978 to become the independent non-profit organization that it is today. Originally situated in Tribeca, Printed Matter moved to SoHo in 1989 where for twelve years the book displays and artists' projects in the large storefront windows contributed to the artistic and intellectual vibrancy of the neighborhood. In 2001 Printed Matter relocated to Chelsea, where it continued to foreground the book as an alternative venue – or artistic medium – for artists' projects and ideas. Finally, in December of 2005 Printed Matter moved into our current storefront location in Chelsea with big windows and greatly increased display and exhibition space. Recognized for years as an essential voice in the increasingly diversified art world conversations and debates, Printed Matter is dedicated to the examination and interrogation of the changing role of artists' publications in the landscape of contemporary art.
Printed Matter"s mission is to foster the appreciation, dissemination, and understanding of artists' publications, which we define as books or other editioned publications conceived by artists as art works, or, more succinctly, as "artwork for the page." Printed Matter specializes in publications produced in large, inexpensive editions and therefore does not deal in "book arts" or "book objects" which are often produced in smaller, more expensive editions due to the craft and labor involved in their fabrication.
To promote public awareness of and access to artists' books, Printed Matter maintains a public reading room where over 15,000 titles by 6,000 international artists are available for viewing and purchase. In addition to being a wholesale and retail distribution hub for artists' books, Printed Matter offers a free consulting service to libraries, art institutions, and art professionals involved with artists' books throughout the world. Printed Matter presents a range of educational programs for the public from talks to student groups by staff members to in-store lectures and readings by artists, critics, and curators. These educational initiatives are complemented by our internationally recognized exhibitions program and publishing program.
Audio clip: Adobe Flash Player (version 9 or above) is required to play this audio clip. Download the latest version here. You also need to have JavaScript enabled in your browser.

download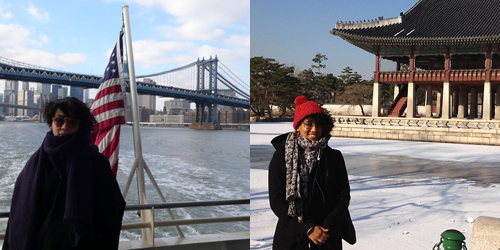 This week: Amanda interviews residents at apexart!
apexart and Bad at Sports continue the Resident Talk collaborations* with Inbound Resident Sojung Jun and Outbound ResidentShani Peters in conversation with BAS' Amanda Browder.
Shani Peters is a New York based artist working in video, collage, printmaking, and social practice public projects. Her work reflects interests in social-justice-oriented collective action, activism histories, cultural record keeping, media culture, and community building. Read more on her resident page.
Sojung Jun is known for her video and performance art. One of her recent exhibitions, Artspectrum, which was shown in Leeum, Samsung Museum of Art in Seoul in 2012, demonstrates Jun's interest in producing a series of related shots that constitute a complete unit of video. Read more on her resident page.
* Over the course of the series, the Bad at Sports team will grill and provoke apexart residents in increasingly ridiculous scenarios while talking art, residencies, the role of conversation, and the inspiration that comes with travel.