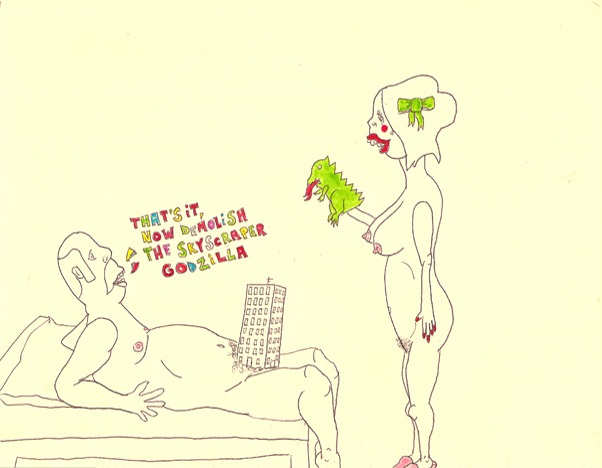 I recently had a chance to check out part of BelieveInn's "Out of Towners" lineup, their current show, Ferris Bueller, featuring work from Porous Walker, with Gabe Levinson and Timothy Pigott. Ferris Bueller's Day Off was, coincidentally, the first (and probably the last) film I ever enjoyed on LaserDisc.
San Francisco-based Porous Walker said that he wanted  to bring to life parts of the film "that were never seen." When I asked him why this film in particular, he said "Because it's a great film, that's all, simple. And because I knew Camerons house was going on the market so I hoped the two could somehow mesh and help promote." Artists with heart, that is what I like to see.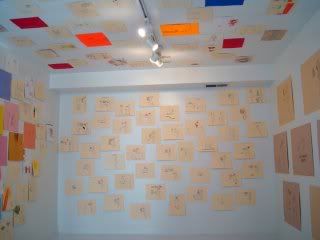 The BelieveInn space is the lower half of a house set back from the street. Three of the walls (and the ceiling) of the tiny immaculate front room was filled with Walker's drawings, which are pretty damn funny caricatures of naked women with sagging breasts and hair clips, and naked men with either very large, or very small, penises. Clean in form and raunchy in content, the illustrations are like the jokes that come right after fart jokes but before you find your dads Playboy. And who doesn't think about the cashiers at Trader Joe's without their clothes on, really?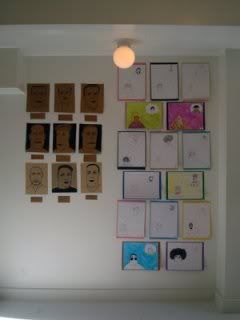 Gabe Levinson and Timothy Pigott's work was orderly installed on one wall, adding a nice grid counterbalance to the rest of the room. Pigott's portraits of "Characters Not in the Movie", consisted of head shot sketches of dweeby men referencing different details of the film. Levinson's piece, "Dudes Thinking About Dudes", were depictions of just that, kind of a one liner homo joke framed in construction paper.
Overall, the show feels like an articulate, very naughty boy's bedroom, and can pretty much be summed up in Levinson's paper plane installation instructions: 1) Tear out a page 2)Make a paper airplane 3)Aim it at someone's head 4) Don't apologize.
I missed the opening of this show, but I'm planning on catching the closing on June 21st from 1-4 pm.
Richard Hunt's terrific sculpture show at David Weinberg Gallery closed last weekend, but if you missed it there's another powerful selection of Hunt's work from the past 20 years on view at G.R. N'Namdi Gallery.
David Weinberg's space, the smaller of the two galleries, showed off the many paradoxical elements of Hunt's sculptures in a surprisingly effective manner. When I first walked in to that exhibition, the room felt overly crowded to the extent that I feared one of sculptures' edges might actually jab me (or I it). But it quickly became clear that, physically at least, there was plenty of room for all of us.
Hunt's work is full of surprises like that. Eluding easy formal classifications, his sculptures can't adequately be described as organic, nor are they exactly technological in nature. They're somewhere in between the two, where spiraling forms evoke the flow of waves or the whir of circular blades. One sculpture at N'Namdi recalls a stack of bones, human and otherwise; others have sharp, protruding hooks. The lines of Hunt's sculptures alternate between curving and jagged, their movement sometimes vertical, sometimes lateral, but always, always upwards.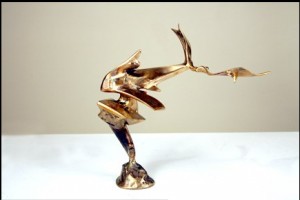 Stacks of things frequently rest atop stacks of other things, as if someone were trying to build a stairway to heaven by piling object upon object as high as the whole thing will go–an implausible and impossibly graceful agglomeration of broken wings, torn dorsal fins, discarded hand tools and shards of bone.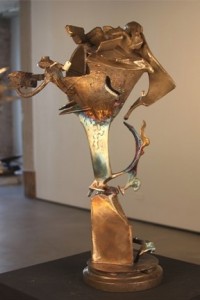 Hunt's sculptures may reach upwards, but they're far from dreamy. The often rapid transitions from one form to another doesn't suggest rebirth or regeneration so much as an effort to fit together, sometimes clumsily, that which already exists. In this Hunt's forms evoke the forward movement of history (be it an individual's or a nation's) as something precariously and pragmatically achieved, in fits and starts, over time.
The show is at G.R. N'Namdi Gallery (110 N. Peoria, Chicago, 312-563-9240) through June 30th.
Last month I wrote a post about Wynne Greenwood's latest performance Sister Taking Nap. Wynne is best known for her performance as the three member band Tracy + the Plastics. Last year she had a solo show at Susanne Vielmetter which consisted of new sculptures and videos. In 2008 Wynne was the recipient of a Genius Award from Seattle's the Stranger . Wynne was nice enough to answer some of my questions and fill me in on some of her projects.
1) After Tracy + the Plastics were over I had heard that you were doing a new musical venture called libber. I remember hearing that it was like the plastics plus marching bands. What happened to that project? I was seriously stoked when I heard about it.
I did make a short (4 min) performance w/ video and music called LIBBER in summer 2004.  I made and performed this for the LTTR Explosion at Art in General, NYC.  LIBBER was literally a "breakthrough" moment for me.  It was the first, and to date only, time I physically performed through the projection surface.  I cut a hole in the sheet and stood behind the sheet, the video was projected from the front onto the front of the sheet that I was standing behind.  I put my arm through the hole in the sheet to be the arm of the abstracted girl figure.  My real arm became her arm.  And it (my real arm) played a real drum.
The story was that this girl has a drum and she's walking around the city with her drum.  The drum lets her know that she can never be nostalgic because the drum is always wanting her to hit it again.  And she's wondering what to do with her life when a marching band walks by and she joins in with them.
At the time I thought I would make this into a band somehow. Not with any video, but with the idea of the abstracted figure, and the idea of an ever-changing make-up of a band, like a marching band. You graduate, and you're not in the band anymore, but there's a new person there who brings new and different or maybe similar things to the instrument/role.  I also wanted to have the music and performance be very drum-based.  But I got weary of using the word "Libber" to be a title for something that was very specific to me and my experience/created experience. And so I changed my music-making "name" to my name, wynne greenwood. And that's where I'm at now.
2) Big Candy is probably one of my favorite pieces of yours. Was it a precursor to Sister Taking Nap? From the photos that I saw visually they seemed to be linked.
Yeah, I do think Big Candy and Sister Taking Nap are like memories or ideas from the same body. Sister Taking Nap was a smooshing together of two different projects I'd been thinking about for a couple years – one was a performance and the other was a series of sculptures. After I made the Big Candy video, I started thinking about the possibilities of interacting with a sculpture using words and dialogue. For me, the form of "music video" is like a really relaxed (to the point sometimes of negligent) babysitter. There's no consequences, in a way, maybe because there's no rules. And I say that while I believe that there are always consequences, though that word is more complicated than its surface.
3) Will there be an audio component released for Sister Taking Nap?
It's really funny you ask this, because in the middle of performing Sister Taking Nap I thought "oh wow I could have made the audio into a record."  But I'm not going to do that.
4) I noticed that you often have discussed the notion of reality. What type of realities are you interested in creating with your work?
I'm interested in creating realities that are feminist and queer and self-aware. That are interdependent in their structure. Realities that have integrated surfaces and structures.
5) I read an interview for the Stranger that you are a twin. I was wondering if T+P might be a reaction to or at least influenced by having a close sibling?
All of my work has been influenced by this.
Here's what's got my attention, web-wise, so far this week:
*San Diego Museum of Art director Derrick R. Cartwright appointed director of the Seattle Art Museum.
*Art Institute of Chicago director James Cuno hopes to initiate massive fundraising drive for free Museum admission.
*No Boys Allowed: yearlong exhibition at the Pompidou Center is for women-only.
*Now on Vimeo: watch the NYFA Panel Discussion on 'How the Recession Has Impacted the Art World' (featuring Edward Winkleman, Sean Elwood, Stephanie Howe, Kay Takeda; via Edward_Winkleman).
*Scope Basil is only three weeks ago away, and still 'aint got no permit.
*"I spent a year asking why the contemporary art bubble was the biggest, bubbliest bubble of them all": Ben Lewis' The Great Contemporary Art Bubble preview clip on YouTube ( ART21's Ben Street has a funny post on the film too).
*Boing Boing writer Joel Johnson chides Wired Online for being clueless about the importance of online media–a great post, but look to the comments for the real dirt. (via ArtFagCity's Twitter).
*Speaking of Twitter, it could be coming to a t.v. near you.
*Grrr. Argh: Monster Kid Home Movies (via Boing Boing).
*Pierogi's famed flat files now searchable online. (via Art Fag City).
*A live conversation with a dead Andy Warhol, via psychic via webchat (via Rhizome.org).
*Beautiful/Decay needs YOU to help pick the theme for its next limited-edition publication. Winner gets a copy of the book. For free!
*Applications for the 2009 William H. Johnson Prize are now available. Due date is July 31st. (Via Artipedia).
From Holland Cotter's New York Times review of the New Museum's The Generational: Younger Than Jesus:
"But my point is that beyond quibbles about choices of individual works, [Younger than Jesus] raises the question of whether any mainstream museum show designed to be a running update exclusively on the work of young artists can rise above being a pre-approved market survey. Removed from a larger generational context, can such a survey ever become a story, part of a larger history? (The same question applies to museum exhibitions that leave young artists out of the picture.) I'm asking. It's a complicated subject. I don't know the answer."
I have one possible answer to Cotter's question: look to exhibitions like Artists Run Chicago, which opened a little over a week ago at Hyde Park Art Center. Artists Run Chicago situates its 100+ works of art within a larger history, one that is as messy and complicated and compelling as any of the many terrific individual works that are on display.
Although the Hyde Park Art Center is definitely not a "mainstream museum," nor is Artists Run Chicago a generational exhibition, the show does survey a generation of sorts: ten years in the life of Chicago's alternative art scene as manifested in the countless exhibitions that have taken place in apartments, houses, and cheap storefronts and loft spaces across the city.
The minimum criteria for selection in "Younger than Jesus" was that an artist be under the age of 33. Britton Bertran and Allison Peters Quinn, the curators of Artists Run Chicago, looked not at the age or even the production history of individual artists but focused instead on the (recent) history of a particular kind of exhibition-making that Chicago artists arguably do better than anyone, anywhere, else.
Following a few self-imposed guidelines–in order to be invited to participate in the exhibition, for example, a space had to have been run by artists, to exist in the Chicagoland area, and it needed an exhibition track record of at least eight months between 1999 and 2009–Bertran and Quinn put together an exhibition that reflects the conditions of production within Chicago's alternative art scene. That scene is itself an ad hoc, energetic, ever-shifting space of possibility and, let's face it, struggle. It isn't easy to run a space, even (and maybe especially) if it's out of your own home and totally on your dime.
After viewing Artists Run Chicago, it's hard not to start questioning some of the founding principles upon which sprawling group shows of emerging artists like Younger than Jesus are founded, starting with their tendency to frame artistic practice exclusively in terms of individualistic endeavor.
In this and other ways, Artists Run Chicago undermines simplistic notions of what constitutes a 'generation.' Is being part of a generation defined only by the year of your birth, or could it be alternatively circumscribed by who you hung out with and when, who your influences were? How long does a generation last? A decade? Or is as little as eight months enough–whatever time span is required for a group of people to make something that in turn spawns other things: namely, art. Sometimes the lifespan of a space is necessarily short, other times it lives long enough to become something of an elder statesman. Often, a space dies but germinates elsewhere in slightly different form.
Right now, Artists Run Chicago is blissfully short on documentation, which allows for treasure hunt-like wandering about the exhibition and sense of fresh discovery among viewers. For many people, a trip through the show is likely to provoke fond memories and personal anecdotes; for me, it was all new, and yet not once did I feel like an outsider, like someone peering through a window onto a scene that was purposefully cryptic or hipper-than-thou.
A show like this does need some explication, of course; I'm told an exhibition catalogue produced by Threewalls and Green Lantern Press is due in September will be published by Proximity magazine as a broadsheet with a map and timeline. It will include an essay by Dan Gunn along with interviews of the show's participants. I'm looking forward to connecting what I've already seen 'on the ground' to everyone else's stories, and to that larger history.