** A response to this post can be found here. Enjoy!**
A few weeks ago I asked the Chicago Art Community (#chiart) for a moratorium on OtherPeoplesPixels websites. One too many poorly worded artist statements had greeted me on the homepage. I'd inadvertently downloaded my fair share of CVs. I'd had enough. OtherPeoplesPixels is a hosted web application that provides portfolio sites for artists. I've been against this ubiquitous content management system since my first encounter with an OPP-hosted loading bar. The company was founded in 2005 by artists Brian Kirkbride and Jenny Kendler. The platform is notably employed by Chicagoans Theaster Gates, Sara Schnadt and Austin Eddy. Despite its popularity, I've never met a proud OPP user. Everyone I know complains about the service and is perpetually on the verge of switching providers.
I don't mean to hate on OPP. They saw a need and they filled it. That's business. But as a graphic designer and gallery owner I'm more concerned with good design. And as Thomas Watson of IBM once said, "good design is good business." Don't we all want to do good business? OPP is not well designed. Why does it take three clicks to see a single artwork? Shouldn't a portfolio site have the work front and center? It also wouldn't kill them to update their themes every, I don't know, five years or so. They should at least update the logo if it must be so prominently displayed on of each site.
During a lecture at the Art Institute Ed Ruscha discussed how he had used design throughout his career. He worked as a graphic designer for Art Forum under the pseudonym "Eddie Russia" and took advantage their office equipment to make his own invoices and letterhead. On the Bad at Sports podcast Jefferey Deitch attributed his success to ambition. He thinks that within the art world "if you take yourself seriously, other people will too."
My fundamental problem with OPP can be found in their tagline, "Spend time on your artwork, not on your website." If you are a professional artist, meaning that you (plan to) make money from your art, these activities are not mutually exclusive. Marketing your artwork is part of the job. Don't be bothered by the word marketing. Marketing is showing or telling people what you do. If you don't want to market anything, why pay $160/year (OPP's going rate) for a website? Just skip it and then you can really spend time on your artwork. Otherwise, let's think this through.
The first step is to define your Unique Selling Proposition. Your USP is why anyone would want to buy/read/listen to/look at your shit instead of someone else's. Once you've figured that out, consider your goals and your audience. Most artists have similar goals (to make work, to show work and to sell work) and similar audiences (peers, curators, dealers and collectors). When you know what you want to accomplish and who you want to reach, you can begin looking for website solutions that best serve your purposes.
An artist website can be as simple as a few images and contact information or much more comprehensive. Regardless of their needs every client I've ever had has always requested that their site be "simple" and "easy to update." Assuming that as a given, here are a few suggestions:
If You Are A Hopeless Luddite:
Don't DIY. Save yourself the stress and hire a professional (me). If you find someone who will do it for free, let them have fun with the project and complete it at their leisure. If you hassle them or promise them exposure they have my permission to punch you.
If You Can Get Down With Facebooks/Twitter/Etc.:
Pick Arlo Sites for a complete solution. $100/yr gets you well-designed themes, unlimited images, video, audio, blogs and social media integration. Steve Ruiz of Chicago Art Review wrote a long post about using Tumblr as a portfolio site. I've seen that work successfully, but make sure you back up regularly because their server goes on vacation once a month.
If You Customized Your Livejournal/Had A Geocities Site/Know How To Weave Dreams:
Indexhibit is content management system that was created by artist Daniel Eatock. It's particularly good at handling projects and sorting information chronologically. Indexhibit was built to be extremely flexible and if you can handle the rude forum dwellers it's a brilliant option. My personal favorite is WordPress. While it was originally conceived as a blogging platform, WordPress can be configured to do just about anything. For two very different examples compare the Bad at Sports website and the visual arts calendar On The Make. Both sites run on WordPress! The Portfolio Theme by Raygun gives you the Indexhibit look with the power to scale.
It's better to have no website than a bad one. A scan of business card would be more effective than some dirt style design. If you want to be treated like a professional artist you should have the highest quality of documentation that you can get, you should know how to talk and write about your art and every designed element, from the paper you print on to the typeface you choose to your domain name, should be working for you. The most important tools for your practice are your images and your words. An understanding of design lets you communicate with intention.
I wish Annie Leibovitz well and hope she gets her financial situation back on track and doesn't suffer the pain shared by The Beatles and Stones which is the never ending chase to put the genie (rights to your own work) back in the bottle once you have sold it. Aside from that I can't bring myself to shed a tear or show any shock over her situation.
If you haven't had a chance to read up on this, on July 29th Ms. Leibovitz was sued by Art Capital Group in the NY State Supreme Court for failure to pay towards a loan of $24 million that she took. The collateral for this was properties in Greenwich Village and in Rhinebeck, N.Y., her negatives and the rights to her photographs.
Essentially the bulk of her assets.
Now after failure to make the basic payments Art Capital Group has successfully pursued payment in the courts and is gaining access to the collateral with the goal of liquefying the assets to regain the funds. Ms. Leibovitz has not commented on the actions and I don't see any advantage to commenting but sadly it is reported that this is not the first time she has had problems making proper financial payments to clients or the state for taxes.
The point is this is not a rare case in the Art world, many many artists and creative professionals regularly take upon themselves financial responsibilities that they are ill prepared to handle or worse ignore all together. Only to learn that ignorance isn't a defense in the court and a lifetimes worth of work and struggle can be lost in the balance of a few or single bad financial decisions.
I know it feels like it is hard to find people to trust, or you don't want to have some "parental" figure limiting your decisions or options but the business side of art is as important in the long term if not in many ways more important in enabling great work to be produced and shared with the world.
Please take this opportunity to take a good hard look at your current situation if this current economy hasn't made you already and ask yourself are you properly taking care of your long term finances and are adequately planing for trouble and can personally handle that responsibility yourself. If the answer is no, find someone skilled who you can partner with to make sure you don't sign contracts or do expenditures you will live the rest of your life regretting.
Life in Art is hard enough, don't be your own worst enemy.
I recently had a chance to check out part of  BelieveInn's "Out of Towners" lineup, their current show, Ferris Bueller, featuring work from Porous Walker, with Gabe Levinson and Timothy Pigott. Ferris Bueller's Day Off was, coincidentally, the first (and probably the last) film I ever enjoyed on LaserDisc.
San Francisco–based Porous Walker said that he wanted  to bring to life parts of the film "that were never seen." When I asked him why this film in particular, he said "Because it's a great film, that's all, simple.  And because I knew Camerons house was going on the market so I hoped the two could somehow mesh and help promote." Artists with heart, that is what I like to see.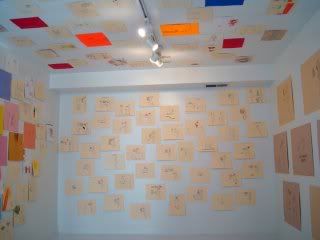 The BelieveInn space is the lower half of a house set back from the street. Three of the walls (and the ceiling) of the tiny immaculate front room was filled with Walker's drawings, which are pretty damn funny caricatures of naked women with sagging breasts and hair clips, and naked men with either very large, or very small, penises. Clean in form and raunchy in content, the illustrations are like the jokes that come right after fart jokes but before you find your dads Playboy. And who doesn't think about the cashiers at Trader Joe's without their clothes on, really?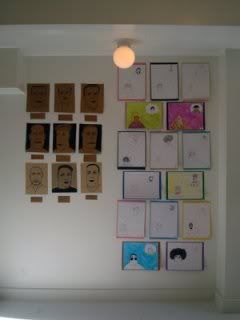 Gabe Levinson and Timothy Pigott's work was orderly installed on one wall, adding a nice grid counterbalance to the rest of the room. Pigott's portraits of "Characters Not in the Movie", consisted of head shot sketches of dweeby men referencing different details of the film. Levinson's piece, "Dudes Thinking About Dudes", were depictions of just that, kind of a one liner homo joke framed in construction paper.
Overall, the show feels like an articulate, very naughty boy's bedroom, and can pretty much be summed up in Levinson's paper plane installation instructions: 1) Tear out a page 2)Make a paper airplane 3)Aim it at someone's head 4) Don't apologize.
I missed the opening of this show, but I'm planning on catching the closing on June 21st from 1-4 pm.
Richard Hunt's terrific sculpture show at David Weinberg Gallery closed last weekend, but if you missed it there's another powerful selection of Hunt's work from the past 20 years on view at G.R. N'Namdi Gallery.
David Weinberg's space, the smaller of the two galleries, showed off the many paradoxical elements of Hunt's sculptures in a surprisingly effective manner. When I first walked in to that exhibition, the room felt overly crowded to the extent that I feared one of sculptures' edges might actually jab me (or I it). But it quickly became clear that, physically at least, there was plenty of room for all of us.
Hunt's work is full of surprises like that. Eluding easy formal classifications, his sculptures can't adequately be described as organic, nor are they exactly technological in nature. They're somewhere in between the two, where spiraling forms evoke the flow of waves or the whir of circular blades. One sculpture at N'Namdi recalls a stack of bones, human and otherwise; others have sharp, protruding hooks.  The lines of Hunt's sculptures alternate between curving and jagged, their movement sometimes vertical, sometimes lateral, but always, always upwards.
Stacks of things frequently rest atop stacks of other things, as if someone were trying to build a stairway to heaven by piling object upon object as high as the whole thing will go–an implausible and impossibly graceful agglomeration of broken wings, torn dorsal fins, discarded hand tools and shards of bone.
Hunt's sculptures may reach upwards, but they're far from dreamy. The often rapid transitions from one form to another doesn't suggest rebirth or regeneration so much as an effort to fit together, sometimes clumsily, that which already exists. In this Hunt's forms evoke the forward movement of history (be it an individual's or a nation's) as something precariously and pragmatically achieved, in fits and starts, over time.
The show is at G.R. N'Namdi Gallery (110 N. Peoria, Chicago, 312-563-9240) through June 30th. 
Last month I wrote a post about Wynne Greenwood's latest performance Sister Taking Nap.  Wynne is best known for her performance as the three member band Tracy + the Plastics. Last year she had a solo show at Susanne Vielmetter which consisted of new sculptures and videos. In 2008 Wynne was the recipient of a Genius Award from Seattle's the Stranger . Wynne was nice enough to answer some of my questions and fill me in on some of her projects.
1) After Tracy + the Plastics were over I had heard that you were doing a new musical venture called libber. I remember hearing that it was like the plastics plus marching bands. What happened to that project? I was seriously stoked when I heard about it.
I did make a short (4 min) performance w/ video and music called LIBBER in summer 2004.  I made and performed this for the LTTR Explosion at Art in General, NYC.  LIBBER was literally a "breakthrough" moment for me.  It was the first, and to date only, time I physically performed through the projection surface.  I cut a hole in the sheet and stood behind the sheet, the video was projected from the front onto the front of the sheet that I was standing behind.  I put my arm through the hole in the sheet to be the arm of the abstracted girl figure.  My real arm became her arm.  And it (my real arm) played a real drum.
The story was that this girl has a drum and she's walking around the city with her drum.  The drum lets her know that she can never be nostalgic because the drum is always wanting her to hit it again.  And she's wondering what to do with her life when a marching band walks by and she joins in with them.
At the time I thought I would make this into a band somehow. Not with any video, but with the idea of the abstracted figure, and the idea of an ever-changing make-up of a band, like a marching band.  You graduate, and you're not in the band anymore, but there's a new person there who brings new and different or maybe similar things to the instrument/role.  I also wanted to have the music and performance be very drum-based.  But I got weary of using the word "Libber" to be a title for something that was very specific to me and my experience/created experience.  And so I changed my music-making "name" to my name, wynne greenwood.  And that's where I'm at now.
2) Big Candy is probably one of my favorite pieces of yours. Was it a precursor to Sister Taking Nap? From the photos that I saw visually they seemed to be linked.
Yeah, I do think Big Candy and Sister Taking Nap are like memories or ideas from the same body.  Sister Taking Nap was a smooshing together of two different projects I'd been thinking about for a couple years – one was a performance and the other was a series of sculptures.  After I made the Big Candy video, I started thinking about the possibilities of interacting with a sculpture using words and dialogue.  For me, the form of "music video" is like a really relaxed (to the point sometimes of negligent) babysitter.  There's no consequences, in a way, maybe because there's no rules.  And I say that while I believe that there are always consequences, though that word is more complicated than its surface.
3) Will there be an audio component released for Sister Taking Nap?
It's really funny you ask this, because in the middle of performing Sister Taking Nap I thought "oh wow I could have made the audio into a record."  But I'm not going to do that.
4) I noticed that you often have discussed the notion of reality. What type of realities are you interested in creating with your work?
I'm interested in creating realities that are feminist and queer and self-aware.  That are interdependent in their structure.  Realities that have integrated surfaces and structures.
5) I read an interview for the Stranger that you are a twin.  I was wondering if T+P might be a reaction to or at least influenced by having a close sibling?
All of my work has been influenced by this.