Good morning to all of you out there in TV land. I hope you are feeling bloated and a little ashamed, now that the national day of gluttony is done. I wish I could say I have an exciting lineup of shows to get you out into the streets, crawlin' off those extra calories, but alas, there are but three shows opening this weekend, all tonight. Now, I'm not putting all three on my picks, if you want to know the other two you can find them on my Gallery Crawl. No, dearies, I'm giving you my one pick, from three: The Op Shop.
1. The Op Shop at, well, The Op Shop –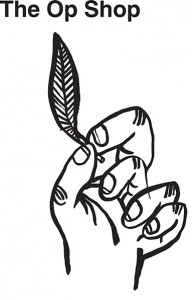 So, I'm not exactly sure what the story is here. It has something to do with Laura Shaeffer over at Home Gallery, and includes a lot of artists she's shown: Anders Nilsen, Katrin Asbury, Rachel Tredon, and Albert Stabler, among others. As far as I can tell, it is a new idea for a roaming space, called the Op(portunity) Shop, derived from the Australian term for thrift shops, apparently. Not sure where it's going next, if anywhere, but hey, if you happen to be in the vicinity of Hyde Park, why not stop by?
The Op Shop is located at 1613 E. 55th. Reception tonight, 6-10pm.
Hey ya'll. There are quite a few shows I'm interested in the weekend, not all of which are getting dropped into the Top 5, but which still bear a mention: Bob Jones at 65 Grand, Ann and Maria Ponce at Packer Schopf, Joe Hardesty at Western Exhibitions, Creator/Curator at HungryMAN Gallery, and New Blood 3 at the Chicago Cultural Center. Unfortunately, I won't be able to make it to everything, but you'll be happy with any of the above mentioned selections along side any or all the shows listed in the Top 5 (which, by the way, are listed in no particular order). That's it for now, get your ass out there and see some art!
Top 5 for 11/20-11/22:
1. Technically, It's Art at Abryant Gallery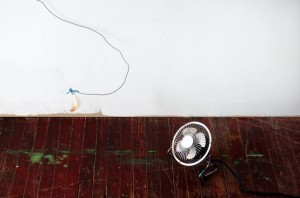 Abryant Gallery, run by Angela Bryant, is one of those spaces that Chicago is so good at producing, a space run by people just out of school, showing people just out of school, but actually doing it relatively well. For this round, Bryant is featuring the work of Eric Ashcraft, Madeleine Bailey, Mark Beasley, Rebecca Berman, GROUP CABIN, Andy Cahill, Lauren Gregory, Maxon Higbee, Aaron Hoffman, Nadia Hotait, Mik Kastner, Lisa MAjer, Gary Pennock, Sarah Perez, Micah Schippa, Briana Schweizer, Alan Strathmann and Synica Whitney in Technically, It's Art.
Opening Reception: Friday 7-10pm. Abryant Gallery is located at 1842 N. Damen Ave., 4th Fl.
2. IN(DI)VISIBLE at Noble & Superior Projects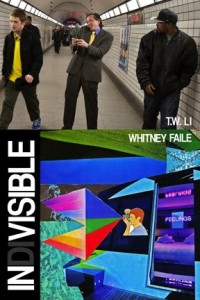 For their second exhibition, Noble & Superior Projects, a new apartment gallery space, is putting up the work of TW Li' and Whitney Faile called IN(DI)VISIBLE. I am really impressed by N&S P, the couple who run it are damn professional, and though the work isn't the best thing I've ever seen in Chicago (a bit of a tall order), they show some goos stuff for an apartment gallery. I am particularly interested int TW Li's work (have a look at his website), but I'm a fan of their paring strategy, so I bet the dialog between Li and Faile's work will be worth seeing.
Opening Reception: Friday 6-10pm. Noble & Superior Projects is located at 1418 W Superior St. #2R
This week you are getting a Top 3. Why? Well, do you want the truth or a lie? Too bad, this is what you get: these are the shows I think are absolutly worth going to this weekend. All three at new (in one way or another) spaces, and all three (we'll ok, the first two, I don't know anything about what is actually showing in the parking lot) feature awesome work. This is my chosen route, perhaps I'll see you out there. If you see two people dressed like bats, I'm one of 'em.
1) Means Without End at The Chicago Cultural Center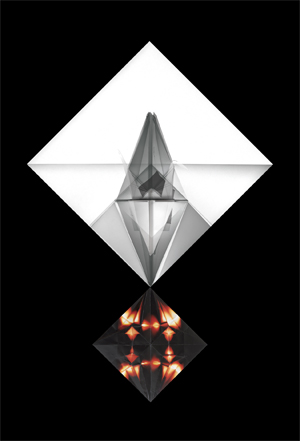 This is where I'm going tonight. Means Without End is an ongoing project by local photographer Shannon Benine. I'm pretty bad at describing work, so here's a quote from the CPC website, "Means Without End, 2009 consists of hundreds of 10" x 10" unfolded photograms of peace cranes tiled together to form a large installation. The number of color analog photograms represents the number of American deaths in the wars in Iraq and Afghanistan since the beginning of Operation Iraqi Freedom on March 19, 2003." I've seen these things in real life, they're friggin' awesome. The opening reception is tonight, Friday, from 7-9pm.
The Chicago Photography Center is located at 3301 N. Lincoln Ave.
2. Stone on Stone at ebersmoore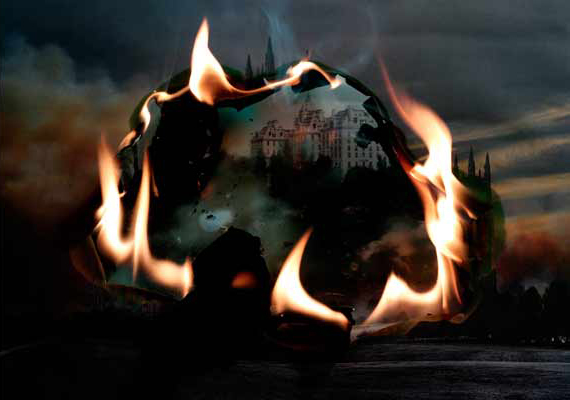 Formerly ebersb9, ebersmoore is featuring the work of Rob Carter for their first exhibition (their first exibition was actually the second half on and exhibition that opened at the old location, so I'm calling this their first). I went to the new space last week, it's friggin' beautiful, and I'm into this work. If you check out their website, be sure to wait for the video to load, then watch it. Opening reception is tonight, Friday, from 6-9pm.
ebersmoore is located at 213 N Morgan St., #3C
3. Helter Sculpture at Parking Space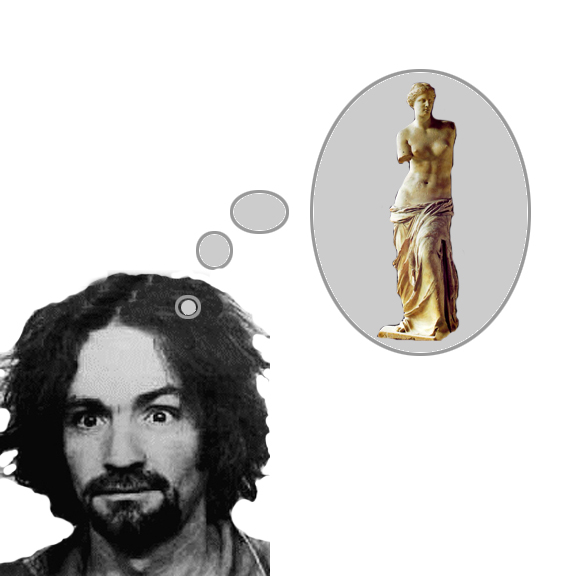 Ok, so this is totally not Parking Space's image. I made it because I went to their site and all they had was a show card with text, and this image instantly popped into my head. Regardless, this is another new space (not sure if it's even going to have a second show, seeing as it's operating in a abandoned parking structure, or so they say), and I have no friggin idea what the work is going to look like. Take a chance, I bet it will at least be weird. Helter Sculpture is the curatorial project of Andrew Greene, E.J. Hill, and Matthew Schaffer, and is hosting a reception Saturday from 4-7pm.
Parking Space is located at 1448 N Leavitt St.
OK, so here's the deal for right now. Every week (well almost every week) I do a pick of shows that I think are most likely worth seeing (I am often wrong). The problem is that I sometimes don't get to go to all the shows on my list (I generally see art on the weekend and usually just go to openings, I don't have the "it's so crowded in here, I can't see the art" issue, I just shove my way through and look, but I digress). So this week I am giving ya'll a list of where exactly I am going. I chose this route because I noticed something odd this weekend, there are seven apartment gallery show openings and closings in the next three days. I figured, what the hell, I'm going to be out, some of these places I like, some of them I don't really like, some of them I've never visited, why not make a circuit of them all, a selection of this Chicago art institution known as the "Apartment Gallery" and see the "State of the Apartment" so to speak. And (this was added after the list was mostly done), I like openings that go till 10 or 11 at night, you can cram a lot more in that way.
APARTMENT GALLERY OPENINGS (AND CLOSINGS) THIS WEEKEND:
1. Australia at Concertina Gallery
And I quote, "Acting as a springboard for works by both Anthea Behm and Aron Gent, Baz Luhrmann's 2008 movie Australia provides loaded content for each artist to pick apart and reconstruct. Though the artists work off the same source material, they diverge in form and intention. Triggering questions of cultural ownership and responsibility, Behm and Gent address the cultural transmission between those represented and those representing." This is how the gallery describes the show. I'm most interested in going to see Anthea's work, she's a friend of mine and I'm curious to see what she's been doing.
Concertina Gallery is located at 2351 N. Milwaukee Avenue, 2nd Floor. Opening Reception: Friday 7-10pm
2. Double Fantasy at Noble & Superior Projects
So this place is brand-spankin'-new. I don't even know if it is actually an apartment gallery, though all indicators point to that (especially the directions that once you get to the address, "Rear House, Through The Gate!!!"). As you can see by the ever-so-informative card-announcement-thingie, the show features the work of Ivan Lozano and Kate Brock. I can't find a website for Kate Brock, guess you'll just have to go to the show.
Noble & Superior Projects is located at 1418 W. Superior St. #2R. Opening Reception: Friday 6-10pm
3. 2-for-1: After Effects at secondBEDROOM and Side Effects at Medicine Cabinet.
A two for one in Bridgeport. For those of you who haven't been there, these two "galleries" are both part of the same apartment, secondBEDROOM located in, you guessed it…and Medicine Cabinet is the name for the installation space/bathroom.
In the secondBEDROOM: "Thad Kellstadt's After Effects attempts to explore the possible afterlife of objects, once dependent on human touch, now neglected but possessing a new presence. Some believe that the breaking of a mirror brings a lengthy stint of bad luck due to the soul confiscating power of the mirrors reflective surface." Yep.
and in the Medicine Cabinet: "Pharmaceutical marketing strategies and scenic nature photography combine to serve up a warning: Don't get too comfortable on that plateau. While the view is spectacular there are other forces at work, just out of earshot and bubbling their way toward the placid peaks." Uh huh.
secondBEDROOM and Medicine Cabinet are located at 3216 S. Morgan Street Apt. 4R. Opening Reception: Saturday 7-11pm.
4. The Trunk Show at Barbara and Barbara
Barbara and Barbara do love you, as their web address so astutely says. For this round the Barbara-ganza is putting on a show dealing with the idea of travel.The show includes the work of a crap-load of people, incuding: Sierra Berquist, Ben Bontempo, Peter McLean-Browne, Evan Burrows, Pete Cuba, Fred Frederick, Julia V. Hendrickson, Landon Manucci, Colin Nusbaum, Emma Powell, Scott Reinhard, David Schalliol, Elizabeth Stoutamire, Christopher Sykora, Sean Sykora, Jessie Vogel, Kelly Wallis, Rustél Weiss, Hannah Zurko
Barbara and Barbara is located at 1021 N. Western Ave. Opening Reception: Saturday 7-10pm.

5. Exhibition 2. 10242009 at MVSEVM
Ok, so I'm a bit confused as to who exactly MVSEVM are and whether or not there are two of them. So, instead of linking to the blog that seems like it might be theirs but says they are on vacation, I'm linking ya'll to the On The Make (another wonderful site) page about the show and gallery. And I quote, "For its second exhibition MVSEVM invites eight diverse artists to contribute site specific works and installations that address the ambiguity of the space as both domestic and professional, private and public, as well as external concerns. In Exhibition 2.10242009 these inquiries manifest in an interrogation of social paradigms, raising questions pertaining to human relationships filtered through biological and technological themes." Artists in the show: David Brooks, Joe Cruz, Chris Cuellar, Szu-Han Ho, Jesse Vogler, Gabriel Martinez, T UM', Andrew Yang and Harley Young.
MVSEVM is located at 1626 N California Ave. #2. Opening Reception: Saturday 6-10pm.
6. Deedee Davis and Casey Roberts at Home Gallery

Less of an apartment gallery and more of, well, a home (go figure), Home Gallery is located down in Hyde Park and run by Laura Shaeffer. For this round of exhibitions, Home will be featuring the work of Deedee Davis and Casey Roberts.
Home Gallery is located at 1407 E. 54th Pl. Opening Reception: Saturday 6-9pm.
7. Marginal Waters at Golden Gallery
So, this isn't and opening, it's a closing. Golden is also, like Home, on the edge of the "apartment gallery" definition, but what the hell. For this round of Golden-tastic-atude, they are closing out Marginal Waters, work from the 80s by Doug Ischar. And I quote, yet again, "Ischar will exhibit a body of photographs from 1985, never before seen in its entirety, taken on the now defunct Belmont Rocks in the city of Chicago, and a new single-channel video work." The closing is also rolled together with the catalog release, and there'll be an interview with John Neff.
Home Gallery is located at 816 W. Newport. Reception/Catalog Release: Sunday 3-6pm.
Hey ya'll. I'm back from my Kentucky adventures, and I'm going back out this weekend. I did manage to make it to Packer Schopf for 39 Verbs on Sunday, and glad I made it (even though I was still a bit muddy and got a touch of the culture shock). I'd never heard of Industry of the Ordinary (the organizers of 39 Verbs) but I'll be keeping my eye on them in the future. This week I've got three relatively traditional (relatively being the operative word) venues, a 2-for-1, and a closing reception (get them while supplies last!). Without further ado, my 5 picks, in chronological/alphabetical order:
1. The Murmur of Pearls at Corbett vs. Dempsey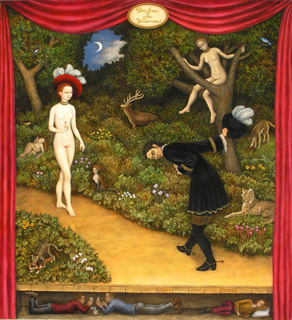 Truthfully, I like this work because it reminds me of the work of a friend of mine, Justin Storms. Now, I know, no one ever wants to be compared to anyone else, because we're all unique and individual snowflakes, but WTF? I like the work 'cus I like Storm's work. Being somewhat obsessed with The Unicorn Tapestries as a kid probably didn't hurt. Paintings by Gina Litherland, the show opens Friday from 5-9pm.
Corbett vs. Dempsey is located at 1120 N. Ashland, 3rd fl.
2. Cline Ave & Front Porch Disasters and Other Open Secrets at Linda Warren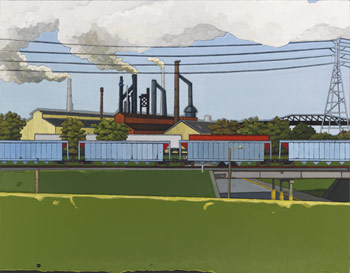 I guess this is also a bit of a 2-for-1, though not the one I was referring to in the introduction. I'm generally a fan of Linda's gallery, and this round is not exception. Cline Ave, a series of paintings by Emmett Kerrigan, may appear benign, but the industrial/living-space rendered a bit cartoonishly is strange, if not instantaneously depressing (in the best possible way). Wow, I'm good at run on sentences. In the back room, AKA the Project Room, Front Porch Disasters and Other Open Secrets, work by Lora Fosberg adorns the walls. The two shows are in one of the best dialogs I've seen in a while at Linda's place, I look forward to seeing it all in person. Reception is Friday, from 6-9pm.
Linda Warren Gallery is located at 1052 W. Fulton Market St.
3. Public Spaces at Stephen Daiter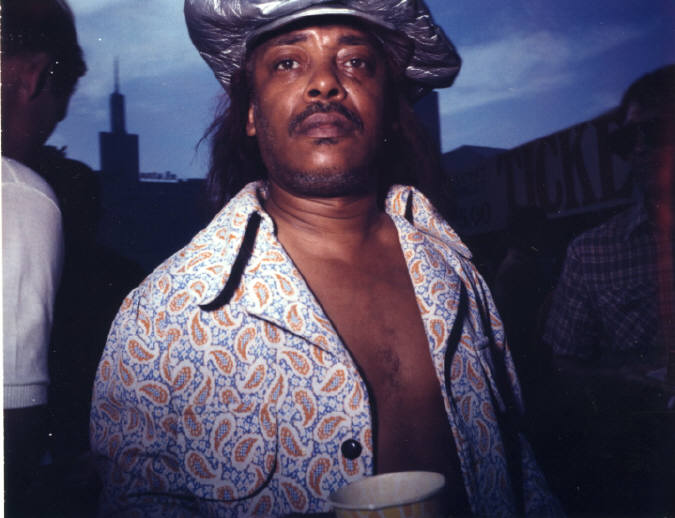 Stephen Daiter is a bit of a hidden gallery. Unlike Edelman, the other major photo gallery in River North, Daiter is hidden upstairs, past an elevator that is incredibly slow and smells a bit of burnt plastic. Dont' let this deter you, however, because Dater is a place, especially if you're into photography, that you need to get to. For this round at Datier, Private Views – Public Spaces, work by Barbara Crane is on display. Awkward Polaroids of 70s people? Why not? Crane does a variety of work, so this isn't the most contemporary, but good none the less. Reception is Friday, from 5-8pm.
Stephen Daiter is located at 311 W. Superior St. #408
4. 2-for-1: ThreeWalls and Western Exhibitions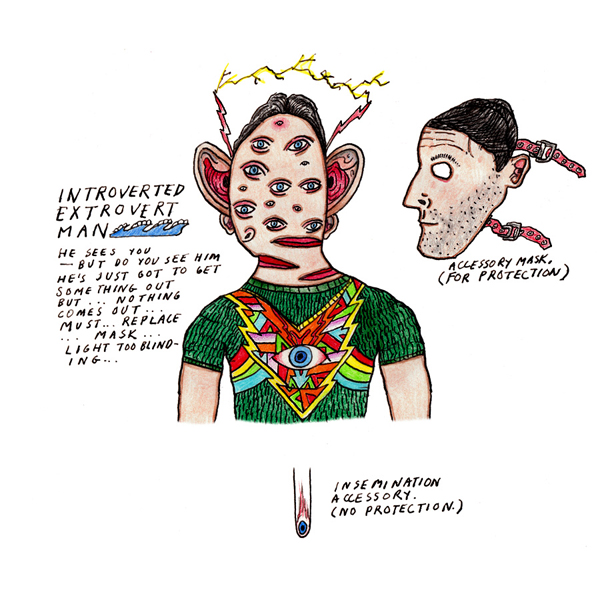 Both these venues are having entertaining events on Friday, and since they are literally down the hall from each other, I figure, go to one, go to both. I'd start at Western Exhibitions, which is showing Superfreaks, work by Eric Lebofsky & A Wildness of Edges, work by Melissa Oresky. When you're done gawking at that, head for ThreeWalls for New Knowledge, a trivia night that is going on as part of In Search of the Mundane, a collaboration with Randall Szott and InCUBATE. Weird-ass paintings and drunken trivia? How could such a thing ever be wrong?
ThreeWalls and Western Exhibitions are both located on the 2nd Floor of 119 N. Peoria St.
5. NOTICE – CLOSED at Heaven Gallery
NO PICTURE AVAILABLE! DON'T BLAME ME!
This is the closing reception I was talking about. Co-sponsored/co-produced by Heaven and Spudnik Press, the show features a bunch of work by Jeremy Lundquist, along side a group exhibition, A Unique Marquee, that was co-curated by Lundquist and Angee Lennard, the Director of Spudnik Press. Again with the run on sentences. A good nightcap if you ask me.Reception is Saturday from 6-9pm.
Heaven Gallery is located at 1550 N. Milwaukee Ave, 2nd Fl.