Here's my picks for the weekend, in chronological order. This whole weekend is a bit slow and dull, so do blame me if these five weren't all you'd hope for. P.S. Fall is here, did you notice?
1. For the Time Beings at Fill in the Blank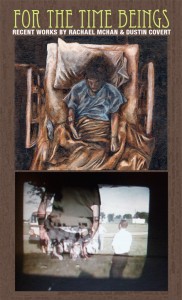 This place is close to me, relativity new, and generally entertaining. Opening this week is For the Time Beings, an exhibition of work by Rachael McHan and Dustin Covert. The work looks pretty depressing, but it's fall, fall's all about depression, right? Reception is Friday from 7-11pm.
Fill in the Blank is located at 5038 N. Lincoln Ave.
2. Atom Basham at Sapere Art/Intuitive Works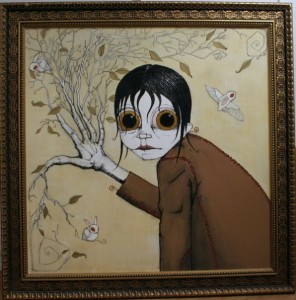 Weird cartooning. Creepy drawings. Mmmmm…looks like fall to me. Do I have a skewed sense of fall? Maybe, but this work is as autumnal as pumpkin pie. Work by Atom Basham, Eulalio Fabie de Silva, Mark Lace and RW Ruehlen. Reception is Friday from 6-9pm.
Sapere Art/Intuitive Works is located at 1579 N. Milwaukee Ave.
3. With Our Forces Combined at Barbara & Barbara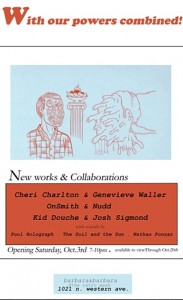 Collaboration! It's awesome. This show is based around collaboration, and features the work of three collaborative pairs: Josh Sigmon and Kid Douche, Onsmith and Nudd, and Cheri Charlton and Genevieve Waller. Reception is Saturday from 7-10pm.
Barbara & Barbara is located at 1021 N. Western Ave.
4. Strangers at Spudnik Press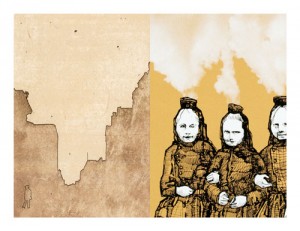 I'm generally not crazy about printmaking. I don't dislike it, it just rarely appeals to me. The work I've seen from this show, on the other hand, actually peaqued my curiosity, so I'll give it a shout. Features the work of Sanya Glisic and Mischa Kegan. Reception is Saturday from 7-10pm.
Spudnik Press is located at 1821 W. Hubbard St.
5. Once Upon a Time and Now at Evanston Art Center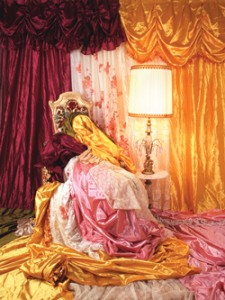 Ahhh fall, the time of group shows. Well, is it fall, is it the economy, what is it? Here is yet another packed group show up at the 'ole EAC, featuring work by Patty Carroll, Teresa Mucha-James, Stacee Kalmanovsky, Bonnie Klehr, Julie Laffin, Erik Lowe, Casey Riordan-Millard, Mitch O Connell, Alex O Neal, Deborah Simon, Eleanor Spiess-Ferris and curated by Susan Sensemann and Barbara Blades. Reception is Sunday from 5-8pm.
Evanston Art Center is located at 2603 Sheridan Rd.
Hey there ya'll. After reviewing the (surprising number of) openings this weekend, here's what I'd make sure to go to:
1. Trail at Altgeld Sawyer Corner Farm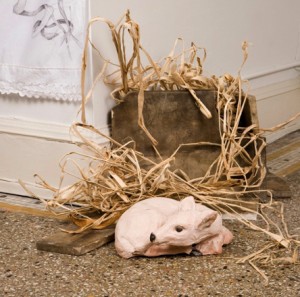 I don't know if this is going to be any good or not, but it looks weird enough to merit a look. Thing is, it does specifically appeal to me, but hey, this is my Top 5 ain't it. It's an installation by J.E. Baker telling the story of a Bambi who's mother died in a fire, I mean, was hit by a car. Reception's Friday from 6-8pm.
Altgeld Sawyer Corner Farm is located at 3240 W Altgeld St.
2. Group Show for Daniel Pink at Vega Estates
Not only is this the last show at Vega Estates, but I like the premise of "copies." Seems relevant to nowadays, I suppose. I'm not miaking a good sell, but I read the press release on the site, and it made me want to go. Work by a bunch of people, including Curt Bozif, Matthew Metzger, Amy Adler, Conrad Bakker, Vince Leo and Sharon Lockhart. Reception's Saturday from 6-10pm.
Vega Estates in located at 723 W. 16th St.
3. Flat 3 at Floor Length and Tux
Truth be told, my primary interests in this place are the fact that I've never been there but heard good things about it, and 'cus I'm interested in Catie Olson's work. Also showing at this delightful event: Lilli Carre, Alexander Stewart and EC Brown. Reception's Saturday from 7-10pm.
FLAT is located at 2332 W Augusta Blvd.
4. Polonia and Other Fables at The Renaissance Society
New work by Alan Sekula at ye olde Renn. Society. Need I say more?  Sekula will be talking from 5-6pm, the reception is from 4-7pm, all on Sunday.
The Renaissance Society is located at 5811 South Ellis Ave.
5. Sunday Soup at InCUBATE
Not sure how many of you know about Sunday Soup, but seeing as you are reading BAS, I can make a gross generalization that you've probably heard of it, at least. Deal is, you go to InCUBATE, pay $10 for some soup (this time made by S.F. chef Leif Hedendal), that $10 goes into the pot for an artist grant, and while you sit around and eat your soup you and everyone else there vote on who gets the grant. At least that's my understanding of it. So, if you've got $10 to spare, you like art, and you like soup, this is your event! Be there at noon!
InCUBATE is located at 2129 N Rockwell St.
Hey ya'll! So, this is the big weekend, eh? It will be beautiful, fantastic, magical, crowded, smelly, and possibly confusing. Now, as you may know, the giant gallery opening blowout event extravaganza isn't exactly the best time to "see" art, per se, but is is the best time to go out a see about a million people trying (or not) to see art and succeeding in seeing, and elbowing, each other. I will be making the rounds of River North and the West Loop, since they have the greatist gallery to area ratio. This however, isn't the plan for everyone, understandably. So in the service of all of you who are avoiding all that insanity like the plague, I give you:
Steph's Top 6 Non-WestLoop/RiverNorth Galleries:
1. Women at Roots and Culture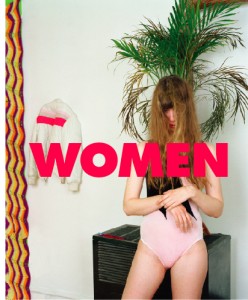 Craig Doty presents to you Women, a show consisting of photographs of, you guessed it, women! Craig is quite the gifted photographer, this will be a good (and crowed) show. Open from 6-9pm.
Roots and Culture is located at 1034 N. Milwaukee Ave.
2. Faking It? at The Art Center at Highland Park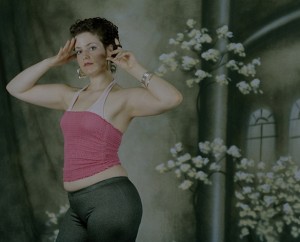 Full disclosure, I wrote the catalog essay for this exhibition, but I agreed to because it is a fucking awesome exhibition! Curated by Regina Mamou (who, awesome for her, is in Jordan right now) and including work by Chase Browder, Helen Maurene Cooper, Jill Frank, Seung Jae Kim, Jason Lazarus, Aspen Mays, Lindsay Page, Kurt Von Stetten, Scott Patrick Wiener and Krista Wortendyke, it is a show that shouldn't be missed ( and will probably have more breathing room at the opening). Open from 6:30-9pm.
The Art Center at Highland Park is located at 1957 Sheridan Rd.
3. Family View at The Family Room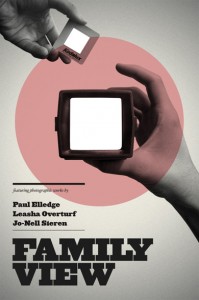 Once again our friends The Post Family bring fourth a delightful exhibition in The Family Room (not actually a family room, that place isn't an apartment gallery). For this round they've go Family View, a exhibition exploring family pictures. Keep it in the family, kids, keep it in the family. Work by Paul Elledge, Leasha Overturf, and Jo-Nell Sieren and open late! Open from 7:30-midnight.
The Family Room is located at 1821 W. Hubbard St. #202
4. William Staples at 65 Grand
I just had the opportunity to preview this exhibition today, and I loved it. It takes a minuet to see what is going on, and it doesn't translate well to images on the internet, but if you can make it over that direction, don't miss it. Plus you'll get to hang out with Bill, he's great.
65Grand is located at 1378 W. Grand Ave.
5. Freaks and Flash at Intuit
Vintage tattoo work by the likes of George Burchett, Sailor Jerry, and Tatts Thomas. How could you not want to see this? Flash and ephemera will take you back to the good old days (you likely never experienced) at Coney Island and the likes of it. It will be pure antiques awesome!
Intuit is located at 756 N. Milwaukee Ave.
6. John Stezaker at Richard Gray Gallery
Is this technically River North? I'm going to say no, if you disagree, too bad. I know my selections have been weighted a bit toward photography, but what do you expect, I like photography. I do have an MFA in it, ya know. Well, here's an interesting artist using photography to explore the celebrity portrait, and the portrait itself. Weird, deceptively simple looking, this work is beautiful (at least I think so).
Richard Gray Gallery is located at 875 N Michigan Ave. # 2503
Bloody freaking hell! I have been loosing my shit lately. Sorry for the delay of the Top 5, I know ya'll were standing around with baited breath to get the word from on high. Well, you weirdos, here you go, my Top 5 for this week:
1. Open House at Argonne National Laboratory!
WTF? That's not art you say? Shut up. The laboratory is open to the public for one day only, and since it seems like psudo-science is all the rage in art these days, go over and get some inspiration. Or just head for the nanotech department and pretend like your living in The Diamond Age.
Saturday 9-4:30. Argonne National Laboratory is located at 9700 South Cass Ave. Lemont, IL. 
2. Open House at…Open House?
Everyone likes new apartment galleries, right? Well, if not, move on to #3. If you do, check out this place. I cannot guarentee the quality of the show, or the quality of the place, but apartment galleries are always a crapshoot. Take a chance, you may be rewarded. The show (is it also titled Open House? Who knows?) is curated by Evan Lenox, Andre Lenox, and Lynnette Miranda, and features to work of a bunch of people I'm not going to name because I'd have to transcribe 'em all. 
Friday 5:30-9pm. Open House is located at 3106 W. Fullerton Ave. #1.
3. Not Feeling Like Yourself? Head to Barbara and Barbara (they love you by the way).
This show seems like a crazy clusterfuck somehow involving Barbara & Barbara, The Post Family, and the (I quote) "man/beast continuum." How could you not be curious? A full Chicago crew to dazzle you, including Ben Speckmann, Timothy Pigott, Brian Yates & Tony Francesconi. Oh, and the show is called Pardon me, I am just not feeling like myself today, thus my silly title. Just thought you'd like to know. 
Saturday 6-10pm. Barbara and Barbara is located at 1021 N. Western Ave.
4. Everybody's Got (More) Money Issues With InCUBATE
InCUBATE is closing down Everybody's Got (More) Money Issues at Mess Hall with one final meet-up kaBLAMO event. If you haven't kicked it with InCUBATE yet, you're missing out. They are the awesome crew that brought you Sunday Soup. Go and enjoy the final iteration of Everybody's Got (More) Money Issues and discuss how the hell were going to (financially) survive these days. 
Sunday 6-9pm. Mess Hall is located at 6932 N Glenwood Ave.
5. Zummer Tapez at Roots & Culture
Yes, you get their banner as the photo. Why? No photo relating to Zummer Tapez on their site. Don't like it? Oh well. This seems like a fun way to spend an hour or two on Sunday night. The show consists of a video mixed tape by Kent Lambert. It has a "suggested donation" of $5, you know what that means, so if you want to cough up the cash, go see the show. 
Sunday 8pm. Roots and Culture is located at 1034 N Milwaukee Ave. 
Hey everyone. Sorry about last week, but worry not, I'm back. Now, you may be thinking, "Top 3? What the hell is up with that?" Well my dear guys and dolls, there ain't a lot to pick from this week, so this is what you get. I'll make up for it on Epic Gallery Crawl Of Doom night in September, maybe I'll do a Top 10 then or something. Well, here you go:
1. Toward Ash & Anxiety at Rooms Productions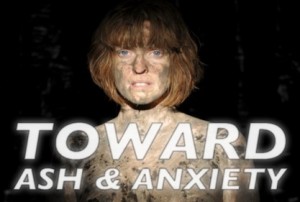 Rooms Productions is pretty much the only reason I go to Pilsen anymore, but it seems like very few people know about it, which is a damn shame. the place is run by Todd and Marrakesh Frugia, who also make most of the work shown there. This is the only place I've found in Chicago that is dedicated to performance work AND consistently shows good work. If you end up in Pilsen, get your butt over to Rooms.
Rooms is located at 645 W. 18th. Opening reception Friday from 8-11pm.
2. Size Matters at Packer Schopf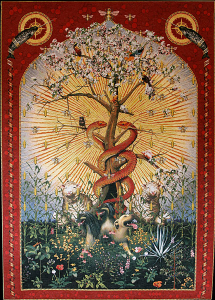 I said it was slow this weekend, and I wasn't kidding. But that's not the only reason I'm listing this closing reception. If you haven't been by Packer to check out Size Matters, this is your last chance. It's a great group show of gigantic work. While you're there, be sure make it to the basement to see Krista Wortendyke's show.
Packer Schopf is located at 942 W. Lake St. Closing reception Friday from 5-8pm.
3. Michaela Calhoun and Irene Perez at Second Bedroom/Medicine Cabinet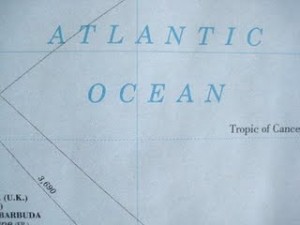 Two for one in Bridgeport! If you happen to be down south on Saturday, head over to Second Bedroom/Medicine Cabinet. Michaela Calhoun's rocking an installation in the bathroom…erm…I mean Medicine Cabinet. Magpies pecking a face? Sure, why not. Irene Perez has taken over the Second Bedroom with her installation Atlantic O, exploring the big O…ocean that is.
Second Bedroom/Medicine Cabinet is located at 1854 W North Ave. Opening reception Saturday from 7-11pm.