OK, so here's the deal for right now. Every week (well almost every week) I do a pick of shows that I think are most likely worth seeing (I am often wrong). The problem is that I sometimes don't get to go to all the shows on my list (I generally see art on the weekend and usually just go to openings, I don't have the "it's so crowded in here, I can't see the art" issue, I just shove my way through and look, but I digress). So this week I am giving ya'll a list of where exactly I am going. I chose this route because I noticed something odd this weekend, there are seven apartment gallery show openings and closings in the next three days. I figured, what the hell, I'm going to be out, some of these places I like, some of them I don't really like, some of them I've never visited, why not make a circuit of them all, a selection of this Chicago art institution known as the "Apartment Gallery" and see the "State of the Apartment" so to speak. And (this was added after the list was mostly done), I like openings that go till 10 or 11 at night, you can cram a lot more in that way.
APARTMENT GALLERY OPENINGS (AND CLOSINGS) THIS WEEKEND:
1. Australia at Concertina Gallery
And I quote, "Acting as a springboard for works by both Anthea Behm and Aron Gent, Baz Luhrmann's 2008 movie Australia provides loaded content for each artist to pick apart and reconstruct. Though the artists work off the same source material, they diverge in form and intention. Triggering questions of cultural ownership and responsibility, Behm and Gent address the cultural transmission between those represented and those representing." This is how the gallery describes the show. I'm most interested in going to see Anthea's work, she's a friend of mine and I'm curious to see what she's been doing.
Concertina Gallery is located at 2351 N. Milwaukee Avenue, 2nd Floor. Opening Reception: Friday 7-10pm
2. Double Fantasy at Noble & Superior Projects
So this place is brand-spankin'-new. I don't even know if it is actually an apartment gallery, though all indicators point to that (especially the directions that once you get to the address, "Rear House, Through The Gate!!!"). As you can see by the ever-so-informative card-announcement-thingie, the show features the work of Ivan Lozano and Kate Brock. I can't find a website for Kate Brock, guess you'll just have to go to the show.
Noble & Superior Projects is located at 1418 W. Superior St. #2R. Opening Reception: Friday 6-10pm
3. 2-for-1: After Effects at secondBEDROOM and Side Effects at Medicine Cabinet.
A two for one in Bridgeport. For those of you who haven't been there, these two "galleries" are both part of the same apartment, secondBEDROOM located in, you guessed it…and Medicine Cabinet is the name for the installation space/bathroom.
In the secondBEDROOM: "Thad Kellstadt's After Effects attempts to explore the possible afterlife of objects, once dependent on human touch, now neglected but possessing a new presence. Some believe that the breaking of a mirror brings a lengthy stint of bad luck due to the soul confiscating power of the mirrors reflective surface." Yep.
and in the Medicine Cabinet: "Pharmaceutical marketing strategies and scenic nature photography combine to serve up a warning: Don't get too comfortable on that plateau. While the view is spectacular there are other forces at work, just out of earshot and bubbling their way toward the placid peaks." Uh huh.
secondBEDROOM and Medicine Cabinet are located at 3216 S. Morgan Street Apt. 4R. Opening Reception: Saturday 7-11pm.
4. The Trunk Show at Barbara and Barbara
Barbara and Barbara do love you, as their web address so astutely says. For this round the Barbara-ganza is putting on a show dealing with the idea of travel.The show includes the work of a crap-load of people, incuding: Sierra Berquist, Ben Bontempo, Peter McLean-Browne, Evan Burrows, Pete Cuba, Fred Frederick, Julia V. Hendrickson, Landon Manucci, Colin Nusbaum, Emma Powell, Scott Reinhard, David Schalliol, Elizabeth Stoutamire, Christopher Sykora, Sean Sykora, Jessie Vogel, Kelly Wallis, Rustél Weiss, Hannah Zurko
Barbara and Barbara is located at 1021 N. Western Ave. Opening Reception: Saturday 7-10pm.

5. Exhibition 2. 10242009 at MVSEVM
Ok, so I'm a bit confused as to who exactly MVSEVM are and whether or not there are two of them. So, instead of linking to the blog that seems like it might be theirs but says they are on vacation, I'm linking ya'll to the On The Make (another wonderful site) page about the show and gallery. And I quote, "For its second exhibition MVSEVM invites eight diverse artists to contribute site specific works and installations that address the ambiguity of the space as both domestic and professional, private and public, as well as external concerns. In Exhibition 2.10242009 these inquiries manifest in an interrogation of social paradigms, raising questions pertaining to human relationships filtered through biological and technological themes." Artists in the show: David Brooks, Joe Cruz, Chris Cuellar, Szu-Han Ho, Jesse Vogler, Gabriel Martinez, T UM', Andrew Yang and Harley Young.
MVSEVM is located at 1626 N California Ave. #2. Opening Reception: Saturday 6-10pm.
6. Deedee Davis and Casey Roberts at Home Gallery

Less of an apartment gallery and more of, well, a home (go figure), Home Gallery is located down in Hyde Park and run by Laura Shaeffer. For this round of exhibitions, Home will be featuring the work of Deedee Davis and Casey Roberts.
Home Gallery is located at 1407 E. 54th Pl. Opening Reception: Saturday 6-9pm.
7. Marginal Waters at Golden Gallery
So, this isn't and opening, it's a closing. Golden is also, like Home, on the edge of the "apartment gallery" definition, but what the hell. For this round of Golden-tastic-atude, they are closing out Marginal Waters, work from the 80s by Doug Ischar. And I quote, yet again, "Ischar will exhibit a body of photographs from 1985, never before seen in its entirety, taken on the now defunct Belmont Rocks in the city of Chicago, and a new single-channel video work." The closing is also rolled together with the catalog release, and there'll be an interview with John Neff.
Home Gallery is located at 816 W. Newport. Reception/Catalog Release: Sunday 3-6pm.
Hey ya'll. I'm back from my Kentucky adventures, and I'm going back out this weekend. I did manage to make it to Packer Schopf for 39 Verbs on Sunday, and glad I made it (even though I was still a bit muddy and got a touch of the culture shock). I'd never heard of Industry of the Ordinary (the organizers of 39 Verbs) but I'll be keeping my eye on them in the future. This week I've got three relatively traditional (relatively being the operative word) venues, a 2-for-1, and a closing reception (get them while supplies last!). Without further ado, my 5 picks, in chronological/alphabetical order:
1. The Murmur of Pearls at Corbett vs. Dempsey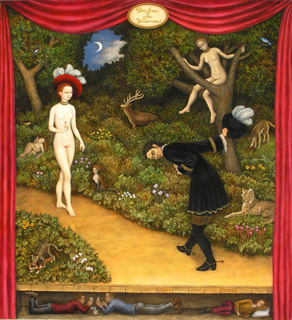 Truthfully, I like this work because it reminds me of the work of a friend of mine, Justin Storms. Now, I know, no one ever wants to be compared to anyone else, because we're all unique and individual snowflakes, but WTF? I like the work 'cus I like Storm's work. Being somewhat obsessed with The Unicorn Tapestries as a kid probably didn't hurt. Paintings by Gina Litherland, the show opens Friday from 5-9pm.
Corbett vs. Dempsey is located at 1120 N. Ashland, 3rd fl.
2. Cline Ave & Front Porch Disasters and Other Open Secrets at Linda Warren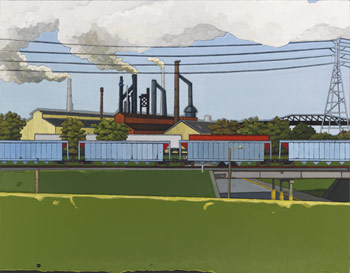 I guess this is also a bit of a 2-for-1, though not the one I was referring to in the introduction. I'm generally a fan of Linda's gallery, and this round is not exception. Cline Ave, a series of paintings by Emmett Kerrigan, may appear benign, but the industrial/living-space rendered a bit cartoonishly is strange, if not instantaneously depressing (in the best possible way). Wow, I'm good at run on sentences. In the back room, AKA the Project Room, Front Porch Disasters and Other Open Secrets, work by Lora Fosberg adorns the walls. The two shows are in one of the best dialogs I've seen in a while at Linda's place, I look forward to seeing it all in person. Reception is Friday, from 6-9pm.
Linda Warren Gallery is located at 1052 W. Fulton Market St.
3. Public Spaces at Stephen Daiter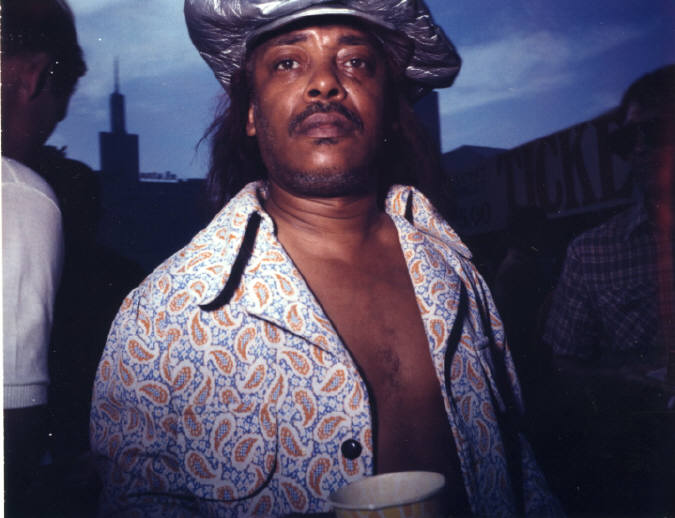 Stephen Daiter is a bit of a hidden gallery. Unlike Edelman, the other major photo gallery in River North, Daiter is hidden upstairs, past an elevator that is incredibly slow and smells a bit of burnt plastic. Dont' let this deter you, however, because Dater is a place, especially if you're into photography, that you need to get to. For this round at Datier, Private Views – Public Spaces, work by Barbara Crane is on display. Awkward Polaroids of 70s people? Why not? Crane does a variety of work, so this isn't the most contemporary, but good none the less. Reception is Friday, from 5-8pm.
Stephen Daiter is located at 311 W. Superior St. #408
4. 2-for-1: ThreeWalls and Western Exhibitions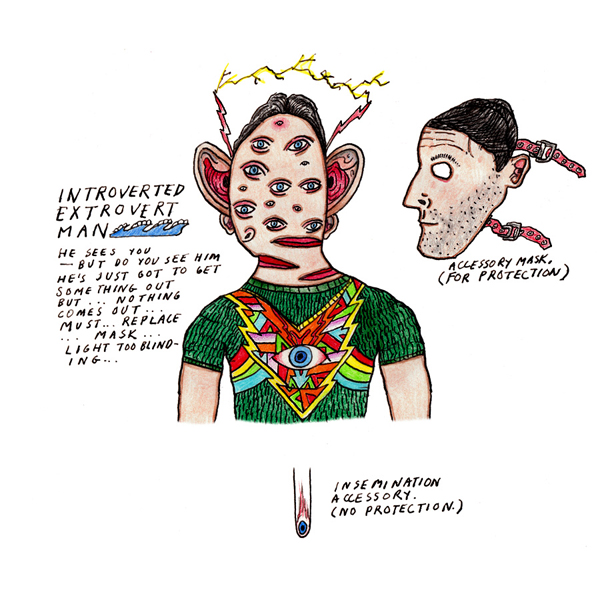 Both these venues are having entertaining events on Friday, and since they are literally down the hall from each other, I figure, go to one, go to both. I'd start at Western Exhibitions, which is showing Superfreaks, work by Eric Lebofsky & A Wildness of Edges, work by Melissa Oresky. When you're done gawking at that, head for ThreeWalls for New Knowledge, a trivia night that is going on as part of In Search of the Mundane, a collaboration with Randall Szott and InCUBATE. Weird-ass paintings and drunken trivia? How could such a thing ever be wrong?
ThreeWalls and Western Exhibitions are both located on the 2nd Floor of 119 N. Peoria St.
5. NOTICE – CLOSED at Heaven Gallery
NO PICTURE AVAILABLE! DON'T BLAME ME!
This is the closing reception I was talking about. Co-sponsored/co-produced by Heaven and Spudnik Press, the show features a bunch of work by Jeremy Lundquist, along side a group exhibition, A Unique Marquee, that was co-curated by Lundquist and Angee Lennard, the Director of Spudnik Press. Again with the run on sentences. A good nightcap if you ask me.Reception is Saturday from 6-9pm.
Heaven Gallery is located at 1550 N. Milwaukee Ave, 2nd Fl.
So, as I've said every other place, I'm not going to be around this weekend. I am making my yearly pilgrimage to the Knob Creek Machine Gun Shoot (yes, close to where they make the whiskey, though not the same people. It's also quite close to Ft. Knox). So…think of this as the openings I'd go to if I was here.
1. Jan Tichy at Richard Gray Gallery
I'd never really though about Richard Grey Gallery before his last show, John Stezaker. Now, however, I'm excited again. For this rotation, RGG is showing an installation by Jan Tichy. I really like seeing good video/multi media art, but it (like good art in general) is a bit rare. This looks like it has potential for awesome. Reception is Friday, from 6-8pm.
Richard Grey Gallery is located at 875 North Michigan Avenue, Suite 2503.
Ok, so this is just kind of weird. It reminds me of one time when I was drunk and waiting for the Red Line around Christmas when the "Santa Train" showed. It was a bit terrifying, a bit cheesy, but an experience none the less. I make no guarantees on the quality of the are (though I never really do), but if you're in the loop, why not get packed on a train with art, rather than germaphobe business men and barfing drunks! Hooray, the Trimuph Of Art! PS, I think it might cost money, check the site. The Art Train is running Saturday from 11am-8pm.
Enter the Art Train at the Adams/Wabash CTA platform.
So, I confess, I just like Packer Schopf Gallery. But this show is one you really ought not to miss, if for no other reason that to get to meet all the artists in person (assuming they show up). Industry of the Ordinary, a collaborative pair made up of Adam Brooks and Mathew Wilson, are hosting a one night event featuring the work of "39 Chicago-based cultural workers" including Candida Alvarez, Dawoud Bey, Susan Giles, Jason Lazarus, Adelheid Mers, Tony Tasset, Paul Klien and Dan S. Wang. Be there or be…just fucking go! The event is Sunday from 5-8pm.
Packer Schopf is located at 942 W. Lake St.
4. Abnormalformal 1 at Kunz, Vis, Gonzalez
So I'm a sucker for new things. Well, that's not really true, I'm a it of a Luddite when it comes to technology, but as far as art spaces are concerned, I'm a sucker for new ones. This one is (almost) as new as it gets. Dreamed up by it's creators in the fertile fields of Sex Camp…oops, I mean Skowhegan, this is a new art spaces is ostensibly an international artist space. We'll see how that goes. For now, check out their first show, featuring the work of Racer Le Van, Martina Nehrling, Pamela Fraser, Rick Therrio, Ivan Brunetti, Peter Dunham, David X. Levine, Amy Fefldman and more. Good luck to you Kunz, Vis, Gonzalez! Reception is Sunday from 6-9pm.
Kunz, Vis, Gonzalez is located at 2324 W. Montana
I pick these by getting my Gallery Crawl list and going to each gallery site to see if : a) the work interests me, or b) any one is showing who's work has interested me in the past. This pick is based on me seeing the image I've included as the image for this post. I needed a fifth, and this is it. Eel Space has done some cool stuff in the past, give this show a look if you're in the neighborhood. Artists include Nikki Renee Anderson, Madeleine Bailey, Alex Chitty, Lauren Gregory, Isabelle Schiltz, and Chris Tourre. Reception is Saturday from 6-9pm.
Eel Space is located at 2846 W North Ave #1A
Here's my picks for the weekend, in chronological order. This whole weekend is a bit slow and dull, so do blame me if these five weren't all you'd hope for. P.S. Fall is here, did you notice?
1. For the Time Beings at Fill in the Blank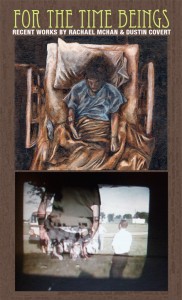 This place is close to me, relativity new, and generally entertaining. Opening this week is For the Time Beings, an exhibition of work by Rachael McHan and Dustin Covert. The work looks pretty depressing, but it's fall, fall's all about depression, right? Reception is Friday from 7-11pm.
Fill in the Blank is located at 5038 N. Lincoln Ave.
2. Atom Basham at Sapere Art/Intuitive Works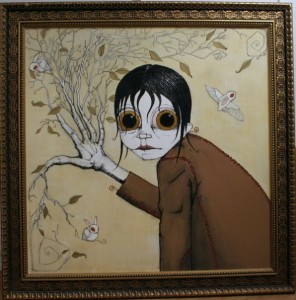 Weird cartooning. Creepy drawings. Mmmmm…looks like fall to me. Do I have a skewed sense of fall? Maybe, but this work is as autumnal as pumpkin pie. Work by Atom Basham, Eulalio Fabie de Silva, Mark Lace and RW Ruehlen. Reception is Friday from 6-9pm.
Sapere Art/Intuitive Works is located at 1579 N. Milwaukee Ave.
3. With Our Forces Combined at Barbara & Barbara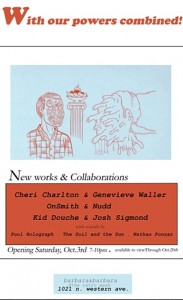 Collaboration! It's awesome. This show is based around collaboration, and features the work of three collaborative pairs: Josh Sigmon and Kid Douche, Onsmith and Nudd, and Cheri Charlton and Genevieve Waller. Reception is Saturday from 7-10pm.
Barbara & Barbara is located at 1021 N. Western Ave.
4. Strangers at Spudnik Press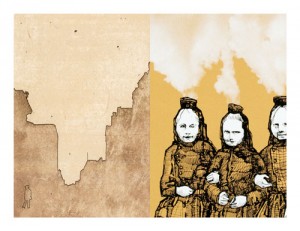 I'm generally not crazy about printmaking. I don't dislike it, it just rarely appeals to me. The work I've seen from this show, on the other hand, actually peaqued my curiosity, so I'll give it a shout. Features the work of Sanya Glisic and Mischa Kegan. Reception is Saturday from 7-10pm.
Spudnik Press is located at 1821 W. Hubbard St.
5. Once Upon a Time and Now at Evanston Art Center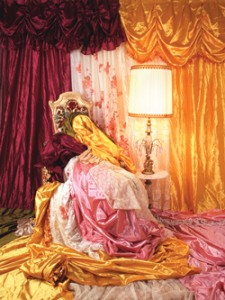 Ahhh fall, the time of group shows. Well, is it fall, is it the economy, what is it? Here is yet another packed group show up at the 'ole EAC, featuring work by Patty Carroll, Teresa Mucha-James, Stacee Kalmanovsky, Bonnie Klehr, Julie Laffin, Erik Lowe, Casey Riordan-Millard, Mitch O Connell, Alex O Neal, Deborah Simon, Eleanor Spiess-Ferris and curated by Susan Sensemann and Barbara Blades. Reception is Sunday from 5-8pm.
Evanston Art Center is located at 2603 Sheridan Rd.
Hey there ya'll. After reviewing the (surprising number of) openings this weekend, here's what I'd make sure to go to:
1. Trail at Altgeld Sawyer Corner Farm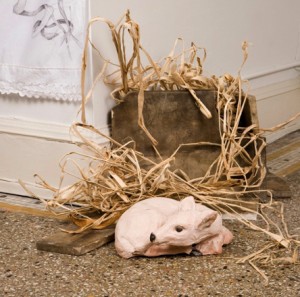 I don't know if this is going to be any good or not, but it looks weird enough to merit a look. Thing is, it does specifically appeal to me, but hey, this is my Top 5 ain't it. It's an installation by J.E. Baker telling the story of a Bambi who's mother died in a fire, I mean, was hit by a car. Reception's Friday from 6-8pm.
Altgeld Sawyer Corner Farm is located at 3240 W Altgeld St.
2. Group Show for Daniel Pink at Vega Estates
Not only is this the last show at Vega Estates, but I like the premise of "copies." Seems relevant to nowadays, I suppose. I'm not miaking a good sell, but I read the press release on the site, and it made me want to go. Work by a bunch of people, including Curt Bozif, Matthew Metzger, Amy Adler, Conrad Bakker, Vince Leo and Sharon Lockhart. Reception's Saturday from 6-10pm.
Vega Estates in located at 723 W. 16th St.
3. Flat 3 at Floor Length and Tux
Truth be told, my primary interests in this place are the fact that I've never been there but heard good things about it, and 'cus I'm interested in Catie Olson's work. Also showing at this delightful event: Lilli Carre, Alexander Stewart and EC Brown. Reception's Saturday from 7-10pm.
FLAT is located at 2332 W Augusta Blvd.
4. Polonia and Other Fables at The Renaissance Society
New work by Alan Sekula at ye olde Renn. Society. Need I say more?  Sekula will be talking from 5-6pm, the reception is from 4-7pm, all on Sunday.
The Renaissance Society is located at 5811 South Ellis Ave.
5. Sunday Soup at InCUBATE
Not sure how many of you know about Sunday Soup, but seeing as you are reading BAS, I can make a gross generalization that you've probably heard of it, at least. Deal is, you go to InCUBATE, pay $10 for some soup (this time made by S.F. chef Leif Hedendal), that $10 goes into the pot for an artist grant, and while you sit around and eat your soup you and everyone else there vote on who gets the grant. At least that's my understanding of it. So, if you've got $10 to spare, you like art, and you like soup, this is your event! Be there at noon!
InCUBATE is located at 2129 N Rockwell St.