Hello again, my lovelies. So, as I was sayin' on my gallery crawl blog, I was a little worried Monday when I started putting the listing together. At that point it was looking a little bleak. Thankfully that situation has remedied itself. It's always nice when the weekend picks are relatively easy, and this weekend there is so much good stuff that picking was easy, it was whittling down that was hard. Here are a few places that still look awesome, but didn't make it to the Top 5: Visions from a Foxhole at Pritzker Military Library, Rune at Ben Russell (dude, get a website, please! or if you have one, tell me where it is), We Are the World at Roots and Culture, and Ethan Greenbaum and Katrin Sigurdardottir at The Suburban. This is seriously the Alt. Space Weekend! As an odd testament, not one opening (that I could find) in River North. So go out, support your local project spaces, alternative spaces, apartment galleries, garage galleries, corners-of-living-rooms-with-art-badly-hung-in-them places, and enjoy the (inevitable and awesome) cheap beer.  SALLY FOURTH!
1. ChicagoLand at PeregrineProgram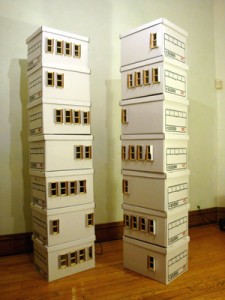 So I saw Daniel Lavitt out in the streets last weekend and asked him about the show. I'd seen the announcement card around (you've probably seen it too, him staring Godzilla-style through a tiny window), but wasn't sure exactly what the hell was going on. Well, my friends, this stuff looks like a whole pile of awesome! I love miniaturized work, it's always a bit creepy and awkward.  For this work, Lavitt is not only miniaturizing Chicago, he's doing it to culturally and personally significant places AND wiring them along an economic gradient. I've never been to this space, so I'm super stoked on seeing a new venue and Lavitt's new work.
PeregrineProgram is located at 500 W Cermak Rd, #727. Reception is Friday from 6-9pm. [Read more]
Ahoy again, me mateys! Thar be arts in them thar  waters. Yarg! And for this week's briny picks, we'll be casting broad our ores…or something. Ok, enough of that. But really, we are a bit scattered about for this weekend's picks. I'll be driving my trusty Jeep round, dashing through the snow and such. Perhaps, I'll see yo ass out there? And now…
The True and Trusty Top 5:
1. Matters at Golden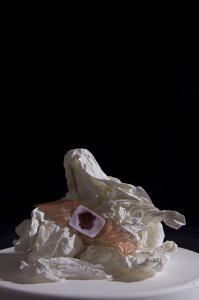 Golden Gallery has impressed me with their selection of work since they opened about a year and a half ago with my buddy Jill Frank's work. This round looks like more of the same, in the good way. Opening this week is a solo show of Joseph Cassan. And really, anyone who can take Kleenex and a bloody Band Aid, put it together, and make me think of Caravaggio is worth a look in by book. Rock on, dear Golden Gallery.
Golden Gallery is located at 816 W. Newport. Opening reception is Friday from 6-9pm.
2. The Dog and the Wolf at Monique Meloche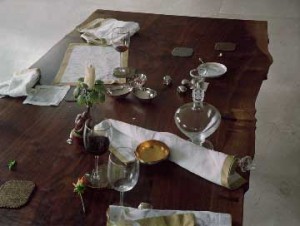 I friggin' love Laura Letinsky. 'Nuff said. She's having a solo show at Meloche's joint. Go see the show.
Monique Meloche is located at 2154 W. Division St. Opening reception is Saturday from 4-7pm.
…To Start Off The New Year!
Hey everyone! Hope ya'll had a good hooliday! And now we stride fourth, from the 'Ots to the Onezies, with many a show to look forward too. This weekend (especially Friday) is particularly ripe for new year pickings, so in celebration of all that, I give you…
THE FIRST 10 OF THE NEW YEAR!
(In not much of a particular order)
Happy 'Effen 2010!
1. In Stereo at Rotofugi
I feel like I should hate this work for being hip and trite, but it just makes me think of Rosler's 60-era "Bringing the War Home" too much for me to hate it. Make your own decision.
Reception Friday from 7-10pm. Rotofugi is located at 1953 W. Chicago Ave.
2. 3-for-1: Queen of Heaven, R&R (…&R), and Up Is Down at the Chicago Cultural Center
I am generally in favor of 3-for-1 shows, especially when there are actually three big shows in one place, something few other places do as well as the Cultural Center. On top of that the work looks worth seeing, to boot. Sheesley presents nearly photo-real paintings of puddles, Faier forces confrontation with death (or our refusal to confront it) with his images of mausoleums and their waiting rooms, and Slavick explores carnage in Afghanistan, Iraq, and Lebanon through over painted photographs.
Reception Friday from 6-8pm. The Chicago Cultural Center is located at 78 E. Washington St.
Sup ya'll. Time for another rousing round of what the f*#k is Steph doing this weekend?, aka The Top 5! You ready? Well, here you go:
1. A Crash of Critters at Fill in the Blank
Ok, so I've got the love for Fill In The Blank, it's in my neighborhood, and they always put out a good spread and some tasty eye candy. This round is no exception. Based (as I understand) on the idea of ascribing hilarious names to groups of animals, this will appeal to all people interested in cartoon animals and those of us who own, willingly, a copy of James Lipton's "An Exaltation of Larks."
Fill in the Blank is located at 5038 N. Lincoln Ave. Opening reception Friday, 7-10pm.
2. Obsession In Ice at Carl Hammer Gallery
So, I'm not generally one for holiday themed art shows. As a matter of fact, I generally hate them. This show, however, is an exception. Featuring the work of Wilson "Snowflake" Bentley, this show brings to us some of the first images ever made of individual snowflakes. A farmer/scientist, Bentley captured the first image ever of an individual snowflake in 1885. So, go to the show, muse on old-school science, and remember: you are an unique and individual snowflake, just like everybody else.
Carl Hammer Gallery is located at 740 N. Wells. Opening reception Friday, 5:30-8:30pm. [Read more]
Good morning to all of you out there in TV land. I hope you are feeling bloated and a little ashamed, now that the national day of gluttony is done. I wish I could say I have an exciting lineup of shows to get you out into the streets, crawlin' off those extra calories, but alas, there are but three shows opening this weekend, all tonight. Now, I'm not putting all three on my picks, if you want to know the other two you can find them on my Gallery Crawl. No, dearies, I'm giving you my one pick, from three: The Op Shop.
1. The Op Shop at, well, The Op Shop –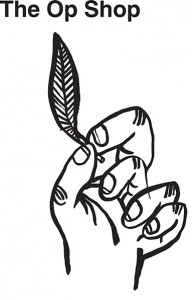 So, I'm not exactly sure what the story is here. It has something to do with Laura Shaeffer over at Home Gallery, and includes a lot of artists she's shown: Anders Nilsen, Katrin Asbury, Rachel Tredon, and Albert Stabler, among others. As far as I can tell, it is a new idea for a roaming space, called the Op(portunity) Shop, derived from the Australian term for thrift shops, apparently. Not sure where it's going next, if anywhere, but hey, if you happen to be in the vicinity of Hyde Park, why not stop by?
The Op Shop is located at 1613 E. 55th. Reception tonight, 6-10pm.