Hooray!
1. Dialogue: Presented by IRUS art (an intercultural collaborative art show between artists in Iran and the U.S.) at Co-Prosperity Sphere –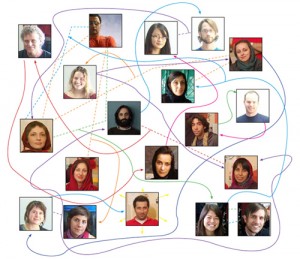 The crew down at Co-Pro are always working hard to put on events that are relevant withing AND beyond our little world of art. This is obviously no exception. And I quote, "Two teams of artists, one in Tehran and another in Denver have assembled under one name: IRUS (Iran – United States). Starting with our mutual respect for art, we have established collaborative projects between our groups." Friday night is the show reception, and Saturday is the discussion panel.
Co-Prosperity Sphere is located at 3219 S Morgan St. Reception is Friday from 7-10pm. Discussion is Saturday from 5-7pm.
2. M155 4m3r1c4 at Noble & Superior Projects –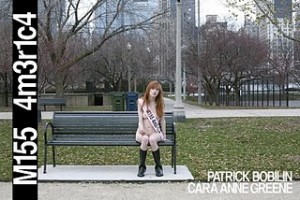 Now, I will admit, I am rather partial to Noble and Superior Projects already, but that said, this show absolutely deserves a place in this weekend's Top 5, regardless of my previous experience with 'em. This show is a double whammy with Patrick Bobilin and Cara Anne Greene. Patrick's work, and I quote, "M155 4m3r1c4 (Miss America), is a loose narrative which uses documentation and fiction together to create a broad self-portrait doubling as cultural commentary," and involves video, photographs, and documents relating to the M155 4m3r1c4 narrative. And Cara Anne Greene, beautiful, beautiful Cara Anne Greene will be serving up cullinary complements to the story of M155 4m3r1c4. AWESOME!
Noble & Superior Projects is located at 1418 W Superior St 2R. Reception is Friday 6-10pm.
3. Closing Reception for Byron Roche –

Byron was one of the first gallerists I met in Chicago, and he set the bar high. He is endlessly knowledgeable and endlessly kind. It is, therefore,with a sad heart, that I make this addition to the Top 5. After 16 years with a public gallery, Byron is closing his space. He will continue to operate as a private art consultant, but no longer will there be that comforting island of Byron Roche Gallery in River North. No more box wine, no more Sweetheart Jewelry. So come down and say goodbye, this is your last chance.
Byron Roche is located 750 N. Franklin. Closing reception is Saturday from 11am-6pm.
4. Artist Talk with Adam Ekberg at Thomas Robertello Gallery –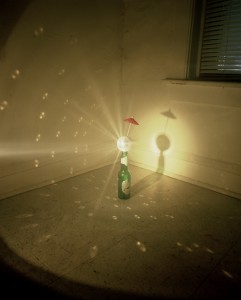 The first of two not-to-be-missed artists' lectures happening this weekend. The be-bearded countenance of Mr. Ekberg will be discussing his work at Thomas Robertello Gallery, amid his wall mounted work. And I quote, "continuing with the use of lens-based phenomena, humble celebratory gestures, and primitive constructs, Ekberg further develops two distinct bodies of work; images created in the woods or nature, and images using his apartment as stage set." Be there or be square!
Thomas Robertello Gallery is located at 939 West Randolph St. The artist talk begins at 3pm.
5. Artist Talk with Aspen Mays at HPAC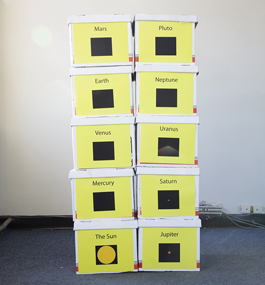 The second not-to-be-missed artists' lecture this weekend. Aspen Mays will be discussing works from her From the Office of Scientists exhibition currently on display at HPAC. And I quote, "Mays activates the office cubicle as a site for information production and general inquiry where "big ideas" are generated." Sweet!
Hyde Park Art Center is located at 5020 S. Cornell Ave. The artist talk begins at 2pm.
Hello again, my lovelies. So, as I was sayin' on my gallery crawl blog, I was a little worried Monday when I started putting the listing together. At that point it was looking a little bleak. Thankfully that situation has remedied itself. It's always nice when the weekend picks are relatively easy, and this weekend there is so much good stuff that picking was easy, it was whittling down that was hard. Here are a few places that still look awesome, but didn't make it to the Top 5: Visions from a Foxhole at Pritzker Military Library, Rune at Ben Russell (dude, get a website, please! or if you have one, tell me where it is), We Are the World at Roots and Culture, and Ethan Greenbaum and Katrin Sigurdardottir at The Suburban. This is seriously the Alt. Space Weekend! As an odd testament, not one opening (that I could find) in River North. So go out, support your local project spaces, alternative spaces, apartment galleries, garage galleries, corners-of-living-rooms-with-art-badly-hung-in-them places, and enjoy the (inevitable and awesome) cheap beer.  SALLY FOURTH!
1. ChicagoLand at PeregrineProgram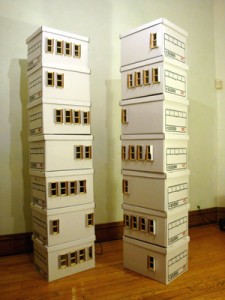 So I saw Daniel Lavitt out in the streets last weekend and asked him about the show. I'd seen the announcement card around (you've probably seen it too, him staring Godzilla-style through a tiny window), but wasn't sure exactly what the hell was going on. Well, my friends, this stuff looks like a whole pile of awesome! I love miniaturized work, it's always a bit creepy and awkward.  For this work, Lavitt is not only miniaturizing Chicago, he's doing it to culturally and personally significant places AND wiring them along an economic gradient. I've never been to this space, so I'm super stoked on seeing a new venue and Lavitt's new work.
PeregrineProgram is located at 500 W Cermak Rd, #727. Reception is Friday from 6-9pm. [Read more]
Ahoy again, me mateys! Thar be arts in them thar  waters. Yarg! And for this week's briny picks, we'll be casting broad our ores…or something. Ok, enough of that. But really, we are a bit scattered about for this weekend's picks. I'll be driving my trusty Jeep round, dashing through the snow and such. Perhaps, I'll see yo ass out there? And now…
The True and Trusty Top 5:
1. Matters at Golden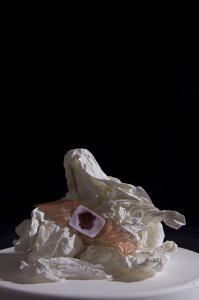 Golden Gallery has impressed me with their selection of work since they opened about a year and a half ago with my buddy Jill Frank's work. This round looks like more of the same, in the good way. Opening this week is a solo show of Joseph Cassan. And really, anyone who can take Kleenex and a bloody Band Aid, put it together, and make me think of Caravaggio is worth a look in by book. Rock on, dear Golden Gallery.
Golden Gallery is located at 816 W. Newport. Opening reception is Friday from 6-9pm.
2. The Dog and the Wolf at Monique Meloche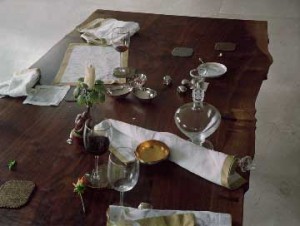 I friggin' love Laura Letinsky. 'Nuff said. She's having a solo show at Meloche's joint. Go see the show.
Monique Meloche is located at 2154 W. Division St. Opening reception is Saturday from 4-7pm.
…To Start Off The New Year!
Hey everyone! Hope ya'll had a good hooliday! And now we stride fourth, from the 'Ots to the Onezies, with many a show to look forward too. This weekend (especially Friday) is particularly ripe for new year pickings, so in celebration of all that, I give you…
THE FIRST 10 OF THE NEW YEAR!
(In not much of a particular order)
Happy 'Effen 2010!
1. In Stereo at Rotofugi
I feel like I should hate this work for being hip and trite, but it just makes me think of Rosler's 60-era "Bringing the War Home" too much for me to hate it. Make your own decision.
Reception Friday from 7-10pm. Rotofugi is located at 1953 W. Chicago Ave.
2. 3-for-1: Queen of Heaven, R&R (…&R), and Up Is Down at the Chicago Cultural Center
I am generally in favor of 3-for-1 shows, especially when there are actually three big shows in one place, something few other places do as well as the Cultural Center. On top of that the work looks worth seeing, to boot. Sheesley presents nearly photo-real paintings of puddles, Faier forces confrontation with death (or our refusal to confront it) with his images of mausoleums and their waiting rooms, and Slavick explores carnage in Afghanistan, Iraq, and Lebanon through over painted photographs.
Reception Friday from 6-8pm. The Chicago Cultural Center is located at 78 E. Washington St.
Sup ya'll. Time for another rousing round of what the f*#k is Steph doing this weekend?, aka The Top 5! You ready? Well, here you go:
1. A Crash of Critters at Fill in the Blank
Ok, so I've got the love for Fill In The Blank, it's in my neighborhood, and they always put out a good spread and some tasty eye candy. This round is no exception. Based (as I understand) on the idea of ascribing hilarious names to groups of animals, this will appeal to all people interested in cartoon animals and those of us who own, willingly, a copy of James Lipton's "An Exaltation of Larks."
Fill in the Blank is located at 5038 N. Lincoln Ave. Opening reception Friday, 7-10pm.
2. Obsession In Ice at Carl Hammer Gallery
So, I'm not generally one for holiday themed art shows. As a matter of fact, I generally hate them. This show, however, is an exception. Featuring the work of Wilson "Snowflake" Bentley, this show brings to us some of the first images ever made of individual snowflakes. A farmer/scientist, Bentley captured the first image ever of an individual snowflake in 1885. So, go to the show, muse on old-school science, and remember: you are an unique and individual snowflake, just like everybody else.
Carl Hammer Gallery is located at 740 N. Wells. Opening reception Friday, 5:30-8:30pm. [Read more]