Ok, so as a foregone conclusion, you should be attending Artropolis, the collective term for all thing art at the Merchandise Mart this weekend. If you don't have a free pass yet, get one, they are every where. Making a Top 5 for this weekend is easy and hard, because it's obvious and obscure. Here is the obvious. For the obscure, just ask, talk, communicate. This weekend, of any per year, is your opportunity to find something new, on your own, if you are willing to look, talk, and listen. Good luck with the madness.
1. River North and West Loop Gallery Tours
Been living under a rock? Or just too proud to amble into the established districts? Here is your opportunity to see everything in RN and WL in one fail swoop. Free trolleys Saturday from the Merch Mart to RN, and from RN to WL. Check it.
2. Thesis Shows
Chicago is practically vomiting MFA programs. This weekend, no less than three are opening for your enjoyment. Hit up:
School of the Art Institute of Chicago
University of Illinois Chicago
Tony Fitzpatrick presents his next selection at his new independent and "no commission" space, Joe Amrhein: A Fallibility of Perception.
4. Studio 1020
The Studio, usually a pretty insular place, is putting on Fuck Art Chicago, a pretty obvious statement. It does promise to be an interesting alternative, featuring around 30 artists who's work is bounded by the constraint of an 8.5 x 11 sheet of paper. The Studio is located at 1020 N. Marshfield in Chicago.
5. Oak Park Garage Adventure
A two-for-one opportunity, to see an opening at The Suburban (Sara Greenberger Rafferty and Ruby Sky Stiler) and Shane Campbell-Oak Park (Zak Kitnick and Valerie Snobeck)
Fri 4/8 –
A Mouth Which Shouts Is a Cave for the Hand at 65Grand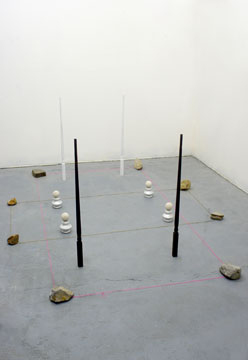 Work by Ian Pedigo.
65Grand is located at 1369 W. Grand Ave. Reception is from 7-10pm.
Not to See the Sun at EBERSMOORE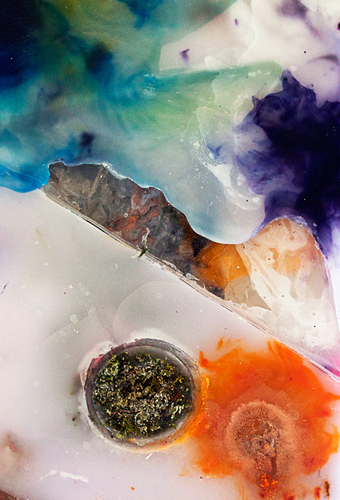 Work by Heidi Norton.
EBERSMOORE is located at 213 N Morgan, #3C. Reception is from 6-9pm.
The Women at Shane Campbell Gallery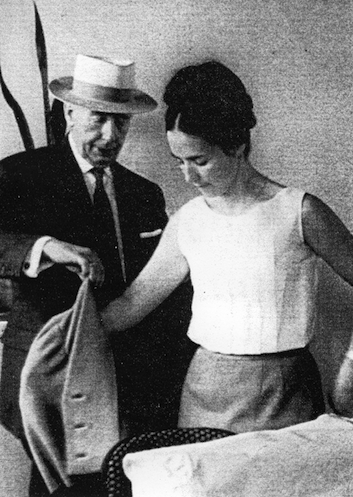 Work by Adam Pendleton.
Shane Campbell Gallery is located at 673 N. Milwaukee Ave. Reception is from 6-8pm.
Cast & Cascade and The Lightweight at Western Exhibitions

Work by Michelle Blade and Jose Lerma, respectively.
Western Exhibitions is located at 119 N. Peoria St., 2A. Reception is from 5-8pm.
Sun 4/10 –
GOD IS REPRESENTED BY THE SEA at Adds Donna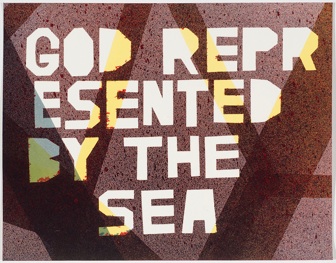 Work by Mark Booth.
Adds Donna is located at 4223 W Lake St. #422. Reception is from 3-7pm.
There is just too much good stuff this weekend, 5 spots aren't enough. Here's what I think everyone should see, in chronological and alphabetical order:
Friday (4/1) –
UIUC MFA Show: Artsplosia at Co-Prosperity Sphere
Work by Will Arnold, Jung Eun Chang, Justin Farkas, Karri Anne Fischer, Motoko Furuhashi, Amy Gilles, Jim Graham, Dan Gratz, Ben Grosser, Ben Hatcher, Dan Krueger, Katie Latona, Erica Leohner, Maria Lux, Nick Mullins, Kerianne Quick, Michael Smith, Paul Shortt, Laura Tanner, Jessica Tolbert, Nicki Werner, Sarah Beth Woods, and Michael Woody.
Co-Prosperity Sphere is located at 3219 S Morgan St. Reception Friday from 6-10pm.
Weaving Healing Waters at Fill in the Blank Gallery
Work by Maria Calderon.
Fill in the Blank Gallery is located at 5038 N. Lincoln Ave. Reception Friday from 7-11pm.
That's Odd, I Feel So Alive at Packer Schopf Gallery
Work by Casey Riordan Millard
Packer Schopf Gallery is located at 942 W. Lake St. Reception Friday from 5-8pm.
6/6/6: SIX ARTISTS, SIX CITIES, SIX CONNECTIONS at Lloyd Dobler
Work by Jeff Badger, Carl Baratta, Amanda Curreri, Joanne Lefrak, Kathy Leisen, and Dan Schank.
Lloyd Dobler is located at 1545 W. Division, 2nd Fl. Reception Friday from 6-10pm.
When the Cathedrals Were White at Thomas Robertello Gallery
Work by Peter Allen Hoffmann.
NOTE NEW LOCATION: Thomas Robertello Gallery is located at 27 N Morgan St. Reception Friday from 6-8pm.
Saturday (4/2) –
Country Club Presents 'Abstract Location' & Anthotypes at Andrew Rafacz Gallery
Abstract Location features work by work by Steven Bankhead, Katarina Burin, Fritz Chesnut, Jacob Dyrenforth, Freeman & Lowe, and Ryan McGinness. Anthotypes features work by John Opera.
Andrew Rafacz Gallery is located at 835 W. Washington. Reception Saturday from 4-7pm.
Work by Andy Cahill, Alan & Michael Fleming, Yasi Ghanbari, Danny Greene, Joe Grimm, Marissa Perel, Arron David Ross, and Michael Vallera.
LVL3 is located at 1542 N Milwaukee Ave #3. Reception Saturday from 6-10pm.
Sunday (4/3) –
Irritable Abstraction at Julius Cæsar
Work by Joe Baldwin, Timothy Bergstrom, Brian Calvin, Federico Cattaneo, Edmund Chia, Dana DeGiulio, Dan Devening, Cheryl Donegan, Judith Geichman, Andrew Greene, Magalie Guérin, Antonia Gurkovska, Seth Hunter, Michiko Itatani, Eric Lebofsky, Diego Leclery, José Lerma, Jim Lutes, Rebecca Morris, Sabina Ott, Noah Rorem, Erin Washington and Molly Zuckerman-Hartung.
Julius Cæsar is located at 3144 W Carroll Ave, 2G. Reception Sunday from 4-7pm.
Ok, so somehow this week devolved into madness, and here I am, to do a last minuet post for my weekly top 5. Being slightly indisposed at the moment, the top 5 pick is being scrapped this week for a longer list of: "Well, it looks like it has potential…" Enjoy!
Friday:
LIKE A ROCK: Tony Balko and Olivia Ciummo at ACRE Projects (1913 W 17th St) Reception 6-9pm.
Snowblind: Alex Blau at Firecat Projects (2124 N. Damen) Reception 7-10pm.
Launch of johallaprojects.com/ARTISTS at Johalla Projects (1561 N Milwaukee) Party from 7-10pm.
Drop It Like It's Not at Murdertown (2351 N. Milwaukeee Apt #2) Reception 6-9pm.
Double Feature: The Art Dump at Post Family (1821 W. Hubbard S. Unit 202) Reception 7-11pm.
Saturday:
Anthotypes: John Opera at Andrew Rafacz Gallery (835 W Washington Blvd) Reception 4-7pm.
BYOB (Bring Your Own Beamer) Chicago at Archer Ballroom (3012 S. Archer Ave. Apt #3) Reception 7-10pm.
BLUE GLUE AND OTHER EXPLORATIONS: Mara Baker at Happy Collaborationists Exhibition Space – (1254 N Noble St) Reception 6-10pm.
PSYCHA-BOBBLE: J. Thomas Pallas, Laura Davis, David Leggett and Elisa Harkins at High Concept Laboratories (1401 W. Wabansia) Reception 7pm-midnight.
Nobody to Have Any Fun With: Mac Katter, Dylan Cale Jones and Vanya Schroeder at SÃ¥ Gallery (2150 S Canalport Ave #4A-10) Reception 7:30-10:30pm.
WORK IN THE WOODS from SCARCITY asks, "IS THIS YOU, WANT?": G. Vincent Gaulin at Spoke (119 N Peoria St.) Performance 6-8:30pm.
Sunday:
Zombie Apocalypse: Kimberly MacAulay, Anna Vlaminck, and Eric Cronin at Black Cloud Gallery (1909 S. Halsted St) Reception 6-10pm.
Eyeball Witness: Suitable Video Vol. 2 at Roots & Culture (1034 N Milwaukee Ave.) Screening at 7pm. $5.
1. It Is What It Isn't at Hyde Park Art Center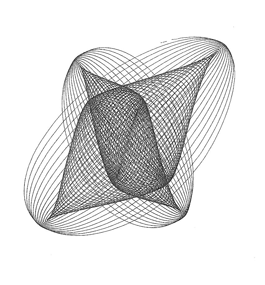 Work by Conrad Freiburg.
Hyde Park Art Center is located at 5020 S. Cornell Ave. Reception is Sunday from 3-5pm.
2. dichroma at Pentagon Gallery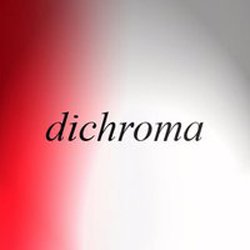 Work by Jason Smith, Caroline Carlsmith and Leo Kaplan.
Pentagon Gallery is located at 2655 W. Homer St. Reception Friday from 7-11pm.
3. Post-Smithson at Noble & Superior Projects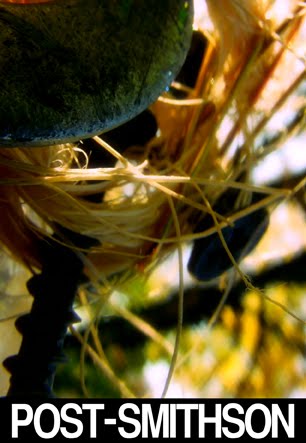 Work by Isabelle Gougenheim, Emily Irvine, and Emilie Crewe.
Noble & Superior Projects is located at 1418 W. Superior St. Reception Friday from 6-10pm.
4. BFA Show at Sullivan Galleries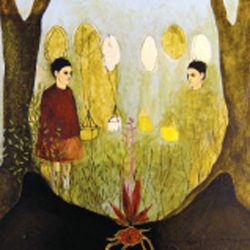 School of the Art Institute of Chicago Spring BFA Show.
Reception Sullivan Galleries is located at 33 S. State St., 7th Fl. Friday from 7-9pm.
5. Frank Frazetta Tribute Exhibition at Gallery Provocateur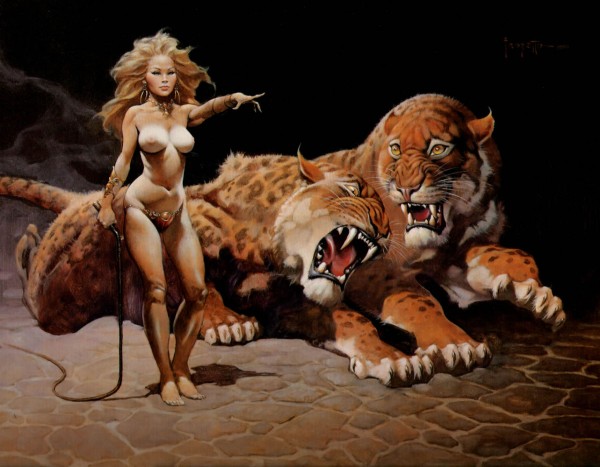 Exhibition to benefit JDRF juvenile diabetes. $1 at the door.
Gallery Provocateur is located at 2125 N. Rockwell St. Reception Saturday from 8pm-midnight.