The Search & They Both Ride Horses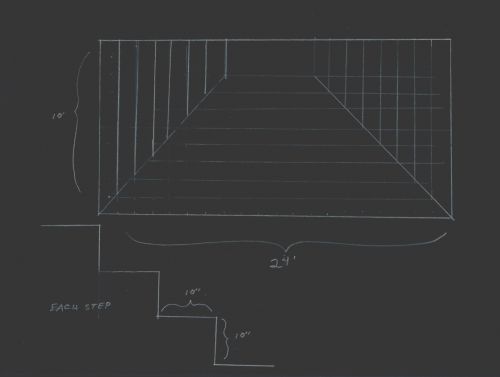 Work by Jason Lazarus and Cody Hudson, respectivily.
Andrew Rafacz Gallery is located at 835 W. Washington Blvd. Reception is from 4-7pm.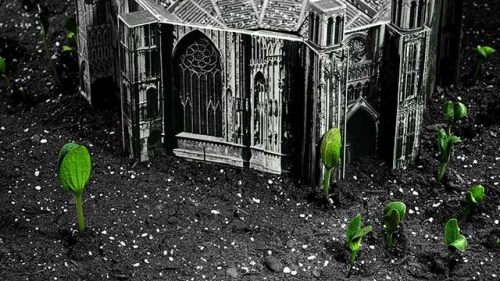 Work by Rob Carter.
EBERSMOORE is located at 213 North Morgan, #3C. Reception is from 6-9pm.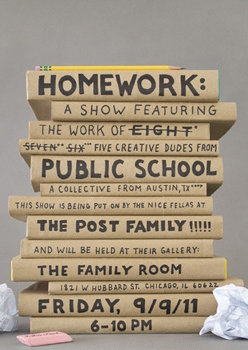 Work by the collaborative Public School.
The Family Room is located at 1821 W. Hubbard St. Suite, 202. Reception is from 6-10pm.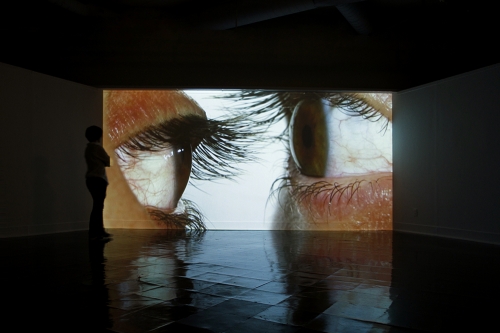 Curated by Jefferson Godard, with work by Candice Breitz, Manon de Boer, EJ Hill, Diego Leclery, and Casilda Sanchez.
The Mission is located at 1431 W. Chicago Ave. Reception is from 6-9pm.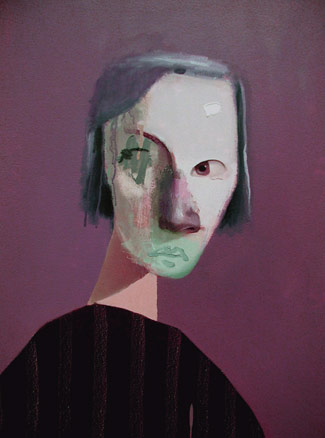 Work by Ed Valentine. Tom Van Eynde in the project space.
Linda Warren is located at 1052 W. Fulton Market. Reception is from 6-9pm.
Dazzling and Bright, Alexandra Walrus, and Outlaws and Patriots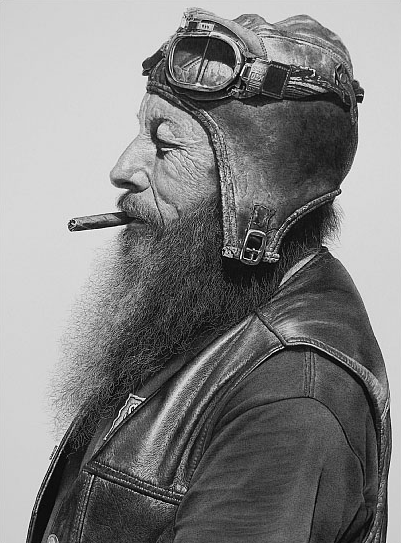 Work by Lorraine Peltz, Doug Smithenry, and Bill Harrison, respectively.
Packer Schopf is located at 942 W. Lake St. Reception is from 6-9pm.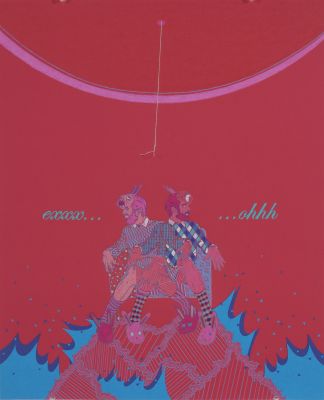 Work by Nathan Vernau.
Robert Bills Contemporary is located at 222 N. Desplaines St. Reception is from 6-9pm.
Mystical Outlaw Rebel Baaddaasss Drawings and Mutinous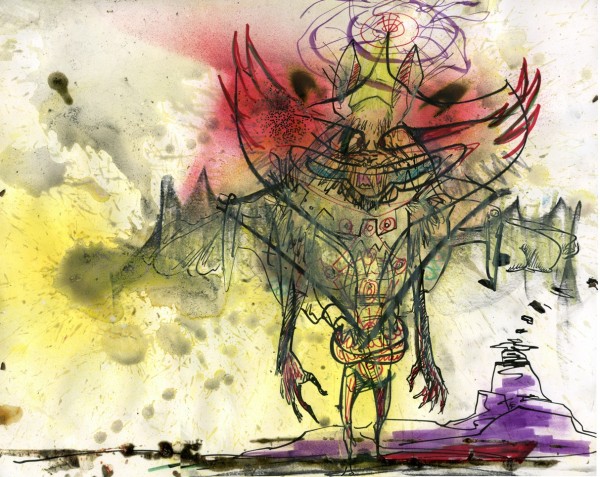 Work by Jason Robert Bell and Bret Slater, respectively.
Thomas Robertello Gallery is located at 27 N. Morgan St. Reception is from 6-8pm.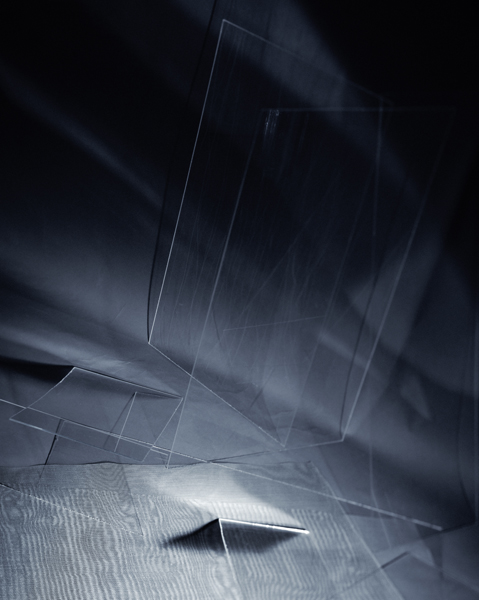 Work by Barbara Kasten.
Tony Wight Gallery is located at 845 W. Washington Blvd. Reception is from 6-8pm.
Stan Shellabarger & Maria Petschnig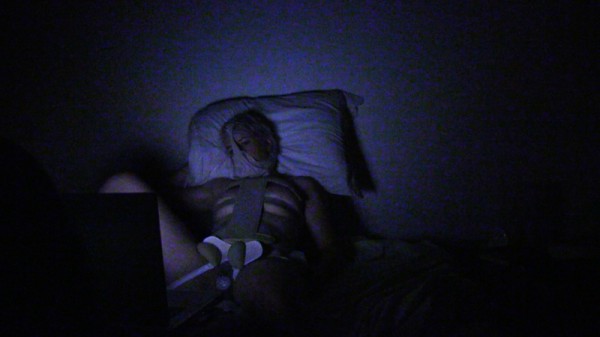 Western Exhibitions is located at 119 N Peoria St. Reception is from 5-8pm.
This is the weekend before the BIG weekend. You know the weekend I'm talking about, the opening explosion madness that marks the beginning of the Fall gallery season. As a result, this weekend, like the last few, has been pretty slim. Thus, I only have two recommendations for this weekend, both located in the same building, and both on Sunday:
1. JULIUS CAESAR ~ Nasty, Brutish, and Short at PEREGRINEPROGRAM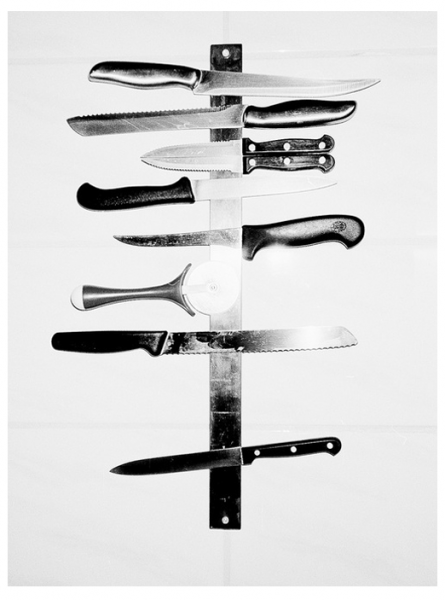 Work by Dana Degiulio, Diego Leclery, Hans Peter Sundquist, and Molly Zuckerman-Hartung.
PEREGRINEPROGRAM has moved to 3311 W Carroll Ave. Reception is Sunday from 4-7pm.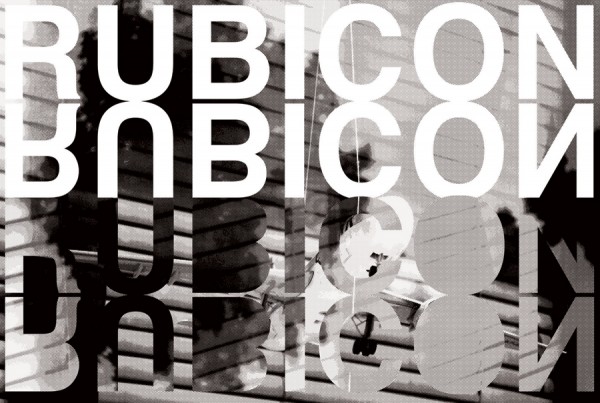 Work by Steven Husby.
Julius Caesar is located at 3311 W. Carroll Ave. Reception is Sunday from 4-7pm.
1. Splay at Roxaboxen Exhibitions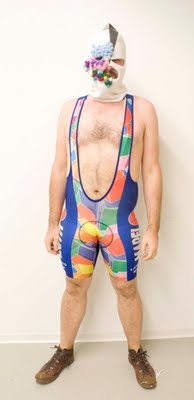 Work by Madeleine Baily, Steven Frost, Yasi Ghanbari, Elise Goldstein, Rachel Lowther, Ivan Lozano, Brian Maller, Alison Rhoades, Tessa Siddle, Fritz Welch, and Syniva Whitney.
Roxaboxen Exhibitions is located at 2130 W. 21st. Reception is Friday from 7-10pm.
2. This is the Same as That at LVL3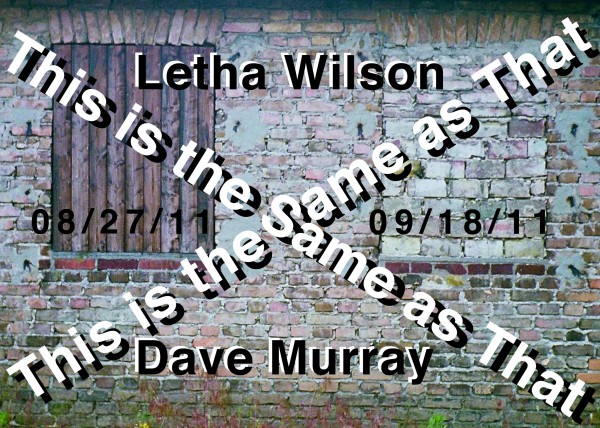 Work by Dave Murray and Letha Wilson.
LVL3 is located at 1542 N. Milwaukee Ave, 3rd Fl. Reception is Saturday from 6-10pm.
3. Sculpture Garden/Painting Show at Iceberg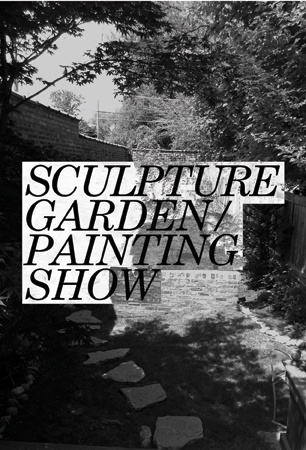 Curated by Andrew J. Greene, work by Ali Bailey, Jamison Brousseau, Mckeever Donovan, Christopher Gatton, Michelle Grabner, Nick Kramer, Samuel Lipp, William J. O'Brien, Jorie Rabinovitz, Matt Rich, Daniel Sullivan, Justin Swinburne, Kristen Vandeventer, and Lisa Williamson.
Iceberg is located at 7714 N. Sheridan Rd. Reception is Sunday from 5-9pm.
4. HEROIC: PLEASE! at Defibrillator Performance Art Gallery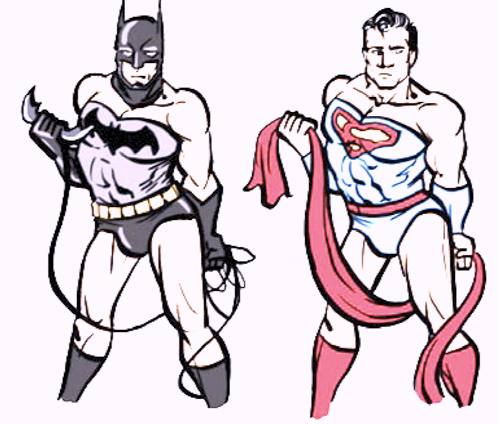 Work by Vicki Fowler, Trevor Martin, Katya Grokhovsky, Colleen Coleman, Hope Esser, Michaela Murphy, Marissa Benedict, Andrew Barco, Sabrina Reed, Caitlin Baum, Stephanie Plenner, Victoria Eleanor Bradford, and DJ Chris Hefner.
Defibrillator Performance Art Gallery is located at 1136 N Milwaukee Ave. Performances begin Saturday at 8pm.
5. Unspoken Words at Firecat Projects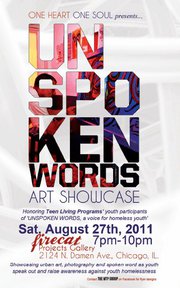 Work by Teen Living Programs.
Firecat Projects is located at 2124 N. Damen. Reception is Saturday from 7-10pm.
1. FIGHT NIGHT at Octagon Gallery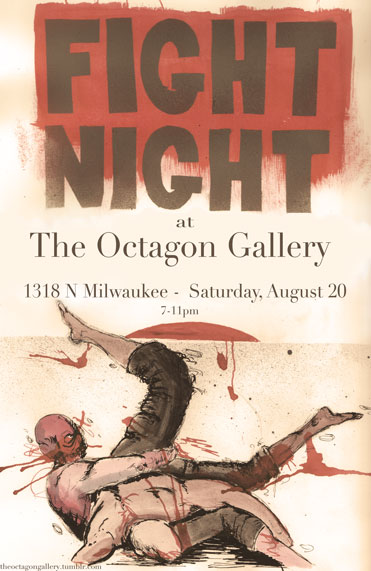 Work by Jesse Avina, Michael Garcia, Ryan T Dunn, Jim Zimpel, Stephanie Burke, Jeriah Hildewine, David Ayling, Mary Ayling, Jake Myers, John Myers, Jeremiah Myers, Lara Stall, Joe Sepka, Bo Totten, Christa Donner, and Jarard Novacain Nathaniel.
Octagon Gallery is located at 1318 N Milwaukee Ave. Performance is Saturday from 7-11pm
2. PREVIEW & Time Signatures at Chicago Artists' Coalition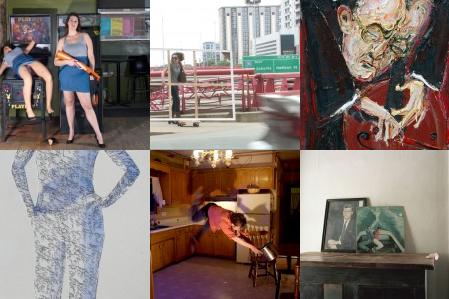 Work by BOLT residents and CAC artists, respectively.
Chicago Artists' Coalition is located at 217 N. Carpenter St. Reception is Friday (tonight) from 6-9pm.
3. Don't think you can change our evil ways at Heaven Gallery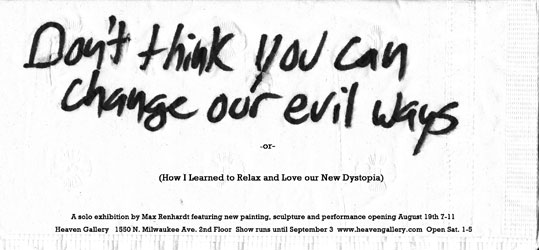 Work by Max Reinhardt.
Heaven Gallery is located at 1550 North Milwaukee, 2nd Fl. Reception is Friday (tonight) from 7-11pm.
1. Luke Aleckson and Matt McAuliffe at The Suburban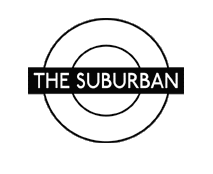 125 N. Harvey Ave.
Sunday 2-4 PM.
2. Book Release Party: Composition 2 / Color Studies at  Center for Book & Paper Arts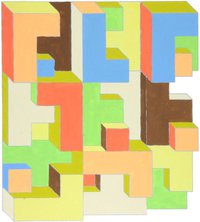 Book of works by Tom Burtonwood
1104 S. Wabash, 2nd Fl.
Friday 5-8 PM
3. Tape: A Celebration at Chicago Art Department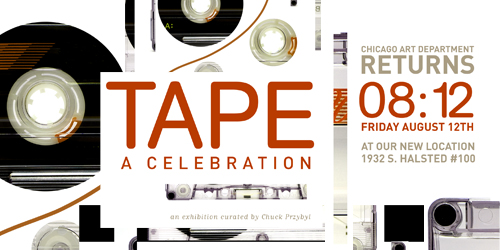 Work by Chris Silva, Chuck Przybyl, Teppei Katori, Lisa Chiodini, Frederic Moffet, Todd Frugia, Clifford Novey, Jason Frohlichstein, Timothy Olson, Edyta Stepien, Agnieszka Kulon, Mark Salach, Dandee Petr, Benjamin Thorp, Martin Rille, and Nat Soti.
1932 S. Halsted St. #100
Friday 6-10 PM.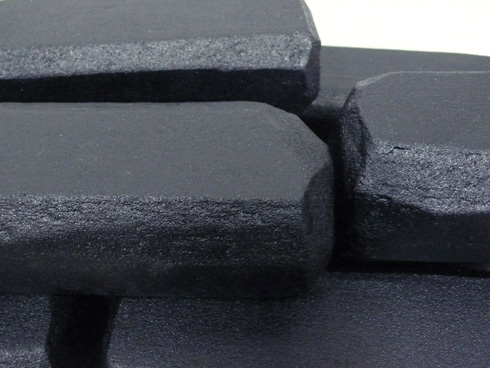 Work by Amy Babinec, Jessica Taylor Caponigro, and Neal Vandenbergh.
1906 S Throop St #2F
Saturday 6-9 PM.
5. Inaugural Exhibition Opening at Fulton Market Gallery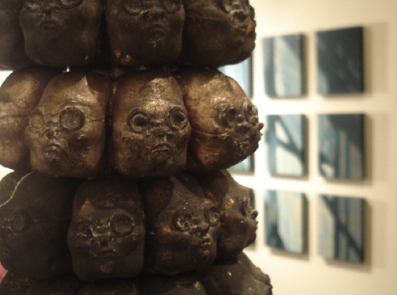 Group exhibition of gallery artists.
310 N. Peoria St.
Friday 6-10 p.m.