1. Transmissions From The Outpost at Thomas Robertello Gallery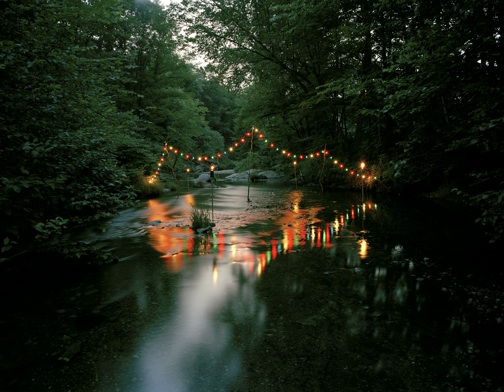 Work by Adam Ekberg. In the project space: I Believe in Harvey Dent or Three Months in Valparaiso, work by Jason Robert Bell
Thomas Robertello Gallery is located at 27 N. Morgan St. Reception Friday, 6-8pm
2. Future Perfect at Co-Prosperity Sphere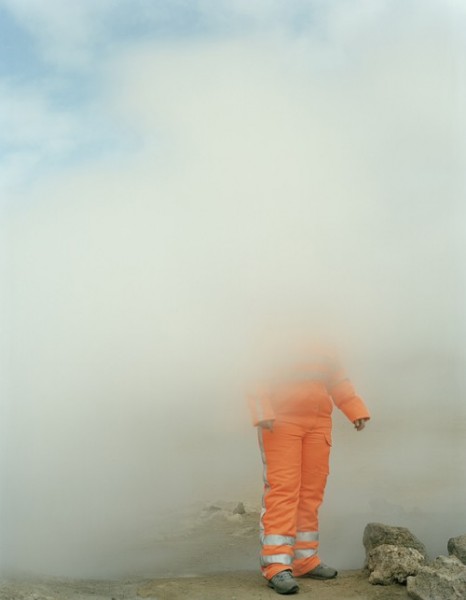 Work by by Judy Natal.
Co-Prosperity Sphere is located at 3219 S Morgan St. Reception Friday, 6-9pm.
3. Rodney Graham at Donald Young Gallery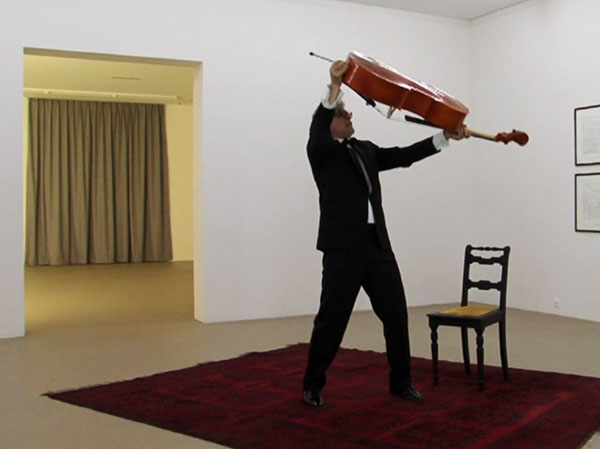 New photographs, sculptures, and paintings.
Donald Young Gallery 224 S. Michigan Ave. #266. Reception Friday, 5-7pm.

Release Party for PHONEBOOK 3
Threewalls is located at 119 N. Peoria. Party Saturday, 8-11pm.
5. The River Rats at Western Exhibitions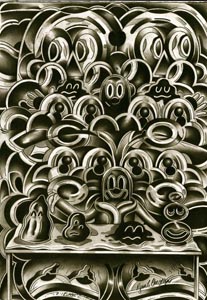 Work by Ryan Travis Christian, with collaborative work in Gallery 2.
Western Exhibitions is located at 119 N Peoria St, 2A. Reception Friday, 5-8pm.
+1 – The MDW Fair at GeoLofts, opening Friday at 8pm. Open to 11pm. $5, free beer.

Participating curatorial groups and galleries: 2612 Space, 65GRAND, ACRE, Alderman Exhibitions, antenna, ANTIDOTE, Bad at Sports, Chicago Artists, Coalition, BOLT Residency, Chicago Urban Arts, DEFIBRILLATOR, Devening Projects + Editions, Document, Drawn Lots, Green Gallery, Happy Collaborationists, Harold Arts, High Concept Lab, The Hills, Hinge Gallery, Hungryman, Iceberg Projects, Itsa_pony, LVL3, Trevor Martin, Abr Gallery, North Branch Projects, Nudashank, Old Seoul, Packer Schopf Gallery, Peanut Gallery, Pentagon, portage ARTspace, Reference, Reuben Kincaid, Roots & Culture, Sixty Inches From Center, Small Space, Spudnik Press, threewalls, Uncle Freddy's Treats, Linda Warren, Western Exhibitions, What It Is, and Propeller Fund grantees 2010.
GeoLofts is located at 3636 S. Iron At. The MDW Fair will continue through Saturday and Sunday, noon to 6pm.
1. Alberto Aguilar & Michelle Harris at Roots and Culture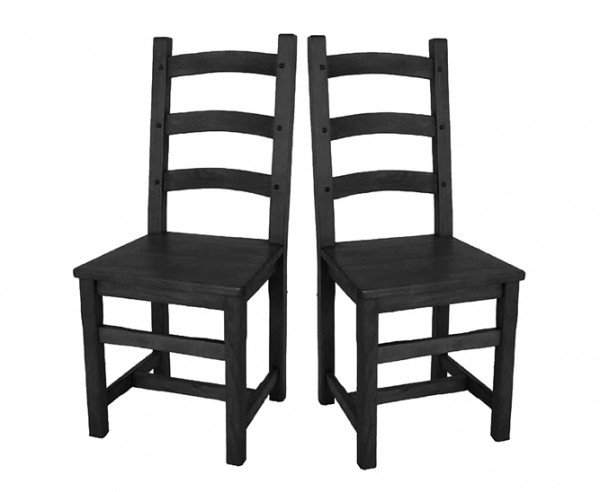 Roots and Culture, 1034 N. Milwaukee Ave. Reception Friday 6-9pm.
2. dream, in, the, act at Kunz, Vis, Projects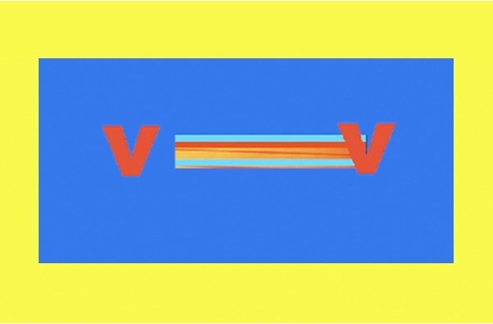 Curated by Nicholas Steindorf, with work by Tom Costa, EJ Hill, Betsy Odom, Industry of the Ordinary, Mary Mattingly, Rusty Shackleford, Joey Weiss and Darren Will.
Kunz,Vis,Projects, 2324 w. Montana, in the garage. Reception Friday 6-9pm.
3. Subterranean Isle at Shane Campbell Gallery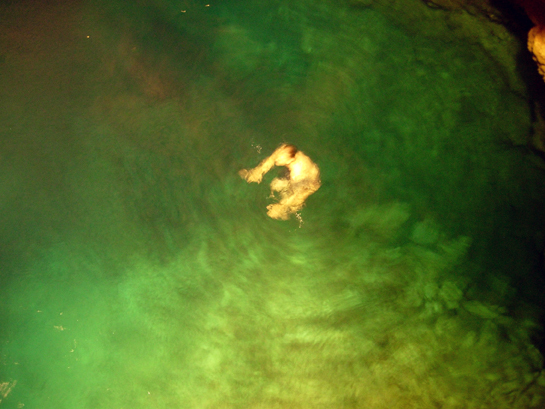 Work by Jay Heikes.
Shane Campbell Gallery, 673 N. Milwaukee Ave. Reception Saturday 6-8pm.
4. SAIC Undergraduate Exhibition at the Sullivan Galleries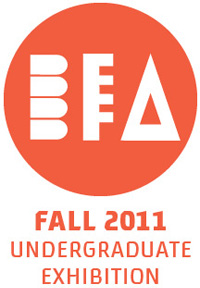 Work by Josef Aguilar, Michelle Anderson, Emilie Bennett-Kjenstad, Daniel Bertner, Alexandra Calhoun, Sarah Campbell, Edward Chong, Esther Chow, Tory Christopherson-Sommerfeldt, Francisco Cordero-Oceguera, Jessee Crane, Kristina Daignault, Theodore Darst, Sam Davis, John Deardourff, Stephanie Del Carpio, Claire Demos, Ben Dimock, Lara Dorsett, Kait Doyle, Jay Fernandez, Brandy Fisher, Charles Fogarty, Jasmine Grant, Christopher Grieshaber, Alison Groh, Yo Ahn Han, Zachary Harvey, Caitlin Hennessy, Danielle Jacklin, William Joyce, Ellie Younjeong Jung, Matthew Keable, Cindy Myung Jin Kim, Minkyung Kim, Elizabeth Kovach, Hyun Jee Kwon, Youjeong Kwon, Melissa Leandro, Christina Joorie Lee, Kang Hoon Lee, Kyusun Lee, Sulhwa Lee, Sarah Legow, Jiyeon Lim, Matthew Litwin, Elyse Mack, Elizabeth Mallery, Mark Mcwilliams, Caroline Moody, Alicia Moreno, Mara Mullen, Drew Noble, Eileen O'Donnell, Alp Oz, Mark Palmen, Jiha Park, Kaitlin Patterson, Heather Platen, Lou Regele, Thomas Roland, Camila Rosas, Nathan Scealf, Nicholas Schleicher, Jules Schmid, Noelle Sharp, Sam Sieger, Kollin Strand, Eric Tai, Geoffrey Thais, Claire Valdez, Sarah Welch, and Nayeon Yang.
Sullivan Galleries, School of the Art Institute, 33 S. State St., 7th fl. Reception Friday 6-8pm.
5. There is a Wanderlust Growing in Your Bones at Rotofugi Gallery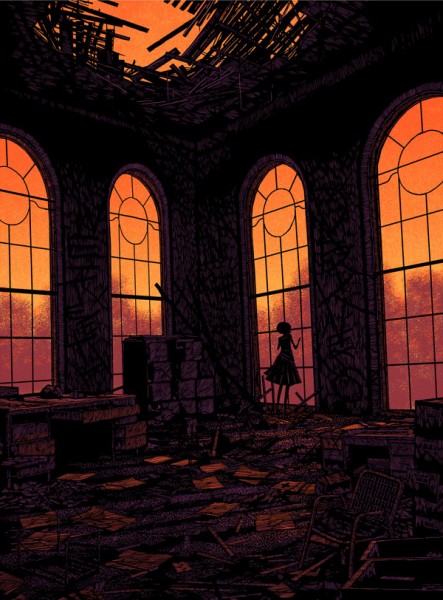 Work by Daniel Danger.
Rotofugi Gallery, 2780 N. Lincoln Ave. Reception Friday 7-10pm.
1. Sightlines at The Graham Foundation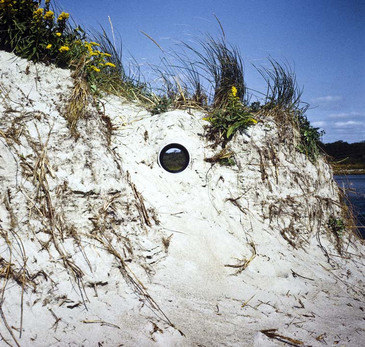 Work by Nancy Holt.
Graham Foundation, Madlener House, 4 West Burton Pl. Reception Friday (tonight) 6-8pm.
2. LIPSTICK ZOMBIES IN CANDYLAND at FM*Gallery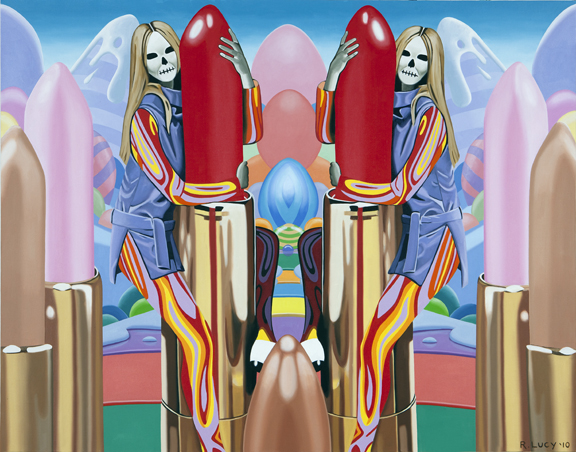 Work by Robert Lucy.
FM*Gallery, 310 N. Peoria St. Reception Friday (tonight) 6-10pm.
3. Pierrot at Peregrineprogram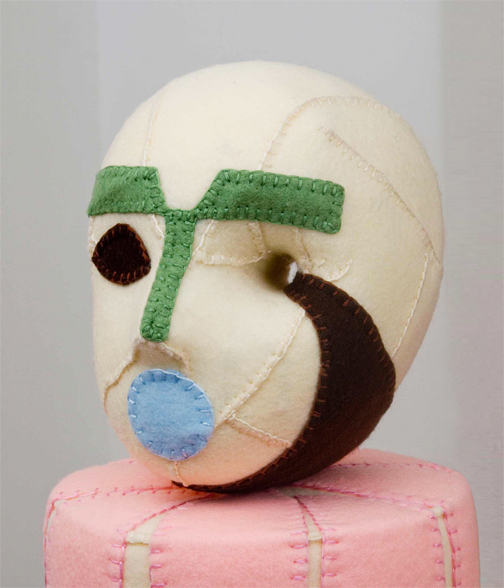 Work by Jonathan Baldock.
Peregrineprogram, 500 W. Cermak Rd. Reception Sunday 3-5pm.
4. Voces at Roxaboxen Exhibitions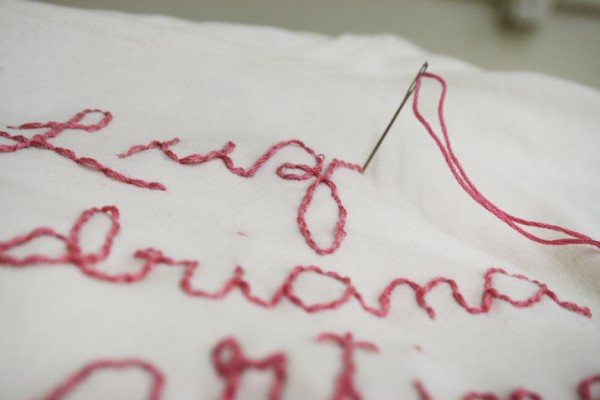 Work by Mandy Cano Villalobos.
Roxaboxen Exhibitions, 2130 W. 21st. Reception Saturday 6-8pm.
5. But the Dust Came In at Happy Collaborationists Exhibition Space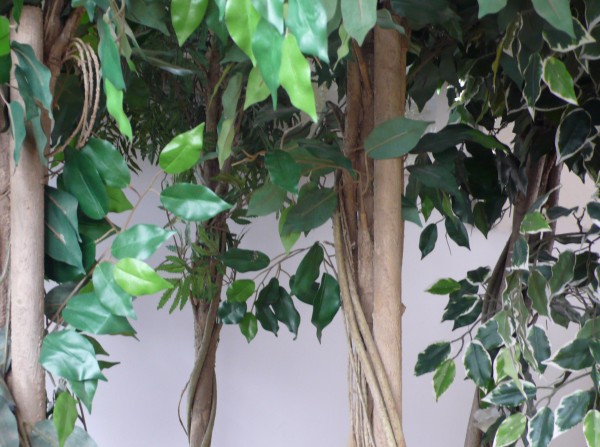 Work by Jessica Taylor Caponigro.
Happy Collaborationists Exhibition Space, 1254 N Noble St. Reception Saturday 6-10pm.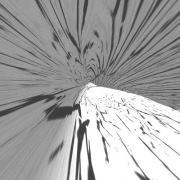 Work by Sona Hovhannisyan, Kim Leutwyler, Nick Cuevas, Theodore Darst, Roman Serra, Nick Hochstettler, Lou Regele, Andrew Rigsby, Wang Frank Ye-feng, Chris Collins, Andrew Rosinski, Lydia Brockman, Whitney Fitzpatrick, and Allen Vandever.
R&D Gallery is located at 2000 N. Halsted St. Reception is Saturday from 7-10pm.
2. Bring Me Close at Comfort Station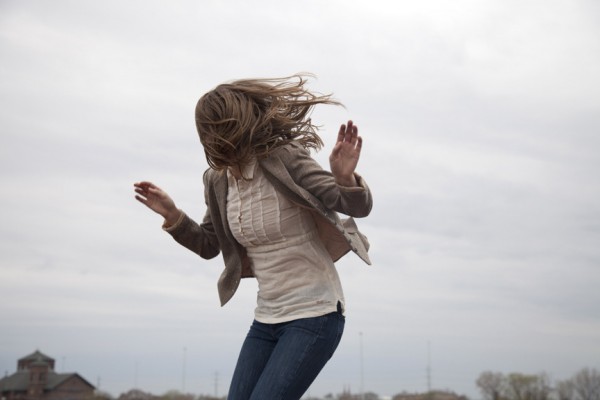 Work by Aidan Fitzpatrick and Kasia Houlihan.
Comfort Station is located at 2579 N. Milwaukee Ave. Reception is Saturday at 3:30pm.
3. 6th Annual Undergraduate Film/Video Festival! at the Columbus Auditorium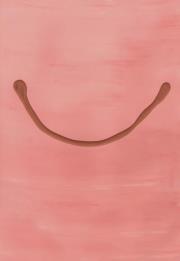 Work by William Bacarella, Luis Miguel Bendaña, Elana Cooper, Francisco Cordero-Oceguera, Theodore Darst, James Ferguson, Michael Gerrity, Brandon Kosters, Sam Lipp & Chloe Seibert, Riley McBride, Drew Olivo, Yaloo Pop, Greg Reigh, Michael Sajdak, Rob Steinberg, Jenn Swann, Hiba Ali, Karina Fisher, Katie Jo, Youngmee Ruh, and Matt Smith.
The Columbus Auditorium is located at SAIC, 280 S. Columbus Dr. Reception is Friday (tonight) from 5-8pm.
4. John Henley can't stop at Slow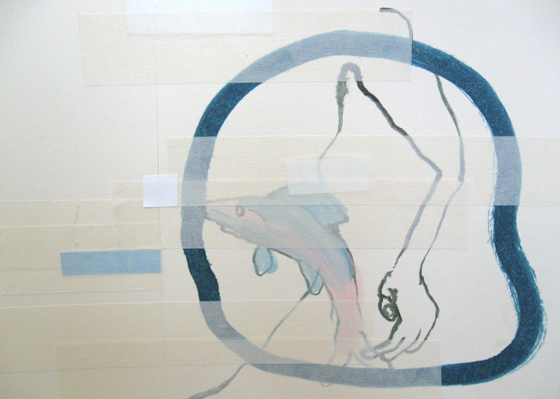 Work by John Henley.
Slow is located at 2153 W. 21st St. Reception is Saturday from 6-9pm.
5. Environmental Factors & Ceramics: The World's Most Fascinating Pastime at Julius Caesar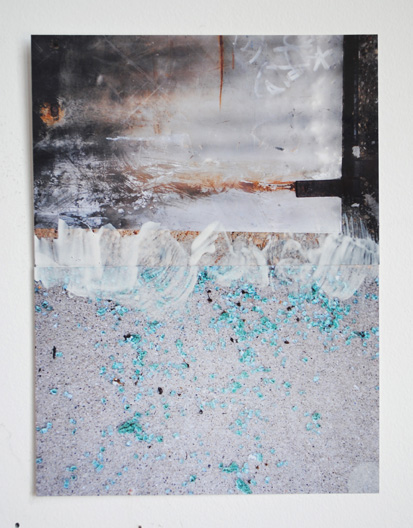 Environmental Factors includes work by Veronica Bruce & Ceramics: The World's Most Fascinating Pastime includes work by Xavier Toubes, Patricia Rieger, Oliver Apte, Hannah Manfredi, Sarah Doll, Oliver Henry, Lesley Jackson, and Mirentxu Ganzarain.
Julius Caesar is located at 3114 W. Carroll Ave. Reception is Sunday from 4-7pm.
1. Objective Confess at Golden Gallery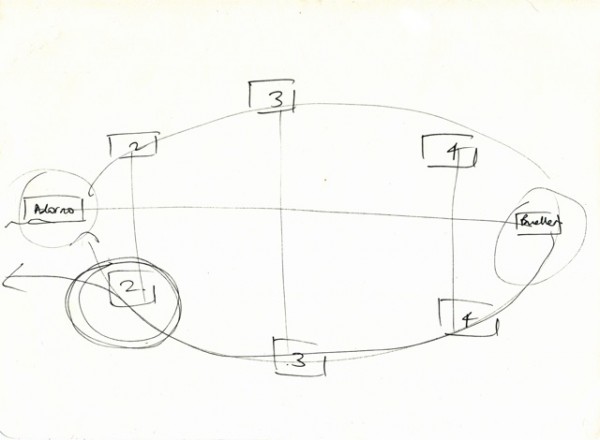 Work by Anthea Behm
Golden Gallery is located at 3319 N. Broadway. Reception is Saturday from 6-9pm.
2. Wood-Worked at Chicago Urban Art Society

Work by  Cristina Gonzalez, Juan Angel Chavez, Steve Reber, Sarah Belknap + Joseph Belknap, Micheal Rea, Mark Holmes, Josue Pellot, Montgomery Kim, Hao Ni, Kazuki Guzman, Matthew 'Sighn' Hoffman, Dylan Jones, and Holly Holmes
Chicago Urban Art Society is located at 2229 S. Halsted St. Reception is Friday from 6-11pm.
3. In A Saturnian World at The Renaissance Society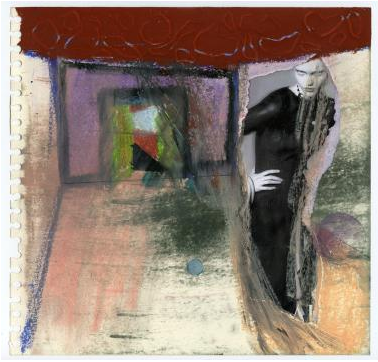 Work by Anne-Mie Van Kerckhoven
The Renaissance Society is located at 5811 S. Ellis Ave., Cobb Hall 418. Reception is Sunday from 4-7pm.
4. Reduction or Something Less at LVL3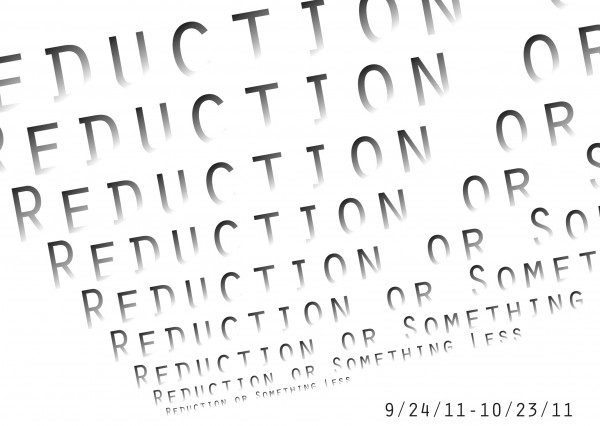 Work by Conor Backman, Magalie Guérin, and Matt Nichols
LVL3 is located at 1542 N. Milwaukee Ave, 3rd Fl. Reception is Saturday from 6-10pm.
5. No Place Like Home at Hyde Park Art Center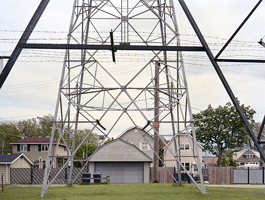 Curated by Dawoud Bey
Hyde Park Art Center is located at 5020 S. Cornell Ave. Reception is Sunday from 3-5pm.