The current political differences between Moscow and Kiev seem intractable. But it remains true that both governments have an interest in cultivating sustenance. Both governments need to eat.
A new London show by Ukrainian artist Nikita Kadan revolves around a vegetable patch. Well-cared for lettuce and herbs grow in a square yard of rich, dark soil. The sight is nourishing, a stark contrast to the death toll of 5,000 killed since fighting began in 2013.
But there's more to this installation than plantlife. Straddling the small plot is a three-panel display stand designed to celebrate Soviet agricultural planning. Unimpressed by the memory, Kadan leaves off the sloganeering. The boards are blank.
"I combine my works from, let's say, confronting elements quite often," Kadan tells me from Kiev via Skype.
"I use forms from Soviet neomodernism often and somehow they represent this gap between having a Soviet era project and . . . then doing things for purposes you understand, not as part of any ideological programme."
You don't need to look far to find a response. A slide carousel projects images of protest from the capital's Independence Square, a pro-EU gathering which came to be known as the Euromaidan.
Here too they are growing food, albeit shabbily. Patches of greenery break out between makeshift tents. They indicate that non-Soviets can also sustain themselves. Supporters of European alliance can also reap a cabbage or two.
Programme or no programme the Maidan could claim a famous victory when in Feburary 2014, then president Yanukovych fled the Ukraine.
But the incumbent government was just as uneasy about the lively protest camp on their doorstep. Kadan recalls them wanting "a normal square," but persistent occupiers of the Maidan saw a chance to create what might be "an instrument of permanent control of power".
If Kiev was changed by events in its main square, so too were those who came to spend time there. "There was an experience of unity and an experience of violence and these were experiences which transformed us very much," says Kadan.
The politics of the Maidan were eclectic; it encompassed liberals, leftists, and nationalists. So the artist reports back on a phenomenon of "postponed questions" which allowed the camp to resist outside aggression. Over 48 hours last February there were some 77 people killed in clashes with police and security.
So the vegetation at Waterside Contemporary is as much a memorial as it is a utopian proposal. And in the midst of the square's garden, a mournful cross reminded passersby that this was a statement as well as a food source. "We have roots in the soil," as Kadan puts it.
It is sad and predictable that the Maidan was in August destroyed. But that just makes this show in East London all the more luminous.
"What is happening in Ukraine is very untransparent," says the artist. "It has to be analysed, researched, described, and somehow we need to make a step out and look at this from a certain distance."
So the history of the Maidan can now begin to grow, much like the faded crops which creep around the blasted and pockmarked city in Kadan's optimistic collage, as seen on the surrounding walls.
These need little political knowledge to read as a celebration of gardening over military power. Even tanks can be stopped, but plantlife never; guerrilla gardening remains a lot less contentious than guerrilla warfare.
When asked about the London context for his work, Kadan says: "I don't consider it as an act of cultural diplomacy between Ukraine and Western Europe." It's not, he insists, cultural journalism. His square yard of crop cultivation is more personal than that.
"It's maybe something between what happened in Ukraine, and in the world, and in me. So I think about such a constellation."
And so from the earth to the stars, Kadan has revealed a poetry of resistance, an idea which travels well, even as it anchors a people to their public space.
Nikita Kadan: Limits of Responsibility is at Waterside Contemporary, London, until April 4 2015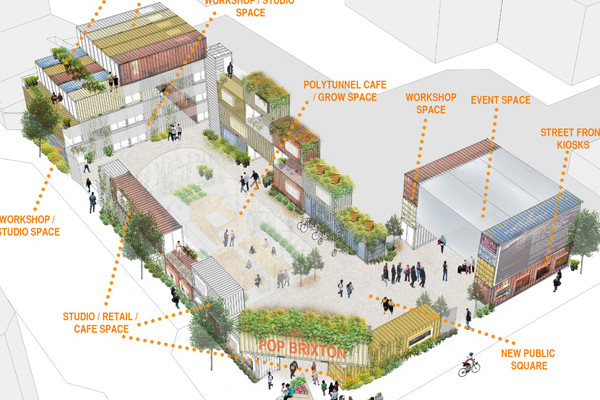 Shipping containers may be the very apparatus of globalism, but in South London they have come to rest in the community. Recycled and refurbished with windows, light and double power points, it is hoped they will create Brixton's newest and most creative destination.
Based at a former ice rink, Pop Brixton aims to provide a home for start ups, creative businesses, events, workshops, cafes and local retail outlets. It may look to some like retail mall BoxPark in Shoreditch, but a localist focus promises a completely different agenda.
After all, shopping BoxPark for trainers, you are unlikely to stray across many artists in residence. Pop Brixton, on the other hand, is planning to invite not one but two artists to reside with them in the first twelve months of operating.
There are other social-minded touches, which spokesperson Valentina Fois told me about via phone earlier in the week. At their own expense, architects Carl Turner are giving work and training to apprentices from Lambeth College.
Meanwhile the brief for signage has gone to students at nearby Camberwell College of Art. "The plan is they're going to come on site. We're going to work with them. We're going to be very close and support them as much as we can," says Fois.
As such it will be one of the few places an undergrad in graphic design can learn how to fit out a shipping container, or even how to market a successful local enterprise. They may also get to use containers for community events, prompting unprecedented levels of student/civilian interaction.
Fois recaps the project origins: "Last year Lambeth Council held an open call to regenerate the site on Pope Road in Brixton. Carl Turner Architects submitted a proposal and won it."
"It wasn't in use for a very long time and it wasn't very nice," she adds. "But it's not just about the aesthetic. It didn't have any purpose. It didn't serve anyone, let alone the community, for sure."
When she's not promoting urban regeneration projects, Fois is also a gallerist and digital curator. So it was imperative to ask her about the differing worlds of art and creative business. "Okay, that's a tricky one," she laughs."I don't divide the two."
"Well, when I think about art I don't think about 'Art', as such, like as a temporary world detached from the rest. So, I always consider art as such a mixture of sound, and, it could be cinema. It could be everything really."
"I don't see much difference between working on an art project and a project like this, because the two things can be combined," she continues. Her artists in residence and signage briefs are a case in point. And so vital are Pop Brixton plans, TEDx Brixton has recently shown an interest, which Fois is thrilled about.
"This is a 3-year project so it is very hard to generate a substantial profit from it in such a short amount of time," she says. "That's one of the things we really want to make sure people understand. It is easy to assume that the project is lead by another big developer who wants to gentrify the area, but this is not the case. CTA is an architectural company interested in place making".
The plans, at least, for the site on Pope Road look green and idyllic. And Brixton, which has changed a lot in recent years, hardly needs the helping hand of gentrification.
Fois concludes that Carl Turner the lead architects are more interested in people than profits. "I know it's going to sound a little bit naive," she says.
"But the way they work in architecture is to create spaces for people which really mean something, that can engage with the community and change the way people perceive the common space".
It would seem art and enterprise, like globalism and localism, can indeed pop up together. Let us see how the rapprochement goes.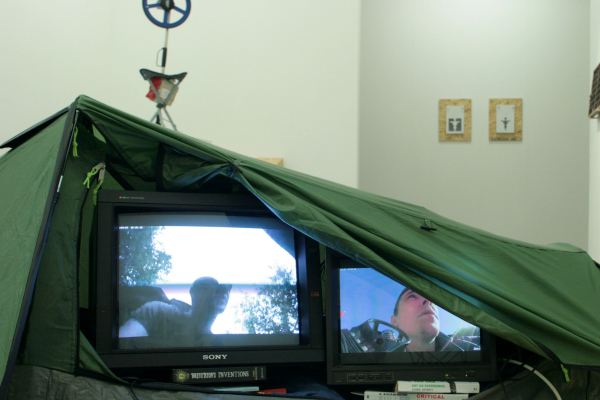 A burst of feedback cuts through the neighbourly bustle at Exeter Phoenix. We are in one of the West Country's rare white cube spaces, at a show by local artist Nick Davies. Onlookers are drawn into the venue's gallery, despite mic interference.
Davies appears to relish the incongruity. And so for this occasion he's roped in sound artist Dominick Allen. His brief is to disrupt the artist's talk with loops, filters and the occasional bleep. Well, no one said making art in the wilds of Exeter was easy.
Things go from difficult to near impossible when a toddler breaks away from her minders and installs herself next to the sampler where she begins to press buttons. This aleatory event was embraced by both artists. Davies is a man unafraid to fail.
His most recent project was a three day hike around the surrounding moors with both pedometer and measuring wheel (or trumeter). The plan was to create a new measure called the Exetre. That rhymes with metre, rather than the suggestive word etcetera.
Though his voice was continually scrambled, Davies was dogged in his explanation of the works in his show. He tells us about the early cartographers who measured the Meridian. He reminded us of Bas Jan Ader who went to sea and never came back.
This fatal failure interests Davies. His own 70 mile journey was abandoned after 56,000 steps. And you could follow the progress on maps affixed to the wall. Davies lost his pedometer, gave up on the trumeter and aborted the expedition after three days.
Few could blame him. After camping at night in a field used by dog walkers he got – no delicate way to say this – shit all over his rucksack. And so the attempt to measure the Exetre fell at an early hurdle. It wasn't helped by the knowledge that the A396 main road could have got him from A to B in a couple of hours.
Along with the map, Davies exhibits his tent, his now clean ruck sack and (in a nod to Duchamp and his bicycle wheel), he has put his trumeter on display. Monitors just inside the tent relay excerpts of a video diary from the doomed journey.
The artist is speaking live without notes in a faltering way that cannot be helped by the comic modulations of his voice. Moving on to the remaining works, he draws our attention to three bonsai-like sculptures made with Tippex and two racks of letterpress also cut to forms supplied by liquid paper.
Davies has had to compete with circumstance once again. Meddlesome visitors have rearranged his text-piece to read Happy Birthday. And he reports that the public are drawn to touch and flatten the delicate sculptures. But in characteristic laissez faire fashion, he's glad that people are engaging with the show.
What they might have missed is a curious fact about Tippex or liquid paper as it was then called. The son of inventor Bette Nesmith Graham was none other than Mike Nesmith from the Monkees.
There was no need to succeed in the music biz since mum was worth millions of dollars. Even so, it was hoped the Monkees would emulate the Beatles and the Stones. That's one more somewhat failed scenario.
But for all his embrace of error, in the broader sense, Davies makes work that works. Even his unfinished pieces work. Though you get the sense that making contemporary art in this part of he world is an ongoing challenge. This show puts Exeter in dialogue with London. No need to measure that distance; it's a notoriously long way.
Intention/Invention/Convention by Nick Davies can be seen at Exteter Phoenix until January 10 2015.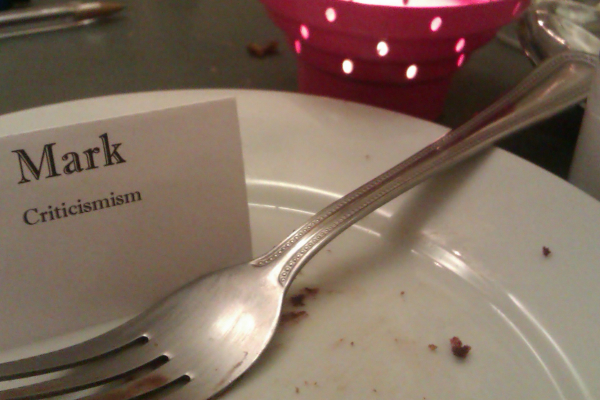 In the popular imagination, bookshops in Notting Hill may be where bumbling Englishmen meet Hollywood filmstars. Last night it was where a bumbling art writer, played by myself, got to meet some of the UK's most successful bloggers.
The venue was Book and Kitchen, who deserve props for the bohemian setting, mean jazz  soundtrack and fantastic three course meal. Since there's no such thing as a free meal, we bloggers were encouraged, between mouthfuls, to discuss our medium of choice.
You can check out the results on @blog10, an enterprising venture by a PR agency called Marmalade. There was a lot of talent and success in the room: from a book blogger who's landed a UK and US publishing deal (Ann Morgan) to a young vlogger who has the brands queueing up to feature on her profit-making lifestyle blog (Abisole Amole).
Thankfully, eclectic London blogger Katie Antoniou had plenty to say, recalling the time when blogs first emerged as the honest antidote to "bullshit" editorial. (Integrity, it seems, is still a blogger's best friend, even in the current climate of bribery and gifting.) "I don't have the ego for journalism," she explained, which seemed to resonate around the table.
Rona Wheeldon has a niche even more obscure than contemporary art. She is a flower blogger, who waxed lyrical about the potential for filming posts and hosting a YouTube channel. "Vlogs can show emotion!" she insisted, even though last time I checked, the written word can sometimes do the same.
Things turned comic when book bloggers Morgan and Kim Forrester revealed statistical spikes from wayward web users who stumble upon their sites in search of resources for  sex tourism. We laughed about it, but it was a reminder that despite its academic origins, the web is still not the best place for serious discussions. Nevertheless, with their literate audiences, both bloggers have built readership and communities within their crowded field.
Indeed it was widely reported that finding an audience and a network of peers could still be the number one reason for starting a blog. Even if in recent years comments are very hard to come by ("Who's got time to comment?" we asked). Time is an increasing issue, as one faces the introduction of a two speed internet where large web corporations choke smaller players. Morgan raised fears of losing the level playing field bloggers now enjoy.
Several of us bemoaned the encroachment of social media ads and promoted posts. The latest platform to introduce ads appears to be Instagram. Starbucks and UK supermarket Waitrose had reached out to a couple of the photobloggers among us. Although to be fair, their presence wasn't totally unwelcome. Amole revealed a thriving existence of the coffee giants' #redcups hashtag. She is relaxed about it.
As the meal drew to a close we took questions about blogging from twitter. One eager user requested three tips from each of us in turn. Find a niche. Use social media. Build a brand. The wisdom was flowing by this point. But perhaps interiors blogger Kate Baxter had the last word. Don't get into blogging to get free stuff or money. It probably won't happen. You may however one day be invited to a West London blogging salon. Things could be worse.
Mark Sheerin blogs at www.criticismism.com and can be found on Twitter.
Eat, Sleep, Repeat: there's a meme doing the rounds all about repetition. As philosophies go, it's a little simplistic, suggesting nothing so much as a kind of nihilistic stoicism. So if you want the antidote, consider the next show due to open at No Format Gallery.
RECURSIVE is a group show which looks at the cyclic nature of personal history, as suggested by the work of five international artists. The Gallery in South London is hosting Hitomi Kammai, Ant Pearce,  Susan Francis, Simon Fell and Jane Boyer.
Boyer is also curating the show. The artist is losing count of the number of times she has by now also curated. Some kind of repetition compulsion might be at work there, except for the fact that Boyer draws inspiration, not from Freud, but from one of the authors of Anti-Oedipus, Gilles Deleuze.
Her group of artists may be select, but the show organiser is gathering them together with a proposition by the influential French thinker:  "We don't repeat because we repress, we repress because we repeat." It sounds true, but what exactly might it mean?
The morning she was due to begin the hang in London, Boyer spoke with me on the phone. "It's a difficult one," she freely admits about her quotation. "In fact it's given me a challenge, as well, to really wrap my head around it." That at least is reassuring.
"He's talking about an initial elemental experience we all have," suggests the artist, "whether it's the moment of birth or whether there's some sort of trauma or some other thing that begins to develop and really solidify our identity."
In other words, perhaps, we repeat to give us a sense of ourselves. We repeat because we could use this elemental experience in some way.  And as life develops we try and fit these repetitions into our current situations.
Since repetition is so vital to us, says Boyer, "We begin to disguise that and perhaps, as [Deleuze] says, close it". What really intrigues is that this originary experience is one we all share. Rather than a factor in a sickness, like one of Freud's primal scenes, it appears to be a cornerstone of who we are.
The Califormian artist says that, while it never gets in the way of visual pleasure, she's "very intrigued by and inspired by philosophy". And in this respect particularly Deleuze: "As I read philosophy, I just have all sorts of mental images, that happen in my head and as a result I feel sort of compelled to get those images down in the artwork."
Boyer makes no apologies for staging a show in which the philosophy is overt. Indeed she makes it sound like the most honest starting point: "Philosophy underlies every aspect of society so any attempt to look at art without philosophy would be like going to the movies without philosophy."
While everyone gets, say, The Matrix (1999), some still balk at raw post-structuralism. "But it's there, insists Boyer, "and whether or not they're engaged with it and understanding it, it is in fact affecting their lives and and it's entering their lives in ways that they may or may not be aware of."
That holds true for Deleuze, however off the wall he might seem. His presence at this show is after all a result of a certain "clarity" which can be found in his work. Says Boyer: "It's a sort of twofold clarity." And the artist enjoys both the "brilliant" initial thoughts and his detailed explanations.
"What I've learned in reading Deleuze is to follow with him," she says. "Sometimes it's not easy, but to follow with him . . . he's making a case and making an argument for each element, in his argument and then he brings it all together and makes a final statement". Sounds clear as crystal.
But no one said curating was easy. "Curating my own work is particularly challenging," says Boyer. So this week has been busy, and soon she could be back in her role as an artist. That is to say: read, paint, sleep, repeat.
RECURSIVE is at No Format Gallery, London, from October 9 to November 2 2014. See exhibition blog for more details.