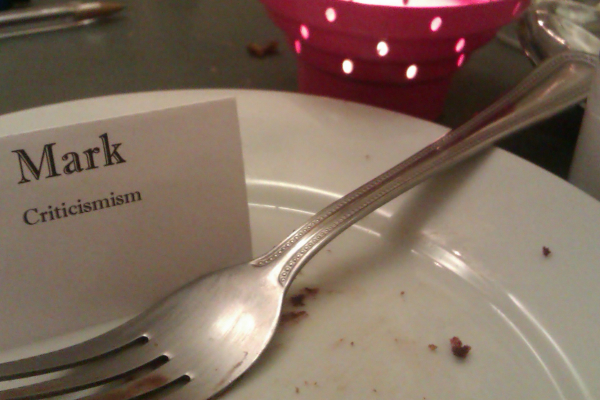 In the popular imagination, bookshops in Notting Hill may be where bumbling Englishmen meet Hollywood filmstars. Last night it was where a bumbling art writer, played by myself, got to meet some of the UK's most successful bloggers.
The venue was Book and Kitchen, who deserve props for the bohemian setting, mean jazz  soundtrack and fantastic three course meal. Since there's no such thing as a free meal, we bloggers were encouraged, between mouthfuls, to discuss our medium of choice.
You can check out the results on @blog10, an enterprising venture by a PR agency called Marmalade. There was a lot of talent and success in the room: from a book blogger who's landed a UK and US publishing deal (Ann Morgan) to a young vlogger who has the brands queueing up to feature on her profit-making lifestyle blog (Abisole Amole).
Thankfully, eclectic London blogger Katie Antoniou had plenty to say, recalling the time when blogs first emerged as the honest antidote to "bullshit" editorial. (Integrity, it seems, is still a blogger's best friend, even in the current climate of bribery and gifting.) "I don't have the ego for journalism," she explained, which seemed to resonate around the table.
Rona Wheeldon has a niche even more obscure than contemporary art. She is a flower blogger, who waxed lyrical about the potential for filming posts and hosting a YouTube channel. "Vlogs can show emotion!" she insisted, even though last time I checked, the written word can sometimes do the same.
Things turned comic when book bloggers Morgan and Kim Forrester revealed statistical spikes from wayward web users who stumble upon their sites in search of resources for  sex tourism. We laughed about it, but it was a reminder that despite its academic origins, the web is still not the best place for serious discussions. Nevertheless, with their literate audiences, both bloggers have built readership and communities within their crowded field.
Indeed it was widely reported that finding an audience and a network of peers could still be the number one reason for starting a blog. Even if in recent years comments are very hard to come by ("Who's got time to comment?" we asked). Time is an increasing issue, as one faces the introduction of a two speed internet where large web corporations choke smaller players. Morgan raised fears of losing the level playing field bloggers now enjoy.
Several of us bemoaned the encroachment of social media ads and promoted posts. The latest platform to introduce ads appears to be Instagram. Starbucks and UK supermarket Waitrose had reached out to a couple of the photobloggers among us. Although to be fair, their presence wasn't totally unwelcome. Amole revealed a thriving existence of the coffee giants' #redcups hashtag. She is relaxed about it.
As the meal drew to a close we took questions about blogging from twitter. One eager user requested three tips from each of us in turn. Find a niche. Use social media. Build a brand. The wisdom was flowing by this point. But perhaps interiors blogger Kate Baxter had the last word. Don't get into blogging to get free stuff or money. It probably won't happen. You may however one day be invited to a West London blogging salon. Things could be worse.
Mark Sheerin blogs at www.criticismism.com and can be found on Twitter.
Eat, Sleep, Repeat: there's a meme doing the rounds all about repetition. As philosophies go, it's a little simplistic, suggesting nothing so much as a kind of nihilistic stoicism. So if you want the antidote, consider the next show due to open at No Format Gallery.
RECURSIVE is a group show which looks at the cyclic nature of personal history, as suggested by the work of five international artists. The Gallery in South London is hosting Hitomi Kammai, Ant Pearce,  Susan Francis, Simon Fell and Jane Boyer.
Boyer is also curating the show. The artist is losing count of the number of times she has by now also curated. Some kind of repetition compulsion might be at work there, except for the fact that Boyer draws inspiration, not from Freud, but from one of the authors of Anti-Oedipus, Gilles Deleuze.
Her group of artists may be select, but the show organiser is gathering them together with a proposition by the influential French thinker:  "We don't repeat because we repress, we repress because we repeat." It sounds true, but what exactly might it mean?
The morning she was due to begin the hang in London, Boyer spoke with me on the phone. "It's a difficult one," she freely admits about her quotation. "In fact it's given me a challenge, as well, to really wrap my head around it." That at least is reassuring.
"He's talking about an initial elemental experience we all have," suggests the artist, "whether it's the moment of birth or whether there's some sort of trauma or some other thing that begins to develop and really solidify our identity."
In other words, perhaps, we repeat to give us a sense of ourselves. We repeat because we could use this elemental experience in some way.  And as life develops we try and fit these repetitions into our current situations.
Since repetition is so vital to us, says Boyer, "We begin to disguise that and perhaps, as [Deleuze] says, close it". What really intrigues is that this originary experience is one we all share. Rather than a factor in a sickness, like one of Freud's primal scenes, it appears to be a cornerstone of who we are.
The Califormian artist says that, while it never gets in the way of visual pleasure, she's "very intrigued by and inspired by philosophy". And in this respect particularly Deleuze: "As I read philosophy, I just have all sorts of mental images, that happen in my head and as a result I feel sort of compelled to get those images down in the artwork."
Boyer makes no apologies for staging a show in which the philosophy is overt. Indeed she makes it sound like the most honest starting point: "Philosophy underlies every aspect of society so any attempt to look at art without philosophy would be like going to the movies without philosophy."
While everyone gets, say, The Matrix (1999), some still balk at raw post-structuralism. "But it's there, insists Boyer, "and whether or not they're engaged with it and understanding it, it is in fact affecting their lives and and it's entering their lives in ways that they may or may not be aware of."
That holds true for Deleuze, however off the wall he might seem. His presence at this show is after all a result of a certain "clarity" which can be found in his work. Says Boyer: "It's a sort of twofold clarity." And the artist enjoys both the "brilliant" initial thoughts and his detailed explanations.
"What I've learned in reading Deleuze is to follow with him," she says. "Sometimes it's not easy, but to follow with him . . . he's making a case and making an argument for each element, in his argument and then he brings it all together and makes a final statement". Sounds clear as crystal.
But no one said curating was easy. "Curating my own work is particularly challenging," says Boyer. So this week has been busy, and soon she could be back in her role as an artist. That is to say: read, paint, sleep, repeat.
RECURSIVE is at No Format Gallery, London, from October 9 to November 2 2014. See exhibition blog for more details.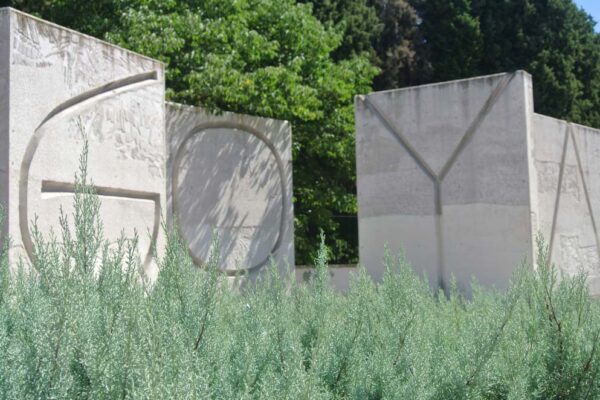 The Ermita de San Antonio de la Florida is a neo-classical chapel in the centre of Madrid. The city has grander buildings, but few can be so stunning once you step into the cool interior. This one bears the handiwork of Francisco de Goya, and shows that, like any baroque master worth his salt, the Spanish painter was quite capable of IMAX-style entertainment avant la letrre.
Like Michelangelo, Andrea Pozzo and Rubens before him, Goya here produces a work which rewards the development of a crick in the neck. Ignore the mirrors provided, the painted scene demands that you consider your distance from the heavens in real physical terms. It might even be a blasphemy, in the presence of this divine intervention, to be gazing downwards.
Saint Anthony of Padua's greatest trick was to resurrect a murder victim, doing so in order to clear a man accused of murder. The twist in the tale is that the reluctant defendant was the formerly dead man's father. This all took place in 13th century Lisbon. Goya updates the wardrobe department to bring to life the drama in 18th century Madrid. But they could be wearing pelts for all the difference this makes. The miracle is Fresh, as the vivid expressions attest.
Sadly, it's not possible to share fresh pictures with Bad at Sports readers. St. Tony might have broken all the laws of nature. Goya might have bent a few perspectival rules. But today, when taking photos has become as reflexive as breathing, visitors to this shrine in Montcloa will be met with a frustrating ban on photography. This strikes one as odd for at least two reasons.
Firstly, you have to be careful not to trip over Goya's tomb in the apse. This proves that the artist who brought you here will suffer no loss of earnings from the proliferation of poor images of his tromp l'oeil feat. Secondly, photos can only increase the desire to come here. No one ever saw a mere photo of a show stopping chapel like this and thought, 'I've seen all I need to'.
It's the same story across town at the Prado. You can spend as long as you can bear it, gazing at one of Goya's black paintings. But can you take a photo? Well, no. You might console yourself that these dim and undefined panoramas would probably photograph horribly. You might even be happy to buy a guidebook, if you want these memories as keepers.
I'm sure there are less commercial considerations for the widespread veto of Goya-inspired pics. For starters, there's less danger of denigrating his great genius with a selfie next to his droning dog. To a large extent, one can even believe that the aura of these breathtaking works is protected, unlike say that of the holdings of the Louvre.
But as we visit galleries and connect with paintings in our own ways and build our own stories about trips we took, days out we enjoyed or pilgrimages we made, it's a real handicap to find photography blocked. Gone are the days when a sketchbook would have sufficed. The genie is out of the bottle to use a phrase which could itself inspire a pretty black painting.
Outside the chapel, we cross the train tracks and make our way back up into the adjacent park. Four monoliths, which we missed on the way down here, now realign themselves for a perfect view. They spell out the heavy debt we owe in four of the most evocative letters in both classical and modern art. Those are of course G, O,Y, A. Here, at least, we can snap away.
Real Ermita de San Antonio de la Florida can be found on Glorieta de San Antonio de la Florida, s/n, 28008 Madrid, Spain.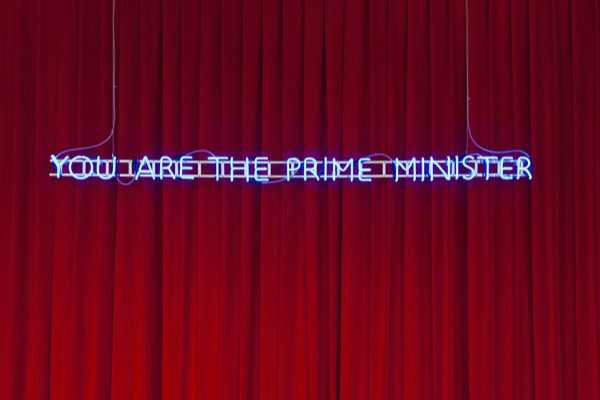 On their entrance exam, would-be students to Eton College are presented with a fictional scenario and asked, in the face of civil unrest, what they would do, as UK Prime Minister. Under normal circumstances you might dismiss this as a bit of pedagogical fun. But facts remain that David Cameron, the real PM, attended this school along with a number of his closest advisors.
Eton College is commonly thought to be the best education money can buy. And in Britain it currently seems as if money can buy your way to the top. But, strangely, despite their roll call of 19 prime ministers, the Berkshire school has produced few notable artists. And one imagines, rightly or wrongly, that an old Etonian would make traditional, reactionary art.
Such an accusation could never be levelled at Karen Mirza and Brad Butler. The duo make films you might call incendiary. They are building a body of work known as the Museum of Non Participation, making art at "pivotal moments of change, protest, non-alignment and debate". Take,for example, 2009 film The Exception and the Rule.
Neither a documentary nor a work of fiction, this film draws Mirza and Butler from the vibrant streets of Karachi towards a scene of angry economic protest, a landscape in flames and a lone figure who sleeps by a roadside and could be dead. But the distance between here and there is collapsed by the final shot of a multi-cultural estate in Britain.
"If all art is political, how can you make a political film?" asks one of the narrators. They are answered shortly: "A worker who buys a small camera and films his vacation is making a political film". But there are so many places you can't film in Pakistan (much like the UK/US), and the team collaborate with one of two local filmmakers who appear to get what the Museum of Non Participation might be about.
Mirza and Butler film everyday crowds on street corners and roadsides, then speed up the results to create an exhilarating time lapse. They film the India-Pakistan border ceremony, call it an Intermission, and ghost out the military participants. At no point do they succumb to the traveller's temptation to render this distant land like a picture story from National Geographic Magazine.
As a result, this is a successful political film. At one point the artists suggest, "Positioning the camera is to take sides", in which case it sides with the 'people'. That's if we can still talk about the 'people' in this atomised new media age. The Exception and the Rule will allow you to travel, so long as you forego your status as a tourist.
The work can be found at Waterside Contemporary in East London in what, remarkably, is only Mirza and Butler's first solo show in Britain. It shares a gallery with a timely sculptural installation; "You are the Prime Minister" is both title and a phrase picked out in neon. You can see it from the street outside. Savvy kids cycle past and laugh at the notion. This is not the grounds of Eton college but an inner city estate.
Should any of them take up the challenge/invitation they will discover school desks set out in a row and duplicates of a genuine admission exam for Eton. The hypothetical question at the top of the paper begins "You are the Prime Minister" and goes on to question how you might send in the army to deal with rioters. Never mind providing work and prospects for the urban poor, at Eton these days politics is all about keeping the population in line.
Karen Mirza and Brad Butler: The Unreliable Narrator can be seen at Waterside Contemporary, London until August 9 2014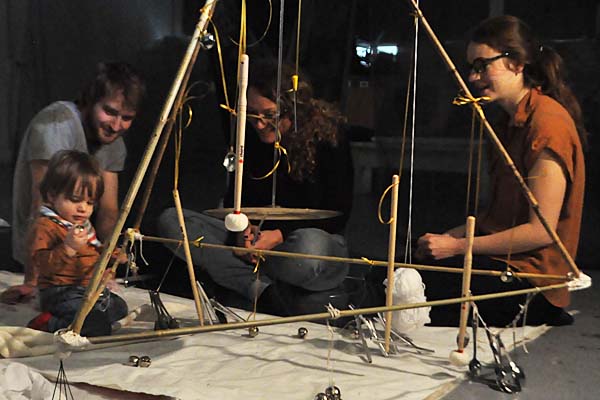 If you think the regular art crowd can be critical, spare a thought for Najia Bagi. The Manchester based musician and artist has been making work for babies. Now that's a tough gig.
Baby Art Club is a collaboration with Naomi Kendrick at Manchester City Art Gallery. The duo have prepared multi-sensory installations based on current exhibitions. Lots of work goes into these and the audience may fail to respond at all.
"The first time I did baby art club was really difficult," she tells me via phone. "They don't do anything. They don't really move around very much and they don't want to create anything." The audience were, as she says, "Incredibly challenging"
"I just thought, What do you do with these tiny little creatures who don't want to make anything and don't understand words!" And where verbal communication isn't possible, received ideas about art go out the window.
Yet Bagi and Kendricks have perservered, creating stimulating environments which, thanks to their strong aesthetic sensibilities, rightly belong in a gallery. "Then you just watch what the babies do and whatever they do is right."
If times get tough, Bagi has musical talents to fall back on. "I've twice played my guitar and sang, and had these really magical moments where tiny babies sing with me, making noise," she tells me.
"But I felt like I had a lot more to learn from them than they did from me." It is soon clear that Bagi is "genuinely interested" in child development. And the gallery treat her and Kendrick as artists, rather than educators.
So when the progressive Manchester venue wanted sound art to accompany a show of paintings of the Scottish Highlands, one half of Baby Art Club was right in the frame. "I was surprised at how well it worked," she says of her evening event.
"One woman was in there for 45 minutes and people were standing in front of each painting for a really long time. They were allowing themselves to be absorbed." One happy visitor described the experience as painting in four dimensions.
Thanks to mics, headphones and 150 objects (mostly spoons), the busy sound artist is currently adding an extra dimension to the family space at Tate Liverpool. The benefits, unlike most of those in art, are tangible
"In terms of being in an installation or in an art gallery with sound, you know that the other person in the same space is hearing what you're hearing," she points out. "And that creates a form of human connection which is really good for wellbeing".
Next on the agenda could be a public artwork in the form of an interactive sound sculpture. Bagi has been inspired by the Scandinavian origins of the adventure playground, which, in the 1940s, were called Junk Playgrounds.
"It's completely unthinkable now. You couldn't do it because of health and safety but it was amazing. There were hammers and nails and tyres and nails and wood and saws and bricks".
Bagi's art playground will, of course, be a much safer space but she is still excited about the chance for kids to respond to the landscape buy creating sound. She envisions this project being realised in a central outdoor space in either Liverpool or Manchester.
"In my head they're creating sound art and I would say it like that, but in their heads they're just having a great time." And that's how to make art for people who have no interest in art.