Recently, I was fortunate enough to be in conversation with artist-choreographer taisha paggett. Paggett, who splits her time between Chicago and LA, is one of the many Chicago artists to be included in this year's Whitney Biennial. If you're in New York this week be sure to check out her performance at the Whitney starting on Weds.
Paggett's works for the stage, gallery, and public sphere include individual and collaborative investigations into questions of the body, agency, and the phenomenology of race. Here we discuss her interest in dance, performer-audience relationships, and feeling-thinking through performance. More information on her work and practice can be found here.
I thought we'd begin with a few questions around your interest in choreography and the body, focusing in on how both might communicate a certain set of politics and also what I perceive in your work as an interest in how knowledge is produced through the body. How did you arrive at choreography? What does dance do in your work and what are it's limitations? 
my work was initially interested in addressing identity and the scars of alienation from fitting into neither a black community nor a white community, as well as the experience of coming into my sexuality and having to confront another layer of otherness. (an immediate aside: i'm a bit self-conscious using these monolithic, over-generalizing terms but you must understand that where i grew up was insidiously segregated and conservative—there was a white side of town and a black side of town and i lived in and simultaneously belonged fully to neither). it took me some time to see that my story was not a thing to make work about over and over but rather a frame or a perspective from which to ask questions. i do believe that we are reflections of our surroundings—that environment is a living entity which informs us and vice versa, and perhaps its that perspective which makes me as fascinated with space as i am with bodies… human geographies and spatial geographies.
i wasn't initially interested in making work, i was only interested in opportunities to dance without having to make many decisions. i loved moving, i loved the type of thinking it required and i loved utilizing my body. what propelled me into making work was the accumulation of experiences in which i had to recognized how differently my body and sexuality read on stage in relation to my peers. there was a Black (modern) dance world and a white one and i grew up in the latter (again with the monoliths…) dance is tricky because it's very collaborative and so much about relationships and interaction. more often than not as a dancer you're living through or interpreting someone else's vantage point… over time i started to develop an analysis in class and rehearsal that made it hard to continue moving—as much as i loved it all, i got to a point where i could not overlook the fact that i was participating in a pedagogy and performance of privilege that did not align with and required a disavowal of my own experience of the world. on top of that, i became interested in better understanding this notion of Black dance and how it was being articulated.
i'm going to stop there because i realize that i'm going long on just one aspect of your question but it's true that those experiences politicized me and propelled me into creating work. my work continues to think through and beyond the conventions and methodologies of dance as a way to approach and create performance structures. for example, training as a type of knowing… dance is a performing art form and bodies are perpetually changing so one must be diligent about training the body. there are certain actions that one repeats to train specific muscles. it makes me think about repetition as a conceptual framework for understanding how knowledge enters the body. we are what we repeat—consciously or not, which means our habits are a type of becoming as well.  i've created structures based on the repetition of a single set of identifiable actions (for example, Decomposition of a Continuous Whole in which i was blindfolded and drew on a wall with pastels and crayons a set score of movements over the course of several hours). the beauty of repetition is that it's never completely the same–something in our external or internal environment is always shifting despite our desire to stay consistent and that friction within the repetition is how i believe we come into knowledge.
what dance does in my work these days is give me permission to get elemental and create what to me feels like momentary utopias of people coming together to share an experience. stripping away the excess, stretching out the movement slow as if to slow down time so that we even breath together. i guess it gives me permission to create a contemplative space…  i see performance as an offering on both sides: the performer offers an experience and the viewer offers their presence. i'm also interested in creating structures that make the viewer realize that their body is as much a part of the experience as mine is… a momentary togetherness. this is true of my work with Ashley Hunt as well—we're interested in activating the physical and sensorial body of the "viewer"… that one cannot come to an experience with only their eyes…. that the formation of the political subject requires bringing the conscious body into the equation.
Watching documentation of some of your work I am taken by the way you pay attention to speed and the control with which you execute movements lends your performances a kind of uncanny quality, a sense of mystery that calls attention to the shapes made by the body. Can you talk a little bit about your approach, how you construct movement and compose the works? 
i'm not certain how long i'll be in this slow period but it's still very fascinating to me. i construct a framework and score first and then live in the experience of fulfilling that score. in most cases i don't know ahead of time exactly how i'll respond to the score until i'm in it, and because repetition is often part of the equation, i have to grapple with retracing the previous iteration of the movement (as when the score loops and i start back at the beginning) and living in the experience of doing it again based on mental and muscle memory. my approach to slowness is, on a basic level, definitely about wishing to slow down time—in an era in which everything is accelerated i feel it's important to have a practice that goes in the opposite direction—but it's also about wishing to create an experience that i can track and grow through in some manner. tending to the world "out there" but also being able to construct a dialogue with my inner world, my mental fluctuations, the energies that get turned on in the performance experience.. . there's a kind of martyrdom in dance sometimes where it's all about the audience and being frontal and impressive and virtuosic and mostly directing energy out out out and i'm interested in other possibilities, other virtuosities… my process toggles between intuition and research. sometimes my structures are informed by a certain set of readings, and sometimes they are informed by a desire to wear a certain set of clothing because they remind me of something that i can't easily articulate.
I am thinking now about what audiences can do. How they join the work and how, for lack of a better word, they might be manipulated in the process. 
i'm not interested in manipulating the audience though i supposed that would be a logical sequence for those artists who wish to take it in that direction (draw the audience in to the work, get them activated, and then twist the scene against them..? it's a bit predatory and not my mojo—or at least i HOPE the audience doesn't feel manipulated in my work– but sure, bringing the viewer "in"  always has the potential to become manipulative because they come with a certain vulnerability and set of expectations to simply be invisible watchers…) that said, i don't feel there's anything particularly radical about folding the audience into a work or seeing them as part of the work. for me it grew out of an interest in paying attention to the larger frames—not just what happens "on stage" but responding to the surrounding structures and systems as well.
American modern dance critic John Martin, writes in American Dancing from 1936, "What, then, is the means of contact between the dancer and the spectator? When we see a human body moving, we see movement which is potentially producible by a human body and therefore by our own; through kinesthetic sympathy we actually reproduce it vicariously in our present muscular experience and awaken such associational connotations as might have been ours if the original movement had been of our own making. The irreducible minimum of equipment demanded of a spectator, therefore, is a kinesthetic sense in working condition." I believe Martin's point here is to invite audiences to feel through dancing as opposed to thinking through dancing. 
I really like this though i'd add the point that "feeling" ones way through a dance is the same thing as "thinking" ones way through… if dance can do nothing i hope it gets people to understand that ideas, feelings, logic, argument, etc etc etc can and does happen across the body. that's what makes me so irritated by the popularity of competition dance (a la So You Think You Can bla bla bla franchise, not to mention regional competition dance etc, etc): it reduces all of that intelligence into spectacle and in that realm i don't think audiences are feeling-thinking through their bodies and experiencing kinesthetic sympathy as much as applauding and salivating over skill and effort. i think it puts forth the idea that the body is something to champion, a lame horse to be disciplined rather than something to listen to and from which to think-feel. sure, this is one perspective and we need multiple perspectives, but this is what's educating people on dance and that's really unfortunate, a lost opportunity. i teach in academia and i witness and work with a lot of incoming students who've danced for most of their lives and can do a heap of cool technical actions and dance for hours, yet are disconnected from their bodies physically and psychologically. i'd go so far as saying those experiences within my teaching practice have played a great role in shaping what i pay attention to in my own work, my desire to move away from formal notions of virtuosities towards the more contemplative, nuanced, elemental, even murky and i can only hope that an audience is willing to go there with me.
Photograph of the artists who participated in the January Show
Photograph by Seth Siegelaub, 1969. Taken from Moma.org
From left: Robert Barry, Douglas Huebler, Joseph Kosuth, and Lawrence Weiner.
"In conceptual art the idea or concept is the most important aspect of the work. When an artist uses a conceptual form of art, it means that all of the planning and decisions are made beforehand and the execution is a perfunctory affair. The idea becomes a machine that makes the art. This kind of  art is not theoretical or illustrative of theories; it is intuitive, it is involved with all types of mental processes and it is purposeless."  –  Sol Lewitt, "Paragraphs on Conceptual Art"
Sol Lewitt goes on to write that conceptual art frees the artist of trade, skill, and any semblance of feeling. Instead, the responsibility of the conceptual artists is to leave the viewer with a kind of mental entertainment or novelty, some bit of cognitive candy, like solving a sudoku, or discovering that the vase you are looking it is in fact two human faces peering into each other.
It should be noted here that Lewitt would likely take me to task for confusing the perceptual and conceptual with that last example. In any case Lewitt is not my main concern and while parts of his text propel me occasionally they can do no more here than to haunt a certain regional tendency, what I am calling midwest conceptualism.
"When an artists uses a conceptual form of art, it means that all of the planning and decisions are made beforehand and the execution is a perfunctory affair."
What I have observed in the midwest is a kind of social conceptualism. Artists here do not arrive at an idea so much as invite each other into an elaborate system of responses that reveal the idea to everyone involved slowly and deliberately. Midwestern conceptualism enacts a human, read also as intuitive, structure that disperses authorship and catalyzes collaborative relationships best described as hospitable in that there is evident an element of hospitality.
An anecdote: the practice is always encountering interruption.
The studio is interrupted by the invitation. The invitation is interrupted by the curatorial frame. The frame is interrupted by the space. The space is interrupted by the viewer. Â And so on and so on.
Hospitality too is a kind of interruption, the knock at the door, the footsteps of the guest as they cross the threshold, echoes breaching the silence of the home. What follows is the clamor of hospitality as one sets oneself aside in service of a guest.
Hospitality is implicit in the service industry of art. An artists is invited by a host to make work for or take part in an exhibition or program. The artist in-turn invites a host of collaborators to occupy, program, or inhabit the space that has been allocated to them. Thereby creating a platform that extends the opportunity and the resources provided to their social network and various communities. Whether home or abroad artists from across the region are fond of making social spaces, forming temporary collectives, and opening up the individualistic terrain of the exhibition.
"I still insist on the social roots of the problem. "The group" forced to compete in an individualistic antagonistic self-interested (Adam Smith you Scottish Bastard) world. For example: "having a show" is a one or two man endeavor. You need impact and gestalt. The whole thing is epistemologically individualistic. That's that. One reason for the collapse of A&L [Art & Language] was that it moved from the journal (which was a "group effort") to gallery shows which suddenly meant 15 or 14 out of the 16 people were standing around pretending they knew what was going on. There's nothing wrong with leaders, it's just when others see them leading and you following that we get screwed up. Again, these problems are social, not "merely psychological." – Mel Ramsden in a letter to Joseph Kosuth, extracted from "1975" by Joseph Kosuth.
The nature of any given network and the quality of the relationships therein is a matter for critical faculties and human insight alike. How else is one to understand a practice that is both experiential and contextual if not with the mind and heart, that is with cool headed analytics running alongside lived experience (intuition again). Given that this kind of conceptual practice is social, invitational, and hospitable, the way towards understanding such a practice must come from a committed audience member. It is not enough to pass off some quick judgement after having poked one's head into the room. One has to set oneself aside, to give time to the work, it is as if the work is a knock on the door interrupting a busy host.
The relationship between host and guest, organizer to artist, artist to viewer, is one of reciprocity and generosity. Each becoming, at times, more or less the host or guest of the other, never fully inhabiting the other's place within the network but instead moving between hubs. This elaborate courtship proposes a way of being together and a context to occupy.
"There's nothing wrong with leaders, it's just when others see them leading and you following that we get screwed up."
The choreographic writings of performance and political theorist Randy Martin are rooted in an understanding of dance as an analytic with which to approach socio-political mobilizations. In "A Precarious Dance, a Derivative Sociality" he writes, "For dance to move the political beyond arrested development, its knowledge of how bodies are assembled, of how space and time are configured, of how interconnections are valued must be made legible beyond the ends of choreographic endeavor. Foregrounding the analytics of movement so redolent in dance can make for a richer evaluation of what is generated through political mobilization." The usefulness of dance then is as an analytic, a mode of theorization. What is particularly compelling to me about this approach are the ways in which it would seem to expand the notion of dance and call for an application beyond the already expanded definition of dance as a kind of "social inventiveness" or mobilization.
Martin's most recent work uses dance to think through risk, precarity, and the influence of financial judgment and calculations across our day to day experience. I recently had the pleasure of speaking to Martin about this work and dig into the logic of social derivatives together. For those unfamiliar, derivatives, within the realm of finance, "are the variable attributes of some underlying commodity such as interest rates on loans, expected rates of default on mortgages, or rates of exchanges between two different currencies." Martin continues, "When taken as a broader social logic, and not just as an activity that takes place within one sector or domain called the economy, the dynamics of the derivative can be seen across all manner of human activity in ways that engender mutual indebtedness, interdependencies across different times and places, and a swelling socialization of what people take to be and expect from life, history, and their future."
AR: It would seem that generative risk-based practices, like those that you've written and talked about, are a way of negotiating or reclaiming a climate of risk for those that might be described as "at-risk". There seems to be here a relationship between self-guidance and agency. Would you describe this reclamation as a way of accruing agency through a self-guidance that appropriates risk in order to revalue it as a reward unto itself? I am also thinking of remarks you have made concerning the legacy of self-management and governance at the Brooklyn Commune.
RM: Regarding risk, self-guidance and agency. The bailout left the general impression that finance had cornered the market on risk. Taking the longer view of decolonization in which the current financial regime emerged, we see that it is but one currency of risk and that the relation between danger and self-appreciation, which collaborative dance practices set in motion and make legible other principles of mutual indebtedness than those that cleave a few beneficiaries from the circulating populations that live through the efforts of one another without needing to move in unison. Specifically, these movement practices share a decentered social kinesthetic which reverberates globally and engenders capacities for self-production (the repurposing and revaluation of urban space); self-representation (the capacity to value, make sense from and assess the work being done); and self-dissemination (the use of capture technologies to spread the words, feelings and movements beyond locally inscribed sites of practice). Hopefully this is a more generative agenda for life opportunity and mutual engagement than a pursuit of perfectible techniques for managing, ranking, and accounting for oneself.
AR: It strikes me that dance and other kinds of ensemble based practices offer a way to simultaneously imagine and enact living alternatives. Something that I think is at the heart of your recent work. Could you talk a little bit more about the problem of aspiration and imagination under the logics of derivatives? Do you see either (imagination or aspiration) as being co-opted or consumed by these logics?
RM: To think finance as but one potent but partial manifestation of the social logic of derivatives means that it is not at the center of all social processes gobbling up each instance of risk initiative. Derivatives are assemblages of attributes that produce by circulating; make the far near, and the future actionable in the present and move us from externalizing difference and change to finding ways that volatilities generate modes of abundance rather than scarcity. This is the promise of the derivative logic and the countervailing tendency of turning security to precarity and austerity.
AR: Are derivative logics totalizing? Your recent work would seem to suggest a non-conscious acceptance and internalization of these logics.
RM: Derivative logics are pervasive but are also decolonizing ruptures of some prior enclosure and risk forms that emerge from some condition of ruins. In my movement examples these are the ruins of industrialization which provide postmodern dance with its Soho "ghost town"; the ruin of social housing and engineering that cannot contain the moving images that will become hip hop; and the ruins of suburban bliss that provide the landscape from which boarding culture emerges. Derivatives are by definition bits and pieces of whole entities and therefore always leave something behind–an underlier, volatility, gaps and spreads, contingent claims. In some ways they emerge from the failures to totalize even as they augur an ever-expanding horizon of new forms of wealth that we must learn to claim as our own if we are to move beyond the imposed austerity that is our current lot.
AR: I hope you will forgive me if this question seems to veer us away from the topics at hand. Reading over the article you sent (A Precarious Dance, a Derivative Sociality), I am struck by two things which appear to be interrelated. One is a question of speed and perhaps by extension duration. Certainly there is an element of speed to some of the practices you mentioned: postmodern dance in Soho, the emergence of hip hop, boarding culture. Speed is a preoccupation of the skateboarder and tagger alike, as it is speed that will give them the opportunity to hold their territory for the greatest length of time and speed that will enable them to flee from authority. The other is this sentence: "Utopia as an end we touch through our own means of intervention." I can begin to see these two things working in tandem. The speed through which those "at-risk" intervene into the discarded landscape, the means by which they begin to simultaneously imagine and enact living alternatives and the production of a utopia whose manifestation is produced by or through this sense of urgency. Do you have any thoughts on either of these of these two observations? Can you elaborate on the utopian implications of these practices?
RM: Speed and duration are indeed material entailments of what I am terming a social kinesthetic. The difference between the modernist kinestheme and the decentered and distributed lateral kinestheme that derivatives circulate in is that space and time are linear and directional and expressed socially as the values of progress, growth and development. Just as portfolios are constructed to make money whether the market goes up or down; decentered movement practices take pleasure from staying in the flow, flying low or transitioning from one orientation to another. This is a nondirectional agility in which staying in the zone, the spread, the liquid suggest different values of participation and co-presence. By placing together interventionist and utopian political temperaments, we undo the reform/revolution opposition and find ways to combine moving into a space in order to repurpose and reopen it and taking the future in the present as allowing us to act upon the contingent without awaiting a total break into a new moment or world. The derivative logic begins to give us access to how we might value and appraise these differences that are already in our midst.
Last year I was invited by performance company ATOM-r (Anatomical Theatres of Mixed Reality) to sit in on several rehearsals while they worked on their latest piece together, The Operature. Since that time, the work has had a showing in York, they have produced a book with Pinups Magazine, recently opened a two person exhibition at Julius Caesar in Chicago, and continue to work towards the Chicago premiere of The Operature at the National Museum of Health and Medicine (175 w Washington, Chicago IL) March 21st, 22nd, and 28th 2014. A collection of notes from their rehearsals follows.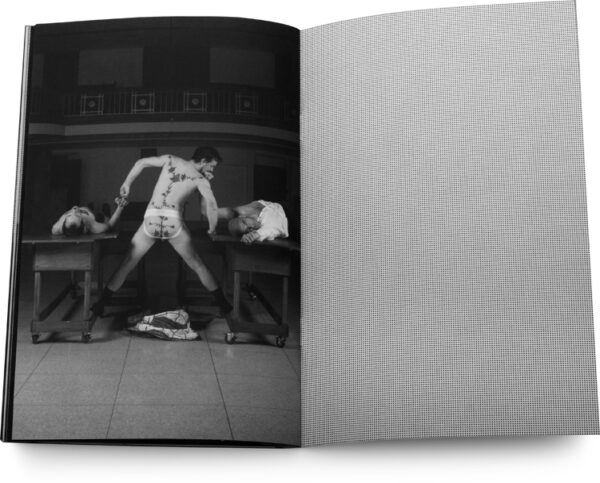 1. Chris' Back and Thigh
The theater holds between 200 and 300 spectators in six concentric galleries of narrow rows that provide standing room only. The bodies of the recently deceased are laid out as actors, like the dancer to the choreographer, the corpse submits itself to the movements of the doctor. The body following the request of the scalpel, as eager to articulate the interior secrets of the body as the doctor is to discover them.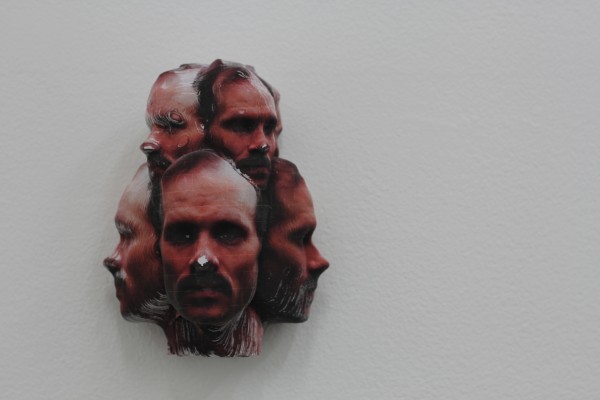 2: Justin's Kidney and Chest
From where I sit in rehearsal I can easily make out the performers as they move about the table. Even as they tower above me, dancing from corner to corner. I need only lift my head slightly to keep them in my full view. The table is to my left. I am thinking about watching, about the pleasures of looking at bodies, and of the duets that emerge from my gaze. The duet between these men, their fingers nimbly grazing their partners torso, weight shared across thighs, every movement mirroring the duet of scalpel and chest, doctor to corpse, witness to theater, and beyond to the dimly lit corners of the farthest circle, where the excitement of discovering the interior of oneself is imagined with each brushing shoulder.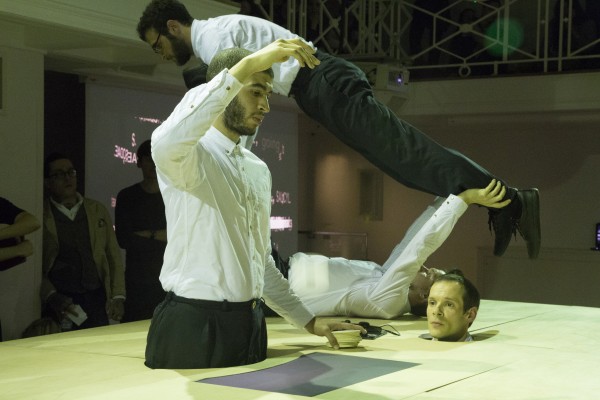 3: Sam's Ankle and Neck
Professor, tattoo artist, writer, and sexual misfit Samuel Steward kept a deeply coded and painstakingly noted account of his sexual encounters. Penile measurements sit alongside anecdotes and the occasional picture. A box of approximately 900 cards, the stud file is an archive of sexual experience and an attempt at exerting ownership over one's body. Stewards thirst is that of the anatomical doctor, both delighting in the bodily pursuit, in the ecstasy that comes from leaning against the submitted frame.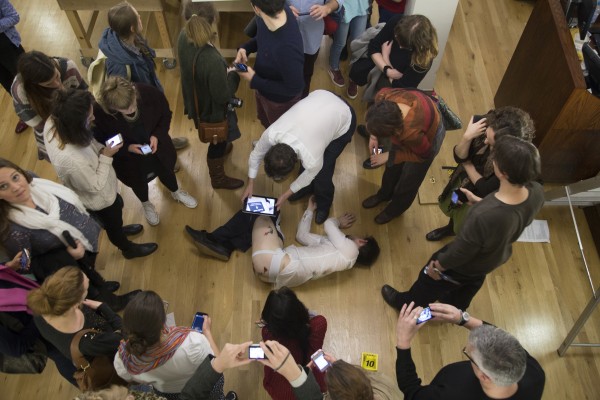 4: Blake's Pubic Bone and Shoulder
In rehearsal, at the moment, we are oscillating between the record of Samuel Steward and the technology of the anatomical theater. Movements are derived equally from sexual and surgical acts, both having striking similarities conceptually and visually. Through each week and each iteration of the work, I am left to ponder the watching of bodies as they are laid out before eager spectators, however they might be displayed in private or public exhibitions and however large or small the audience might be. This is how I understand the performance to function: as a technology of looking. The way a photograph captures a submitted partner or the way a surgical table in the center of an audience can amplify the form.
*Images courtesy of Christopher Schulz, Christa Holka, and Stephanie Acosta
Anatomical Theatres of Mixed Reality (ATOM-r) is a provisional collective exploring forensics, anatomy, and 21st century embodiment through performance, language and emerging technologies. Participants include Mark Jeffery (choreography), Judd Morrissey (technology & dramaturgical systems), Justin Deschamps, Sam Hertz, Christopher Knowlton, and Blake Russell (collaborators/performers).  
As audiences, when we speak of performance we are speaking most often about the glimpses acquired in the act of witnessing. We are speaking to our experience as it lies bound up in the delineation of time and space that is the act of performance, the curve that captures us as we are moved through the phases of the work. Accompanying this journey is a kind of willful ignorance, a reliance on the media at hand, the phone, the body, the text, the document, to describe what has escaped us, the event as it captures our imagination in its unfolding or to mediate in the moment of witnessing so that we might better understand what's happening. There is not one way to know a performance work, there are many, and it is for that reason that the quality of performance is brought to light through the normalizing tendency of the archive.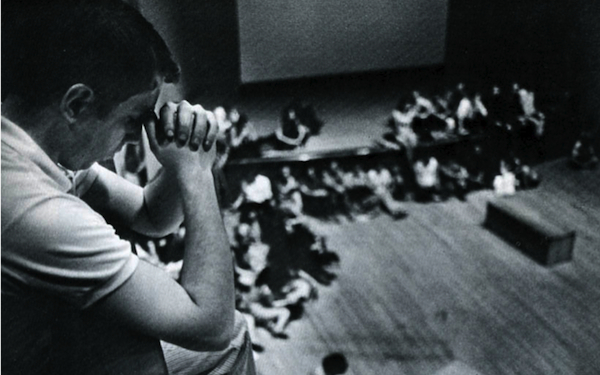 Performance documents provide us with the frozen instant, a single moment in the event of the performance. They are tools to help our critical faculties, providing us a moment to rest and to consider what it is that has happened. This perhaps makes the most sense in relationship to the lived experience. The relationship between what my body knows through the performer's body, a knowledge acquired through an empathetic transference of meaning(s) from the performer's body to the audience's and the images my mind recognizes through the documentation. We would be hard pressed to understand either, the experience or the document, without the other. Without the accompanying bodily knowledge the performance document hangs in suspended animation.
Once collected these documents form a group of materials that more often than not speak more to the interruptions of the art context than to the actual work. It would be impossible to ask of the text, photograph, moving image, body and the like to preserve for us what we can only ever hint at. Audiences and performers will always be bested by the performance as it unfurls itself before both. What we know of performative acts after witnessing and enacting them is but a fleeting memory of having done so or if very lucky, a lingering sensation. One that may motivate us, as others have suggested, to go forth and act out what we have experienced in the performance space.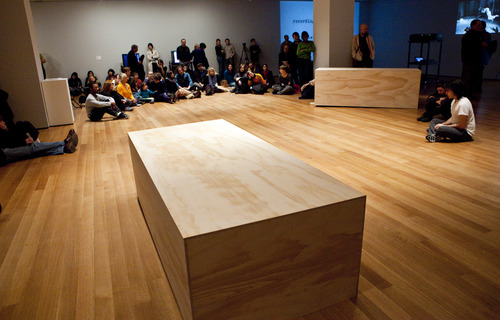 Archive are a technology of bureaucracy. They are way stations for data and accumulated temporality, flattened proofs of the "official" experience. The system of the archive itself is responsible for this kind of alienation. Categories, decimal numbers, and white gloves are methods of sanitation that work to preserve the individual's experience/state requirement. Once cataloged, memories of childhood, legal forms, receipts, and other accouterments are neatly laid beneath layers of fabric and cardboard. So precious are these relics that the archive must continually migrate them from one outmoded media to the next. The performance relic, however, subverts the safety of the archive. Not all archival material functions in the same way. There is a difference between documents that prove our life/work and documents that preserve the performance event, even if they both document performative tasks whose symbolic functions make permanent an abstraction. The way a notary's signature on a form makes official the binding language of the agreement. The difference between the two is a result of the social quality of the experience. Once placed within the archive the quotidian document does little to extend the life of the proceeding. This is due to the individual nature of what it documents. The experience of going through a live event within the collectivity of the art context is a social endeavor that expands the role of the document through the sensations and collective consciousness of the group.
It is the sociality of the performance experience that prevents the performance document from falling into the normalizing mechanisms of the archive. The experience of having been to a performance and then seeing the documentation of it, even if what one finds is outside of their memory of the event, finds its fulfillment in the muscular memory of the one handling the document. By this I mean that it is easier to imagine what might have happened in a particular performance after having gone to see one, even if the two are unrelated in image and form, it is the remaining sensation of the event that is rearticulated in the body of the audience upon resuscitation by the performance document. Having spent the entirety of my life involved in performance in one way or another it is difficult for me to imagine how the experience might play out to one who is naive of the ways of the performance event but I would like to suggest here that one of the things that performance does as an art form is to simultaneously imagine and enact living alternatives and to remediate the experience of such imaginings. To present documents of that process in an entirely new context, to potentially naive audiences, such as the library, school, or museum is to depoliticize them and reinscribe them with a whole new set of contextual politics. A process that imbues the document with a different set of concerns that surely tints the experience of the document.
The performance document is possessed by the audience. It is they who own the experience that it represents. To place it within the repository it to attempt to use someone else's signature to write your name. It may be in your possession but it is not fully yours.