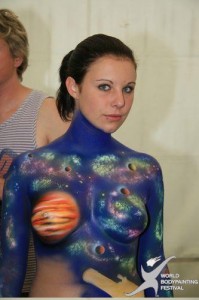 The World Bodypainting Festival is almost here and there is still time to get your tickets to Seeboden, Austria.
From their website:
"Since 1998 Europe's most colourful event has taken place every year in Seeboden, Austria.
The "World Bodypainting Festival" is the biggest art event in the bodypainting theme and thousands of visitors admire the wonderful work of the participants.
Aritsts from 40 nations worldwide come to this unique event and put body art into the mountain and lake scenery. "
"The fantasy ball "BodyCircus" is the main attraction in the festival week side events.
On the 15th July the medieval castle Sommeregg will be turned into a magical and mystical surrounding.
The visitors show up in fantasy costumes combined with bodypainting, decoration and masks up to extreme make up and fantasy fashion. "
More can be read at their site.
Bad at Sports has realized that society is doomed and is now accepting applications for it's Ayn Randian compound in the mountains where we will build a new society cleansed of the truly icky.
This week, the Art-School Grad Student who's sleeping around: 26, female, Upper East Side, straight, single.
1:50 a.m.: Making out with Tattoo Guy. Have bad spins. Tell him I need water and to sober up before hooking up again. He gives me a line of his own stuff.
10 a.m.: Know this is going to be one hell of week as feeling in love with Tattoo Guy, and now super-depressed. Make appointment with school shrink.
11:30 p.m.: In bathroom, I notice prescription bottle. Shouldn't look, but who wouldn't? Suddenly sick-feeling. Valtrex. Shit. Could I have contracted from five-minute intercourse with condom?
Please inform any art students you know about this free to enter competition. It involves $16,000 in cash prizes.
First Prize:$5000 for undergraduate student, $5000 for graduate student
Second Prize:$2000 for undegraduate student, $2000 for graduate student
Third Prize:$1000 for undergraduate student, $1000 for graduate student
Myartspace recently launched a student art scholarship competition for undergraduate and graduate students. The competition is free to enter and is open to art students throughout the world. In order to enter and submit a portfolio/gallery students must be a member of the myartspace community.
Membership is free.
The scholarship program is intended for students who exhibit exceptional artistic excellence in their chosen medium. Including photography and video, both contemporary and traditional in nature. Myartspace is providing 3 scholarship prizes for undergraduate students and separately 3 scholarship
prizes for graduate students. Creating a portfolio and gallery is quick and easy using the Gallery Wizard on the site.
The deadline for submission is November 21, 2008. Scholarship winners are announced on December 19th, 2008. Students interested in signing up for the myartspace scholarship competition can find out more details by clicking visiting– www.myartspace.com/scholarships
THIS WEDNESDAY the City Council will be voting on a proposed ordinance that would ruin small clubs, small theater companies, and basically anything put on at a small venue (less than 500 people) in the city.
The ordinance would require anyone putting on small shows (even garage bands just promoting their own gigs) to be licensed as a "promoter" subject to a $2000 license fee and requirements for $300,000 liability insurance for any event. Contact your alderman now and let them know you don't want to see the arts strangled this way — Do you really want the only live art in Chicago to be comprised of performances of "Wicked" and farewell concert tours by 80s hair bands? Not that there's anything wrong with either –but don't you want choices, variety, and a city where artists are free to perform, struggle, succeed, and even fail? Whether you're a fan of open mike nights, spoken word, small theater groups, whatever … You need to speak up now, because all of these will bite the dust if this becomes the law in the city.
Tell your alderman that an ordinance like this would have guaranteed that Chicago could never have been the home of Second City or the Lookingglass Theater, or the launching ground for countless musicians, actors, and playwrights and poets, and that audiences and artists alike will suffer, and our city will become poorer in spirit, if this proposed ordinance becomes law.
To find your Alderman, follow the following link:
http://www.chicityclerk.com/citycouncil/alderman/find.html
And do it before Wednesday's vote!