A couple weeks ago, I asked Stephanie Davidson if she would be interested in conducting a conversation about her practice over a shared tumblr site. aiwsd.tumblr.com is the result of our discussion of her work (both online and off), and how the communal aspects of image boards play a significant role in her practice.
In a short essay for the Guggenheim's The Take blog, Olia Lialina discusses Stephanie's work as participating in a vibrant and emerging (although to some, well established) pool of makers employing gifs as a means to simultaneously engage in early net-folk aesthetics as well as combat the cleanliness (or slickness) or large corporate social networking hubs. Rising Tensions, Stephanie's tumblr, offers a broad pallet of influences and insights that show a casual sophistication in the strengths and weaknesses that blogs permit as a central practice. The name of this project itself reveals some of Stephanie's stance on working within a network.
I attempt to engage Stephanie in a conversation concerning her ideas of home and space, as well as talk about how her paintings create an interesting play between mediums. Collage and appropriation seem obvious tactics of many digital artists (both new and old), however Stephanie's gif mash-ups and use of "dated" visual techniques combine and intermingle with one another to create charming and poignant juxtapositions. Hopefully our conversation will continue to develop so be sure to check in periodically.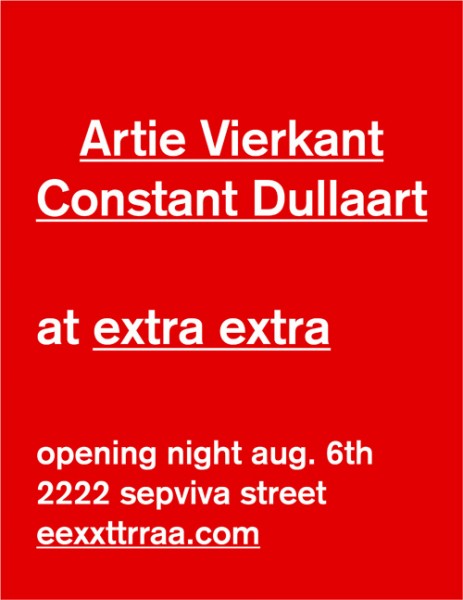 In RE:adymade, going on display at Extra Extra in Philadelphia on August 6th, Constant Dullaart and Artie Vierkant have compiled and created a suite of works that address the dichotomy of material and ephemeral existence that occurs within digital and networked society.
Although the two makers have never met in person, the similarity of their work speaks volumes about contemporary concerns of working online. For this exhibition, Dullaart and Vierkant have decided to embrace what some would consider a more "traditional" aesthetic, opting not to use many multi-media objects or display methods for this joint undertaking. As a result, one begs to question whether or not both artists have become disillusioned – or otherwise embittered – by their digital personas and the work it engenders. Each artists seems to approach this decision differently, but both arrive at rooting their work within a greater dialog of art history.
Vierkant, for example, has pulled from his Dutch heritage as a resource for inspiration. Taking a page from Mondrian – who famously delved into abstraction partially as a rebellion against classical Dutch figurative painting – Vierkant (which conveniently translates in English to 'square') has created several works in this show that seek a meditative state within abstraction. In a piece called, Why netart should be taken seriously, Vierkant creates a convincing family tree that traces his lineage back to Hans Bollongier. This wall piece is arranged in such a way that one is hard pressed to deny how this work contains an uncanny resemblance to Bollongier's floral paintings. As you walk around the corner, Vierkant's introspectiveness becomes most notable in a new piece entitled White Light, where the artist has projected white light through a broken prism in order to create a fractured full spectrum of color that illuminates the gallery floor, which then has been painted to add saturation. Also on view is (what I consider) a continuation of Vierkant's ongoing Crops project. This new series, entitled Zwart-wit, has taken monochrome sections of masterpieces by 17th century Dutch painters and isolated them into a series of prints. One can also view subtle tinges of his Dutch ancestry by looking at Vierkant's recreation of Paul Verhoeven's Hollow Man (the piece shares the same title) where he methodically, frame by frame, replaces Kevin Bacon's character with Photoshop's Content-Aware Fill.
Dullaart has continued in his tradition of making work that is both playful and sublime. In this show he has also rekindled old histories to inspire new works. In his new piece re.adymades.net, he has created an algorithm with the help of a computer programmer to create a database of automated websites made for fictional artists or artists working under pseudonyms. These sites not only operate as placement keepers, or "squatters," for these artists, but they also attempt to network these artists and writers together into a type of conceptual hive-mind. Dullaart has also created a new web piece called askask.net which takes the Ask Jeeves engine and recursively continues to submit the results of questions back into the search engine. The site logs all of the question/answers in a document that is then printed out periodically throughout the time of exhibition. The resulting document serves as a type of alternative archive to traditional browsing, particularly since ask.com has often been considered a small player amidst the search engine elite. The gallery is littered with small taped off boxes that all belong to a site-specific installation called Sight Lines that Dullaart has made for the exhibition. The boxes represent ideal locations to mount projectors for screening material on the gallery walls and/or floors and can be observed as a continuation of his previous installation Multi-Channel Video Installation at Gallery West in the Netherlands. During the opening, Dullaart will also be performing a new "conceptual recreation disco dance," called Flurry (which presumably has something to do with the default Apple OSX screen saver).*
Dullaart and Vierkant's work manifests in this show as a type of liminal state between virtual reenactments of art history and fictional personifications of contemporary cultural icons. Going to this show, and knowing of each artist's work online, one arrives on the cusp of escaping the screen, but eventually feels the desire to return back to – or a failed will to abstain from – it's warm glow.
Both artists will be on-site for the duration of the exhibit to give guided tours and almost daily artists talks with Q+A sessions.
*Video documentation of this performance will be posted to the extra-extra blog once it has been compiled.
I was very excited when Jason Rohrer agreed to conduct and interview with me within his newest game Sleep is Death. The game typically allows a host player and a guest player 30 seconds each to collaboratively navigate an interactive story. In the video above, you'll be getting my side of our conversation, as you watch me type, move, and interact with the environment Jason provided for our discussion.
During the course of our adventure we talk about games as a creative medium, Jason's decision to opt for 8-bit graphics, and how his games have changed over the course of the past decade. I soon find out that making certain decisions within the game lead to great, unforeseen, incidents of chaos and pleasure.
Near the end of our conversation, Jason discusses how games are intrinsically about meditating on time. Many of Jason's games involve cooperation with other characters or entities, which – depending on your willingness or investment – can greatly influence the direction and development of your experience. With Jason's games, once is not enough, and many times I find myself wanting to replay his games not out of any vain desire of completion (which happens to me frequently with big-name video games), but instead as a way of investigating how I play.
I suggest that games like Passage offer a challenging alternative to typical "choice" driven blockbuster games (like "morality engine" games developed by Bethesda Softworks). In Passage, you navigate an complex labyrinth to earn points; however, as you advance further into the maze you grow older and can travel less quickly. You also have a chance to picking up a partner to join you in your quest, and although doing so can prevent you from accessing certain areas, you gain more points the further you travel with your companion.
Jason's passion for his work, and their powerful impact upon traditional gamers and non-gamers alike provide unmistakable evidence that games art art. I believe Sleep is Death and Passage are emblematic of a distinct shift within the gaming and art world; a movement away from gloss and sheen, and a revisitation to affect and process.
Eric Fleischauer and I have a great discussion after the opening of his new show entitled Post-Cursor currently up at threewalls (until July 3rd). We talk about how his work relates and/or responds to technological cultures and production through a diverse array of perspectives.
Eric's work – both within and outside of this show – critically examines our tendencies to celebrate and memorialize technology. In our discussion, I suggest that Eric combats these desires in his work by offering up poignant minimal (in construction and presentation) solutions through the lens of art and media history. Eric counters this by also pointing to an important conceptual art history that informs his work (his A Scan of the Space Under My Mouse (enlarged 2x) is a direct reference to Bruce Nauman, for example).
We talk further about how these influences are condensed (from an art historical standpoint) into strategies for navigating contemporary media; a thread that is interwoven throughout his practice. A good example of these concerns can be seen in Eric's organization/curation of the End of Analog show that he put together last year for Roots and Culture. He admits that the titles of both End of Analog and Post-Cursor are intended to be hyperbolic gestures. In doing so, he hopes to point out how the content of popular media has gone (relatively) unchanged in the past three decades and that exploring the transience of media formats can be a more productive undertaking.
The last bulk of our discussion uses Eric's blog work as a spring board to talk about the growing popularity of tumblr within certain circles of young new media makers. I propose that the mobility that blog formats like tumblr create a rich environment for cross-medium discussion, collaboration, and non-committal sharing of ideas. Tracing this (micro)history to surf-club group blogs like Loshadka and Spirit Surfers shows how this medium of quickness and real-time response unburdens makers from the stringent policies of a gallery space setting.
Jon Rafman and I had a chance to catch up in Second Life last week and do a series of interviews that culminated in the above video (which contains NSFW graphic imagery near the end). We discuss his recent work and its relationship to cinema studies, as well as talk about how the work digests contemporary Modern experiences.
I suggest that projects like Brand New Paint Job and Woods of Arcady operate as a kind of collision between High Modernism and amateur consumer technology, and that these fusions provide a unique critical comment on nascent mash-up cultures that exist online. Jon and I also discuss how his inclusion in jstChillin's Avatar4D show in San Fransisco, and involvement with that emergent netart community, has influenced his artistic process. Jon comments on how his discovery of nasty nets rekindled his artistic sense of inquiry and how the mobility and quickness of blogs and surf clubs fostered a dialogue that he found absent from contemporary art circles he had participated in up to that point.
Later in the interview, I ask Jon if he finds that his new found sense of discovery of working online manifests itself in his (now highly popular) Kool-Aid Man tours in Second Life. The initial location for Jon's journey and participation within these virtual worlds comes from the joy of spatial exploration and subsequent need for spatial mastery within 3D environments. We wrap up our conversation by discussing how working with Second Life, and developing real meaningful relationships within that environment, has led him to invest in the ideas of multi-user experiences as a means of engaging and analyzing multi-layered artistic paradigms within networks.
Jon's Google Street View project will be part of the opening festivities tonight at the FUTUREEVERYTHING festival in Manchester and will remain open until the 23rd of May. You can also visit his site for more information: http://jonrafman.com/