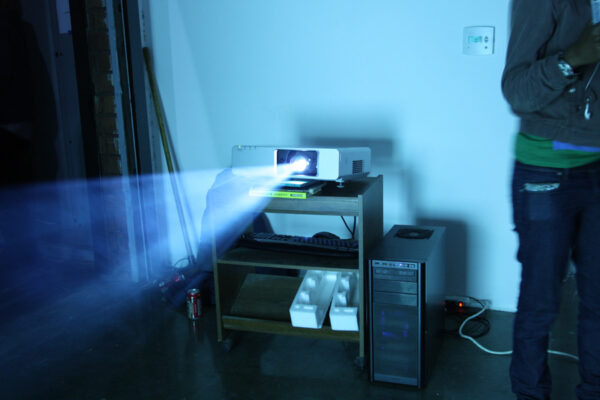 This past week I had the immense pleasure to be involved with the Los Angeles instance of Bring Your Own Beamer, a one night event initiated by artist Rafael Rozendaal where artists fill a gallery/venue with images beamed by borrowed or self-owned projectors. I also had the great chance of talking to BYOB LA organizers Chris Coy and Guthrie Lonergan to talk about how the evening unfolded, as well as how there already has been some much heated conversations regarding what these events facilitate. We're joined by Artie Vierkant, who participated in both the LA and the NYC versions of this project, to discuss some of the recent criticisms of this type of impromptu self-organization, but also to have a kind of debriefing of our feelings and thoughts about how things went last Friday.
We specifically discuss articles published by Brad Troemel and Karen Archey on Karen's new art criticism and review site Bien-Pensant that respond to the potential emerging issues that are coming out of the conversations that surround BYOB-like shows; namely, what/who are these events serving, and how can artists approach these settings with equal parts enthusiasm and criticism. The four of us talk about the attitudes and feelings that we each had about BYOB LA, and discuss how these situations are initiated as part of an ongoing conversation between a large community of diverse artists working online (or working within the "internet aware" classification that has been circulating).
Through our conversation, we decide that to overly contextualize the practices as a sum whole would do a disservice to the powerful differences that separate and differentiate creative practices exhibited within BYOB thus far, and that leaving the discourse open and in constant renewed upkeep would be essential in maintaining a dialog between each other. Below is the chat log of our discussion, as well as a short video that tours the BYOB LA event.
Over on the art21 blog I've posted some thoughts about the work of netartists based in the Midwest and how they possible share common ideas and themes. I asked a handful of makers what their thoughts on how living on the third coast has effected their practice. Here is a short excerpt:
Since moving away from Chicago this past summer, I've seen how Chicago and the Midwest have influenced my work, as well as my work ethic. The spirit of experimentation and collaboration run very deep within Chicago's art veins, and I've seen how Midwest hospitality has infiltrated even the toughest skinned "coastal imports." With these in mind, I'm curious how artists working online – in a non-specific spatial setting – have either engaged or adjusted their Midwest sentiments (if any) within a global network.

I asked several net artists if their practice has been influenced by living in the Midwest, and I received a wonderful variety of responses. Although working online has "freed" several artists from the limitations of a bloated or overcrowded art market found on the coasts, some argued that this liberation is not unique to the Midwest and that artists internationally are finding ways to create and distribute their work without the cumbersome (and what some would call slow) commercial gallery system.
Read the rest of the piece here.
I recently realized after moving to Colorado that I would be in close proximity to artist Mario Zoots and that it'd be great to meet/greet with him to possibly conduct a collaborative video. I asked Mario if we could talk about his recent projects including his digital collage imagery and sound work that he has been compiling for the past two to three years.
We agreed that working together on a video that incorporated his techniques and methods would be the most appropriate undertaking for our discussion. In the video above you'll see Mario's intuitive and rich abstraction of color and sound take shape throughout our discussion.
We start our conversation talking about work that he and other Denver based artists have been collaborating on called Modern Witch: a live sound and image based trio that uses traditional house/electro rhythms combined with haunting and glitchy synth lines. The members of the group perform in hooded and masked disguise, arranging themselves into a triangle on the stage that resembles an occult precession.
I misinterpret the groups origin in my question and suggest that this ensemble is responding to, or engaging with the emerging (and often parodied) genre of Witch House. Instead, Mario explains that the group has been performing for several years under this moniker and that their investigation of the occult is far from superficial. He talks about how the label of this genre encompasses a large variety of makers, and inevitably does a disservice to the diversity found within this community.
Later we delve more into Mario's personal practice as a gifted, and haunting, collage artist. I suggest that the hiding and/or obscuring of facial features in his still imagery act as a deliberate gesture of displacing identity and figurative detachment (something that he acknowledges is present in Modern Witch). A popular motif in these prints is a repeated melted skin texture covering – or in some instances oozing off of – the face. This gesture to me connects the two practices of sound and image by acknowledging and engaging with the cauldron of self – and other – representation (without the obvious, "the music melts your face off"). Mario discusses how the deaths of celebrities plays a large role in his practice, and that he "performs" these minor/brief homages within the day of a star's death in order to capture the dwindling remains of the spirit soon to be lost.
I continue to ask Mario what the relationship between image and text serves in his practice. Many of his projects involve a semiological investigation between found imagery and "taboo" text. Mario contends that the appropriation of picture with textual overlay creates a third meaning that he hopes will recursively operate as a kind of mediator between himself and image distribution platforms found in popular media. I don't think that these gestures are intended to be antagonistic interruptions of the status quo, but instead are meant to show a hidden majick found within the rapid overturning (and re-masking) of identity that mass media perpetuates. As Mario aptly puts it, "what I do with the hidden is as important as what I show."

IN DUMP.FM INTERVIEW FOUND HERE (semi-nsfw)
Ryder Ripps, Scott Ostler and I got a chance to meet and greet and discuss their irc-esque image + gif chatroom/emporium Dump.fm(co-created with Tim Baker of Delicious fame). The three of us discuss the initial starting points of dump – from rhizome.org invitation beta-testing to being featured in marketing "to-watch" mailing lists – and how this process has influenced the kind of participation that dump fosters. I suggest that the community of users on dump is it's main draw, and that sense of belonging, or as Ryder sees it, "real human interaction" is what spurs the unbelievable amount of clever, crass, and often times hilarious postings.
Ryder and I go on to discuss how organized events on the dump calendar have created some of the most unique and widely circulated content. MySpace pic hunts and themed posting days display a kind of competitiveness that dumpers have with one another. Although nothing necessarily tangible rides on these micro-competitions, the cred of "favs" for deep surfing and/or pillaging of gif databases and obscure image collections are all efforts to contribute to a collective epic win.

Soon thereafter we discuss Dump's relationship to a broader net art culture, it's relationship as an alternative to what Ryder thinks to be a somewhat closed and/or overly academic system found in artist surf clubs. He critiques this mode of production for being too invested in data/files – and likewise turning them into fetish objects – and not invested enough in the journey/adventure you might have discovered along the way. He goes on to say that Justin Bieber would be a more acceptable role model for netarts than Cory Arcangel (perhaps as a model for malleability and readiness for manipulation/appropriation).
We briefly discuss how the idgig came to be born, and how his use, reuse, and multiple manifestations have been used within the constant recursive practices of artists on dump. Ryder suggests that the subsequent litigiousness of the parties that own the idgig's face is also emblematic of how dump serves as an engine to combat the normative, and commercial types of expression more commonly found on the web. The headache of having conservative image providers like getty and i-stock photo has been an interesting battle for dump, but users don't seem very dissuaded.
Lastly we address an upcoming show that dump has been invited to put on at 319 Scholes in NYC curated by Lindsay Howard. I ask Ryder what visitors should expect from the IRL instance of dump. The event will involve a live, full-screen feed of dump, as well as stations to upload images and interact with the international community of dumpers in real-time. Also an installation of current dumpers "most-fav'd" work will be on display in order to give visitors some perspective on the history and past-bests of the site. Ryder and I agree that people visiting the space will be both delighted and engrossed by what will be on display from October 22nd to the 31st, and of course people are more than welcome to register for dump in advance of the event.
Some semi-NSFW material below

editors note: I foolishly didn't record my own audio in this interview, so for the first half there are titles that guide viewers through questions
I was incredibly fortunate to arrange a tinychat with the organizers of the upcoming gli.ct/h conference/festival/symposium/gathering. Nick Briz (who unfortunately is not in the video), Evan Meaney, Rosa Menkman, and Jon Satrom all joined me in a conversation about their combined administrative efforts to see this great event evolve into an internationally recognized and talked-about event taking place across Chicago from September 29th to October 3rd.
We discuss the expanding taxonomy of glitch culture – a growth that has emerged partially as a result of it's rapid commercialization – and how this rhetoric has changed historically through cinema and video. I emphasize the fact that the quad of organizers of this festival have contributed much to the glitch community – both in their work and in their academic writings/presentations. Although each maker has distinguished his/her presence and has reinforced the importance of engaging the medium "with caution" (as Nick Briz states), they all show an incredible affability and desire to investigate the inherent playfulness of the genre.
The organizers have done a very delicate job of being able to balance the openness and generosity that the community offers to incoming makers with/against the "closed-ness" of traditional festivals. By including web-specific projects like the t.rashb.in and a (as yet not published) glitch-wiki, the festival aims to create a celebration of curiosity by inviting people that otherwise would not want to participate in data bending and error-aesthetics. The gli.tc/h blog has instigated a great on-going conversation between artists and organizers about the difficulties of defining the genre, and the benefits found in letting these precise definitions continue to be incomplete.
We go on to discuss some aspects of the theoretical implications of how glitch moves throughout history, and how this process challenges modernist tendencies to want to preserve and archive. Evan proposes that because he is not engaging glitches as a live medium, and is instead investigating the process that occurs somewhere between translation of data (sets), that his work is a direct interruption of archival sentiments. These hic-ups offer insight into how we customarily shape our data into precious documents/objects, as opposed to transient, ever-recycling, source material for creativity.
Jon brings up how the historicization of the material fits into the surprising amount of analog submissions the festival received. We discuss how this shift back and forth between digital and analog methods might speak to a larger cultural phenomenon taking place within technological circles (namely technological fetishism through simulated nostalgia). Rosa questions whether this trend is some kind of romantic hearkening-back to better days in order to prioritize certain types of practices over others. However, I think that the link between the two lies in curiosity and the hacking inclination of people invested in glitch. In other words, returning to analog is a means of continuing the exploration.
As a closer to our conversation Nick and I discuss how his work provides tutorials for processing the limitations of certain digital formats. Our traditional graphical interaction with digital artifacts is not sufficient enough for complete data-immersion, and Nick suggests that the hacking through these codecs is equally an aesthetic and political gesture. Jon chimes in and comments that sharing this ethos in a group together is something that he is incredibly excited about. Evan restates this enthusiasm by discussing how the diversity of the group's stance on this medium will be mirrored by the great work and conversations that will be found at gli.tc/h over the weekend.
To find a complete schedule, including venues, directions, and other exciting links, go here.