The community & arts organization in Atlanta LiFT held its first Art Salon in November 2014 and has been holding them once a month since. The most recent, #CreATL, featured glass artist Marselle Harrison-Miles, R&B singer ASH who just dropped her first EP, The Perfect EP, DJ D LaShae, and the entrepreneurial initiative Human Capital Theory that focuses on community-building through sustainable economic development which encourages professionals to donate their expertise and services to fledgling businesses.
Each Salon, though there have been only five, draws a sizable crowd. (Let me tell you, it can get CROWDED!) I have been to a few of these events and know two of the founding members: Clint Fluker, who is also in my doctoral program at Emory University – The Graduate Institute of the Liberal Arts – and Nasim Mahboubi Fluker.  The third founder is Miriam Denard. Since I think what they're doing is exciting and also historically important in terms of its relationship to and with Atlanta's vibrant black community, I decided to get a conversation going with them. Here are the results of that discussion: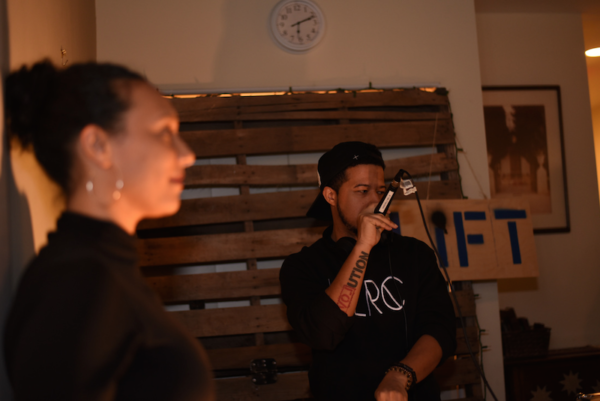 Meredith Kooi: What prompted you all to start LiFT?
LiFT Art Salon [Miriam Denard]: Plainly, I think Nasim and Clint, and at the same time myself, were all in need of something to DO. Something that wasn't going to a bar or going to a club or a concert. Something that felt cool and fun but also mature and important and worth our time. So, when you sit there and think to yourself, "if there was something I could go to, some event that had other people that are like me, good music, and actually was about something that I'm into or that I care about, I would be there in a second." So, when we all thought about the things that each of us are passionate about, LiFT came about. Music, Art, and Community projects each play a significant role in each of our lives so everything came together organically like that. It was like a marriage of all of our networks and passions. We always joke about how this is really about giving people something cool to do on a Sunday on Edgewood that doesn't involve drinking and partying. There's more to Edgewood than that.
MK: What are its main goals? What are you hoping to achieve?
LiFT [Miriam Denard]: I think one of our main goals with LiFT is to showcase local talent. Atlanta is known for a lot of things right now through the media and the music industry. But we feel…we KNOW that Atlanta has so much more to offer artistically than what is at the forefront right now. This city is full of incredible DJs and musicians, artists and poets, and really special and unique community projects and developments. So, if anything, we hope that holding these salons every month will raise awareness about the Atlanta that we all know and love and will give people a venue to showcase their talents and their positive contributions to society.
MK: What is the community you are trying to reach?
LiFT [Miriam Denard]: Our main demographic is young professionals. That's who we are. We are all in our late 20s early 30s (actually I'm the only one in my 30s) and we want to give our friends and colleagues something interesting and different and fun to do. We also have a lot of friends or people in our network that are insanely talented, so we are also trying to reach out to them and give them a stage to share their talents. We believe that our generation, these educated, talented, engaged young adults who are seeing what's going on in the world and wanting to do something about it, or are super passionate and talented at something and want to make a career out of it, need a catalyst. To us, the catalyst is getting all of this energy into one room and then just watching what happens. Hopefully the outcome will be something very important.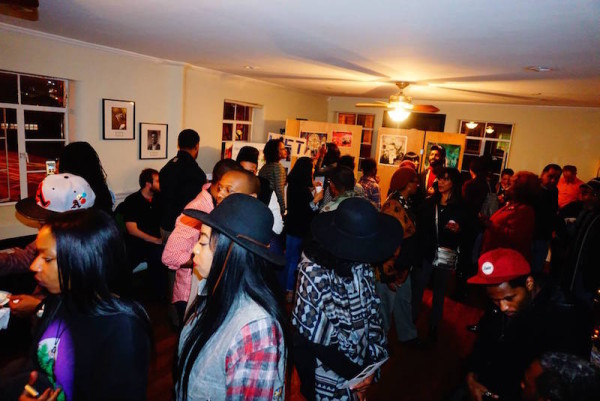 MK: What are the issues LiFT is trying/hoping to tackle? Your January salon #ferguson2ATL addressed the important issues concerning race and police brutality. In February it was #ATLsoulfoodie which addressed food, food access, and other related topics. Can you talk a bit about the politics of LiFT?
LiFT [Clint Fluker]: As an organization, we are concerned with helping to shape an Atlanta that is not only welcoming to artists but also encourages an exchange of ideas between artists and other professionals in different fields. It is important to remember that art fosters creativity and enables individuals from all walks of life to recognize the connections between us all that often lay hidden amidst society's political structures. This is why we use a salon model. It enables us to provide a platform where people can relax in a creative space, participate in conversation about an intriguing subject matter, and hopefully meet somebody new in the process. The objective here is to foster a community of engagement where people gather to understand issues like police brutality and food access from an intellectual AND artistic point of view. So, in that sense, LiFT is a nonpolitical entity in that we shy away from making any explicitly political statements. Rather, our aim is to inform and inspire the people who attend LiFT events to continue conversations started at our salon and create their own mechanisms for change throughout the great city of Atlanta.
MK: Can you talk a bit more about the category of "young professionals"? Does this include the artists that show their work? Or does this describe the audience?
LiFT [Clint Fluker]: The category of young professional is a necessarily broad one for LiFT. We consider anyone with a youthful spirit and a desire to create something new in the city a young professional. Often, when we think of "young professionals," we picture a 25 year old in a suit eagerly putting together PowerPoint presentations and attending mixers for networking purposes (we still do this ourselves…daily). These people are indeed young and professional, but it's a very limiting view of the category. Activists, artists, students, and entrepreneurs are also part of this category, and we want to make sure that we attract as many different kinds of "young professional" people that we can. In a way, our salon format is designed specifically to break out of the "mixer" routine and attract young people to have conversations with each other for purposes other than professional networking.
Though the majority of people who attend our events are like us, between the ages of 20 to 40, we are just as interested in providing space for a graduating senior moving into the job market as we are for a retiree who has recently found the passion for painting. Our aim is to engage and encourage individuals who are taking steps in new and varied directions. Indeed our audience skews young, but our goal is to provide a family-friendly environment and we have found that families often bring their children to our events. Some of the most fruitful conversations at LiFT have been initiated by children still in grade school. Many of the most eye-opening questions during our salon have been posed by our more mature attendees.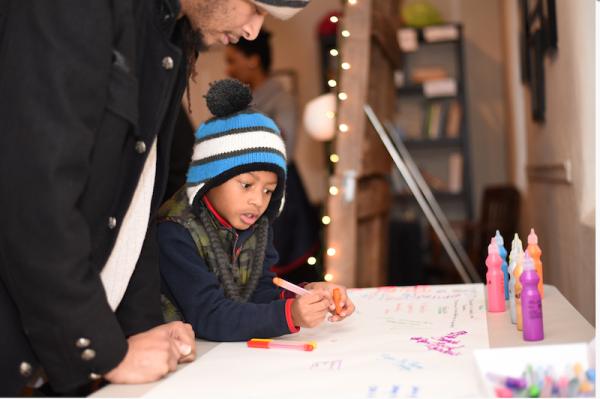 MK: The first LiFT salons were held at the Atlanta Baha'i Center on Edgewood, right in the middle of a wild nightlife scene. What prompted the decision to hold them there? What is the relationship between the Center and the surrounding area?
LiFT [Nasim Mahboubi Fluker]: The Atlanta Baha'i Center is actually one of the older buildings in the Edgewood Corridor. It was built in the 1940's by an African American Baha'i Architect and his son because during that time in Atlanta's history, it was very dangerous for the interracial Baha'i community to meet in homes. As a result of numerous threats from white supremacist groups, the Center was built in the bustling African American business district. It was this rich history of creating inclusive spaces for progressive thought and building diverse communities that attracted us to the Baha'i Center.
On a more personal note, I am a member of the Baha'i Community, and my parents actually met in the Center in 1978. I personally think that faith-based communities have a role to play in contributing to positive community growth.
That said, as an organization, LiFT is a mobile entity. Our March LiFT, #CreATL was held at the Decatur ArtHouse, a great organization with an open floor plan that really allowed us to spread our wings in a new section of the city. We are grateful that they too have opened up their space to us as we try to bring the LiFT experience to new areas. We are very interested in partnering with different organizations around the city to get the word out about how important it is for young professionals, artists, and activists to work together on the issues facing our city.
MK: LiFT has only had a handful of salons so far, but you've been able to draw 150+ people to each event. Why do you think this is? What, if anything, have you homed in on that wasn't already going on in Atlanta?
LiFT: I think Atlantans (especially 20-30-somethings) are thirsty for the type of space we have been able to create: a space that is inviting, creative, and at times challenging. We have found that by finding connectivity between the arts and social issues, we have been able to appeal to a wider audience than if we were just focusing on one or the other. We really wanted to create opportunities for young professionals and artists to dialogue because we found that these two communities were way too segregated. We just felt like in order to begin tackling some of the most pressing social issues in the city, we really needed to foster the nexus between creative energy and institutional knowledge. We are still trying to nurture more dialogue at our events – and our real objectives for LiFT are to inspire more people to take action and exercise agency in creating the Atlanta they want to live in. This sentiment [was] the impetus for our March Salon #CreATL.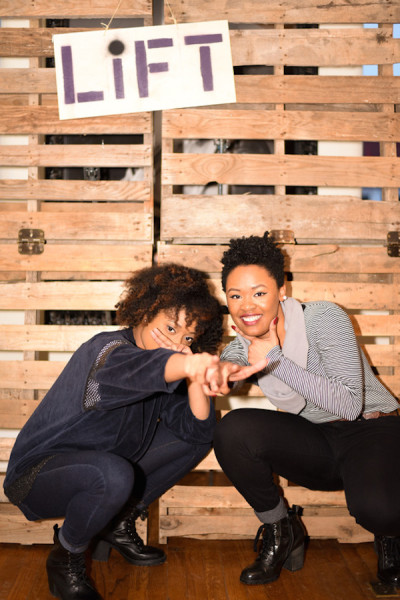 MK: What plans do you have coming up? What else is on the horizon for you all? Also, what's behind the decision to title each salon with the #?
LiFT [Nasim Mahboubi Fluker]: We currently have a few exciting partnerships in the works. We will be partnering with the Hammonds House Museum for a quarterly series starting this summer called #GetLiFTed. We are thrilled to be able to collaborate with such an important cultural institution in Atlanta. This partnership will also allow for our artists to have an opportunity to display their work as part of our #GetLiFTed campaign for longer periods of time. Currently, as a pop-up, the art goes up and comes down in an evening. Now, [with the partnership with Hammonds House], artists may be able to show their work for as long as a month in an actual exhibition space. We are experimenting with our event format so look out for brunches, garden parties, and even more intimate salon-style dialogue sessions popping up around the city. For those interested in donating to this campaign, they should visit our Power2Give site!
The hashtags are just fun – they help us stay clear about the monthly theme and help folks tag us on social media.
MK: I'm also wondering if you would add some sort of statement about LiFT's engagement with race and particularly where you see it within the conversation surrounding/about African-American art and Black art or Black aesthetics. Clint, I remember you mentioning that you didn't want LiFT to be recognized as being only a Black organization. What are your thoughts on LiFT's position within the ecology of art and race in Atlanta?
LiFT: We explicitly, though not exclusively, highlight young black artists, activists, and entrepreneurs. A large part of the contingent that comes to our events might identify as black (we don't know all of them personally), and we are happy for it. We market to them on purpose. We feel that this is a community that wants and needs to be engaged, especially considering Atlanta has a sizable black population and an incredibly rich history as it relates to civil and human rights issues, the development of black-owned businesses, and the forging of the country's leading HBCUs [Historic Black Colleges and Universities]. However, we are not looking to carve out a place in the larger abstract notion of "blackness" or "black aesthetics." There are people and organizations dedicated to that cause, but that is not our mission. We wish to engage people in concerns that go beyond just race, but also extend to varying socio-economic backgrounds, sexual orientations, gender perspectives, and spiritual practices.
Which leads me to another point, we have attendees and have featured individuals from different backgrounds. Our planning team includes members from different backgrounds. Everyone is welcome to attend LiFT events and participate to the degree they wish to be involved. Thats what LiFT is really all about, its a welcoming place where people can gather and exchange ideas. When it comes down to it, we are really just giving the people what they want, and what we want. Its a ball! But, I don't have to tell you that, Meredith, you have been to LiFT. Keep spreadin' the word!
Past LiFTS
November: #NeighborhoodArts with visual artist Shady Patterson; musical performance by St. Beauty (Wondaland); and special guest Dr. Candy Tate from Emory University
December: #GeorgiaSoul with visual artists Carolyn Grady, Brian Hebert, and Masud Olufani; DJing by Agent 45; and special guest Brian Poust (aka Agent 45).
January: #Ferguson2ATL with visual artist Julian Plowden, DJ Xavier BLK (Werc Crew), and special guests from Atlanta Word Works.
February: #ATLSoulFoodie with visual artists Gerald Lovell and Jurell Cayetano, DJ Jeremy Avalon (Werc Crew), food artists Jamila Crawford (Earth Candy) and Will Edmond (Werc Crew), and special guest Atlanta Mobile Market.
March: #CreATL with visual artist Marselle Harrison-Miles, musical performance by ASH, DJing by D LaShae, and special guests from Human Capital Theory.
A string of questions: What is the discourse of power that we subscribe to? Is it constrained by capital or physical strength? Is it supernatural or material? Where is it located? Who participates? 
Further: What are the material conditions that underpin these power plays? The currencies, objects, commodities? How physically present are they? Or, how virtual are they?
In Atlanta, three recent shows and a dance performance provoked these questions concerning the dynamics of power structures. Varying in methods of representation and subversion, the works materialize the many ways in which power pervades the multiple facets of our lives: spiritual, physical, economic, electrical, corporate, digital. While each of these, the exhibitions and performance, taken on their own offer a perhaps more simplistic notion of power, limited to a particular variable (some more limited than others), taken together, these works can lead the viewer to consider the complexities of our contemporary globalized world's power structures.
***
Let this be an argument for synthesis. Individual artists and works do not exist in a vacuum. They live in an assemblage which the artist, discourse, institution, and viewer create. In keeping with my experience attending the 9/50 Summit at the Atlanta Contemporary Art Center which brought together arts organizations from around the southeast region, it seems important to address the issue of making connections. Of particular interest here are the ways in which the region determines the shows and the works within them. 
Something that seemed to sit beneath the words spoken at the panel "Does Regionalism Exist?" at the Summit was the acknowledgement of one's power or lack thereof. I realize how redundant and out-of-date this may sound in its Foucauldian inclinations and hints of institutional critique. However, I can't deny that the ways in which I saw these works as an assemblage prompted the question: What is the meta-discourse here? As both a practicing visual/performance artist and a writer, I am always attempting to make sense of what I'm looking at, why it's been placed before me, or why I'm before it. Sometimes it seems like there is no rhyme or reason to it.
The institutions that house the exhibitions/performance I mention here run the gamut – from DIY resourcefulness to larger budget non-profit institution. Layers of authority and administration surround these works many times over — the specific histories, practices, and objects addressed as well as the sites in which they lived temporarily.
Currencies
Simone Leigh's solo show Gone South at the Atlanta Contemporary Art Center offers the most complex rendering of power relations, providing the viewer with an image of the materiality, social history, economics, and spirituality of the South.
In Leigh's installation Cupboard, she directly references the Mississippi restaurant Mammy's Cupboard which is featured in the 1941 Edward Weston photograph Mammy's Cupboard, Natchez, Mississippi. Using steel as the armature, Leigh creates what would be the skirt that the viewer/restaurant-goer walks into. However, instead of taking a seat and ordering pancakes, the viewer confronts Leigh's 2013 work Topsy Turvy, which here reads as female reproductive anatomy. Since this biology is made from symbols of currency (the cowrie shell), stepping inside the skirt provokes anxieties. In the installation's juxtaposition of histories, economies, infrastructure, and architecture, Leigh makes apparent the complexities of labor that undergird our current structures of capital.
The video work my works, my dreams, must wait until after hell, made with Chitra Ganesh, seems to solidify this reading in its juxtaposition to Cupboard. We see a woman's exposed back and then notice that her head is covered in stones. The back's subtle movement shows she is breathing, but it seems only barely so. In contradistinction to the suspended cluster in Cupboard, the cluster of stones weighs the woman's head to the ground, burying her.
***
Across town at The Low Museum, a potted plant in a virtual corporate office makes its way into actual space. In one instance, the potted plant is blocked from view by window blinds. A Starbucks cup is turned over in a virtual church. In an interplay of the virtual and actual, the digital and IRL, Cara Mayuski's Area Moments confronts the viewer with a cheeky corporate (i.e., anonymous) visual language. 
Commodities, if we've learned anything from Marx, have become virtual objects, divorced from the materials and labor that went into producing them. While Mayuski might not intend for this reading, (instead she focuses on the digital/IRL experience dichotomy), expanding the discussion of the virtual and actual makes for a compelling take on our everyday experience, with all of its social, political, and economic dimensions. She notes that in her research of spaces that have a "public or communal aspect to them," she discovered that when she brought elements of these spaces together, they "created highly impersonal spaces that were culminations of mass produced and familiar elements." [1]
Desire's Physicality
Using the overhead balcony walkway of the performance space, Erik Thurmond and Nicholas Goodly created a viewing experience reminiscent of a Roman gladiator spectacle in their new work Meh Meh; the audience watches from above, the dancers move in the pit. At first Thurmond and Goodly, the dancers, displayed feats of physical prowess, strength, and agility. During this time, the two of them circle the floor, make eye contact with the audience, and point up towards particular members of the audience. As a commentary on masculinity and desire, Meh Meh brings together physical competition and gay club cruising. Meh meh means kiss kiss. However, when Thurmond and Goodly say it, scream it, at each other, the affectionate tone drops out and a bellowing of "ME" takes its place.
It seems important to mention where the piece premiered: the Druid Hills Baptist Church, a place that hosts the Pinch 'n' Ouch Theatre, artist studios, and performances, notably that of Thurmond and Mary Grace Phillips. What are multiple levels of power plays here? Between the dancers? The dancers and the audience? Meh Meh and the church?
Meh Meh is a DIY and self-funded project that subverts many of the Atlanta arts funding institutions. It lies on the periphery of what is available to artists. Funny how this takes place in a church – the church standing in for one of the oldest economic and political institutions.
Electricity
For Rich Gere, he started with a flashlight. He said that during the Millennium Juried Art Show (The Art Market Gallery in Knoxville, TN), he realized that "if the lights go out, we're going to need light." The flashlight: what you turn to in an emergency, a beacon of hope perhaps.
Gere says that this is all about the "management of power," something that he has previously noted in interviews. This is apparent in the lightbulb of the flashlight's beacon turned warning signal in the 2012 works We the People – Ideologies: four joules and We the People – Ideologies: ten thousand watts. Each Installed in a corner of Kibbee Gallery's side gallery for his show Power Failure, the sculptures project audio at each other. For We the People – Ideologies: ten thousand watts, the audio is sourced from tape recordings of JFK's and RFK's conversations with the Ross Barnett, then governor of Mississippi, during the James Meredith Standoff. Also included are recordings of LBJ in conversation with James Meredith. For We the People – Ideologies: four joules, the audio is sourced from a 1929 recording of Charley Patton, a Mississippi Delta blues musician who was oftentimes barred from recording studios because of his race. The recording featured in the sculpture was made in Wisconsin, a place usually easier for black musicians to access.
While the gallery installation wasn't particularly compelling, I find the gestures towards both optimism (the flashlight as symbol) and despair or regret (the historical fact of JFK/RFK/LBJ/Patton) to be important. Issues of access and economies of power are still critical to examine in our supposedly post-race country, something that Gere describes. [2]
Refusals and Competition 
I'd like to end with gestures of refusal: Two of the works in the Simone Leigh's Gone South show make reference to Southern spiritual traditions while rendering their intended functions obsolete. Her sculpture Jug, made from lizella clay that is found and produced locally, references face jugs, whose American history originates in 19th century slavery, are meant to ward off evil spirits. Her sculptural installation Tree also makes reference to the warding off of spirits; the collection of glass bottles is reminiscent of the Southern, particularly Louisianian, practice of making bottle trees, another product of the Transatlantic Slave Trade. The bottle tree captures evil spirits in the upside-down-hanging bottles, keeping living inhabitants safe. However, these works of Leigh's do not perform the task they are meant to. Jug is not adorned with a face that will scare the spirit. Tree's bottles and jars hang right-side-up; only upside-down bottles are successful at trapping what should be trapped.
In terms of the constellation of sources and symbols in Gone South — the cowrie shell, which is made from molds of watermelons, the mammy skirt, the plantain in wedgewood blue, the face jug, the bottle tree — Leigh's simultaneous use and abuse of these symbols yields a potent historical/cultural/post/colonial mélange. This interplay, one that also incited Frantz Fanon's Black Skin, White Masks, forces us to pay attention to the intricacies of what we decide to use as visual markers.  
*** 
I have to admit that each of these shows needs more words. Each taken on their own would provide multiple other readings and engagements. In a self-conscious disclosure of power, what I claim here institutes a precarious authority. 
Though these shows don't necessarily speak the same language or even share the same discourse, I find it intriguing that multiple shows within a brief span of time all examine some discourse of power that suggest underlying economies of desire and material resources. This may seem like a vague topic, and in a sense it really is. However, in an attempt to identify a guiding thread that might indicate some sort of collective unconscious, this is where I've arrived. Considering the limitations that constrain Atlantan artists and art institutions, a problem that is not atypical for artists and organizations in the US, it seems to me that these works make apparent the overarching economic, and therefore social, infrastructures which limit. Many artists in Atlanta are both energized by what appears as endless possibilities, yet frustrated by certain constraints, namely, I would say, competition amongst artists for a limited pool of resources; the "winner" is usually easy to predict and tends to stay the same.
Notes
[1] Email interview with Mayuski.
[2] Phone interview with Gere.
Over the coming months, the Bad at Sports blog is featuring quick glimpses of the art world as it exists in smaller cities across the country and around the world. Each glimpse is byway of some of the said city's local characters, which include but are not limited to artists, curators, creative writers, and critics. In this Atlanta Day, Part 2 article, Bad at Sports correspondent Meredith Kooi has invited curator, performer, and arts administrator Priscilla Smith to examine some features of the city of Atlanta and its arts community: the good, the bad, and the ugly.
Since I moved to Atlanta (this is Meredith talking) to start my PhD, I've been trying to make sense of this city. Usually, I use the space of my monthly writing for Bad at Sports as an opportunity to think with and through the art, performance, etc. that I witness and participate in here. Being from Chicago, ATL was foreign to me; I didn't understand the ways in which it worked and all the complexities that determine it as the city it is. In this post, following Part I which examined "institutional legacy and memory," Priscilla Smith takes on some of what might have lead Atlanta to where it is now and offers a few projects that maybe it, and we, should look to as examples of ways to keep working. Smith, a native to ATL, offers her perspective on this place, what it has to offer, and, maybe, what we could do without.
Now, Priscilla Smith:
Context: I got invited to give Bad at Sports my take on "the scene" in Atlanta. "What a Great Opportunity," I thought. "It will be a Great Chance for Me to Reflect," I thought. 1,000 words? No problem.
50% too long and six days after my self-imposed deadline, it's still incomplete but I have to stop somewhere. Distilling my current experience as an art maker, producer, and participant in a city where I've spent my whole life is a bigger job than I'd imagined.
It's only in the past three or four years that an Atlanta art patron has had to make a deliberate choice from a substantial selection of openings, lectures, plays, dance, music, immersive performance art (all of some respectable level of quality, ingenuity, or both) on a Thursday. It used to be that there would be a couple of visual art events a month, the Nutcracker, the Symphony, and two or three theaters with subscription seasons of "regional premieres."
It had been a truism that, in order for an Atlanta artist or performer to "make it," she'd have to leave Atlanta to fatten her resume, then come back to be be-laurel-ed: the Returning Art Hero. Nowadays, an artist can keep quite busy right here.
Not that all this activity is yielding a livable wage for artists. A recent and credible article pointed out that Atlanta has the greatest discrepancy between Haves and Have Nots in the country. I suspect that the money had by the Haves is being spent elsewhere. Our lovely High Museum, with its permanent collection, gallery of African Art, current visiting exhibitions, etc., could fit into Chicago's Art Institute more than three times. Chicagoans spend money at home.
Instead, Atlantans spend money here on dining – fine, medium, and coarse. We spend money at our biggest-ass malls  — where the truest cross-section of our populace can be found. These places are huge, busy, and had very low vacancy rates during the worst of the current recession.
In contrast,  many private gallerists — largely a passionate, admirable group — allow that for days on end the only person walking through the door is working for FedEx. It isn't the "death of the gallery" Jerry Saltz so eloquently eulogized, though. He visits 30 a week. We might have 30 altogether.
Non-profits like WonderRoot, with the mission of "Uniting Artists and Communities to Inspire Positive Social Change,"  connect patrons and artists. WonderRoot established Atlanta's first c.s.a. (consumer supported art) project, a rare example of successfully implementing another community's good idea (see Fear of Originality below).
The scene in Atlanta is a fluctuating series of artwalks and public art extravaganzas, explosions of creativity and bitter disappointments.
Pretty much like anywhere else.
And, like anywhere else, people have opinions. Here are some of mine about our "cultural assets."
The Beautiful:
1. Atlanta is a hilly town in a deep forest. We don't have to make anything to live in a place of extraordinary gorgeousness.
2. Approaching Downtown on the abominable and divisive divided highways (Interstates were deliberately placed so as to perpetuate racial segregation), the traveler has the feeling of approaching a "real city" where buildings scrape the sky in a great variety of configurations from Beaux-Artes marble and a Neo-Classical gold dome to Phillip Johnson's Po-Mo IBM erection.
3. We've got a city center with a street scene with actual people in it. After years of ghost-townishness, there's hope.
4. Exuberance – 1,000+ showed up at the grand opening of the city's newest municipal gallery-cum-water-bill-payment-office.
5. Passion – About 2,000 signed a petition objecting to the censoring of artist Ruth Stanford's installation at Kennesaw State University.
6. Access – Artists of all forms can get their work before an audience; for example, a few significant spaces:
 a. Whitespace – Generous genius Susan Bridges' restored-to-within-an-inch-of-its-life Victorian mansion in the haute 'hood Inman Park is a beacon for the stable-turned-ideal-gallery in the backyard showing an impressive variety of art and artists. Mind-bending performances often grace the patio and lawns and the low-ceilinged cellar, dubbed "Whitespec."
 b. Skwhirlhaus – Another act of generosity, the not-as-grand-but-equally-moving backyard venue founded by Maryn Whitmore "dedicated to providing a place where artists can challenge themselves artistically while striving to create an original, complete work."
 c. Art on the Atlanta BeltLine – "The largest temporary public art exhibition in the South" commissions work for the "largest urban redevelopment" project in the U.S. of A.
7. Growth – More galleries, more public art, more theaters, more artists, more dance, more environmental performances, more clubs, more original music, more, more, more
The Ugly/Noise at Eyedrum :
"Musicians" come from all over the world in search of a P.A., a Facebook post, and a dozen pairs of ears upon which to try their experiments and discoveries, from cranium-splitting amplification of metal-on-metal banging like Christian noise artist Scotty Irving (Clang Quartet) to the a-rhythmic acoustic plunkings of a guitar with each string tuned to G. Ugly like a Baroque pearl and twice as valuable.
The Truly Ugly/(Some) Public Art: 
 1. The "official" Olympic Torch sculpture–psuedo de-constructivist cheap-ass agglomeration of steel trusses and pre-fab stairs (it's an embarrassment).
2. The un-"official" Olympic Torch (provenance indeterminate; lots of people mistake it for the real thing) – a 3-story bird cage with a turd on top.
3. Atlanta's own Triumphal "Millenium Gate," just like the arch in Paris, only it's made of fake stucco and was erected as a vanity project (wait, I guess Napoleon wasn't exactly humble) to adorn a private town built on the sludge of a defunct steel mill within the city limits.
So Ugly It's Depressing:
1. Fear of Originality – The Chamber of Commerce, the Atlanta Convention and Visitors Bureau, City Hall itself — all of these powerful entities look to what's going on elsewhere and try to imitate others' successful cultural forays without engaging the substantial resources of our own city. We pay consultants real money to tell us how better to run culture when spending money commissioning work here would go miles further.
2. Segregation – Aside from "the most segregated hour of the week" (church), the cultural life of Atlanta still struggles. However — While we've yet to develop audiences/patron groups that represent the full demographic profile of our cities or counties, things are changing. Every day. And addressing integration is a big reason why some of us stick around.
Ugly-in-Its-Absence:
Older Non-Monumental Architecture. Atlanta has historically and hysterically torn down anything it felt like in order to put up something new, even if the old thing was pretty and the new thing ugly. I remember as a young adolescent becoming aware of cool old buildings and spotting one out of the corner of my eye as we drove by. Three days later it was gone, making way for a pretty bland federal courthouse. The building I glimpsed was only about 50 years old, but it had towers.
Pretty-for-Its-Promise:
The good part is that someone pulled the string hanging above our heads, the light bulb lit up, and we're tearing down less. Lo and behold, there's an undiscovered cache of cool storefronts hiding under plastic signs and marquees in the underpopulated southern quarter of our re-bustling Downtown. Ebb and flow, pendulum swings . . .
The-Pain-in-the-Patooti:
Atlanta is a lot more like L.A. than New York. "Atlanta" often refers to a 13-county spread that can take four hours to traverse (or more) when traffic is bad–which is more and more of the time. As a result, there's more interesting work being made and shown than anybody realizes. Just as the Major League Baseball team is headed to the suburbs, the ballet, the opera, theater companies, galleries, artists, and clubs speckle the map.
Salve for the Pain:
The city proper "Inside the Perimeter" (or ITP in local shorthand) has a growing population after horrible years of exurban migration.
And to end, the Noteworthy (An Idiosyncratic listing):
1. Dance: It's everywhere  – In the forests, on trucks, in (defunct) factories, crosswalks, and it's challenging, authentic, conceptually dense, and breathtaking (Beacon Dance, Dance Truck, Glo ATL, Lucky Penny, Blake Beckham, Helen Hale, Dance Chance, Meredith Kooi).
2.  Living Walls The City Speaks urban conference and mural-a-thon — now an annual event; some excellent and some awful big outdoor wall paintings done by artists from all over the globe, gallery shows of their work, a real change in public and institutional perceptions.
3. Beep Beep Gallery Owners' success lead them to open a hugely popular bar "Mother."
4. SUMPTUARY – A month-long series of installations and performances where refreshment sales generated income for presenting artists. It was Where It's At when it was on.
7. Film Love
8. Poem 88
10. Flux Projects/Possible Futures Foundation
11. Doog Gallery
13. Radio 1690
14. Journalism: BURNAWAY, Creative Loafing, Arts ATL, Art Papers
Priscilla Smith became the executive director of Eyedrum Art and Music Gallery as a volunteer in 2009, and in November 2013, became Eyedrum's first paid employee when she started drawing a salary. She has created and presented performance art works, solo and in collaboration, in the streets and galleries of Atlanta since the early 1980s. Her first public art intervention took place in 1986 when she performed "I'm Sorry," in which she fabricated a deconstructed hoop skirt and apologized to passersby during the Atlanta "Tight Squeeze Festival." Most recently she distributed envelopes of money to passersby in the guise of "Lovey Joy" for her ongoing project "What I Did With The Money" as a commission for Flux Projects. In 2013 she played Clara 2 in Oh! Fearsome Head!, part III at The Big Haus. Other recent appearances include her original work "87 Gestures" for Dance Chance Atlanta and as a curtain-raiser for Oh! Fearsome! Head!, part II. She was a founding company member of ACME Theater that from 1980 to 1990 presented original performance works ranging from improvisational contemporary opera to full-length original dramas. She created a closing performance event for the centennial symposium in observance of the 1906 Atlanta Race Riot, has collaborated with Beacon Dance and John Q, and directed and produced over 35 evenings of student-created dramatic works at Horizons School and The Atlanta School in 21 years as an educator. She has served as performance coordinator for Art on the Atlanta BeltLine and was co-producer and co-founder of the 2010 Living Walls Conference. She holds a B.A. in speech and drama from Trinity University.
Over the coming months, the Bad at Sports blog is featuring quick glimpses of the art world as it exists in smaller cities across the country and around the world. Each glimpse is byway of some of the said city's local characters, which include but are not limited to artists, curators, creative writers, and critics. In this It's an Atlanta Day, Part 1 article, Bad at Sports correspondent Meredith Kooi has invited curators Rachel Reese and Beth Malone to share their thoughts on the present, past, and future of Atlanta and its artistic endeavors. In this two-part essay, they tackle the problems of legacy, responsibility, and inconsistency.  
As Rachel Reese (featured below) poignantly states: "I am currently looking ahead towards the past." This seems to be a common sentiment shared amongst many ATLiens. Considering Atlanta's particular history – it has burned to the ground twice – and its inconsistent flux of artist communities, it is apt that many artists, curators, writers, etc., etc. are engaged with Atlanta's past. Recognizing what has come before is essential to mapping out a potential future, or even making sense of the present.
Reese and Malone asked themselves:
Is legacy a socially-shared responsibility of a community? Who carries the onus of education or transferring communal history? How does one (or do "we" in a communal sense) maintain institutional knowledge when these "caretakers" of histories are in continual flux or transition?
and what follows is their working towards a resolution.
I.
Speakers of the Aymara language in Andean culture carry a view that is essentially opposite of how most cultures spatially conceptualize time: for the Aymaran, the past is in front of them and the future behind them. They call the future "qhipa pacha/timpu," meaning back or behind time, and the past "nayra pacha/timpu," meaning front time. Aymaran speakers gesture ahead of them when remembering things past, and backward when talking about the future. So what is known (the past) is what you can see in front of you, with your own eyes.
Questions of institutional memory drive a lot of my thought process recently. Atlanta is a small, close-knit, and motivated arts city, but apparently lacks a lot of "download" in terms of sharing communal histories – communal being the operative word.  And this is not a conversation unique to Atlanta. So a question I keep returning to is, where is the gap or disconnect between individual and institutional "gatekeepers" held over from prior years and a new generation of young artists in our city? Are we unknowingly repeating the past? Or, are we even aware of whom these gatekeepers are to begin with? Are we setting ourselves up for repeat performances, cyclic behavior without any memory? (Note: in full self-consciousness, I'm aware my inquiries are not new, a theme that in itself is timeless and cyclical). So, then, who carries the onus of responsibility? Is this always individually-motivated, or when do we decide this becomes a socially-shared responsibility? Does it boil down to messaging and communicating with others – is this the result of a communication gap driven by rapid technology shifts?
I recently heard Matthew Higgs, director and chief curator at White Columns, speak about not only the breadth of experiences, projects, and arcs in his career, but of particular interest to both Higgs, and subsequently myself, was his personal passion to what he calls "time served" with regards to professional employment and dedication to an organization throughout one's life. Sustaining long arcs in one's career calls for time and patience, and this model is increasingly diminishing in contemporary society, not excluding contemporary visual arts. Institutional positions sometimes come with term and funding limits, curators work independently and career hop between institutions so as not to stagnate and capitalize on programmatic opportunities when they arise, and "time served" does not carry the same weight or relevance as it might have a few decades (or years) prior. In opposition to this thinking, Higgs commented that his initial proposal for directorship at White Columns called for a 10-year plan, now currently coming to fruition (and he hopes to implement the ensuing 10-year plan).
Important in Higgs' argument is that making a commitment to an organization, a city even, and staying there, allows you to create a community around the ideas you want to explore and build it over time and space, growing and maintaining institutional memory often lost when leadership is in constant flux. It allows you to put forward new ideas and opinions while walking with certain histories. Atlanta is a fertile place with ripe histories and legacies to mine and maintain. But, it is important to contextualize these histories while not feeling burdened by them in the present. How can we, in a communal sense, build an academic Archive – both accessible to the public and organized upon best practices – while simultaneously re-contextualizing and re-performing those histories in a self-reflexive narrative running parallel to it? How can self-consciously marginal activities become self-historical?
The Atlanta Contemporary Art Center (ACAC) was founded in 1973 as Nexus, an artist cooperative formed by a group of Georgia State University photography students dissatisfied with exhibition opportunities available to them in Atlanta at the time. This fledgling co-op, individually motivated, grew exponentially comprising several spaces over four decades into an organization with various stakeholders, each with their own degree of "gatekeeping," over the past 40-plus-year history. Does art "community" exist on a macro level, or do we create and maintain more intimate connections that are professionally- or personally-motivated? As a localized "art community" grows (in scope, range, approaches) does it inversely become more polarized or fragmented? In other words, do we lose our "communal" spirit when concerns for individual viability, logistical practicalities, and financial sustainability, create unconstructive competition thereby rupturing communication between organizations or individuals in a community (and "community" is not necessary a condition of the geographically-based local).
I began these inquiries this past spring at ACAC under the name Resource Room Roundtables – essentially a monthly Monday morning "power hour" with Atlanta arts leaders and professionals to discuss a range of topics from measuring impact and success, to the importance of role models and field research in one's practice. Creating agile programming in an underutilized space carrying an outdated model (the Resource Room as "community billboard," pre-handheld digital device ubiquity) serves to rethink the model altogether, to present a series of cumulative investigations that overtime will begin to reveal their logic and possible outcomes. It is my belief that platforms can be non-hierarchical and democratic in terms of emphasis (thinking, researching, producing, presenting, analyzing), thus a redistribution of resources whereby formats are intended to overlap and develop from that overlap, to complement and interact with each other.
In the spirit of self-reflexivity, searching and allowing inquiries to drive this thought process is proving most fruitful at this stage of my "time served" in Atlanta; the phrase "settling down" has never been more comforting, in that I am here for the long haul, but after two years my work has only just begun. I am currently looking ahead towards the past.
-Rachel Reese
II.
For four years, Dashboard Co-op has moved forward with slim knowledge of recent Atlanta art history. We move instinctively, with present-tense intention, making decisions very pointedly, yet with eyes to the future. From our beginnings we've sought regular guidance from community leaders with the understanding that they have vast experience due to the nature of their reputations and charisma and community gossip. But without a presence of mind to do the historical research (75% of the problem, honestly), or an obvious communal archive to access materials documenting these "experiences" – we just took everyone's word for it.
My personal curatorial brain has been shifting lately sparked by a fleeting comment made by one of our most established and well-versed critics, Jerry Cullum:
COSMS is a transformation of a vacant office-tower space that, for us old-timers, brings back memories of such ambitious artist-organized events as the Thursday Night Artists' exhibition on the 50th floor of Philip Johnson's One Atlantic Center.
Upon reading this, I immediately felt a great sense of naiveté for having zero familiarity with his reference. Since 2010, I personally have had no problem forging ahead and, until now, had found my ignorance of the past to be blissfully refreshing and freeing. Jerry's mention of recent ATL art history (as he often does in reviews, so wonderfully) jarred me out of that bliss. With that very brief, though potent, reference came a new sense of pressure to respond, a desire to learn, and a nagging (though loving) sense of responsibility to preserve.
Taking on the responsibility to archive and preserve is something a community can take or leave depending on present day circumstances. Seven years ago, when the economy was at its worst in decades, there may have been no presence of mind to allocate funds for archival projects. The city's establishment was trying to keep its doors open with present-day programming, while the emerging scene was flourishing with energetic organizations and artists making quick, unregulated decisions on how best to respond to the freedom the economic downturn afforded us – vacant space, lax regulations, preoccupied purse-string holders.
Now, seven years later, with the recession passing out of view slowly, slowly, Dash has somehow maintained its footing without getting arrested, pissing people off, or bottoming out financially. To celebrate, we're pausing to breathe, make space, and define our curatorial practice – a practice that will be informed by specificity of space, place, and history.
We'll do the research; we'll continue conversations with our community leaders, but dig deeper into the work they did in the 80s and 90s. We're exploring dusty archives at Art Papers and ACAC and raising questions about where and how these archives are being presented and preserved at these and other established institutions. Namely, so we can access them with ease and use them as resource and support material in exhibitions.
I do personally believe we, as a presenting organization, have a responsibility to, on occasion, contextualize exhibitions with our historical past. These references directly respond to our own growth and sustainability; it improves the quality of our work and builds strength and appreciation within the walls of this expansive, multi-generational community. It may even act as a way to prevent mistakes of the past – though I don't subscribe to the belief that there were – but it will absolutely make "the Past" a breathing being that informs present and future work, rather than an unknown grumble with its arms crossed in the back of a gallery.
This interest/commitment to archiving will also inform Dash's current archival practices, meaning we will strive to maintain our own historical record. We need to create a space that is mindful of future artists,  curators, and critics who find themselves in a similar position as ourselves. But more selfishly (paranoid?), this is a way to control how we are perceived in the future, just as we attempt to control present-day perceptions. I hope to look to larger institutions to define "best practices" in record-keeping, while, in return as a young organization, make comment on functionality and access.
– Beth Malone
Rachel Reese is an independent curator and arts writer living in Atlanta. She is currently the Communications Manager at Atlanta Contemporary Art Center. She has worked for many years in commercial galleries in the Northeast? Assistant Director of Fleisher/Ollman Gallery in Philadelphia;  Financial Director of Deitch Projects, among other positions held at Andrea Rosen, Petzel Gallery, and Andrew Kreps in New York. In 2010, Reese founded Possible Press, a free periodical of curated artists' writings, and in 2009, began Possible Projects, an exhibition/curatorial space, with her husband Trevor Reese.
Reese regularly contributes to Bomb Magazine, and her writing also appears in Temporary Art Review, TWELV Magazine, and ART PAPERS. Reese was the former editor of BURNAWAY Magazine, where she edited the magazine's inaugural print publication, INTERIOR (2013). She is an adjunct at Georgia State University, and was previously at PAFA in Philadelphia. She holds an MFA from City College New York, CUNY.
Beth Malone is an independent curator and the founding executive director of Dashboard Co-op, an award-winning curatorial venture that activates raw space with immersive art. Dash has been nationally praised for its neighborhood revitalization efforts and curatorial vision by WABE, Business Insider, HGTV, Hyperallergic, and the Robert Rauschenberg Foundation, among others. In addition to her work with Dash, in 2011, Beth started the Teen Program at the High Museum of Art, Atlanta where she connected tens of thousands of teenagers with the Museum's collections and exhibitions. Under her direction, the program tripled in size, and now spreads across the Woodruff Arts Center to the Atlanta Symphony and Alliance Theatre. Beth holds a Masters of Letters from the University of Glasgow and participates on numerous review committees in Atlanta. Her animated films have screened in New York and Atlanta, her writing has appeared in numerous publications, and her neon sculpture is, meh.
Most of the time we want meaning to be immediately clear to us. Things should not be ambivalent. The glass should be see-through. The two-way mirror makes us uneasy; those on the other side can see us, but we can't see them – when we look into the glass, we are only given our own image back to us. If we are sighted, when darkness covers the world, we become anxious.
In a sense, objects remain opaque to us even though we can perceive them, know what they are composed of, and how they are produced. The object will always exceed our perception; we can only experience one side at a time. We surround ourselves with things. We feel that they are part of us. We attribute aspects of ourselves and particular sentimental histories to them. Still, they withhold something from us. When the hammer breaks, its usefulness dissolves and the tool becomes an impenetrable object taking up space in our world.
Places can be evasive to us as well. We land in an unfamiliar territory and the world has indeed become different. Even when we inhabit a place, get to know its streets, idiosyncratic landmarks, and affects, at some point, it shows us something of itself that we hadn't yet noticed. Parts of it remain hidden from us.
The oscillation between the veiled and the disclosed resonates in a particular way within the context of the South. Here in Atlanta, something about the city is so open and accessible but, at the same time, closed off and enigmatic. Same goes for a certain kind of beauty that I've experienced amongst many works here. Vibrant colors entice. Beauty can be deceptive. Southern hospitality can be misleading.
Multiple works either currently or recently on view in Atlanta engage in the interplay of opacity and transparency. These works open themselves to the viewer while simultaneously refusing her gaze.
Absent Bees
Most of the works in Morgan Alexander's solo show remembering, forgetting, and remembering again at Swan Coach House hide themselves behind a translucent veil; panes of etched glass create a barrier between the viewer and the materials underneath. For the works in the series no title – are these the voices of our departed, or is it just the gramophone?, the underlying material is reclaimed wood from out-of-commission beehives. At first I thought the title strange – what did the gramophone have to do with anything? However, at some point, I began to hear a buzzing in my head; maybe the bees had returned from their disappearance.
Alexander mentioned that for honey bees, empty space provokes anxiety. If there are unwanted gaps, the worker bees will fill them with bee glue, or propolis. Using this material, the hive seals itself off from the outside. The traces of propolis found in the works no title – are these the voices of our departed, or is it just the gramophone? signal space denied. Similarly, the sculptural works in the show, where have they gone? where are they going?, are closed off from their environment. Using a Japanese method of wood charring in order to preserve the wood from insects and fire, Alexander's cypress beehives attempt to stand apart from what lies outside them; these hives want to rest in impermeability. However, no bees live here. Colonies have been vanishing. In a gesture towards insular preservation, these sculptures stand empty.
Alexander's work that is moving in a new direction, away from the focus on the beehive, opens up space while withholding it. The works in the series no title – tokonoma are influenced by tokonoma, which means room and describes a particular practice in Japanese interior design. In this room, the homeowner displays aesthetic objects, but the tokonoma is not meant to be inhabited by people. no title – tokonoma (constructed drawing in three parts) seems to be these rooms in miniature. no title – tokonoma (constructed drawing in two parts) confronts the viewer with two kinds of voids. One is the darkness that swallows you. The other is almost celestial. This work is reminiscent of a painterly tradition which could include Ad Reinhardt's black paintings or Robert Ryman's white paintings, but witnessing these may be more akin to the paintings that live in the Rothko Chapel. Each of these parts invites the viewer into their depths while also pushing her out.
Familiarity Denied
Micah and Whitney Stansell's show Scarlet Air at Whitespace seduces the viewer into its multi-channel video and sound installation. Spliced between open-ended narrative scenes, displays of various objects resting on a bare mattress fade into vibrant pink, orange, red, purple, and turquoise hues. Rotary phones, VHS tapes from the 90s, a cassette walkman, an ashtray with a still smoking cigarette, John Steinbeck's East of Eden. We are familiar with these objects, though they appear out of place and are taken from our view. The color tones obscure these objects and they recede into a horizon of pure digital color. The void of the blue projector screen takes over. 
Some of these objects pictured have become or are on their way to becoming obsolete. Channeling the 1990s, the Stansells present us with the heyday of late capitalism and disposability. The walkman replaced by the iPod, the rotary phone replaced by the cell phone and/or computer with internet access a la Skype/video chats.
Grounding these obscured and obsolete objects are picturesque and pastoral places. Many viewers attempt to identify the places that appear in the Stansells' works, and I wonder why this is. What is it about these places that drives Atlantan viewers to locate them? The Stansells say that many people say that the places feel like where the grew up. These locations are familiar to people.
However, a few moments of disorientation disturb the narrative. The woman takes a walk with a man in the woods. On one of the soundtracks accompanying the film, their conversation is disrupted by tones. We get a glimpse into their dialogue, but we are denied full access. At another moment, a sharp jump from reality occurs. The protagonist lays back on a wrapped mattress, seemingly irritated by her job at a Value Village. When she hits the mattress, we cut to an aerial view; the mattress rests in a section of broken pavement in a parking lot. The woman looks up.
These are the compelling moments; perhaps what the voiceover soundtrack intends when she states "This is a falling action." The narrative we've constructed in the particular place while watching the film breaks for a moment and we have to regather. The objects recede into the horizon and we are left with nothing to hold onto.
Framed Forests
Abelardo Morell's newly commissioned work for the High Museum's photography series "Picturing the South" simultaneously summons into and rejects the viewer from the image and the imaged landscape. Using mirrors and other framing devices Morell creates a surreal environment. These techniques trick the viewer into thinking she is seeing the thing itself, though, she discovers, she is indeed not. Morell's focus on the dense landscape of trees, different from many of the expansive shots the Stansells include in their film, disallows the viewer from entering the scene. As opposed to the woods walk in Scarlet Air, the viewer can't picture herself in this environment. She is denied access. The trees stand apart from her. Layers of trees infiltrate each other – an interplay of inside and outside within the frame. 
Southern Persuasions
For each of these projects, the South appears as the aesthetic impetus. The Stansells claim that they couldn't ignore the southern landscape and narrative; the countryside and the ways in which stories are told have forced the artists to consider them in their film and installation projects. For Alexander, both the cultivation and destruction of the land and traditions of the South beckon for a certain kind of aesthetic. He describes his interest in yugen, an element discussed in Japanese aesthetics meaning obscurity, dimness, mysteriousness. Perhaps in a more superficial connection, Morell was given the task of "picturing the South." That said, the photographs making up that series vacillate between inside/outside and various layers in peculiarly different ways from the ones represented in the rest of his retrospective, suggesting that there is something about this place that calls for a different method of image-making. 
I am still trying to decide what the aesthetically beautiful does for me. I am taken in by it though I usually prefer the raw and transgressive. Something that both repels and compels you.  However, there is something to be said about the delicate and enchanting; it has the ability to keep more viewers within its throes. But, what does it mean to be seduced by a work? Instead of shaken by it? Which is more potent? Does it depend on what needs to be said?