Thursday
Albert Oehlen: A Vanguard With Decorum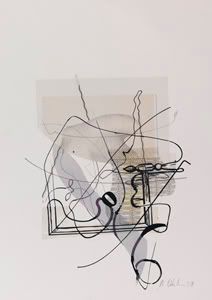 Opening!
May 14 5-9pm
May 14-June 27, 2009
Corbett vs Dempsey
1120 N. Ashland
Chicago, IL 60622
"This show will unveil Oehlen's stunning new series under the banner A Vanguard with Decorum. The exhibition will include 15 intimate, graceful drawing-collages on paper, a huge drawing based on the title of the show, and a spectacular new painting. Clearly related in their reduced palette and graphic quality to the computer works, these new pieces introduce an unforeseen modernist architecture while amping up the looping, curvaceous, linear intensity." via the website
Friday
Manifest Urban Arts festival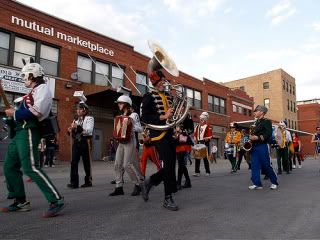 Various locations, between Roosevelt and Congress and State and Michigan. Map it here.
11am-10pm
Circus punk marching band Mucca Pazza kicks off the event at 640 S Wabash Ave at noon!
"Experience Manifest. Columbia College Chicago's urban arts festival celebrates the work of seniors and graduate students from every department on campus. Manifest 2009 will feature an artwalk & sale, music on four stages, screenings, readings, live radio, Web casts, the TICTOC Performance Art Festival, the Transmission art car exhibition, Spectacle Fortuna's parade of creativity." via the website
Check out the insane schedule of music, workshops, performances and exhibitions here. Get a pdf version of the schedule here.
Saturday
Weiner Takes All: A Dogumentary
Chicago premier!
Friday, May 15, 6:15 pm
Saturday, May 16, 5:45 pm
Monday, May 18, 8:15 pm
Gene Siskel Film Center
164 North State Street
Chicago, Illinois 60601
"The little-known world of wiener-dog racing is investigated with humor and charm in a film that appears to have (ahem) legs, based on the ecstatic audience response generated by its numerous festival screenings around the U.S." via the Gene Siskel website
You can check out the trailer here.
Grand opening of the Art Insitute's Modern Wing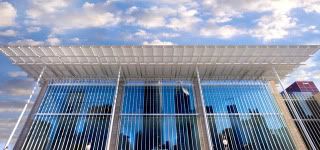 Free admission May 16-22
Grand opening May 16, 9am-5pm
Art Institute of Chicago
111 S Michigan Ave
Chicago, IL
"Celebrate the Modern Wing's public unveiling with AIC on Saturday from 9 a.m. – 5 p.m. Good times include a dedication with architect Renzo Piano at 9 a.m., a ribbon-cutting ceremony at 10 a.m., and live music/dancing from acts like Swing Gitan, Maxwell Street Klezmer Band, and Hubbard Street Dance Chicago. The grand opening exhibit is Cy Twombly's "Natural World", which will be on display through September 13 at The Abbott Galleries-the Modern Wing's special exhibition space located on the first floor." via the chicagoist
Friday
Opening!
6-9pm
May 8- June 6, 2009
Roots and Culture
1034 N Milwaukee
Chicago, IL 60622
In her Video Animations, Sabine Gruffat experiments with live-rendered computer animation and unexpectedly combines it with analog signal processes dating back to early video art techniques. Vanesa Zendejas will exhibit a suite of new paintings and drawings that "collect and redistribute patterns and textures."
Saturday
Jenny Walters: In Lieu Of Gifts
Opening!
7-10pm
May 9-June 13, 2009
Green Lantern
1511 N. Milwaukee Avenue
Second Floor
Chicago, Illinois 60622
"Evoking a consciousness of nostalgia and absence, Walters' work probes the idea that identity often exists in a fluid state. It is in this investigation into stages of uncertainty–the doubling, dividing and interchanging of the self–that she so adeptly creates a visual experience of the uncanny or a sense of helplessness evoked by the anxiety of unknown emotions." via the press release
Sunday
Michael Coolidge: Free Bowl Excursions on the City of Chicago (Or, a socio-recreational approach to the art of land use interpretation)
12-2pm
Institute for Community Understanding Between Art and The Everyday (InCUBATE)
2129 N. Rockwell St.
12:00pm – 2:00pm
Michael Coolidge, Guest Chef and InCUBATE person-in-residence, presents… Free Bowl Excursions on the City of Chicago (Or, a socio-recreational approach to the art of land use interpretation). $10 per person includes brunch by Sunday Soup.
Opening!
3-5pm
May 10-July 5, 2009
Hyde Park Art Center
5020 S. Cornell Avenue
Chicago, IL 60615
"Artists Run Chicago is an exhibition showcasing the energy and audacity of some of the most noteworthy artist-run spaces that have influenced the Chicago contemporary art scene over the past decade. Chicago has long been known for cultivating a strong entrepreneurial/Do-It-Yourself spirit in business and the arts. The participating artist-run venues have transformed storefronts, sheds, apartments, lofts, industrial warehouses, garages and roving spaces into contemporary art galleries testing the notion of "exhibition" while complicating the definition of art. Coinciding with the Hyde Park Art Center's 70th anniversary, Artists Run Chicago reconnects the Art Center to its beginnings as an artist-run space by showcasing spaces that continue the legacy."
Featuring: 1/Quarterly, 65GRAND, Alogon, Antena, artLedge, Butchershop, Co-Prosperity Sphere, Devening projects + editions, Deluxe Projects, Dogmatic, Fraction Workspace, Fucking Good Art (FGA), Green Lantern, He Said-She Said, HungryMan, joymore, Julius Caesar, Law Office, LiveBox, Margin Gallery, Medicine Cabinet/Second Bedroom Project Space, mini dutch, Modest Contemporary Art Projects, NFAVONZWECK. Space, Normal Projects, Old Gold, Polvo, Roots & Culture, Scott Projects, Standard, Suitable, Swimming Pool Projects, Teti, The Suburban. With special contributions by Imperfect Articles, INCUBATE, Mess Hall, Seven Three Split, and ThreeWalls.
Screening at the opening: If I record this now, I won't forget you in the future
A video show to represent the Swimming Pool Project Space. Â It includes 8 video artists: Rob Carter, Julie Lequin, Lauren Gregory, Lisa Majer, Aspen Mays, Michael Robinson, Oli Rodriguez, and Aaron Hoffman.
Check out the website for an extensive list of events including kimchi demonstrations, bike tours, cookouts, screenings and more.
This is a slightly abbreviated edition of our weekly post, due to the craziness that is VersionFest happening all weekend long. So much to see/do!
Thursday: (tonight!)
The Society for Contemporary Art presents: Cameron Jamie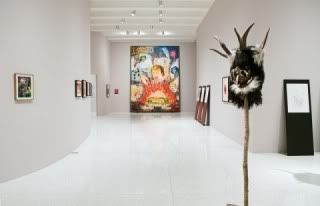 Artist Talk
April 23, 2009 6-7 p.m.
Price Auditorium
The Art Institute of Chicago
(312) 443-3630
$20/$15 for Society for Contemporary Art members, free for staff and students. Please call for more information.
From the press release: "Cameron Jamie investigates ritualistic practices, mythologies, and folkloric traditions that lie at the fringe of popular culture. Best known for his films, Jamie works across media, incorporating drawing, sculpture, photography, and performance in his exhibitions."
Friday:
Response: Art and the Art of Criticism
Opening!
Friday April 24th 5-7pm
I space
230 West Superior St.,
Chicago, IL 60654
Work by Fred Camper and Adelheid Mers; Janina Ciezadlo and Silvia Malagrino; Alicia Eler and Carrie Schneider; Jason Foumberg and Carol Jackson; Claire Wolf Krantz and Claire Prussian; Corey Postiglione and Duncan MacKenzie with Christian Kuras; Lane Relyea and Conrad Bakker; Polly Ullrich and Christopher Meerdo; Lori Waxman and Dianna Frid.
Sunday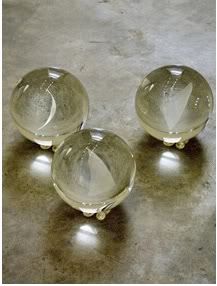 Opening!
April 26th, 2009 at 4 pm, discussion from 5-6pm
Renaissance Society
5811 S. Ellis Avenue
Bergman Gallery, Cobb Hall 418
Chicago, Illinois 60637
Via the Ren's
website
: "Titled after an essay by the late philosopher and literary theoretician Jean-Francois Lyotard, Several Silences is a group exhibition exploring various kinds of silence. As a discourse, the aesthetic of silence has been thoroughly domesticated within the visual arts. Although silence as a discourse in art arose out of conditions calling for the negation of art, it has subsequently become familiar subject matter no longer operating as the avant-garde ideal it once was. This is not to say silence has lost significance. If anything, it has become a more potent antidote to a culture of distraction. Silence, however, is not the absence of communication. It is dialectically opposed to communication, so that one sustains and supports the other. Inextricably bound to communication, which it tacitly evokes, silence itself is a form of communication with many meanings. There are voluntary and involuntary silences–some comfortable, others not. There is Cage's silence, which calls for the distinction between clinical and ambient silences. There is silence as conscious omission or redaction. And then there is memorial silence."
There will be a talk between Hamza Walker, curator of the exhibition, and Thomas Trummer, curator and Project Manager for the Siemens Arts Program, Munich, Germany, from 5 – 6 pm.
Friday

Luke Dowd: Happy Happy Sad Sad
Opening!
April 17 – May 30, 2009
Tony Wight Gallery
119 North Peoria Street, #2C
Chicago, IL 60607
Tuesday – Saturday, 11 – 5 pm
from the press release:
"London-based artist Luke Dowd's patterned depictions of diamonds engage the volatility embedded within notions of value. Using screen-printing as gesture, Dowd creates subtle gradients which imbue his images with a faux luster mimicking the qualities of actual gemstones. These painted diamonds appear to reflect and refract light, just like the real thing, pointing towards the sheen of high culture and status, both implicit and inseparable from the value system to which we collectively subscribe. However, these images are also able to extend beyond the role of pure representation, as they address the fictional nature inherent to our conceptions of value."
Also opening at Tony Wight: Olio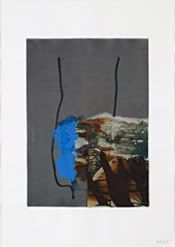 April 17 – May 30, 2009
From the press release:
"The title of the exhibition makes reference not only to the heterogeneity inherent to the medium of collage, but also the heterogeneous nature of group exhibitions. Included in the show are works by Tamar Halpern, Pablo Helguera, Arturo Herrera, Shinique Smith, John Sparagana and Dannielle Tegeder.
Since its appearance in the Synthetic Cubism of Picasso and Braque, through the Neo-Dadaist assemblages of the late Robert Rauschenberg, the collage impulse has provided both an immediacy and malleability which has been frequently engaged and reinterpreted in subsequent generations. While the works in Olio are not necessarily pointed homages to earlier collage, they are each forthcoming in their indebtedness to the medium. By feeding common or popular imagery through various procedures-cutting, pasting, scanning, layering-these artists complicate the immediacy of their original materials. The resulting artworks skew our normative reception of otherwise familiar images."
Version Fest Fundraiser at Country Club Chicago
April 17th, 2009
7:00 PM – 11:59 PM
1110 N Damen
Chicago, IL 60622
A raffle/auction party to raise funds for the 8th annual Version Fest.
Saturday
Buckminster Fuller: Starting with the Universe
March 14 – June 21, 2009
MCA
220 East Chicago Avenue
Chicago, IL
From the website:
"A man of remarkable prescience, Fuller's credo was "more for less," and by the late 1920s he recognized the need for environmentally sound design that would benefit the largest segment of society while using the fewest resources — a decidedly contemporary concern. Believing in the interconnectedness of all things, Fuller's ambition in life was to close the gap between the sciences and humanities for the genuine good of humankind. His work has extensively influenced the artists, designers, architects, engineers, environmentalists, and mathematicians of today."
Opening night film: Salt of this Sea (Milh Hadha Al-Bahr)
8:00 pm
Gene Siskel Film Center
164 North State Street
Chicago, Illinois 60601
Part of the Chicago Palestine Film Festival, which starts on Saturday and runs through April 30th, director Annemarie Jacir will be at this screening to engage in a discussion after the film.
From the website: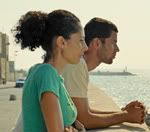 "In part a road movie, the story follows American-born Soraya (Hammad) from her contentious entry into Israel to reclaim her grandfather's bank account, through stolen days of freedom on a trip to Ramallah, where the reality of her family's missing legacy sets in. Soraya's determination to assume a Palestinian identity and history finds an ironic counterpoint in the resolve of her Palestinian-born new lover Emad (Bakri of THE BAND'S VISIT), to leave it all behind."
Thursday (today!)
Mechanisms for Validation (Please, please just love me, or at least tell me I'm pretty, but I'll settle for confirmation that I'm smart)
April 9th, 7pm
threewalls
119 n. peoria #2d
Chicago, IL  60607
Moderated by our very own Duncan Mackenzie
"Join us for this threewallsSALON to discuss the means by which artists and practices are validated in the contemporary art world, where that validation comes from and how it is bestowed." via their website
The Generational: Younger Than Jesus
4/8/09 – 7/5/09
New Museum
235 Bowery
New York, NY 10002
"For "Younger Than Jesus," the first edition of "The Generational," the New Museum's new signature triennial, fifty artists from twenty-five countries will be presented. The only exhibition of its kind in the United States, "The Generational: Younger Than Jesus" will offer a rich, intricate, multidisciplinary exploration of the work being produced by a new generation of artists born after 1976." Via the New Museum website
[Tim says] This show opened earlier this week, but I did not get a chance to see it.  Billed as the "signature triennial," the New Museum still seems to be in heavy competition for attention amongst the heavy hitters at Whitney and P.S.1.
Friday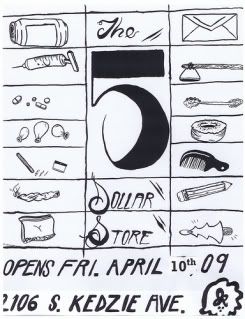 April 10, 2009
7-12 pm
2106 S. Kedzie Flr. 3
Chicago, IL 60623
One night-only special event – Artists make items for a convenience store, most cost 5 bucks or less. Yay cheap art! [Claudine]
Intervals: Julieta Aranda
April 10 – July 19, 2009
The Guggenheim
1071 Fifth Avenue
New York, NY USA 10128
In Aranda's presentation, four conceptually related works propose an alternative notion of temporal experience as a shifting and unquantifiable state, liberated from rigid conventions of measurement.
[Tim says]
In case you can't tell yet, my event calendar is usually determined by the artists that surround me.  Julieta Aranda is one of the artists behind e-flux and an editor for their journal, although I have not seen much of her given that she has been installing this show, finally opening on Friday.  Tyler Coburn mentioned Julieta Aranda as an artist to watch in the March issue of Art Review.
You are Young: New Sculptures by Ali Bailey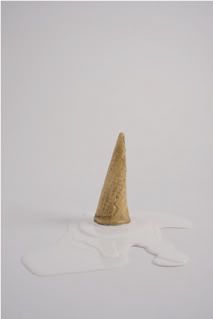 7-10pm
GOLDEN
816 W Newport
Chicago, IL 60657
"Ali Bailey's most recent work describes fictional scenarios that hint to a collective memory or experience while addressing multiple themes of chance, failure, melancholy and loss. Bailey's body of work utilizes a wide range of materials from industrial plastics and polyurethanes, to plaster, oil paint, and found materials. In a similar vein as Chicago artist Tony Tasset, Bailey forces one to consider the history of sculpture: carving, forming, molding, and the ready-made. Bailey uses his own symbols of adolescence and transience to reveal a tension between a unique experience and a shared consciousness." via the gallery's press release
Saturday
Unbuilt Roads Presented by Hans Ulrich Obrist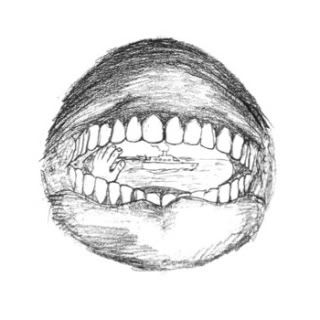 OPENING Sat. April 11, 2009
6-8PM
e-flux
41 Essex Street
NYC NY 10002
Based on the book Unbuilt Roads:107 Unrealised Projects, Hatje Cantz (1997)
edited by Hans Ulrich Obrist and Guy Tortosa
From the e-flux announcement:
From April 10 to July 19, 2009, the Guggenheim Museum will inaugurate Intervals, a new contemporary art series, with a multipart installation by Julieta Aranda (b. 1975, Mexico City).
[Tim says] This is the first official exhibition opening in E-flux's new project space at 41 Essex street.  This is also the first time in a few years Hans Ulrich Obrist has done a project in New York.