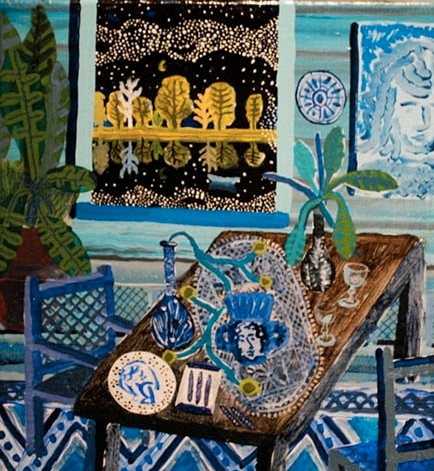 I feel better already, or at least I think I do is Austin Eddy's first solo show which opened at GOLDEN gallery a few weeks ago. The exhibition consists of 11 paintings and one installation of (when I saw them) dying tiger lilies in a hand-made clay vase perched atop a green doily (my Sicilian grandmother is very drawn to this particular shade of green). In the first room of the gallery the paintings depict intimate interior spaces, while a second room shows tighter painted portraits of plants.
The paintings are small, most under two feet, and at first glance the gallery appears a little empty. Perhaps this is because the last show I saw in the space was huge photographs that took up most of the walls. The paintings themselves, however, seem to vibrate with energy. They are incredibly, almost absurdly, overworked, with layer upon layer of texture and pattern. Yet somehow they feel restrained; there is a great tension between the almost grotesque amount of physical material and detail, and these moments that are executed with such control and gracefulness that make the pieces as a whole feel so much more comfortable to look at.
The perspective in the depictions of interior spaces is playful and storybook-like, imparting a super flat feel to all of the work. The few figures that appear function like the other objects in the room, feeling flat and expressing almost caricatures of emotions. The titling add another aspect to the playfulness of the work, with names such as "sometimes you have to just make things work, even when its really hard.", "my what a glorious view you have of the milky way there, pete.", and "sometimes some things seem far better in other places.". The name of the show and the titles impart a hesitant or unsure mood on the work, while I think the work itself appears super confident, almost cocky in railing against conventional views of less being more. They also suggest pretty bizarre narratives (at least in my head).
I was really interested in Eddy's practice and what he had to say about this new work, and he was kind enough to answer some of my questions (even though it was Thanksgiving day) [Read more]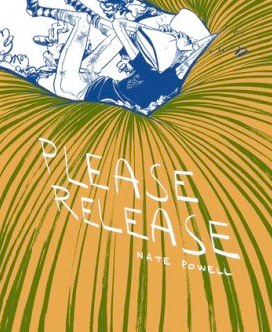 I honestly can say that I never thought I would find a comic (graphic novel? whatever) that felt so close to my own life. Nate Powell's book, Please Release, is a collection of four stories created between 2002 and 2005 in Arkansas, Rhode Island, Florida and Indiana.
The first story, The Phantom Form, was captivating to me. You become aware of his job (direct support for adults with developmental disabilities) and his politics (radical) immediately. He speaks very eloquently about "debasing power dynamics" in his work, and lack of privacy as well as trust with the adults he works with. There is a wistful cast to the whole book, and the pages seem very much alive with various music lyrics that flow through the panels.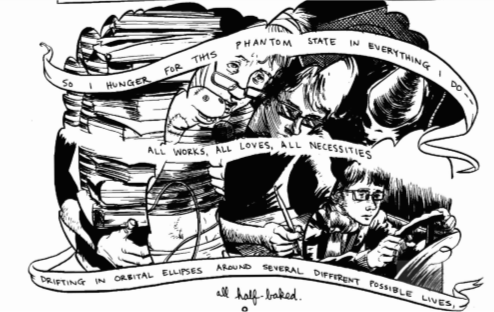 Punk romanticism and the sentimentality of a transient lifestyle are captured, as well as an intense melancholy. Powell illustrates his interactions with adults with developmental disabilities with honesty, respect, and subtlety that I don't think I've ever seem before, especially in comic form. In the third story, Work At It, there are almost two pages depicting Powell and a man that he works with staring at each other while they're taking a walk. One panel depicts the two men as muscle and bones, two humans with the same structure looking at each other, and then they are shown back in their clothes, back in the dynamic of care provider and incompetent person.
Full disclosure- I work as an art instructor for adults with developmental and cognitive disabilities who are Deaf or Deaf and blind. This could be a large reason why I devoured this book and promptly ordered his previous work on Amazon. But I firmly believe that the stories are honest and lyrical in a way that isn't hokey, and that Powell has an intense understanding of his craft, the illustrations, flow, and dialogue in the book are fantastic.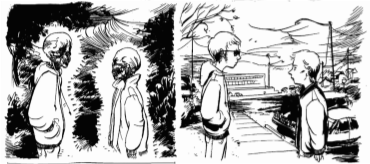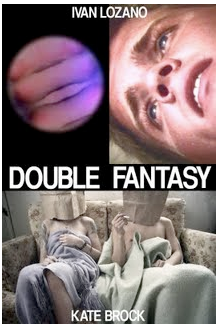 Man, I love when the name of a gallery references where it is located. I mean, how convenient? Noble and Superior Projects had their first opening this past weekend with their show DOUBLE FANTASY featuring the work of Ivan Lozano and Kate Brock. The brand spanking new gallery is run by SAIC grad students Erin Nixon and Patrick Bobilin.
The space is an apartment that is not trying to be anything more than what it is. You enter through the kitchen. The show consists of an installation by Lozano and a small room of Brock's photography. The installation is a projected video with sound, two circles on of video the wall, the bottom image falling onto a mirrored floor. The bottom is a male face, in agony or ecstasy, in extreme slow motion. The top image is more amorphous shapes, colors and patterns. The sound is repetitive and loud, like exceptionally unpleasant dance hall music. The piece is encompassing and engrossing, spilling off the wall onto the floor, changing the color of the entire space, with mesmerizing patterns. I couldn't stop watching. Knowing a little bit of Lozano's work, I understood the allusions to disco and could tease out the origins of the bottom face from some gay porn. However, because there wasn't any literature available at the show, I think some of the subtleties that could have been enjoyed (where the footage came from, heck, even the title of the piece) were inaccessible.
Brock's work was photography displayed in a small room off of the installation. There were four small black and white images, three slightly larger color, and four large color prints. They were all portraits of semi naked, thin, attractive people in various environments, sitting, standing, lounging, wearing brown paper bags to cover their heads. They are expertly executed portraits, visually stunning, with urban landscapes and intimate interior spaces as the backdrops. From the gallery website, the series (BAGHEAD, not sure why all caps) "highlights the shape of the body and forces the viewer to imagine each of her characters through the prism of an irreconcilable anonymity." Well, yes. Because there is no face to connect your gaze, you are left looking at these people and their attractive bodies. I enjoy this idea of removing agency, and how the relationships between the characters are complicated by the lack of eye contact, in the series however it comes off as a sort of one-liner.
I did appreciate the dialog between Lozano's work and Brock's. There was delicate connection between where to place or locate the gaze in the photographic as well as an extreme emphasis on the gaze in the larger than life face in the installation. In the conversation between the work, Lozano's work felt much more secure in a time and place (post-AIDS epidemic) while Brock's work felt very contemporary it did not feel deeply attached to a history.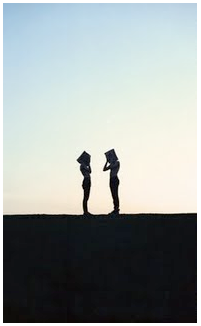 More so than the show itself, chatting with Nixon and Bobilin really excited me about the future of the space. They want to focus on two artists at a time; one working in a way that must be "experienced" (I'm thinking more video, installation, performance) and the other in a way that is able to be easily distributed. For this show, I got to take home a small photo of Brock's work (packaged in a paper bag, no less). I think this could be a very dynamic experience, and with so many galleries or shows focused purely on one concept or the other, I am interested to see how this plan develops.
Noble and Superior Projects is located at 1418 W Superior St in Chicago, IL. They are open to the public Saturdays from 12-6 and monthly for openings. They can be contacted at nobleandsuperior (at) gmail.com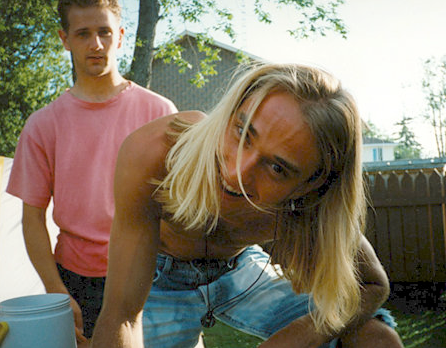 Presented by the Department of Film Video and New Media at SAIC, the Video Data Bank and the Gene Siskel Film Center, as part of their Conversations at the Edge series, Mark is a video portrait of Mark Karbusicky, created after his suicide in 2007.
Director Mike Hoolboom began his opening remarks by stating that there was a time in his life when all the good things happened in a movie theater, until a day in 2007 when he found out that his friend and collaborator of six years Mark had killed himself, which he was told right before a movie began. Yikes.
The film reads less like a documentary and more like a moving collage of stock footage, childhood portraits and relics, as well as interviews with his friends and family. Beginning with his oldest childhood friend, the film traces the life of a man you end up knowing less about in the end than you did to begin with. It is an odd portrait in that it seems to capture more the periphery of his life than actually attempting to memorialize the man himself. Or perhaps documenting the margins of his life, his politics, odd moments in home videos, Hoolboom was attempting to achieve a more genuine view of Mark as a person.
Created mostly of footage taken by his partner (who happens to be transsexual, although this is actually irrelevant), of her own performances and activism, Mark by default seems to be the supporting character in his own life memorium. Mark was clearly a tortured person. Deeply invested in animal rights, queer politics, and helping others with mental illness, a lot of attention was focused on how little he cared about himself and put all others before him. Hoolboom spoke after the screening about how the film was created in the space between the way things were before Mark had died and before things had settled into the way they would be after his death. The rawness of this period is apparent especially in the interviews, which were all done within the year after his death.
The film is edited to create an intense amount of tension. Many pieces of footage are overlapped, the hand-heldness is emphasized in upside down and shaky camera work, and shots seems to be just too short, or just too long or just too out of focus for one to feel comfortable. In an interview with one of Mark's friend and coworker, the camera is at table height, and the woman is half obscured by a large candle holder. The focus goes in and out as she tells this heart-wrenching rendition of their final interaction. After the screening, Hoolboom explains that he wanted to give his interviewees physical space, and referenced this shot in particular to demonstrate how he wanted the candle to mediate the space between her and the camera. Although I acknowledge the gesture after he spoke about it, during the shot I felt myself wanting to peer around the obstacle and actually see her face. Another shot I thought was more successful was that of Mark's partner Mihra-Soleil Ross; the camera was focused on the deep red wall of their apartment, you could see a bookcase and a plant, and she walked almost around the frame while she spoke about her recurring dreams during their ten year relationship that he had left her. Her body was just present enough to give you a sense of agency, but the lack of her presence really caused you to focus on her words and storytelling.
I wish the voiceover was left out. Hoolboom in person is charming and eloquent and gesticulates beautifully; on screen his voice seems affected and melodramatic. I think the subtly is lost when documentarians feel the need to describe what has happened instead of letting moods come across through images.
The film was successful in that it felt vast and encompassing, through the use of stock footage that spanned decades, Mark's own home videos and photos as well as different people speaking about him. It did not feel like the entire momentum of the piece lead up to a dramatic revelation of how he killed himself, which was refreshing. Hoolboom said that his death was not the most important thing that happened in his life, and I think the film reflected this sentiment.
I forget that sporadically posting for an awesome blog can be construed as arts journalism, and this pays off in many ways. One of these payoffs I got recently was being able to see a media preview of the MCA's two new shows: Liam Gillick: Three perspectives and a short scenario, and Jeremy Deller: It Is What It Is: Conversations About Iraq. Both Gillick and Deller were there, as well as MCA curator Dominic Molon.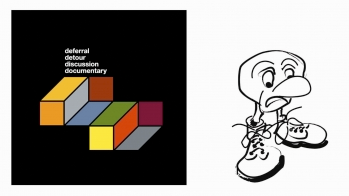 Liam Gillick is completely charming Englishman who wore very nice shoes. The MCA is the last institution to host the exhibition, which was previously in the Witte de With in Rotterdam, Kunsthalle Zurich, and the Kunstverein in Munich in different manifestations.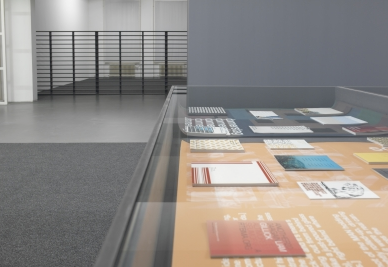 Gillick began speaking by saying that he was curious as to how one could reinvent the midcareer retrospective. Instead of seeing the evolution of his work as a linear progress to be documented according to its timeline, he noted his own "promiscuity of ideas" and wanted to return to his own 17-year-old, suburban, pre-art aesthetic for this survey. Consumed at that time in his life with the legacy of acrchitecture and design, Gillick and curator Dominic Molon (through "dynamic argument and discussion") created a space that is half carpeted and half concrete, separated by wooden screens. The normally milk white plexiglass ceiling in the gallery is replaced by multicolor plexiglass tiles. There is a vitrine with various posters, books, small designed objects, and publications, which is stunning to look at. Interestingly, Gillick likened this collection of paraphernalia to the experience of moving your home or apartment, and realizing you have so many things, and then realizing that you don't want to be the sum of these things. There are only two small images hung on the wall, a hand drawn self portrait, next to a digital cubic image done by a German graphic designer. The portrait, which looks like a dopey school mascot, Gillick jokingly described as representing himself as well as all "verbose, self involved, white guy artists of the past 50 years". The last piece in the room, which appeared incredibly sparse, especially for a retrospective, was a power point presentation set to a repetitive drum beat. Gillick spoke about how he created the drum beat, and then pulled one image at a time, pairing with each image one line of a story that he made up as he went along.
Jeremy Deller's artist talk felt very different than Gillick's. As the herd of us media folk slowly was lead into the room, Deller invited us to sit on the nice ikea furniture in the center of the space. There was a coffee table, there were tea and cookies, and mostly everyone was very uncomfortable being asked to sit down. A few martyrs sacrificed themselves and sat down, and then Deller introduced the project. In the space, there are the rusted remains of a car, exploded by a car bomb on Al-Mutanabbi, a street in Baghdad in 2007. This car was towed behind a truck on a six week trip that the artist, an Iraqi citizen, and a marine (that sounds like a terrible joke…) took across the country before the work was exhibited. The artists explains the trip, which was filmed, as a way to promote discussion about the war in Iraq with everyday people as the troup stopped in cities across the US. Also displayed is a huge flag by artist Ed Hall that says "It is what it is" in English, and an equivalent saying in Arabic below it. Painted on two walls are Iraq and the United States, on which the artist has proposed sister cities or twin cities, mimicking what France and Britain did after the second world war to foster community and dialogue between cities that had been in conflict.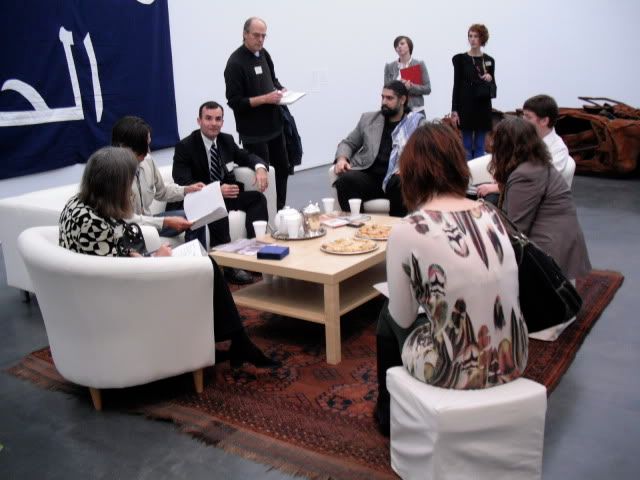 The "main part of the show", as Deller put it, was the lounge area, which will have various service veterans, Iraqi citizens, and academics available daily to engage in discussion with the public. The morning I was there, Iraqi translator and artist Esam Pasha was there, as well as economist and retired marine veteran Wesley Gray. Deller was very adamant that this was "not art", but an exhibition, and wanted the conversations had to "be the art". These conversations are not going to be recorded or documented in any way, which I think is kind of a bummer.
The questions from the media to the Wesley Gray and Esam Pasha were uncomfortable at times. When one person asked Gray (who is fluent in Arabic) how he learned the language (through a virtual reality video game), he spoke breifly about customs and signs of respect to the Iraqi people that he had to learn before shipping out. When another journalist followed up with Pasha asking how the people of Iraq were prepared for the American culture (rock music, hats, sunglasses), Pasha replied that they only learned to smile, raise their hands, and do what they were told. He said that the people with the guns are the ones in control. I think a huge success of this project is the civility of the "professionals" during the dialogue that was started. Esam Pasha, another marine veteran and Jeremy Deller were together nonstop for six weeks and could still sit down for a discussion on that day.
I genuinely respect Deller's desire to create a space for an informed discussion to take place between strangers. We are taught in America that politics is one thing that you shouldn't bring up at a dinner party, let alone with a stranger. What I think is bullshit, however, is Deller's assertion that this project is "not art". He stated this many times during his talk, raising examples like if it was an exhibit in a natural history museum we wouldn't be calling it art. It kind of miffed me because it seemed as if he was saying that because it wasn't art, it was somehow more than art, or more significant than art. He seemed to be implying that admitting it was art (hello, you have chosen to exhibit it in a contemporary art museum in a white walled room) would detract from the project, which I think is insulting.
Art or not art, decide for yourself. The calendar of daily talk schedules and speaker biographies for Deller's project can be found here.
Three perspectives and a short scenario will be up until January 10th, and It Is What It Is: Conversations About Iraq
will be on view until November 15th.