What we want and when we want it comprise one of my favorite one-twos of every protest or rally. The answer to the first is always noble (justice, peace) but can feel less direct than the answer to the second: now. Always now. This urgency is twofold: the circumstances are dire and negotiations have to start somewhere. As if it were never not the case, many artists are finding increasing necessity that their work is addressing our complicated, critical political landscape. I've long been impressed by the clarity and grace of the images that Soohyun Kim creates. Soo is relentless, training his keen eye on landscapes, cityscapes and the people that inhabit—or have left traces on—them. The series Guryong Village in Seoul documents the enormous shantytown within the city's tony Gangnam district. The series of portraits—even if half the images don't contain people directly—distills large political shifts, like the displacement inherent to so-called development (here writ in literally Olympic proportions), into tiny, domestic moments. The series, made while visiting his mother in the home they once shared, reveals "what I see, as an inside observer, its ingenuity, perseverance, and pride." This empathy is equally on display in the photographs he produced for the Tamms Year Ten Family Room exhibition with Laurie Jo Reynolds and the Tamms Year Ten campaign, even if these were people he barely knew, whose homes were an ocean apart. And, this empathy is what drives the subject of our interview, the release of his new book (made in collaboration with Scott McFarland and Jangho Park), Fifteen Dollars, about the Fight for 15.
Soo graciously agreed to answer a few questions and explain a bit about the process by which it was created. For your own copy, visit Amazon. It's only fifteen dollars.
(all images drawn from the book)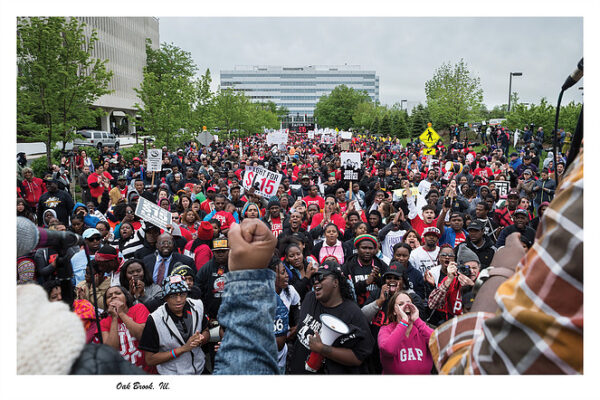 For those unfamiliar with it, what is Fight for 15?
Fight for 15 (FF15) is part of the national movement for a $15/hour wage that began in 2012, when fast-food workers in New York City went on strike. This movement has really changed the minimum wage debate. They have gotten some serious increases in some cities and states, and they are still going. I think the mainstream media has been fairly sympathetic to it. Even from the beginning. I guess it is obvious to most people that these workers are being exploited. And it is a pretty obvious question to ask: if McDonalds makes 6 billion dollars a year, why do their employees need public assistance just to get by? Why are taxpayers subsidizing the labor costs of these huge, profitable corporations?
What made you want to promote the Fight for 15 campaign?
A desire for social justice, and in interest in socially-engaged art. As an MFA student at UIC, I studied with Brian Holmes and Blake Stimson, and they introduced to the "extradisciplinary investigations" of artists like Trevor Paglen, Critical Art Ensemble, and Laurie Jo Reynolds. This kind of art practice appealed to me.
How did you come to this project?
In 2014 I worked with Laurie Jo Reynolds on an art installation at "The Proximity of Consciousness" show at Sullivan Galleries, curated by Mary Jane Jacob. For this installation, titled "Tamms Year Ten Family Room," I made portraits of members of Tamms Year Ten (TY10) their homes. TY10 was a grassroots legislative campaign that had worked for 4 years to close the state supermax prison in Tamms, Illinois. This installation at Sullivan was kind of "family room" in that the group used galley space for their meetings. At that time they were discussing the future of their campaign. For the portraits, I made home visits to TY10 members, and borrowed a piece of furniture, or decorative item, for the installation. So the belongings in the "family room" were visible in the portraits. I had worked with Scott McFarland on this installation, together, and he suggested that I do a portrait series of FF15 members.
What was Scott's connection to them?
He teaches in the English department at UIC, and he had connected with FF15 organizers through his work for, UIC United Faculty. So we went to FF15 and asked if they wanted to do a series of worker portraits. They liked the idea. Luckily, we then received a monetary award from the Graduate College at UIC that enabled us to produce a book. We expected this to be a book of portraits of FF15 workers. This was in April 2015, when I started taking photos for the campaign. Some of these photos will become part of the book of portraits that I'm working on, but I've also been sharing all the photos with FF15 to use in their publicity.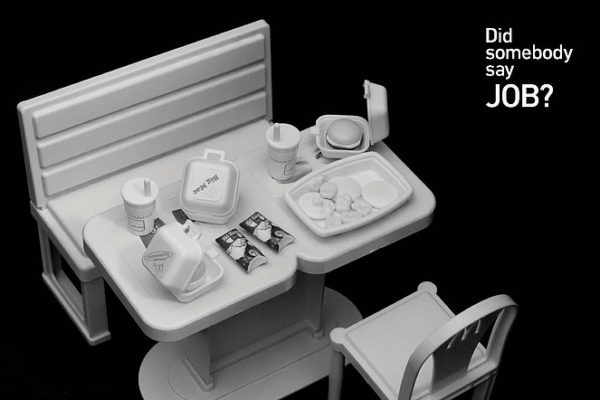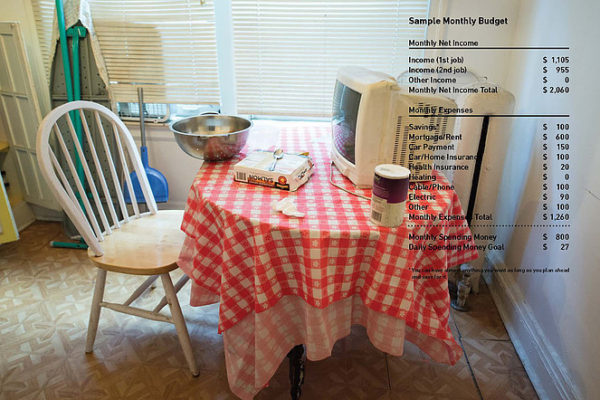 But you decided not to use portraiture in Fifteen Dollars. Given that it's a book about Fight for 15 (FF15), about fast food workers, one might expect to see photos of workers.
There are photos of workers at FF15 rallies in Fifteen Dollars, but these aren't, in this context, portraits of workers. I am planning a book of portraits that will include photos of workers at home and at rallies. I expect that these rally photos will feel more like portraits because you will see them as individuals, as mothers and fathers, as sisters and brothers, at home, or at work, before you see them—and recognize them—in a crowd.
This project uses labor as a lens for considering intersections of race, class, neoliberal economics, corporate structures and rhetoric, structural inertia and the movement. Do you find that the more specific your subject matter, the more the works open up into other avenues?
Yes, I think that is a good way to describe the way my work has become more political, or at least the way my intentions have become more political. I think aesthetic interests have evolved into more political ones. I am thinking here of my photos of Guryong Village in Seoul, a shantytown in the wealthiest area in the city, where my mother has lived in for the past decade. I lived there myself for three years. The photos I have been taking for this project are not really exercises in formalism, even though I always do want to make images that are visually compelling. It's been equally important to document the dire circumstances of Guryong's residents, to call attention to themselves. And I want the viewer to face the political realities as well as the visual evidence, to consider how shantytowns are symptoms of structural problems, of elite power structures and neoliberalism in South Korea.
Having seen the "Guryong Village" exhibition, both in its beginnings when we were at UIC and then as came more and more into focus, I'm wondering how your personal experience of class and mobility has affected your approach to this project?
For that project, I visited my mother for six weeks, documenting the village, and also providing much-needed photographic services, such as passport photos and funerary images. I wanted my portraits to show respect for my family members and their neighbors, to not simply document crushing poverty, but to document ingenuity, perseverance, pride, community. So my personal experience of poverty has shaped my political sensibilities. I think it's what has led me to doing the portrait projects we've been talking about, since I see my own family's circumstances in those of my subjects, I mean the members of Fight for 15 and also the members of Tamms Year Ten.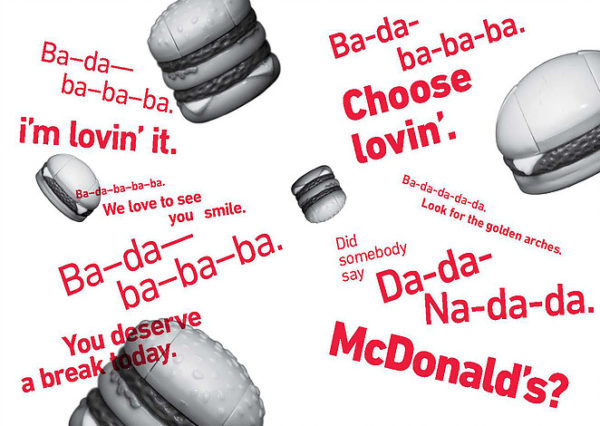 You employ a number of photographic styles and strategies in this work, from something akin to inverted advertisements, empty domestic spaces, portraiture and street photography. Will you discuss these various strains and your approach to picture-making and taking?
I think that, primarily, there are three visual languages that are employed, that of commercial, journalism, and "documentary-style" photography. They're used for different purposes, since they are in dialogue, in some sense, with the text they've been paired with. The texts in the book come from advertisements and media reports, but also from internet memes, academic studies, corporate handbooks, corporate documents, P.R. firms, lobbyists. Some of the photographs have been paired with were taken with that particular text in mind. The architectural photographs are inspired by the New Topographics. Others are inspired by print advertisements. So it varies. While images of the Fight for 15 rallies might have the photojournalistic feel, images of the workers' homes might seem more like fine art photography, in the sense that Walker Evans distinguished between documentary- style and documentary.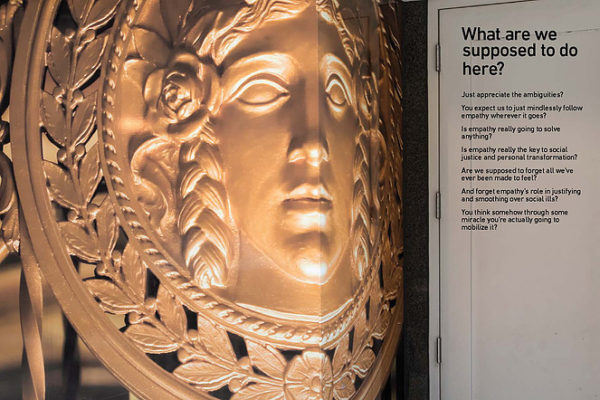 Was it important that this became a book (instead of a website, an exhibition, a film, etc.)?
Yes. We see this project as an "artist's book," rather than individual images. So it's important to us that each image in the book be understood as part of a whole. There is a lot of irony in the book that could be misunderstood if read out of context. For example, the meme: "Liberty will produce prosperity. Government mandates won't." The conceit of the book is that you're reading a McDonald's employee handbook from bizarro world, that everything is being said in the "voice" of the McDonald's Corporation. So the individual images in the book need to be seen in context—without it, their meaning is lost.
Tell me about the collaborative process between you and Scott.
There's not been a single process that I can describe, since we've been working together on many different things. A lot of it has involved just pitching ideas to each other and then making on-the-spot decisions, assigning ourselves different tasks, coming back with something, and then figuring out how to improve it. For Fifteen Dollars, Scott was more responsible for the conceptual aspects of the book, and I was more responsible for realizing it, for making the images. We hired graphic designer Jangho Park to do the book layout and design, but his role grew as the project developed, and we came to see him as co-creator.
What has collaboration taught you about your own practice?
It gave me a chance of reaffirming the possibility of mixed art, considering the relationship between image and text, which has a long history in art.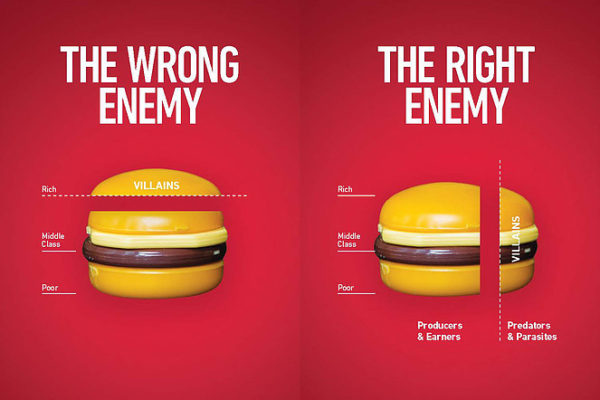 What is the future of political photography?
I take this question to be more about photography in contemporary art than about photography in journalism, or in general. In the near future, capturing images will involve collecting all information available, rather than some small, select amount that catches a "moment." This trove of information can be sifted through, and arranged, after the fact. I believe this and other technologies will open up new possibilities for all kinds of artists, but especially those that are engaged in "extradisciplinary investigations."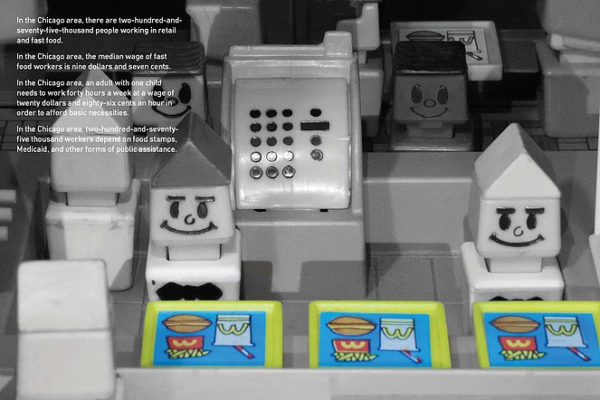 SOOHYUN KIM (b. Busan 1979) earned his MFA in photographic design from Hongik University and a second MFA in photography from the University of Illinois at Chicago. He researches the catalyzing potential of art for social change. In his role as Assistant Director at the National Photographers Association of Korea (2005-2010), he traveled to remote villages, working with families to preserve their photographs, document their homes and take portraits for use in daily life. He is working with the Fight for Fifteen campaign to raise the minimum wage. Kim has received awards for his work, including the 2016 CDS Documentary Essay Prize. Kim currently teaches at Saint Xavier University in Chicago.
JESSE MALMED is an artist and curator living and working in Chicago. His work in moving images, performance, text and occasional objects has exhibited widely in museums, cinemas, galleries, bars and barns. He is the curator of the Live to Tape Artist Television Festival, co-director of the mobile exhibition space and artist bumper sticker project Trunk Show, a programmer at the Nightingale Cinema, instigates Western Pole and curates exhibitions, screenings and performance events both independently and institutionally. His writing has appeared on and in Bad at Sports, Cine-File, Incite Journal of Experimental Media, The Official Catalog of the Library of Potential Literature, Temporary Art Review, Big Big Wednesday and YA5. A native of Santa Fe, he earned his BA from Bard College and his MFA from the University of Illinois at Chicago.
Using breath from mouth to ear:
"I'm going to write something on your back and you have to guess what it is."
Using gesture from finger to back:
"I need to know if you feel it too."
They're two teenage girls and they're getting ready for the prom and one is wearing a marching band uniform. We'll see that uniform again, in another movie, but everything will be different. For now, Jennifer Reeder needs us to feel it too. I had the privilege of working with Reeder for the last two years, while she served as my advisor at UIC. I am the beneficiary of her attention and support, her acerbic and absurd sense of humor, her immense intelligence and her ceaseless fierceness. She insists on vulnerability, even as so many of our interactions are goof sessions.
Her work—primarily in video, primarily for the cinema—is teenage girls, it's pop noir, it's language heavy, it's singing Madonna to an ET figurine, it's death metal brides in a graveyard on a toy camera, it's impeccably pencil-rendered vulvae in the halls of a school, it's electromagnetism of the heart, it's an all-girl choir singing Judas Priest. It also looks and sounds more and more like the way movies look and sound. It is thankfully and unrepentantly feminist, deeply personal and idiosyncratic. And, luckily for Chicago readers, she's doing a big hometown show tonight at the Gene Siskel Film Center as part of the integral and much beloved Conversations at the Edge program.
When I'm doing what I'm so often doing, when I'm doing what I'm doing right now, when I'm trying to convince people of the merits of someone's work, to convince someone to attend a show, I say that Reeder's movies feel like movie movies, but better. That even people who don't like a lot of what they think I like will like her movies. That they're smart and funny, surprising and deeply feeling, that they're clever and daring. I heard something recently that felt insightful for a lot of creative practices. A comic said that sketch comedy privileges the joke over the character and will always sell the character out for the joke, whereas most episodic or narrative comedy privileges the character over the joke, such that every joke must feel real or at least, let's say, diegetic. I was thinking about how this idea could be resonant in a number of forms while rewatching Reeder's work. Deploying, as she invokes, bathos, she is able to maintain emotional credulity while covering and uncovering new layers of humor, trauma and complexity.
Her work has been screened and exhibited at venues like the Venice and Whitney Biennials, Ann Arbor Film Festival, Kurzfilmtage Oberhausen, New York Film Festival, Yerba Buena Center for the Arts, PS1, Pacific Film Archive, Rotterdam Film Festival, Chicago Underground Film Festival, Vienna Short Film Festival and many, many more. She's won countless awards, grants and other —including being named one of Chicago's Top 50 Artists' Artists by Newcity—while maintaining a vigorous teaching practice as an Associate Professor and the Head of the Art Department at the School of Art and Art History at UIC. She is represented by Andrew Rafacz Gallery in Chicago and distributes her videos through the Canadian Filmmakers Distribution Centre, shortfilmagentur, LUX and independently. She earned her MFA from SAIC and her BFA from Ohio State University in her hometown of Columbus, Ohio. She is the mother of three boys and lives in Indiana.
As your work has progressed, its resemblance to conventional cinema—to what people think we mean when we say we make movies—has grown. Do artists too often limit their potential for engaging wider audiences by sticking to niche forms and the safe spaces those enable? Has making work that looks right enabled you to sneak in more of your own idiosyncratic ideas and stories? Is convention camouflage?
I set out to make very functional films, but honestly, narratives are very challenging. I compare my process to sewing. If I set out to make a fully functioning pair of pants but cannot get the pockets right, I sew them shut. BOOM, no pockets on these pants. Then I put super striking patches on the knees (or something) and hope that no one notices the pocket situation.  Other times, the "experimental" parts of my narratives are much more directed and intentional from the get go. I start out making this move to pocketless pants because, ya know, people expect pockets and it's more satisfying on my end to do the unexpected. I do appreciate so much, however, that these more conventional narratives I have been making over the past several years have reached a larger audience. I have a solid fan base of film lovers and programmers who fully support and encourage the wonky way I tell a story.
We've talked before about multipronged ways of moving culture towards a greater sense of inclusivity and social justice. Shows like Modern Family or Will and Grace—with their mainstreaming of gay culture, or, more precisely, with their insistence that obviously and already mainstream culture includes people who are gay—are important in that they provide hungry brains stories that include a wider variety of represented protagonists. At the same time, there's a need for more radical cultural shifts, ones that at their cores those shows and the machinations through which they're made are at odds with. As an educator and cultural producer, how do you balance these concerns? Are there, perhaps, times in our lives when it makes more sense to fight for same-sex marriage and others when it makes sense to dismantle marriage? Do we need more television shows with more people or fewer TVs?
Representation matters! Since the beginning, since White Trash Girl (1995-97), I have made work with some sort of justice component. My protagonists have agency. The enormous popularity of shows like Orange is the New Black and Transparent, confirm that general audiences want and need to see themselves and their friends/family reflected back from the small screen. I do not understand what still motivates lots of film and TV makers to actively ignore diversity in terms of casting and storyline.
In a way that is totally unsurprising, I am always drawn to your use of text on screen. A Million Miles Away (2014) makes use of emojis, subtitles that read occasionally as transcriptions of characters thoughts and other times like a rogue radio signal piped in through diving braces on crooked teeth. Tears Cannot Restore Her: Therefore, I Weep (2010) prominently features a classroom sign language interpreter détourning a lecture on electromagnetism into an intimate and crushing tale of love gone awry (or maybe just love gone away). As much as your films are filled with visual nuance and striking characterizations, I often think of your work in writerly terms. What about the screen seems so keen on rendering multiple modes of address?
During an emotionally charged conversation in real life, there also exists these multiple layers of iteration. There is what you say out loud, and what you are thinking when you say it and what you have written to someone else prior about what you will say. Then there is how the other person interprets what you have said and speculates about what you might actually mean and how later they retell the conversation without precise accuracy (adding parts or leaving parts out). I fill my films with many layers of translations, as you pointed out, because it's how I unpack communication and interactions in my real life. Perhaps not everyone does this, but it cannot be just me, right?
Does the film exist on paper before you begin to shoot or do those extra-textual moments come in the editing room?
The extra language (texts, subtitles, etc.) exists in the script from the beginning. Often the actual words change during post as the temperature of a scene changes from script, through production to post.
Another striking component of your films—and one that extends into a gallery practice potentially—is the way that customized objects find their ways onto the screen. Keychains, ringtones, aprons and t-shirts, either purchased or constructed, telegraph something additional about the characters as well as providing another textual mode of address. Sometimes they signify subcultural statuses, sometimes they feel like gifts from someone off-screen and might not even fit right. Can you talk about these choices?
Art direction matters—this includes the props and wardrobe which are specific and intentional. The art direction is another layer of narrative language, a sub-plot even. It operates as bathos does in literature. A stupid image or phrase on a coffee mug visible in an emotionally revealing scene can disrupt the narrative in a charged and challenging way—injecting humor or absurdity or magic even into an otherwise pretty deadpan exchange. This happens in real life also. It is what makes "a serious talk" tolerable. I cannot resist a visual prank.
As your work has shifted to take more of the forms and processes of recognizable conventional productions, you've increased the number of people with whom you work. To what degree do you conceive of these productions as collaborations? Is there a way that working with so many more people on set changes how you think of the works? Are there auratic or affective overlaps in the jobs of director, parent and teacher?
I have worked with the same crew (Steven Hudosh, Chris Rejano and Paul Dickinson) over a few films now and the same editor (Mike Olenick) for over 10 years. These films are like relationships. I have to fall in love with the film then eventually break up with it to move onto the next film. It's an emotional process and I need to surround myself with people I trust and who trust me back.  I listen to everyone's opinion from the script writing stage through post-production and distribution, but ultimately the final decisions are up to me. This could change with a different kind of financing model. There is a kind of collaboration in the scoring (music), because I depend on the composer (Jenne Lennon) to directly translate my notes in terms of how I want to film to sound. I appreciate what trained actors bring to set. I allow the cast to know and play their characters on their own terms, but I do not allow for improvisation. The dialogue is very specific. Don't mess with my dialogue! Ok, and yes, I am quite parental on set. I am bossy but more mom bossy than boss bossy—lots of hugging and head patting, for real.
What is Tracers Book Club? How do the various spaces Tracers inhabits function together or separately? What can exhibitions do that online fora or real-life discussions cannot? What is lost or gained by making art in a group, orienting more toward making an argument or experience than originating from authorship?
Tracers (www.tracersbookclub, www.feministasfuck.org) is a free form collective dedicated to promoting feminism as a means toward social justice. Over this past year, we have had two gallery exhibitions in addition to many other events like a mini-conference (a day of panel discussions about intersectionality), two iterations of a radical crafting fair called "FEMINIST PARKING LOT," films screenings, rock concerts, a youth poetry workshop and informal conversations (often around a book or presenter). Each event attracts a different audience. Feminism is personal and so Tracers makes an effort to offer lots of ways to get your dose. As we gain momentum, we are likely to expand the range of events. We are not a one size fits all kind of operation. If we are committed to inclusive, which we are, we must super-size the options. A narrowly actualized social justice mission is not very just in my opinion.
In rewatching your work for this piece, I found so many little moments that felt synecdochic, like they expressed something big about your entire practice in a small way. I know that you aren't making work simply about your work—the equivalent of an advertisement for an ad firm—but over the course of your career, you seem to be honing in on a series of concerns. One of the most exciting is the continual and ever-changing challenge of communication and connection. In addition to shared concerns and themes, the reuse of props and costumes gives a hazy continuity to your work. Do you think of these works as being fully distinct or part of a much larger project? Are there ideas that you'll have that you have to abandon because they don't work within the scope of your current activities? Since we're dealing with and in the world of narrative cinema, is there a Reeder universe, nestled somewhere near the speculative and psychic universe of John Hughes? Are the unnamed sites for these recent works in one unnamed town?
Ok, so yes, it's all intentionally connected—stacks upon stacks of parallel universes. I feel as though I am making the same film over and over and over again. This tic is related to my need to provide multiple translations of narrative language within a single scene. I must keep prodding, "did you get that? Here let me put it another way. Ok, now, did you get it that time? Let me try again." It's an obsession with being heard and understood. I appreciate that my films are recognizable as mine. My favorite filmmakers are the auteurs. I am at a loss to understand how some filmmakers make entirely distinctive moves from one film to next. Ya know, like Ang Lee made both The Ice Storm and Hulk. No thank you.
What can the admittedly porous worlds of experimental and independent cinema learn from each other?
The experimentals should be less afraid of being liked/popular and the indies should be less afraid of taking some artful risks in terms of the form. It's like the jocks versus the nerds. The jocks should get weirder and the nerds should get tipsy and make some prank phone calls.
What is your process for working with actors? Is there a sense that an actor is being instrumentalized—walk over here when the camera gets here, say these words in this order, wear this shirt and face this way—or is there a consideration of and conversation around the more mystical way that a person can embody another person? What has directing taught you about performing? How has your approach to directing actors changed from your White Trash Girl days to now?
The performers in WTG were all amateurs (including myself). No one could act, which is why all the "dialogue" is in the form of a voice over. Plus all the physical action is hyperbole—it's like a live action comic book. Overdoing it was the only way to do it. My direction to the performers in WTG was like, "haul ass and then pretend to vomit." In the past several years, I have worked primarily with trained professional actors, which is lovely. These are people who know how to transform themselves into another person—it's a magic trick really. I am in awe when it works.
I am particular about my dialogue, as I mentioned, so I am known to ask for many takes of a scene (or even a specific line) until I hear it the way I want to hear it. I actually think that I hold my breath during some on-camera exchanges. I get very anxious behind the monitor but I have gotten much better at bringing performances out of the actors. They need to know who I think the character is and why I think they are doing what they are doing (after all I wrote it, I should know). Its all about defining the motivation and clearly communicating the emotional temp of a scene. So for instance in the film I just shot (Blood Below the Skin, currently in postproduction), a young woman has the lines, "you want a best friend? I can get you a best friend. I can get you a best friend forever, but you have to be ok with the pain and the blood." She was not saying it right and so I eventually told her to say the lines as though she was talking about a dead body….."you want to hide a dead body? I can help you hide a dead body…." It worked. Gone are the days of simply yelling, "haul ass," but I don't miss those days.
If my math is right, White Trash Girl is nineteen years old—right on the precipice of leaving its teenage years. When was the last time you revisited the character and that work? How do you think of her relating to your current work?
I still screen WTG occasionally. I have not made a WTG tape since 1997 but I am still very much making films about unruly women and the midwest. The trajectory from WTG to the current work is very clear and direct for me. It's the same film over and over again, just now with better acting, better equipment and better fonts.
I'm hoping you'll say more about why so much of your work centers around teenage girls? Are they both the subject and audience for the work?
In my opinion, no other group of humans is more misrepresented in cinema (in all of media really) than the teenage girl. We are a culture obsessed with female youth and we get it wrong every time. I am just trying to set the record straight or at the very least offer up an alternative—a disruption. I write scripts from observation and my own experiences. There is a kind of art therapy component to my filmmaking process—a lullaby that the adult me hands back in time to the teen me. It's a retroactive survival strategy. Indeed my primary audience is the teen girl but these recent films seem to appeal to a much wider audience which is a surprise and fantastic. My dream is to pitch an idea to Nick at Nite for an edgy, racy (complicated) teen girl TV show (both for and about). Or better yet, a series of David Lynch-esque after school specials—weird but accurate and entirely in celebration of the teenage girl.
This will happen.
Is this ok? Is this a responsible use of this privilege? How much does Bad at Sports pay its writers? Its readers? I'm like you, reader. I'm in the weeds. I'm in the thick of it. Everyone is paying everyone else too much. Our government runs smoothly but we don't have any use for it. There are no trains and no one runs for anything, not even office.
It's been a month, but I'm saying it's been a week. This is what I've been thinking about recently: bpNICHOL wrote for Fraggle Rock.
This is a record of this moment but also a place to put open tabs. We should all share all the open tabs. The radio today told me social media was 2000 years old because we used to tell each other things too. I turned off the radio and listened to myself singing and chopping.
I'm excited about this project: MAI through FVNMA at SAIC as run by EF. 
Jim Davis (Princeton [but for this work: Chicago] filmmaker)
Jim Davis (Muncie visual artist, writer) (also excellent to see a sentence where both "artists" and "entertainment" are in quotation marks)
Jim Davis ("Dallas" actor)
Fugue State(s)
Also, this band, The Fugue, that I saw at Bard in 2002 or 3 (first year of college). They were friends of a friend and they played a good show. Then, this year, I found this funny clip on youtube (though my interest in television courtroom interruptions).

This led me to re-visit this.

And this.


(which is really part of that this)
I can pretend I'm not thinking about this pretty often. Especially when linked with this.

The re-release of Codex Seraphinianus by Luigi Serafini (which learned about from Bad at Sportsers PvZ and RH).

idyrself by Krystal South.
Editions and Additions by Jacob Edmund
Morgan Fisher on Ivor Cutler. Morgan Fisher of Mott the Hoople, not Morgan Fisher of Projection Instructions and ( ) and other marvelous films.
(Draft for) Infinite Black Flag 
This other medium inane idea I just made up.

A gif for every one of 1001 Nights.
A list of the dumbest lists on BuzzFeed.
Under 1 who is under 1 (part of a profile on an athlete/artist who is 8 months old).
Sibling Cinema (thanks to the Frameworks list-serv for responding so well to my query) :
George and Mike Kuchar,
Jonas and Adolfas Mekas,
James and John Whitney,
Mark and John Jr. and Michael Whitney,
Paul and Greg Sharits,
Peter and Kathy Rose,
The Lumière Brothers,
Jane and Louise Wilson,
The Brothers Quay,
Jem Cohen and Adam Grossman,
Dziga Vertov and Boris and Mikahil Kaufman,
Tom and Ed Bowes,
TwinArt Sisters,
Soda_Jerk,
Bruce and Norman Yonemoto,
Reggie and Warrington Hudlin,
The McDonagh Sisters,
Nadjoua and Linda Bansil,
The Cifuentes Sisters,
Albert and David Maysles,
These three, posted elsewhere, but that do something together:

Guy Sherwin — Man with Mirror (1976/2011)

Peter Campus — Three Transitions (1973)

The Marx Brothers — Duck Soup (1933, excerpt)
I was missing the earth so much that I watched a 98 minute movie of the light changing from day to night high up in the Sierra Nevadas. The trees are beautiful in the way trees are, but not too showy. There is no discernible movement in the frame beyond the changing position of the sun and the automatic shutter of the camera slowly trying to adapt. I was missing the earth and I was thinking of duration and those were things I would have been thinking and feeling even if I hadn't been at the final day of the Onion City Experimental Film and Video Festival. But I was and those were things to think and feel about.
James Benning's Nightfall is a curious piece. His works are often challenging structurally, but saying the logic of this one is simple is like saying the simple logic of this is one. We watch the trees and they are still. We watch the light and it changes slowly. It would change more slowly, but the camera is doing what it can to keep up. Fauna haunts the aural space and I thought I even heard what sounded like human sounds. Mostly I floated in and out of the cinematic space (the seats, the people around me, my thirst, someone else quenching theirs, the size of the rectangle, the quality of this light) the represented space (the trees are so beautiful, there are fourteen main trees, there are an additional dozen supporting trees, the light coming through the branches looks like someone I know, the light through these branches looks like a stranger) and the space between (could I sit on the stump I'm imagining for this long?, when was the last time I spent this long seated with my head facing one direction?, when was the last time I spent this long seated with my head facing one direction outside?, how much better must this be to be there instead of here?, how has the concept of nature become so abstracted from [my own, at least] daily life?, what is that phrase about seeing forests and trees?, is this based on that?).
I do well with so-called durational works. Maybe it's because I meditated as a child or have a very (let's not say hyper-) active interior life (though my suspicions are that everyone does) or because my durational muscle has been honed through years of grueling training. Whatever the reason, I found Phil Solomon's Empire to be satisfying, beguiling and eminently watchable. Immediately after the screening, I asked Patrick Friel, the festival's director, if there would be another chance to watch it. Empire is a 48 minute remake of Andy Warhol's film of the same name. Instead of, or maybe in the stead of, an indexical film in which the titular State Building takes center stage, Solomon's video takes place in Grand Theft Auto's Liberty City. Time passes quickly—two minutes in the game representing an hour in the world—even if slowness is the dominant feeling.
I was going to and still might write through Empire, telling you everything that happens. I might make a newspaper of it and then scan that and put it on a thousand flash drives and throw them from the top of a scale replica of the Empire State Building (from Liberty City). I don't have it in front of me, so my memory will have to suffice. This is another type of reenactment, of bootlegging, covering or translating. The first thing I remember is the glistening, glittery reflection of the sun in the water that I chased long after it had gone. There is slow but continuous garbage flying toward us: perhaps someone printed out my newspaper. Airplanes appear regularly about an eighth of the way across the screen. They fly a straight line and disappear once they pass by (or seemingly hit) the unharmed protagonist. At a certain point light orbs pass from one side of the screen to the other, while the building abides. The sky changes, drastically. The different buildings turn on and off at different times. The sun. The wind is mostly steady and a truly delicate lull. The moon. I saw no cars. The splotches of fog that signaled incoming weather were terrifying. The rain almost shook me to my core with anticipation. I don't ever play video games but I feel like I should, like I'm missing some of the critical ways that culture is moving. Sometimes I read about video games so I won't be an alien in the senior home.
I had seen Empire before, on a monitor. I probably watched for a few minutes. I chuckled because I know about Andy Warhol and know about Phil Solomon and know about video games and know about the new media one-liner and know about duration and know about simulation and am a sensitive viewer with a rich interior life. But I probably watched it for a couple of minutes at most. I am an advocate for the space of the cinema. I think it's ok for a work of art to be bossy and tell me to sit still and watch the whole thing until the lights come up. No talking, no texting. I also love talking and texting, but I know sometimes that makes listening and watching and being present and letting the mind wander a lot harder. I'm not telling you these things because I don't think you know them, I'm just telling you them because this is my turn to be bossy. Even if we're both talking and texting during the production and reception of this text.
Like so many in our worlds, Brett Kashmere's engagement with art spans making, writing, teaching, curating, editing and organizing. Perhaps more impressively, he's good at each of these. His subjects often pertain to history, collective identity, sports and the ways they articulate and actualize each other. His essay film Valery's Ankle (embedded below) is deft and provocative, mixing personal history, social questions and rib-rattling editing toward a peek beneath the pads into Canadiana. His latest project, From Deep, signals a switch to the basketball court and the United States. At the same time, it maintains an interest in fan-culture, hybrid forms and a commitment to rigor without opacity and invention without pretension.
Raised in Canada, Brett has lived in Pittsburgh (while teaching at Oberlin) for the last several years. He is known perhaps equally for his own filmmaking as he is for his critical writing, his work editing INCITE Journal of Experimental Media (medium disclosure: I have a piece in the next issue) and his curatorial pursuits. INCITE does an excellent job of publishing works both scholarly and playful (a G-Chat conversation between Jesse McLean and Jacob Ciocci, for instance) without privileging either or presuming one form might have a monopoly on all types of insight. 
As part of the exhibition Spectator Sports (opening this Thursday!), Brett will be screening his work and discussing it with Lester Munson at the Museum of Contemporary Photography in Chicago on Tuesday, April 23rd. Graciously, he never brought up the name of this publication in relation to his own work. 
You've curated, written about and made films about Canadian identity. I have dual (US and Canadian) citizenship. Half of my family is Canadian and I've spent a decent amount of time in Canada and thinking through the issue of Canadian identity. No identity is fixed and national identity can be as useful or as destructive as any other unwieldy, essentializing concept. That said, I'm hoping you might elaborate a bit on where your thinking is on the issue now and how it's changed in that last many years of living in the States.
I agree – national identity is an abstract, complex construction, a symbolic category, which serves both good and bad purposes. As someone who works a lot with sports as a subject, it's disturbing to see how they're often used, in ways subtle and overt, to stir up nationalist sentiment and prop up dangerous ideologies. I'm thinking of that famous quote from Ronald Reagan: "Sport is the human activity closest to war that isn't lethal." He meant that as an endorsement. On the other hand, sports provide a common, everyday, shared experience that has deep (often under-acknowledged) reverberations and significance. I'm most interested in its relationship to place and community, as a kind of folk culture that is potent and tribal, rather than as an instrument of national identity.
I finished Valery's Ankle shortly before immigrating to the U.S. in 2006, to upstate New York. At first it didn't seem that much different than living in Canada, though the Iraq War certainly cast a shadow over everything during that period. It was a dark time. There was a distinct feeling of uneasiness, which I attributed to the political circumstances, and that did seem to dissipate somewhat after Obama's election (replaced by a different, more manufactured form of paranoia).
The longer I live in the U.S., the less I feel connected to Canada but the more I come to recognize differences between the two countries. Part of that understanding is intuitively felt, and part of it has to do with core principles and attitudes rather than anything related to day-to-day life. When I think about what it means to be Canadian, I often come back to the question: "Where is here?" For Northrop Frye, that was the central question of Canadian identity. Our sense of self is determined by external factors, the things beyond us, which we don't control. Whereas in America, identity seems determined from within – "Who am I?" – and rooted in those founding American ideas of personal liberty and freedom.

I've only ever watched Valery's Ankle on home screens. In particular, I've enjoyed being able to watch it on my laptop and scan through it, returning to certain parts and skipping over others while thinking about the work and this interview. In this changing media landscape, there are lots of new opportunities for works to be experienced. Typically for works that do not originate with intentions for the small, portable screen, we maintain an understanding that this isn't how they're supposed to be experienced, but this is what we have. UbuWeb recently tweeted "UbuWeb is a photograph of a painting." For video works whose form is shifting and fluid (are there people who really think a new export with a different codec is an inauthentic copy?), this is a little more complicated. I have been speaking recently with others who (in this mode of speaking) identify as a fellow makers of "dense video work," and are excited by the potential of video for the home, for the computer, because it allows the chance to view and re-view. With works in the essay tradition, this seems to be an even greater boon.
A common response I hear about my work is that it's dense. I use a lot of text layers and sources, onscreen and through voice-over, and the editing style is usually fast – I like a constant flow of images and ideas. I'm not interested in making conventional documentaries that you can watch once, process the information, and arrive at a satisfying conclusion. Even though it's unlikely and probably unreasonable, I embrace the idea of making work that will reward multiple viewings. So in that sense, the home computer, the small portable screen, offers a lot. I'm glad you find value in returning to certain parts, in shuttling back and forth. I prefer that its reception be productive and relational, not merely consumptive.
Then again, I consider the filmmaking that I do to be part of a cinematic tradition, best suited for the theatrical screening context. The conditions of that experience are still important to me: the large image, the fixed starting and endpoints, the focused attention, the darkened space, the social dimension. But more and more, I find that situation to be limited and unsatisfying, at least for the kind of work that I make. I would like for it to circulate more freely, and across platforms; to be more available to more people than the one-time theatrical screening allows. I'm not sure that YouTube is the answer, in terms of the mindset that's required for viewing a longer essay film or video. But perhaps the work can exist in different forms, as a modular construction, and the platform determines the version of the piece that you see.
In perhaps a similar vein, how does your work in curating and writing impact your filmmaking practice? Does the skillset of the curator align with the culling and positioning of archival materials? Does critical writing engage the same part of your brain as making critically-engaged films?
I tend to think of curating, writing, and filmmaking as distinct and separate parts of my life, linked together by expertise in editing. They definitely impact one another, sometimes consciously and sometimes in coincidental or supplementary ways. My work as a curator and a writer, for instance, has influenced my approach to filmmaking, which I'd describe as a research-based practice. From Deep, the project that I'm working on now, about the cultural history of basketball, feels at times like a curated film. It relies on the editing together of hundreds of discrete elements, including movie clips, music videos, TV commercials, video game footage, and so on, which are interwoven with self-shot "moving snapshots" of the game. I can easily imagine an exhibition on the same topic, or a book. But I don't think those forms would connect or communicate in the same way, the way I prefer. The moment-to-moment conjunction of image and language, which provides the central tension, the collision and mix of ideas within a set period of time, being able to control the entire experience and where people enter the work, those factors require that it be a film or a video.
In terms of the overlapping skill sets, my working knowledge of film/video production helps when I write about and curate moving image artwork. I understand the technical aspects and logistics of film and digital media, and I know what to pack when I'm presenting a screening to avoid technical problems and troubleshoot. But crafting narration for a film is quite different than writing a critical essay or a curatorial text. Writing voice-over requires constant revision, to get the timing, sound and flow of the words right and it can't be too complicated. It's one of the final stages, so often the sequence lengths are already set and the text has to fit into predetermined blocks. It's about concision – how to say the most with the least. But being able to write critically helps in the pre-production and post-production phases, in the preparation of grant applications and the development of secondary writing about projects.
In Valery's Ankle, you declare your interest in asking questions (over providing answers). Have the intervening seven years answered some of these questions? Have you found this interrogative mode of making to be productive or frustrating to audiences?
Posing questions is a useful rhetorical device, a way of opening things up. I'm interested in the anti-authoritative perspective, in the amateur or fan's point-of-view, and in Foucault's notion of counter-memory. Many of the questions that I ask in Valery's Ankle can't really be answered, and aren't meant to be. If they provide an opportunity for individual reflection, or if they provoke a discussion, that's great, that's the ultimate goal. I don't think the mode is frustrating for audiences. I'm careful about building in different entry points and levels of engagement. Accessibility is important to me, and so are variety and surprise. I like to frequently shift between a first-person mode of address, the subjective, and a more straightforward presentation of facts and evidence: Here is where I'm coming from (my frame of reference) – here are some things you may not know about (forgotten or overlooked histories, silences of memory) – here's why I think they're important (the argument). The viewer can decide for herself whether the argument has merit, whether the connections I'm making are sound, and whether I'm to be trusted as a reliable narrator.
The things that I struggle with are: How to synthesize the personal with the formal investigations? What is important as information? What does the viewer need to know in order to follow the work? Where is the point of convergence between local and universal experience? I also work from a basic assumption that every record (every fact) has a b-side. There's the side that is marketed and sold, but the other side is usually more interesting.
For all of its formal inventiveness and engagement with the expressivity and history of non-fiction filmmaking, Valery's Ankle is still an immediately watchable film. The questions that it poses are quite literally posed and the gestures you make toward an expanded notion of nonfiction film (perhaps the space between documentary and essay) fit and flow seamlessly. Will you speak a little about questions of legibility and the ways a background in "experimental" media can impact other types of making? Am I just "in too deep[ly]" to see that this work is secretly difficult for non-specialized audiences to enjoy?
Having a background and an ongoing interest in experimental film has definitely shaped my approach. I don't consider the work that I make now to be part of that tradition, even though it circulates in that world. I feel like that background does give me some license, or drive, to mess with the tropes and conventions of documentary. Alternately, the appearance of documentary provides cover for the more formal investigations, the manipulation of the image and so on. Creative nonfiction is probably the most accurate description, but it's more of a literary term. It hasn't quite crossed over into film and video, even though a lot of my favorite work– by practitioners such as Jackie Goss, Harun Farocki, Michael Moore, Chris Marker, Barbara Hammer – fit that categorization. Also, I don't believe the work is automatically difficult for non-specialized audiences to enjoy. That hasn't been my experience. It doesn't give viewers enough credit. The public screenings that I've attended often elicit homogenous, guttural groups reactions to the visceral and/or humorous parts; that kind of bonding amongst strangers can have a powerful effect.
Lately, I've been motivated by a couple of overlapping concepts: Brecht's notion of a theatre (or a cinema) of pleasure and instruction, and the idea of "edu-tainment," which I associate most with the hip hop artist KRS-One. I'm trying to find ways to bridge accessibility with critical inquiry. I don't want to make straightforward work about sports – there's already a lot of that out there, like ESPN's 30-for-30 series. I enjoy those films – they're well produced and fun to watch, but once they're finished I never think about them again. It's institutional storytelling. The one exception that comes to mind is Brett Morgen's documentary about the O.J. Simpson chase, which stands out because of its unusual form: a found-footage compilation that presents the events of one day – June 17, 1994 – with no commentary. It's a mesmerizing piece, and a reminder of how much the media landscape has changed since then. The 24-hour news cycle really begins right there, with those long helicopter shots of O.J.'s white Ford Bronco navigating the L.A. freeways.
Speaking of specializing audiences, how have hockey fans (in particular Canadian ones with long enough memories) reacted to Valery's Ankle?
In many ways, hockey fans have been the best, most accepting audience for Valery's Ankle. Part of that is by design. I've presented the video in a lot of places across Canada, in a lot of different contexts – from academic hockey conferences, to big city and small-town film festivals, university classes, art galleries, microcinemas, sports bars. The sports bar is almost an ideal setting for me, because I work with a formal language that most people understand, the language of sports broadcasting. If you've ever watched a hockey game in a bar you'll know that nothing captures mass attention like a hockey fight, even though, nine times out of ten, they're the most banal things to watch: a couple of guys clutching one another and spinning in slow circles for two minutes. Valery's Ankle pulls you in with the fighting, the spectacle, but then it flips things around. It starts posing questions about our common assumptions of hockey violence. For instance, when, and why, did fighting become an accepted part of the game? What is the deeper meaning behind the trophy for most sportsmanlike behavior in hockey?
The people who are old enough to remember the 1972 Canada-Soviet Summit Series either don't remember the slash – Bobby Clarke's intentional breaking of the Russian star Valery Kharlamov's ankle – or never knew about it. The visual evidence scarcely exists – it happened quickly, with no camera close ups. The image quality is poor. No one is truly surprised by it, though, as Clarke had a brutal bully reputation, but the general response is one of embarrassment for the sanctioned dirty play, and the fact that the Canadian men's bodies were so out of control. If there's a negative reaction, it's usually from people who don't think I go far enough with the critique; that I leave too much out. The violence touches a nerve.
I've received a lot of wonderful notes and messages over the years, saying to the effect that Valery's Ankle has changed, or modified, their opinions about hockey and its relationship to their identity. The video has acted as a bridge piece (peace bridge?) between artist friends and their dads, who wouldn't normally have much tolerance for experimental work. Just yesterday, I received an email, out-of-the blue, from an established Canadian filmmaker, a person I've never met but have great respect for, who wrote: "my 15-year old son and I watched Valery's Ankle and he thought it was 'awesome'; me too! thanks for providing that perspective with such calm passion, along with the great hockey images." I can't really ask for anything more than that.
Will you tell our readers a bit about your most recent project and what they'll experience at the Museum of Contemporary Photography?
The MoCP will be showing a couple of my pieces as part of their upcoming exhibition, Spectator Sports (April 12–July 3, 2013). In addition to the video essay Valery's Ankle, there is a newer work titled Anything But Us Is Who We Are, which is comprised of two parts: a burned LeBron James Cleveland Cavaliers jersey, framed and mounted on the wall, and a live video game feed of James (in Cavs uniform) holding a basketball at center court in an otherwise empty arena, waiting to be activated, perhaps in a moment of indecision, contemplation, or awaiting orders from the viewer/fan/agent/gamer. The game controller is displayed in such a way that you can't actually use it.
For me, the piece was a way of exploring and coming to terms with the limitations, but also the agency, of fandom. The bond between fans and players is so tenuous, so illusory, and typically one-sided. In his great book Black Planet: Facing Race during an NBA Season, David Shields writes that "Fans want to think it's us against them… and that the players on 'our' team are in cahoots with us, in some difficult-to-define way – difficult to define, since their contempt for us is so manifest." LeBron's decision to leave Cleveland for the Miami Heat in 2010 demonstrates the volatile nature of this relationship. It was such a charged moment, because as fans, we like to believe the players play "for us" and that we're part of the team, or at least recognized by and important to the team. But this isn't really the case. They play for themselves and each other, and we invest symbolic meaning in a multimillion-dollar corporate enterprise.
Nonetheless, when a cherished star leaves town, it's hard for those fans not to feel betrayed. Complicating this is the fact that nearly all of the NBA's owners, team executives, and paying customers are white, while nearly all of the players are black. The struggle to possess and control the subjects of our sporting affection is such a potent metaphor. In many ways, sports have been at the vanguard of social change in America. I don't think it's a coincidence that the racial integration of baseball in 1946, followed by NBA's integration in 1950, preceded the racial integration of schools in 1954. Athletes like Jackie Robinson, Muhammad Ali, Tommie Smith and John Carlos did a great deal to bring awareness to racial inequality, and helped to erode the structures of racism that were inherent at the time. When Obama was campaigning for president in 2008, he deliberately played up his interest in basketball, to make himself more relatable (the professor could hoop, too).
In addition to the exhibition, I'm doing a public event on April 23rd at the museum. I'll be screening excerpts from my in-progress feature documentary From Deep, and discussing the culture of basketball with Lester Munson, a writer and legal analyst for ESPN, who also teaches journalism at Northwestern.
I was a tremendous basketball fan at one point. I have dozens of books and VHS tapes on the subject and still find myself accidentally stuck in the mental morass of John Starks' number of Dikembe Mutombo's full name on occasion. Will you talk a bit about the personal shift you made from being a hockey kid to a basketball one and about the larger societal shifts in fandom? Why make a film about basketball instead of baseball (our supposed national sport) or football (our apparent cinematic/televisual national sport)?
That transition, from hockey to basketball, occurred during my teenage years. Typical of Canadian boys during that time, I started played competitive minor hockey at age 5. After ten years of full-time play and grueling travel, I realized hockey wasn't the sport for me anymore. Part of it was the danger, the fear of serious injury, since I was the smallest kid on the team. But a larger part of it was an evolving sensibility – I just wasn't into the small-town, country-and-western, hockey-obsessed prairie culture. By then I was listening to rap, fascinated by graffiti, urban style and expression, and following the NBA. This was a golden age for basketball: Jordan was just reaching his prime, Magic and Bird were still in the league (this also around the time that Magic revealed he had HIV); the video game NBA Jam was a huge success. Then there were the 1992 Olympics and the Dream Team, which took basketball to an even bigger stage internationally. I was also really into Skybox basketball cards, which had those amazing computer-generated abstract backgrounds, and also the Arsenio Hall show, which often had rappers and basketball players as guests. Michigan's Fab Five were bringing hip hop fashion and swagger to college ball. It was all cool, and fun and exciting. Basketball hoops were suddenly popping up on driveways everywhere. A tremendous shift was occurring. The world got much larger, seemingly overnight.

Although, unlike baseball or football, basketball is less rooted in American myth, it is, in my opinion, the 21st century American sport. It is certainly more global and easier to play: You don't need a lot of equipment or a lot of space, it can be played outdoors or indoors (all weather), by yourself or in almost any sized group. It's democratic. Everyone does everything on the court – there aren't highly specialized roles, as with baseball or football. I like those sports and enjoy watching them but I never really played them growing up. So basketball was the natural next step for me, as a subject to explore. I've been thinking that my next project might be about football, though. With all of the recent studies that have come out about head injuries in football and the long-term effects of repeated concussions, it seems to be facing a major crossroads. The game, and the NFL, will have to adapt to this new science or it will become obsolete. It's an interesting parallel to where the U.S. is at in right now in its history, as an international power trying to maintain its primary place in a changing global landscape. The idea of the masculine warrior athlete, and of sports as a gendered institution, a "school for masculinity," is no longer contemporary, or relevant. It's time to evolve.
Switching gears to some of your other endeavours, is there a specific niche you're hoping for Incite to fill? How are you approaching print/web publishing decisions? What are some historical forebears whose output has influenced the project?
As an undergraduate film student, I loved flipping through back issues of Film Culture and Millennium Film Journal and smaller, more idiosyncratic hand-bound journals like Spiral. Those publications had a big impact on me, as did Jonas Mekas' "Movie Journal" columns. The way he mixed criticism, advocacy, community building, and poetic language into his writing was inspiring. I knew from that point forward that I wanted to start a journal. My favorite types of writing have always been artist statements, manifestos, personal essays, letters and filmmaker responses to their colleagues' work.
INCITEÂ was founded in 2008 with the goal of reinvigorating the culture, community, and discourse of experimental film, video art, and new media. P. Adams Sitney made a comment around that time, in an interview with Scott MacDonald, decrying the lack of new writing about experimental film and video, at a time when it was going through a huge creative resurgence. That was a major catalyst.
From the beginning, INCITE has embraced a plurality of forms and approaches, combining the spirit, eclecticism, and individuality of zines and artist books with the review process and editorial methods of academic publishing. In addition to scholarly articles, INCITE regularly prints manifestos, aesthetic statements, artist projects and drawings, archival documents, "G-chats," diagrams, collage-essays, and so on.
Through the integration of print and online platforms, we attempt to distribute our publishing activities as widely as possible while also providing a material trace, a tangible legacy. It's important to me that we publish an annual printed issue. But those take so much time to produce, and are dependent on volunteer time. The current issue that we're working on right now, Exhibition Guide, has over 50 contributors. We decided a few years ago to create an online interview series ("Back and Forth"), which would allow us to have an active publishing presence between issues. We have a couple of other web initiatives planned, including a reprint series of important texts that are difficult to find or no longer available, with new contextualizing information; and a "work bench" series, which will feature annotated documentation of artists' studios and editing spaces. And we're close to finishing our first artist monograph, on the work of the pioneering Canadian media artist David Rimmer. It was edited by Mike Hoolboom, and will be available as an e-book on our website as well as in a print-on-demand edition.