Audio clip: Adobe Flash Player (version 9 or above) is required to play this audio clip. Download the latest version here. You also need to have JavaScript enabled in your browser.

download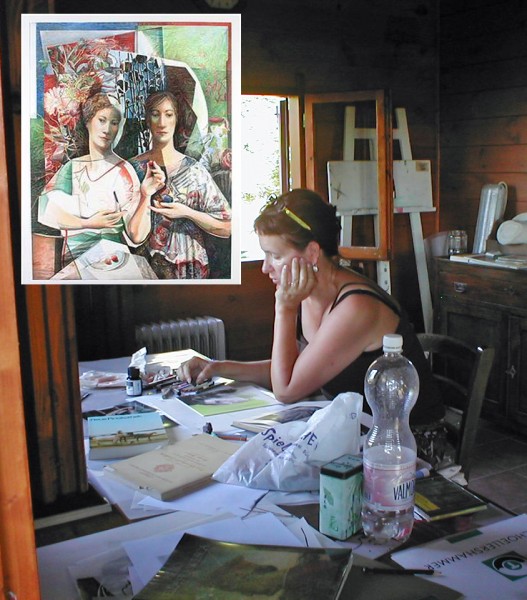 This week: Mark Staff Brandl talks to Martina AltSchaefer.This is the first of two interviews with German artists conducted by Mark Staf Brandl on the island of Elba, Italy. Martina AltSchaefer is an artist living in Ruessellsheim, Germany. She studied with the famed Konrad Kapheck and her creative work centers on very large, labor-intensive drawing in colored pencil on translucent paper. AltSchaefer has exhibited in many prestigious galleries and museums.
She also does printmaking and is an expert on mezzotint, about which she has curated shows and written essays. She was in an invitational retreat in July as a working guest of a foundation on the island of Elba along with Viennese jazz pianist and composer Martin Reiter, New York playwright Sony Sobieski, Berlin artist Alexander Johannes Kraut (the interviewee in part two) and Mark Staff Brandl, the Bad at Sports Continental and now also islandal European Bureau.
Also for all the Napoleon fans, especially those commenting on facebook, they were not in exile and even Mark was allowed back on the mainland without having to invade it.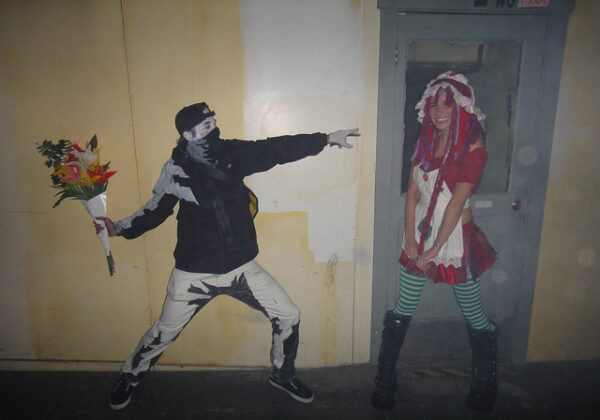 Last year it was the amazing 8bit girl costume which I was eagerly awaiting to see what she would do this year and the costume seemed to be closing down her site so in it's place the Best Halloween Costume idea of 2010 goes to the Amazing Banksy "Flower Thrower".
George Schnakenberg has taken the iconic 2d graffiti work and turned it in to a living breathing (through a handkerchief) 3d person. You can see via his flickr stream his night out partying and either his proposal or attack of Raggedy Ann.
The costume is quite well done and best of all comfortable and versatile. Hope everyone had a great Halloween this year.
Audio clip: Adobe Flash Player (version 9 or above) is required to play this audio clip. Download the latest version here. You also need to have JavaScript enabled in your browser.

download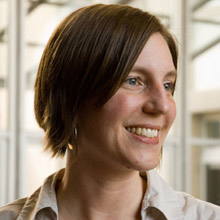 This week: Duncan talks to "super G" certified genius artist Camille Utterback.
Camille Utterback is an internationally acclaimed artist whose interactive installations and reactive sculptures engage participants in a dynamic process of kinesthetic discovery and play. Utterback's work explores the aesthetic and experiential possibilities of linking computational systems to human movement and gesture in layered and often humorous ways. Her work focuses attention on the continued relevance and richness of the body in our increasingly mediated world.
Her work has been exhibited at galleries, festivals, and museums internationally, including The New Museum of Contemporary Art, The American Museum of the Moving Image, New York; The NTT InterCommunication Center, Tokyo; The Seoul Metropolitan Museum of Art; The Netherlands Institute for Media Art; The Taipei Museum of Contemporary Art; The Center for Contemporary Art, Kiev, Ukraine; and the Ars Electronica Center, Austria. Utterback's work is in private and public collections including Hewlett Packard, Itaú Cultural Institute in São Paolo, Brazil, and La Caixa Foundation in Barcelona, Spain.
Awards and honors include a MacArthur Foundation Fellowship (2009), a Transmediale International Media Art Festival Award (2005), a Rockefeller Foundation New Media Fellowship (2002) and a commission from the Whitney Museum for the CODeDOC project on their ArtPort website (2002). Utterback holds a US patent for a video tracking system she developed while working as a research fellow at New York University (2004). Her work has been featured in Art in America (October, 2004), Wired Magazine (February 2004), The New York Times (2009, 2003, 2002, 2001), ARTnews (2001) and many other publications. It is also included in Thames & Hudson's 'World of Art – Digital Art' book (2003) by Christiane Paul.
Recent public commissions include works for The Sacramento Airport, The City of San Jose, California, The City of Fontana, California, and the City of St. Louis Park, Minnesota. Other commissions include projects for The American Museum of Natural History in New York, The Pittsburgh Children's Museum, The Manhattan Children's Museum, Herman Miller, Shiseido Cosmetics, and other private corporations.
Utterback holds a BA in Art from Williams College, and a Masters degree from the Interactive Telecommunications Program at New York University's Tisch School of the Arts. She lives and works in San Francisco.
Photos from Artissima, Turin's contemporary art fair
"We make money not art" has uploaded a few of the many images they took at Artissima, Turin Italy's contemporary art fair. If the photos shown are indicative of the rest of the show it looks to be something not to be missed. Read more here
This week in "Can't Muster the Engergy to Not Even Care About This" is a toss up
Cant decide which is of less interest, work begins on Lady Gaga's 8 wax figures at DC's Madame Tussauds or Sophie Crumb (daughter of Robert Crumb) releases a book of drawings that make her father look like Albrecht Durer. Read more here & here
Someone is selling off their VIP Access to Art Basel Miami Beach
Someone has put their VIP packet up on Craigslist for a minimum of $500 which gets you access to all the major events hosted by Art Basel and the Satellite Fairs. It doesn't get you into the Delano Hotel though unfortunately you still need an even rarer commodity to do that, an actuall young & sexy woman on your arm to get the pleasure of paying $16 for a mojito. Buy your way in here
The British Government denys export license in effort to keep a Turner Painting Sold in Auction to Getty Trust  in British Hands
The British government has announced Wednesday that the required export license for "Modern Rome – Campo Vaccino," which Turner painted in 1839, will be held up through Feb. 2, and potentially until Aug. 1, to give potential buyers who want to keep the painting on British soil a chance to match the J. Paul Getty Trust's bid. Read more here
Rochelle Slovin Director of Museum of the Moving Image To Step Down After Renovation
Read more here
Amedeo Modigliani Nude Painting fetched a record-setting price of nearly $70 million
A wise woman with striking red hair told me a few weeks back that the nude is coming back stronger then ever and she may just be right. Amedeo Modigliani's Nu assis sur un divan (La Belle Romaine) [Nude Sitting on a Divan (The Beautiful Roman Woman)], a canvas from an important series of nudes, drew five telephone bidders into a heated competition at the fall sale of impressionist and modern art ultimately selling to an anonymous buyer for $68.9 Million US. Read more here & here
The New York Times covers Olivier Zahm & Purple magazine
Read more here & here NSFW
The LA Times Wrings it Hands over Art Walks
The LA Times asks do Art Walks help or hurt the local scene, they might as well ask does wine production effect gallery openings; its a zen question that keeps getting asked and its ultimately pointless. Just be glad people show up at all since the overlap between the two worlds is so small if it was a Venn diagram it would look like a pair of spectacles. Read more here
The Art Newspaper Asks Does Sex Sell at Frieze
Read more here
Audio clip: Adobe Flash Player (version 9 or above) is required to play this audio clip. Download the latest version here. You also need to have JavaScript enabled in your browser.

download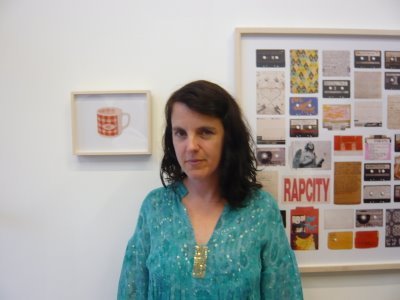 This week: The kick off of a series of programs recorded at Baer Ridgway Exhibitions in San Francisco during BAS's mini residency as a guest of Chris Duncan during his "Eye Against I" exhibition. Brian and Duncan talk with Chris about the series, and then the main event Tammy Rae Carland! In addition to being a fascinating guest, Tammy is the only guest we've had who has a song written about them to utilize as their intro/outro clip (by the awesome band Bikini Kill no less).
Bio lifted from Tammy's site:
Tammy Rae Carland was born in Portland Maine in 1965. She received her MFA from UC Irvine, her BA from The Evergreen State College in Olympia Washington and attended the Whitney Independent Study Program. She is an Associate Professor at the California College of the Arts where she also Chairs the Photography Program. She is represented by Silverman Gallery in San Francisco and primarily works with photography, experimental video and small run publications. Her work has been screened and exhibited in galleries and museums internationally including New York, Los Angeles, San Francisco, Berlin and Sydney. Her photographs have been published in numerous books including The Passionate Camera; Queer Bodies of Desire and Lesbian Art in America.
Her fanzine writing has been republished in A Girl's Guide to Taking Over the World. She has also published photographs and received reviews of her work in numerous national media including: The New York Times, Big, The Los Angeles Times, Spin, Details, Out and The Village Voice. In the 1990's Carland independently produced a series of influential fanzines, including I (heart) Amy Carter. She has collaborated on the record art of some seminal underground music releases for the bands Bikini Kill, The Fakes and The Butchies. From 1997-2005 she co-ran Mr. Lady Records and Videos, an independent record label and video art distribution company that was dedicated to the production and distribution of queer and feminist culture. Tammy Rae Carland lives in Oakland California.
PS: A hearty "Fuck You" to Libsyn and their crappy software. This is the third time I've written this. Turn off or down the "time out" function on your site, jerks.