Versailles art show hit by injunction bid
From the wet dreams of the marketing people behind Japanese pop artist Takashi Murakami's show at Versailles a descendant of the man who built the Versailles Palace in France is seeking an injunction to prevent modern works by Japanese pop artist Takashi Murakami from being shown there. The legal battle is fronted by Sixte Henri de Bourbon-Parme in defence of "respecting the chateau and ancestors." The ultra-conservative royalist has united with a group, the Versailles Defence Coordination, to file the suit, in which they stake a claim for the "right to access to heritage." Read more here
Prince Charles offers to oversee London architectural planning
This week in "What could possibly go wrong?" Prince Charles offers to take on key architectural planning role in the vaccum created by the quasi-autonomous non-governmental organisation that had its funding axed in the comprehensive spending review. The offer, announced by the foundation's chief executive, Hank Dittmar, has been met with dismay by leading modernist architects who fear Prince Charles may use the role to advance his own traditional tastes in design. Read more here
Studio Manager Anne McIlleron talks about her boss William Kentridge
William Kentridge who is the focus of Art:21's first feature length documentary (recently reviewed here and just broadcast on PBS this week) let his Studio Manager Anne McIlleron speak on what looks to be B-roll of the Art:21 documentary, its interesting but I am still of the opinion that William Kentridge wasn't the best subject in the world to get this kind of treatment, just me I am sure. See more here
Kronos Quartet Interviewed
I cant get enough of Art Babble I admit and  double so for the Kronos Quartet (which Duncan & I caught in concert last time they were in Chicago and were amazing) so when you merge the two together it's PB&J perfection. See More Here
Chagall's America Stained-Glass Windows are Back on View in Chicago
What more do you need to say then that, everyone just needs to bring their significant other and get to kissing. Read more here
New Yorker cartoonist Leo Cullum died
Leo Cullum, whose cartoons kept readers of The New Yorker laughing for 33 years, has died. He was 68. Read more here

The art world's own Bernie Madoff
Lawrence Salander Read more here
Google DemoSlam is previewed
Google has previewed a new site called demoslam built to encourage the creation and rank the best tech demonstrations on the net, part of me has long thought this was something the art world should have created a long time ago, free idea (hey get what you pay for) to whoever has the time and wants to put the work into it, Youtube was built for the Art world and a project like this (even though we all wish it looked like Vimeo). Have at it and God bless at this point I just want a life for a while lol. Read more here
Audio clip: Adobe Flash Player (version 9 or above) is required to play this audio clip. Download the latest version here. You also need to have JavaScript enabled in your browser.

download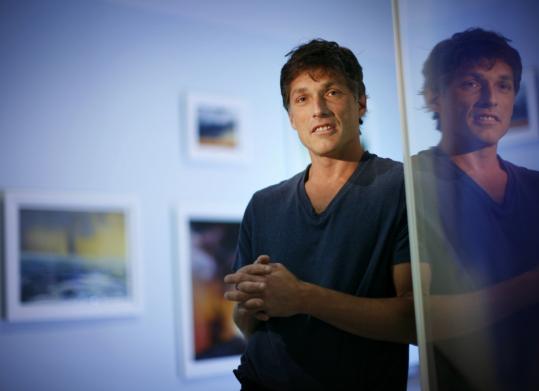 This week: Tom and Duncan talk to super-talented painter Alexis Rockman. There is a Smithsonian retrospective
that opens this month so check it out.
The following stolen from the Greenpeace site:
Alexis' paintings visualise the hopes and popularly held fears about scientific progress and the wide-ranging effects of human intervention on animal species, ecosystems, and the natural world.
We are brought face to face with a future that is at once surreal and unsettlingly familiar. Mutant animals, geometric landscapes, alternative environments either sterilized by science or unredeemably altered due to pollution. All this makes for some uncomfortable viewing.
"My position is one of ambivalence as the horse is already out of the barn so to speak; it is not biotechnology that is the problem but corporate America or globalism or colonialism. The implications of using this technology are far more devastating because of the unknowable effects. This is something that is very disturbing and visually compelling to me," explains Alexis.
Despite the questions that Alexis' work throws up about humanity's role in shaping a dystopian future, there's no obvious judgement in it.
Every element in the art is painstakingly researched. All the biological images have been developed through extensive collaboration with specialists in molecular biology, genetics, natural history and medical science.
"I really have to say these are relatively neutral images even if I use information that tends to make people feel uncomfortable. But I don't see that as negative. I try to show things that are obviously familiar but also inform them with as much cultural and scientific history as I can, so that they are credible.
"The stuff that may not be noticed – for instance the geometry of the landscape in 'The Farm'- to me is far more scary than an albino hairless mouse with cartilage growing on its back. I am also trying to make an emotionally resonant image that reaches people. I try to make it as credible as possible without making it boring."
Alexis is aware of the political power of his work. As an American, he believes he is well placed to bring attention to the consequences of his homeland's environmental, economic and political policies.
"I am of a generation whose relationship with the government and big business comes out of a post-Watergate scepticism. How could my work not have a political effect? I feel like I am in such a privileged position I would find it unconscionable if I didn't take advantage of that as someone who cares about these issues."
Collectively, the paintings presented in 'Wonderful World' offer a graphic vision of a bio-engineered near future in which human and animal bodies, crops and plants have been genetically altered to suit a variety of needs – whether commercial, aesthetic, medical or gastronomic.
Despite the potentially complex nature of the exhibition he makes a point of not being elitist, as his subject is something that touches every person on the planet.
"I don't expect anyone to know anything. That is why I am a populist. If I have a show and people from different demographics come to find out about global warming, I don't want to lose half of my audience due to my arrogance. It has to be decipherable to a six-year-old child. I try to construct it as an onion with different layers of meaning and iconography."
The negative consequences of industrial and technological progress are rarely addressed in a modern culture fuelled by the products of multinational entertainment conglomerates. Alexis' paintings hang out on the edge of complacency, forcing us to confront a vision of the future implicit in the choices we, as a society, make today.
This weeks show is dedicated to the memory of Penny Zeidman.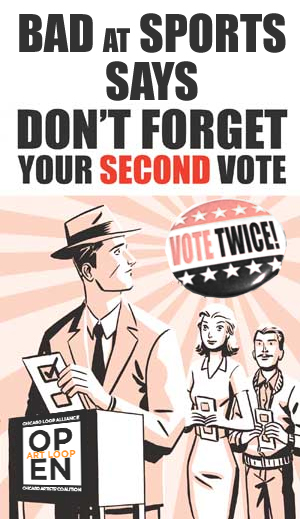 The Chicago Loop Alliance has announced their short list of 10 artists to win the $50,000 in cash prizes for the inagural Art Loop Open.
All of the Artists on the short list have done amazing work and many that were not included deserved to make the final but this isn't really about awards its about engaging the public. To that end Bad at Sports has officially come off the bench to support one canidate to win and that would be Steve Hamann's History of 'Bad at Sports' (Work on Paper).
I know reading that you might think we are biased but that could not be further from the truth; I hate Steve Hamann. He is an annoying artist that has been the bane of my existance for longer then I would like to admit so when I ask you to vote 6 or 7 or even 10 times for his work at theWit Hotel (hell get a room and just vote everytime you cross the lobby) you will know that I do so on the merits of the work and no other reason. How great must that work be for me to ask the thousands of readers of Bad at Sports to reward a man that reads dead baby jokes in nursery wards. I may not love the artist but I salute the art.
Now having established that we will all vote for Steve "The Ego from this point out" Hamann to win lets spend some time on the great artists that should get second and third. They are hard working artists the lot of them and deserve more attention then even this is giving them, starting with a old friend Bernard Williams.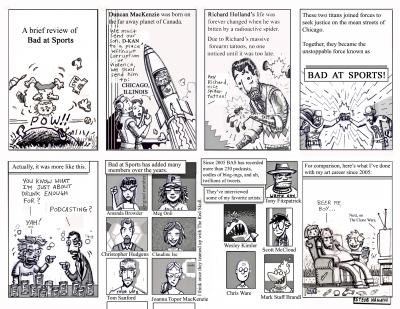 Bernard Williams: Buffalo Chart (Installation)
Block 37
Catherine Jacobi: Forgetting (Sculpture)
Block 37
Daniel Lavitt: Till We Meet Again (Sculpture)
Chicago French Market – MetraMarket
Giovanni Arce: Bush (Painting)
Block 37
John Dempsey: "The Great American Landscape" (Painting)
Macy's
Joseph Ivacic: Staying Connected (Sculpture)
Hotel Burnham
Lauren Brescia: Surprise… (Installation)
Block 37
Len Upin: Helen (Work on Paper)
theWit Hotel
Yva Neal: WAKA: Wall Altat of Kismet Abundance (Installation)
W Chicago – City Center

Guggenheim gets turned down on its plan to create the Hot Dog Stand Frank Lloyd Wright would have built
The Guggenheim Museum considered the hot dog vendors outside its NYC landmark designed by Wright to not be in keeping with the look and style of the venue and in that vein pitched an idea to the city to build their own. Reports say that they thought the benefits would be increased revenue and a elimination of the generic style brightly colored stands. The New York City Landmarks Preservation Commission turned down the plan unanimously though saying "It detracts from the landmark and causes it to compete with the main building," Robert B. Tierney, chairman of the commission, said of the proposed kiosk. "All of our standard appropriateness tests are not met here." Too bad since I would have loved to see what they would have done, someone needs to publish the spec drawings for that plan. Read more here
TED Prize this year goes to Street Photo-Grafitti Artist "JR the Photograffeur"
Part of me is just glad that the joke awarding of food pundit Jamie Oliver is past and Jr is actually interesting albeit I wish I knew more about his work prior to now. NPR's blog "The Picture Show" does a good job of covering a broad array of his work so I won't say more then check it out. Read more here
Stereotypical Art Show Award Goes To Sue Williams: 'Al-Qaeda Is the CIA'
I read about her show in the New York Times (a article with not a single image?) and was both annoyed by the lack of photos but more so curious as to what this show looked like. After looking up the official 303 Gallery website I enjoyably went through every photo. Sadly not for ascetic reasons or conceptual ones but the show is a virtual cornucopia of the current trends, tropes & stereotypes of the gallery scene today all in one places. There is the mish-mash theme, publicly antagonizing titles,  the glory in "shitty drawing", the mix of rich color highly elaborate wallpaper with monochromatic underplayed items, the go to masturbation references, war of the sexes & ironic elevation of the sensational and banal. I would have been able to win my Art World bingo game for the month but was just missing either deer illustration, skull illustration, taxidermy animal or human silhouette. Maybe next time. Read more here & See more here
NUDE in Chicago
Part of the Sculpture Objects & Functional Art (SOFA) exposition this year in Chicago (Nov 5th-7th) will be a exhibition of sculpture being built at booth 920 with help from the audience. Â Chicago artist Dana Major Kanovitz will be building the sculpture out of paper that the audience will hand to her. This is part of the larger series on show at the Perimeter Gallery which is showing a group show of artist who are looking to take a new stab at the oldest of genres in art, The Nude. You can read the press release and see images here
Danes get upset over Lego Sex
Employees at the town hall of Roskilde near Copenhagen have taken offence at the work on show in the building, paintings of two men made of Lego figures having sex. According to Danish press reports, artist Svend Ahnstrøm's piece, which shows 'Kurt and Anders' pleasuring themselves in a public park, has prompted three internal complaints. But no objections have been raised about Lego depictions of Adolf Hitler and Osama bin Laden. "It's hard to believe that something like this can offend people in today's Denmark," said Ahnstrøm. Deep down I wonder if his real thought was "Three people? a lousy three people? Seriously people are too lazy to protest…." cause look at the work and sing "One of these things is not like the others, One of these things just doesn't belong" the artist even agrees since he places Kurt and Anders at the bottom of his page last on his site. See more here

Mall in Manchester, England creates replica of Pharaoh Tutankhamun's Tomb & Treasure
Read more here

Dutch Venice Biennale 2010 – Dutch pavilion
The Dutch pavilion is very interesting this time round and "we make money not art" does a good job of covering it. Read more here
Audio clip: Adobe Flash Player (version 9 or above) is required to play this audio clip. Download the latest version here. You also need to have JavaScript enabled in your browser.
This week: Amanda and Patricia have a …. spirited….discussion with two of BAS's favorite artists (and the greatest oversight in our interview history until now) Stan Shellabarger and Dutes Miller. Go see their show, it's awesome!
Next, Brian and Duncan talk to Courtney Fink of Art Publishing Now while at Southern Exposure.
Did we really get the "bums rush" from politely denied by the Propellor fund, oh yes we did! Who received support? No word yet but watch the projects area of their site. prop grant winners coming soon
Lifted relevant info:
Art Publishing Now is a two-day event dedicated to the investigation and showcasing of art publishing practices in the Bay Area. It includes a day of presentations and critical discussions, an after-party, an art publishers fair, library and archive.
Western Exhibitions is pleased to present an exhibition by husband-and-husband artist team Miller & Shellabarger. The show opens on Friday, October 15 with a reception, from 5 to 8pm, which is free and open to the public.
This second showing at Western Exhibitions of Miller & Shellabarger's collaborative pursuits will focus on works from several inter-related projects including Volume 6 of their large-scale silhouette artist books, documents from a recent performance involving funeral pyres and intimate, discrete objects that utilize embroidery and carved shells.
The silhouette is a key component in several of these new works. Miller & Shellabarger first employed silhouettes in large-scale artist books that contained their individual profiles, each one cut by the other. We will show the most recent book in this series as well as other silhouette-based works that use the silhouette as a starting point, including conjoined beard silhouette collages traced by friends and two embossed lead pieces that feature similar imagery. We will also show larger-than-life, phantasmagorical images, created during their  "Summer Studio" artist residency at the School of the Art Institute of Chicago's Sullivan Galleries in 2010 which take advantage of the distortions of the silhouetted figure in light and shadow. Life-size body tracings of each other are realized in large drawings on paper made with gunpowder, and in a small book of photographs of body tracings made with seeds.
Additional work will include a twin set of pillowcases, each monogrammed with their initials using hair from their beards as thread, a delicate cameo depicting the two with their beards intertwined carved out of sardonic shell by an Italian master carver, and photographs from a recent performance "Untitled (Pyre)" where they found two naturally fallen trees in the forest, chopped them, and stacked the fireplace-sized pieces into roughly human-size forms, and burned these pyres at dusk.
Miller & Shellabarger are a 2009 recipient of the Peter S. Reed Foundation Grant, 2008 recipient of an Artadia Award, and a 2007 recipient of a Louis Comfort Tiffany Foundation award. Their work is in the collections of the Nerman Museum of Contemporary Art and the National Gallery of Canada in Ontario. In 2010 they showed a major selection of work at the Institute of Contemporary Art, Portland, Maine, participated in the Time-Based Arts (TBA) festival in Portland, Oregon and will have a solo exhibition in 2011 at the Illinois State University Galleries in Normal, Illinois. Their work has been written about in Artforum.com, Art & Auction, Frieze, Artnet, The Art Newspaper, Flash Art, TimeOut Chicago, and the Chicago Sun-Times. Dutes Miller and Stan Shellabarger also maintain separate artistic practices. They live and work in Chicago