Audio clip: Adobe Flash Player (version 9 or above) is required to play this audio clip. Download the latest version here. You also need to have JavaScript enabled in your browser.

download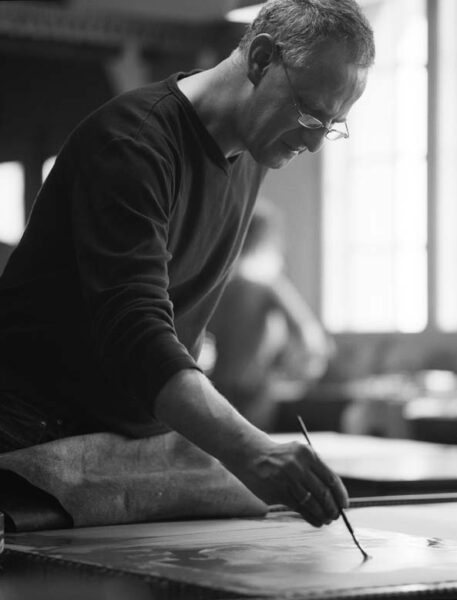 This week: Duncan and Richard talk to art superstar Luc Tuymans!
The following is shamelessly lifted from the MCA site:
Luc Tuymans (Belgian, b. 1958) is considered one of the most significant European painters of his generation and he has been an enduring influence on younger and emerging artists. Born and raised in Antwerp, where he lives and works, Tuymans is an inheritor to the vast tradition of Northern European painting. At the same time, as a child of the 1950s, his relationship to the medium is understandably influenced by photography, television, and cinema.
Interested in the lingering effects of World War II on the lives of Europeans, Tuymans explores issues of history and memory, as well as the relationship between photography and painting, using a muted palette to create canvases that are simultaneously withholding and disarmingly stark. Drawing on imagery from photography, television, and film, his distinctive compositions make ingenious use of cropping, close-ups, framing, and Luc Tuymans sequencing, offering fresh perspectives on the medium of painting, as well as larger cultural issues.
The artist's more recent work approaches the post-colonial situation in the Congo and the dramatic turn of world events after 9/11. These series have led Tuymans to a sustained investigation of the realms of the pathological and the conspiratorial.

Dutch Artists Jeroen Koolhaas and Dre Urhahn who meet when they started working together in 2005 while filming a documentary about hip hop in the favelas of Rio and São Paolo for MTV were inspired by the visit. They decided to bring outrageous works of art to unexpected places, starting with painting enormous murals in the slums of Brazil together with the local youth.

What began as a single mural here or a most impressive redesign of a concrete stairway into a illustrative koi pond has grown into a plan to paint the entire favela into a colorful explosion on the side of a hill. The idea being that ownership, pride and hope will spur the locals into viewing the slum as something to build on and protect as opposed to exploit and escape from. I am always interested to see solid case studies on if this works or not since I have seen first had it both change a community and also fail miserably in a separate instance and get trampled à  la pearls before swine. Akin to that would be ABC's Extreme Makeover Home Edition where you wonder how many of the new homes mansions are in forclosure or complete disarray.
Regardless though the work is amazing and quite interesting, I only hope the artists do get to complete the project it will be interesting to see it as a whole.
Audio clip: Adobe Flash Player (version 9 or above) is required to play this audio clip. Download the latest version here. You also need to have JavaScript enabled in your browser.

download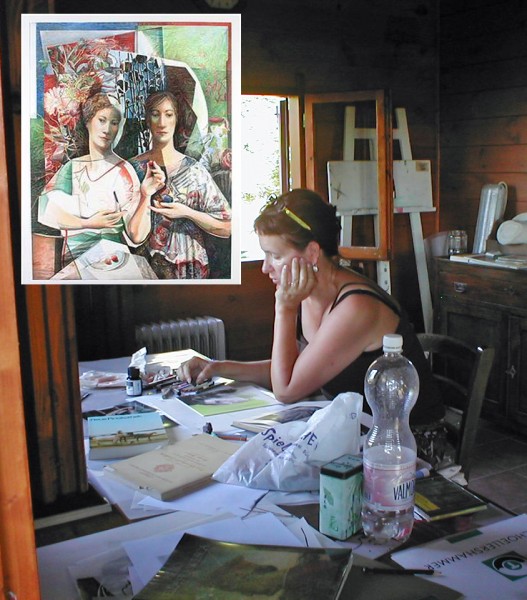 This week: Mark Staff Brandl talks to Martina AltSchaefer.This is the first of two interviews with German artists conducted by Mark Staf Brandl on the island of Elba, Italy. Martina AltSchaefer is an artist living in Ruessellsheim, Germany. She studied with the famed Konrad Kapheck and her creative work centers on very large, labor-intensive drawing in colored pencil on translucent paper. AltSchaefer has exhibited in many prestigious galleries and museums.
She also does printmaking and is an expert on mezzotint, about which she has curated shows and written essays. She was in an invitational retreat in July as a working guest of a foundation on the island of Elba along with Viennese jazz pianist and composer Martin Reiter, New York playwright Sony Sobieski, Berlin artist Alexander Johannes Kraut (the interviewee in part two) and Mark Staff Brandl, the Bad at Sports Continental and now also islandal European Bureau.
Also for all the Napoleon fans, especially those commenting on facebook, they were not in exile and even Mark was allowed back on the mainland without having to invade it.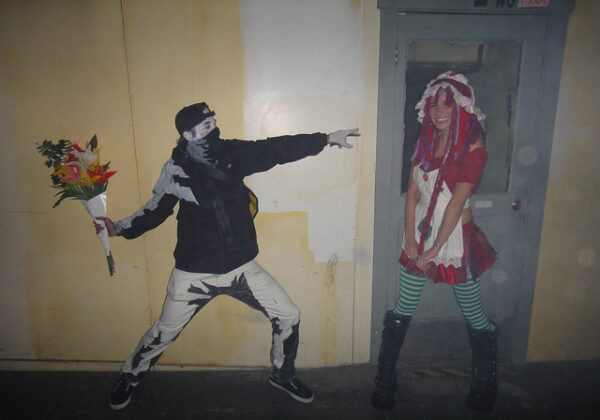 Last year it was the amazing 8bit girl costume which I was eagerly awaiting to see what she would do this year and the costume seemed to be closing down her site so in it's place the Best Halloween Costume idea of 2010 goes to the Amazing Banksy "Flower Thrower".
George Schnakenberg has taken the iconic 2d graffiti work and turned it in to a living breathing (through a handkerchief) 3d person. You can see via his flickr stream his night out partying and either his proposal or attack of Raggedy Ann.
The costume is quite well done and best of all comfortable and versatile. Hope everyone had a great Halloween this year.
Audio clip: Adobe Flash Player (version 9 or above) is required to play this audio clip. Download the latest version here. You also need to have JavaScript enabled in your browser.

download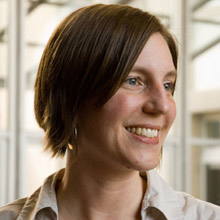 This week: Duncan talks to "super G" certified genius artist Camille Utterback.
Camille Utterback is an internationally acclaimed artist whose interactive installations and reactive sculptures engage participants in a dynamic process of kinesthetic discovery and play. Utterback's work explores the aesthetic and experiential possibilities of linking computational systems to human movement and gesture in layered and often humorous ways. Her work focuses attention on the continued relevance and richness of the body in our increasingly mediated world.
Her work has been exhibited at galleries, festivals, and museums internationally, including The New Museum of Contemporary Art, The American Museum of the Moving Image, New York; The NTT InterCommunication Center, Tokyo; The Seoul Metropolitan Museum of Art; The Netherlands Institute for Media Art; The Taipei Museum of Contemporary Art; The Center for Contemporary Art, Kiev, Ukraine; and the Ars Electronica Center, Austria. Utterback's work is in private and public collections including Hewlett Packard, Itaú Cultural Institute in São Paolo, Brazil, and La Caixa Foundation in Barcelona, Spain.
Awards and honors include a MacArthur Foundation Fellowship (2009), a Transmediale International Media Art Festival Award (2005), a Rockefeller Foundation New Media Fellowship (2002) and a commission from the Whitney Museum for the CODeDOC project on their ArtPort website (2002). Utterback holds a US patent for a video tracking system she developed while working as a research fellow at New York University (2004). Her work has been featured in Art in America (October, 2004), Wired Magazine (February 2004), The New York Times (2009, 2003, 2002, 2001), ARTnews (2001) and many other publications. It is also included in Thames & Hudson's 'World of Art – Digital Art' book (2003) by Christiane Paul.
Recent public commissions include works for The Sacramento Airport, The City of San Jose, California, The City of Fontana, California, and the City of St. Louis Park, Minnesota. Other commissions include projects for The American Museum of Natural History in New York, The Pittsburgh Children's Museum, The Manhattan Children's Museum, Herman Miller, Shiseido Cosmetics, and other private corporations.
Utterback holds a BA in Art from Williams College, and a Masters degree from the Interactive Telecommunications Program at New York University's Tisch School of the Arts. She lives and works in San Francisco.