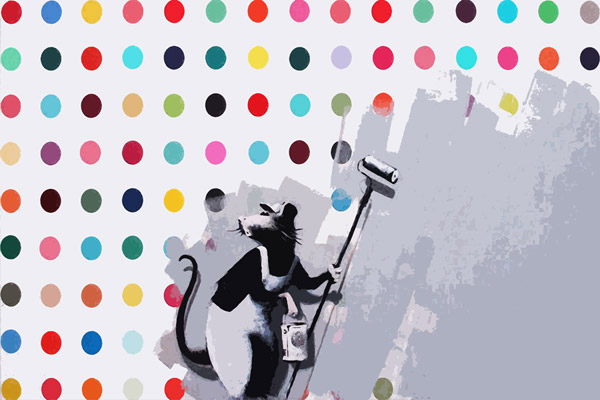 Over the last decade the growth in quality and value of on demand printing has never ceased to amaze me. What only companies could afford 10+ years ago for major events can now be purchased by an independent art gallery at a fraction of the price. For a while now when it came to printing it wasn't a question of if something could be afford-ably printed but more who do you trust to print it.
Having worked with companies that either printed overseas and you had long delays, color matching issues or just general customer services issues or ones that printed locally but quality was highly questionable at a 20% markup it was hard to have a good printer for long.
Then there is a company like iCanvasArt.com which is not only a Chicago based company but also has a drive to promote and expand contemporary art awareness. When I heard that they were selling high quality Banksy canvas prints and recently licesed Space Invader (now just Invader) prints I was even more interested.
Founded in 1999 by Leon Oks and Eugene Kharon in Chicago the business has grown and expanded all around the world and the quality hasn't diminished. I had to check out what they do and personally got a museum streached canvas print of Banksy's "Hirst spot painting with roller rat".
First off I can not express how fast the turnaround was having the company print and ship out of Chicago. Comunication and tracking was top shelf and packaging when it arrived was secure and very liberal in its padding.
The canvas was properly streached without being too tight or the more often trait of so loose as to be unimaginable to hang. The entire purchasing process was fast, easy and almost without note which is what you want really in a transaction.
I say almost without note in that there were two comments:
The Banksy prints obviously are derived from photos taken onsite and have been highly cleaned up in photoshop and I might assume vectored. Which is great when printing large scale images to keep the sharpness of line and richness of colors without noise or artifacts. The slight down side is the image has little gradient. Which with Banksy isn't that much of an issue but could be in other vectored images where it is more human and less like a stencil. Easy way to solve this is give a cropped zoom in function to show what a few sections of the image would look at printed size. Then the buyer can be informed and aware to make the decision that is right for them.
The image gets cropped based on the canvas size you pick. Which is honestly both great and horrible. Its is great considering that the image when shipped is properly filling the canvas regardless of the size you pick, it looks great at any dimension. Horrible in that I hate croping pictures just as I hate Pan & Scan movies and was a tad caught by suprise by this when it arrived. This could be easily fixed by having the thumbnail actually reflect the final cropping that would happen at the selected dimension and have a gold highlighted (ideal dimention) canvas size highlighted. So the buyer could know if they want the full image at the correct dimension, the gold one would be the best choice.
Those two comments aside iCanvasArt.com is a welcome addition to my list of online suppliers that can get the job done right the first time at a reasonable price. I am currious what other contempoary artists they can line up knowing how difficult that can be but also how important.
Audio clip: Adobe Flash Player (version 9 or above) is required to play this audio clip. Download the latest version here. You also need to have JavaScript enabled in your browser.
download
This week: A BAS bureau twofer!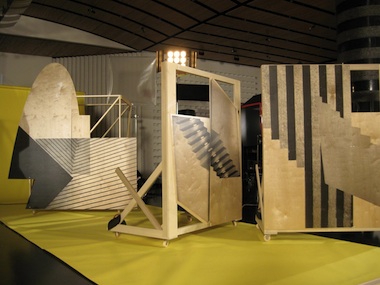 First Patricia talks to Mika Tajima.
This week, Patricia Maloney chats with artist Mika Tajima at the San Francisco Museum of Modern Art just before the opening of the exhibition Stage Presence, where her collaborative film, performance, and sculptural project, Today is Not a Dress Rehearsal, is currently on view through October 8, 2012 .
Mika Tajima, was born in Los Angeles, and lives and works in Brooklyn. She earned a BA from Bryn Mawr College in 1997, an MFA from Columbia University in 2003, and attended The Fabric Workshop and Museum Apprentice Training Program in 2003. Her work has been included in the exhibitions The Pedestrians, South London Gallery, London (2011); Transaction Abstraite, New Galerie, Paris (2011); The Double, Bass Museum, Miami (2010); Knight's Move, Sculpture Center, Long Island City (2010); Today is Not a Dress Rehearsal, San Francisco Museum of Modern Art (2009); The Extras, X Initiative, New York (2009); Learn to Communicate Like a Fucking Normal Person, Art Production Fund, New York (2009); Deal or No Deal, Kevin Bruk Gallery, Miami (2008); 2008 Whitney Biennial, Whitney Museum of American Art, New York (2008); Mika Tajima: Broken Plaid/Holding Your Breath (taking the long way), RISD Museum, Providence (2008); The Double, The Kitchen, New York (2008); Sympathy for the Devil, Museum of Contemporary Art, Chicago (2007); Music Is a Better Noise, PS.1 Contemporary Art Center, Long Island City (2006); Grass Grows Forever in Every Possible Direction, Walker Art Center, Minneapolis (2005); Echoplex, Swiss Institute Contemporary Art, New York (2005); and Uncertain States of America, Astrup Fearnley Museum, Oslo, Norway (2005). She is part of the music-based performance group New Humans.
The following is part of the ongoing collaboration between Bad at Sports and Art Practical. You can read an abridged version of the interview here.
Next: New India correspondant Tanya Gill goes to the India Art Fair!
Tanya Gill, a Chicago artist living in New Delhi, wanders through the India Art Fair of 2012. Over the course of four days she spoke to Gallery owners and artists, and found a surprising number of Chicago connects. Recorded here are her conversations with Kiran Chandra, Renuka Sawhney of The Guild, artist Vibha Galhotra, artist Ram Rahman from The SAHMAT Collective, Laura Williams of Art 18/21, artists Joan Livingston and Katarina Weslien from the School of the Art Institute of Chicago, Ritika Baheti of the Autonomous Public Laboratory Project, and four living works of art by Preeti Chandrakant.
download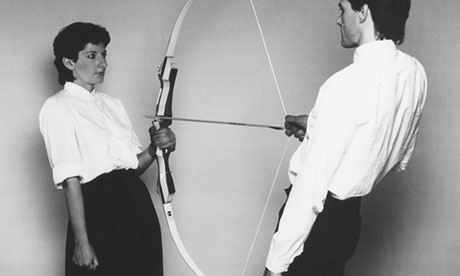 This week: Amanda and Susan Sollins talk to Marina Abramovic and then Tom Sanford and Amanda talk to Brent Birnbaum at NADA 2011 (the first two minutes are a bit noisy, it goes away).
download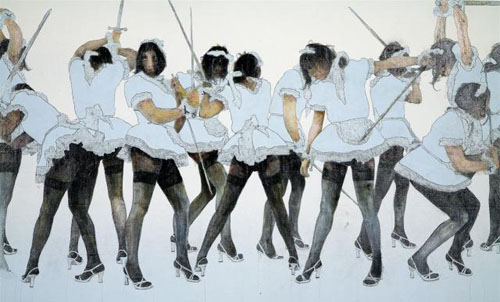 This week: 7 effing years! Our NADA series continues with Los Angeles based artist Matt Greene.
(b. 1972, lives and works in Los Angeles)
Past Exhibitions:
"Defenders of Reality," Peres Projects, Los Angeles
"Eden's Edge," curated by Gary Garrels, Armand Hammer Museum, Los Angeles, Forthcoming
Solo Exhibition, Deitch Projects, New York
Group Show, Stuart Shave/Modern Art, London, England
"Swallow Harder: Selections from the Collection of Ben and Aileen Krohn," Frye Art Museum, Seattle, Washington, curated by Robin Held
"the wilderness is gathering her children once again," Peres Projects, Berlin, Germany
"LAXed: Paintings from the Other Side," Peres Projects, Berlin, Germany
"Panic Room" works from the Dakis Joannou Collection, Deste Foundation Centre For Contemporary Art, Athens
"We Are the Dead," Modern Art Inc., London, UK
"She Who Casts the Darkest Shadow on Our Dreams," Peres Projects, Los Angeles, California "JT Leroy, Origins of Harold," Deitch Projects and Art Production Fund, New York, NY
"Translation," Palais de Tokyo, Paris, France
"Traum/Trauma Works from the Dakis Joannou Collection, Athens," Kunsthalle Vienna, Austria
"Gravity's Rainbow," Peres Projects Athens, Greece
Greene has been featured in Art Forum, Flash Art, The Believer, Frieze, I-D, The New York Times, and recently catalogues of his work were published by Peres Projects ("She Who Casts the Darkest Shadow on Our Dreams") and The Moore Space ("Scream").
Catalog available for the solo exhibition at Deitch Projects, New York.
Greene's work is in the permanent collection of the Museum of Modern Art, New York; The Art Gallery of Ontario, Toronto; and the Honart Museum, Terhran.
download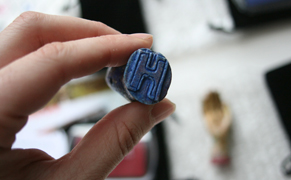 This week: Hyperallergic founder Hrag Vartanian live from NADA.
Hyperallergic is a forum for serious, playful and radical thinking about art in the world today.
Created by husband-and-husband team, Veken Gueyikian and Hrag Vartanian, Hyperallergic officially launched on October 14, 2009. It combines the best of art blog and magazine culture by focusing on publishing quality and engaging writing and images from informed and provocative perspectives.
The site was the winner of Best Art Blog at the 2011 Art & Reality Conference in St. Petersburg, Russia.
In 2011 alone, Hyperallergic was featured on major media outlets around the world, including television stations, like Al Jazeera, radio stations, like WNYC and 97X, newspapers, like New York Times, Washington Post, Los Angeles Times, the Guardian, The Art Newspaper, Poland's Onet Wiadomości, Hungary's Origo and Israel's Ynet.co.il, magazines and journals like The Nation, Art News, Italy's Internazionale, The Brooklyn Rail, and not to mention dozens of websites, including Boing Boing, Kottke, Andrew Sullivan, Felix Salmon, CNN.com, Huffington Post, Memeorandum, Gothamist, Gawker, Kotaku, FoxNews.com, NBCSports.com, PSFK, Brooklyn365 and The Stranger's Slog.
Hyperallergic also publishes a Weekend edition edited by leading writers and journalists. It offers a closer look at issues in art, books, films, theatre, dance and music.
In addition to the blogazine, our fast-growing Hyperallergic LABS is one of the largest art blogs on Tumblr. It is a visual laboratory that explores weekly themes through art and mines the internet for images, memes, quotes, links and videos. LABS is an online experiment that welcomes public submissions for its Talk Back Tuesday feature every Tuesday and its Events Thursday feature every Thursday. To submit content, visit hyperallergic.tumblr.com/submit
The Hyperallergic Podcast, known as Hyperallergic TV, features video & audio discussions of art, exhibitions, trends, the art blogosphere, and issues facing the art world. Hyperallergic TV is also available on iTunes.
The Hyperallergic Newsletter is sent out weekly and includes a letter from the editor with a recap of the most popular and important stories from the week. (Subscribe here) Newsletter subscribers also get first dibs on Hyperallergic events, that include discussions, parties, screenings and performances.