Guest post by Jessica Cochran
"I like the term project," he remarked in 1969, "because it is never clear what exactly is meant by it…it covers lots of different things; it is more open and full of possibilities." Seth Sieglaub (as quoted in Your Everyday Art World by Lane Relyea, 2013)[1]
As I wrote in a previous guest post, artists who have passed have a marked presence in this year's Whitney Biennial, which is more typically known as a survey for the living. Such is the case with curator Anthony Elms' inclusion of Academy Records / Matt Hanner. Hanner (whose work was also included in the Dallas Biennial), a much loved member of Chicago's art community, passed away unexpectedly in 2011, and so Elms asked Academy Records, led by Hanner's close friend and frequent collaborator Stephen Lacy, to work with Hanner's archive to develop a presentation demonstrative of the many connections between the late artist and Academy Records. Lacy dug into Hanner's large trove of works, which includes "sound verite," forms of mail art and ephemera, such as photographs and slides, among other works.
The Spectre, the resulting "cumulative work" on view at the Biennial, consists of a large black and white graphic wall drawing called The Spectre (the stars are falling) shown alongside Hanner's recorded sound and print ephemera, and a neon sculpture called Tomorrow is still above you, hung precociously over the entrance to the gallery (which Lacy referred to as an "in addition to" a clever revelation of artistic / curatorial decision making).  This gallery presentation is supplemented by The Bower, a 16mm film (screened over several days, not shown in the gallery) loop of blossoming cherry trees, set to the three-hour audio work No Jets, Hanner's field recording of the flight path to Chicago's O'Hare airport during the flight delay after the September 11, 2001 attacks. Academy Records has released the audio (compiled from four individual cds) as a vinyl record called No Jets, an artist's multiple, with the sleeve artfully and curiously designed, complete with liner notes. The film's cherry trees were filmed by Lacy outside the apartment where Hanner made the field recording. As Anthony Elms has written, this "system-specific" (a term coined by artist Stephen Prina)manner of working is typical for Academy Records. And as he wrote a number of years ago in the publication Cakewalk, "Asking Academy Records to do a project is like hiring a general contractor. A plan is in place; who shows up, how, and when is a bit of a surprise."
Platforms are distinguished by their looseness. Rather than bounded and fixed, they are traversable, permeable, and responsive, constituted by dialogue with an outside. Whatever profile of boundary they do possess is only the one their interfaces actively conjure. In this sense they can be considered performative; only through and within acts of coordination with peripherals and externalities does their existence as entities come into focus.[2]
I recently read that an "installation exists somewhere between the exhibition and the making of art."[3] I suppose that's as good of a definition as any. With this multi-faceted, dimensional work(s), Academy Records exploits that, with an added focus on labor and distribution, or "systems of delivery." More than an installation, this work hovers between project and platform, because it serves, as Lacy suggested in our studio visit, "[as an] abstract layering of poetic imagery" that creates a sort of "thru-line" between "works so quiet you could miss them altogether."
Needing to be experienced from within the gallery and the museum screening room to the record itself, The Spectre's many pieces fit together like gestures; they are conceived and responsive "acts of coordination with peripherals and externalities" that cross time and space. It's not didacticism, but a hidden logic, or mystery poetics that link elements, such as the wall drawing, which, as Lacy articulated, "falls away from the wall," to the other works in the gallery as well as to those that are distributed in a different time and place. To borrow an odd and wonderful term coined by Lygia Clark to describe her own abstract drawings, the work is "empty-full"—while it allows me (the viewer) to go where I need to go, it is loaded with a host of possible meanings, as I feel the weight of the work move with me through the space and back out into the world.
Since learning of this Academy Records/Matt Hanner project, its images, ideas and implications have followed me closely. It has hovered over my psyche the past few days in New York as I scrambled (and failed) to see the biennial again in person, colliding with my own distant memories of my grandmother (an artist, now gone) and her small ranch home in the earth shaking, jet-laced shadows of O'Hare airport; scrambling with loud 24-hour news cycle headlines lamenting the just opened 9/11 Memorial Museum; and filtering through the blossoming trees in Central Park and back home in front of my house in Chicago.
The following images constitute a curatorial response or a personal context for the work of Academy Records / Matt Hanner. Some are considerations of death; others share similar attention to distribution and labor; others employ drawing, video, the vinyl record, audio, or the archive.
For me as well, it represents a moment in time—this response in images would be different if I did it tomorrow, or the next day, or if I had done it yesterday.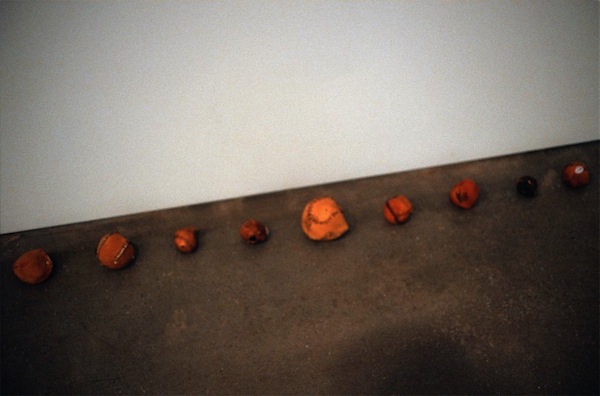 Zoe Leonard, "Strange Fruit," detail (1992 – 1996); exhibited at Paula Cooper Gallery, Fall 1996, 67 orange and grapefruit skins, thread, buttons, zippers and wax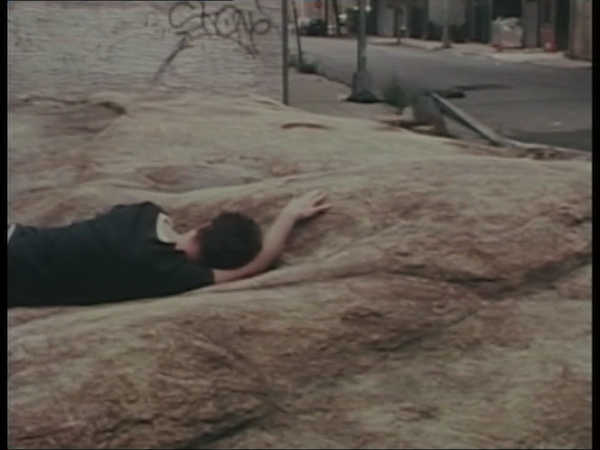 Ulrike Müller, "Mock Rock," 2004; 3 minutes, Super8 film transferred to video; view video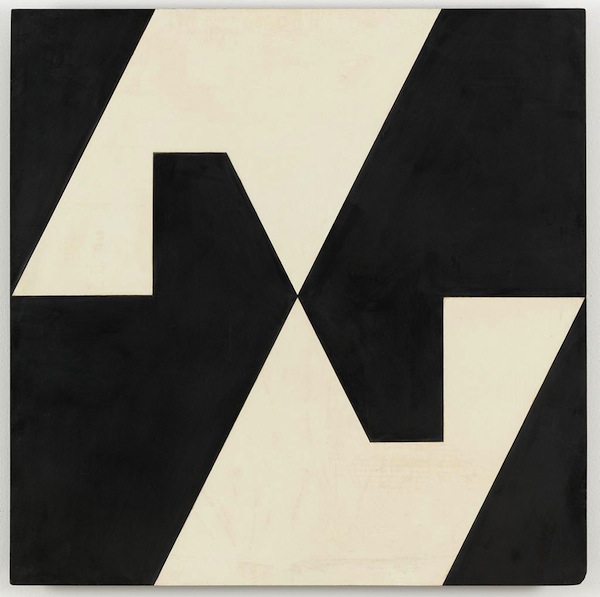 Lygia Clark, "Planes in Modulated Surface 4," 1957, Formica and industrial paint on wood, 39 1/4 x 39 1/4 inches; The Museum of Modern Art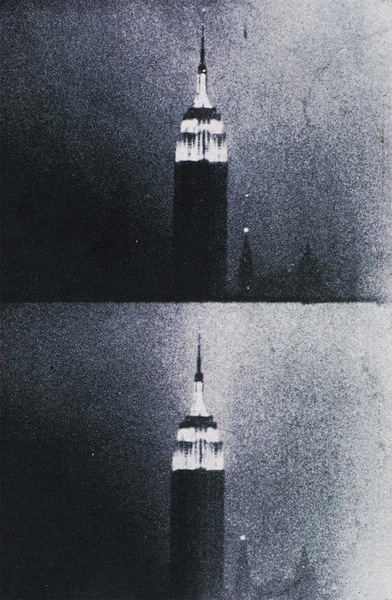 Andy Warhol, "Empire," 1964; film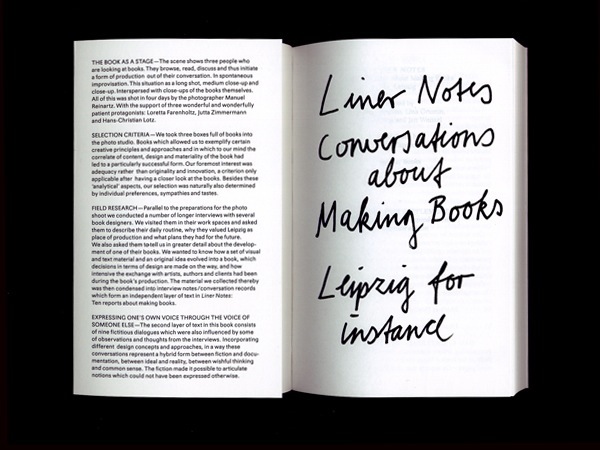 Liner Notes – Conversations about Making Books, Leipzig for Example; ed., Anne König, Jan Wenzel, Lina Grumm, Markus Dreßen, 2009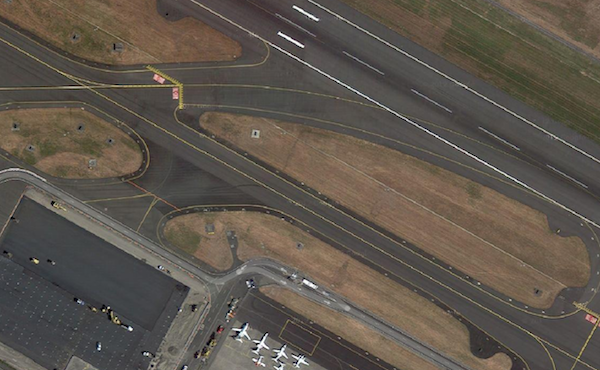 Nicholas Sagan, airport screenshots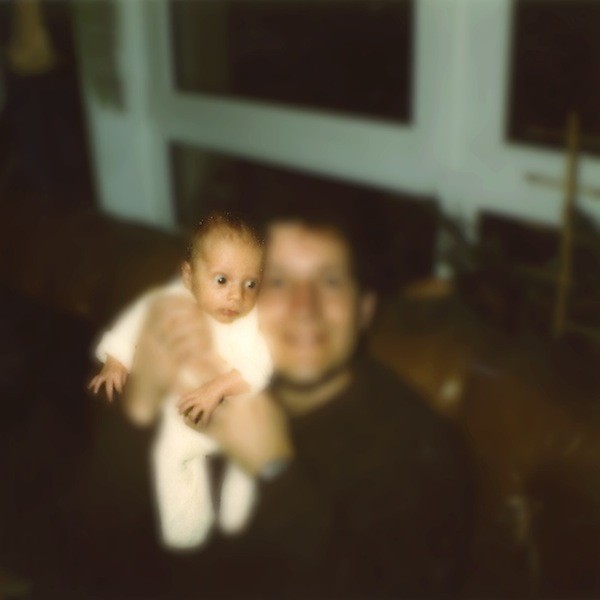 Pamela Bannos, "Baby Paul and his Dad," Scanned and Altered Vintage Polaroid, 2011; archival inkjet print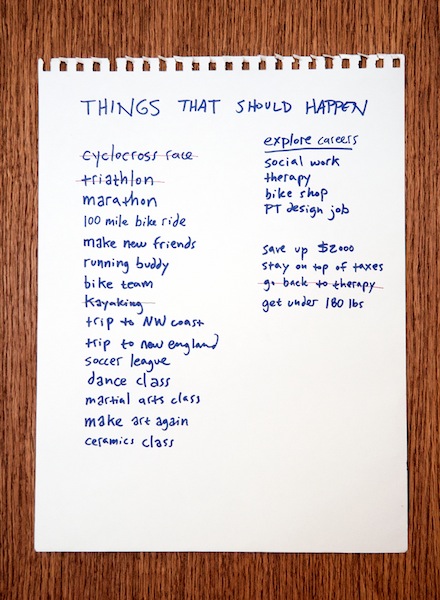 Pamela Bannos, "Things that should happen," 2011; archival inkjet print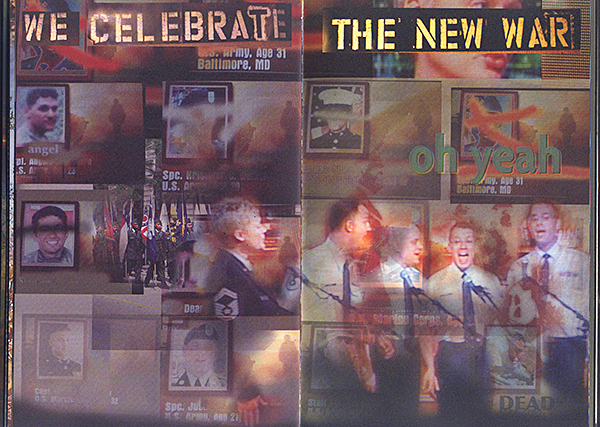 Brad Freeman, "Wrong Size Fits All," 2010; offset printed artist's book; 8 3/4" x 5 3/4", 112 pages, edition size 200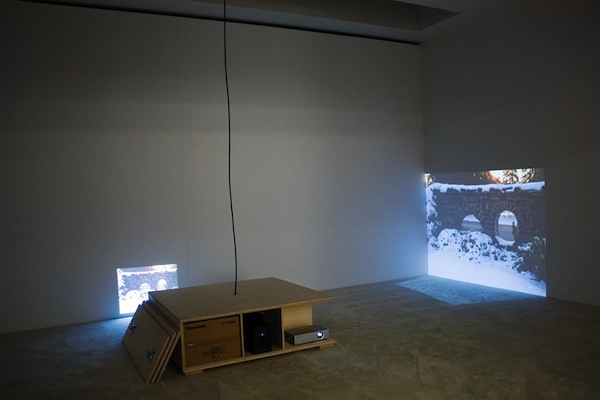 Stephen Prina, "The Way He Always Wanted It III," 2009; exhibited at Friedrich Petzel Gallery, Spring 2009; 33 mm film transferred to DVD; 3 Panasonic PT-LB800 projectors, 2 M-Audio Bx5a speakers, 1 Kramer Audio splitter, 1 Pioneer Pro DVD V7400 player, Monster audio cable, Baltic birch plywood, carpet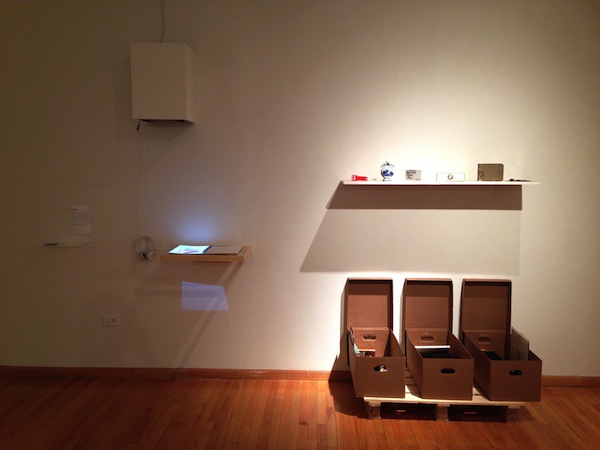 Kate Morgan, "Passages" installation, 2014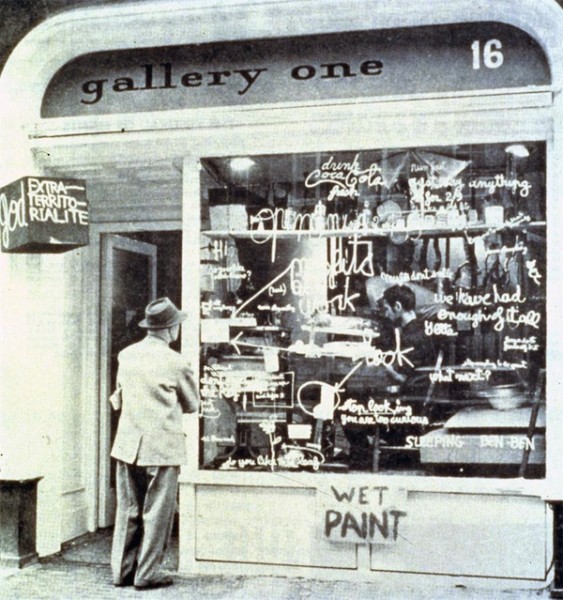 Ben Vautier, "Living Sculpture," 1962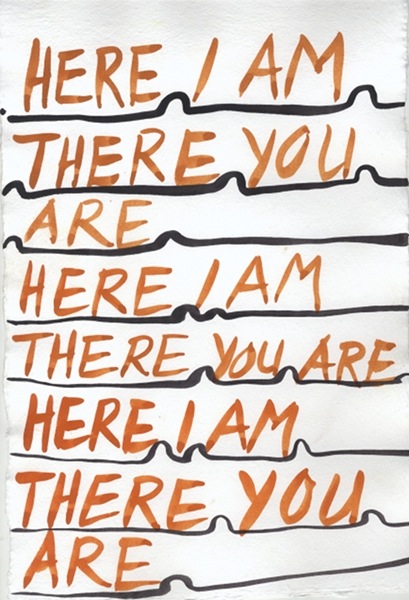 Deborah Boardman, "Spring Text 26," Gouache on Handmade Paper, 2012, 12″ x 20″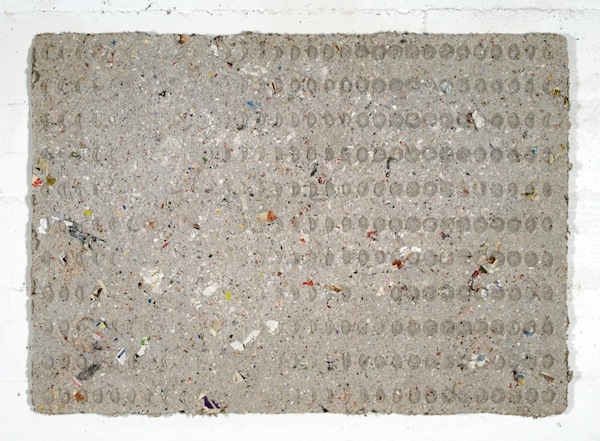 Julia Goodman, "Eleven Months Mourning: August 19, 2007 – July 14, 2008," mixed media and handmade paper. Image courtesy the artist.
Footnotes:
[1] Lane Relyea, Your Everyday Art World (Cambridge: MIT Press, 2013), 18.
[2] Ibid, 21
[3] Margina Pugliese, "A Medium in Evolution: A Critical History of Installations," in Ephemeral Monuments: History and Conservation of Installation Art , ed. Barbara Ferriani and Marina Pugliese (Los Angeles: The Getty Installation Institute, 2009), 23.
—
Jessica Cochran is a writer and curator in Chicago
Guest video post made for Bad at Sports by John Neff
Steve Reinke is an artist and writer best known for his work in video. His work is in many collections including the Museum of Modern Art (New York), the Centre Pompidou (Paris) and the National Gallery (Ottawa), and has screened at many festivals including Sundance, Rotterdam, Oberhausen and the New York Video Festival. In 2006 he received the Bell Canada Video Award. A book of his scripts, "Everybody Loves Nothing," was recently published by Coach House. He has also edited several books, most recently (with Chris Gehman) "The Sharpest Point: Animation at the End of Cinema." Reinke's video Rib Gets In The Way, 2014, which includes hand-drawn animations by Chicago artist Jessie Mott, is included in this year's Whitney Biennial.  
John Neff lives and works Chicago. A digital document of his work from 1999 to 2009 is available for download (154 Mb) at: http://www.nightclubchicago.org/img/shows/06/JohnNeff_CollectedReleases.pdf
Guest post by Nicole Mauser
For their contribution to the 2014 Whitney Biennial, Valerie Snobeck and Catherine Sullivan use Northwestern University's Transportation Library Menu Collection donated by renowned anthropologist George M. Foster's as a springboard for a collaboratively made artwork. This extensive collection was accumulated during Foster's research travels and includes, "400 menus from 54 national and international airline carriers, cruise ships, and railroad companies, with coverage from 1929 to the present."[1] Image of Limited Good, the title of Sullivan and Snobeck's mixed media installation within Anthony Elms' curated section of the Biennial, directly refers to Foster's controversial 1965 essay, "Peasant Society and the Image of Limited Good," in which Foster outlines a theory of limited good as derived from observing traditional societies that, he asserts, believe goods are finite; according to this thinking, when one-person gains, another loses. This belief leads to a fragile sense of order and communal sustainability in light of the given society's 'competitive games' for survival, wherein value is a certitude based solely on supply's abundance or scarcity.
Snobeck and Sullivan's installation is comprised of sculptural objects, ready-mades, and delicate prints of barely discernable Swissair airline logos on tissue. A series of luggage racks are propped against improvised table surfaces, many of which are littered with antiquated suitcases filled with murky substances and embedded objects related to the gelatin-based printing process of hectography. This process of a bygone era could be easily dismantled to leave behind no evidence of production. Here, all the objects are carefully strewn and poised for disappearance, quickly tucked inside a suitcase or ready for disposal at a moment's notice. As a result, Image of Limited Good's individual parts are not inherently connected but have been carefully selected to imply a whole that is collapsible and infinitely reconfigurable. Each object acts as a clue that proposes questions for the viewer to slowly decode.
"The value of Mr. Foster's collection resides not only in its volume, but in the number of his hand-written comments regarding flight dates, airplane types, and food and wine ratings and descriptions," [2] reads Northwestern's collection didactics. These traces are evidence of a visual anthropologist who was an early hybrid of the multiple roles artists today play.  The materials in Snobeck and Sullivan's installation follow suit in that they carry a patina of secrecy and silence and re-enact antiquated modes of travel and reproduction. Accordingly, the installation can be interpreted as a quiet commentary on the entire premise of the Whitney Biennial, where the intent has historically been to illustrate the shifting patterns of artist alignment with curators, communities and conceptual trends moving in and out of vogue, all vying for relevancy. Thinking broadly about this artwork and the theory developed by Foster, can we then ask: does such in-depth research lead to error and misinterpretations? Is there a context where misinterpretation is actually valuable and lead to valuable discourse?
It is not Foster himself as a historical figure that is positioned at the center of this artistic collaboration; rather, it is the narrative fabricated around his practice as a by-product of the academic intent to develop, explain, and connect traditional societies to the current modern society or to the fabric of the ages. To create a universal theory that holds up decades beyond the maker/author(s) is still the ultimate ego-centric task in academic anthropology and also remains an aim of abstraction and, perhaps, in art as a whole (depending on the artist's intent). As a viewer, my question is, what do static fabricated objects accomplish in this context? They occupy a slippage between art object and art-object-as-artifact. The artist Allison Smith comes to mind—her work re-inhabits historical moments by fabricating sculptural 'historical' stand-in objects that are part fictionalized and part illustrative of historical fact, each component becoming incredibly didactic. Refreshingly, Snobeck and Sullivan's collaboration is the opposite. Discursive potential, nee momentum, is contained within each object, literally embedded in the gelatin or epoxy, yet refusing, even in print form, to transcend or act as a proxy between neither Foster's collection nor his theory and the viewer. However, Snobeck and Sullivan leave the viewer in the lurch to negotiate objects that, at face value, are meaningless without due research.
---
[1]
Link to Northwestern University Transportation Menu Collection:
Nicole Mauser (b. 1983, Indianapolis) is and artist and educator who lives/works in Chicago, Illinois. Currently, she is an adjunct professor of Studio Arts at The University of Illinois at Chicago in painting. She obtained an MFA from The University of Chicago (2010) and a BFA from Ringling College of Art & Design (2006). She was a recipient of a Post-MFA Teaching Fellowship at The University of Chicago in 2011. Her work is included in such collections as The Nerman Museum of Contemporary Art (Overland Park, KS) and The Alexander (Indianapolis, IN). 
Guest post by Jacob Wick
I met artist and musician Conrad Freiburg at his home/studio south of downtown Los Angeles with a mostly-full bottle of Malort in tow. I'd met him before, several times. The first time was at 8550 Ohio (née Harold Arts), probably in 2010 or 2011. The summer I moved from the east coast to the west one, I listened repeatedly to his album the Undecagon, which at the time I thought was a very poetic name about the mystery of geometry. I continued to think this until the night of this interview, when I discovered that an undecagon is any 11-sided polygon. I'm looking forward to seeing him play live, for the first time, on May 17th, in the lot outside of his home/studio, south of downtown LA. I left the bottle of Malort there—it's really terrible stuff—and I'm looking forward to reuniting with it. Anyway, I went to his studio with the intention of talking about a sign he had told me about a month earlier, which, when I arrived, it became apparent that he had not yet made. Then again…
JW: It's all the same. I could look at these sketches and say like wow, this sign is beautiful, I love the way the wood grain…you know? I'd say it's about six feet high by about eight feet wide, just like, uh, think about it.
CF: If you can imagine a national park sign that says "Welcome to not giving a fuck," that's the idea. It's got the handyman/weekend-warrior font, you know? The top of the sign has a little bit of a slope to it, and all the corners are rounded. And, you know, it says: "Welcome to not giving a fuck." Which I think is very important to getting anywhere worthwhile. There's some element of forgetting to give a fuck.
JW: Like unintentionally not giving a fuck? Where you suddenly start not giving a fuck but don't realize it?
CF: Unintentionally not giving a fuck. Maybe you stick your tongue out when you focus. You know? Maybe there's just some sort of weird thing you do…when you're focused on something, and you're in there, you don't give a fuck about your tongue. About looking like a dumbass. I mean, I speak really because when I really concentrate on something I stick my tongue out.
JW: I cock my head I think. It's confusing sometimes because I don't know what to give a fuck about and what not to give a fuck about. I really give a fuck about—like, to get really heavy—I really give a fuck about art. But I don't give a fuck about art. What am I supposed to do?
CF: Well, art has the advantage of being two things at once.
JW: What's the two things? Market and culture?
CF: Well, it could be something you both deeply give a fuck about and also think is a silly thing to give a fuck about. I forget where I heard this, some poet or another: it's as serious as your life. Which seems like an intense statement to make about a music or art. What level of seriousness does it really mean? Like quality or intensity? You can find the intensity that you're looking for in certain types of art or music, or you can find the calm or whatever zone. The subjective viewpoint is always part of the viewing experience.
JW: Like you're viewing it from the point of view of your own situation, and your history.
CF: And whether or not you care to give a fuck.
JW: Memorial Day is coming up.
CF: Yeah. I always remember it was very shocking to see my dad wearing jeans, because he just looked so weird wearing jeans to me. He always wore business attire: slacks, maybe even a suit. So when he was on vacation he would wear weird jeans—he would just look so silly in jeans.
JW: He was a salesman?
CF: Yeah, insurance salesman. His phrase, which I think is great, describing what insurance is: you're replacing an unknown with a known monthly payment.
JW: Like, "I don't know when I'm going to die, but I know I have a $24.99 monthly payment."
CF: Somehow making that payment alleviates the stress of whatever it is that is unknown for your car, or your house, or against theft. You can insure against almost anything, it just has to be some unknown thing that could happen and ruin your life. But I'm not an insurance salesman. I got my license to sell life insurance in the State of Illinois, as part of just trying to figure out how to make money while making art…
JW: Did you sell anyone life insurance?
CF: Hell no. Who's gonna go to an artist or musician to think about organizing their life and getting their shit together? They're not going to look to me.
JW: But I feel like artists kind of have–especially now—you really have to have your shit together because you have to figure out how you're going to structure your life so you have time to sit down and make art, or think about art for like a sustained period of time. How many days do you spend, you know, in the studio, so to speak?
CF: Well, I spent about three years. I didn't take any jobs, I didn't do anything, I just did art stuff. Recently.
JW: How?
CF: I just kind of thought like what is it that I value? What stage of my career am I in? I need to start making bigger stuff, so I had an opportunity to make some bigger stuff. And my rule for doing art stuff is, "if you want me to do art, you have to provide me the means for providing food and shelter or give me a place to sleep." I'm not talking about making money off the stuff; I'm talking about sustainable living. I don't like when people expect art or music to be free. I think it's disrespectful to people who have dedicated their lives to doing something. If you're a carpenter and you've been doing it for 20 years, you deserve a good rate. If you're an artist who's been doing it for 20 or 30 years, you deserve to get some money from your work—or some kind of value. I mean, if you look at art in terms of its monetary value, you miss its whole zone of power. Like with art, you want to make a thing or an experience that gives someone more than they expected. Something that lasts. An idea that sticks in your head, a piece of art that sticks in your head, a performance that sticks in your head. Like the first time I saw David Lynch's Blue Velvet, when I was a young wisenheimer—I don't know how young I was, early 20s?—it did not make sense. What does Mulholland Drive mean? I don't know what it means, but there's a thing that's significant about its meaninglessness, or its dreamlike associations. That scene where there's that opera singer that's lip-synching her own voice—that just sticks in your head. That disembodied voice that is your own voice. But I feel like that's a really great entry into how to see art, just get into the mindset of someone who would make such a thing—if you can. There's these clues that lead nowhere. In a way it keeps you going to back to it because it's never complete. Like that roller coaster at Linda Warren gallery that I built. I got tired of being in group shows so I just made a piece that wouldn't play well with others. It just had to be on its own, as a sculpture, nothing else around it. And that was the bowling ball roller coaster. It was called The Slipping Glimpser. There was an association in the research I was doing—which is one of these art tricks, you take a document and translate it into whatever form you work on, like if you're a theater person you're going to take MS-DOS catalog and make a play out of it and it's going to somehow be entertaining. You can take either a totally non-poetic tree catalogue or the biography of an abstract expressionist painter. You can take those two things and use those as your source material for the ups and downs of the rollercoaster.
JW: Like, this rollercoaster is about Mark Rothko and this rollercoaster is about MS-DOS are both equally believable at a certain point.
CF: Well, let's face it, abstraction has its advantages. Because you can retroactively or proactively give the thing language that it will be described as, through press releases and artist statements and titles.
JW: You have an album called The Undecagon, you have a bunch of sculptures that you've built or are building also called Undecagon…
CF: There's a whole category of work that's all undecagon-shaped. The woodshed, which is that big sculpture in Ohio—fully rotational celestrial observatory and musicians' practice space—
JW: How does it rotate? Does someone have to push it?
CF: Yeah, it's human-powered. I want to get one of those eccentric wheel-pump type things that you'd see on a train car? Like the old pump-cars on a train? A machine like that that makes it go.
JW: That'd be nice.
CF: Yeah, pretty funny.
JW: Is it on rails?
CF: It's got kind of like an upside-down tophat shape on the top, and then there's lateral wheels that pinch it in, so it's held in the middle and then it rolls along these 8×8 beams that are at the top of these 13-foot posts. So the whole structure pinches in, because the wood expands and contracts and does all this stuff, so when it does that, even if one goes way off, it's all linked together and it pulls itself tighter. Gravity, over time, tightens everything. There's a blind dovetail joint in the top of the post that keeps the header and the spoke joist…
JW: I feel like this is the point where carpentry is crossing over into magic for me.
CF: Sure, blind dovetail! It's a thing you don't know is there. Unless you really know to look. It's a little hidden zone, a little further hidden thing in that sculpture. But there's all kinds of other little fun stuff in there, too. One of things is that over time I'm accumulating this list of local designations for constellations.
JW: Oh really? In Ohio?
CF: Yeah, basically the rule is you have to be able to direct me from the North Star to the constellation. At some time of year. And it makes it on the wall of the upper portion of this rotating deck. So a little inlay, kind of.
JW: So is the idea that people can be practicing in it and people can be on the roof? Or are the people that are practicing intended to be the people who are in the celestial observatory?
CF: Yeah, you probably wouldn't be practicing and on the roof at the same time, but somebody could be up top listening to you practice. Or you could be up top. When you're up in the bowl of this thing, you'll feel closer to the sky. It eliminates the horizon, so when you lay down you can't see the trees. All you see is just above the wall-structure. So it's with those kind of sightlines in mind that you just lay down in the thing and get a tour around the stars. It's a beautiful thing. I feel so lucky to get to make the thing. I'm heading back there this summer to get the final roof on it. Working with some local craftsmen there to get it sealed up properly on the topside. And then really I'm anchored back here. I'm buckling down: I gotta just be here and get things started out here. Which is fun. Being a transplant to California, every day is a new adventure, which is kind of nice. I'm excited. I want to make earthquake powered sculpture. That's what I want to do. I have specific ideas about how this will happen. I don't want to say anything more about it, but there's some urns in the fire. But if anybody has any ideas about land that this thing could happen on, or some sculpture garden or private zone. You want to do our shots of Malort?
[JW & CF down their shots of Malort]
CF: Blech. Dandelion. It makes me think of when I ate a fucking dandelion as a five-year-old on the playground.
JW: God.
CF: That is so disgusting. It's amazing how disgusting it is! Ugh. Terrible.
JW: But I find it very enjoyable. It's so bad, but it's like a thing, there's nothing else that's quite like that.
CF: That's true. It's utterly distinct.
JW: Do you know about acoustic shit? Is the sculpture in Ohio acoustic? What's the acoustics in that space?
CF: I would describe it more as aural architecture than acoustic architecture. So aural has a little more cultural connotations and what have you–I'm not making claims of its purity, but the worst kind of room is the one that Human Resources—the cube. Acoustically in there, the way the sound bounces, there's one tone, there's gonna be one thing that you hear. You don't get the broad frequency response because of all the standing waves. Some frequencies cancel. With a structure like the one in Ohio that I've built, there's no parallel surfaces, so the sound scatters…so there's no standing waves that develop. So the frequency response is all the frequencies sound clear, as opposed to some sounding louder and some sounding softer. In theory. The room itself will have some resonant frequency, just the space of the room itself. The wood, the volume of the air in there is going to have some tone that makes it boom.
JW: Does an 11-sided object reflect sound differently than a circular space would?
CF: There's lots of corners. As an acoustic musician or any musician setting up to try to project sound to cover up talking or a room or whatever, you have to be in a corner because you're maximing the acoustic energy, the mphhah. You want to be in a corner if you want to give yourself more noise, or more amplitude. Or if you're trying to tune while somebody else is playing, you get as close to the corner as possible so you can hear your instrument over the noise. It's kind of like an acoustical mirror or something.
JW: Yeah, because it's a reflecting point. Aurally. Is that why you're so excited about undecagons?
CF: I like the idea of just making irregular objects that have some standard—a standard irregular object. It's a little wrong. Maybe this thinking of not giving a fuck is also a way of saying to not desire stability. There's a willingness to be uncomfortable.
JW: Yeah. I'm going to go for this feeling of—this thing that I thought I really cared about, let's see what happens when I don't care about it. That kind of thing?
CF: It could be. Yeah, you're trying on different attitudes regarding the world. I think there's this thing of unknowns that is important to what I mean. That you only learn from what you don't know. So if your objective is to learn or to live a good life or something, I think in some way thinking about the good life in the sort-of philosophical way requires that you are part of the world, but also requires that you have something to say, as a friend, to another person. You have to be experienced. You have to be willing to share, and be compassionate, and empathetic, and all these sort of social-type traits. But the thing that keeps me interested, and I think scientists interested, and I think explorers, is the unknown. In a broad cultural way, art is the unknown.
JW: It's where people go to find what they don't know.
CF: Or yeah, what doesn't make sense, or what doesn't need to make sense. Although I don't think a lot of people go to museums for that, if they're going to museums to look at art.
JW: What are they going to museums for?
CF: To impress a date? To see a thing that they remember seeing, back when they were a kid when they smelled the museum for the first time, or they're just going to be in a quiet place and be with some art objects. I'm thinking of the classical zones, now, the paintings and the furniture and the suits of armor and what-have-you…
JW: But about the readymade zones or the Rauschenberg zones?
CF: It's hard to describe it. It's an anecdotal thing. What we're describing is some newbie to art being frustrated with an art experience that it seems like you have to have a master's degree to understand it.
JW: But it's weird because sometimes you do.
CF: Yeah, it turns out that we humans are sophisticated types! And especially artists are complicated people who have to cloak everything in…
JW: Do you think it's a bad thing?
CF: I don't think it's a bad thing. I think there's advanced levels of thinking in any field. You can see so many dynamics through the knowledge of a thing. Expertise is really—it's good. That's how our medical system is set up now: there's experts. There's like a generalist who is a fielding agent for the experts.
JW: Your childhood doctor is not going to perform a quadruple bypass on you.
CF: No way! You're going to want the guy who's done it three thousand times before. Expertise is what's gotten into this advanced zone we're in now, in art. And there are art experts. There is such a thing as expertise. And I think one of things is there's also a parallel or hierarchical zones, like the community art center show of the tri-county plein air painters is a different places hierarchically in teh art world than the secondary auction market of living artists. It's an entirely different type of work, entirely different motives behind it, different values ascribed to it, but talking with plein air painters is kind of fun sometimes. You talk about color, you talk—this one woman at a conference I spoke with, she described it so beautifully. She was like I can't believe I didn't do this sooner in m life. I see things differently after painting. After looking, and trying to mimic the thing you see with goop. She said, I see things differently. And I was like, that is exactly what art is. On its base level. To see things differently you have to first know that there's another way of seeing. How do you know?
JW: You have to first know that you see things in the certain way that you see them and not everyone sees them in the exact same way. Which seems pretty basic, but it's not at all. Separate the world from the earth.
CF: The world from the earth? So the world is cultural, and the earth is material?
JW: I think so. If you ever read The Origin of the Work of Art, by Heidegger—it's a lecture that he gave, which is really insane because it must have taken an hour and a half and it's super dense and I can just imagine thirty students in 1934 Germany in a cold room listening to this maniac talk for an hour and a half straight—I feel like that's a viewpoint from which to approach shit like this—but anyway he's trying to differentiate like, here's a lamp and here's a pen and here's a painting, and why is the painting art and not the lamp or the pen? So he goes through the lampness of the lamp and what makes the lamp a lamp—like it has this thing that turns it on and off and it has this lightbulb in it and it has a circuit and a function—and the penness of the pen, and then he goes into the art and his conclusion is that what makes a work of art is that it contains within it the potential to make the viewer aware of the differentiation between the world, which is the world as perceived by the viewer, and the earth, which is this deeper zone that the self-perception of the world has come out of.
CF: So there's like the archetypal things that we share bubbles up in these standard pictures we have. Like the house-image, the tree, the lamp, the pen, the work of art. But this is the thing that I think is important to express to people who feel like they don't appreciate art, that art is how we know ourselves. That's what archeologists study. They study paintings on the wall, they study clay pots, they study things that humans made, you know? We look back into paintings and temples and all of these things that teach us about who we are as humans, culturally. If you don't look at art or understand art you're not human in some way, you have no access to this part of our existence that defines us.
JW: You define yourself in relief—you become aware that there is an entirely other way that you could be existing in the world. Which is what's nice about art, what art does.
CF: Yeah, I think so. That's where the joy of it comes. Instead of thinking about walking, thinking about how you're really just falling in a controlled way. It's a mind spot.
Conrad Freiburg is an American artist from the midwestern United States. Starting in the late 90s, his multi-disciplinary projects have engaged audiences with momentary danger, beauty, and lyricism. His work has been reviewed in magazines such as Art Forum, Art Ltd, Art in America, and he was once honored as Chicagoan of the Year by the Chicago Tribune. His work is in many prominent private collections including the MCA in Chicago. Recently, Conrad has completed an eleven-sided fully rotational celestial observatory and musician's practice space in rural Ohio and continues to tour as a musician offering an improvised approach to composition and song. He lives and works in Los Angeles, California.
Jacob Wick is an artist, writer, and improviser who lives in Los Angeles. In 2013, he coordinated Germantown City Hall, an installation of civic space in a disused structure in the Germantown neighborhood of Philadelphia, Pennsylvania. Germantown City Hall was a collaboration with Information Department and the Think Tank that has yet to be named…, and was commissioned by the 2013 Hidden City Festival with generous support from the Andy Warhol Foundation. What We Want is Free: Critical Exchange in Recent Art (2014), for which he was an associate editor, is published by SUNY Press.
Guest Post by Jessica Cochran
This year's Whitney Biennial curators Michelle Grabner, Anthony Elms and Stuart Comer cast the net so far beyond Chelsea that New York Magazine's Jerry Saltz lamented "curators are so determined to stay pure, to avoid acknowledging the machinations of commerce, that the show is completely disconnected from the entire world." Elsewhere, however, in the pages of the more academically inclined Artforum, Emily Apter took the biennial's discursive turn away from New York centric art objects as an opportunity to consider the "liminal space" of a museum biennial "replete with printed matter, writing, texts of all sorts—in short, with words." "The textual object," she writes, "demands to be seen as a live, or "living," work, an interface of bio and res."
Its true, the archival impulse is what set the tone and struck a chord this year, particularly in the work of Chicago-based Joseph Grigely and Public Collectors (founded in 2007 by Marc Fischer), both curated into the biennial by Anthony Elms. Each taking as their subjects the lives of a deceased creative individual and his personal belongings, their projects build meaningfully on the Whitney Biennial's recent history of both deceased artists and artist-curated "sub exhibitions," notably from the 2012 edition the inclusion of George Kuchar (died, 2011); Robert Gober's presentation of work by Forrest Bess; Nick Mauss' curation of queer-oriented work culled from the museum collection; and also discursive contributions, such as Andrea Fraser's essay No Place Like Home.
Joseph Grigely's project The Gregory Battcock Archive, 2009-2014 is a mini exhibition of ephemera culled from the archives Gregory Battcock that Grigely recovered himself in the storage area of an artist studio building. Battcock was an intrepid New York critic (something of a reformed artist) who was mysteriously murdered in Puerto Rico in 1980 and known for his writing on minimalism and other emerging genres of conceptual art. The Whitney display, with postcards, photographs, manuscripts and scribbled notes organized into vitrines, is an extension of Grigely's own text driven practice, specifically the project Conversations with the Hearing. For the art workers among us, this glimpse into the world of a dynamic talent and fastidious thinker gives pause for reflection: how will my activities live on after I am gone, and who is going to care?
In scholarship on artist's books, much has been written about the concept of paratext as it impacts a book's concept and meaning. An artist's reflexive manipulation of the book's gutters, typography, headers and index, for example, impact the text's meaning as it is delivered to the reader. So too in Grigely's presentation of the Battcock images and texts in the real dimensional space of the gallery, a different kind of paratext becomes important: the vitrines as support structures and the aesthetic arrangement of the material. The vitrines, "each made of a different hard wood, a different shape and height" and "composed as an irregular modular sculpture," inform the way we maneuver through and consume the text. Because, as Grigely told me, "no archive is disinterested" and in an extension of Joseph Albers' articulations of color theory, "you can't put one document beside another without changing both."
Public Collector's biennial contribution was dedicated to a different kind of archive—the recordings, ephemera and images of Malachi Ritscher, who, Fischer wrote in a publication for the project, was a "Chicago-based documentarian, activist, artist, musician, photographer, hot pepper sauce maker, and supporter of experimental and improvised music." Deeply respected and liked throughout the Chicago music community, Ritscher spent years independently recording thousands of live free jazz, experimental and underground improvised live shows at venues throughout Chicago, in addition to his day job as a union engineer and anti-war activist. On November 3, 2006, he self immolated in front of the Flame of the Millennium sculpture by Leonardo Nierman in full view of the Kennedy Expressway just north of Chicago's busy loop interchange. As he wrote in texts found posthumously and displayed on a poster in the exhibition, "If I am required to pay for your barbaric war, I choose not to live in your world."
Unlike Grigely, for Public Collectors, "directing attention to and caring for the creative work of under-recognized people like Ritscher" is at the core of each project they mount. Amidst the presentation of recordings and ephemera, a recorder and a small paper sign, which Ritscher used to record and temper dialogue around him in the clubs, hangs above a series of brown suitcases: "Your cooperation (i.e. restraint) is appreciated." This statement drips with melancholy. Because while his protest suicide was carefully recorded and it was his hope that it would circulate widely, the video of his death was entirely suppressed; and the reporting of his death, much less any discourse generated, was subdued and grass roots, covered minimally by local and national papers.
"In this space of affection, navigate the inappropriately cared for and the tossed aside particulars."[i] In his catalog essay, Elms argues for Deleuze and Guattari's "close vision"—or a notion of curator as custodian of a culture that is micro, idiosyncratic, ineffable, and eminently forgettable. Though a growing trend in curatorial practice, this decidedly counters the "bigger is better" ethos of the contemporary biennial as a perfectly and purposefully in-graspable thing. It also departs from the biennial's value system as rooted in the empire building world's fairs of the 19th and 20th centuries—many call London's Great Exhibition of 1951 held in a dramatic crystal palace the "first" biennial—designed to give viewers a deeply overwhelming "great mass and jumble of things" (commodities, mostly) as "a challenge to make sense of … unimaginable diversity; to find or invert a "perspective" on the whole so that objects could be made to "stay and lie orderly."[ii] Anything but orderly and still, Grigely and Public Collectors' presentations animate the individual, allowing visitors to, in Grigely's words, "draw and draw out"[iii] the subject because, as Elms points out in his essay, "hearing is not the same as listening."
Most biennials are to some extent about nation building and nation branding—Prospect in New Orleans as a response to Hurricane Katrina is an American example—and in doing so the confrontation or processing of deeply entrenched national trauma. In the Whitney Biennial, however, the work of Grigely and Public Collectors amplifies a particularly American trauma of the self actualized yet alienated creative individual who is ultimately alone, forgotten, desperate or dislocated. Instead of healers, however, we might call them thieves. In his essay "The Curious Case of Biennial Art" Jan Verwoert asserts that one paradigmatic biennial artist is a "thief" who (as opposed to the fairly straightforward "jokers" and "scouts") uses their understanding of the economy of desire to deal in the secrets of a mirage of cultural identity centered around an undecipherable trauma that glints like a ruby in the dust when one tentatively points a spotlight in its direction."[iv] Battcock and Ritscher may be dead and gone, but their ideas are alive thanks to the illuminating work of Joseph Grigely and Public Collectors. And as the art world grows ever bigger in size and speed, one can only hope that the Whitney Biennial continues to make room for the discursive, textual and "tossed aside particulars."
Jessica Cochran is a curator living and working in Chicago
Notes:
[i] Anthony Elms, "Sentences sometimes are impediments," in The Whitney Biennial 2014 (New York: Whitney Museum of American Art, 2014), 155
[ii] Donald Preziozi, "The Crystalline Veil and the Phallomorphic Imaginary," in The Biennial Reader, ed. Elena Filipovic, Marieke Van Hal, Solveig Ovstebo (Bergen: Bergen Kunsthall, 2010), 45
[iii] Joseph Grigely, "The Gregory Battcock Archive 2009-2014," in The Whitney Biennial 2014 (New York: Whitney Museum of American Art, 2014), 185.
[iv] Jan Van Verwoert, "The Curious Case of Biennial Art," in The Biennial Reader, ed. Elena Filipovic, Marieke Van Hal, Solveig Ovstebo (Bergen: Bergen Kunsthall, 2010), 190