"Out of the Mouths of Artists" is a new bi-monthly series on the Bad at Sports blog. The series presents a space for guest artist bloggers–of varying career statuses–to write, to reflect, to pontificate on their current situations, failures and/or successes, and ideas on what it means to be an artist. "Out of the Mouths of Artists" also gives readers a glimpse into artists' portfolios and studios.
The Man who saw the Man who saw the Bear
Guest Post by Michael Gimenez
For my first trip to the United States in the summer of 2000, I accompanied a contemporary dance company on tour in several Michigan towns as their photographer. I was afraid to live this journey through the visual prism of thousands of hours of American television series and movies that had saturated my mental images. I promised myself that I would look at each thing with virgin eyes, cleaned of any cinematographic references. Upon landing in Chicago, the view offered up and framed by the plane window struck me: I clearly remember having the impression of traveling through a TV screen, materialized by a yellowish haze and a myriad of swimming pools.
My very first vision of the American territory was exactly like a thousand other shots I had seen on television series. An aerial shot above a sunny metropolis.
Baseball fields. Traffic. Highways. Reflections. Skyscrapers. That was a bad start.
Twelve years later, some of which were spent in the School of Fine Arts of Montpellier in France and some producing art in Prague in Czech Republic, I planned a second trip to the United States. I had decided to fulfill a desire growing inside of me since first viewing motion pictures that had been made in the U.S.A.—a desire that 95% of French boys from my generation secretly wished to achieve. A road-trip across America. Skyscrapers. Spanish moss. Dusty roads. Red sunsets. Close encounters?
July 2012: Before I leave, my friends tell me that during their stay in a campsite a few hours from New York, they saw bears sneaking around their tent and eating their food. They tell me to be careful because I will probably cross paths with some during my trek.
For this trip, I also aimed to start a film project questioning why we still want to see and represent Native Americans as imaginary Indians. For this reason, I decided to stay a few days on the Pine Ridge reservation in Wounded Knee, which would be my last stop before dropping the car off that I had borrowed in Chicago. Wounded Knee is a highly symbolic place within Native history. It's where more than 150 men, women and children were massacred in 1890, and it later became the catalyst of the American Indian Movement. The day before I hit the road to Wounded Knee, I looked at one of the movement leaders' Wikipedia page—born in Pine Ridge, activist but also movie actor, Russell Means. I was surprised to see a date of death beside his name, thinking that it was a mistake. I was immediately stupefied to learn he had died that very day. For lack of meeting Russell Means in person, I would go to his funeral. He had returned to the reservation to die. A missed encounter.
September 2012: While I'm stopped in Marfa, Texas, the young French girl who is hosting me tells me all about the beauties of Big Bend Park, where she and her friends had met a bear, and how it was wonderful.
I recently started creating 3D models of edifices and monuments to incorporate into Google Earth. I started it somewhat spontaneously after finding out that the factory chimney towering over my hometown of Rive-de-Gier, which is classified as an historical monument, didn't exist in this virtual world. The chimney is more than a century old and is as high as the hills that surround the industrial valley where I grew up. At one point in history, it was the tallest chimney in all of Europe, standing 360 feet tall. The landmark is visible from many spots over town, even from my parent's house. My dad worked in the metallurgic factory connected to the chimney for 45 years.
Currently, I am finishing a model for the gate and memorial of the Wounded Knee cemetery. Next, I will make the Haymarket Square Memorial. On May 1st of this year, I found out that International Workers' Day originates from the workers' struggle to install an eight-hour shift right here in Chicago, back in 1886. Many of them were killed. These types of edifices also need to exist on the virtual globe.
Mid-September 2012: While crossing the Navajo Reservation in Arizona, I give a ride to Native hitchhiker who is going back home to Kayenta. When he gets out of the car, he tells me to be careful because there are a lot of wild animals on the road. I won't see a single one.
For the past three months, I have been working on a documentary about a movie that made a mark on me when I saw it in the nineties, and didn't receive fair recognition. Clearcut is a great thriller, but it primarily presents an unseen and non-stereotypical characterization of Natives. The Canadian film was actually made by Polish director Ryszard Bugajski. In April of this year, just before leaving for Chicago, I met and interviewed Ryszard in Warsaw. His analysis regarding the way his film was received in North America—very well by Native people, very badly by Canadians—was revealing for me. He defended the proposition that a European person would actually be in a better position to depict a sensitive and typically American issue like Native genocide. Ryszard himself had to flee Poland to Canada to escape the Communist regime; he knows about oppression. Empathetic, but impartial. Free of guilt.
End of September 2012: I'm in California, halfway into my road trip. The grizzly waving on the state flag is the only bear I have seen so far.
The more I learn about the United States, the better understanding I have of European history. Because I lived in Central Europe for several years, I can now see the Polish, the Czech and the Hungarian influence on the construction of American history (especially on cinema) and on Chicago, which houses the largest Polish community in the U.S. and the artists' neighborhood Pilsen.
October 2012: I stay for a few days in Yellowstone Park, set on seeing a bear. Bears are extremely active in the fall because they have to fill up before going into hibernation. The park is overpopulated… with warning signs explaining how to hide your food and stay alert, et cetera. Instead, I venture off treks with my camera as my only weapon. Not a single fur.
I also approach my work by focusing on new formats generated by what we call "the Internets". I make use of different on-line media (comments, forums, YouTube, Google Earth, newspapers, etc.) as raw material to incorporate in my installations. For instance, in the installation Punctum Remotum, I wrote a short novel narrating various YouTube videos. And in the video Drammatical, I transformed the user-comments of an online USA Today article into a multi-dialogued video.
November 2012: Just before I return to Europe, a friend takes me to the Chicago Zoo so I can at least see a real-life bear on American soil. It's already very cold, and the zoo seems to be asleep. Most of the animals are trying to keep warm. We finally reach the bear neighborhood to find the other side of the fences completely deserted. We run to the polar bears' swimming pool—it's empty. Even the polar bears are cold in Chicago? Anyway, they're invisible. At least until spring.
Today, two months after landing in the Windy City for the fourth time, I'm starting to seriously get used to the idea of living, working and creating in this city. Then my girlfriend is offered her dream job—a job that will take us away for three years to Glasgow. Scotland. Back to Europe.
I look at the red carnation that has been poised in a glass jar on the kitchen table for more than two weeks. Its petals haven't quivered. In this country, flowers don't rot. The red flower is mocking me as if she knew she was just a picture. Eternal. Virtual.
Now, I think back to a typically French expression used to define a person who speaks of things about which he doesn't know: "the man who saw the man who saw the bear."
Michael Gimenez (b. 1977) received a MFA from the School of Fine Arts of Montpellier, France. Recent exhibitions include 'Rio, Ano Zero' at 37a Mostra Internacional de Cinéma, São Paulo; 'Global Locals' at Galerie NTK, Prague; 'Drammatical' at ETC gallery, Prague; 'Exuvies' at Galerie 35, French Institute, Prague; 'Punctum Remotum' at Galerie Living-Room, Montpellier; and 'C'est mieux si on reste amis.' at Galerie Saint-Ravy, Montpellier. See more of Giminez's work at www.michaelgimenez.com.
Guest post by Erin Leland
Staged inside the 2014 Whitney Biennial, three operas, originally written and scored by American composer Robert Ashley, and currently directed by Alex Waterman, took place: Vidas Perfectas, The Trial of Anne Opie Wehrer, and Crash.
A floor to ceiling mirror forms part of the stage backdrop in both Vidas Perfectas and The Trial of Anne Opie Wehrer, and in Vidas, video cameras shoot around and behind the actors through mirror reflection for in-camera image overlays. E.S.P. TV, an organization dedicated to live studio broadcast, real-time edits the multiple camera angles and transformations into the live-feed television taping in front of the audience. The live feed composition changes according to a written score, melding shots of the performers with scenic footage from a town, coordinated in time with the language spoken on stage.Vidas Perfectas is the seven episode Spanish version of opera-for-television, Perfect Lives, performed live in varying incarnations since 1978. In July, Vidas Perfectas will be performed in El Paso, Texas; Ciudad Juarez, Mexico; and Marfa, Texas.
Actors enter the scene with their lines printed in hand. Strict memorization is never a part. Memorization of lines might be impossible. Plot premises are visible right away, however hypnotic the scripted effect. In Vidas Perfectas, there is a bank robbery, a marriage, a getaway, a distraction – the plot endlessly ropes. Yet, the plot twists fall away, and as it seems – none of it ever mattered. Only the plot's textured details are omniscient: the returning Bartender, virtuoso piano playing, gossip. Plot is a regurgitation of a television drama through a border town.
I interviewed a performer in Vidas Perfectas, Raul de Nieves, and asked: "Originally, Perfect Lives was set on the Illinois and Indiana border. Is Vidas Perfectas set in a particular place on the Mexican border, or is it anywhere or everywhere on the border?"
Raul: "I think it's anywhere and everywhere on the border. Vidas Perfectas, the Spanish version of Perfect Lives, to me is more like songs. I remember the first time I crossed the border here, when I moved from Mexico to California. Once you cross, you can't go back, or you could, if you have papers. Borders, they do exist. It's a very important piece of land that divides everything."
I also spoke to Elisa Santiago, a performer alongside Raul in Vidas, "You played more than one character in the play?"
Elisa: "Everyone plays a few voices. Sometimes more percussive, sometimes more airy, sometimes more determined. And Alex (Waterman) always insisted that sometimes we are speaking from the character's voice, but sometimes we are speaking from the landscape."
Raul played several characters – the Captain of the Football Team, the Bartender, and as he said, "the way it was explained to me was, I was one of these voices that are supposed to not be there – "
Erin: "Part of a chorus?"
Raul: "Like those voices in the back of your head that are telling you what to do or what not to do."
Qualities in common between the three operas are slowed speech in stark surroundings, an onslaught of talking. Intermittent information leaks into the set from the world – a discussion of statistics, footage of a rolling highway, photographs of talent agency advertisements, and questions, like, "Have you ever used the telephone to falsify your identity?"
Ashley writes operas about being ill at ease. The scripts are composed largely of conversations. Either the plot or the conversation, depending on the opera, becomes hard to follow. For example, The Trial of Anne Opie Wehrer presents a person on trial – in the original it was performed by Anne Opie Wehrer, a friend and collaborator of Ashley's. The new version put four distinct personalities on trial over four performances during which the tone changed from combative to manic to squeamish. Elisa: "In the Trial, for instance, there are proxy characters and interrogators – the proxies could answer real answers from their own lives, or answers through Anne's story. They had really researched Anne's biography and her answers, and they could give her answers."
Interrogators sit behind the person on trial and ask questions, until, at some point the question-askers begin to become the answer-givers, forming a interrogative chorus from behind. An interrogative meditation.
Elisa Santiago described Ashley's method for writing scores, "Some thoughts are very short within a longer thought. There is the thought, and the reaction to the thought, in one line. It's almost like he is asking something and answering it in the the same line. Almost talking to himself."
Robert Ashley scripts are speech patterns built, at times, from Ashley's own, real-life speech impediment. Ashley learned to speak slowly in order to calm a stutter. He replicated his own mannerisms in written scripts for actors to perform. The performers learn to speak by beats.
A most pronounced example comes from Crash: 
The Journal [Year 2]
At two years old I got e—
electrocuted.
I was a baby sitting in water in an iron tub on a metal t—
table.
There's an electric wall plug right there and wh—
wham.
Next thing is that some part of me is up in the up—
upper southwest corner of the room,
watching my mother and my grandmother
shaking my body and c—
crying.
I keep wondering why the up—
upper southwest corner.
The other day I read about a man w—
who got electrocuted by accident.
He says he was in the up—
upper southwest corner.
"Our safe anchor is the page," said Elisa, "but you can be a little open. Even though time is very specific – you never want to lose that beat, if a piece is in 5 or in 7, we don't want to lose the 7, but sometimes things get more circular. It's always not so sharp. If we drift a little in this thing, becoming a little more open, then as a listener, you don't know where the 7 goes, and that's when I love it the most. As a dancer and as an improviser, I always loved that moment when you have time so in you, when you've been counting a little too much, almost you can stop counting. The beat – it's inside. And you can be above it."
I asked Raul, "You were usually speaking in time with another performer, Elisa. Did it help you to keep time with someone else?"
Raul: "It's actually harder. If either of us jumped a page or a couple of paragraphs, I'd wonder, how do we get back? You have to silence yourself to get back."
Erin: "And then did it have a lasting impression on you to have learned how to speak someone else's voice?"
Raul: "Yes, I'll be doing my own work and then suddenly my voice starts sounding different. You know, especially when I'm just performing in front of someone, it's almost like it's already in my head, and it wants to come out again."
Ashley's final, autobiographically-derived opera, Crash, debuted in the Whitney Biennial shortly after Robert Ashley died this year at 83. Three kinds of dialogue form the script: a catalog of each year of Ashley's life, from age one until age eighty-four, each year journaled in a two or three sentence summary; a telephone conversation about researched superstitions, for example, a person's height as it relates to success, or the female – ten, and male – fourteen, year life cycles; and finally, a melodic and detached retelling of a man's collapsing spells in social settings, especially around people thought to be important.
At the time of Robert Ashley's death, numerous memorial postings appeared on the internet featuring remembrances. One in particular brought to mind an image of Robert Ashley standing on the border of a crowd – composer Alvin Lucier wrote, "I remember standing with him at gatherings in the Midwest, simply listening to people talking. He once remarked that, to his ears, the dull roar of many people talking was symphonic."
—
Based in New York, Erin Leland is an artist using photography, writing and video. She has recently exhibited in the group exhibition, White Petals Surround Your Yellow Heart at the ICA in Philadelphia and in her solo exhibition, Everything is Everything at Michael Strogoff Gallery in Marfa, Texas. A new series of photographs is included in the group show, Psychic Panic, in Pittsburgh, on view through June 29.
Guest post by Jessica Cochran
"I like the term project," he remarked in 1969, "because it is never clear what exactly is meant by it…it covers lots of different things; it is more open and full of possibilities." Seth Sieglaub (as quoted in Your Everyday Art World by Lane Relyea, 2013)[1]
As I wrote in a previous guest post, artists who have passed have a marked presence in this year's Whitney Biennial, which is more typically known as a survey for the living. Such is the case with curator Anthony Elms' inclusion of Academy Records / Matt Hanner. Hanner (whose work was also included in the Dallas Biennial), a much loved member of Chicago's art community, passed away unexpectedly in 2011, and so Elms asked Academy Records, led by Hanner's close friend and frequent collaborator Stephen Lacy, to work with Hanner's archive to develop a presentation demonstrative of the many connections between the late artist and Academy Records. Lacy dug into Hanner's large trove of works, which includes "sound verite," forms of mail art and ephemera, such as photographs and slides, among other works.
The Spectre, the resulting "cumulative work" on view at the Biennial, consists of a large black and white graphic wall drawing called The Spectre (the stars are falling) shown alongside Hanner's recorded sound and print ephemera, and a neon sculpture called Tomorrow is still above you, hung precociously over the entrance to the gallery (which Lacy referred to as an "in addition to" a clever revelation of artistic / curatorial decision making).  This gallery presentation is supplemented by The Bower, a 16mm film (screened over several days, not shown in the gallery) loop of blossoming cherry trees, set to the three-hour audio work No Jets, Hanner's field recording of the flight path to Chicago's O'Hare airport during the flight delay after the September 11, 2001 attacks. Academy Records has released the audio (compiled from four individual cds) as a vinyl record called No Jets, an artist's multiple, with the sleeve artfully and curiously designed, complete with liner notes. The film's cherry trees were filmed by Lacy outside the apartment where Hanner made the field recording. As Anthony Elms has written, this "system-specific" (a term coined by artist Stephen Prina)manner of working is typical for Academy Records. And as he wrote a number of years ago in the publication Cakewalk, "Asking Academy Records to do a project is like hiring a general contractor. A plan is in place; who shows up, how, and when is a bit of a surprise."
Platforms are distinguished by their looseness. Rather than bounded and fixed, they are traversable, permeable, and responsive, constituted by dialogue with an outside. Whatever profile of boundary they do possess is only the one their interfaces actively conjure. In this sense they can be considered performative; only through and within acts of coordination with peripherals and externalities does their existence as entities come into focus.[2]
I recently read that an "installation exists somewhere between the exhibition and the making of art."[3] I suppose that's as good of a definition as any. With this multi-faceted, dimensional work(s), Academy Records exploits that, with an added focus on labor and distribution, or "systems of delivery." More than an installation, this work hovers between project and platform, because it serves, as Lacy suggested in our studio visit, "[as an] abstract layering of poetic imagery" that creates a sort of "thru-line" between "works so quiet you could miss them altogether."
Needing to be experienced from within the gallery and the museum screening room to the record itself, The Spectre's many pieces fit together like gestures; they are conceived and responsive "acts of coordination with peripherals and externalities" that cross time and space. It's not didacticism, but a hidden logic, or mystery poetics that link elements, such as the wall drawing, which, as Lacy articulated, "falls away from the wall," to the other works in the gallery as well as to those that are distributed in a different time and place. To borrow an odd and wonderful term coined by Lygia Clark to describe her own abstract drawings, the work is "empty-full"—while it allows me (the viewer) to go where I need to go, it is loaded with a host of possible meanings, as I feel the weight of the work move with me through the space and back out into the world.
Since learning of this Academy Records/Matt Hanner project, its images, ideas and implications have followed me closely. It has hovered over my psyche the past few days in New York as I scrambled (and failed) to see the biennial again in person, colliding with my own distant memories of my grandmother (an artist, now gone) and her small ranch home in the earth shaking, jet-laced shadows of O'Hare airport; scrambling with loud 24-hour news cycle headlines lamenting the just opened 9/11 Memorial Museum; and filtering through the blossoming trees in Central Park and back home in front of my house in Chicago.
The following images constitute a curatorial response or a personal context for the work of Academy Records / Matt Hanner. Some are considerations of death; others share similar attention to distribution and labor; others employ drawing, video, the vinyl record, audio, or the archive.
For me as well, it represents a moment in time—this response in images would be different if I did it tomorrow, or the next day, or if I had done it yesterday.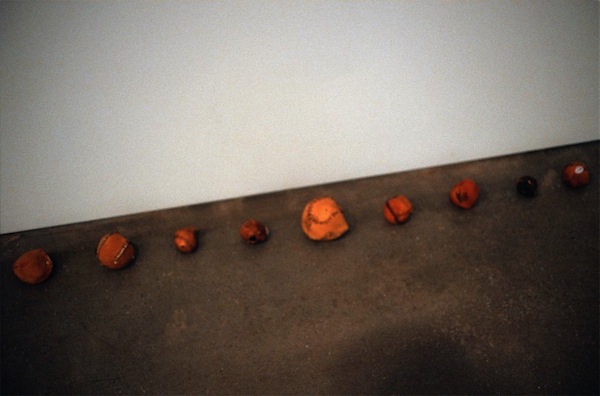 Zoe Leonard, "Strange Fruit," detail (1992 – 1996); exhibited at Paula Cooper Gallery, Fall 1996, 67 orange and grapefruit skins, thread, buttons, zippers and wax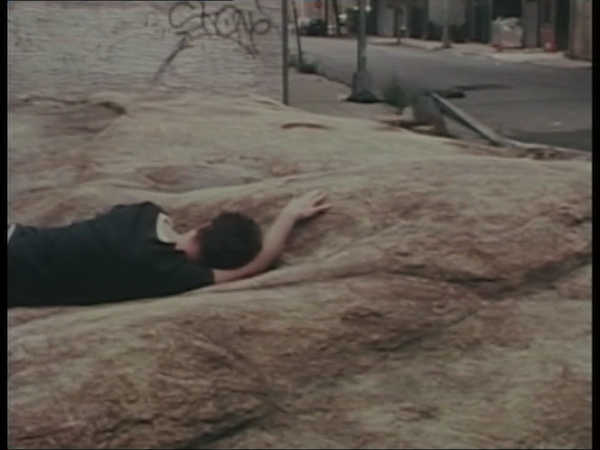 Ulrike Müller, "Mock Rock," 2004; 3 minutes, Super8 film transferred to video; view video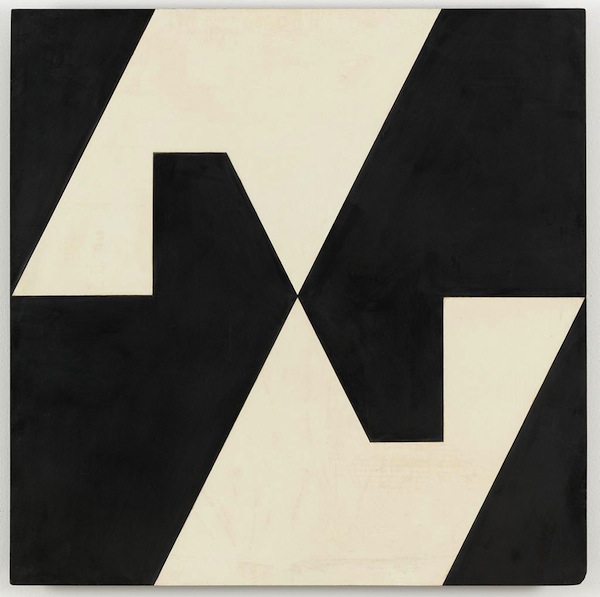 Lygia Clark, "Planes in Modulated Surface 4," 1957, Formica and industrial paint on wood, 39 1/4 x 39 1/4 inches; The Museum of Modern Art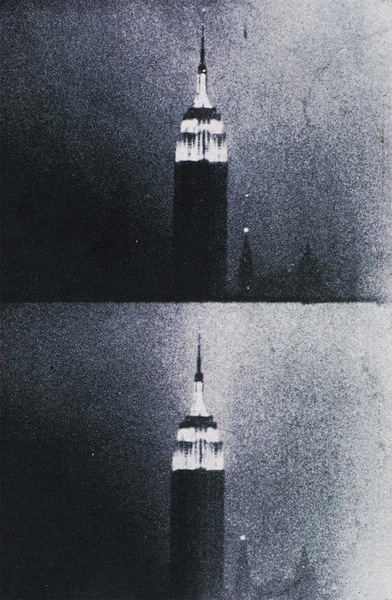 Andy Warhol, "Empire," 1964; film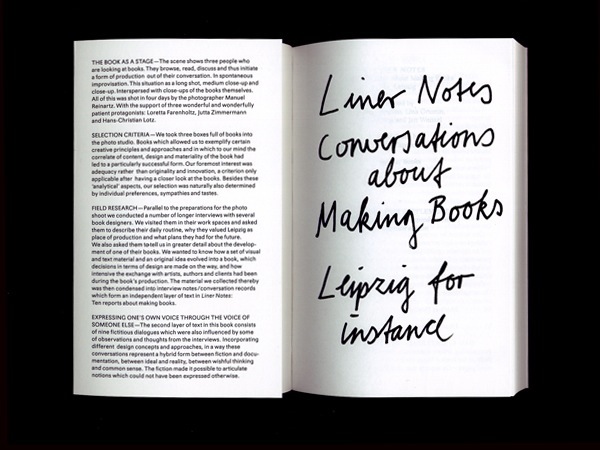 Liner Notes – Conversations about Making Books, Leipzig for Example; ed., Anne König, Jan Wenzel, Lina Grumm, Markus Dreßen, 2009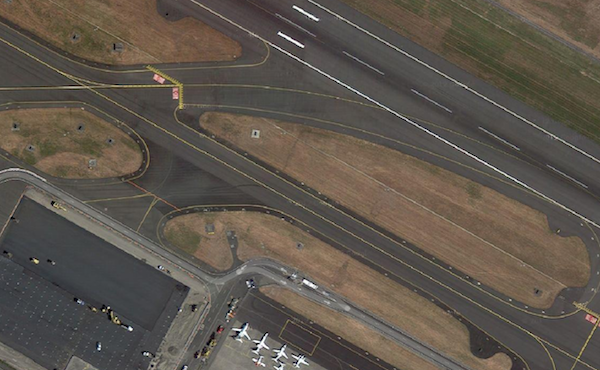 Nicholas Sagan, airport screenshots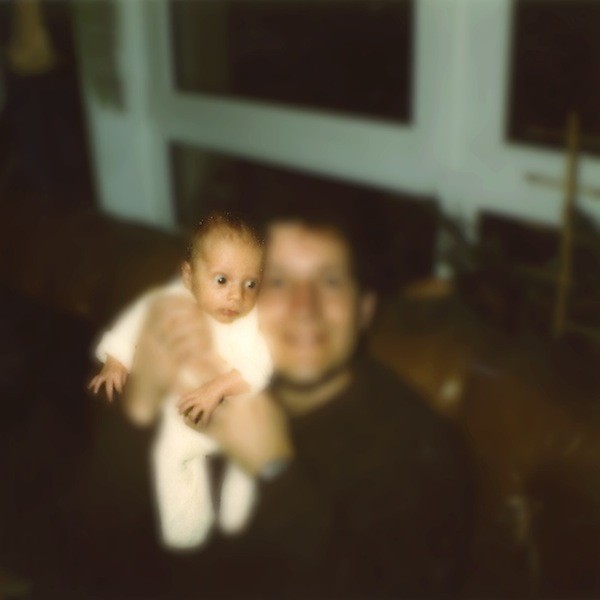 Pamela Bannos, "Baby Paul and his Dad," Scanned and Altered Vintage Polaroid, 2011; archival inkjet print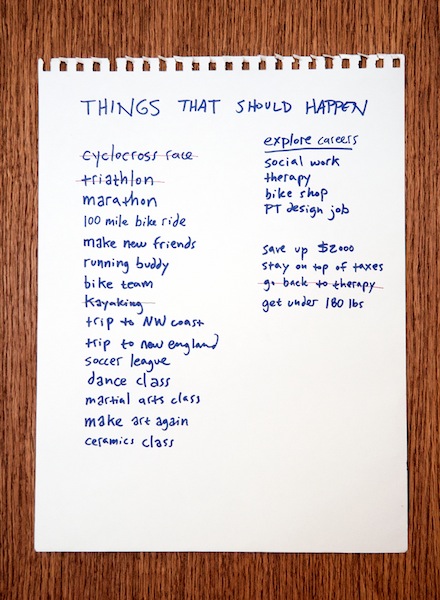 Pamela Bannos, "Things that should happen," 2011; archival inkjet print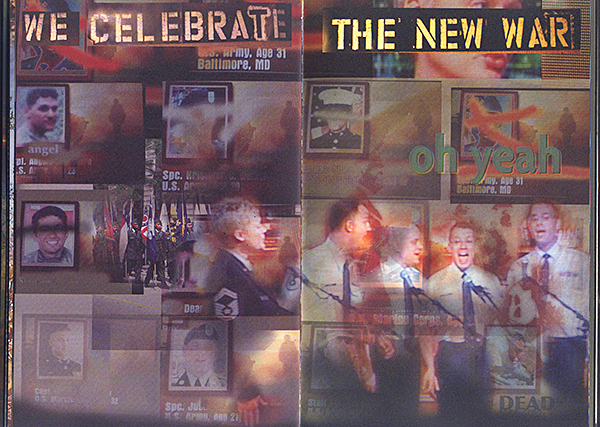 Brad Freeman, "Wrong Size Fits All," 2010; offset printed artist's book; 8 3/4" x 5 3/4", 112 pages, edition size 200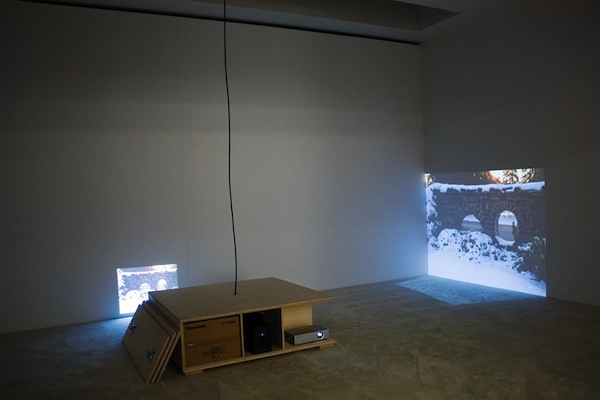 Stephen Prina, "The Way He Always Wanted It III," 2009; exhibited at Friedrich Petzel Gallery, Spring 2009; 33 mm film transferred to DVD; 3 Panasonic PT-LB800 projectors, 2 M-Audio Bx5a speakers, 1 Kramer Audio splitter, 1 Pioneer Pro DVD V7400 player, Monster audio cable, Baltic birch plywood, carpet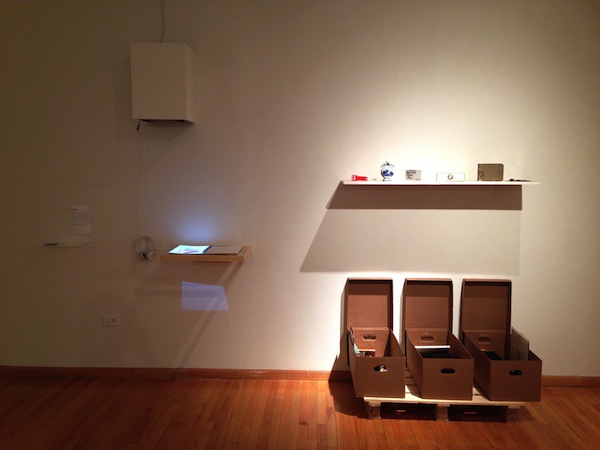 Kate Morgan, "Passages" installation, 2014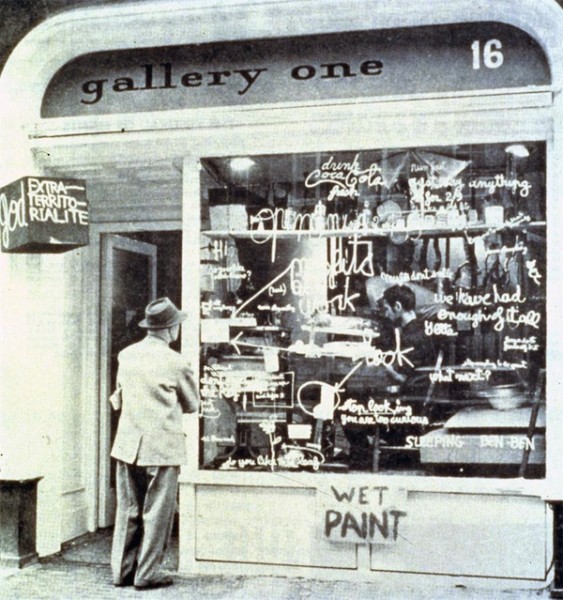 Ben Vautier, "Living Sculpture," 1962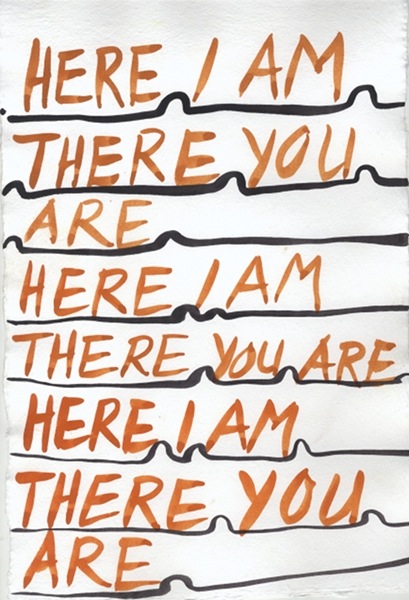 Deborah Boardman, "Spring Text 26," Gouache on Handmade Paper, 2012, 12″ x 20″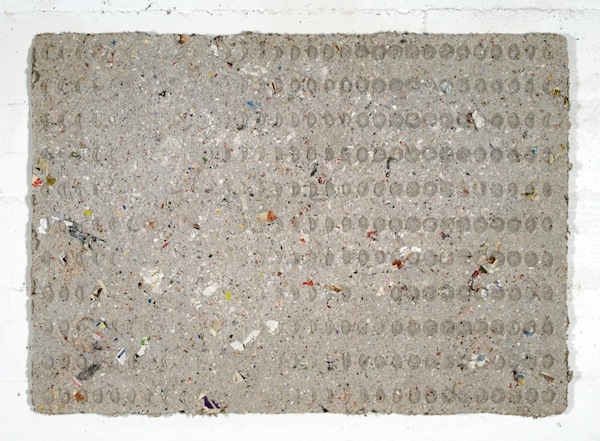 Julia Goodman, "Eleven Months Mourning: August 19, 2007 – July 14, 2008," mixed media and handmade paper. Image courtesy the artist.
Footnotes:
[1] Lane Relyea, Your Everyday Art World (Cambridge: MIT Press, 2013), 18.
[2] Ibid, 21
[3] Margina Pugliese, "A Medium in Evolution: A Critical History of Installations," in Ephemeral Monuments: History and Conservation of Installation Art , ed. Barbara Ferriani and Marina Pugliese (Los Angeles: The Getty Installation Institute, 2009), 23.
—
Jessica Cochran is a writer and curator in Chicago
Guest video post made for Bad at Sports by John Neff
Steve Reinke is an artist and writer best known for his work in video. His work is in many collections including the Museum of Modern Art (New York), the Centre Pompidou (Paris) and the National Gallery (Ottawa), and has screened at many festivals including Sundance, Rotterdam, Oberhausen and the New York Video Festival. In 2006 he received the Bell Canada Video Award. A book of his scripts, "Everybody Loves Nothing," was recently published by Coach House. He has also edited several books, most recently (with Chris Gehman) "The Sharpest Point: Animation at the End of Cinema." Reinke's video Rib Gets In The Way, 2014, which includes hand-drawn animations by Chicago artist Jessie Mott, is included in this year's Whitney Biennial.  
John Neff lives and works Chicago. A digital document of his work from 1999 to 2009 is available for download (154 Mb) at: http://www.nightclubchicago.org/img/shows/06/JohnNeff_CollectedReleases.pdf
Guest post by Nicole Mauser
For their contribution to the 2014 Whitney Biennial, Valerie Snobeck and Catherine Sullivan use Northwestern University's Transportation Library Menu Collection donated by renowned anthropologist George M. Foster's as a springboard for a collaboratively made artwork. This extensive collection was accumulated during Foster's research travels and includes, "400 menus from 54 national and international airline carriers, cruise ships, and railroad companies, with coverage from 1929 to the present."[1] Image of Limited Good, the title of Sullivan and Snobeck's mixed media installation within Anthony Elms' curated section of the Biennial, directly refers to Foster's controversial 1965 essay, "Peasant Society and the Image of Limited Good," in which Foster outlines a theory of limited good as derived from observing traditional societies that, he asserts, believe goods are finite; according to this thinking, when one-person gains, another loses. This belief leads to a fragile sense of order and communal sustainability in light of the given society's 'competitive games' for survival, wherein value is a certitude based solely on supply's abundance or scarcity.
Snobeck and Sullivan's installation is comprised of sculptural objects, ready-mades, and delicate prints of barely discernable Swissair airline logos on tissue. A series of luggage racks are propped against improvised table surfaces, many of which are littered with antiquated suitcases filled with murky substances and embedded objects related to the gelatin-based printing process of hectography. This process of a bygone era could be easily dismantled to leave behind no evidence of production. Here, all the objects are carefully strewn and poised for disappearance, quickly tucked inside a suitcase or ready for disposal at a moment's notice. As a result, Image of Limited Good's individual parts are not inherently connected but have been carefully selected to imply a whole that is collapsible and infinitely reconfigurable. Each object acts as a clue that proposes questions for the viewer to slowly decode.
"The value of Mr. Foster's collection resides not only in its volume, but in the number of his hand-written comments regarding flight dates, airplane types, and food and wine ratings and descriptions," [2] reads Northwestern's collection didactics. These traces are evidence of a visual anthropologist who was an early hybrid of the multiple roles artists today play.  The materials in Snobeck and Sullivan's installation follow suit in that they carry a patina of secrecy and silence and re-enact antiquated modes of travel and reproduction. Accordingly, the installation can be interpreted as a quiet commentary on the entire premise of the Whitney Biennial, where the intent has historically been to illustrate the shifting patterns of artist alignment with curators, communities and conceptual trends moving in and out of vogue, all vying for relevancy. Thinking broadly about this artwork and the theory developed by Foster, can we then ask: does such in-depth research lead to error and misinterpretations? Is there a context where misinterpretation is actually valuable and lead to valuable discourse?
It is not Foster himself as a historical figure that is positioned at the center of this artistic collaboration; rather, it is the narrative fabricated around his practice as a by-product of the academic intent to develop, explain, and connect traditional societies to the current modern society or to the fabric of the ages. To create a universal theory that holds up decades beyond the maker/author(s) is still the ultimate ego-centric task in academic anthropology and also remains an aim of abstraction and, perhaps, in art as a whole (depending on the artist's intent). As a viewer, my question is, what do static fabricated objects accomplish in this context? They occupy a slippage between art object and art-object-as-artifact. The artist Allison Smith comes to mind—her work re-inhabits historical moments by fabricating sculptural 'historical' stand-in objects that are part fictionalized and part illustrative of historical fact, each component becoming incredibly didactic. Refreshingly, Snobeck and Sullivan's collaboration is the opposite. Discursive potential, nee momentum, is contained within each object, literally embedded in the gelatin or epoxy, yet refusing, even in print form, to transcend or act as a proxy between neither Foster's collection nor his theory and the viewer. However, Snobeck and Sullivan leave the viewer in the lurch to negotiate objects that, at face value, are meaningless without due research.
---
[1]
Link to Northwestern University Transportation Menu Collection:
Nicole Mauser (b. 1983, Indianapolis) is and artist and educator who lives/works in Chicago, Illinois. Currently, she is an adjunct professor of Studio Arts at The University of Illinois at Chicago in painting. She obtained an MFA from The University of Chicago (2010) and a BFA from Ringling College of Art & Design (2006). She was a recipient of a Post-MFA Teaching Fellowship at The University of Chicago in 2011. Her work is included in such collections as The Nerman Museum of Contemporary Art (Overland Park, KS) and The Alexander (Indianapolis, IN).