Guest post by Lise Haller Baggesen.
Jetlag is the Devil's work!
Or is it a First World problem?
First World problems are the Devil's work and jetlag is the hands-on reminder that in this day and age it is never really enough, if at all possible, to be in one place at a time, when you can be all over the place.
A yuletide melt-down with your sister will tie you down claustrophobically to the here-and-now, where this house (or indeed country) is not big enough for the two of you, and have you gasping for a breath of fresh air. Luckily, on this crisp boxing-day morning, your muddy Heimat was transformed to a magical winter-wonderland, located somewhere between a secular Caspar David Friedrich and a Thomas Kinkade you can believe in. You are here now. On a cross-country train-trip with the seats across the aisle from yours occupied by a middle-aged couple with Down's syndrome. She is wearing a sequined sweatshirt with leopard motif very similar to something you recently saw in Kenzo's fall collection online, and he is the voice of reason as he is giving commentary on the trip:
It is really cold, it is freezing –it is below freezing. Look at the trees outside, aren't they pretty? Look how it is hanging from the trees. It was a good enough Christmas, good food. It was lovely, but now I am tired. You must be tired too, you should rest; we had an early start and we will be there soon enough. Just rest now. Isn't it nice?
Indeed.
With this buildup, Olafur Eliasson's Riverbed, at the Louisiana Museum of Modern Art (in Humlebæk just north of Copenhagen) cannot but disappoint –and yet it does. Traversing through the entire south wing of the museum, Eliasson walks 10.000 men, women and children all the way to the top of the hill and all the way down again. And when they were up they were up, and when they were down they were down, and when they were halfway up they were neither up nor down.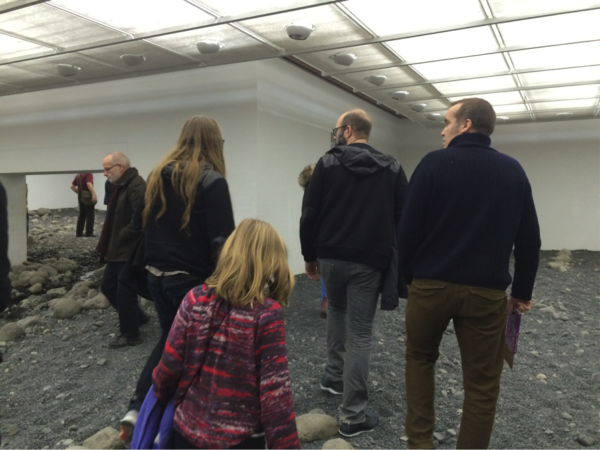 In real time, this hotly anticipated merger of nature as culture and culture as nature, of museum mystique and Iceland experience (or vice versa) is like Kate Moss up close: sexy and photogenic, but ultimately too thin and too shallow and too readily commercialized –the perfect extension or backdrop to the vastly expansive collection of sleek Scandinavian design objects in the museum shop. Nordic Light as commodity.
In another part of the exhibition we are given the illusion of a behind-the scenes look. Here, Atelier Eliasson's geometrical models are laid out in tasteful abundance; hexagons and dodecahedrons, spheres and pyramids in various stages and finishes are bathed in amber light, to theatrical effect.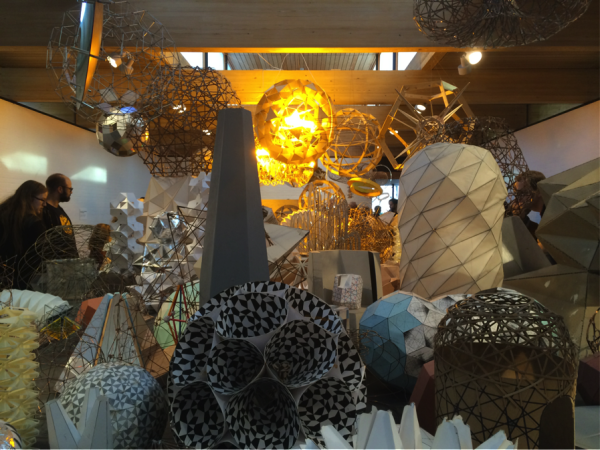 As we admire the display, my long time friend Lars (the sweet Swede) conspiratorially whispers in my ear an anecdote of how Eliasson politely declined the proposed budget for a project for AROS (Museum of Contemporary Art in Aarhus); this super model does not get out of bed for 2 million kroner!
Eliasson instead suggested they called him back when they got together the funds for a rainbow panorama on the roof…which they did and the results were truly double-rainbow-all-the-way-across-the-sky motherflippin' awesome – and this off course both is and isn't why we are here today—we want more!
Still it is smugly satisfactory to see how Eliasson is cut down to size in the museum's Kids Corner. Here glue guns, paper cones, and wooden sticks are lined up for one and all to create their own Eliasson for the Christmas tree, like the workshop of a scientifically ambitious Santa.
In summary, the exhibition does exactly what it says on the box; yes, it radically alters your experience of the museum's architecture and yes, it ambitiously challenges the museum as site and brings it back to its original narrative as a walk in the park. But paradoxically, there is nothing you can learn here you couldn't have learned from the privacy of your own home, experiencing the work second- or third-hand. There is no song of your self to be sung on this stage –only Eliasson's boastful, tinny earworm of the artist as brand.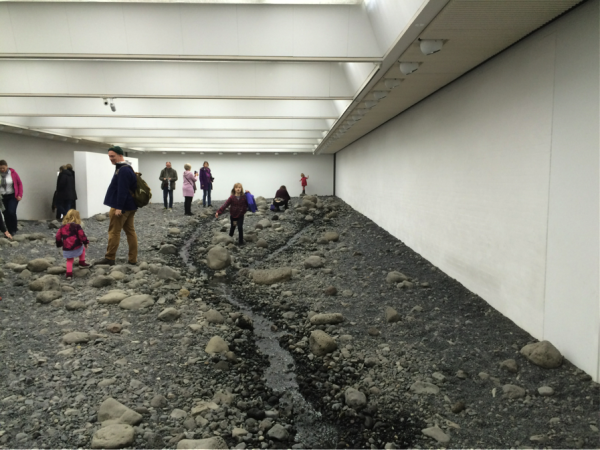 How different and deep in contrast it is to leave the Riverbed and delve into the nether regions of the museum; a subterranean catacomb, which—for a moment that lets forever be—is transformed into a life-affirming mausoleum containing the oeuvre of Paula Modersohn-Becker.
Everything is right here; from early academic studies—some a little heavy-handed or earnestly clumsy, others almost a caricature –to the self-assured work of a grown woman who has found her place in the world. These were unfortunately to be her last, as she died from an embolism at the tender age of 31, less than 3 weeks after having given birth to her first child, a daughter. A tragedy, and all the more so as this was a life event she had both anticipated and preemptively celebrated in her body of work. But let us not skip to the end quite yet.
At 16, she writes to her parents from England, about the St. John's Wood Art School: "I shall have lessons there every day from ten until four. At first, I shall be only drawing, beginning with very simple arabesques and other designs. If I progress, then I shall make charcoal sketches after Greek plaster casts […] If I advance further, I shall begin drawing and painting from live models."
With this simple program she sets herself a task, which she follows trough with devotion and bravura. Modersohn-Becker's lifework, as a fully equal member of the artist's colony in Worpswede, is remarkable in more ways than one. Her traveling to Paris on the New Years night between 1899 and 1900, her pioneer work as the first female artist to paint the female nude (including several nude self portraits), and her untimely death, is the stuff of myths.
But more impressive is the work itself. Not for its monumental scale or dazzling visual effects: the formats she administers are modest and never larger than life. Her palette is muddy as the northern European landscape from which most of them hail, and her brushstroke fat and fuzzy as if she is almost sculpting her paintings rather than painting them – or perhaps just pulling them out of the clay and pushing them back in – in one simple, matter-of-fact, gesture.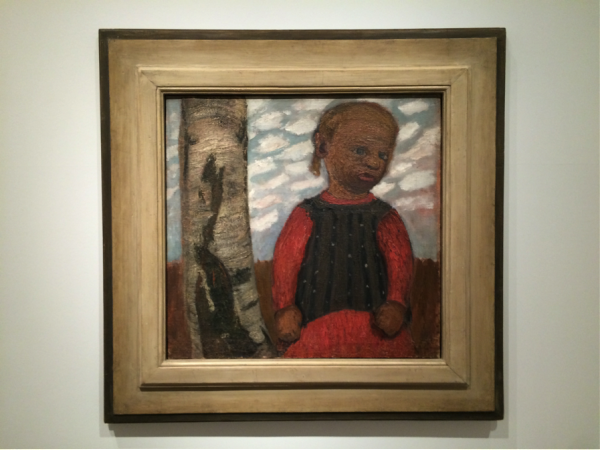 The self-portraits –though both peculiar and provocative in their time—are showing her neither as whore, nor holy. She is simply there, present, with her mental and bodily functions intact and fully alive. An important source of inspiration is Egyptian mummy portraits, which she studied in the Louvre and whose oblong format and frontal view she often employs—as if to remind us that in the midst of death we are alive. A longish amber necklace with large oval beads is a recurring motif that she paints in the same impasto ochre as the flat circular disk of her own iris, because they are both part of the same eternity. In painting after painting, her fat, terse, brushstrokes drag and push our own eyeballs around, as we follow their trail across the barren canvas and her own gaze as she travels across Europe.
She paints women and children first, not unsentimentally –because what would be the point of that? — But with no false modesty either: unflinchingly and always at eye level. Suckling babies find the teat with the unwavering conviction of instinct and all is in the world.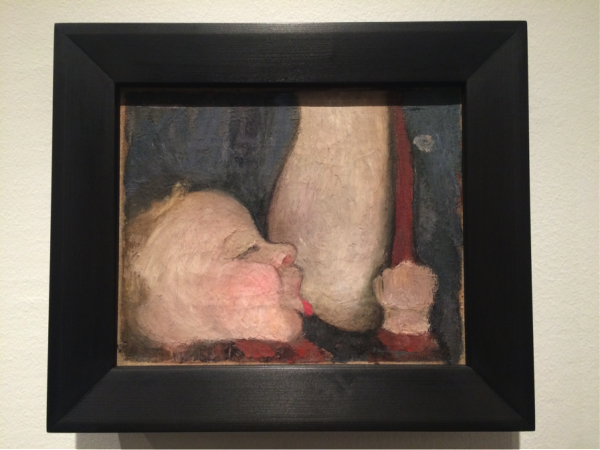 With her willing- and able- bodied being in and of this worldly world –a worldliness that combines the two meanings of the word and is both cosmopolitan and sophisticated as well as concerned with the earthly, terrestrial and mundane repetitiveness of this mortal coil— Paula Modersohn-Becher's life work is not only the perfect antidote to the spectacle of Eliasson's five-minutes-in-Iceland, but also to our jet-lagged existence. It is a poignant reminder that wherever you go there you are and you take yourself with you. Nowhere else but right here and right now could you get over yourself and make right by your sister, or could you be eye to eye with an amber oval disk that is both a smear of ochre paint and at gateway to your soul.

Lise Haller Baggesen left her native Denmark in 1992 to study painting in the Netherlands. In 2008 she relocated to Chicago with her family. In the meantime, her work evolved from a traditional painting practice toward a hybrid practice including curating, writing and immersive multimedia installation work. Her first book "Mothernism" was published by Poor Farm Press and Green Lantern Press in 2014.

Lise McKean, PhD
A Pierre Dream: A Portrait of Pierre Boulez, Chicago Symphony Orchestra Beyond the Score Series. Gerard McBurney, creative director; Pablo Heras-Casado, conductor; Frank Gehry, scenic design; and Mike Tutaj, projection and sound designer. November 14 and 16, 2014.
Adrian Leverkuhn, Painting? Thomas Masters Gallery, Chicago. October 10 to November 2, 2014.
Whenever I see CTA bus #146 and read the name of its route, I smile. Route 146 is Inner Drive. All life has inner drive. For artists it takes a distinctive form. They're exceptionally curious and they're driven to make and create. Whatever their métier, artists breathe life into their works. Every generation of artists contends with outmoded aesthetic forms and reactionary authorities and audiences. In response it devises its own approaches to innovation and creation. Instances of this age-old process crowd the annals of art history.
Recently I came across two examples in Chicago: A Pierre Dream: A Portrait of Pierre Boulez staged by the Chicago Symphony Orchestra for its Beyond the Score series under the creative direction of Gerard McBurney; and Adrian Leverkuhn's exhibition, Painting? at Thomas Masters Gallery. What does a CSO tribute to a ninety year-old musical titan have to do with the exhibition of a young painter interrogating his vocation? Writing about them together is more than a fluke of the season's cultural calendar.
Decades before Boulez became a world-renown maestro, he sharpened his claws on institutions and self-appointed guardians of European musical traditions. He was ferocious and relentless, gifted and inspired. For him, all his work is "provisionally definitive." The CSO tribute is in tune with today's multitasking audiences. Images, words, son et lumière, choreography of agile "puppeteers," and above all Pierre Dream's music and espirit bring to life a tale of Boulez and his artistic milieu. The photos show the performance's pitch-perfect visual design, and I trust them. Except for a couple peeks during the 75 minutes, my eyes stayed shut so the incantations of Mallarmé's poetry and Boulez's words—and the virtuoso performance his compositions—could conjure their own forms in my imagination and steep into experience.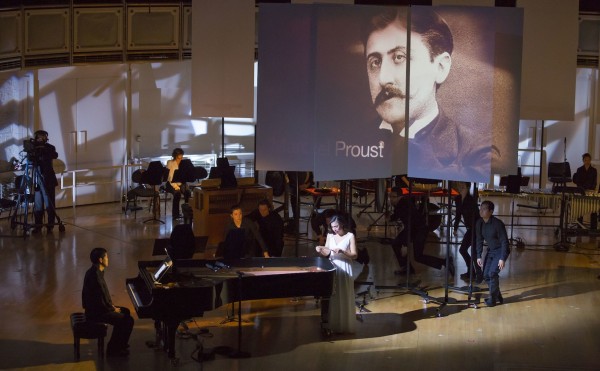 The murmurings of memory resonate long after the Symphony Center's bravos and applause for this fond tribute die out. They're reminders that Boulez, now elderly and no longer in the limelight, was once a young artist ablaze with energy and indomitable will—"I shall tell you about the rows I have been having with Schaeffer: that would be enough to fill a huge folio! I shall tell you that the experimental studio is more and more crap, and that Schaeffer is a pain in the arse; and that I hope I shall soon be working with Stockhausen at the electronic music studio of Radio Cologne….Apart from that, in concerts here: Nothing. It's desperate. Everything, from that point of view, is going on in Germany" (1953 letter of Boulez to John Cage in The Boulez-Cage Correspondence).
Boulez finds ideas and cues in the world around him. His fellow travelers include painters such as Philip Guston, Bernard Saby, and Dado. At one point in Pierre Dreams we hear Boulez speak about how music can learn from a dialogue with visual arts. This conversation is taken up by other artists. For example, Desy Safán-Gerard paints with both hands while a nude model moves to the music of Boulez.
In the recent exhibition, Painting? Leverkuhn intersperses among his paintings handwritten lists of "Questions for Painters." The tone of his 94 questions hovers between wry and rhetorical. Leverkuhn was surprised when he sent the list to art academics and they took the questions literally, responding didactically as if presiding over a course quiz.
The works in Painting? assert that Leverkuhn has chops and range. After taking in the canvases from a distance, a curious viewer is likely to move closer. Changing perspective allows the textures, colors, and shapes to take on a different appearance. On some works the palette and forms are austere; on others color and detail pop. The paint on the seeming ground is thick and sculptural. It's a figurative force of its own.
Leverkuhn's works address themselves to the figure. In some the figures suggest the freewheeling spirit of the skateboarder. Yet menace stalks them—one swings on a broken trapeze, another crouches on an unraveling net—crash and burn lurk on every canvas. This juxtaposition of insouciance and hazard echoes in his act of renaming himself with the surname of Thomas Mann's ill-fated composer in the novel Doctor Faustus: The Life of the German Composer Adrian Leverkühn, Told by a Friend.
In a set of 18 works Leverkuhn evokes specters of human transformation. Is the figure in 42E poised for flight? Are others undergoing Kafkaesque metamorphoses? Another work in the show, 58, was painted by Leverkuhn and Thomas Masters. Like a tag-team, they paint one after the other on the same canvas. Their duet in 58 continues explorations that led to works they exhibited a couple of years ago.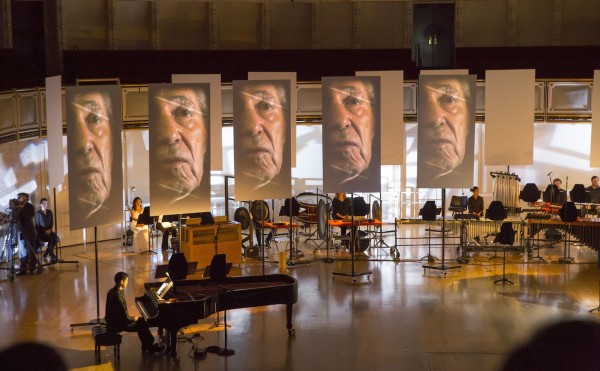 It's a safe bet to say we'll see more of Leverkuhn. And for Boulez admirers who did not attend A Pierre Dream at Symphony Center, there will future performances. It will travel to California for performances at the Ojai Festival and the University of California-Berkeley. Later it will travel on to the Netherlands Festival and the New York Philharmonic. A Pierre Dream video is slated to stream on the CSO website.
Decades and an ocean may separate Boulez and Leverkuhn. Chance may have thrown them together in Chicago at this moment in time. But it's not by chance that they're both aboard #146. Pay the fare and you too can hop on for the ride.
Lise McKean is a social anthropologist and art writer, and recently is turning her hand to custom couture as an associate of Haj Gueye at La Maison de Haj in Chicago.
Guest post by Lise Haller Baggesen.
Ok, so this happened: this morning, as I was about to leave my hotel, there was some screaming and commotion in the hallway. A woman was yelling for help. I rushed outside and saw the staff, room service, the reception clerk, and some other hotel guests (military men, judging by their uniforms) swarm in from all corners an descend on the hotel room right next door to mine, where a young woman was standing in the door way, whimpering. She looked like she had just been on the way in or out of the shower (out, I think as I believe her hair was wet). She was half naked, or half dressed – but despite her state of undress, she did not look at all like she was "asking for it" – she just looked scared, in shock actually, and tried to compose herself as she struggled to give a coherent account of what had just happened. She could hardly believe it herself: A man had just tried to gain access to her room, under the cover of returning her credit card from the liqueur store around the corner. She remembered having seen him in a nearby coffee shop, and he must have followed her from there to the store and back to the hotel and seen her enter the room. When she answered the door he tried pushing her inside, but she screamed and struggled and finally managed to scare him off with the words: "I'm pregnant, why don't you leave me alone?" Not sure if it was this salute that made him retreat, or just the realization that the noise was attracting attention.
The staff was looking at the security camera footage for images, but he had already fled the hotel. Police were called, etc.
I made my way back to my room, telling myself that is no "worse" being followed, threatened, assaulted, raped, or murdered in Philadelphia than in Chicago, Amsterdam, Copenhagen, Viborg or anywhere else I have called "home." But really, I just wanted to go home.
Instead I forced myself to go out and make my way to the ICA. As I left I saw her standing in the lobby, now fully dressed, but otherwise in a state of complete unraveling.
So, it is in this frame of mind I am reviewing the current show "Readykeulous!" which Nicole Eisenman co-curated with A.L Steiner – revisiting and expanding their 2011 exhibition "Readykeulous: The Hurtful Healer," along with Eisenman's first retrospective in a major American art museum (more about that later).
As I read in the accompanying leaflet (sadly, there is no catalogue of this great show) "the work in the show span a variety of text-based and text-inspired media, including painting, video, audio, sculpture, drawing, and choice selections from Ridykeulou's exclusive PATRIArchives™."
Just like the title, the works in the exhibition are packed with the punch of the lesbian experience and the related discrimination within the art-world, such as the Gorilla Girl's revisited classic The Advantages of Being a Woman Lesbian Artist: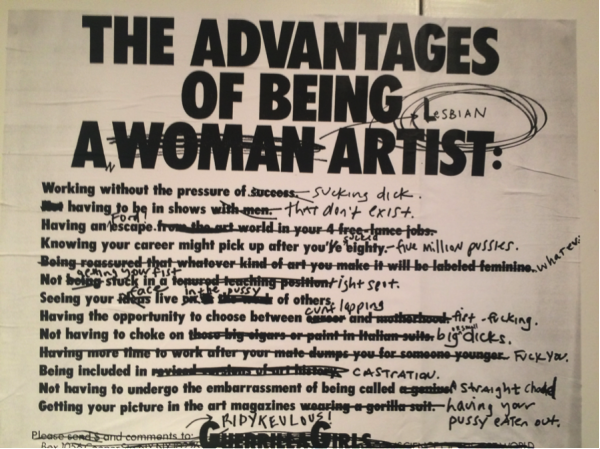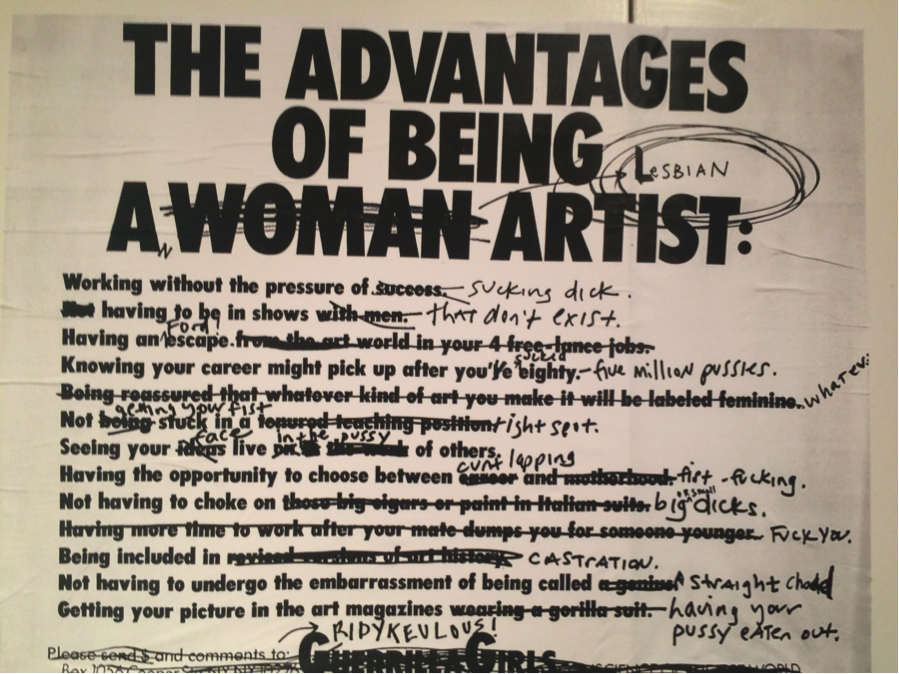 While I can't claim that experience as my own I am right there with the anger and its associated catharsis: A lavender fist in the face of the frat-bro in-crowd of wheelers and dealers of that patriarchy.
The show is an energetic, upbeat fuck-you to all of that, and a funky collection of genres and cross-generational cross-pollination. An orgy of visual information appropriately jammed into the hallway between the water fountains and the lavatories.
Among my favorites is my former mentor Kathe Burkhart with one of her signature Liz Taylor portraits Suck my Dick. Full frontal and with her arms akimbo in her tussled hair, Liz' button down shirt and jean buttons have come undone, her gyrating hips thrusting toward the viewer. Down there the painting is embellished with a black silicone dildo. Subtle it is not. The figure is surrounded on either side with rejection letters from galleries, museums and everything in between, to whom Ms. Burkhart has sent her portfolio over the years. Among them some Amsterdam art dealers, some bona fide jerks that I actually know. I feel you Kathe: Life sometimes can be ridykeulous!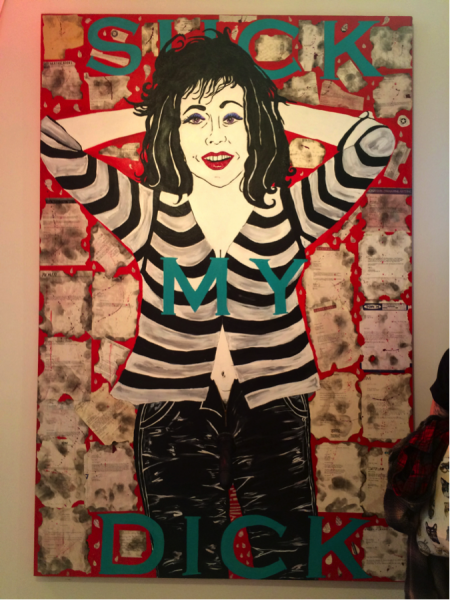 The show is accompanied by a selection of paraphernalia from the archives: Correspondence, flyers, and even a misogynist candy bar wrapper have made the cut. What stands out (if only for its yellow-and-green-should-never-be-seen-color-scheme) is a vinyl bumper sticker, which reads:
"How's My Painting? Call 1-800-EAT SHIT"
Bon appétit!
The main exhibition space houses Nicole Eisenman's first (and not a minute too soon) major museum retrospective "Dear Nemesis," spanning two decades of painting galore.
Is Nicole Eisenman the greatest painter alive and kicking in the US today? What do I know? What I do know is that this shit kicks ass! Ugliness is next to godliness in these paintings. Her crapshoot attitude to figuration is a hearty antidote to the empty calorie crapstraction we have been served much of late. Nicole shits where she eats and her fertile grazing ground is a pasture of painterly references, her output a many-splendored tour the force through art history. In no particular order we see Picasso, Tom of Finland, David Hockney, Vincent van Gogh, Edvard Munch, Max Beckman, Holbein, Georg Grosz, Pierre Puvis de Chavanne and Toulouse Lautrec frolicking by. If this is what she means by "eat shit!" can I have some more, please?
Breughel's Blind Leading the Blind stagger across the foreground of The Triumph of Poverty – a complex composition of various figures, valiantly assembled in an around a wreck of a car on the road to nowhere. We don't know where this will end, but is begins in the great American suburb, judging by the plastic sided bungalow in the background.
(The piece is signed conspicuously and prominently in the corner: NE09. Now, this is only speculation on my part, but since this is the only painting in the show that is signed in this manner, I will allow myself to speculate that this is a shout out to the "other" great figure painter who's star was on the rise in 2009: "Hey Neo [Rauch], you wuss – lemme show you some real contemporary history painting!")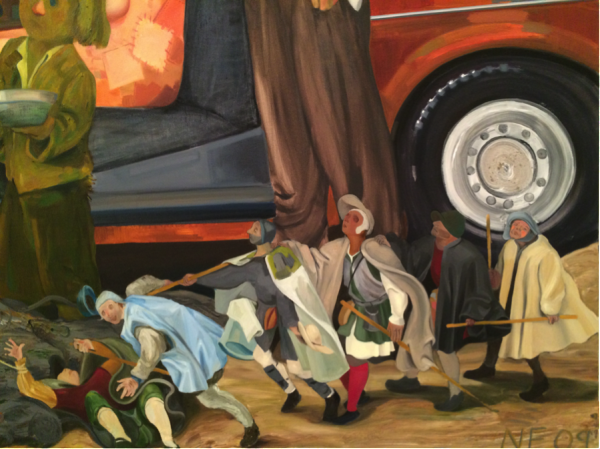 Interbellum Berlin Biergarten Barflies meet and part, like ships in the night, or go down together, lips locked in punch drunk love. Gericault's Medusa float comes sailing by. It is a party boat. Medusa is not ugly when you are drunk – you just have to squint to see her. She is beautiful and she is laughing. Belch.
The Stranger –a picture of a guy reading Camus' novel in front of a carefully rendered bookcase filled with books, books, books—is so delicious I just wanna lick the paint right off of the canvas and his rudimentarily outlined woodcut of a face. His wooly sweater is a smear of Chromium Oxide green and the cover of the book he holds is a textbook example of graphic design stuck smack against the picture plane, like it was some bathroom mirror. How can these contradictory and discordant pictorial languages even co-exist within the same picture and sing in harmony?
Therapy sessions and Tits! Tits! Tits!
Eisenman's sculptural work is represented by five busts, all titled Sleeping Frat Guy, indebted to Balkenhol, Basquiat, and Brancusi in equal measure. Sex objects, literally. It's lump, it's lump, it's lump, it's in my head. They wear little tokens on leather strings around their necks, lending their douchebag air a disarming hippie edge. The hottest one of them has passed out, mouth open, with his head tilted back at a 90 degree angle. In profile he looks just like Wolfgang Tilman's iconic photograph of Damon Albarn in the shower. Yummy.
I am stuffed.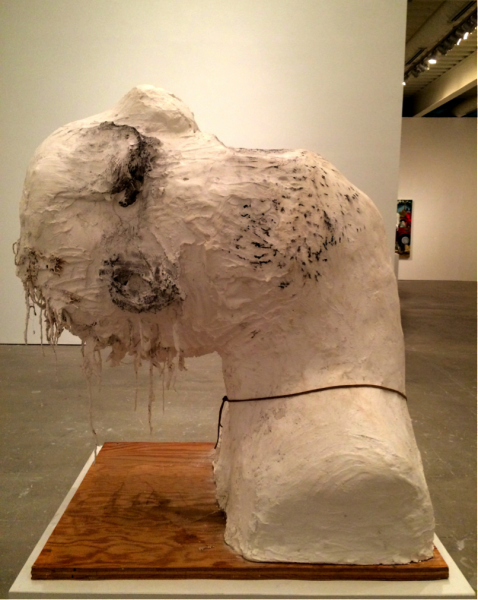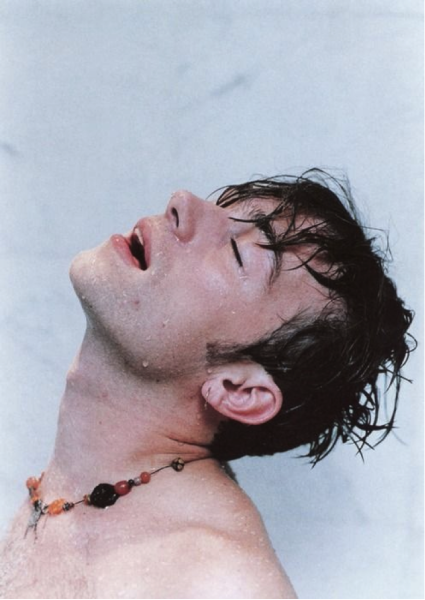 As I return to the hotel, Philly's finest are crawling the hallway on all fours, combing the vomit colored carpet for forensic evidence. I ask if they have found the guy and they assure me they are working on it. Fucking reassuring that is. This shit is real. I mumble an offer to give a witness report, and they wave me off with a "Thank you, Maam!" before I shuffle back into my room; I'm just gonna stay in and write tonight.
Would I have felt different about it all and would this review have had a different flavor, if instead of this morning incidence, I had been helped across the street by a friendly neighborhood frat bro, like the frail little old lady I am today? Probably, but this has yet to happen to me.
[…]
Lise Haller Baggesen left her native Denmark in 1992 to study painting in the Netherlands. In 2008 she relocated to Chicago with her family.
In the meantime, her work evolved from a traditional painting practice toward a hybrid practice including curating, writing and immersive multimedia installation work.
Her first book "Mothernism" was published by Poor Farm Press and Green Lantern Press in 2014. The related audio installation is currently on view at Vox Populi, Philadelphia, and as part of the exhibition Division of Labor at Glass Curtain Gallery, Chicago.
Guest post by Jessica Cochran
Since it opened nearly two weeks ago, many of the nation's foremost critics have weighed in on the successes and failures of Prospect 3: Notes for Now, New Orleans' third international biennial of contemporary art, curated by Franklin Sirmans. But, as these things go, the jury is always out. Beaten to death in assessments of the most recent "love to hate" Whitney Biennial, were the assertions that the biennial itself is kind of a "tired situation."[i] As Helen Molesworth pointed out in Artforum, "in today's hyper-mediated art scene, no one actually expects to be bowled over by anything new." A successful biennial is something of an oxymoron.
This year's modest Prospect Biennial slogan, Notes for Now, is meant to imply, as Sirmans told Flash Art this summer, "transition" and "translation," and "the idea that I was merely taking notes." And so P3, one of the only stateside international biennials to operate on a citywide scale, diverges curatorially from the more overtly dramatic thematic tendencies in global biennials, which often operate under the banner of slogans like "All the World's Futures" or "Burning Down the House." Some projects in this biennial, which was inspired by the meandering existentialist novel The Moviegoer, do feel akin to a sort of information gathering: Sophie T. Lvoff's color photographs of street corners, cars, doorways and urban flora mine an idiosyncratic visual language native only to New Orleans neighborhoods. Improbable, harmonious color combinations emerge from humdrum corners of this world amplifying something about the sociology and history of these as purposeful spaces put together with love and care.
And perhaps this "modesty" is a first move forward in what will be Prospect's long evolution from its post-Hurricane Katrina origins. As it approaches its first decade, the biennial has traded the specific urgency of Katrina, as Sirmans suggests, for a broader sense of "celebration" considered in relation to complex themes of geography, cultural diversity, "crime and punishment," the aftermath of slavery and the "brutal legacy" of the South.[ii] Laced throughout the biennial, projects about the New Orleans experience situate a "flagrantly visible"[iii] city within a global patchwork of ideas, traditions and aesthetics. On view at the UNO St. Claude Gallery, The Propeller Group's film The Living Need Light and the Dead Need Music connects funeral ceremonies of Saigon and New Orleans, both cities of the Global South, through a visually rich narrative following several ambiguous, charismatic protagonists through markets, swamps, rituals and processions. The film is complemented with body of photographs and drawings of brass band musicians shown alongside costumes, and sculptures (film props) of drums and trombones by Christopher Meyers. The entire project, based on the idea of the "butterfly effect" theory of "non-locality whereby two distinct phenomena affect one another across a vast expanse of space and time,"[iv] is ambitious, memorable and deeply affecting.
Within the biennial's context of "the global" other works move from the syncretic to the poly-cultural and diasporic in modes that range from wrenching to optimistic: Yun Fei Ji's meticulous water color scroll paintings at the Contemporary Art Center depict Chinese migration and displacement unfolding horizontally in scenes emerging from drawn folds and valleys; David Zink Yi's two channel video Horror Vacui documents, through vignettes, his Afro-Cuban band's rehearsal and ritual engagement. Shot from myriad odd spatial perspectives in Havana, the music is presented as the tangible, historically loaded manifestation of particular human relations in a specific time and place; and, elegantly, at the Newcomb Art Gallery, Monir Farmanfarmanaian's glass and mirror sculptural mosaics "marry traditional Persian design motifs with elements of Western modernism."[v]
As I moved through New Orleans on foot, bike, van, and trolley, I observed inimitable Green Bay Packers super-fans infiltrate the city in advance of a Sunday night football game that coincided with the biennial's opening weekend. As a tourist moving through crowds of green and gold garb (an experience that recalled my own freezing youth as a "cheesehead" growing up in the shadows of Lambeau Field and Vince Lombardi), I couldn't help but consider how the impact of professional sports in this city's post-Katrina climb relates to the efforts of the art world.
In an interview, Treme creator David Simon once said simply "New Orleans still makes something. It makes moments." That this city of Mardis Gras is a generative place, hospitable to sports revelry and the creative chaos of the eponymous Jazz Fest is obvious. One of the biennial's most essential works addressed the city's history of festivalism directly. Andrea Fraser's Not Just a Few of Us, performed in a packed auditorium at the New Orleans Museum of Art, was one-person re-enactment of a "marathon" 1991 New Orleans City Council meeting debating a "proposed ordinance requiring the integration of private clubs and carnival krewes."[vi] Moving fluidly and subtly across the positions of 19 individuals, Fraser's incredibly nuanced performance amplified the language of both nuts and bolts policy and familial banter, exposing deeply embedded bias, discomfort and aggression. It was a mesmerizing articulation of economic, social and racial divisions. I loved this as a nod to not only the city but to the biennial itself, which as is been dogged with infighting, politics, and budget woes as recently reported by the Art Newspaper. If in Prospect 1, Paul Chan's production of Waiting for Godot "could be read at least partially as an allegory for the endless waiting of citizens in the Lower Ninth Ward and Gentilly neighborhoods for federal government help in the aftermath of Katrina,"[vii] Fraser's deep dive into history of Mardi Gras in relation to city politics provides a similar opportunity for allegorical reading and, in this case, institutional critique.
With over 50 artists, the biennial stretches out over 15 venues. Although I tried, I did not see everything, unfortunately missing both Terry Adkins' lauded drum sculptures at Dillard University and Tavares Strachan floating neon sculpture You Belong Here, which was allegedly floating up and down the Mississippi River: it was nowhere in sight when I tried to see it during what I thought was a designated time. Do failed attempts make the biennial experience richer, I wondered existentially as I soaked in the warm pink and brown palette of sunset on the Mississippi. Nope.
Fortunately for the weary, time-poor traveler alone, this biennial isn't as embedded into the neighborhoods as the inaugural version, which was emblematized by Mark Bradford's monumental ark and Wangechi Mutu's Miss Sarah's House installation in the lower 9th ward. It does, however reach from large institutions to small cultural centers, and into public space. As Christine K. Kim asserts in her essay for the catalog, "Instead of two rigid possibilities of, on the one hand, an outsider object's coming into a mainstream art institution or, on the other, an established artist's going out into the landscape and creating a site-specific installation, a loosening, obscuring and mixing up of modes, strategies and media is integral to Prospect 3."[viii] A distinctly less binary, though perhaps not totally hybrid curatorial strategy is felt mobilized in installations such as Keith Calhoun and Chandra McCormick's Slavery, The Prison Industrial Complex (c. 1980–2014) at the Ogden Museum of Southern Art, Mary Ellen Caroll's, Preparations for Public Utility 2.0 at AIA New Orleans (a long term project poised to bring Internet access to areas of New Orleans neglected by Internet providers) , Kerry James Marshall's The Manifold Pleasures, and such… window installation of Plexiglas tables and gift boxes, bows and greeting cards at the Ashé Cultural Arts Center, and, finally, Lisa Sigal's Home Court Crawl which sited poetic text culled from a play by Suzan-Lori Parks onto vacant homes throughout New Orleans.
In a move that puzzled or annoyed some critics, Sirmans integrated into the biennial as touchstones the paintings Under the Pandanus (I Raro te Oviri) by Paul Gauguin and igura feminina e pássaros by Tarsila do Amaral. On view in permanent collection galleries at the New Orleans Museum of Art, they required a bit of a hunt—however the deep consideration of "the Other" from the perspective of the colonizer alongside the colonized provided provocative context and an important empathetic lens. Curatorial strategy, however, seemed to disappear elsewhere. For example, I made the journey (which required an epic walk along Greenwood Cemetery and humble jaunt around the periphery of the New Orleans Country Club with my goddamn suitcase in tow) to the impeccable Longue Vue Gardens expecting to find site-specific works that engaged or disrupted the lush, manicured environs. Instead I found fantastic projects shoved into small, almost makeshift galleries. Jose Antonio Vega Macotela's Time Divisa, a selection of artworks realized by inmates in exchange for favors seemed over-stuffed into a small space, and Camille Henrot's Grosse Fatigue video, an exploration of the origin of the world by way of the Smithsonian, screensavers and spoken word, is too curious and wonderful to exist at such a distant margin.
The pulse of feminism reverberated throughout the biennial, which has been praised for its diversity—for example, it features 44 artists of color, out of 58 total. Performative still portraits by Pushpamela N. made visible "oppressive ideals" projected by representations of polytheistic deities, documentary photography and popular culture" exposing the "patriarchal" "colonial gaze."[ix] At the George & Leah McKenna Museum of African American Art, Carrie Mae Weems' video installation, Lincoln, Lonnie and Me – A Story in 5 parts (commissioned for the Feminist and… exhibition at the Mattress Factory) featured holographic characters on a period stage performing difference against a hypnotic backdrop of jazz and sound. Moving through references to boxing, activism, the Playboy bunny and the Kennedy assassination, scenes reveal women briefly in ghostlike hologram, yet they emerge as immense, deeply drawn characters. Also memorable was a video at May Gallery & Residency by Tameka Norris. Meka Jean: How She Got Good, a four channel semi-fictional story of the young artist returning home to New Orleans was flanked in another gallery by documentation of the artist's process of working with the community. The documentation was illuminating but nonessential—and definitely unnecessary if meant as a preemptive defense against an assertion of artistic parachuting, a common critique of biennialism.
Finally, some of the most wonderful works were those that slowed you down, that offered a space to reflect or think about histories in the face of potentials.
Lucia Koch's installation in the Contemporary Art Center, Mood Disorder, featured gradient color printed on Plexiglas and glass placed in the firsts floor gallery along windows and corners. Zarouhie Abdalian intervened throughout the grounds of the New Orleans Museum of African American History and Culture, replacing fence posts and portions of siding with mirrors. Combined with spoken word sound, a man's voice reciting language related to labor, emanating from deep within the historic plantation structures, the work felt present and directional, guiding the viewer across the property in a heightened state of awareness. Gary Simmons' large stage, fabricated out of reclaimed wood and speakers, sits within the stark interior of the Treme Market Branch, a former bank in the early stages of renovation. A platform waiting for its party, the humble work is not wholly inert, but also not as compelling in situ as the fantastic structure in which it sits.
Sirmans wrote in his catalog essay that New Orleans has both a "brutal legacy" and a "glorious and celebratory flip side." In finding works to embody the politics, history, and aesthetics of this contradiction, he was guided by intuition rather than strict methodology—and this is a curatorial strategy I appreciate as much for its moments of triumph as for its moments of failure. Because to expect perfection from a biennial forecloses its status as a site for experimentation, pedagogy, ferment and progress. Fortunately, most of works in this biennial occupy meaningful territory—getting yourself there is the hard part.
Jessica Cochran is a writer and curator in Chicago.
—
Footnotes:
[i] Helen Molesworth in Artforum
[ii] Franklin Sirmans, "Somewhere and not Anywhere," in Prospect 3: Notes for Now, exh. cat. (New York: Delmonico Books, 2014), p. 28.
[iii] Ibid
[iv] Excerpted from the wall text
[v] Elizabeth Sorenson, "Monir Farmanfarmaian," in Prospect 3: Notes for Now, exh. cat. (New York: Delmonico Books, 2014), p. 72.
[vi] artist statement
[vii] Joshua Dector, "Preamble: a Flood of Questions," Afterall, no. 22 (Autumn/Winter 2009) p. 34.
[viii] Christine Y. Kim, "Deposing Dualities in Prospect 3," in Prospect 3: Notes for Now, exh. cat. (New York: Delmonico Books, 2014), p. 158.
[ix] Martabel Wasserman, "Pushpamala N. with Clare Arni, in Prospect 3: Notes for Now, exh. cat. (New York: Delmonico Books, 2014), 120.
Guest post by Lise Haller Baggesen Ross
Then, we tried to name our babies
But we forgot all the names that
The names we used to know
But sometimes
We remember bedrooms
And our parent's bedrooms
And the bedrooms of our friends
–Arcade Fire 
This one goes out to the first gay guy to break my heart. (He did warn me!) The bed we shared for a few months in the linoleum floored dorm of the Folk-high-school of Art at the windswept island of Langeland (Danish for Long Island), was nothing more than our two pinewood bedframes that we had shoved together under a makeshift canopy adorned with an antique gilded mirror in the shape of the sun. We painted our heels red, as was the costume of Louis XIV and drank our instant morning chocolate out of a golden tea set that we had set out on the blonde nightstand. Here comes the sun king and his well-heeled, head-over-heels (or need we say headless) apprentice.
One morning as we were studiously pouring over his-and-hers Vogue Italia, he put his head on my shoulder and pointed to a centerfold of a Bengali tiger swimming in the Ganges amidst a field of white lotus flowers with, in the background, a funeral pyre set ablaze by a party of sari clad mourners in orange and magenta. He sighed and said: "Don't you just wish that you were that tiger?" It was clear from his sighing, that this was another kind of coveting than our morning lecture would usually inspire –that of a glamorous life far away from the countryside of Denmark—but instead aspiring to a higher longing: to know the beauty of the world from the inside out.
Soon after I found myself in India, in a quest for this insider's knowledge of beauty. By the Ganges I imagined the wild tiger's roar, but everything else was just so. This was in the days before Facebook hence I had no one to share it with, and had to devour this savage beauty all by myself.
I wrote a letter to my absentminded friend, the poet. He responded that I was a better writer than artist and published my letter in a literary magazine he was editing –together with (on my insistence) a dry needle fantasy of a pair of copulating angels I then considered "my art." I was furious with him for his honesty, while in retrospect I have to give it to him that he saw my bosoms, but raised me my brains –such gifts are the unexpected oranges that life throws in undeserving young-girls urban turbans.
On return from my travels to India (which I mostly loathed, if only for the fact that I was constantly being looked at, which tends to obstruct your outlook) I travelled to Rome in search of a beauty closer to home. After that, I moved to Copenhagen to go art school, thinking that was perhaps the place to get to know beauty more intimately.
According to David Hickey, my timing was just right, as we were about to embark on the Nineties, and while I was travelling the world in search of beauty, he was preaching to the reluctant choir assembled in a university auditorium somewhere deep in the heart of darkest America, that "The issue of the nineties will be beauty!"[1]
In the introduction to his essay "Enter the Dragon: On the Vernacular of Beauty," he revisits the event:
"I began updating Pater: 'Beauty is not a thing,' I insisted. 'The Beautiful is a thing. In images, beauty is the agency that causes visual pleasure in the beholder, and, since pleasure is the true occasion for looking at anything, any theory of images that is not grounded in the pleasure of the beholder begs the question of art's efficiacy and dooms itself to inconsequence!'"[2]
By equating beauty with agency, Hickey animates the world around us, imbuing these images –and by extension "anything" that causes us pleasure from the mere occasion of us looking at it—with an attention seeking willfulness.
The scopophilic pleasure we are granted in return for giving in to the whims of this beautiful world, is by its retinal nature often spiked with envy. An envy of fully possessing this beauty, of internalizing it, of an ever hungry eye that is left wanting more. More images, more wilderness, more beauty. (But also –as we embark on the quest for beauty, our nose in the scent trail still wet from our first whiff of it –with the gratification of knowingly knowing it when we see it.)
Beauty can, in fact, be experienced in the muddied rained out countryside of Northern Europe, just as well as anywhere else. And this particular envy can, in rare cases, be inspired by visiting an art show: Not the usual petty "OMG, I wish that was me showing my work in [insert major art venue]," but the real, un-adulterated swimming-tiger-lotus-envy of "OMG, I wish I had made that!" –of being so unexpectedly enthralled with the surface beauty of a body of work, you wish to intimately and organically know it from the inside out.
This happened to me, when visiting Josef Strau's The New World: Application for Turtle Island at the Renaissance Society.
In the gallery, clustered objects are laid out in rectangular grids, some on tabletops and some directly on the floor in little islands, resembling house altars for the worshipping of homely deities. Ceramic conch-shells and brightly colored tiles are the gods' favorites, it seems. Textile prints with text passages from Buddhist and Native American religious and spiritual practice are laid out by way of both explanation and offering. Behind a low metal fence, a Buddha caressing a cat in his lap with one green hand, sits on a blanket of black polyester lace. One brightly sequined lampshade bears Pocahontas' portrait and another that of the Holy Mother of Guadalupe, while others again are decorated with images of turtles, exotic parakeets in flight, or cuddly toys.
On the surface, his makeshift tableaux's work not much different than our own primitive interior decoration back in the day: the beatifically pimped-up lamp-shades do not belie their discount store origins, their inner workings exposed and their cables only half heartedly hidden by shoddy duck tape.
(It's a Barnum-and-Bailey's world, just as phony as it can be, but it wouldn't be make-believe if you believe in me.)
This make believe world is home to the winsome couple Bear and Wolf (I wonder who among the two is the king, and who the jester) and represents the Turtle Island where they roam and reign. Sometimes travelling together down the lazy river on a primitive float, then in chains, but still together. Their togetherness seems prerequisite to their adventure, as if the beauty of the new world they are discovering is not in the eyes of the beholder, but in the eyes of the other. We recognize them from the lampshades, which immediately elevate their status to that of the divine, and their tall tales to mythology. A longing back to some indigenous Eden, in which all of nature sings with symbolic gestures and coded messages, or, as it happens –in the Queen's English.
A poster announcing the exhibition with quotes from Pocahontas and Nezahualcoyotl, is also announcing it's own genesis; after wrestling with finishing the work for the exhibition, the artist breaks away from the "photoshop bureaucrazy" on his computer, to take a stroll in the park:
"… so I took myself and the color striped jacket out of the house and walked down and when I came to the first flowers I already started thinking they talked to me and they said make posters again. simple posters. Of course I argued with them a while, why the simple poster ways would be wrong and maybe not doing enough for the project. […] But the flowers were in a soft way stronger than my arguments. I felt. It was as if they said, don't think of representations, think of the real things and about the relations to them, keep doing the same things but at the same time not thinking about representations, the representations are evil ways."[3]
On the verso to this recto, Strau declares: " I wish I could say that my whole project is dedicated to the Americas, but I for sure don't know what I'm talking about, so I better not. I wish my whole project could be dedicated to the Holy Mother of Guadalupe. But I might have become too shabby a soul to proclaim my name and my word so very next to her, and as well, in connection to the, at least to me, such unbelievably intense and rich history of the Americas. […] Anyways, the better question to ask myself before going public, is why does it mean so much to me to capture this outside or alien perspective, while at the same time there is nothing I desire more than morphing myself into a true Turtle Island citizen (American of many American nations) myself? Probably it is because I was always a bit of an alien too, wherever I was, wherever I will go, and therefore it would be better that I live there myself."[4]
The first time I visited America I had no ambition to live there myself, but as I flew in over the suburbs of Saint Louis with all its swimming pools glistening in the summer heat, I had to admit that the aerial view had a stunning American Beauty. On my next trip I found myself in the snowy mountainside of Boulder, Colorado, where the wild mountain lions are. A relative of a relative, whose chalet we were dining at, inquired with a smirk what it was "like to live in Amsterdam?" I assured him that not all the good citizens of Amsterdam like to enjoy their soft drugs before lunch and continued: "… just like all Americans don't have a gun tucked away in their bedside table drawer." He looked puzzled: "but we do have a gun in our bedside table drawer?" His wife butted in, trying to alleviate the awkward silence: "Yes, but now that we have a baby on board, I gave him gun locks for Valentines Day, so that our little one doesn't have 'an accident.'" I assured her that was the most romantic thing I had ever heard, but the conversation had stalled. From both sides we were staring into a cultural divide, the size of an abyss.
Now that I do live here, I frequently feel this chasm opening between me and my friends and family back in Europe who like to generalize along similar lines about what Americans and life in America is "like." From a European perspective, America is often perceived as a bully: lacking of history, uncultured and crass, while I find myself everyday surrounded by "such unbelievably intense and rich history of the Americas" and such unadulterated American Beauty.
In her ode to America "Oh Beautiful," Detroit rapper Invincible sings:
Oh Beautiful
With your spacious skies
I want to love you
But you hide behind
A fake disguise
Oh Beautiful 
I dunno. I see where she is coming from, but I suspect that the true American beauty lies in its fake disguise, its artifice. Glitzy Faux-Italianate facades on plywood and cinderblock structures from whose derelict backsides exposed telephone and power cables spill into unsavory alleyways. State-of-the-art plastic surgery boob-and-lip-jobs paid for with the 2nd mortgage or the 7th divorce settlement alimony by has-been Hollywood starlets m/f, now rendered so unrecognizable that a return to the silver screen would more aptly be called a reincarnation, was it not for the fact that the meat on those bones have been all-but-replaced by silicone. Etc. Etc.
Like in the cosmology of Terry Pratchet's fantasy novel series Disc World — in which the world resides on the shield of a giant turtle, standing on the shield of an even bigger turtle, living on the shield of a more enormous turtle yet, traversing the shield of a gargantuan turtle, etc. etc. –this Turtle Island is "turtles all the way down."
I'm writing this on Columbus Day: You don't know what you've got till your gone. I forget how American I am (becoming) until I find myself wearing the only red jacket in a black sea of Scandinavian winter wear. In Copenhagen, the only people wearing varsity wear are the pushers. You will find them on Pusher Street. They are trying to look "ghetto," because we don't have real ghettos in Copenhagen –or we like to think so. In America you are considered fashion forward for knowing the cardinal rules of color coordination: All black always work we all know. The color-blocked flatness of modernist monochromes we all know. Yet I crave billboards on my shirt palm trees and sunsets landing strips and desert highways disappearing into my solar plexus. The illusion that you can just blend in and be one with the landscape like tromp-l'oeil, like camouflage.
On our way to school this morning, my pearl of a girl suddenly exclaimed:
"Art class has been good to me this year!"
Although absentminded, I asked her to elaborate. She told me about a collaborative class project, in which a scrapped subway car (imagined, I imagine) is thrown into the sea. Nestled on the bottom of the sea, as the corals do their thing and the fish move in, the subway car muses to itself: "I used to live in a city, but now a city lives in me."
As we all know, you can take a girl out of the countryside, but you can't take the countryside out of the girl. As those of us who paid attention in art class will know, once beauty has known you from the inside, you will find beauty's inside, where you least expect it.
Art class has been good to us so far, indeed!
Footnotes:
[1] David Hickey, "Enter the Dragon: On the Vernacular of Beauty" in The Invisible Dragon: Essays on Beauty (Chicago: The University of Chicago Press, 2009) 1.
[2] Hickey, The Invisible Dragon, 2
[3] Josef Strau: The New World: Application for Turtle Island (poster)(Chicago: Te Renaissance Society, 2014)
[4] Strau: The New World: Application for Turtle Island
—
Lise Haller Baggesen left her native Denmark in 1992 to study painting in the Netherlands. In 2008 she relocated to Chicago with her family. In the meantime, her work evolved from a traditional painting practice toward a hybrid practice including curating, writing and immersive multimedia installation work. Her first book "Mothernism" was published by Poor Farm Press and Green Lantern Press in 2014.