Memo: To Whomever It May Concern
Re: Acquisition of an iPad
From: The Bad at Sports Team
Okay, it has come to our attention that we can't afford an iPad, either collective or individually. And while we are neither a formal non-profit at the moment, or a worthwhile cause, you can't get help if you don't ask.
We want an iPad(s). The art potential here is big big big! There is all sort of amusing shit we could do with one of those bad boys. We'll take donations of any recent technology for that matter, computers, audio gear, advanced military weapon systems. Send us your working discarded wazmos. You'll be contributing to … a cause, not a good cause mind you, but a cause none the less. And with the growing numbers of BAS folks with kids, or kids on the way, we surely could use some entertainment. If we're jolly, we're funnier, and who wants to listen to a bunch of cranky jerks. Well, you probably, as you are reading this instead of something meaningful, but you catch my drift.
Call our hotline (312) 772-2780 with details. And thank you!
Image below from lunchbreath (via).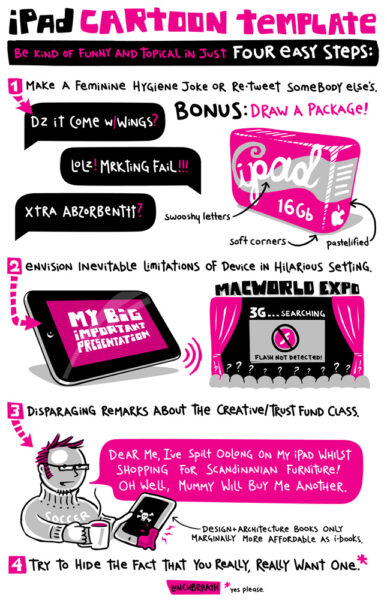 Bad at Sports would like to welcome Devin King as our latest guest blogger. "Devin King lives and works in Chicago. His first book of poetry, CLOPS, is out from the Green Lantern Press and the newest production of his serial opera, Dancing Young Men From High Windows, was part of the 2010 Rhino Theater Festival."
Before Stephen Lapthisophon moved to Dallas in 2008, he worked and taught in Chicago for over 25 years. He's represented in Dallas by The Conduit Gallery, has shown work recently in San Antonio at Unit B, will be doing an installation soon for The Henderson Art Project and currently teaches art and art history at The University of Texas at Arlington. I spoke with him over a few weeks last summer about his installation practice.
Through this, I've been interested in how his installations, paintings, and text/image essays effectively erased old conceptions of relationships between objects and their histories. As you'll see, we spend a bunch of time trying to nail down exactly what he's getting at. Lapthisophon says its an attempt to rethink our surroundings. I'm not sure we ever answered the question.
In Graham Harman's recent book on the French sociologist of science Bruno Latour (Prince of Networks: Bruno Latour and Metaphysics), Harman describes Latour's philosophy as "play[ing] out amidst microbes, tape recorders, windmills, apples, and any real or unreal actors that one might imagine." Moreover, Harman continues, "Latour has no real interest in the pathos of depth: though his actors can always surprise us, these surprises always emerge at the surface of the world, not from some veiled underworld ruled by the shades of [philosophers, theologians, or poets.]" Against Harman's description of Latour, Lapthisophon welcomes the irrational and poetic in our own responses to his work–Lapthosophon's work with disjunctive elements reinforces Latour's image of actors (be they objects, ideas, pictures, or personas) and their surprising emergence at the surface of a world of shifting relations.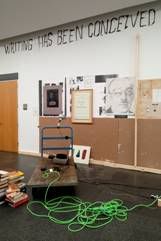 The first thing I wanted to talk about was arrangement. You have an intuitive installation technique: you start with a small number of found objects/photocopies and build out into more materials–finding resonances through addition.
I think this is the result of an interest in limits and boundaries between art and everyday life experiences. I enjoy testing the tolerance level of a situation to see how much or how little can be added or changed while still living in the world of art. It is very much process oriented and, I hope, an open process–embracing flux and change: an open process reliant on intuition and chance operations. However, the method of working additively is neither sequential nor additive itself. I am guided by willful irrationality, chance, accident and mistake. I want to challenge accepted ideas concerning causality and intention.
Can you talk a bit about your idea of a "tolerance level of a situation" and how it manifests in your installations? [Read more]
Off-Topic invites artists, curators, writers, and cultural workers to discuss a subject not directly related to the practice of making art. We would like to welcome Randall Szott as our latest guest with his post, "More Tailgating, Less Curating". In his own words, Randall  "has described himself as a chef, a merchant marine, or a schmuck with some blogs." When not spending part of his time at sea, Randall can be found at He Said, She Said.
More Tailgating, Less Curating
Randall Szott

I'm a cook. When I tell people this there are no quizzical looks or sheepish follow up questions. People get it and want to hear more. Sometimes the fact that I have two grad degrees in art makes its way into the conversation and things get awkward. This, to me is a problem, a fundamental problem that I've been invited to say a bit about here at BaS. What follows is my highly anecdotal account of why I believe the art world should strive to be more like the culinary world. It is rooted in my experience and obviously suffused with my values. If you don't share those values (pluralism, flexibility, openness, egalitarianism, inclusiveness, conviviality, approachability, diversity, etc.), find those values misapplied or irrelevant to the context, or if you have had a radically different experience with the art or culinary world then obviously this account will be of questionable value to you. I am talking about the capital A art world – the one that BaS almost exclusively engages itself with – not the immensely diverse "real" art world of sidewalk art fairs, church craft shows, potters in Memphis, painters in Sedona, and the multiplicity of creative artists that work outside the "recognition" of the network of biennials, jet-set curators, international journals, art historians, big city newspapers, and elite colleges/universities. [Read more]
Off-Topic invites artists, curators, writers, and cultural workers to discuss a subject not directly related to the practice of making art. We would like to welcome Stephanie Burke as our latest guest with her post, "Firestarter". Stephanie is a Chicago based photographer who graduated from the School of the Art Institute of Chicago in 2009. She currently writes for Bad at Sports, runs Art Talk Chicago and works as the Managing Editor for Chicago Art Magazine.
Firestarter
by: Stephanie Burke
Last night I had a dream: my husband and I were living in an abandoned church in some metropolis. The church was high on a hill overlooking the city. I was sitting in the scrubby grass outside the church, watching the sun go down and listening to talk radio. An announcer cut into my program, saying the mayor had decided to start shutting the power off at night to save money. I looked out over the city to the west, and watched the lights blackout below me as the sun dipped below the horizon. As the last rays of sunlight disappeared, I started thinking about how I was going to build a fire without drawing attention to myself. In mid-thought, I woke up. I rolled over and related my dream to Jeriah, including my quandary as to how to build an un-noticeable fire. Without skipping a beat, he said flatly, "a Dakota Fire Hole, that's what you'd use." Yes, that's what I would use. Knowing how to build things like a Dakota Fire Hole, and a fire in general, is an important part of wilderness and disaster preparedness, a topic of great import to me. Thus, I have decided to dedicate my Bad at Sports Off Topic entry to fire building in context of survivalism.
Fire is one of the most important things you will need in a survival situation. Fires provide heat to dry clothes, warm bodies, cook food, and boil water to destroy pathogens. It also provides light to work by, to use as a signal for rescue, and to aid in general peace of mind. For all these reasons, you need to plan ahead and understand the basics of starting and maintaining fires.
First, you need to understand the needs of a fire. A fire needs three things: fuel, air, and an ignition source (or spark). Fuel is what is feeding the fire, usually in the form of wood, paper, leaves, twigs, etc., and generally, the drier the fuel the better. Overly wet fuel can be used once a fire is going, assuming it has been dried out near the fire before use, or the fire is raging extremely hot. Be careful when gathering your fuel, many parks and wilderness areas have restrictions on wood gathering.
There are three main fuel types you need to gather: tinder, kindling, and denser, long burning material. Starter and kindling are essential to starting a fire (without gasoline or road flares), and it continues to surprise me when a watch people try to start fires without them. If I had a dollar for every time I've seen someone crumple up 2 wads of newspaper, cover them with 4 or 5 four-inch diameter logs, then light it expecting a the newspaper to get the logs going, I'd have, like, a few hundred dollars.
Off-Topic invites artists, curators, writers, and cultural workers to discuss a subject not directly related to the practice of making art. We would like to welcome Molly Schafer and Jenny Kendler who are tag teaming this post with , "Snakes on a Plane, Lemurs on a Plate: How Human Beings' Actions Can Have Unexpected Consequences for the Natural World". Both Molly and Jenny are Chicago based artists that have collaborated on numerous projects. Their most recent endeavor is The Endangered Species Print Project, which has recently been featured on numerous blogs. ESPP raises money through limited-edition art prints for critically endangered species.

Snakes on a Plane, Lemurs on a Plate: How Human Beings' Actions Can Have Unexpected Consequences for the Natural World
Molly Schafer and Jenny Kendler
If you've heard much about Guam, you most likely know it as the U.S. Territory that was the site of the Battle of Guam. In 1944, the U.S. took back possession of this tropical West Pacific island from the Japanese, who had occupied it following the attack on Pearl Harbor. You may have also heard the interesting story of a Japanese soldier, Shoichi Yokoi, who was discovered by hunters in 1972, having lived in a cave for 27 years.
Although Shoichi's story is probably one of the strangest to come out of Guam, during his 27 years living in Guam's forests, he would have been an intimate witness to one of the island's saddest stories.
Let us imagine our unlikely protagonist on the night of the American invasion (with no accounting for exact historical accuracy): Our Shoichi hears shouts from the beach as the Americans land, and being a simple kind of nature-loving guy, and wanting no part of this fuss, he grabs a canteen and a flashlight and makes his way deep into the forest, nimbly leaping over lianas and roots down the forest paths he's grown to know during his time on the island. He heads to a cave that he had found some months before, where he'd frequently camped out and laid in some supplies, most importantly, a pair of binoculars. You see, our make-believe version of Shoichi is an avid bird-lover. So, while our Shoichi was evading American troops in his grottoed refuge and keeping his ears open for the sound of shots or approaching footsteps — as darkness settled heavily on the steamy tropical night, he listened with a keen pleasure to the rich chorus of tropical birdsong filling the air.
If you or I were to walk Shoichi's favorite paths through Guam's forests today, we'd have a very different experience. Sure, you'd see all the hallmarks of tropical forests worldwide: lush vegetation, a truly huge variety of living growing things, moisture hanging thick and low in the warm tropical air — but then as your ears tuned into the sounds of the forest and your eyes strayed upwards, you'd notice two very unusual things — two strangely interrelated changes to the forest, with a single historic origin. Yes, you might hear the sound of insects, the sound of leaf litter being crushed under your feet, but you'd hear no birds. And as you looked upwards through your binoculars, to spy out these unusually silent birds, you'd catch a sticky web across your face, and wiping it away, you'd notice that there were webs everywhere. Guam is a tropical island now devoid of the music of birdsong and filled with enormous colonies of spiders. Clearly, these are the signs of an environmental imbalance — but what could be the cause? [Read more]