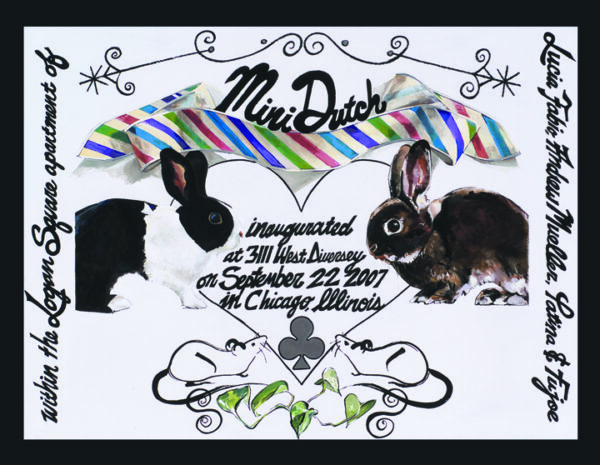 Start. A continuation of thoughts from the end of mini dutch. November, 2009.
mini dutch ended a two year run in July, 2009. Subsequently, I moved to Los Angeles. Not to pursue a career as an artist or curator in a more viable city, but to be near my mother who was diagnosed with ovarian cancer. This is pertinent because it sets up my inability to be as involved in the art scene as I was in Chicago.  At least, for the time being, I long for the tight knit community I felt forced to leave, and detest the highly commercial and impenetrable community that I have not been inducted into. I feel confident that I will find myself in a much more optimistic mood after the unpacking ceases and I can start going to gallery openings, panel discussions, and lectures regularly again. I know that I now live in a city with a larger art presence, with a lively art market and community, but I am still am at a complete loss over leaving Chicago and my contemporaries. My thoughts have recently been drifting toward Chicago and its unique culture of the apartment gallery. What purpose do these spaces serve the city, and what did mini dutch do for me? [Read more]
Editors' Note: This week we'll be running some of the essays written for Floor Length and Tux's "Untitled Circus" event this past weekend. A number of essays on Chicago's thriving domestic/apartment gallery art space scene were solicited from local writers/artists/curators involved in the running of such spaces, and we're posting some of them here on Bad at Sports as a way to extend the discussion. Please feel free to email us with your comments at mail@badatsports.com, or if you'd like to contact the folks at FLAT directly, you can email Erik at erik@floorlengthandtux.com.
Guest Post by EC Brown

LNS
SEO
DQY
As pleased as punch as I am with the latest uptick in domestic artspaces – especially in contrast to my experiences in Chicago through the 90's and early 2000's – I prefer to perceive these activities as formative stages, collectively inching toward something that hasn't already waxed and waned in the past. What has been unique about these events is not so much a change in the way that artists operate, but in the comfort level of the guests. Folks seem willing to allow homegrown spaces to fulfill their needs for viewing (or confronting) art, rather than only appreciating these events in deference to commercial and institutional spaces. Nevertheless, the author vs. spectator dynamic remains intact, and the imprint of the commercial gallery template has proved sometimes indelible, sometimes  unproductively.
Potentially, artists and aficionados alike could cultivate a crowded and long-lasting game that wrangles space, atmosphere, scheduling, social relations, archives and marketing schemes as a holistic medium. I do prefer the word game over discourse. Not to suggest zero sum games under strict protocols, but rather the heated intensity of competitive engagement –  a fervent clash between dissonant  operational models, temperaments and philosophies. At present, there are too few players on the field for a city this size, and the general social atmosphere is congenial and a bit measured – not quite a passionate crucible to compensate for the absent pressures of a lively commercial system. [Read more]
Off-Topic invites artists, curators, writers, and cultural workers to discuss a subject not directly related to the practice of making art. We would like to welcome Stacia Yeapanis as our latest guest with her post, "My Feminism is 80s Teen Movie Favored". Stacia is a Chicago based interdisciplinary artist who's first monograph was recently published as part of The Museum of Contemporary Photography's Midwest Photographers Publication Project this past spring.

My Feminism is 80s Teen Movie Flavored
Stacia Yeapanis
Not many people remember the teen movie The Legend of Billie Jean. Expected to be a box office hit in the summer of 1985, it disappointed producers, earning a measly $3.5 million, and has yet to be released on DVD. This movie is why I still own a VCR.
The plot is simple: Billie Jean Davy is a teenage girl from a trailer park, who becomes an outlaw after being involved in an accidental shooting. She goes on the run with her friends and cuts her hair and becomes a celebrity hero seeking justice. The tagline, according to IMDB, is "When you're seventeen, people think they can do anything to you. Billie Jean is about to prove them wrong."
I was 7, not 17, when it was first released. I can't remember exactly when or where I watched it for the first time. I remember that I believed the main conflict was between kids and adults. There's no doubt the movie was marketed to the MTV generation. The theme song, Invincible by Pat Benatar, had already made it to #10 before the movie was released. I probably related to the movie because I was a kid and because life constantly feels unfair when you're a kid.
But when I re-watched The Legend of Billie Jean at age 31, it was obvious to me that this overlooked teen movie is about more than a rebellious teen's sense that her parents aren't fair because they make her clean her room or get off the phone and do her homework. For me, it's one of my earliest feminist texts (and a scathing critique of capitalism, but that's another post). Watching it was like having myself and my experience of the world mirrored back to me. I don't mean that I've ever cut my hair short or been an outlaw or slept at an abandoned mini golf course. I just mean that I must have learned something watching this movie over and over again. And it's something I value. [Read more]
Guest post by Damien James.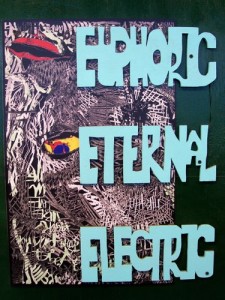 I heard all about what made the ancient Romans laugh (an inordinate amount of what were essentially absent-minded professor jokes), where Wittgenstein and Buster Keaton converge, the bathroom habits of insects, and Jewish humor. I heard clips of what is considered to be classic comedy, saw unreal films made and animated by Bob Sabiston, witnessed people actually slapping their knees while experiencing John Hodgman's charmingly eloquent bullshit, and others share stories about themselves without the least bit of encouragement simply to pass the time while waiting in line to have a book signed.
It was such a bustling couple of weeks that I really didn't have much time to do any actual and focused thinking about laughter, though. In hindsight and when I seriously put my mind to it (not necessarily easy for me), I began to consciously appreciate just how loaded laughter is, how there is a laugh for every emotion, how easily and naturally laughter is used to cover embarrassment, anger, self pity, contempt, all of which had passed through my thoughts at various times throughout my life, but had never featured prominently for any appreciable amount of time. [Read more]
Guest post by Damien James
I walked into Woman Made Gallery on Wednesday, October 14th, to view and review the Beatrice Fisher retrospective, which surveyed fifty years of art making. Intrigued by the gallery's website, which noted that this was Fisher's first solo exhibition and that she had studied under such renowned Chicago artists as Karl Wirsum and Don Baum, for better or worse I had fairly high expectations.
Everything had just been hung, and the space was still a bit of a mess—the opening wasn't for two more days and I hadn't let anyone know that I was coming—then I realized that the mess consisted mostly of Fisher's work, of which there was just too much to fit on the walls. (I was told that Fisher had thousands of pieces in her Evanston studio. Thousands was later corrected to hundreds.) After a moment of orientation amidst the clutter, I was able to focus on the walls, on her art, and was instantly taken, overtaken, by not only the range of her work but its consistent beauty and energy.
Fisher's Attachment/Separation series focuses on divorce in the most physical terms; bodies in surreal Siamese union, some split apart by knives or attached by zippers rendered with a level of detail which brings the stark flatness of the paintings and their sharp lines into a kind of focused intimacy that looks cleanly through you. At least, they seemed to look through me. Some are paintings of women and men joined at the hips or shoulders, others of women joined to women, skin stretching into long bands waiting to be broken, their faces staring so pointedly, hypnotically. On another wall were military-themed works which dressed disembodied penises in camouflaged field gear, while across the room a group of small paintings of Jesus clad in ruby slippers and floating in the clouds shimmered. The slippers were glitter. Jesus had a beatific and tranquil face. Maybe it was the shoes.
Truthfully, there was so much work that this could easily have been a group show of six or seven entirely different artists, though it wasn't difficult to see the common thread—the unique handwriting as it moved through all the pieces; the tongue-in-cheek humor, the cultural critiques, the exploration of sexuality and religion—yet each period in her career seemed to point to the absolute need to make art, out of anything and everything available. It was without a doubt the life of an artist on the walls of Woman Made, not just her art. [Read more]