DEAR BaS:
Once a long time ago, back when I was a pious art dude scouring the web for feelings/opinions about art in Chicago, I used to relish and hitting refresh on your podcast pages and more recently the "new" blog.  The comment sections there were a source of snickering, consternation, approval, dismay and WTFness.  It was also a place to *facepalm*.  It epitomized for me a simultaneously voyeuristic community that is silently opinionated (the anon's) while at the same time coming off as grossly redundant by the self-promoting (the signed-in's).  There were also a lot of useful in-between comments that reflected a more intelligent community.
Then, inexplicably, it got phased out.  (And by phased out I mean comments went from always there, to being available for a couple of days and then turned "off", and finally, as of April 14, 2010 – completely gone.)
I miss them horribly.  I also have the feeling that I'm not the only one.
I also know why you did it, or at least I have a good idea why.  Anybody who was as interested in the comments as I was knows why too.  Really, there is no need to rehash those things here except to say that I was often appalled by what I read.  At the same time I learned and liked a lot: history, ideas, theory, Richard's comic book stuff, Amanda's insanely awesome cackle-laugh.  Speaking of history, I hoped Christopher archived those comments.  There must be pages and pages of them.  Lots of good stuff and horrible stuff, all invaluable.  I smell a zine in the making.
Now you guys are the big time – with your own openings, famous artists/dealers/curators/museum directors and blogger friends all over the world.  You are still BaS, still awesome and still essential, but you've self-censored yourselves.  I know it was hard to monitor the bullshit that happened in those comments and you played Switzerland very well most of the time (Duncan got a little testy here and there – but that's cool).  Can't you find a new unpaid intern to do this for you, the next Meg Onli?
So what happens now?  You post this letter (I hope) and then no one can comment on it?  Wait, can I say whatever the hell I want right now?  AND NO ONE CAN DO ANYTHING ABOUT IT!  Anyways, thanks for receiving this letter to the editor, and I hope this rant makes up for all the time I was an anon.
Britton
---
Britton,
First and foremost, thanks for sending your concern our way. When we removed comments with the new site launch on November 1st, 2009 I had expected we would have received a lot of flack via email. But alas, this is the first to grace our inboxes. Also, I appreciate your understanding of why we turned comments off.
When I first joined BaS back in 2006 there had been talks about what to do about comments that were getting out of hand. Mainly the name-calling and *facepalming* (as you so eloquently put it). I was adamantly against it as were the majority of members. But, over the past 4 years my opinion has changed.  When I took over the blog and began "managing" other bloggers (Claudine excluded) I started to see offensive comments in a different light. These were people I worked with being attacked and many people I had asked to participate with us declined and listed the uncouth comments as a reason. I am up for debate but the behavior that was happening was getting out of hand and at times embarrassing. Although there were great things that did happen in the comments section it seems that much of what is missed was the "He said what?" aspect. (I use the male pronoun because they overwhelmingly dominated the space.)
Monitoring comments, although an option is really not something that is feasible for us currently. To set up an adequate moderation of comments would mean either sacrificing some aspect of the project or finding someone that solely wants to focus on that. If someone would like to moderate comments on a daily basis please email us and we would consider it.
With all that being said, Claudine and I have been working to open up the blog. Our series, "Off-Topic" was one small solution to having outside voices on the site. We have also been discussing how we can use the Bad at Sports' facebook page in a way that will facilitate more conversations. If anyone has any suggestions we would be totally up for hearing them.
I would just rather be known for the place to go to hear/read artists having conversations and not the place to go and see people sling mud at each other.
Thanks for the letter,
Meg
---
Britton, as you well know I have always respected your opinion and your feedback examines the issue in a complete and thorough way, I could not possibly have put is so succinctly.
The reason we, after a vast amount of hand wringing and debate, ended the ability to post comments was due to the increasing amount of time we had to spend dealing with off-blog correspondence from people who were mad as hell that someone said something about them, posted under their name, and/or were afraid to post commentary or contribute feature pieces to the blog as they did not want to endure the at time acrimonious personal attacks. We went so far as to have a meeting to discuss the issue face-to-face and examine it from all sides. Monitoring the messages seemed like a solution, deleting offending posts, but I cannot, and will not act as occasional censor. I find censorship in all its forms be an aberration,  I think that it is unfair and totally subjective to pick and choose who says what, I don't want to be deleting the posts of someone who I think is a jackass. Just because someone in a jackass does not mean they don't add to the dialog. So we would be posed with defining the rules for deleting posts. We agreed on the big things, direct threats, criminal behavior, libel (which is a stickier wicket), but then you get to more difficult issues of who defines who is a bully, who is a troll, who is a schmuck. We couldn't do it in a way that would make for articulable rules.
So in the absence of some clear mandate, we were left with two choices, leave things be, and continue to diffuse possible problems (and potential litigation) or we pull the plug and the hell with it, disappointing, but certainly something that would resolve the problem. While a cop-out we all have jobs, partners, obligations, many have kids, there are times where we opt for the path of least resistance. Not ideal, but true.
Meg, now the Editor in Chief of our blog, the person who essentially runs at least half of the BAS empire, started as our intern. She is amazing and has worked harder than anyone during her time at BAS. If I was paid for this, she would have to be paid more than I was as she earned it.
Sadly, finding an intern with the work ethic and vision of Meg is a one in a million and I don't see us getting someone to pitch in sufficiently to create and police a new comment system.
So, we are left with encouraging listeners/readers to submit letters such as your and phone comments (312-772-2780). I fear you have been more-or-less the lone voice who has given feedback post removal. Under we have a better plan, we need to stick with what we are doing. Send all better plans my way!
Best,
Richard
---
As a quick post script all of the comments are still on display with their corresponding posts and we view them as an invaluable part of the Bad at Sports site. In the end the trade was made to get better articles from more people. Remember anyone can
pingback
any of our articles with their responses on their respective blogs or sites. We never want to limit the volume of talk but had to trim the audible volume of the talk.
Christopher
Got a response to this post? Let us know! Email your response to  mail@badatsports.com. We'll feature thoughtful responses to issues generated by our posts in our Letters to the Editors Feature.
Off-Topic invites artists, curators, writers, and cultural workers to discuss a subject not directly related to the practice of making art. We would like to welcome Elijah Burgher as our latest guest. Earlier this week Elijah participated in the magic-themed Cabinet of Curiosities at the MCA, hosted by Bad at Sports' Duncan MacKenzie.  His Off-Topic post takes the form of a narrated YouTube tour of his favorite group Coil.
COIL ARE MY FAVORITE
Elijah Burgher
On November 13, 2004, Jhonn Balance died after falling from a second floor landing in his home. His death effectively ended the mighty Coil, which he had founded in 1982 with Peter "Sleazy" Chistopherson. Along with Psychic TV and Chris & Cosey, Coil rose from the ashes of Throbbing Gristle—Sleazy is a member of TG, who recently resurrected—and, with Current 93, Nurse with Wound,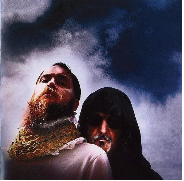 Death in June, plotted a new course for the various strains of experimental music that issued from the first wave of industrial music in the mid-to-late 70s. For more information about the band's history and recordings, look at the Threshold House site, Brainwashed's Coil page, or the brief entry on them on the Disinformation site.
Coil are also my favorite. I love a lot of things, and have named possibly hundreds of artists, bands, filmmakers, books, etc. as my "favorite" at one time or another. When Claudine asked me to write an Off-Topic post for the BaS blog, I knew I wanted to write about something that I loved, and considered Swans' Children of God, Dennis Cooper's George Myles cycle, and Pasolini's Salo, the latter of which I've seen too many times to justifiably claim anything resembling mental health. But Coil really are my favorite. They are what I listen to when I work in my studio. And I have a Coil t-shirt that I consider a good luck talisman and wear when I feel particularly stressed out or sad. They inspire exactly this type of ecstatic, pathologically intense fandom in their followers. For this blog post, I'll be leading you through some of my favorite songs by the band.
Balance had long suffered from alcoholism and drug abuse, which contributed to his untimely death. Since we started with news of his death, here is "Heartworms," where he reflects self-deprecatingly on his addictions, intoning "there's too much blood in my alcohol." (Also I stole the name of my drawing blog from a lyric in this song: "Ghosts vomit over me.") An enterprising YouTuber has added a super 8 short by Derek Jarman for visuals:
I first heard Coil when I was a teenager and a big fan of industrial music. I loved Ministry, Revolting Cocks, Pigface, and My Life with the Thrill Kill Kult. Originally, I had picked up their cd, Love's Secret Domain, because I'd buy anything Wax Trax put out. It came out in 1991, so I must have been 13 or 14 since I didn't buy it too long after it had been released. That record soundtracked much of my high school years, from toothy teenage blowjobs to acid comedowns watching the dancing patterns of my bedsheets, and numerous late night sessions hunkered over my journal writing bad poems and drawing cute boys. I remember playing their track "The Snow" on repeat. It is now a veritable classic of early 90s house music, albeit still somewhat anomalous for the genre. Here is the "Answers Come in Dreams II" remix from "The Snow Ep": [Read more]
Off-Topic invites artists, curators, writers, and cultural workers to discuss a subject not directly related to the practice of making art. We would like to welcome Caroline Picard as our latest guest with her post, "Smells like a Movie Star". Caroline is the director of Green Lantern Gallery and Press. She is an artist and writer currently based in Chicago.
SMELLS LIKE A MOVIE STAR
Caroline Picard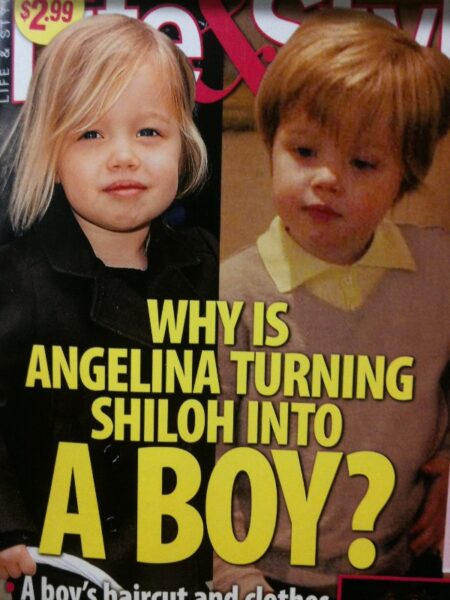 Celebrities always line supermarket check out lines, always peering at you from glossy magazines dedicated to the torrential madcap folly of their lives. Their faces, bodies, lifestyles wallpaper not just culture but also the basic practice of obtaining foodstuffs. The ubiquitous presence of persona/brands like Jennifer Aniston, Johnny Depp etc., reinforce particular moirés about success, beauty and sexuality. Where repetition and familiarity elicit desire, the repeated surface of the celebrity remains the poster child of consumer society, reinforcing the criteria with which non-celebrities (that's us) measure their own legitimacy, accomplishment and worth. Celebrity provides a filtered perspective through which we view and interpret immediate experience, history and cultural production. The celebrity exemplifies a model for success which, while applauding the individual in an immediate sense, further stabilizes predominant hierarchical structures of society. To consider the influence such a model has on the contemporary art world is of particular interest because of its function as an historically transgressive and transformative force in culture.
Despite the art world's (partially self-inflicted) reclusiveness, it has an inextricable relationship to the economic market. That relationship is no doubt reinforced by the ever-increasing number of art students who graduate from secondary institutions and, understandably, expect their respective art practices to afford some semblance of a "career." The very idea that one's status as art marker can be 'taught' is already far from the modernist perspective of artist as a vessel of inspiration.  Similarly the sense of the struggling, starving, or "crazy" Van Gogh type-artist also feels old hat, a dusty model which, while adopted by some, nevertheless has been replaced by a new concept, i.e. artist as entrepreneur. Today the artist is expected to negotiate practical obligations in the world, she is encouraged to make a website, to show up on time, to write courteous letters to gallerists, and even develop—consciously or not—a public persona. While I tend to prefer the latter attitude of art as 'learnable' (because as a learnable occupation it is denied some of its precious mysticism), it is all the more difficult to see how art can provide new ways of thinking if its modus operandi is dependent on the closed system career-ism of work-as-commodity.
This just in: Wellington Reiter, who was appointed the School of the Art Institute of Chicago's fourth President in 2008, has resigned. He sent the following email to members of the School of the Art Institute / Art Institute of Chicago community earlier this afternoon:
Dear Members of the SAIC/AIC Community,

It has been an honor and privilege to serve the School of the Art Institute over the past two academic years and to establish rewarding relationships with all of you.  It is thus with the greatest respect and deep sentiment that I inform you of my decision to step down as president of the School of the Art Institute of Chicago following graduation.

The past few weeks have been a time of deliberation for me as I contemplated the direction of my career, the needs of the School, and what we have accomplished together.  As I highlighted in my most recent newsletter to the community, there are many items to celebrate at SAIC thanks to the collective effort of faculty, staff, students, and the Board of Governors. However, after much thought, I have decided to return to my ongoing work linking the fields of art, design and sustainable urbanism. These issues have always been my passion and I look forward to devoting my full attention to the creation of sustainable city models on a global basis.

Chicago is an extraordinary city and I am grateful for the experiences I have enjoyed here and within the School.  I believe that SAIC is on a trajectory that will strengthen the student experience in ways that will ensure continued growth and success. I depart knowing that there is a strong and talented faculty and administration dedicated to supporting these most ambitious students as they develop into mature artists, designers, and thinkers.  It is their optimism and hopefulness that certainly drives us all.

As I begin the transition to my new research efforts, a committee composed of senior administrators and faculty will work closely with the Chairman of our Board of Governors to help assure that the School's operations will continue uninterrupted.

It has been a pleasure to contribute to this community and I wish each of you and SAIC the best in the future.

Sincerely,

Wellington "Duke" Reiter
UPDATE: Here's a copy of SAIC's Official Press Release on Reiter's resignation, via Pedro Velez/@JonesDistrict. Reiter, an architect and artist, was appointed President in 2008, after Tony Jones was appointed to the position of Chancellor of the School of the Art Institute.
Memo: To Whomever It May Concern
Re: Acquisition of an iPad
From: The Bad at Sports Team
Okay, it has come to our attention that we can't afford an iPad, either collective or individually. And while we are neither a formal non-profit at the moment, or a worthwhile cause, you can't get help if you don't ask.
We want an iPad(s). The art potential here is big big big! There is all sort of amusing shit we could do with one of those bad boys. We'll take donations of any recent technology for that matter, computers, audio gear, advanced military weapon systems. Send us your working discarded wazmos. You'll be contributing to … a cause, not a good cause mind you, but a cause none the less. And with the growing numbers of BAS folks with kids, or kids on the way, we surely could use some entertainment. If we're jolly, we're funnier, and who wants to listen to a bunch of cranky jerks. Well, you probably, as you are reading this instead of something meaningful, but you catch my drift.
Call our hotline (312) 772-2780 with details. And thank you!
Image below from lunchbreath (via).