Off-Topic invites artists, curators, writers, and cultural workers to discuss a subject not directly related to the practice of making art. We would like to welcome Elijah Burgher as our latest guest. Earlier this week Elijah participated in the magic-themed Cabinet of Curiosities at the MCA, hosted by Bad at Sports' Duncan MacKenzie.  His Off-Topic post takes the form of a narrated YouTube tour of his favorite group Coil.
COIL ARE MY FAVORITE
Elijah Burgher
On November 13, 2004, Jhonn Balance died after falling from a second floor landing in his home. His death effectively ended the mighty Coil, which he had founded in 1982 with Peter "Sleazy" Chistopherson. Along with Psychic TV and Chris & Cosey, Coil rose from the ashes of Throbbing Gristle—Sleazy is a member of TG, who recently resurrected—and, with Current 93, Nurse with Wound,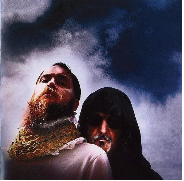 Death in June, plotted a new course for the various strains of experimental music that issued from the first wave of industrial music in the mid-to-late 70s. For more information about the band's history and recordings, look at the Threshold House site, Brainwashed's Coil page, or the brief entry on them on the Disinformation site.
Coil are also my favorite. I love a lot of things, and have named possibly hundreds of artists, bands, filmmakers, books, etc. as my "favorite" at one time or another. When Claudine asked me to write an Off-Topic post for the BaS blog, I knew I wanted to write about something that I loved, and considered Swans' Children of God, Dennis Cooper's George Myles cycle, and Pasolini's Salo, the latter of which I've seen too many times to justifiably claim anything resembling mental health. But Coil really are my favorite. They are what I listen to when I work in my studio. And I have a Coil t-shirt that I consider a good luck talisman and wear when I feel particularly stressed out or sad. They inspire exactly this type of ecstatic, pathologically intense fandom in their followers. For this blog post, I'll be leading you through some of my favorite songs by the band.
Balance had long suffered from alcoholism and drug abuse, which contributed to his untimely death. Since we started with news of his death, here is "Heartworms," where he reflects self-deprecatingly on his addictions, intoning "there's too much blood in my alcohol." (Also I stole the name of my drawing blog from a lyric in this song: "Ghosts vomit over me.") An enterprising YouTuber has added a super 8 short by Derek Jarman for visuals:
I first heard Coil when I was a teenager and a big fan of industrial music. I loved Ministry, Revolting Cocks, Pigface, and My Life with the Thrill Kill Kult. Originally, I had picked up their cd, Love's Secret Domain, because I'd buy anything Wax Trax put out. It came out in 1991, so I must have been 13 or 14 since I didn't buy it too long after it had been released. That record soundtracked much of my high school years, from toothy teenage blowjobs to acid comedowns watching the dancing patterns of my bedsheets, and numerous late night sessions hunkered over my journal writing bad poems and drawing cute boys. I remember playing their track "The Snow" on repeat. It is now a veritable classic of early 90s house music, albeit still somewhat anomalous for the genre. Here is the "Answers Come in Dreams II" remix from "The Snow Ep": [Read more]
Off-Topic invites artists, curators, writers, and cultural workers to discuss a subject not directly related to the practice of making art. We would like to welcome Caroline Picard as our latest guest with her post, "Smells like a Movie Star". Caroline is the director of Green Lantern Gallery and Press. She is an artist and writer currently based in Chicago.
SMELLS LIKE A MOVIE STAR
Caroline Picard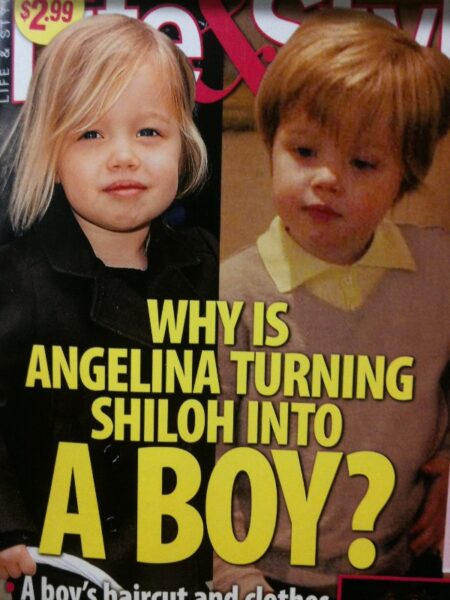 Celebrities always line supermarket check out lines, always peering at you from glossy magazines dedicated to the torrential madcap folly of their lives. Their faces, bodies, lifestyles wallpaper not just culture but also the basic practice of obtaining foodstuffs. The ubiquitous presence of persona/brands like Jennifer Aniston, Johnny Depp etc., reinforce particular moirés about success, beauty and sexuality. Where repetition and familiarity elicit desire, the repeated surface of the celebrity remains the poster child of consumer society, reinforcing the criteria with which non-celebrities (that's us) measure their own legitimacy, accomplishment and worth. Celebrity provides a filtered perspective through which we view and interpret immediate experience, history and cultural production. The celebrity exemplifies a model for success which, while applauding the individual in an immediate sense, further stabilizes predominant hierarchical structures of society. To consider the influence such a model has on the contemporary art world is of particular interest because of its function as an historically transgressive and transformative force in culture.
Despite the art world's (partially self-inflicted) reclusiveness, it has an inextricable relationship to the economic market. That relationship is no doubt reinforced by the ever-increasing number of art students who graduate from secondary institutions and, understandably, expect their respective art practices to afford some semblance of a "career." The very idea that one's status as art marker can be 'taught' is already far from the modernist perspective of artist as a vessel of inspiration.  Similarly the sense of the struggling, starving, or "crazy" Van Gogh type-artist also feels old hat, a dusty model which, while adopted by some, nevertheless has been replaced by a new concept, i.e. artist as entrepreneur. Today the artist is expected to negotiate practical obligations in the world, she is encouraged to make a website, to show up on time, to write courteous letters to gallerists, and even develop—consciously or not—a public persona. While I tend to prefer the latter attitude of art as 'learnable' (because as a learnable occupation it is denied some of its precious mysticism), it is all the more difficult to see how art can provide new ways of thinking if its modus operandi is dependent on the closed system career-ism of work-as-commodity.
This just in: Wellington Reiter, who was appointed the School of the Art Institute of Chicago's fourth President in 2008, has resigned. He sent the following email to members of the School of the Art Institute / Art Institute of Chicago community earlier this afternoon:
Dear Members of the SAIC/AIC Community,

It has been an honor and privilege to serve the School of the Art Institute over the past two academic years and to establish rewarding relationships with all of you.  It is thus with the greatest respect and deep sentiment that I inform you of my decision to step down as president of the School of the Art Institute of Chicago following graduation.

The past few weeks have been a time of deliberation for me as I contemplated the direction of my career, the needs of the School, and what we have accomplished together.  As I highlighted in my most recent newsletter to the community, there are many items to celebrate at SAIC thanks to the collective effort of faculty, staff, students, and the Board of Governors. However, after much thought, I have decided to return to my ongoing work linking the fields of art, design and sustainable urbanism. These issues have always been my passion and I look forward to devoting my full attention to the creation of sustainable city models on a global basis.

Chicago is an extraordinary city and I am grateful for the experiences I have enjoyed here and within the School.  I believe that SAIC is on a trajectory that will strengthen the student experience in ways that will ensure continued growth and success. I depart knowing that there is a strong and talented faculty and administration dedicated to supporting these most ambitious students as they develop into mature artists, designers, and thinkers.  It is their optimism and hopefulness that certainly drives us all.

As I begin the transition to my new research efforts, a committee composed of senior administrators and faculty will work closely with the Chairman of our Board of Governors to help assure that the School's operations will continue uninterrupted.

It has been a pleasure to contribute to this community and I wish each of you and SAIC the best in the future.

Sincerely,

Wellington "Duke" Reiter
UPDATE: Here's a copy of SAIC's Official Press Release on Reiter's resignation, via Pedro Velez/@JonesDistrict. Reiter, an architect and artist, was appointed President in 2008, after Tony Jones was appointed to the position of Chancellor of the School of the Art Institute.
Memo: To Whomever It May Concern
Re: Acquisition of an iPad
From: The Bad at Sports Team
Okay, it has come to our attention that we can't afford an iPad, either collective or individually. And while we are neither a formal non-profit at the moment, or a worthwhile cause, you can't get help if you don't ask.
We want an iPad(s). The art potential here is big big big! There is all sort of amusing shit we could do with one of those bad boys. We'll take donations of any recent technology for that matter, computers, audio gear, advanced military weapon systems. Send us your working discarded wazmos. You'll be contributing to … a cause, not a good cause mind you, but a cause none the less. And with the growing numbers of BAS folks with kids, or kids on the way, we surely could use some entertainment. If we're jolly, we're funnier, and who wants to listen to a bunch of cranky jerks. Well, you probably, as you are reading this instead of something meaningful, but you catch my drift.
Call our hotline (312) 772-2780 with details. And thank you!
Image below from lunchbreath (via).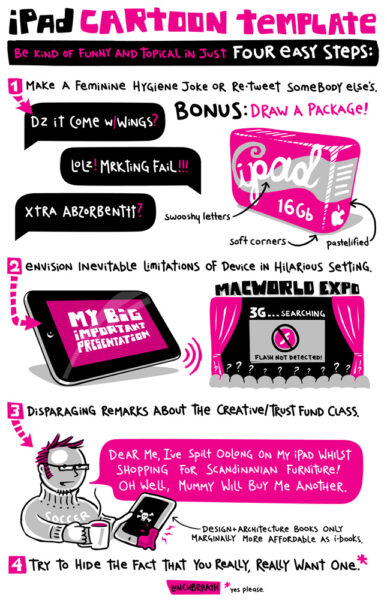 Bad at Sports would like to welcome Devin King as our latest guest blogger. "Devin King lives and works in Chicago. His first book of poetry, CLOPS, is out from the Green Lantern Press and the newest production of his serial opera, Dancing Young Men From High Windows, was part of the 2010 Rhino Theater Festival."
Before Stephen Lapthisophon moved to Dallas in 2008, he worked and taught in Chicago for over 25 years. He's represented in Dallas by The Conduit Gallery, has shown work recently in San Antonio at Unit B, will be doing an installation soon for The Henderson Art Project and currently teaches art and art history at The University of Texas at Arlington. I spoke with him over a few weeks last summer about his installation practice.
Through this, I've been interested in how his installations, paintings, and text/image essays effectively erased old conceptions of relationships between objects and their histories. As you'll see, we spend a bunch of time trying to nail down exactly what he's getting at. Lapthisophon says its an attempt to rethink our surroundings. I'm not sure we ever answered the question.
In Graham Harman's recent book on the French sociologist of science Bruno Latour (Prince of Networks: Bruno Latour and Metaphysics), Harman describes Latour's philosophy as "play[ing] out amidst microbes, tape recorders, windmills, apples, and any real or unreal actors that one might imagine." Moreover, Harman continues, "Latour has no real interest in the pathos of depth: though his actors can always surprise us, these surprises always emerge at the surface of the world, not from some veiled underworld ruled by the shades of [philosophers, theologians, or poets.]" Against Harman's description of Latour, Lapthisophon welcomes the irrational and poetic in our own responses to his work–Lapthosophon's work with disjunctive elements reinforces Latour's image of actors (be they objects, ideas, pictures, or personas) and their surprising emergence at the surface of a world of shifting relations.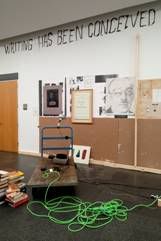 The first thing I wanted to talk about was arrangement. You have an intuitive installation technique: you start with a small number of found objects/photocopies and build out into more materials–finding resonances through addition.
I think this is the result of an interest in limits and boundaries between art and everyday life experiences. I enjoy testing the tolerance level of a situation to see how much or how little can be added or changed while still living in the world of art. It is very much process oriented and, I hope, an open process–embracing flux and change: an open process reliant on intuition and chance operations. However, the method of working additively is neither sequential nor additive itself. I am guided by willful irrationality, chance, accident and mistake. I want to challenge accepted ideas concerning causality and intention.
Can you talk a bit about your idea of a "tolerance level of a situation" and how it manifests in your installations? [Read more]