Guest post by Julia V. Hendrickson
Notes on a Conversation.
With—Angee Lennard (Founder, Director, and President of the Board of Directors at Spudnik Press)
In—my car, driving to a printmaking workshop at the Marwen Foundation in River North
Commenced—on Wednesday, February 9th, 2011, 8:30–9:15am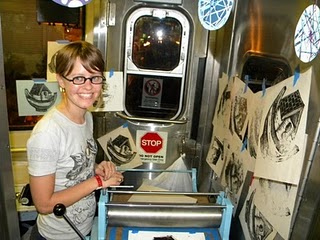 The moment I mentioned the word "printmaking" when I moved to Chicago, someone told me to visit Spudnik Press. Time and again I was encouraged by friends and new acquaintances alike in the art community to get in touch with Angee Lennard, to ask her questions, and to get involved in the print shop. When I finally met Angee and stopped by Spudnik Press, it dawned on me what the hubbub was all about; Angee is a quietly welcoming person, and her tireless efforts to maintain and promote a community print shop are inspiring. She is an educator who has chosen her cause, and the harder she works, the more those around her are energized to keep up. [Photo credit C.J. Mace, during Art on Track, 2010].
The last year has been a busy one for Angee, and for the Spudnik Press Cooperative community. In January 2010 Angee was the artist-in-residence at AS220, a community print shop in Providence, RI, where she focused on perfecting the art of mezzotint (a 17th century drypoint etching technique). Spudnik also hosted a few of its own artists-in-residence last year; early in the 2010, Lilli Carré made a small suite of illustrative screen prints recalling classical Greek ceramic decoration, as well as boldly colored, hand-printed artist books (one of which was featured in the MCA's January New Chicago Comics exhibition).
Throughout the summer Jessica Taylor Caponigro (who is also an instructor at Spudnik) printed a subtly complex edition of etchings; wallpaper patterns inspired by class differences in George Eliot's Middlemarch (1874). Most recently, Sanya Glisic has finished the 2010 residency program. Her stunning production is an edition that begs for a publisher and wider distribution: over 50 illustrated, hand-screen printed, and hand-bound artist books reinterpreting cautionary German children's tales from Der Struwwelpeter (1845).

L: Jessica Taylor Caponigro, "Our Vanities Differ" (installation and detail, "Farebrother"), 2010;
R: Sanya Glisic, "Der Struwwelpeter," 2010-11

All of these projects are a testament to a hard-working and supportive print community at Spudnik. Be sure to keep an eye on the residency program, because the newest artist-in-residence is about to get the ball rolling: Dawn Gettler is slated to start printing etchings and a wallpaper installation in March. Other artists who have been utilizing the space include Liz Born, who just finished a series of complex reduction woodcuts called Dimorphisms; comic artist, book maker, and illustrator Edie Fake, who is printing the Chicago Zine Fest poster (which takes place on March 25th-26th); and Stan Shellabarger, who is creating a second "walking book."
Future printmakers are bound to have a very different experience of Spudnik, however, because over the next few weeks, Spudnik is rapidly expanding. The shop began in 2007 in Angee's Ukrainian Village apartment, and in 2008 (in order to make it a more egalitarian space), Spudnik moved to the third floor of the 1821 W. Hubbard building. Now, over three years later, Spudnik's rapid expansion warrants another new space. It's just down the hall, but it's much bigger, and the exciting part is that it means the shop can now offer letterpress and offset printing.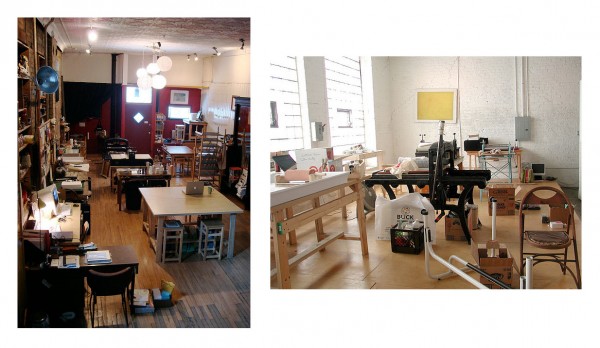 Spudnik Press' former studios spaces in 2007 (left) and 2008-2010 (right). Images from Flickr.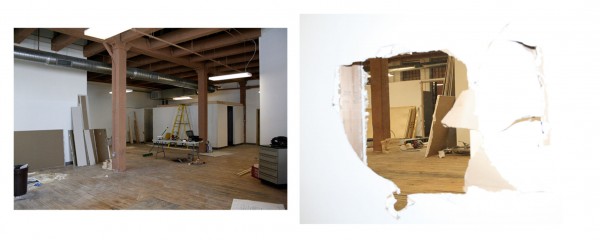 A peek at Spudnik Press in 2011 (under construction)
Fund raising (under the tag line, "Space Race: an epic mission to expand the boundaries of community printmaking") is currently under way through the $50 membership program and the $250 subscription program (limited and exclusive access to Spudnik published prints throughout the year). Angee and the other board members hope to keep the shop sustainable by taking commissions and publishing editions for artists who don't typically work in print.
Coming up this weekend is the Hashbrown, an annual fun-fund raiser and celebration. You can catch a glimpse of all the Spudnik activity at 1821 W. Hubbard St, #302 this Saturday, February 26th, from 7:00-10:00pm. Tensions are already high surrounding the printmaker's chili cook-off, so be prepared to witness a little friendly competition. Representatives from One Horse Press, Screwball, The Post Family, Hummingbird Press, Rar Rar Press, Ork Posters, Anchor Graphics, Jetsah (Dan Grezca), and the student printshops at Columbia College, SAIC, and Harold Washington City College will all vie for the title of chili royalty while helping support Spudnik's efforts to expand into a new studio space.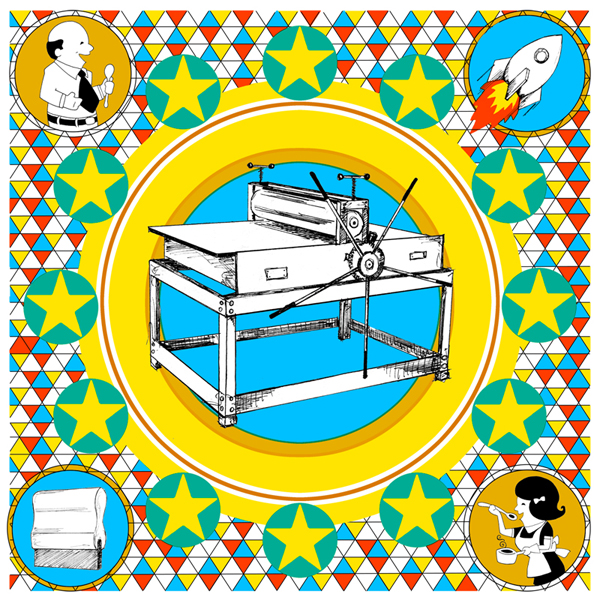 ———————————————
ABOUT:
Julia V. Hendrickson is a native of eastern Ohio who lives and works as a visual artist, writer, and curator in Chicago, Illinois. In 2008 she graduated with a B.A. in Studio Art and a minor in English from The College of Wooster (Wooster, Ohio). Julia is currently the gallery manager at Corbett vs. Dempsey, as well as the office manager and design assistant for Ork Posters. She is a teaching assistant at the Marwen Foundation, an active member of the Chicago Printers Guild, and has taught at Spudnik Press. A freelance art critic and writer for Newcity, Julia also keeps a blog called The Enthusiast, a documentation of the daily things that inspire, intrigue, and inform. She is currently exhibiting at Anchor Graphics (Columbia College Chicago) in a solo show titled FANTASTIC STANZAS, on view through March 26th.
Guest Post by Julia V. Hendrickson
Notes on a Conversation.
With—Mark Pascale (Curator in the Dept. of Prints & Drawings at the Art Institute of Chicago, and Adjunct Professor of Printmedia at SAIC)
In—the Prints & Drawings Study Center
Commenced—on Thursday, February 17th, 2011, 4:15–5:15pm
"It's a dream job. It's great place to work. Even under great pressure, when people are at their most difficult, there is still a lot of love here and we all know it. We give each other a lot of space, there's a tremendous amount of collaboration here, and people supporting everybody when they need the support. I think it's very collegial."
— Mark Pascale
In a curious corner of the Art Institute, beyond the lions and the ticket booth; through the first gallery on your left (filled, currently, with John Marin's watercolors); past a large glass door; and adjoining a nondescript long white hallway, lies a room full of natural light and very busy people. Dedicated to public inquiry, the Goldman Study Center in the department of Prints & Drawings is one of this city's quiet treasures. Open to the public by appointment only (available to classes in the mornings and to individual researchers in the afternoons), since the 1940s the department has made available over 80,000 works on paper that are part of the Art Institute's collection. Staffed by hard-working curators, collection managers, researchers, administrators, and interns (as well as its own paper conservation department), the study center serves as a visual library; it offers the rare opportunity to examine a small selection of major works of art in person, without the distancing of glass or display.
However, one of the most invaluable treasures in Prints & Drawings is not actually on paper. It is, in fact, embodied in a living, breathing, wise-cracking person: a curator, Mark Pascale, who is celebrating his 30th year with the Art Institute. I first knocked on Mark's door over two years ago, armed with the brazen assumption that he would meet with me based on a shared love of comic art and his connection to Ohio (he went to graduate school at Ohio State University). Since then, Mark has proved to be an encyclopedically resourceful, tirelessly supportive, always kind mentor and friend.
While visiting the study room last week, we looked at one of my favorite recent departmental acquisitions, a bequest from the estate of Sylvia Sights: a small collection of envelopes and ephemera illustrated by Edward Gorey (who was born in Chicago in 1925). Sylvia Sights and Gorey were childhood friends and Lakeview neighbors. Gorey attended SAIC for one semester in 1943, and after he left Chicago he wrote to Sights frequently. Many of the envelopes are from his time at Harvard (1946-50), and were often sent under fantastic pseudonyms like "Childeric Drool" and addressed to "Fascia Scorch." You can see more photographs of the collection in an album here.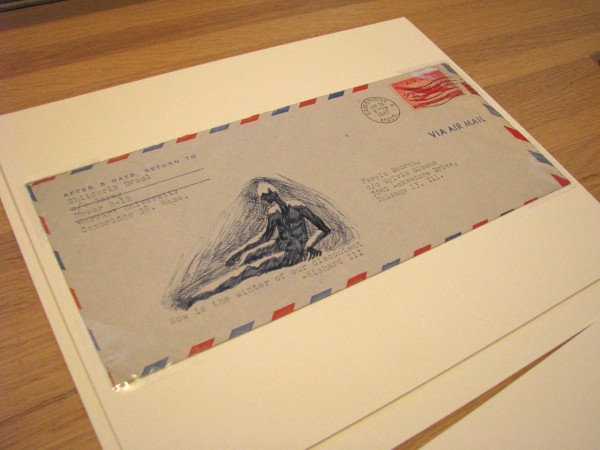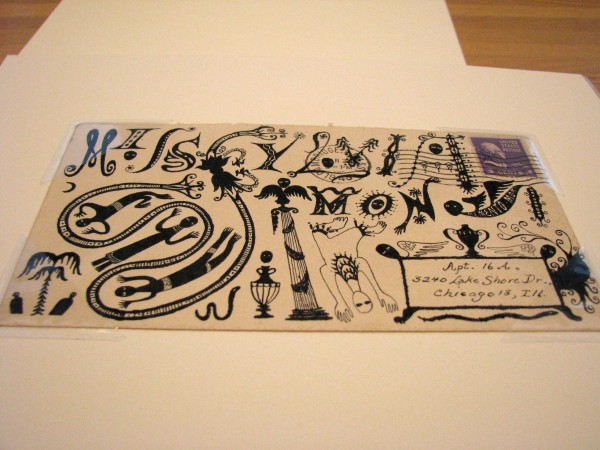 PAST PROJECTS:
I asked Mark about print-related shows he is proud of being involved with during his time at the Art Institute. He spoke of the intense research and collaboration that goes into major museum exhibitions:
"Being involved in the Jasper Johns: Gray show [in 2007] was a career changing moment for me. He was an artist that I had admired, as an artist, and I especially had admired his printmaking. It was hugely inspirational and instructive to me. It was a frightening prospect because he's very judgmental, and he is not known for his generosity. But I was asked to join the team and I did. […] That experience, working with James [Rondeau] and Douglas [Druick], Harriet Stratis, Christine Conniff-O'Shea, and Maureen Pskowski, having a cross-departmental experience was fantastic.
The other show that I've done that I'm extremely proud of is the one that was called After the Crash: Picturing the U.S. 1930-1943, which I did [in 2000] in conjunction with a curatorial assistant in photography and the special collections librarian in Ryerson. We incorporated prints, photographs, and texts from the Depression, [about] the Depression.
We used our WPA [Works Progress Administration] and FSA [Farm Security Administration] holdings, and it was based upon my question: 'If so many of the artists who worked for the WPA were urban, why are there so many farm images?' So, [we were asking] whether or not the FSA photographs played any role in what got depicted in printmaking. To some degree we found evidence that it definitely was true, and there were quite a few artists that worked both on the FSA project and the WPA project. […] The crowning moment for that was, even though we didn't get to do a book, we had a panel discussion that was chaired by George Roeder, who created the Visual and Critical Studies area at SAIC (now sadly deceased), and included Studs Terkel, who was still really sharp, he really had his wits about him, and the photo historian and photographer Naomi and Walter Rosenblum, respectively."
— Mark Pascale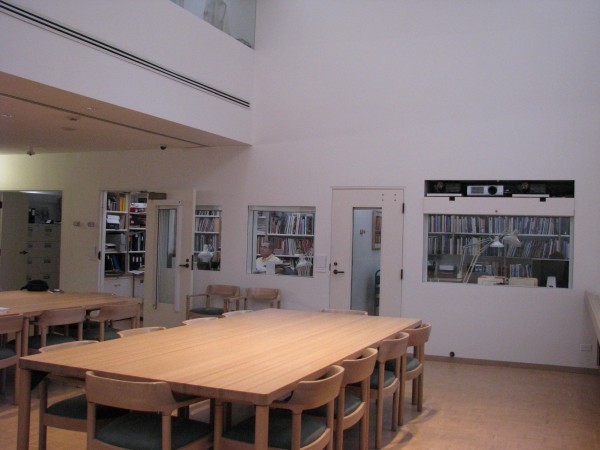 Mark also collaborates across the city with other museums and galleries. In the mid-1990s Mark was an advisor and catalogue contributor to one of the definitive Chicago print shows, Second Sight: Printmaking in Chicago 1935-1995, a survey exhibition at Northwestern University's Block Museum of Art. When I mentioned that show, he sighed and said, "I wish I could redo it because I've learned a lot more about the history of Chicago printmaking since then. But I covered some of it in the Chicago Stories exhibition."
(Chicago Stories is Mark's most recent departmental exhibit from the summer of 2010, an historical survey of local printmaking called Chicago Stories: Prints and H.C. Westermann's 'See America First'. While I served as an intern in the department with Mark, fellow intern Andrew Blackley and I collaborated with him on the research, writing, and exhibition planning for Chicago Stories.)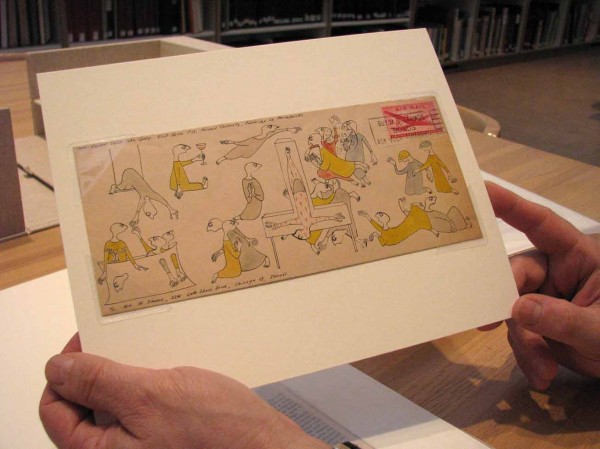 CURRENT PROJECTS:
Although Mark rarely has the time to advise or organize more than one show a year outside of the department, he is often asked to judge exhibitions. This year he selected a members exhibition for the upcoming Southern Graphics Council Tempting Equilibrium conference in St. Louis (March 16th-19th, 2011). At the Art Institute, Mark is currently working on a departmental exhibit showcasing a promised gift of over 100 contemporary drawings from a private Chicago collection. He notes that the museum recently has received a lot of criticism for doing private collection shows, but that it's simply a way to honor and celebrate the major support of private collectors:
"We're often accused of being an island, and we're not. To some people we might be.  We don't buy that much art. We spend a lot of time engineering gifts. […] The people who are quick to criticize the museum don't seem to know of the long and distinguished history of giving that Chicago museums enjoy, and don't seem to know that we don't receive much public money. There's a limit to what we can do, and a high expectation for what we put out. My feeling is that they should be excited and happy that this art stays in the city forever."
— Mark Pascale
The other big show Mark has been working on for the last few years, scheduled for 2013, is a Martin Puryear retrospective, focusing on Puryear's printmaking processes.  Although much of Puryear's early work was destroyed in a fire, Mark has been able to find a number of working and state proofs for his more recent editions. The exhibit will highlight Puryear's etchings from Paulson Bott Press (Berkeley, CA), and a major work from Arion Press (San Francisco, CA): illustrations for Cane, a 1923 novel by Harlem Renaissance writer Jean Toomer.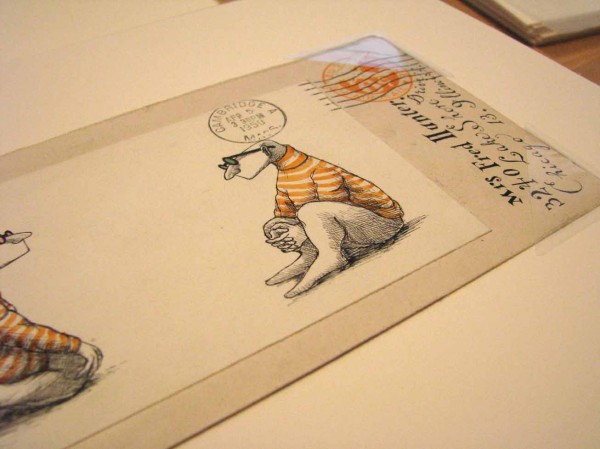 PASCALE'S PICKS:
Above and beyond his knowledge of modern and contemporary art, Mark also knows a thing or two about good food in the city. At the end of our conversation, Mark humored me with a list of a few of his favorite places to eat out.
"Any opportunity to eat badly, I will accommodate it. I have a very high threshold for people's hot dogs and fries, because it's such a Chicago thing. Chicago-style hot dog joints are not like what I experienced growing up. It's local, and I love local."
— Mark Pascale
1.) Hot dog and fries at Gene and Jude's Red Hot Stand (and many other places, but G&J is the best) (2720 River Road, River Grove, IL)
2.) Tom Yum Koong (shrimp soup) and Pad Ped Pla Dook (spicy catfish) at Opart Thai House (4658 North Western Ave., Chicago)
3.) Enchiladas Mole at La Oaxaqueña (3382 North Milwaukee Ave., Chicago)
4.) Bhendi Masala (okra curry) at Hema's Kitchen (2439 W Devon Ave., Chicago) or Udupi Palace (2543 W Devon Ave.)
5.) Hungarian Potato Pancake at Smak Tak (5961 North Elston Ave., Chicago)
6.) Chicken Fatoush Salad at Pita Inn (Skokie, Wheeling, and Glenview, IL)
———————————————
ABOUT:
Julia V. Hendrickson is a native of eastern Ohio who lives and works as a visual artist, writer, and curator in Chicago, Illinois. In 2008 she graduated with a B.A. in Studio Art and a minor in English from The College of Wooster (Wooster, Ohio). Julia is currently the gallery manager at Corbett vs. Dempsey, as well as the office manager and design assistant for Ork Posters. She is a teaching assistant at the Marwen Foundation, an active member of the Chicago Printers Guild, and has taught at Spudnik Press. A freelance art critic and writer for Newcity, Julia also keeps a blog called The Enthusiast, a documentation of the daily things that inspire, intrigue, and inform. She is currently exhibiting at Anchor Graphics (Columbia College Chicago) in a solo show titled FANTASTIC STANZAS, on view through March 26th.
GUEST POST BY ELIZABETH CORR
A few weeks ago, some friends and I attended the opening of Twice Removed: A Survey of Take Away Work at Golden Age. I was excited to see a show entirely dedicated to this concept, a concept that one of my favorite artists, Félix González-Torres, explored throughout his career.
Curator Karly Wildenhaus requested submissions of take away art from the personal collections of individuals, and not surprisingly, she amassed a great set of work hailing from places as far away as London and Antwerp, in addition to more local pieces from Chicago, Minneapolis, and Brooklyn, to name a few. (You can read the full exhibition description here and see additional images from the show.)
I've always been intrigued by the idea of audience participation and multiplicity in art – two ideas which take away art knowingly references, but then pushes to a new level by creating an entirely removable installation.
What's so compelling about the take away object is that audience participation is fundamental to the pieces' meaning as a whole. The viewer, at zero cost, leaves with a multiple, and at the artist's encouragement, is sent out into the world to re-appropriate the object in whatever way they see fit. This element of freedom, and the open-ended nature of the artwork's new life, is both exciting and disruptive to the ways in which people traditionally experience art (i.e. in an institutional setting).
As an integral component of the work, viewers are invited to step into the role of collector, a role traditionally inaccessible to the masses for a variety of reasons. And for this particular moment, the "new collectors" dictate the rules of the game by choosing when, where and how to display their newfound pieces, all the while challenging the idea that increased production (many multiples) devalues artwork both in a market sense and in an ideological sense.
Twice Removed draws attention to all of these issues, bringing together an impressive selection of work from well known artists such as Félix González-Torres, Bruce Nauman and Adrian Piper, while also including the work of lesser known artists such as Rivane Neuenschwander (I'm still regretting not having a chance to see her show at the New Museum this past summer).
Walking through the show, I found myself not necessarily thinking about what it meant for these objects to be literally "twice removed" (initially from the museum or gallery, and then yet again by Karly for the purposes of this show), but instead lost in thought about the period in between – what life was like for the object inside the collector's home. Sure, displaying the work as individual pieces this second time around reinforces the transient nature of take away art, and highlights how insubstantial the materials actually are (candy, postcards, pins, ribbon etc.). But, the pieces I was most drawn to were those that the collector had personalized, imbuing the object with an additional layer of meaning and sentimentality.
One great example came in the form of a homemade candy box. This particular collector visited the Guggenheim numerous times to see Félix González-Torres' piece Untitled ("Public Opinion"). Each time he went, he gathered a piece of black licorice candy, and once happy with the quantity accumulated, created a display case for them. I loved seeing the transformation from the original installation to this collector's interpretation, although it definitely made me wish that I hadn't just haphazardly eaten my Félix González-Torres candies.
It's been weeks since I saw the show, and I really haven't stopped thinking about it since. The weather is starting to improve, so make the trek to Golden Age to see Twice Removed before it's over. If for some reason you can't make it, there will be an accompanying website and pamphlet published by Golden Age after the show's run.
Elizabeth Corr received a bachelor's degree in Psychology and a master's degree in African Studies from the University of Illinois at Urbana-Champaign. Her graduate work focused on contemporary African art in post-apartheid South Africa. She lives in Chicago and works at NRDC, an environmental nonprofit.
Guest post by Elizabeth Corr
There has certainly been no lack of political drama in Chicago over the past two years. Starting in November 2008, with the historical election of Barack Obama, a wave of excitement and pride swept through the city. This atmosphere proved to be short lived.
It wasn't long until Mayor Daley leased Chicago's parking meters to a private company in an attempt to account for a massive city budget deficit. The public was outraged over increased rates and the quickness with which the deal went down. A few months later, then-Governor Rod Blagojevich was indicted over his alleged attempt to sell Obama's soon-to-be-vacant Senate seat.
Things were going swimmingly, when Chicago was the first city eliminated from 2016 Olympic battle. And then, the icing on the cake for the Mayor's political legacy:  In June 2010, the U.S. Supreme Court officially overturned Chicago's handgun ban. Just prior to the ruling, an infuriated Daley, in a now infamous outburst, challenged a reporter's question regarding the effectiveness of the ban. Daley picked up a bayonet at the press conference from a slew of seized guns in Chicago police custody and said, "If I put this up your butt, you'll find out how effective it is." A mere three months later, Chicago was rocked by the announcement that Daley wouldn't be seeking a 7th term as Mayor of Chicago.
These political developments have provided excessive fodder for pundits, comedians and perhaps most interestingly, artists. In Chicago, Ray Noland has been pioneering the visual response with his fantastic graffiti art. Noland operates the Creative Rescue Organization (CRO) and works under the same name. During the 2008 election, he gained national attention with his street art campaign "Go Tell Mama!" His striking images appeared throughout Chicago streets and alleyways. The concept was particularly interesting because of its contemporary, urban aesthetic, which proudly defied traditional campaign propaganda and stood apart from the graffiti most of us are used to seeing.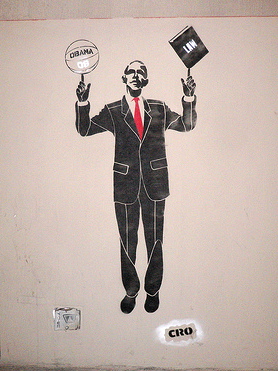 It was the beginning of a love affair with politics for CRO, who quickly followed up that series with "Run, Blago Run!" As the embattled former Governor of Illinois pleaded his case on national television, his image started popping up all over the Chicago's buildings and alleys and sure enough, CRO began garnering more and more attention.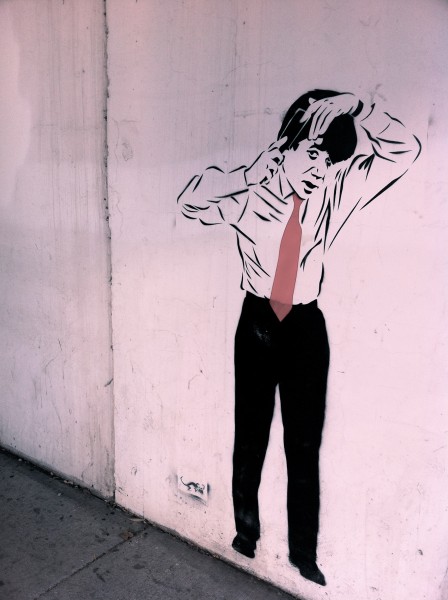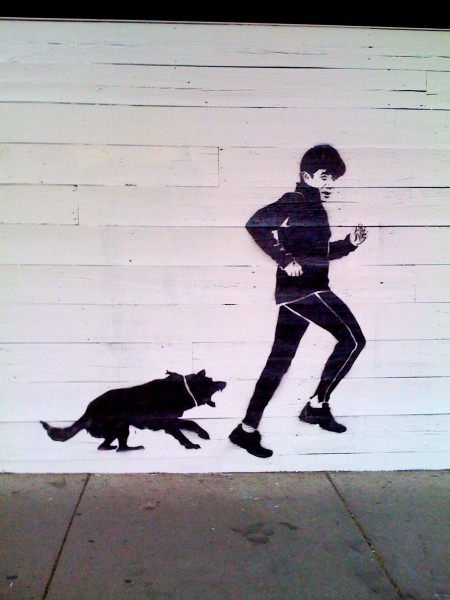 CRO hasn't skipped a beat, and since the announcement that Daley won't be running for reelection, graffiti images of the Mayor golfing have started to adorn vacant lots and alleyways throughout Chicago. The graffiti images of the Mayor are instantly recognizable, done in the same precise stenciling style as the Obama and Blagojevich pieces. The latest CRO endeavor, however, far surpasses the previous for one brilliant reason. Until now, CRO's imagery hasn't attempted to critique policy initiatives or laws. For the most part, the work has been lighthearted, satirical and just plain funny commentary on current political affairs.
CRO's Mayor Daley graffiti is particularly effective as street art not just for its aesthetic simplicity, but also because it takes one of the Mayor's signature political policies and flips it on its head, creating an added element of irony – the Mayor as graffiti – the Mayor, seemingly breaking the exact laws he enacted.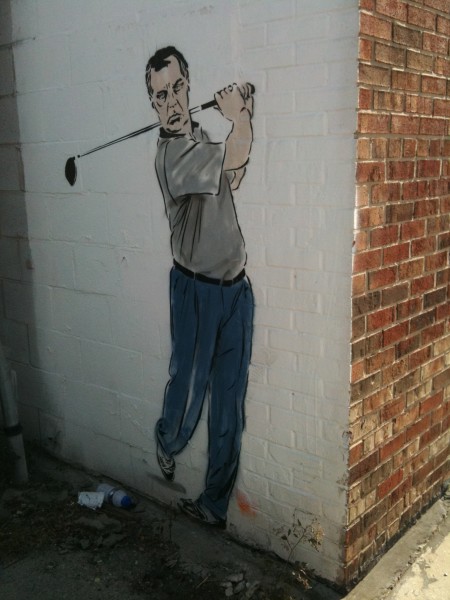 Way back in 1992, as an attempt to combat what was perceived as an increase of graffiti within the city, Chicago banned the sale of spray paint to private citizens within city limits. Sales were to be made only to government agencies, public utilities, and contractors. It wasn't until 1995 however, that the ban was actually enforced thanks to a ruling by Justice John Paul Stevens. A year after the spray paint ban was introduced, the Mayor established the Graffiti Blasters – a free graffiti removal service run by the Department of Streets & Sanitation, a service estimated to cost anywhere from 4 million to almost 8 million dollars annually.
In certain neighborhoods of the city, the Graffiti Blasters are ubiquitous. The trucks were all over my Wicker Park/Bucktown neighborhood as the 2016 Olympic committee was preparing its visit. Not a coincidence I'm sure. In fact, it's gotten to the point now where I can't even say the phrase "graffiti blasters" without finding myself humming along to an updated version of the Ghostbusters theme song.
If there's somethin' strange in your neighborhood
Who ya gonna call (graffiti blasters)
If it's somethin' weird an it won't look good
Who ya gonna call (graffiti blasters)
For those not familiar with one of the Mayor's oldest initiatives, it works like this. There are blaster trucks and paint trucks. The blasters remove graffiti from brick and stone surfaces, utilizing a pressurized mixture of baking soda and water to BLAST that graffiti away. The painters, in the most horrible color of brown paint imaginable, cover graffiti on metal, wood and even fabric based surfaces. According to the blaster website (where you can also watch blasters in action) "Graffiti is vandalism, it scars the community, hurts property values and diminishes our quality of life."
And this is the heart of the problem with the Mayor's initiative. Its infantile definition of graffiti makes no distinction between actual vandalism and street art. Instead, any act involving spray paint is automatically lumped into a category stripping it of conceptual value and artistic merit. It's been refreshing to see this argument played out in the streets of Chicago with the Mayor as primary subject. As I watch him golfing from my apartment, I often wonder if he's aware of his stenciled avatar, a legacy I'm sure he never expected to leave behind.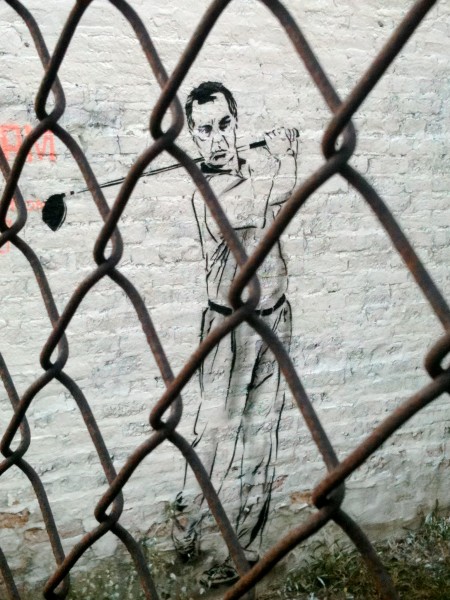 Perhaps due to the increasing popularity of his images, CRO is launching a new street endeavor called the [ASC] Project (check out the CRO's Tumblr page for details) – an approved stencil campaign. Business and property owners interested in transforming their surroundings can contact CRO and for no charge, they will transform your surroundings using stencils of their choosing. This is an interesting and unexpected partnership between property owners and graffiti artists, one that I hope might help Chicago's new Mayor better understand the distinction between graffiti as vandalism versus graffiti as street art.
As Chicago contemplates what a future without Daley might look like, CRO is already offering one such possibility….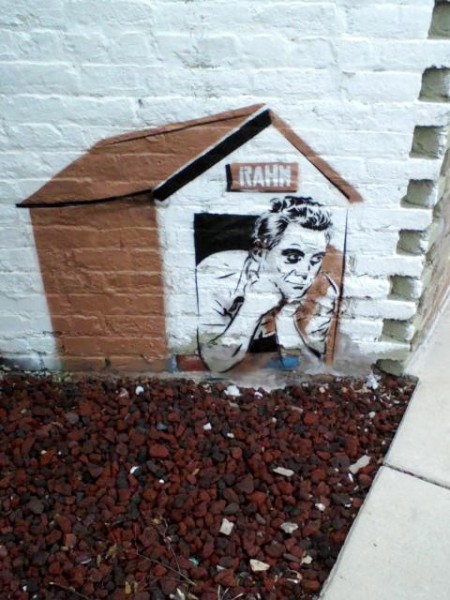 Elizabeth Corr received a bachelor's degree in Psychology and a master's degree in African Studies from the University of Illinois at Urbana-Champaign. Her graduate work focused on contemporary African art in post-apartheid South Africa. She lives in Chicago and works at NRDC, an environmental nonprofit.
Our latest post for our Center Field column on art:21 blog is up! This week, Martine Syms talks to Derek Chan, whose 12 x 12 exhibition at the  Museum of Contemporary Art Chicago opens on November 6th. A brief excerpt:
Derek Chan and I have been friends for a little over four years. We both moved from Los Angeles to Chicago in the Fall of 2005. We had several mutual friends and emailed back and forth a few times but never met up. I spent that summer in Los Angeles and unknowingly started talking to Derek at a party. Inevitably, our conversation turned to Chicago and I laughed when I realized that this was the guy I'd had so much trouble making time for. Since then we've stayed close, meeting often to check in with each other, share food, and hang out.

One of Derek's large abstract landscapes, Eclipse, was stored at my house for a year. I was happy to look at it every day. While works like Eclipse captured autobiographical moments with grand gestures, Derek has since focused his attention on the quotidian. During his residency at Theaster Gates' Dorchester Project in South Chicago, Derek began making daily ink drawings to document his thoughts and share them with his fellow residents. All 260 images are available for download on Derek's website. As part of the Whitney Biennial, Derek presented Being/Becoming, a durational performance that included ink drawings and temporary interventions to the Whitney's courtyard. Derek developed a system of marks, influenced by Tibetan rituals, to record the passage of time and his interactions with museum visitors.

Derek Chan, "Being/Becoming" at the Whitney Biennial, 2010. Courtesy the artist.

Cries and Whispers from the Salt Song Trail is a continuation of this practice. This forthcoming book chronicles his recent journey to the Four Corners region of Arizona through drawings and writings about the sacred places he visited. Golden Age, the project space I run in Chicago, is publishing Cries and Whispers in conjunction with Derek's upcoming exhibition Derek Chan: A Way of Life at the Museum of Contemporary Art Chicago (November 6 – 28, 2010). Continue reading.