GUEST POST BY ELIZABETH CORR
A few weeks ago, some friends and I attended the opening of Twice Removed: A Survey of Take Away Work at Golden Age. I was excited to see a show entirely dedicated to this concept, a concept that one of my favorite artists, Félix González-Torres, explored throughout his career.
Curator Karly Wildenhaus requested submissions of take away art from the personal collections of individuals, and not surprisingly, she amassed a great set of work hailing from places as far away as London and Antwerp, in addition to more local pieces from Chicago, Minneapolis, and Brooklyn, to name a few. (You can read the full exhibition description here and see additional images from the show.)
I've always been intrigued by the idea of audience participation and multiplicity in art – two ideas which take away art knowingly references, but then pushes to a new level by creating an entirely removable installation.
What's so compelling about the take away object is that audience participation is fundamental to the pieces' meaning as a whole. The viewer, at zero cost, leaves with a multiple, and at the artist's encouragement, is sent out into the world to re-appropriate the object in whatever way they see fit. This element of freedom, and the open-ended nature of the artwork's new life, is both exciting and disruptive to the ways in which people traditionally experience art (i.e. in an institutional setting).
As an integral component of the work, viewers are invited to step into the role of collector, a role traditionally inaccessible to the masses for a variety of reasons. And for this particular moment, the "new collectors" dictate the rules of the game by choosing when, where and how to display their newfound pieces, all the while challenging the idea that increased production (many multiples) devalues artwork both in a market sense and in an ideological sense.
Twice Removed draws attention to all of these issues, bringing together an impressive selection of work from well known artists such as Félix González-Torres, Bruce Nauman and Adrian Piper, while also including the work of lesser known artists such as Rivane Neuenschwander (I'm still regretting not having a chance to see her show at the New Museum this past summer).
Walking through the show, I found myself not necessarily thinking about what it meant for these objects to be literally "twice removed" (initially from the museum or gallery, and then yet again by Karly for the purposes of this show), but instead lost in thought about the period in between – what life was like for the object inside the collector's home. Sure, displaying the work as individual pieces this second time around reinforces the transient nature of take away art, and highlights how insubstantial the materials actually are (candy, postcards, pins, ribbon etc.). But, the pieces I was most drawn to were those that the collector had personalized, imbuing the object with an additional layer of meaning and sentimentality.
One great example came in the form of a homemade candy box. This particular collector visited the Guggenheim numerous times to see Félix González-Torres' piece Untitled ("Public Opinion"). Each time he went, he gathered a piece of black licorice candy, and once happy with the quantity accumulated, created a display case for them. I loved seeing the transformation from the original installation to this collector's interpretation, although it definitely made me wish that I hadn't just haphazardly eaten my Félix González-Torres candies.
It's been weeks since I saw the show, and I really haven't stopped thinking about it since. The weather is starting to improve, so make the trek to Golden Age to see Twice Removed before it's over. If for some reason you can't make it, there will be an accompanying website and pamphlet published by Golden Age after the show's run.
Elizabeth Corr received a bachelor's degree in Psychology and a master's degree in African Studies from the University of Illinois at Urbana-Champaign. Her graduate work focused on contemporary African art in post-apartheid South Africa. She lives in Chicago and works at NRDC, an environmental nonprofit.
Guest post by Elizabeth Corr
There has certainly been no lack of political drama in Chicago over the past two years. Starting in November 2008, with the historical election of Barack Obama, a wave of excitement and pride swept through the city. This atmosphere proved to be short lived.
It wasn't long until Mayor Daley leased Chicago's parking meters to a private company in an attempt to account for a massive city budget deficit. The public was outraged over increased rates and the quickness with which the deal went down. A few months later, then-Governor Rod Blagojevich was indicted over his alleged attempt to sell Obama's soon-to-be-vacant Senate seat.
Things were going swimmingly, when Chicago was the first city eliminated from 2016 Olympic battle. And then, the icing on the cake for the Mayor's political legacy:  In June 2010, the U.S. Supreme Court officially overturned Chicago's handgun ban. Just prior to the ruling, an infuriated Daley, in a now infamous outburst, challenged a reporter's question regarding the effectiveness of the ban. Daley picked up a bayonet at the press conference from a slew of seized guns in Chicago police custody and said, "If I put this up your butt, you'll find out how effective it is." A mere three months later, Chicago was rocked by the announcement that Daley wouldn't be seeking a 7th term as Mayor of Chicago.
These political developments have provided excessive fodder for pundits, comedians and perhaps most interestingly, artists. In Chicago, Ray Noland has been pioneering the visual response with his fantastic graffiti art. Noland operates the Creative Rescue Organization (CRO) and works under the same name. During the 2008 election, he gained national attention with his street art campaign "Go Tell Mama!" His striking images appeared throughout Chicago streets and alleyways. The concept was particularly interesting because of its contemporary, urban aesthetic, which proudly defied traditional campaign propaganda and stood apart from the graffiti most of us are used to seeing.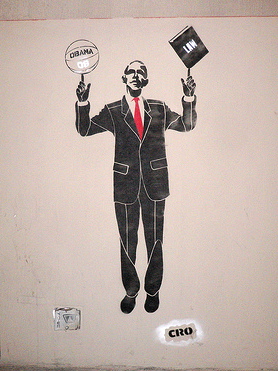 It was the beginning of a love affair with politics for CRO, who quickly followed up that series with "Run, Blago Run!" As the embattled former Governor of Illinois pleaded his case on national television, his image started popping up all over the Chicago's buildings and alleys and sure enough, CRO began garnering more and more attention.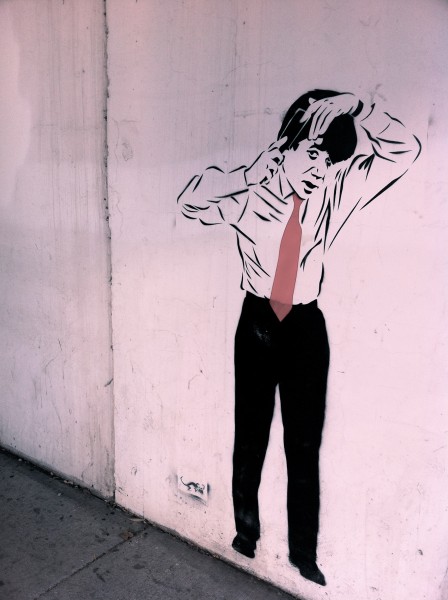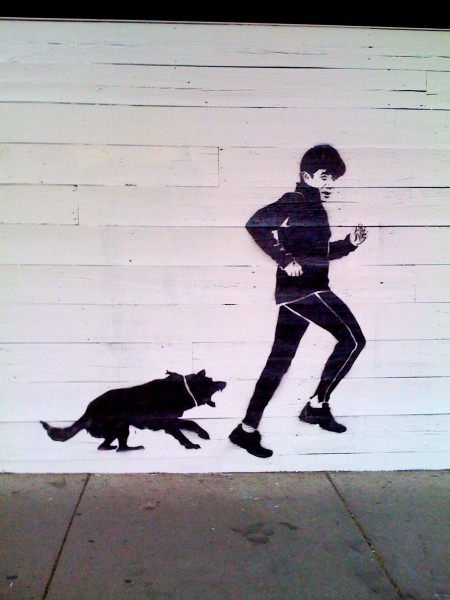 CRO hasn't skipped a beat, and since the announcement that Daley won't be running for reelection, graffiti images of the Mayor golfing have started to adorn vacant lots and alleyways throughout Chicago. The graffiti images of the Mayor are instantly recognizable, done in the same precise stenciling style as the Obama and Blagojevich pieces. The latest CRO endeavor, however, far surpasses the previous for one brilliant reason. Until now, CRO's imagery hasn't attempted to critique policy initiatives or laws. For the most part, the work has been lighthearted, satirical and just plain funny commentary on current political affairs.
CRO's Mayor Daley graffiti is particularly effective as street art not just for its aesthetic simplicity, but also because it takes one of the Mayor's signature political policies and flips it on its head, creating an added element of irony – the Mayor as graffiti – the Mayor, seemingly breaking the exact laws he enacted.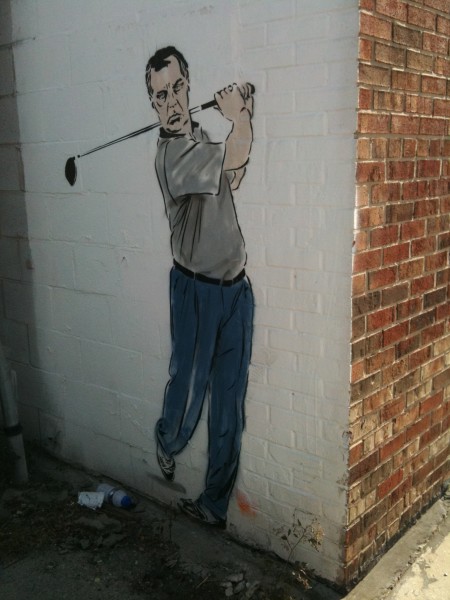 Way back in 1992, as an attempt to combat what was perceived as an increase of graffiti within the city, Chicago banned the sale of spray paint to private citizens within city limits. Sales were to be made only to government agencies, public utilities, and contractors. It wasn't until 1995 however, that the ban was actually enforced thanks to a ruling by Justice John Paul Stevens. A year after the spray paint ban was introduced, the Mayor established the Graffiti Blasters – a free graffiti removal service run by the Department of Streets & Sanitation, a service estimated to cost anywhere from 4 million to almost 8 million dollars annually.
In certain neighborhoods of the city, the Graffiti Blasters are ubiquitous. The trucks were all over my Wicker Park/Bucktown neighborhood as the 2016 Olympic committee was preparing its visit. Not a coincidence I'm sure. In fact, it's gotten to the point now where I can't even say the phrase "graffiti blasters" without finding myself humming along to an updated version of the Ghostbusters theme song.
If there's somethin' strange in your neighborhood
Who ya gonna call (graffiti blasters)
If it's somethin' weird an it won't look good
Who ya gonna call (graffiti blasters)
For those not familiar with one of the Mayor's oldest initiatives, it works like this. There are blaster trucks and paint trucks. The blasters remove graffiti from brick and stone surfaces, utilizing a pressurized mixture of baking soda and water to BLAST that graffiti away. The painters, in the most horrible color of brown paint imaginable, cover graffiti on metal, wood and even fabric based surfaces. According to the blaster website (where you can also watch blasters in action) "Graffiti is vandalism, it scars the community, hurts property values and diminishes our quality of life."
And this is the heart of the problem with the Mayor's initiative. Its infantile definition of graffiti makes no distinction between actual vandalism and street art. Instead, any act involving spray paint is automatically lumped into a category stripping it of conceptual value and artistic merit. It's been refreshing to see this argument played out in the streets of Chicago with the Mayor as primary subject. As I watch him golfing from my apartment, I often wonder if he's aware of his stenciled avatar, a legacy I'm sure he never expected to leave behind.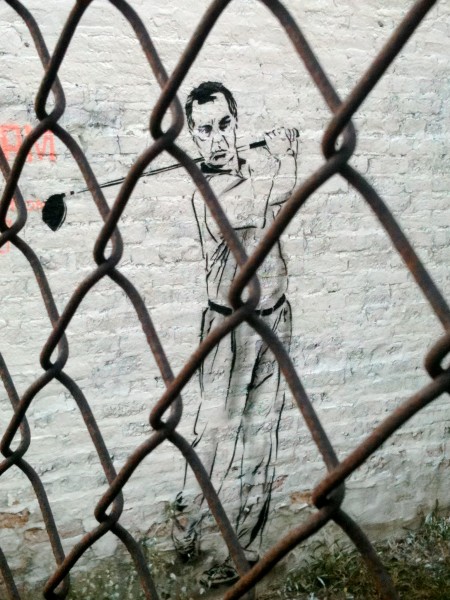 Perhaps due to the increasing popularity of his images, CRO is launching a new street endeavor called the [ASC] Project (check out the CRO's Tumblr page for details) – an approved stencil campaign. Business and property owners interested in transforming their surroundings can contact CRO and for no charge, they will transform your surroundings using stencils of their choosing. This is an interesting and unexpected partnership between property owners and graffiti artists, one that I hope might help Chicago's new Mayor better understand the distinction between graffiti as vandalism versus graffiti as street art.
As Chicago contemplates what a future without Daley might look like, CRO is already offering one such possibility….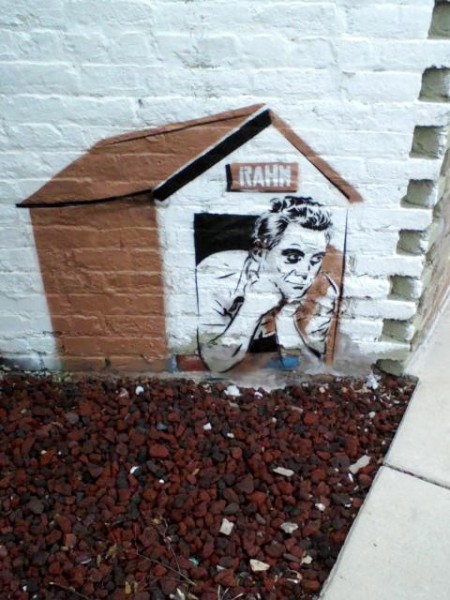 Elizabeth Corr received a bachelor's degree in Psychology and a master's degree in African Studies from the University of Illinois at Urbana-Champaign. Her graduate work focused on contemporary African art in post-apartheid South Africa. She lives in Chicago and works at NRDC, an environmental nonprofit.
Our latest post for our Center Field column on art:21 blog is up! This week, Martine Syms talks to Derek Chan, whose 12 x 12 exhibition at the  Museum of Contemporary Art Chicago opens on November 6th. A brief excerpt:
Derek Chan and I have been friends for a little over four years. We both moved from Los Angeles to Chicago in the Fall of 2005. We had several mutual friends and emailed back and forth a few times but never met up. I spent that summer in Los Angeles and unknowingly started talking to Derek at a party. Inevitably, our conversation turned to Chicago and I laughed when I realized that this was the guy I'd had so much trouble making time for. Since then we've stayed close, meeting often to check in with each other, share food, and hang out.

One of Derek's large abstract landscapes, Eclipse, was stored at my house for a year. I was happy to look at it every day. While works like Eclipse captured autobiographical moments with grand gestures, Derek has since focused his attention on the quotidian. During his residency at Theaster Gates' Dorchester Project in South Chicago, Derek began making daily ink drawings to document his thoughts and share them with his fellow residents. All 260 images are available for download on Derek's website. As part of the Whitney Biennial, Derek presented Being/Becoming, a durational performance that included ink drawings and temporary interventions to the Whitney's courtyard. Derek developed a system of marks, influenced by Tibetan rituals, to record the passage of time and his interactions with museum visitors.

Derek Chan, "Being/Becoming" at the Whitney Biennial, 2010. Courtesy the artist.

Cries and Whispers from the Salt Song Trail is a continuation of this practice. This forthcoming book chronicles his recent journey to the Four Corners region of Arizona through drawings and writings about the sacred places he visited. Golden Age, the project space I run in Chicago, is publishing Cries and Whispers in conjunction with Derek's upcoming exhibition Derek Chan: A Way of Life at the Museum of Contemporary Art Chicago (November 6 – 28, 2010). Continue reading.
GUEST POST BY DAMIEN JAMES
Great art shows always seem to find me. I don't really check the listings or catch the buzz, but if it's a show I'm meant to see, it somehow happens and I don't like to think too much about the mechanism at work which makes this possible – whether it's "fate," blindness,  or happenstance – for fear that I'll lose that mechanism. Sometimes the right person will give me the tip or I'll be wandering around and just fall into a room full of amazing. Regardless, when I do find my way into such a show, it leaves an often indelible mark on me. Lora Fosberg's show at Linda Warren Gallery is no exception.
(Nice preamble, right?)
Liza Berkoff, a photographer whose work is worth your attention (I've been watching for a while now and it's been fun), told me about the show. She conspiratorially stated – through email, if that's possible – that she was collaborating with Lora on three pieces.  "I am beside myself excited," Liza typed. I asked if I could visit the gallery while Liza and Lora were installing, and the answer – again via email – was given as  "'yes' with exclamation points."
On the scheduled day, I walked into the gallery and met more people than I expected. The music was turned up and there was food and it felt very relaxed, like walking into an intimate party with friends you just know have some fascinating piece of information to impart since you last saw them. Then you remember that they are mostly strangers, so you hope they have something fascinating to say because you've volunteered to spend time with them. Lora Fosberg was installing the final piece, you can't fall off the floor, and Liza, along with Forsberg's paramour and the incredibly competent staff of Linda Warren were helping. Warren herself was there to offer a sort of moral support and occasional direction.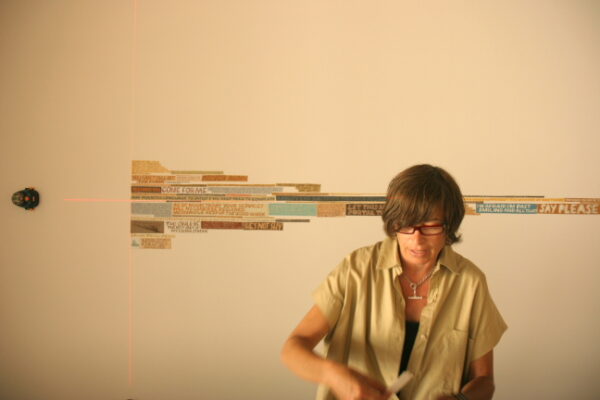 Lora Fosberg building you can't fall off the floor.
After introductions, Berkoff showed me the collaborations. All three were made with some kind of rare equilibrium which allowed each artist to completely state themselves without losing clarity. Liza's black and white photographs are of buildings and streets given to the kind of quiet ruin we imagine our future to be made of in darker moments, dizzyingly recognizable and Cormac McCarthy-esque. On those photos, Fosberg painted and collaged her own colors and variations, wryly balancing on a tightrope between pessimism and its inverse.

Lora Fosberg and Liza Berkoff, dare to fail, 2010, gouache and collaged digital photograph on paper.
dare to fail is a gray cityscape with brightly painted billboards advertising the ideas of truth and belief, all set against a chaotic sky full of searchlights. i fall in love every day and yes can be such a surprise are quieter gestures from Fosberg, but those gestures imply a narrative between the two photographs which allow us to project limitless meanings into the work. Her collaged paper on the photos feel like satellite transmissions emanating directly from the brains of the solitary men in each photo. Maybe they connect or mingle in space or maybe they miss each other by light years; either direction is worth considering for it's social implications. (Or just admire how great they look.) One leads to the hope for connection and the other to empty space. Berkoff's work has often been aimed at some iteration of that empty space, which contrasts curiously well with Fosberg's spark for filling it.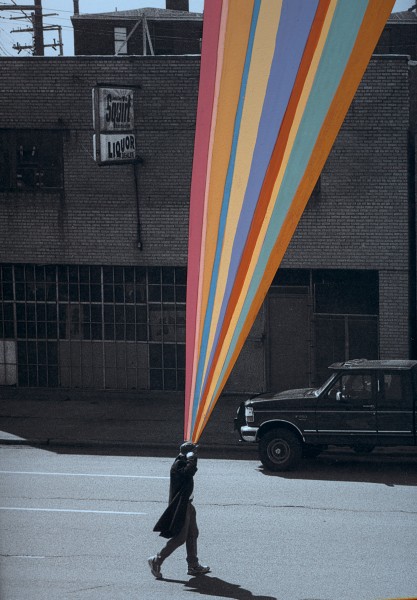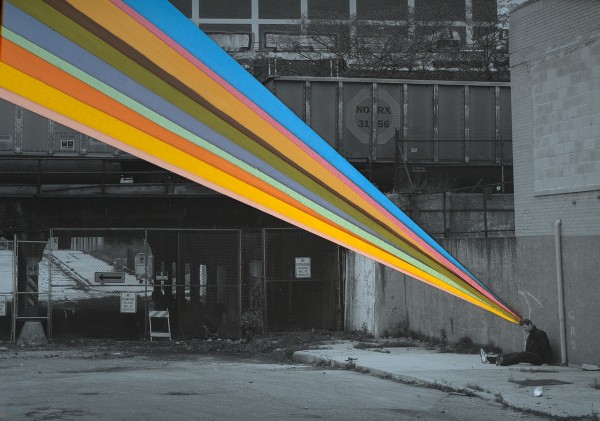 Lora Fosberg and Liza Berkoff, yes can be such a surprise (top) and i fall in love every day (bottom), 2010, gouache, collage, and photograph on paper.
Liza and I walked through the whole gallery for a cursory look before getting back to Fosberg's installation. Everyone had already resumed the banter that had been going before I interrupted with my entrance, and that banter seemed to almost propel Forberg as she paced along the wall to finish her piece, never missing a beat in the conversation though acutely focused on the task at hand. The energy of the whole group seemed to be hyper-focused on one single point in the gallery: Fosberg's hands as she made – or remade, rather – you can't fall off the floor.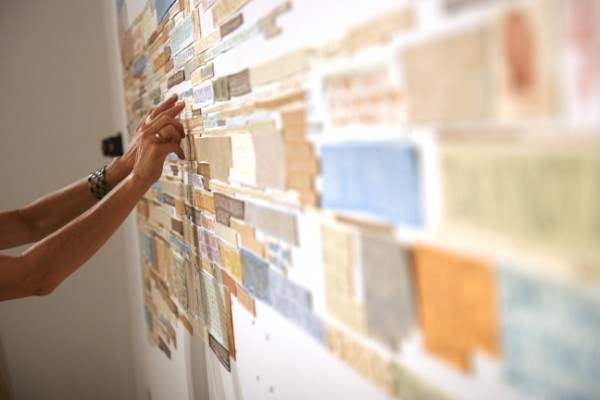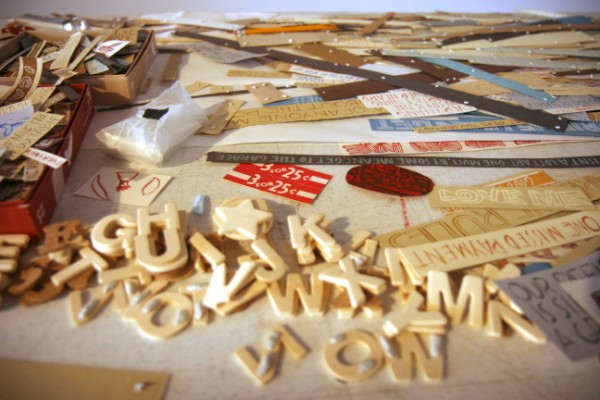 Watching Lora work, the thought struck me that she might actually see the world in terms of flowing energy. Not in some Oprah-endorsed-"Secret"-or-"Dr. Phil"-The Forum– pop-psychology-Ponzi-scheme-seeming-Church-of-Scientology sort of way, though. Rather, that she understands the way we connect and uses her own expressive energy to do just that; you can even see it in her posture. She's a walking "fuck yes" of cellular awareness.
"It's all about flow," Fosberg said. "Nothing can be preconceived or preplanned. It just has to happen."
And it does. She walks back and forth before a 14-foot assemblage for hours, rarely taking her eyes more than a few inches away from the surface while looking at thousands of shapes and shades and sizes of paper to be pressed down with adhesive goo, each paper strip covered in words and strange scrawls which upon focus reveal themselves to be little vaginas and penises, breasts and severed heads, random thoughts, lyrics, and bits of collected conversation and spare words which chaotically make their rounds through Fosberg's internal processor. But taken in together – while watching her flow and receive and transmit – the thousands of parts which make up you can't fall off the floor speak with each other, a breathing and moving organ. The piece practically blushes at you from a distance a la Robert Irwin.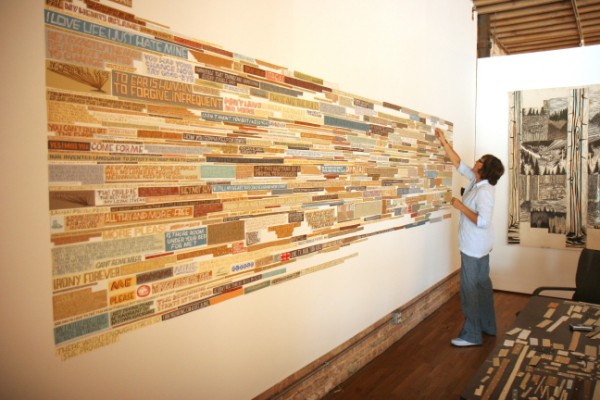 "It's all current, you know, everything I've been thinking about for the last year. And I've been so stuck on 80's art. Warhol and Patti Smith and Robert Mapplethorpe, I just can't get enough of it," Fosberg said as she filled in the lower right corner of the collage. Nothing about the work feels retro, however. It's as tied to the present moment as Lora Fosberg is. "I want to cover the Guggenheim with this. Think big, right? It can just go on and on. It's a piece that will never be finished." you can't fall off the floor is a different work every time it's installed, which means, among other things, that it will always surprise you.
"I need more boobs!" she emphatically announced as she leaned over the table covered in pieces still waiting to go up. Everyone began looking through the strips of paper for the elusive little drawings while chuckling and cracking wise for a moment. Then there was a discernable change in atmosphere as the boobs eluded discovery, which made me realize just how much everyone wanted to please the artist. I myself considered joining the search, interested only the progress of the installation. Fosberg shrugged it off, though, refusing to lose momentum. I'm sure she knew they would turn up, despite the hundreds of pieces to sift through over the course of the evening. Occasionally pieces were discarded, having been found incorrect in some way, either with unintentionally elided words or spelling errors, and dropped in a box-top beneath the table. There weren't many, maybe a dozen give or take, and I only actually saw one with a misspelling, which I found just as interesting as those deemed wall-worthy. Were those discarded pieces ever to be resuscitated as a collage of their own, I might argue that you could, in fact, fall off the floor.
Fosberg's prints and paintings and collages simply work. Sure sure, it's great art and maybe that's all that really needs to be said. You should see it and have your own experience with it, give some time to it, get close and look at the individual lines and where they intersect. Look at the tiny roll of toilet paper she draws on if it's heavy, put it down, a modern Atlas not yet ready to shrug off the planet-sized ball of everyday objects crushing down on bent back and stooped shoulder. And the stacks of records and books and furniture and boxes which make up the refuse-laden sprawl of 10,000 different versions of myself. It's like a tribal tattoo of stuff, manmade objects which only have the meaning we give them and only for as long as we allow. We can see ourselves there as well. There are so many little details to see and each one is ready to soak up your stories by offering you excerpts of Fosberg's stories, beginnings and ends, fragmented middles, threads waiting to be picked up and carried indefinitely.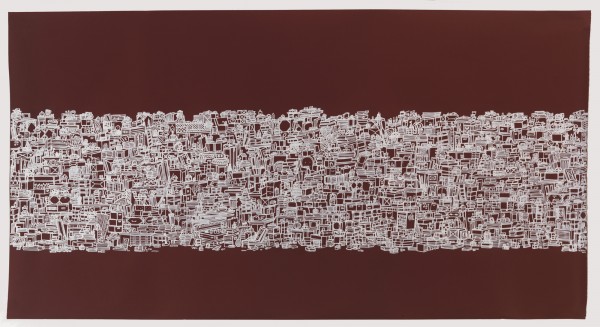 Lora Fosberg, 10,000 different versions of myself, 2009, gouache on paper.
"I found them," said Dain, an employee of the gallery, holding up a piece of paper no larger than a half-inch square with breasts drawn on it. There were cheers.
So many different things have been said about Lora Fosberg's work; that it confronts our nearly gleeful destruction of nature, how it wittily illustrates our cognitive dissonance and invites the sharing of personal narratives, or that it asks us to engage with ourselves and with the artist, all of which ring true. It's highly interpretable work which also happens to be beautiful to look at. But not much has been said about being around Lora Fosberg, which is why you're not reading the standard-issue boilerplate "art review" here. You can get that in pretty much anywhere else you go for reviews. I just don't want to read theory right now. I'd rather have the experience.
Regardless of how alluring, provocative or simply gorgeous her work may be, I've been leaning toward the idea that the real beauty and genius of art occurs in the making of art rather than in the exhibition of it; that the quiet and laborious and countless hours of creation are where the true brilliance resides. (No, I don't think I'm the first to have ever thought such a thing.) And spending time with Fosberg while she remade her massive collage of concentrated and effusive thoughts gave that idea some real flesh for me. I asked her if this was how things simply were for her, a constant party with her posse? "No, this is the fun part, the sort of crazy social outcome of making art. The rest of the time I'm alone, sitting there just writing and painting, in total solitude." Plucking our stories out of the air, putting them on paper and turning them into art. you can't fall off the floor is the inevitable social outcome of Fosberg's greatness.
There will be an artist's talk at Linda Warren Gallery on Tuesday, July 27th, from 5 to 7:30pm. With Chris Cosnowski, whose show Apocolypse is in the project space. Conrad Freiburg will also be on hand performing music inspired by the art. 1052 West Fulton Market.
All images courtesy of Linda Warren Gallery and Liza Berkoff.
Off-Topic invites artists, curators, writers, and cultural workers to discuss a subject not directly related to the practice of making art. We would like to welcome The Post Family as our latest participants. They will be shedding some light on their favorite childhood games.
SMEAR THE QUEER by Chad Kouri
Smear the queer is a variation of another school yard game widely known as Tag or It. Also known as Kill The Carrier or Muckle, the rules are actually the exact opposite of Tag; all of the other players chase 'it' also referred to as all-on-one. There are no out of bounds, no teams and no winners.This player who carries the "it' object (most commonly a football) does there best to avoid being tackled or smeared by the other players who are attempting to take the ball away. Once the ball leaves the hands of the carrier, the "it" position is filled by whomever has the guts to pick up the ball. More often than not the name of the game is repeatedly yelled out while playing. Seeing how there are no real winners, technically the game is endless but most games only last one recess period. Kids have also been known to sabotage a friendly game of catch by tossing the ball and yelling "smear the queer" immediately making the receiver of the catch a target. There is some debate over whether or not the name is offensive because the idea is everyone wants to be the queer and the point is to be the queer longer than anyone else but we can probably assume that it was not named with good intentions.
Smear the queer is not the only offensive term that is found in the school yard. Other derogatory sayings have snuck into child vernacular after decades of use by adults without us noticing like Indian Giver (one who gives something only to take it back with obvious negative implications against Native Americans) and "Yellow"(a coward or traitor with suspect origins in the early American hatred of Oriental immigrants). Of course one day the children grow up and more than likely understand the meaning of the words and stop using them but I can't help but think how twisted all of it is. Oh well, it was a fun game and I have not had a sudden urge to tackle any gay people so I assume I'm no worse for wear.
FOOT TAG by Sam Rosen
A school wide phenomenon at Lincoln Hall Junior High School (circa 1997). While other schools were focusing on more conventional sports such as Football or Basketball, even conventional one-hand tag, Lincoln Hall students were pioneering a new sport, a sport with the speed of tag and the strategy of hide and seek. [Read more]