GUEST POST BY HEIDI NORTON
As a photography student of the mid/late 90's, Barbara Kasten was of great significance to me. I lost track of her during the first decade of the millennium, as the contemporaries of the Becher's school (Gursky, Ruff, Struth) dominated the art market with their dry, representational Deadpan Photography. Now, as an educator 11 years later, I relish in Kasten's renaissance. Abstraction is transcendental to me, but above all, I see Kasten as a pioneer of contemporary relevance.
Most people know her as photographer, but Barbara Kasten is an artist. Photography is a material to her, the camera's use- very calculated and intentional. She treats it with equal significance to the rest of her materials–mesh, plexi, screen, mirror, glass, and light. Her influences are vast and span many decades: Irwin's light and space movement of the late 60's; Judd's studies and use of modern industrial material; Post-Minimalism, and its tendencies toward performance; Process art; Site-Specific art; and Abstraction of the 40's (Moholy Nagy), 90's, and present. She is presently celebrating her first solo show in Chicago at Tony Wight gallery, Ineluctable, which runs through October 22nd.
Barbara and I sit down and talk art–mostly me picking her mind. But flattered I am, as she is inquisitive about my work as well. See below!
H: Material became important to you very early on in your career. You were trained as a sculpture and a fibers artist. As a fibers instructor, you used fiberglass screen as a teaching tool to model 3d forms. Talk about your transition from fiberglass as a 3-D sculpting tool to its appearance in your first Cyanotype, Untitled 13, 1974. When and how was the camera introduced?
My first photographic works were photograms. When I discovered the industrial screen as a way to create 3D weaving maquettes, I also tried creating a 2D illusionistic rendition in the form of a photogram. That was in 1974, and I still use the same material today in the Studio Constructs.  In the process of arranging the photograms. I liked the way that shadows were captured in negative shapes.  I was also making life size arrangements using packing boxes and other geometric forms I built for that purpose.  At that time, Polaroid was a new color photographic medium; so when I was offered some 8×10 Polaroid film, I learned how to use my first camera, an 8×10 view camera.
H: Speaking of the camera, let's talk about the relationship between the image created, the materials (light, plexi, screen), and the exhibited object (the print or projection). When we spoke, you talked about the "several stages of development before the image is where it should be". Please explain this. Can you talk about the integral relationship between the construction/sculpture and how it is mediated through the camera? A minimalist like Robert Morris might have said that there is a "dematerialization of the object via the process of it being photographed." Do you see the camera and photographic print as more, less, or equal in relevance to the process and materials?
B: Process has been the core of all of my work- whether it was the sculptural fiber pieces I did in Poland while on a Fulbright, the photograms in the early 70′s or the most recent Studio Constructs and video work.  The shadow- and the light that causes it- has been my conceptual grounding.  I am not interested in the object itself but how it serves as the means of recording light and shadow.  The photograph becomes the object when the light is merged with form and shadow on a 2d surface. It's really the light that completes the action, whether it is in direct contact with light sensitive material or passing thru the lens of a camera.  The Studio Constructs go through many configurations before I arrive at the final image….The 'sculpture' stays set up in the studio giving me time to live with it and the images I make of it.  I can expose many pieces of film before I'm happy with it.  Why not digital…many reasons but the main one is that I like a slower process so I can think about the work as I make it.
B: How about you, Heidi? You currently have a show up at Northeastern University, Not to Touch the Earth (Reception this Friday, Oct. 21st,  from 6-9). In some of your work, the photograph seems to be a document of your process and in other work, the plants or objects are integral to the piece by their physical inclusion.  Talk about these different approaches and how you decide when to create a sculptural piece versus a 'recording of the piece' -if you see it that way.  If not, how do you think about the role of the plants?  Does the photograph play a different role in each of these approaches?  Tell me about the importance of the object in your work.
H: All of this work began from the image Whitescape, 2010, where I painted all the objects, including the plants, white by hand. Several weeks later, I was at my studio and noticed that the Dieffenbachia plant I used had begun to grow out of the paint. The painted leaves died and fell off and new life began to sprout from the center. I was intrigued by this–a very pleasant surprise– as painting the plants had left me feeling guilty.  The material of the paint was killing, yet at the same time preserving and stimulating growth. I included that same Dieffenbachia plant in the piece Deconstructed Rebirth– my third still life construction made for the camera. In that piece you see the new sprout and the decayed white leaves hanging from the plant. Almost a year later in My Dieffenbachia Plant with Tarp (Protection), the same plant reappears as a whole new plant. Only through the use of the camera as a recording mechanism is one able to see the inclusion of this narrative. With the camera's ability to freeze time we can see the plants in varying states through life to disparity to death. Evolution of a Plant is a more literal example of this idea.  I think of the "New Age Still Life" series as sculptural construction. Like yours, these have several stages of development before they become images or objects on the wall. Higherself and Mango are shot in a studio with a plexi-glass shelving unit that was created to compress the space further within the 2D plane.  In the sculptural objects- glass and wax pieces- the plants are pressed to glass or embedded in wax. These materials are also meant to preserve, freeze, and maybe illicit death. The pieces are meant to activate one another; whereas the photographs are fixed- frozen in one state, in the way that Barthes talk about the "Death of an Image". He sees death implicit in each photograph. He is struck by how the photograph moves you back through time, how you always have the past with you- the photograph as a kind of resurrection. The sculptures will transition in front of your eyes over a span of time based on the nature of the plant. Plants in various states between life and death, wax melting, the color of the plants from green to brown- they are in constant flux.
H: In the Alex Klein essay that accompanied the group show at Shane Campbell in 2010, "Terminus Ante Quem" she compares your process to that of process and earthworks artist, Robert Smithson. She writes, "he famously challenged what he saw as the misperception that art objects function as a kind of culmination or terminus as quem of artistic achievement." Basically stating that the object supersedes the process, or the process is a building up to the object. People see your works, the final product, a very polished and refined photograph or projection, different than the "documentation" of the 70s. How has being grouped into a movement of photographers whose work is notable for its formal beauty and technical execution changed how the work is interpreted?
B: I happen to like beautiful objects, but beauty alone isn't enough.  Some investigations of beauty can bring out the underpinnings of a structure or idea or process that doesn't possess that same kind of beauty as the surface. However, I think that my process is important to the understanding of the work which ultimately becomes an object…. a beautiful object. The traditional photographic process is different than mine.  I carry on a continual dialogue with the subject, changing each step along the way, much like a painter might do. The process is intense and intimate and can include aspects of performance, documentation and sculpture.
H: You mentioned you are reading Donald Judd's essay on the "specificity of objects" and the discussion of the "under developed rectangle". Please explain it's relevance to your work. We talked about using light on reflective surface to break or reconstruct space within your work and that reduction is the abstraction. Talk more about this.
B: I was in a show at Ballroom Marfa this year and visiting the Chinati Foundation re-sparked my interest in Judd.  Just to witness his immersion into the simple architecture of a small western town and how it became an extension of his vision and art. The barracks, containing row after row of polished, reflective boxes illuminated by the Texas sun, was an incredible experience of landscape and geometry merging through the medium of the sun.  Judd is straightforward and yet incredibly complex.  Its a position that I hope to develop more in my work and thinking.
H: Architecture within the constructed space and the architecture of the gallery seem integral to the work and installation. Please discuss the distinction between phenomenological space and imagined space, and how unambiguous, or understandable for that matter, the difference is between the two experiences.
B: An example of how I like to incorporate architecture is in the installation of 'Ineluctable'.  The three 11×14 silver gelatin prints are positioned so as to include the corner when the viewer looks towards the work.  Upon close observation, one becomes aware that there is a corner in each of the pieces that reinforces and establishes the importance of the architectural element in situ.  The video 'Corner' also plays with the identity of generic structural architecture and light projection that alters its dimensionality.
B: What about the space and environments you create in the gallery's space? Do you think of your work as environmental installations?  For instance the inclusion of architectural pedestals as in the piece, Michael 2011, shown in Jason Foumberg's September 2011 Frieze review, or the collaborative piece with Karsten Lund, presenting shelves of books that were focused on plant life in "Not to See the Sun" exhibit at Ebersmoore last April?
H: I am interested in creating an atmosphere or environment in all of my spaces- the gallery, the studio, my apartment. When making work, I like to assume the personality of an avid plant collector, a botanist- my studio is a hybrid of herbarium and art studio.  I speak mantras to my plants. There is dirt, roots, wax, film and photographs everywhere. I am a creator and nurturer of things and sometimes these things have difficulty co-existing in the same space—precious archival pigment prints shot with 4×5 transparency film made on expensive baryta inkjet paper do not mingle well with dirt, wax and resin. But I like this mix- taking something precious like a photographic print or plant and submerging it into hot wax–pushing the integrity of the material outside of it's natural limits.  Michael, the piece you mentioned, is maybe a good example of when these two polarities collide—to me, it's both photographic and sculptural. When I created the display stands for the piece, I intended for them to not look like pedestals that reference high art. I wanted them to assume some anonymous person's makeshift constructions. "After the Fires of a Little Sun", the installation of books and mirror, are to reference a mantle and book collection.  Not necessarily my own collection (though all the books are/have been used for personal research and relate in some abstract way to my work), but maybe someone whose interests vary from botany, to color theory, to a 1970s back-to-the-land manual. The project grafts new imagery and typewritten text directly onto the pages of existing books. The artist and writer's responses become merged with the research materials, producing an unconventional artist's monograph/zine, fueled by the symbiotic combination of three elements: the original texts, the writer's typewritten thoughts, and the artist's wide-ranging visuals. The effect of leafing through this material (now collected in one volume) is a bit like stumbling upon some anonymous person's avid research materials — perhaps a mad botanist with a flair for detours into the histories of art and counter-culture.
Ineluctable is on view until October 22nd at Tony Wight Gallery. 
Not to Touch the Earth is on view until October 28th at Northeastern Illinois. Opening Reception, October 2nd, 6-9pm.
Heidi Norton received her MFA from the School of the Art Institute of Chicago in 2002. She lives and works in Chicago. Norton has presented solo exhibitions in Chicago and San Francisco. Group exhibitions include How Do I Look at Monique Meloche Gallery, The World as Text at the Center for Book and Paper Arts, Snapshot at Contemporary Art Museum in Baltimore, and the Knitting Factory in New York. Norton was published in My Green City (Gestalten) in 2011 and her spring show at Not to See the Sun, EbersMoore was reviewed in Frieze, September 2011. She currently is collaborating with writer Claudine Ise in a seasonal column for Bad At Sports called Mantras for Plants. Norton is represented by EBERSMOORE gallery in Chicago. She is faculty in the photography department at the School of the Art Institute of Chicago.
GUEST POST BY RACHEL MASON
*Note: New York-based sculptor and performer Rachel Mason recently completed a guest-blogging stint at Art21 Blog. Her run there is over, but Rachel enjoyed the process of blogging so much that she asked us if she could contribute a few guest posts to Bad at Sports. We're thrilled to be able to host Rachel's writings for the next few weeks. First up: her interview with Chicago-based performer and Joan of Arc frontsman Tim Kinsella.
I met Tim Kinsella at an art show which was more like a festival organized by the brilliant photographer and artist Jason Lazarus. The show was called "Hang in There."  In addition to a huge show of artists, there were really great bands from Chicago on the bill and I was excited to be able to have a piece in the show and to play. I loved the idea of a motivational show… maybe in contrast to a motivational speech… but really to also just be a playful way to bring people together and do something celebratory in the midst of a pretty uncelebratory moment- I thought it was brilliant- and very much in line with Jason Lazarus's expansive practice with collaborations. (One of the best things I've read about Jason and this project was actually, maybe not surprisingly written by Tim).
Joan of Arc is a band I listened to and loved for years, but hadn't actually admittedly stayed very current with. So I was amazed to see them on the bill and happy that they were still playing shows and totally curious to see what they'd play at a show at Co-Prosperity Sphere. They have a solid track record of producing unexpected surprises, and Tim Kinsella is the cult hero frontman who also is also a poetic anti-hero- and whose lyrics reflect a cavalier silliness which is part of what makes them so relentlessly fun…. (A song on their recent album is called "I Saw the Messed Blinds of My Generation").
The place was insanely packed and I really didn't want to venture in but then I saw them get started and I tried to make my way… they were playing the classic intro riff of Queen's Under Pressure. Cool! How random! Whats it going to lead into? But then the bars just continued, and continued, and continued… wow, a full minute… two minutes… three minutes… ten minutes…!! Fifteen… Twenty!! (dum dum dum da da dum dum…).
My experience went from excitement to nervousness to boredom to anxiety to excitement again. The song was actually creating pressure… I began studying the crowd because at that point, it was as much an action- in -space as it was a rock show… It was a performance piece.. it was Bruce Nauman leaning into the corner a thousand times… It was as much a let down as a feeling of blowing into a balloon with the air getting caught about halfway and just holding it there.. not deflating or inflating really… kind of seemed like a zen meditation.. but I realized also the musical athleticism of the repetition. Its not easy to play consistently the same notes for a half hour… and I ended up being highly aware of my self standing there… and then suddenly jerked back into the reality that I had to perform… I realized I didn't know where my guitar was, and I also realized..oh great…. It's my turn… and I'm going to be performing for Joan of Arc…eek… and they just did 30 minutes of a Queen riff… In a daze, suddenly they were done, and dismantled their gear and I started stressing out about my guitar… when someone suggested asking Joan of Arc, Tim in particular if we could use his… and before I knew it Tim Kinsella had lent me his guitar and I was getting it all plugged in- and then I played and he said something really nice about my set- and a few hours later I had the thought… it was a huge blur- but then wow… that was gracious of him to let me use his guitar- I would have been screwed if he didn't… and it kind of weirdly matched the dress I was wearing… Well it was a beautiful guitar…but heavy. Mine is a lot lighter.
Where's this whole intro going… ? Well, I went to see them play in New york a month after the show in Chicago and I noticed at the merch table along with all the records and CD's, a pale yellow book. Wait, Tim wrote a book…? Oh, wow, he wrote a book. Fiction. He does performance, he writes books, he plays music in like a million projects. This human is my hero….
I saw him standing there and I wanted to get something and I said, what should I get? And he said, "get the book." I didn't have anymore cash…. but later I ordered it on Amazon and (as I'm a super dyslexically slow reader.. hoping to have it read by the time I write this… but no…) I've been falling fully into a strange world of the sad and irritable characters who I'm thoroughly enjoying getting to know in The Karaoke Singer's Guide To Self Defense….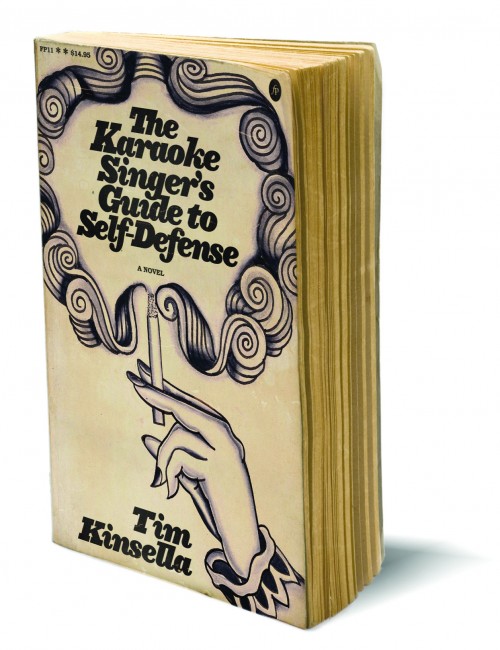 Now with that rambling introduction to Tim Kinsella, the generous rocker, the performance artist (he just did another piece at Andrew Rafacz Gallery) and the author I will lead into the questions he answered for me. Thank you Tim!
Rachel Mason:Â What was it like to write a book… like how is it different from writing a song..?
Tim Kinsella:Â The process is very similar for me at the moment – I'm just finishing a first draft of a second novel – in that it's a compulsive urge in the same way that songwriting used to be for me. Presently, I'm so burned out on music, I couldn't imagine what it would take for me to write a song. I've written and been a part of a few longer, conceptual pieces of music in the last year. But actually writing a song doesn't interest me at all right now. I have some friends waiting on me and I just can not summon the will.
And so I never could've written the novel if I had never written songs. A lot of the skills one picks up from writing songs were applied – a sense of dynamics and flow, density and space. But obviously it's a lot more to hold in your head all at once. So pacing is a lot trickier. But the ability, that balancing act, to proceed while also not squashing this fragile thing by getting all worked up layering it with your self-conscious intentions or hopes for what it will be – applying the force of routine or discipline while also holding back enough to let the thing emerge as it needs to – those are subtle necessities I learned from songwriting.
RM:Â Did you know that you were definitely going to write a full novel or did it just start off as a smaller work that then grew into it…?
TK:Â No, I was well into it, maybe 150 pages, before it sort of dawned on me what it was becoming. I just knew that I was enjoying writing. I knew that I not only enjoyed the process and getting swept up in momentum and looking back over it and finding surprises and sculpting it in strange ways – but it felt necessary as much as it felt enjoyable. It was almost like I couldn't help it. I was irritable (as I generally remain) whenever I was forced to step away from writing. But I never thought about what it was or might become as a sum. I was simply invested in the process for a long while before I looked back over it and recognized the next step would be drawing some path through these scattered pieces to connect them. So at that point I began plotting and charting and building prepositional bridges. And that was fun puzzle-making. It's funny how everything you try seems barely wrong until you end up at the solution that seems inevitable.
RM:Â Were there any actual events that inspired parts of the story?
TK:Â Eh, I have witnessed and been party to loss and shame and hurt and regret. The circumstances of my own life and those of the book have very little in common, probably no more- or less-so than any other adult has suffered. The book is about a lot of common problems and how they compound and amplify and how coping becomes a routine. I realize that's vague, Â and maybe the book really is that much of a sprawling mess. But the events of the book occupy a very small ratio of even what I hope is present to propel a reader forward. There are few, if any, events. So yes, what is there is directly based on my experience of the world and it is splintered through many voices, each of which I feel tender towards and ashamed by their behavior at times. But there's nothing about it that one would call "autobiography."
RM: How was the recent tour? I saw the pictures- it looked super fun. Anything really strange or funny happen on the tour..?
TK: I think it's fair to say that I am not dispositionally-suited for touring. However, it's tough to state that and not feel like a jerk because in a lot of ways – especially to people that never have toured and long to travel – it appears to be some kind of freedom. And so I feel rude deflating anyone's illusions. I like playing music very much. But for me, personally, touring is by no means The Dream Job. Priceline helps, but I would much rather never leave Chicago city limits if I didn't have to. Mostly tour feels like 23 wasted hours a day to me. But whatever, I'm done with it for at least a year or so, and then we'll see.
********
Rachel Mason's work has been shown at the Detroit Museum of Contemporary Art; the School of the Art Institute of Chicago; the Henry Art Gallery in Seattle; the James Gallery at CUNY; the University Art Museum in Buffalo; the Sculpture Center in New York; Andrew Rafacz Gallery; Marginal Utility Gallery; The Hessel Museum of Art at CCS Bard and at Occidental College. She has performed at venues that include the Kunsthalle Zurich; the Museum of Contemporary Art Detroit; The New Museum; Park Avenue Armory; Club Tonic; Art in General; La Mama; Galapagos; Dixon Place; and Empac Center for Performance in Troy. She has written and recorded hundreds of original songs and performs large scale experimental plays involving dancers, musicians and other artists with her band and theater troupe Little Band of Sailors. Rachel has been featured in publications that include the New York Times; the Village Voice; the Los Angeles Times; Flash Art; Art in America; Art News; and Artforum.
GUEST POST BY HEATHER MCSHANE
I arrived late in the evening to the opening of Jason Lazarus's The Search at Andrew Rafacz Gallery. Left were the previous climbers' footprints on the white-painted steps of The Search, which resembles a pyramid. Wearing a skirt and heels, I hesitated to ascend the stairs, but the footprints enticed me—and thankfully—because at the top awaits a surprise, an opening down into which a ladder leads to a space where two chairs and a table sit, illuminated by a hanging lamp. The night of the opening, two people occupied this denlike interior; one of the people seemed absorbed in drawing on the pages of, I later learned, the ledger for the signatures and comments of the pair of interlocutors. I looked on briefly, feeling voyeuristic.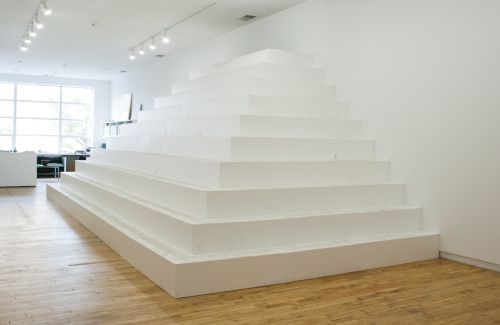 The same night, outside the building, a friend introduced me to Lazarus who, upon learning I am a writer, invited me to be paired with a stranger (of a different vocation) and talk with the stranger inside The Search. (This proposition was perfect for me—I love talking to strangers.) A few days later, I received the formal invitation in my inbox to participate. Near the end of the email I read:
"I'm asking you to be onto The Search.
You are invited to be in conversation with:
Name:  Scott Hunter"
From googling "Scott Hunter," knowing from his email address his affiliation with the University of Chicago, I learned he is Scott J. Hunter—notice the J—an Associate Professor of Psychology and Pediatrics there. After a few email exchanges with him to coordinate a date and time—Lazarus had instructed us to meet for up to an hour—and Hunter befriending me on Facebook, on September 30, around 5:00, I recognized Hunter (from Facebook), approached him on the sidewalk as he paid the parking meter fee, and introduced myself. He was impeccably dressed, his patterned shirt crisp, tucked in, and he smiled and talked easily. We chatted with each other and with the employees of the gallery before we were allowed entrance to The Search. Upon our arrival, it was still occupied with two other people, who were eventually politely told their hour was over, emerging happy, almost jubilant.
Then it was our turn. We climbed the stairs and each awkwardly brought shoe to ladder rung and lowered ourselves into The Search. (Me first, again in a skirt, probably the same skirt.) Inside, it felt cozy—the warm, inviting, natural-colored wood of the walls; the soft light; the comfortable chairs—and perhaps this setting helped for the ensuing conversation. However, during the conversation, I did notice Hunter occasionally shift in his chair, I caught myself sometimes fidgeting with my pen, but these movements seemed more natural than uneasy.
Although I'm inclined to reproduce the conversation as fully as possible, Lazarus did not intend for the dialogues in The Search to be recorded. I did not bring a recording device into the space, nor did I write much in my notebook (see the image below). The following snippets—from my faulty memory—are meant to give an idea of the conversation.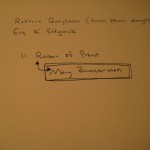 For example, as initial how-do-you-know-who's go, I learned Hunter knows Lazarus through his art because Hunter is an art collector in addition to being a psychologist. A future purchase, he hopes, is a photograph taken by Lazarus of the ceiling from Sigmund Freud's couch.
We talked about Hunter's work as a child psychologist. Many of his patients are cancer survivors. Radiation, chemotherapy, and other procedures performed to rid the patients' bodies of cancer can be detrimental to the patients' learning and thought processes. I started to think about how visceral fear is, how frightening it would be to have cells in my own body attack other cells, how fear hampers learning. I told him the original word for bear in German has been lost because to utter it, was to call it and so a euphemism was used instead.
Our discussion turned to other animals, the animals in Chicago—squirrels, opossums, foxes, wolves—yes, wolves. Hunter and his old 40-pound dog—he didn't tell me the dog's breed—encountered a city wolf before, running along train tracks.
Despite seemingly wild jumps in topics, most talk revolved around memory, language, and attention. Marcel Proust's In Search of Lost Time was brought up often. We discussed Freud again (his psychoanalysis and idea of the uncanny). We talked about words as metaphors, active versus passive reading and writing, learning versus teaching, and attention spans and text in the digital age. Hunter remarked he felt refreshed after our conversation ended. He included as much in the ledger.
Later, upon reflection, having mentioned David Antin to Hunter, I thought more about how talking can be writing. I like how the following recording begins with Antin saying "with the search . . . " (he's talking about The Tempest, but listen on for a great story about a woman who lives her life poetically):  David Antin
And later still, I remembered one of the first questions I asked Hunter about his own photography—whether he preferred to work by chance or to construct a setting. My experience with The Search involved both.
The show continues through Saturday, October 15.
Heather McShane is an associate editor of Dear Navigator and a regular blogger for The Lantern Daily. She worked as an editor at World Book Encyclopedia before earning an MFA in Writing from the School of the Art Institute of Chicago. 
GUEST POST BY MONICA WESTIN
As environmental art progresses and then doubles back again between earthworks and site-specific land art to more explicitly ecological work, there's a real question hanging in the air these days about what kind of awareness art can or even should bring to the natural world, and what successful environmental art might look like or do. Michael Wang's article in May's Artforum about the contemporary merging of architecture and the environment focused on the process of making the invisible visible—such as the work of experimental architect Bernard Tschumi in Santiago, who uses polluted air as "material for design"—avoiding simple propaganda about air pollution in making public encounter part of a zone of aesthetic experience that includes the weather. Wang closes his discussion with a call to "make evident" the "dissolution of boundaries" between the human and the natural.
This might seem like an overly-heady invocation to an intentionally very family-friendly art show at the Morton Arboretum—and much of the art doesn't lend itself to much discussing in academic terms, though it's fun for the kids to look at, like a stack of tree logs with a huge bow on top or fluttering wisps of kite-like material improbably named "Soul of the Trees"—but there are a handful of pieces that are remarkably thoughtful, even groundbreaking in their approach to the question of this boundary between nature and human. While a few works seem completely disconnected from their environment in the arboretum, others offer new perspectives on the framing of nature and the issue of medium specificity. A couple offer explicitly environmentalist messages, and a handful of them—which are as cutting-edge and thoughtful as any other art I've seen in Chicago this year—actually reflect on the work of this frame itself and offer up a strong model for what a critical environmental art practice might look like.
First the slightly less interesting pieces. The You are Beautiful collective presents a huge namesake sign, not unlike the Hollywood sign, at the top of a hill—white from a distance, but yellow on the sides close up. The piece is about the relation of the work to space and the perspective of the viewer, but there's no interaction between the work and its environment; it sits in a clearing, framed by nature.  It could be anywhere. Slightly more interesting but falling squarely into the old activist ecological art mold are Theodoros Zaferiropoulos' "How Far Have We Gone?," which turns cross-sections of a tree trunk into stepping-stones eventually disappearing into a small lake; and Thomas Matsuda's "Purification," consisting of tree trunks burned to charcoal and displayed provocatively amongst the living trees in the arboretum. Both are visually interesting, but they take up an old rhetoric that sometimes makes my eyes glaze over, and it's hard to read much meaning or self-consciousness into each about the environment of the arboretum itself.
This is where I owe a big citation to Chris Millers' review of the show in New City; Miller points out that the arboretum is "more about science than aesthetics" and is therefore "an appropriate setting for conceptual art." Just pushing it one step further, I would argue that the arboretum is slightly artificial, itself on the boundary between the human and the natural; many plants growing there are not native to the area, and the only reason that this refuge exists is because the Morton Salt company family are generous and progressive enough to create this sort of natural simulacra. We might even think of an arboretum as having the kind of "dissolution of boundaries" that Wang discusses… and I wish more of the work had commented on this liminal, weird environment in which their environmental art would dwell.
Juan Angel Chávez's "Jimshoe" (named after a homeless man the artist met) seems more challenging. Built with found materials and resembling a cocoon as well as garbage, the piece holds—or possibly vandalizes—a tree that young visitors to the arboretum are encouraged to climb (the day I went, the work was framed off with an orange plastic fence). The work is closed, the tree is framed (twice over for me), and it's hard to tell whether the piece would change much if the cocoon were surrounding an industrial swingset. Similarly, Letha Wilson's "Wall in Blue Ash Tree," while visually interesting—on one side, a smooth white wall with branches poking through; on the other, as though backstage, the unpainted and patchwork wood, and tree, supports for the piece–also doesn't make any strong claims for nature/art relations or boundaries as such. What makes both pieces interesting visually has to do with the material relation between processed and raw wood, but I wanted more reflexivity about the boundary, about the framing process.
Which brings me to the most unlikely suspect for the kind of thought-provoking, meta-aware praxis of environmental art people are looking for: a crochet-covered tree called "Lichen It," created by Carol Hummel and a number of volunteers. It looks exactly as you'd imagine, but with garish colors in yellow, red, and purple that make the tree look diseased. It's easily the most popular piece of art, the most photogenic, and the most funny (at least for people who are familiar with yarn-bombing and/or grew up with a plethora of  throw pillows and afghans strangling their bedrooms)  of any of the works in the show. The first time I saw it, I took some pictures for a couple posing in front of the tree and didn't give it a second thought—until I walked fifty paces away and saw, in a groomed, manicured hedge with flowers growing in between, the same color combination of yellow, red, and purple. This garden was just as unnatural as the crochet, and the juxtaposition posed real questions to me about material, form, the way we frame nature in everyday life as well as art. In other words, it makes the invisible visible. "Nature doubly framed and overly implicated," the show should read, and the kids would still have just as much fun.
The show runs until November 27, and since I'm writing this delinquently late, you have probably already gone to see it if you were planning to. However, I'd urge you to go again, to see what happens to each work as the natural world, and its relationship to the work, changes.
Monica Westin is the former Deputy Editor and current contributing art editor to Flavorpill in Chicago, where she also regularly writes about art and theater for New City, Chicago Magazine, and the Huffington Post. A current PhD student in rhetoric at the University of Illinois, Chicago, Monica teaches courses on arts writing and new media in DePaul University's Writing, Rhetoric, and Discourse department.
Guest Post by Jeriah Hildwine
I first met Conrad Freiburg in what must have been the Spring of 2008, while I was living out in Belmont Heights (about as far west as you can go and still be in the city limits) and working at an Ace Hardware in River Grove. A friend my wife Stephanie Burke had made while we were living in Baltimore was dating a guy from Chicago, a friend of Conrad's. Unfortunately, I had to work at the hardware store while the rest of them went to visit Conrad's studio, but when I got home from work, Stephanie described to me what she had seen: a big wooden roller coaster, down which one rolled a bowling ball. She said it was awesome.
I didn't know it at the time, but the piece Stephanie had described to me was "The Slipping Glimpser," its name taken from a quote by de Kooning, apparently famous although I hadn't heard it before Conrad told me about it, fairly recently: "…When I'm falling, I'm doing all right; when I'm slipping, I say, hey, this is interesting! It's when I'm standing upright that bothers me: I'm not doing so good; I'm stiff. As a matter of fact, I'm really slipping, most of the time into that glimpse. I'm like a slipping glimpser."
The Slipping Glimpser is a 160-foot track roller coaster, made of ash and hickory.  Conrad's carpentry skills give a level of high craft and polish to everything he makes; at his recent exhibition It Is What It Isn't at the Hyde Park Art Center, I was amazed by the precision and craftsmanship that he put even into the wooden bracket which held the camera with which he was documenting the operation of the Self-Contained Unit of Entropy. The Slipping Glimpser's track is designed to accommodate a bowling ball.  Conrad had some custom-made clear bowling balls, like the one that Ernie McCracken (Bill Murray) used in Kingpin (with the rose inside), only instead of a rose, the balls used in the Slipping Glimpser contained fragments of a previous sculpture: The Ball Dropper.
The Ball Dropper (2006) was a simple ramp in which a bowling ball was loaded into one end, rolled down the ramp to gain velocity, then hit a "ski jump" at the end to launch it over a short trajectory onto a pre-sighting target landing zone. Objects to be destroyed were placed in this landing zone, and were destroyed by the impact of the ball. The Ball Dropper was put to work as a busking device, audience members paying a small fee to have an object of their choosing destroyed by the machine. This kind of performative panhandling fits into Conrad's work ethic, which he described to me (when he was the
visiting artist at Co-Prosperity School) as "Everything I do has to provide me with food, shelter, or art."
Conrad has a weird, frugal humility, living simply and downplaying the significance of everything he does, which really comes across in an essay he wrote for Studio Chicago, called "The Great American Loserdom." Many months ago, Stephanie and I visited Conrad's studio to see what he was working on; it was a prototype of his drawing machine, a "harmonograph." He showed us the rough prototype, about the size of a sewing table, pendulums weighted by coffee can-sized chunks of concrete, which when set to moving created spirals or more complex shapes, bow ties and butterflies of line.  Conrad fed us dinner, an unexpected combination of rotisserie chicken (inexplicably, he had a rotisserie cooker in his studio), chickpeas which he had sprouted himself in a Mason jar, and oatmeal. It was strangely satisfying, and a perfect illustration to what he had been telling us, about a life in which he made do with very little, in order that nothing be allowed to get in the way of his making art.
Cut to this May, an event called Drink, Draw, and Destroy. I was running a drawing workshop and drinking martinis, but afterwards I was free to go see what Conrad was up to. He was the "Destroy" component of the event. The Self-Contained Unit of Entropy used a dropped weight to destroy small wooden sculptures that had been made by visitors to the event. I sat down at a vacant station to make one; a wooden "sled" served as the platform that would deliver my sculpture to the machine to be smashed. I went with a classic "log cabin fire" type setup: a pair of sticks (balsa wood being the material provided) laid parallel, then a second pair laid across them, and so on, each set getting slightly smaller, until the whole thing had the shape of a step pyramid. I saw another visitor making a very similar arrangement, and I must admit his reached a far more impressive height. But mine would serve, and so it was delivered to the machine.  The aforementioned digital camera documented its "before" state, and then the weight was dropped, smashing it. An "after" picture was taken, and the work was complete.
This destructive device has a precedent, not only in the Ball Dropper, but also in the first work of Conrad's I ever saw in person. A few months after we met, Conrad's show "A Great Daydream" opened (on Friday, September 5th, 2008). "A Great Daydream" refers to Gore Vidal's description of the Declaration of Independence. That document is central to the work in this exhibition: thirteen (as in original colonies) wall sculptures each illustrate a passage from it, and the large, central sculpture consists of a table and suspended concrete weights with their aspect ratios derived from the Declaration. The sculptures were interactive in many ways, for example in one piece the viewer can pull a cord which causes a hammer to strike a block of concrete, chipping it away very slowly.  The centerpiece, though, was the large table containing fragile wooden sculptures. A crank on the wall lowered (very, very slowly) a massive concrete weight, which if lowered far enough would destroy the sculptures. Stephanie and I, after having a few
glasses of Linda's trademark vodka punch, took turns working the crank, desperately trying to lower the block enough to destroy the sculptures, and every once in a while Linda would come out, shoo us away from the crank, and work it the other way, seeking to delay the inevitable destruction of the sculptures. It added a fine sense of drama to the whole affair, and by the time Steph and I called it a night, the sculpture was still standing.
Conrad recently had another show at Linda Warren, this one called "The Blind Light, The Pyre of Night." The Blind Light is an eleven-sided form (an undecagon) which serves as a performance chamber, concealing a musician inside. The form of the structure is intended to suggest a space capsule such as Apollo or Gemini, bobbing in the ocean after returning to earth. The performer (when I saw it, it was Conrad himself, although he had several guest musicians perform in it as well) is concealed from the audience's view, simultaneously eliminating the visual distraction of the performer's appearance from the
musical experience while creating a "what's going on in there" kind of fascination. The other works in this show include a sculptural representation of the amount of fuel it takes for a spacecraft to reach the moon, and "Burning Stars" which are incense burners with constellations of holes drilled into their aluminum covers. The whole affair, like all of Conrad's work, has a mystical, spiritual, pseudoscientific feel to it, a cross between 19th Century Spiritualism and the Museum of Jurassic Technology.
When I think now about Conrad's career, I keep coming back to a piece which I've never seen, but which he old me about during his presentation at Co-Prosperity School:  Catapult For A New Millennium. Built during what must have been Conrad's last semester of Undergrad at SAIC (Fall 1999), this project was a catapult installed in a soybean field in Paris, IL on New Year's Eve, on the border between the Eastern and Central time zones. For one hour, it was after midnight in Indiana but before midnight in Illinois, and the catapult could launch objects across the time zone and into the new millennium. He describes the purpose of the catapult as having been to launch his career through time and space, into the future. His great modesty aside, it seems to have succeeded.
Jeriah Hildwine is an artist, educator, and art writer for Art Talk Chicago and Chicago Art Magazine.  Jeriah lives and works in Chicago, with his wife Stephanie Burke.