Guest Post by Jeriah Hildwine
Stephanie and I took the Metra to Hammond, Indiana, where Linda Dorman and Tom Torluemke picked us up at the station, and brought us back to their place.  We ate pizza around their dining room table and then drank beer around a campfire in their backyard.  (Linda drank Coke, Tom O'Doul's.)  Tom had built a perfect teepee fire, abashedly using compressed firestarters (which he called "cheating") to light the fire.
They took us to Sidecar Gallery to see "Water," a show of work by Tom Burtonwood, Holly Holmes, and James Jankowiak.  Tom Burtonwood created a wallpaper of a computer-generated alphabet consisting of isomorphic perspective renderings of three-dimensional blocks (like Tetris pieces), each rendered in a different, simple pattern of marks.  It looked like a 1980s visualization of some kind of data set, but in fact represented an alphabet or code.  Apparently it incorporated QR codes which stored a Uniform Resource Locator (URL) for a website that would decode the alphabet for you…but, lacking a smartphone, we didn't try it.  Burtonwood also created some small wooden sculptures that mimicked the form of the wallpaper.
James Jankowiak also created a wallpaper of sorts, covering several walls of the gallery with parallel strips of brightly colored plastic tape.  But his major works are small, square, incredibly precise paintings of minutely varying shades of color.  The works in this exhibition consisted of concentric circles.  In one, each circle was a slightly different shade of blue.  In another, a green torus vibrates electrically against a red field.  In a third, blues, browns, and whites alternate on a beige field.  One's first thought is of course of sectioned Jawbreaker candies but a moment's thought links them more closely with Josef Albers' color studies.
Both Jankowiak's and Burtonwood's wallpapers served as backdrops for their own, and each other's, small paintings and sculptures, turning the exhibition into more of a collaboration than a group show.  In the front room was one of Holly Holmes' recent wooden sculptures, in which thin strips of wooden lathe are bent into a complex, looping form, like a diagram of the flight of a bumblebee, or a crazy zero-gravity roller-coaster.  I've seen a previous work of this type by Holmes, at Chicago Urban Arts Society, as part of Wood Worked, in which the material of the piece was left raw and unfinished.  In Water, it was painted in blue and white.  In each case the color and surface seemed an homage to the theme of the exhibition.
We had tickets for the 11:10pm South Shore Line Metra train home, but Sidecar was shutting down at 10pm, so instead of waiting around the train station in the cold for an hour after the show, Linda hooked us up with her friend Erik, who agreed to bring us back to Chicago.  But, he said, we had to make what he assured us would be a brief stop at a friend's birthday party.  That's how we ended up at Cisa Studio.
The birthday boy is this kid Flex, one of the guys who runs Cisa Studio in Hammond Indiana.  I call him a kid because he's full of youthful energy, but in fact this is the eve of his 40th Birthday.  The vibe is like a house party or maybe like the office Christmas party for a tattoo parlor.  Erik introduces us as we walk in the door, and everybody is so nice, welcoming us with warm handshakes and cold beer.  The bathroom is immaculately clean, and the main space is stylishly decorated, with mood lighting and music befitting the occasion.  We meet Flex, see some of his work (a portrait, in spraypaint on canvas, very realistically executed), and then he shows us the backyard.
This involves three layers:  first, downstairs to an indoor, basement-like space where people gather to smoke around a big plywood table covered in drawings and graffiti writing.  A massive digital printer sits against one wall.  Signs advertise various services:  fine art paintings, signs, and airbrushed images for your motorcycle helmet, gas tank, leather jackets, and cars.  There's a motorcycle helmet with an absolutely flawless airbrushed rendering of the comic book character Venom on it:  more of Flex's work.
From there we moved into the garage, where a classic car sat, grind marks showing bare metal through the primer:  a work in progress, speaking of infinite potential.  In the back corner, a motorcycle sported a Minigun-type cluster of barrels emerging from its exhaust pipes.  I don't know, but I imagine that they spin and belch fire when the motorcycle is running.  I sat there, spinning the barrels by hand, entranced.
The backyard itself hosted a bench that had been airbrushed by some of Flex's friends as part of a public art commission.  I looked around, and admired the facilities:  an absolutely gorgeous, spacious workspace.  What's more, Flex told me, their rent is less than what Steph and I pay for our bedroom-and-a-half apartment in Ravenswood!  "This is why Indiana is the shit," Flex explained.  It's hard to argue with that.
We smoked cigarettes, talked to the Cisa crew, and drank more beer.  Then we were gathered, slowly and chaotically, into a rough herd, with the purpose of ambling down the alley to the studio's exhibition space, a separate building a block down, to see Arte Muerte 2011, the 4th annual occurrence of this "Day Of The Dead" themed exhibition.  On the way I met the crew's photographer, the most heavily-tattooed guy there, long-haired, with a rock-and-roll aesthetic that goes some way towards explaining his nickname, "Tommy Lee."  To look at him you'd expect him to be biting the head off a bat or something, and turns out to be an incredibly sweet and super righteous dude.
Arte Muerte consisted of Day of the Dead altars and two-dimensional wall art, all encompassing themes of death, family, ancestry, tradition, ritual, and a Latino or Mexican cultural heritage.  The aesthetic of the work ranged from psychedelic and graffiti to Aztec and Maya glyphic writing, Catholic saints, and plenty of skulls.  What struck me most immediately about the show was that not a single thing in it felt ironic, exploitative, or appropriated:  there weren't sculptures of altars, they weren't about altars, they were genuine and sincere embodiments of this tradition.
After checking out the exhibition we made our way back to the studios where some of the guys were breakdancing, and we all did tequila shots in celebration of Flex's birthday.  The Cisa studio crew talked to be about growing up together, and about how they hung out with Keith Haring when he was in Chicago.  They showed me a picture of them all, years ago, hanging out with Haring.  Erik mentioned working at Genesis Art Supply back in the day, and I asked him if he'd known Wesley Willis.  They guys all started telling stories about hanging out with him back in the day, of setting him up in the store to sit there and draw.  One of the guys proudly told me that Wesley had given him a drawing, which he still had.  Another had Willis' old Casio keyboard from when he was growing up.
Many hours, many stories, and many beers later, we were all feeling pretty ready to head out.  Another couple was catching a ride with us as well.  Erik DeBat, our ride, had made sure to moderate his consumption and was quite sober and fit to drive.  The rest of us were all pretty sauced, but I was still pretty lucid, and due to my long-leggedness our fellow passengers had afforded me the front seat, so I had much opportunity for conversation with Erik.  We talked about his work, and he gave me a copy of the catalog from a recent exhibition he'd had:  Risk & Reward, at The Renaissance Blackstone Hotel, in August of 2011.  I open it up, and I see this painting of The Hulk, and something looks familiar about it.  The catalog essay is by Tony Fitzpatrick and it all falls into place:  I've seen Erik's work, and probably Erik himself, at Tony Fitzpatrick's place.  He gave me a card for an upcoming exhibition (Recursion, at 2612 Space) featuring Erik's work as well as James Jankowiak, Mario Gonzalez Jr., Victor Lopez, and William Weyna.  I wasn't able to make it to that one, but he also told me that he's got a show coming up at Firecat Projects, in May 2012.  I generally make it to all of the openings at Firecat, but I'm looking forward to this one in particular.
Jeriah Hildwine is an artist, educator, and art writer for ArtPulse, Art Talk Chicago and Chicago Art Magazine.  Jeriah lives and works in Chicago, with his wife Stephanie Burke.
Guest Post by Pamela Fraser
Two shows up simultaneously this month in New York seemed ripe for comparison, both having text at the heart of theatrical approaches to exhibition making. Great titles to both exhibitions, Matthew Brannon's Gentlemen's Relish and Michael Krebber's  C-A-N-V-A-S, Uhutrust, Jerry Magoo and guardian.co.uk Painting.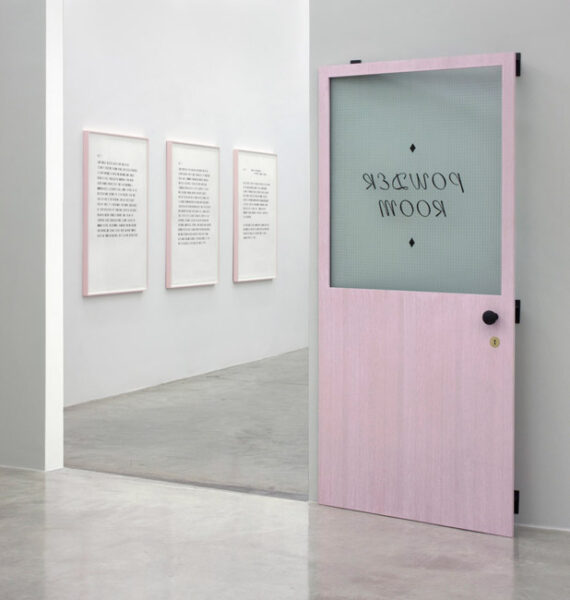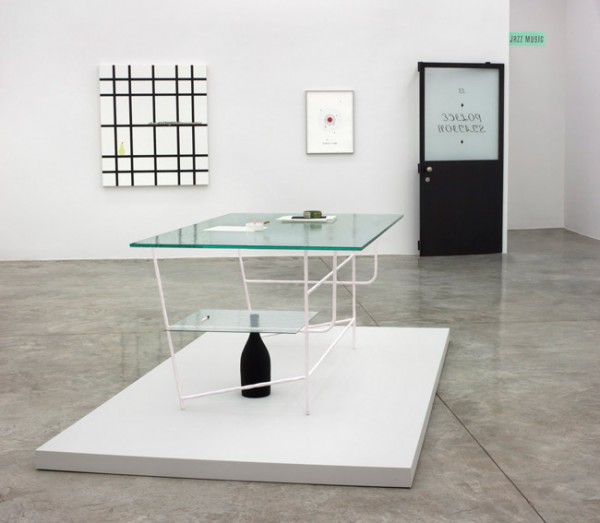 Matthew Brannon, installation shots, Casey Kaplan Gallery, Gentlemen's Relish, 2011
Brannon's show is a gallery-as-stage. Unlike the work of Karen Kilimnik, whose period-sets buttress the paintings that are always clearly the main event, Brannon's set doesn't read as way to situate or enhance objects, but as the work itself. The paintings and sculptural objects are props and backdrops in a scenario, playing subordinate to a whole, with the text perhaps, playing the leading role. The paintings are not approached as individual arenas of activity, but are more akin to decorative screens. As paintings, the gray-scale floral print patterns seem intentionally mild, so it's not painting as object that sparks excitement here, but the refusal to be paintings in the customary sense.
The text in Brannon's letterpress prints, drawings, and sculptures place the viewer inside of a plot involving a sexual frustration and deviancy. Bits of text can make one gasp (made me gasp) with their raw vulnerability, which is heightened by being packaged-not just within the pretenses of the well-mannered Noir-ish and WASPy worlds conjured, but by popping out of constraints in unexpected ways, amidst self-conscious play with forms of signification. The third-person narrative allows a psychological and emotional content to co-mingle with the pleasure and wit of the high-style artifice.
Krebber's show, a few blocks north, is comprised up of tight rows of many uniformly sized canvasses on which the artist sketchily copied art blog pages from specific sources. The press release informs that he sees this activity as the following: "By parasitizing the negative socio-pedagogical influence networked painting, Krebber agency to hasten collapse." Hard to tell if this is an awkward translation, art-speak, or poetic form, but it does let us know that the paintings intend to be parasitic, dependent creatures related to Brannon's parts-of-a-whole; a curious and provocative approach.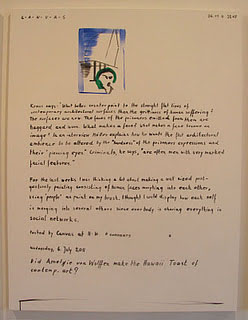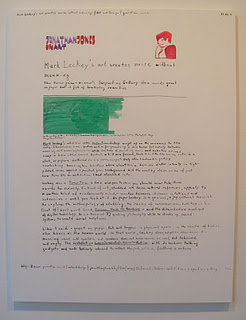 selections from Michael Krebber, C-A-N-V-A-S, Uhutrust, Jerry Magoo and guardian.co.uk Painting, Greene Naftali, 2011
While the particular art-blog source material is made quite clear, Krebber's signature light touch in this case renders things vague. I'm a fan of his sleight-of-hand approach to painting, and his self-described 'empty appropriation' strategy, but I began to wish the artist had been as trenchant and trashy as some of what he reproduced here. The artist as neutral copyist worked to great power and effect in Richter's 18th October 1977, but with the art-world content, things feel a bit parochial and insider-y. Even after institutional critique, the subject of art world machinations and dialogues may be ripe for scrutinizing, but viewing these paintings apes the passivity of trolling the internet.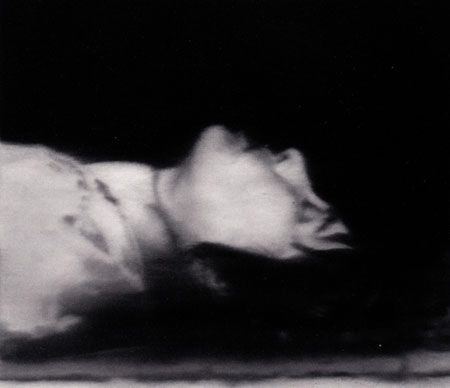 Dead (Tote), 1988, oil on canvas, 62×73 cm
Perhaps this is the point. Viewers leave the exhibition with the same diffused series of under-developed thoughts that we usually get from these sorts of dialogues. Krebber's show is alternatively as engaging, and un-engaging, as blog posts are (acknowledging that this is a blog post). Alternatively, Brannon's show is an immersive set-up that places the viewer inside of the production. In it, aridity and restraint work toward the making of an elegant, gripping thriller where everything is over-stylized, where plaintive characters are completely over the top. Yet one leaves the show with a convincing and forceful sense of haunting peculiarity.
Matthew Brannon
Gentlemen's Relish
Casey Kaplan Gallery
525 W21 St
http://caseykaplangallery.com/
Thru December 17th
Michael Krebber
C-A-N-V-A-S, Uhutrust, Jerry Magoo and guardian.co.uk Painting
Greene Naftali
508 W26 St, 8 fl
http://www.greenenaftaligallery.com/
Thru November 19
Pamela Fraser is an artist represented by Casey Kaplan in New York and Galerie Schmidt Maczollek in Cologne, Germany. She lives in Charlotte, Vermont.
GUEST POST BY RACHEL MASON
Note: this is the last in a series of three posts guest-blogged by artist Rachel Mason centering on fellow artists, makers and exhibitors in NYC.
A few years ago I came across Cleopatra's (or the idea of it anyway) because of a project that Lisa Cooley was organizing with the artist Frank Haines. (An incredible artist)   She talked to me about doing a performance, which I thought would have been a lot of fun,  but for one reason or other it didn't end up happening and I ended up thinking that Cleopatra's was a rock club or maybe a theater. I had no idea it was a gallery.
I started hearing more and more about this gallery space run by several women in Greenpoint, Brooklyn. When I finally ventured over to 110 Meserole Avenue, I experienced the reality of Cleopatra's.  It's about 15 x 35 square feet and in addition to having a space in Greenpoint, earlier this year they expanded to a space in Berlin. There's something about Cleopatra's that I found instinctively exciting. I haven't met Erin yet, as she lives in Berlin and runs the space there, but if she's anything like the two Bridgets (Finn and Donahue) and Kate McNamara, who are the original women of Cleo's, then I have complete confidence in what she must be doing too.
First off, the fact that they can do all this using a collective approach is a feat. My experience with collaborations is limited to playing in bands. Its a miracle when it functions and flourishes. Theirs is a story of early commitment–apparently they took on a 10 year lease never having met in person! Kate and Erin met at the lease-signing!
Even though all three women come out of the art world, and still are very much employed by it, their own approach really seems to me to be to try out a variety of ideas with regard to what it means to create an exhibit, as revealed by their recently closed exhibition by Montserrat Albores,  Lynne Cook: Three Shows, which, as they state on their website, "aims to unravel the curatorial practice of Lynne Cooke."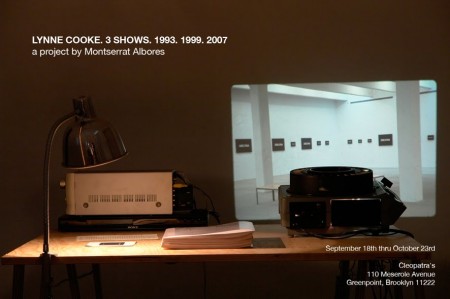 At first I didn't understand what I was looking at when I went to the gallery, but then Bridget Finn opened up a black folder with pages and pages of emails and handwritten notes, markings on slide sheets, invoices, catalog essays, personal letters. These are the inner-workings of a museum curator's world. This is how huge retrospective shows happen. The project, organized by curator Montserrat Albores, presents the archive of materials that Lynne Cooke amassed in presenting "Three Shows" from the years 1993, 1999, and 2007.
There was a moment when I thought that the most fascinating thing about the gallery was how many projects seemed to negate the gallery, like Tyler Coburn's show, which after three years of existing in several other forms finally became a gallery show. Published as a short story and then made into a radio episode, and then finally, and lastly, landing as a gallery show.
But then I realized with this show, that you can't just look at anything online really- the gallery has hard copies there for you to peruse, like an old-fashioned library. There isn't any way to document it and put it online, even though its information ultimately came through the internet (like emails and airplane ticket records). You have to go to the gallery to see printouts if you want to see how much On Kawara's artist fee is, or the original artist's proposal to the museum director. How do these things happen? What gets the ball rolling? (Chantal Ackerman's proposal was over 10 pages long!).
Alberes's show is about a show, which is about a show, which will travel and become another show- and maybe a catalog, a book, or who knows. Its layers of meta- make perfect sense for a space like Cleopatra's and I'm excited to see how they continue to play with the idea of being a gallery.
This summer I had the chance to work with them- which is what led me to write this piece. The two events they invited me to participate in were FLOAT, a curated show of performances at Socrates Sculpture Park and Eye In The Sky at the Re-Institute upstate in Millerton, NY.
Most people that perform have to check and cross check about 4 times all of the tedious technical details and the smallest thing can completely derail a show…and I was a little nervous heading out to the Re-Institute that there could be problems at this huge outdoor barn with multiple on-going performances happening all at once, but when they said "the PA is going to function and it will work and there will be someone there when you get there", they meant it. They made these things happen. Even if that meant one Bridget (Finn or Donahue) hoisted an extension chord over a barn door while another directed 50 people over to a campground and somehow all the pieces come together including a gigantic yurt, by Chris Verene, Â who is presenting it again at Postmasters Gallery in NY.
I just want to express an appreciation of what I've seen as incredible and genuine teamwork… and how rare that is… and I feel like the artists and art which get created within Cleopatra's reflects this thrilling spirit of excitement and comeraderie.
I think its why the gallery is a success and will continue to be one, and has been an incredible launchpad for artists and artists love them. I also think that they are redefining what a gallery is. And I think it is the future.
GUEST POST BY RACHEL MASON
Note: this is the second in a series of three posts guest-blogged by artist Rachel Mason centering on fellow artists, makers and exhibitors in NYC.
I ran into Mary Boom! at one of Louis V.E.S.P.'s Live TV Tapings in New York. Little did I know that Mary, or Bradford Nordeen, was about to be someone I would see a lot more of in the coming year- endlessly curating and creating events through Dirty Looks, his monthly platform for queer experimental film and video. Many of which I couldn't attend, because… there were simply too many! He is an obsessive devotee of cinema made by gay, lesbian and trans artists- and he works tirelessly, to exhibit titles by those practitioners that he finds essential, to gaining a greater understanding of the queer canon – at least that's how I see it – and we are the wealthier for it. I am so delighted to have seen some of the film and video work that I might have never seen otherwise, had it not been for Bradford knocking on doors, picking up reels and loading projectors, hosting rooftop screenings of Marie Menken, the Kuchar brothers, Joseph Cornell and Matthias Müller, and having galleries like Participant and PPOW Gallery get on board and offer their spaces as forums for this amazing and under-screened work.
I wanted to ask Bradford how he came to celebrate this work, do what he does and share more insights into Dirty Looks.
Rachel Mason: How did the idea for Dirty Looks come about ?
Bradford Nordeen: Dirty Looks was born out of my academic research. I had been writing at great length on the filmmaker Luther Price and, at first, I recreated his installation, Meat, 1990, at the Brooklyn alternative space, Louis V E.S.P. in order to gauge audience responses. Then I got my hands on another one of Price's films, all of which are difficult to find, A, 1995, and incorporated that into a West Coast program that toured Los Angeles and San Francisco. I was invited by Robert Smith – almost immediately when the screenings hit Facebook – to present the program at the gallery that had just transitioned from Envoy Enterprises to NP Contemporary Art Center, and in talking with Robert to prepare for that screening, I guess we sort of realized that there was no regular, New York city programming to focus exclusively on queer experimental film – a film form that I think epitomizes queer subjectivity directly, as a structural counterpoint to more dominant methods narrative filmmaking. So I said, "then I'll do it!" But everything really came together when I started working with Lia Gangitano at Participant Inc, who hosted Dirty Looks first and has been instrumental in every step of the process
RM: What did you envision it to be and how has it been manifested- or changed from that vision?
BN: From the start, Dirty Looks has always been conceived in very organic terms. I wanted the series to develop its own model and not force my ideas on it too greatly. It's about the audience engaging with the work. Initially that meant folks laughing and having uncanny flashbacks for our first program, where we pitted the early short films of Curtis Harrington (Fragment of Seeking, On the Edge) alongside one of his Dynasty episodes. Dirty Looks' mission, from the get-go, was to position historical artists or texts alongside more contemporary output, to showcase a lineage of queer aesthetic or narrative experience. And people REALLY embraced that – I think there's a lot of really passionate people in New York right now who are trying to excavate these legacies – from the organizers and enthusiasts of the Queer/Art/Film program at IFC to the Que(e)ry Librarian Dance Parties. Like them, I've really taken to working with the artists and co-hosts in a very collaborative capacity. Co-organizing events with TRANSLADY FANZINE, Little Joe Magazine, [ 2nd floor projects ], SF and Queer Text reading series at Dixon Place, we're all engaged in queer education and these creative legacies and we bring our own experience to the table, which is really thrilling – and audiences pick up on that too. It's really so rewarding.
RM: What are a few memorable Dirty Looks Moments!?
BN: So far it's been a really great year. Our first ever screening (this January) took place in the thick of a blizzard, and still, we ran out of chairs. When we were at Participant, during f. p. boué's show, Infinite Instant, he had constructed this tiered pyramid that you could climb on and 20 or so folks used it for seating, first for the very architectural lesbian pirate epic, Madame X, and then for our mash-up program of Michael Robinson and Jack Smith. For the latter screening, an seemingly horrible circumstance turned wonderful when the soundtrack for the film turned up missing – which is how Jack really intended these works, to be layered with a live mix of records that he would basically DJ in the back of the room. Of course, Jack is not with us anymore, so I frantically contacted Jerry Tartaglia who restored the films in the 90s for some musical suggestions and the result was shocking and uncanny. Whole sound cues carried through from this random sound assemblage – I really felt like Jack was in the room. More recently, we successfully launched a Kickstarter campaign in which nearly 100 supporters helped us raise funds to continue the series. On the heels of that success, we hosted a terrific screening – our biggest yet – on the rooftop at Silvershed, showing films by the Kuchar brothers. Though it had been on the schedule for sometime, I got a call from the brothers' SF gallerist (with whom we were collaborating on the event publication) and she informed me that the screening was scheduled for their 69th birthday! So, as befits their sensibility, we got ice cream cake and friend and filmmaker, Marie Losier, phoned them up so the entire rooftop could wish them a happy birthday. That was magical, especially since George passed away the following week.
RM: Tell us about Mary Boom….
BN: Mary Boom!, actually. Mary was a character that I developed as a joke for Scott Kiernan and Ethan Miller's Manhattan Neighborhood Network variety show E.S.P. TV. Scott needed a host and I came back at him – in what I thought would be a joke. I said, "well, I'll do it, if I can host it as Robin Byrd." Byrd is this New York icon, probably on par with Los Angeles' Angelyne. She's been hosting this cable access sex show since the early 80s. Well, in truth, they're still running the same programs shot from like 83 -87, or something, so it's this strange time capsule you stumble upon when you're flipping through channels, where this druggy sex maven is interviewing dated porn stars and fondling them. My lark had the justification of being "medium-specific," since this was cable access being shot on VHS, and I felt that she was a snarky metaphor for the contemporary art market. So, of course, Scott's response was, "COOL!" I called her Mary Boom!, a play on Mary Boone with a little bit of Joseph Losey's trashy Tennessee Williams adaptation Boom!, starring Elizabeth Taylor, thrown in for good measure. So she's kind of this messy, horrible power gallerist who takes stabs at dated art terms like "Identity Politics" without really bothering to understand them. And people really love her. She's got FANS. Though Ms. Boom!'s kind of hit hard times now. She used to have a big Soho gallery and one of her recurring jokes addresses her "downgrade" to the Lower East Side. There's talk – with Mary's assistant, Coco – of doing a spin-off show that's more structurally based on Byrd's interview format, called ArtBoom!
RM: What do you think are some of the differences between more contemporary queer work and that of older generations – working in film.. and maybe we should be specific about eras here.. film, video, and now digital video…
BN: Well, I would say, first and foremost, the gallery factors SO much more into contemporary film/video/DV than it has in the past. It's always been there, of course, but I think there's currently a greater opportunity for moving image work to get out there, to get seen, to even make a couple dollars off of this format – and here I'm speaking to the avant-garde or experimental film, not feature-length Queer cinema á la Gregg Araki, Todd Haynes, Rose Troche, etc. – which, in the past was not as readily the case. Also, academia and the internet have left really indelible imprints on contemporary queer output, and that, I think, is important to acknowledge. I mean, Ryan Trecartin is a youtube artist. I can't see someone like Michael Robinson making his films without the kaleidoscopic format of internet, either, however nostalgically his works hark back to recently-outmoded media formats like video and, let's face it, film. Someone like Ming Wong or even Conrad Ventur – whose work we exhibited in the Female Trouble program – takes a very academic approach to documentation and historiography – Ventur is presently refilming the surviving subjects of Andy Warhol's screen tests, and Wong re-enacts classically melodramatic or "feminine" film scenes with racial hitches to these otherwise white sources. Both of these artists work in crisp video, so that medium tends to aesthetically pique their critiques. I think that many of the adept "older generations" are nimble and are, if not adjusting to the times, altogether, allowing their historical perspectives to inform their current work. Someone like Luther Price is never going to pick up a RED camera and start editing in Final Cut, but Luther is mining archival 16mm footage, re-editing it as he always has, but also immolating it in even more profound ways: burying it, marring it, handpainting it, so this already nostalgic format becomes fecund in its ability to evoke a distant or psychic past. That said, George Kuchar picked up a video camera when he was 45 and changed the game as far as video art was concerned – long after his early film works. Recently, he was excited to start working with digital 3D cameras, so it's a really case-by-case basis!
****
Rachel Mason's work has been shown at the Detroit Museum of Contemporary Art; the School of the Art Institute of Chicago; the Henry Art Gallery in Seattle; the James Gallery at CUNY; the University Art Museum in Buffalo; the Sculpture Center in New York; Andrew Rafacz Gallery; Marginal Utility Gallery; The Hessel Museum of Art at CCS Bard and at Occidental College. She has performed at venues that include the Kunsthalle Zurich; the Museum of Contemporary Art Detroit; The New Museum; Park Avenue Armory; Club Tonic; Art in General; La Mama; Galapagos; Dixon Place; and Empac Center for Performance in Troy. She has written and recorded hundreds of original songs and performs large scale experimental plays involving dancers, musicians and other artists with her band and theater troupe Little Band of Sailors. Rachel has been featured in publications that include the New York Times; the Village Voice; the Los Angeles Times; Flash Art; Art in America; Art News; and Artforum.
GUEST POST BY HEIDI NORTON
I live in Humboldt Park and as of lately I am way into observing, assessing, and mentally noting changes in the trees. The seasons have me thinking about cycles– nostalgia is creeping in. As the lush green turns to yellow, and the yellow to red, my mind wanders back to Rob Carter's stop motion video and installation of the Nest. Rob's solo exhibition Culte was recently on view at EBERSMOORE (relocating to 350 N Ogden, Suite 100,  January 6, 2012) earlier this fall.  I was mesmerized by Rob's show so much, I saw it twice (see why below). He was gracious enough to give me some of his time to talk plants, architecture, and crowds among other things.
Heidi Norton: Architecture seems to be an important focus within your practice. Within "Culte," you create an architectural hybrid of the tennis stadium in Queens, Flushing Meadows, the site of the US open and the facade of a Gothic cathedral. Talk about the significance of the actual space – the interior architectural and exterior architecture – that these pieces reference. Why this particular stadium? Does the ground around the stadium play a role? Does it have a historical reference? Why Gothic architecture?
Rob Carter: Frequently my work begins with an architectural juxtaposition and this video has several. The stadium seating is indeed composed of a series of shots I took from each quadrant of the Arthur Ashe Stadium in Flushing, Queens. However there is little significance to that fact as I have made the playing surface, and therefore the game, very ambiguous: it is an elongated octagon of perfectly mown grass or perhaps Astroturf. The idea is that this is a fairly universal stadium for a universal unspecified sport – the video's audio track uses the sounds of chanting fans from all over the world representing the theatre and community of sport. Likewise, the outside architecture is made up of Gothic architecture from a variety of European cathedrals, though most are from England and France. All the elements are photographic prints that have been resized to fit on one architectural model structure – they form a building that is fractured (sometimes the outside is made of interior images) and complete – almost believable. To some extent it represents the mega-churches that have formed a significant part of the development of Christianity in North America. These buildings and their 'organizations' naturally draw interesting comparisons with the entertainment, fervor, and ritual of sports stadium events. I have been interested in these overlapping cultural themes for several years – how the need for sport and religion divide and unite our cities, both architecturally and as a communal experience.
I chose to unify the exterior of my stadium with one style of architecture. Gothic architecture is not specifically religious architecture, but it has become most closely associated with Christianity through the Gothic cathedral masterpieces of the 12th–15th century. I have a longstanding relationship with these types of buildings – family summer holidays always included multiple visits to cathedrals and churches all over the UK and Northern France, so I have a strong personal connection with it and despite all those church visits I also still love it. Plants and the natural world have many associations with Gothic architecture and carving which makes a coherent juxtaposition with the plants that surround this particular building in my video. Simplistically the representation of nature in Gothic architecture, as it evolves over the centuries, shows the natural world in all its detail formed in solid stone, as well as an emerging order and purity that attempts to stand above the baseness of nature. Though the style evolves into the more rectilinear forms of the Perpendicular style, the association with nature, with plants, flowers, trees and foliage is always imbedded and celebrated within the buildings. The ground around the stadium did have other incarnations but I felt it worked best as a void or barren earth that isolated the building from the reality of urbanism (no roads or car parks), but that also tied the architecture to the ground. After all soil is essentially broken up particles of stone.
Heidi Norton: In graduate school, I made a piece about spectatorship and crowd power. I was very interested in the idea of absorption and the spectacle–the crowds and the event and/or the thing being consumed. I investigated groups of people of varying sizes within sporting events, church congregations, cheer leading competitions, etc. Please talk about the parallels between this type of absorption and the plants growth mediated through the camera and stop motion. Are these people chanting "mantras" or life to the plants?
Rob Carter: The plants are literally absorbing and consuming in order to survive and grow (the audio track also suggests this), so I am interested in this parallel with spectatorship. The subconscious need to belong – to engage, worship or be entertained en masse is a fascinating  and important part of our societies. Your Graduate School piece sounds like an interesting project – I am most interested in ideas of the power of the crowd especially in connection with architecture and urban planning. To me the seedlings in "Culte" might refer more to the homogeneity that the crowd creates – how we lose our individual identity in the mass of a stadium crowd, and how despite their uniqueness the seedlings never have individual identity in our eyes. They are simply 'programmed' to absorb, nourish themselves and grow. In the circumstances of sport or religion the experience of singing, chanting or just shouting becomes an empowering experience but also one that, like plant growth, relies on order and timing. The voices are chanting many things in different languages, for varying sports and religions, but the auditory sensation is supposed to be something like a series of mantras – one that suggests physical and spiritual transformation – perhaps asking for the plants to burgeon.
Heidi Norton: Why zucchini? Was it important that the plant be a producer of something edible?
Rob Carter: There are a variety of species used, but the soil was predominantly sown with zucchini and pumpkin seeds. When I embarked on this 8-month process I was unsure what I was going to get but the idea was that the vegetables should simply symbolize two architectural motifs – the column and the dome. In my wildest dreams I hoped that a pumpkin might emerge and put a dome on my stadium and probably crush it (the seedlings growing through "The Nest" are mostly pumpkins for this some association). Given the very restricted growing area it was not surprising that this did not happen and as it turns out the zucchinis totally overwhelmed the pumpkin seedlings – so I created a kind of vegetable survival of the fittest arena. It was, as you suggest, important to have something edible produced because the video is partly about sustenance and human needs – about our desire to connect with others and to be 'nourished' spiritually. It also attempts to make reference to the religion of food as I see it today – the evolvement of food 'movements' (Locavorism, Organic, Slow Food etc) and their influence on the way we live and the fanaticism that often goes along with them. For some, it has become a quasi-religious basis for the way they live their lives, affecting the choices for daily life in ever more complex and sometimes contradictory ways.
Heidi Norton: "The Nest" was also on display at EbersMoore. My perception and understanding of the space was completely displaced when I saw the scale of the actual plants and model. I enjoyed this experience very much. Discuss the importance of exhibiting "the nest" and the significance of the camera's point-of-view.
Rob Carter:In the course of making "Culte" I transformed my studio into some kind of bio-lab. It quickly became apparent that the apparatus of constructing the work was interesting and did something quite different from the video. This in itself has led me to a new work which will open in New York next year that will have all the apparatus of such a production in the gallery space including a larger scale seed-bed with plants growing and being photographed throughout the course of the exhibit. "The Nest" is something of a mini pre-curser to this. It is a remnant of the process of making the video – a relic of all those hours of growth; it also relocates the scale of the video for the viewer. What especially interested me in the remains of my studio garden was the way the plants had fused with this miniature piece of architecture – they now form a tangled web of plant matter that is both sinister and protective of the little paper sculpture. The new growth in "The Nest" represents both the beginning and end of the evolution described by the video. New pumpkin seedlings replace the evergreen playing surface and they are set-up to grow throughout the course of the exhibit. Here the seedlings grow in real time, but if you were to revisit the show the sculpture would have evolved and the architecture would be a little further obscured than on a previous visit. The sculpture asks the viewer to consider the camera's point-of-view, and interpret how they have perceived the video. Having been seduced by the movement and sound, it should be something of a mental leap to then look at this pile of dead leaves, observe what is in it and consider the frustrating difference in the sense of time it suggests. The seedlings may feel even more static than they might otherwise – as 'dead' in time at the yellowed leaves that surround them.
Heidi Norton: Does nostalgia play a role in these works?  Is the idea of youth, memory, and lived experience of relevance? The longing for life? The POV of the camera, the stop motion, talk about all of the things in relation to the work.
Rob Carter: I don't think I had considered it as nostalgic. That said, there are many personal ways it connects to me and my 'lived experience'. Stop motion and time-lapse photography has the ability to make the mundane uncanny and often wondrous. Many experience this (first) as children so the adult experience of viewing work using such techniques can be mediated by such memories. My videos tend to use stop motion/time-lapse in a fairly 'pure' form – "Culte" uses the techniques of the nature program, but shows more than the highlights – we never see the flower open, but we see everything else.
Culte [installation version] from Rob Carter on Vimeo.
Heidi Norton: Was the nest a self-sustaining system? Why was it important to add an irrigation feature? How does the space and idea of the stadium change when the plant dies? For me, in the beginning the exterior appeared overgrown and at the end it was barren.
Rob Carter: I don't think that the lushness is unattainable but it is fleeting. "The Nest" has a very basic irrigation system that required a simple collaboration between artist and gallery – they had to keep my sculpture alive for the course of the show. The surrounding dead plants reinforce how temporary and futile this is; the new seedlings are exposed as an effect and a symbol of potential without the possibility of reward. They themselves represent the true narrative – the story that none of us can escape from.  However, I tend to look at this work in terms of cycles of life… cycles and overlappings of culture, community and tradition too.
****
Heidi Norton received her MFA from the School of the Art Institute of Chicago in 2002. She lives and works in Chicago. Norton has presented solo exhibitions in Chicago and San Francisco. Group exhibitions include How Do I Look at Monique Meloche Gallery, The World as Text at the Center for Book and Paper Arts, Snapshot at Contemporary Art Museum in Baltimore, and the Knitting Factory in New York. Norton was published in My Green City (Gestalten) in 2011 and her spring show Not to See the Sun, at EbersMoore was reviewed in Frieze, September 2011. Currently she is collaborating with writer Claudine Ise in a seasonal column for Bad At Sports called Mantras for Plants. Norton is represented by EBERSMOORE gallery in Chicago. She is faculty in the photography department at the School of the Art Institute of Chicago.