GUEST POST BY HEIDI NORTON
I live in Humboldt Park and as of lately I am way into observing, assessing, and mentally noting changes in the trees. The seasons have me thinking about cycles– nostalgia is creeping in. As the lush green turns to yellow, and the yellow to red, my mind wanders back to Rob Carter's stop motion video and installation of the Nest. Rob's solo exhibition Culte was recently on view at EBERSMOORE (relocating to 350 N Ogden, Suite 100,  January 6, 2012) earlier this fall.  I was mesmerized by Rob's show so much, I saw it twice (see why below). He was gracious enough to give me some of his time to talk plants, architecture, and crowds among other things.
Heidi Norton: Architecture seems to be an important focus within your practice. Within "Culte," you create an architectural hybrid of the tennis stadium in Queens, Flushing Meadows, the site of the US open and the facade of a Gothic cathedral. Talk about the significance of the actual space – the interior architectural and exterior architecture – that these pieces reference. Why this particular stadium? Does the ground around the stadium play a role? Does it have a historical reference? Why Gothic architecture?
Rob Carter: Frequently my work begins with an architectural juxtaposition and this video has several. The stadium seating is indeed composed of a series of shots I took from each quadrant of the Arthur Ashe Stadium in Flushing, Queens. However there is little significance to that fact as I have made the playing surface, and therefore the game, very ambiguous: it is an elongated octagon of perfectly mown grass or perhaps Astroturf. The idea is that this is a fairly universal stadium for a universal unspecified sport – the video's audio track uses the sounds of chanting fans from all over the world representing the theatre and community of sport. Likewise, the outside architecture is made up of Gothic architecture from a variety of European cathedrals, though most are from England and France. All the elements are photographic prints that have been resized to fit on one architectural model structure – they form a building that is fractured (sometimes the outside is made of interior images) and complete – almost believable. To some extent it represents the mega-churches that have formed a significant part of the development of Christianity in North America. These buildings and their 'organizations' naturally draw interesting comparisons with the entertainment, fervor, and ritual of sports stadium events. I have been interested in these overlapping cultural themes for several years – how the need for sport and religion divide and unite our cities, both architecturally and as a communal experience.
I chose to unify the exterior of my stadium with one style of architecture. Gothic architecture is not specifically religious architecture, but it has become most closely associated with Christianity through the Gothic cathedral masterpieces of the 12th–15th century. I have a longstanding relationship with these types of buildings – family summer holidays always included multiple visits to cathedrals and churches all over the UK and Northern France, so I have a strong personal connection with it and despite all those church visits I also still love it. Plants and the natural world have many associations with Gothic architecture and carving which makes a coherent juxtaposition with the plants that surround this particular building in my video. Simplistically the representation of nature in Gothic architecture, as it evolves over the centuries, shows the natural world in all its detail formed in solid stone, as well as an emerging order and purity that attempts to stand above the baseness of nature. Though the style evolves into the more rectilinear forms of the Perpendicular style, the association with nature, with plants, flowers, trees and foliage is always imbedded and celebrated within the buildings. The ground around the stadium did have other incarnations but I felt it worked best as a void or barren earth that isolated the building from the reality of urbanism (no roads or car parks), but that also tied the architecture to the ground. After all soil is essentially broken up particles of stone.
Heidi Norton: In graduate school, I made a piece about spectatorship and crowd power. I was very interested in the idea of absorption and the spectacle–the crowds and the event and/or the thing being consumed. I investigated groups of people of varying sizes within sporting events, church congregations, cheer leading competitions, etc. Please talk about the parallels between this type of absorption and the plants growth mediated through the camera and stop motion. Are these people chanting "mantras" or life to the plants?
Rob Carter: The plants are literally absorbing and consuming in order to survive and grow (the audio track also suggests this), so I am interested in this parallel with spectatorship. The subconscious need to belong – to engage, worship or be entertained en masse is a fascinating  and important part of our societies. Your Graduate School piece sounds like an interesting project – I am most interested in ideas of the power of the crowd especially in connection with architecture and urban planning. To me the seedlings in "Culte" might refer more to the homogeneity that the crowd creates – how we lose our individual identity in the mass of a stadium crowd, and how despite their uniqueness the seedlings never have individual identity in our eyes. They are simply 'programmed' to absorb, nourish themselves and grow. In the circumstances of sport or religion the experience of singing, chanting or just shouting becomes an empowering experience but also one that, like plant growth, relies on order and timing. The voices are chanting many things in different languages, for varying sports and religions, but the auditory sensation is supposed to be something like a series of mantras – one that suggests physical and spiritual transformation – perhaps asking for the plants to burgeon.
Heidi Norton: Why zucchini? Was it important that the plant be a producer of something edible?
Rob Carter: There are a variety of species used, but the soil was predominantly sown with zucchini and pumpkin seeds. When I embarked on this 8-month process I was unsure what I was going to get but the idea was that the vegetables should simply symbolize two architectural motifs – the column and the dome. In my wildest dreams I hoped that a pumpkin might emerge and put a dome on my stadium and probably crush it (the seedlings growing through "The Nest" are mostly pumpkins for this some association). Given the very restricted growing area it was not surprising that this did not happen and as it turns out the zucchinis totally overwhelmed the pumpkin seedlings – so I created a kind of vegetable survival of the fittest arena. It was, as you suggest, important to have something edible produced because the video is partly about sustenance and human needs – about our desire to connect with others and to be 'nourished' spiritually. It also attempts to make reference to the religion of food as I see it today – the evolvement of food 'movements' (Locavorism, Organic, Slow Food etc) and their influence on the way we live and the fanaticism that often goes along with them. For some, it has become a quasi-religious basis for the way they live their lives, affecting the choices for daily life in ever more complex and sometimes contradictory ways.
Heidi Norton: "The Nest" was also on display at EbersMoore. My perception and understanding of the space was completely displaced when I saw the scale of the actual plants and model. I enjoyed this experience very much. Discuss the importance of exhibiting "the nest" and the significance of the camera's point-of-view.
Rob Carter:In the course of making "Culte" I transformed my studio into some kind of bio-lab. It quickly became apparent that the apparatus of constructing the work was interesting and did something quite different from the video. This in itself has led me to a new work which will open in New York next year that will have all the apparatus of such a production in the gallery space including a larger scale seed-bed with plants growing and being photographed throughout the course of the exhibit. "The Nest" is something of a mini pre-curser to this. It is a remnant of the process of making the video – a relic of all those hours of growth; it also relocates the scale of the video for the viewer. What especially interested me in the remains of my studio garden was the way the plants had fused with this miniature piece of architecture – they now form a tangled web of plant matter that is both sinister and protective of the little paper sculpture. The new growth in "The Nest" represents both the beginning and end of the evolution described by the video. New pumpkin seedlings replace the evergreen playing surface and they are set-up to grow throughout the course of the exhibit. Here the seedlings grow in real time, but if you were to revisit the show the sculpture would have evolved and the architecture would be a little further obscured than on a previous visit. The sculpture asks the viewer to consider the camera's point-of-view, and interpret how they have perceived the video. Having been seduced by the movement and sound, it should be something of a mental leap to then look at this pile of dead leaves, observe what is in it and consider the frustrating difference in the sense of time it suggests. The seedlings may feel even more static than they might otherwise – as 'dead' in time at the yellowed leaves that surround them.
Heidi Norton: Does nostalgia play a role in these works?  Is the idea of youth, memory, and lived experience of relevance? The longing for life? The POV of the camera, the stop motion, talk about all of the things in relation to the work.
Rob Carter: I don't think I had considered it as nostalgic. That said, there are many personal ways it connects to me and my 'lived experience'. Stop motion and time-lapse photography has the ability to make the mundane uncanny and often wondrous. Many experience this (first) as children so the adult experience of viewing work using such techniques can be mediated by such memories. My videos tend to use stop motion/time-lapse in a fairly 'pure' form – "Culte" uses the techniques of the nature program, but shows more than the highlights – we never see the flower open, but we see everything else.
Culte [installation version] from Rob Carter on Vimeo.
Heidi Norton: Was the nest a self-sustaining system? Why was it important to add an irrigation feature? How does the space and idea of the stadium change when the plant dies? For me, in the beginning the exterior appeared overgrown and at the end it was barren.
Rob Carter: I don't think that the lushness is unattainable but it is fleeting. "The Nest" has a very basic irrigation system that required a simple collaboration between artist and gallery – they had to keep my sculpture alive for the course of the show. The surrounding dead plants reinforce how temporary and futile this is; the new seedlings are exposed as an effect and a symbol of potential without the possibility of reward. They themselves represent the true narrative – the story that none of us can escape from.  However, I tend to look at this work in terms of cycles of life… cycles and overlappings of culture, community and tradition too.
****
Heidi Norton received her MFA from the School of the Art Institute of Chicago in 2002. She lives and works in Chicago. Norton has presented solo exhibitions in Chicago and San Francisco. Group exhibitions include How Do I Look at Monique Meloche Gallery, The World as Text at the Center for Book and Paper Arts, Snapshot at Contemporary Art Museum in Baltimore, and the Knitting Factory in New York. Norton was published in My Green City (Gestalten) in 2011 and her spring show Not to See the Sun, at EbersMoore was reviewed in Frieze, September 2011. Currently she is collaborating with writer Claudine Ise in a seasonal column for Bad At Sports called Mantras for Plants. Norton is represented by EBERSMOORE gallery in Chicago. She is faculty in the photography department at the School of the Art Institute of Chicago.
Portland filmmakers, educators, programmers and film advocates Alain LeTourneau and Pam Minty are in the midst of a Midwest and east coast tour with their avant-doc Empty Quarter. The work is a decade in the making but even beyond that knowledge there is something very large feeling about it. Perhaps this weight is due to the scope of its subject: the three southeastern counties of Oregon (Lake, Harney and Malheur), its wide-ranging citizenry and their activities both quotidian and transformative. I imagine the openness with which a viewer can interact with the piece, though, has more to do with how large and multivalent it feels.
Empty Quarter is formally divergent from conventional documentaries in several obvious ways: its format—from camera to projector—is luminous black-and-white 16 millimeter film; the scenes are composed of lengthy, single shots for which the camera is fixed; the subjects—landscapes and the workers, families and machinery that people them—exist without a narrator's context, without an onslaught of subtitular text; during those intervening interview portions where direct human voices are heard the screen is completely black (save for those occasional scratches or imperfections the film print will accrue as it makes its way through projectors across the country). It is, as such, in the tradition of other makers who take as their subject the real world. As a documentary, its polemic is apolitical (so far as parties are concerned), but deeply humanistic and with a strong feeling for the strange, beautiful landscape and the industries, families and outside communities with which they function.
Because the film is so open in its presentation, questions relating to urban and rural divides, race and ethnicity within agricultural sector and regions, land stewardship and labor are all invoked. While Pam and Alain were in Chicago screening the film (one hopes they'll find time for us again on their spring tour of the film), we were able to speak at length about the decade long process of its making, the bold formal elements of the work and the nature of their collaboration.
It seems silly, but sometimes the easiest way to digest works that are formally inventive or distinct is to first think about those differences as an entry into the work. Empty Quarter is a documentary, but will never be described as such without a tag like experimental or essayistic or landscape or avant before it.
Alain LeTourneau: Empty Quarter attempts to create a cinematic experience closer to lived experience. That is, raw and undigested. The viewer would move through and make meaning of the spaces and activities presented. We wanted the relationship to the audience to remain open, allowing the audience to participate on some level. If we had presented a series of opinions or arguments, the viewer would be left in a position of agreeing or disagreeing with the information presented. As a portrait of a place, Empty Quarter is a series of recorded observations. The viewer can enter in to and inhabit the shots/scenes taking away a set of personal reactions, which can then be shared with other audience members, friends and perhaps family. The cinematic experience is intended to extend or ripple out into people's lives, becoming part of public life.
One of the most striking (and I think best) choices you made in this film is the use of black during the interview segments. 
Pam Minty:  While all image-based shots are set to sync sound, audio interviews with residents from the area are set to black screen.  Our intention in this approach is to give the audience the space to listen in a focused way not competing with the function of visual observation. Many of the issues discussed were repeated across several interviews, so it seemed more appropriate to allow unmitigated sound to convey these shared experiences, opinions and concerns. To some extent, the use of long visual takes informed the choice to give equal or similar weight to collected audio recordings. There was a decision in post-production to mix sync voices more prominently in an attempt to replicate being in the environment and give the audience the opportunity to experience what grabbed our attention most.
Though it seems to hard to imagine this film functioning otherwise the use of black & white seems to work on a number of levels here. It does something to heighten the notion of the work as intentionally produced (as art, as artifice), which seems counter to so much of how most documentaries are made, but it also seems to reinforce the work's place in a historical trajectory.
AL: 16mm black and white can blur the distinction between seasons, times of day, and tends to focus one's attention on the activity or landscape being framed, without presenting itself as "reality". The black and white images are presented as a document or observed record. The texture or grain is also quite wonderful, the way it creates shimmering, almost impressionistic images, unresolved and lower in quality than color.
The whole film is filled with beautiful, evocative images. But without giving too much away, I feel like the final shot (above) is so elegant, so well paced and so well constructed that both times I've seen the work someone from the audience has asked whether or not it was choreographed. In itself, it's an interesting question because the question is not whether the drivers of the farm equipment were directed, but choreographed, but also seems a good jumping off point to ask about how much was done to "direct" the participants in the film.
AL: The final shot in Empty Quarter came out of our experience of observing various patterns that occur in the process or routine of work, whether manual or machine labor. The camera was positioned to present a kind of symmetry with movement in the image, and to unfold in a very subtle way.
PM: We've found that audiences have used those terms differently to respond to different images. When machines appear to be moving in a planned way, we're asked about whether we choreographed the scene. Conversely, when people enter a shot, perform an activity, and (in general) leave the frame, people tend to use the term "direction" in how they phrase the question. Ironically, the most choreographed looking scene, the closing shot, was one in which we had the least ability to manipulate how the corn harvest activity unfolded. Alain's intuition about when to begin filming in relation to how much film was in the magazine for the tilling of the last row of corn, was critical. Also, his choice to frame the shot as he did lent to the power of that shot. Had he centered the final row tilled, the trucks would not have been symmetrical as they left the frame left and right, and it wouldn't have happened simultaneously. In a post-film Q&A, he'll call it dumb luck, but as a witness to that moment, it really comes across as good decision making, being aware of the frame, and keen observation about how the process unfolds.
There's always something inherently quixotic to the project of documentary. The idea of representing another's lived experience is always an impossible challenge, but the idea of representing such a gigantic amount of space and the wide-ranging experiences of those who live and work there is even more vast. There are always those in the moving image world who argue for a utopian concept of total representation, of a 360-degree, interactive cinema, and compared to these, the thoughtfully-constructed, single-take scenes of a place seem to argue towards the specificity of your framing and the intent inherent to leaving so much out of the frame.
AL: Total or complete representation sounds like an impossible project. Additional funding would have allowed the film to be longer, maybe three hours, but whether the film would have benefited from this additional material is hard to say. I think we would have enjoyed the opportunity to continue recording and documenting the work, recreational activities and landscape of the area, but even given more material and longer run time, I think it would be difficult to say that we could provide an exhaustive view of the region. We certainly could have shined light on more of what happens in the area. For example, we had an offer to record inside a one-room schoolhouse in a remote part of Lake County, but the completion schedule and our budget would not allow us to incorporate this into the film.
There are a lot of political, social and ecological issues that are hinted at in the film. Compared to most films, or even to most conversations, the film feels balanced (not simply right-and-left, but front-and-behind, top-and-bottom). What lead you to give this film this seemingly non-political vantage?
AL: While Empty Quarter is not overtly political, I would not say it's non-political or does not on some level engage political questions. The film certainly does not provide any kind of dramatic conflict that is eventually resolved or persuasive argument. In acknowledging our distance from the region and our urban detachment from rural lifestyles, our approach was more of simple observation, which seemed of greater value than a more traditional approach.  Looking at—and listening to—the region in an effort to provide a means of thinking about its place in the social and economic fabric of American culture­ was a critical aspect of our interest in the project.
The same people that have told me the idea behind making a film is to a tell a story also told me that film is the most collaborative of art forms. This concept is obviously based on a large studio system in which hundreds of people do their parts to manifest the vision of a director. The history of avant-garde film, however, takes a central (if sometimes only implicitly or out of necessity) interest in the single artist, the lone maker. Somewhere between these poles lies your own dynamic. Can you describe the process of working as a couple?  How do you conceive of our collaboration?
PM: Our earliest experience as collaborators in the production of Empty Quarter was simultaneous to beginning our work co-programming an experimental film series now operating under the name 40 Frames. In 2000, we moved into a warehouse space that could accommodate screenings as well as house our film production facility. As we wound down the production process and moved into post, we transitioned out of programming into the advocacy role we perform now with 16mm Directory, which is the primary activity of 40 Frames. We're both working on independent films now as we distribute Empty Quarter. Once these projects are complete, we plan to collaborate on a second film on the subject of work.
Jesse Malmed is an artist and curator. He is brand new to Chicago and Bad at Sports. His work can be seen at www.jessemalmed.net.
Guest Post by Jeriah Hildwine
The Elmhurst Art Museum's recent exhibition, "Michael Rea: Soirée" (July 8 – September 4, 2011) brought together a large grouping of this artist's work.  I caught the show just a couple of days before it closed, and it gave me a chance to reflect on Rea's work.
Michael Rea is a sculptor, with a 2007 MFA from UW Madison, and is represented in Chicago by Ebersmoore.  His past exhibitions have included a group show at Unit B in Pilsen, run by Kimberly Aubuchon, the Rockford Midwestern, and a solo show at Butcher Shop Dogmatic, run by Michael Thomas.  That show led to his meeting Ed Marszewzki, who invited him to participate in the Version Festival and represented him through his artist management identity Reuben Kincade.  In January 2010, Rea was included in a group show at Western Exhibitions, which led to a solo show at Ebersmoore, and representation by them.  They showed his work at the Special Projects section of NEXT, and his solo show at Ebersmoore was in November 2010.
Rea makes things out of wood.  For the most part, they're stereotypically masculine sorts of objects:  robots, weapons, and lots of references to nerd culture like Star Wars.  The wood is left pointedly unfinished and has the look of a plain, light wood like pine, fir, or poplar.  The surface and visible construction of the objects makes them very approachable, inviting.  You want to hold them, to touch them.  They are as much toys as they are works of art.
Rea's show at EAM closed on September 4th, but his work didn't have to stay in storage for long.  "Tsavo Manhunters," his lion-hunting mech, appeared shortly thereafter at the Chicago Urban Art Society, where it was included in the exhibition Wood Worked, curated by Chicago Urban Art Society's Co-Founder and Chief Curator, Peter Kepha, along with CUAS Pop-Up Satellite Space Curator Kevin Wilson.  Mike Rea's work is virtually synonymous with the theme of Chicago artists working with wood, and would have been extremely conspicuous by his absence had he not been a part of that exhibition.
Not included in that show was Conrad Freiburg, who also does some very impressive woodwork, although he works in other media as well, and typically uses wood as a means to an end, whereas Rea uses it for its own sake.  I think of these two artists in contrast with one another.  Freiburg uses a variety of carefully chosen woods, the color and grain of each being selected for a specific purpose, and shapes them with a meticulous fit and finish to serve as beautiful vessels for some pretty far-out ideas.  Rea on the other hand uses plain wood, typical hardware-store pine, and frequently assembles it with a less-is-more aesthetic, numerous dowels and half-rounds and slats cut and assembled into fantastic forms, but with their nature still clearly visible.  In other areas (the clenched fist on "Suit for Stephen Hawking," the lions' heads in "Tsavo Manhunters") small, shaped blocks of wood are assembled into complex forms, asserting their "woodenness" particularly by seeming so much the wrong material for the job.
Not that Rea's commitment to wood is absolute.  In "Olympia," a sort of Star Wars/Nirvana scene in which Chewbacca appears to reenact Kurt Cobain's in-bed suicide (with his trademark bowcaster in place of Cobain's shotgun), burlap, rope, and yarn serve alongside the wooden bed and bowcaster.  Chewbacca's fur is brown yarn, and his missing head is replaced by a spray of strands of red yarn.  Red yarn serves as blood in other of Rea's works, including the hilariously titled, "My Anaconda Don't Want None," in which the eponymous snake (made of wood, of course) is cut into several lengths and impaled on a stake (suited to the exhibition, "Heads On Poles," at Western Exhibitions).  Each of the snake's wounds is created by a mass of dripping red yarn.
We accept the yarn as blood, and ropes as coax cables, and so on, because of their context.  The unpainted wood, the visible seams, and the milled mouldings give us permission to suspend our disbelief:  they are honest enough about what they are, that we don't fear being thought foolish for not questioning them.
Jeriah Hildwine is an artist, educator, and art writer for Art Talk Chicago and Chicago Art Magazine.  Jeriah lives and works in Chicago, with his wife Stephanie Burke.
GUEST POST BY HEIDI NORTON
As a photography student of the mid/late 90's, Barbara Kasten was of great significance to me. I lost track of her during the first decade of the millennium, as the contemporaries of the Becher's school (Gursky, Ruff, Struth) dominated the art market with their dry, representational Deadpan Photography. Now, as an educator 11 years later, I relish in Kasten's renaissance. Abstraction is transcendental to me, but above all, I see Kasten as a pioneer of contemporary relevance.
Most people know her as photographer, but Barbara Kasten is an artist. Photography is a material to her, the camera's use- very calculated and intentional. She treats it with equal significance to the rest of her materials–mesh, plexi, screen, mirror, glass, and light. Her influences are vast and span many decades: Irwin's light and space movement of the late 60's; Judd's studies and use of modern industrial material; Post-Minimalism, and its tendencies toward performance; Process art; Site-Specific art; and Abstraction of the 40's (Moholy Nagy), 90's, and present. She is presently celebrating her first solo show in Chicago at Tony Wight gallery, Ineluctable, which runs through October 22nd.
Barbara and I sit down and talk art–mostly me picking her mind. But flattered I am, as she is inquisitive about my work as well. See below!
H: Material became important to you very early on in your career. You were trained as a sculpture and a fibers artist. As a fibers instructor, you used fiberglass screen as a teaching tool to model 3d forms. Talk about your transition from fiberglass as a 3-D sculpting tool to its appearance in your first Cyanotype, Untitled 13, 1974. When and how was the camera introduced?
My first photographic works were photograms. When I discovered the industrial screen as a way to create 3D weaving maquettes, I also tried creating a 2D illusionistic rendition in the form of a photogram. That was in 1974, and I still use the same material today in the Studio Constructs.  In the process of arranging the photograms. I liked the way that shadows were captured in negative shapes.  I was also making life size arrangements using packing boxes and other geometric forms I built for that purpose.  At that time, Polaroid was a new color photographic medium; so when I was offered some 8×10 Polaroid film, I learned how to use my first camera, an 8×10 view camera.
H: Speaking of the camera, let's talk about the relationship between the image created, the materials (light, plexi, screen), and the exhibited object (the print or projection). When we spoke, you talked about the "several stages of development before the image is where it should be". Please explain this. Can you talk about the integral relationship between the construction/sculpture and how it is mediated through the camera? A minimalist like Robert Morris might have said that there is a "dematerialization of the object via the process of it being photographed." Do you see the camera and photographic print as more, less, or equal in relevance to the process and materials?
B: Process has been the core of all of my work- whether it was the sculptural fiber pieces I did in Poland while on a Fulbright, the photograms in the early 70′s or the most recent Studio Constructs and video work.  The shadow- and the light that causes it- has been my conceptual grounding.  I am not interested in the object itself but how it serves as the means of recording light and shadow.  The photograph becomes the object when the light is merged with form and shadow on a 2d surface. It's really the light that completes the action, whether it is in direct contact with light sensitive material or passing thru the lens of a camera.  The Studio Constructs go through many configurations before I arrive at the final image….The 'sculpture' stays set up in the studio giving me time to live with it and the images I make of it.  I can expose many pieces of film before I'm happy with it.  Why not digital…many reasons but the main one is that I like a slower process so I can think about the work as I make it.
B: How about you, Heidi? You currently have a show up at Northeastern University, Not to Touch the Earth (Reception this Friday, Oct. 21st,  from 6-9). In some of your work, the photograph seems to be a document of your process and in other work, the plants or objects are integral to the piece by their physical inclusion.  Talk about these different approaches and how you decide when to create a sculptural piece versus a 'recording of the piece' -if you see it that way.  If not, how do you think about the role of the plants?  Does the photograph play a different role in each of these approaches?  Tell me about the importance of the object in your work.
H: All of this work began from the image Whitescape, 2010, where I painted all the objects, including the plants, white by hand. Several weeks later, I was at my studio and noticed that the Dieffenbachia plant I used had begun to grow out of the paint. The painted leaves died and fell off and new life began to sprout from the center. I was intrigued by this–a very pleasant surprise– as painting the plants had left me feeling guilty.  The material of the paint was killing, yet at the same time preserving and stimulating growth. I included that same Dieffenbachia plant in the piece Deconstructed Rebirth– my third still life construction made for the camera. In that piece you see the new sprout and the decayed white leaves hanging from the plant. Almost a year later in My Dieffenbachia Plant with Tarp (Protection), the same plant reappears as a whole new plant. Only through the use of the camera as a recording mechanism is one able to see the inclusion of this narrative. With the camera's ability to freeze time we can see the plants in varying states through life to disparity to death. Evolution of a Plant is a more literal example of this idea.  I think of the "New Age Still Life" series as sculptural construction. Like yours, these have several stages of development before they become images or objects on the wall. Higherself and Mango are shot in a studio with a plexi-glass shelving unit that was created to compress the space further within the 2D plane.  In the sculptural objects- glass and wax pieces- the plants are pressed to glass or embedded in wax. These materials are also meant to preserve, freeze, and maybe illicit death. The pieces are meant to activate one another; whereas the photographs are fixed- frozen in one state, in the way that Barthes talk about the "Death of an Image". He sees death implicit in each photograph. He is struck by how the photograph moves you back through time, how you always have the past with you- the photograph as a kind of resurrection. The sculptures will transition in front of your eyes over a span of time based on the nature of the plant. Plants in various states between life and death, wax melting, the color of the plants from green to brown- they are in constant flux.
H: In the Alex Klein essay that accompanied the group show at Shane Campbell in 2010, "Terminus Ante Quem" she compares your process to that of process and earthworks artist, Robert Smithson. She writes, "he famously challenged what he saw as the misperception that art objects function as a kind of culmination or terminus as quem of artistic achievement." Basically stating that the object supersedes the process, or the process is a building up to the object. People see your works, the final product, a very polished and refined photograph or projection, different than the "documentation" of the 70s. How has being grouped into a movement of photographers whose work is notable for its formal beauty and technical execution changed how the work is interpreted?
B: I happen to like beautiful objects, but beauty alone isn't enough.  Some investigations of beauty can bring out the underpinnings of a structure or idea or process that doesn't possess that same kind of beauty as the surface. However, I think that my process is important to the understanding of the work which ultimately becomes an object…. a beautiful object. The traditional photographic process is different than mine.  I carry on a continual dialogue with the subject, changing each step along the way, much like a painter might do. The process is intense and intimate and can include aspects of performance, documentation and sculpture.
H: You mentioned you are reading Donald Judd's essay on the "specificity of objects" and the discussion of the "under developed rectangle". Please explain it's relevance to your work. We talked about using light on reflective surface to break or reconstruct space within your work and that reduction is the abstraction. Talk more about this.
B: I was in a show at Ballroom Marfa this year and visiting the Chinati Foundation re-sparked my interest in Judd.  Just to witness his immersion into the simple architecture of a small western town and how it became an extension of his vision and art. The barracks, containing row after row of polished, reflective boxes illuminated by the Texas sun, was an incredible experience of landscape and geometry merging through the medium of the sun.  Judd is straightforward and yet incredibly complex.  Its a position that I hope to develop more in my work and thinking.
H: Architecture within the constructed space and the architecture of the gallery seem integral to the work and installation. Please discuss the distinction between phenomenological space and imagined space, and how unambiguous, or understandable for that matter, the difference is between the two experiences.
B: An example of how I like to incorporate architecture is in the installation of 'Ineluctable'.  The three 11×14 silver gelatin prints are positioned so as to include the corner when the viewer looks towards the work.  Upon close observation, one becomes aware that there is a corner in each of the pieces that reinforces and establishes the importance of the architectural element in situ.  The video 'Corner' also plays with the identity of generic structural architecture and light projection that alters its dimensionality.
B: What about the space and environments you create in the gallery's space? Do you think of your work as environmental installations?  For instance the inclusion of architectural pedestals as in the piece, Michael 2011, shown in Jason Foumberg's September 2011 Frieze review, or the collaborative piece with Karsten Lund, presenting shelves of books that were focused on plant life in "Not to See the Sun" exhibit at Ebersmoore last April?
H: I am interested in creating an atmosphere or environment in all of my spaces- the gallery, the studio, my apartment. When making work, I like to assume the personality of an avid plant collector, a botanist- my studio is a hybrid of herbarium and art studio.  I speak mantras to my plants. There is dirt, roots, wax, film and photographs everywhere. I am a creator and nurturer of things and sometimes these things have difficulty co-existing in the same space—precious archival pigment prints shot with 4×5 transparency film made on expensive baryta inkjet paper do not mingle well with dirt, wax and resin. But I like this mix- taking something precious like a photographic print or plant and submerging it into hot wax–pushing the integrity of the material outside of it's natural limits.  Michael, the piece you mentioned, is maybe a good example of when these two polarities collide—to me, it's both photographic and sculptural. When I created the display stands for the piece, I intended for them to not look like pedestals that reference high art. I wanted them to assume some anonymous person's makeshift constructions. "After the Fires of a Little Sun", the installation of books and mirror, are to reference a mantle and book collection.  Not necessarily my own collection (though all the books are/have been used for personal research and relate in some abstract way to my work), but maybe someone whose interests vary from botany, to color theory, to a 1970s back-to-the-land manual. The project grafts new imagery and typewritten text directly onto the pages of existing books. The artist and writer's responses become merged with the research materials, producing an unconventional artist's monograph/zine, fueled by the symbiotic combination of three elements: the original texts, the writer's typewritten thoughts, and the artist's wide-ranging visuals. The effect of leafing through this material (now collected in one volume) is a bit like stumbling upon some anonymous person's avid research materials — perhaps a mad botanist with a flair for detours into the histories of art and counter-culture.
Ineluctable is on view until October 22nd at Tony Wight Gallery. 
Not to Touch the Earth is on view until October 28th at Northeastern Illinois. Opening Reception, October 2nd, 6-9pm.
Heidi Norton received her MFA from the School of the Art Institute of Chicago in 2002. She lives and works in Chicago. Norton has presented solo exhibitions in Chicago and San Francisco. Group exhibitions include How Do I Look at Monique Meloche Gallery, The World as Text at the Center for Book and Paper Arts, Snapshot at Contemporary Art Museum in Baltimore, and the Knitting Factory in New York. Norton was published in My Green City (Gestalten) in 2011 and her spring show at Not to See the Sun, EbersMoore was reviewed in Frieze, September 2011. She currently is collaborating with writer Claudine Ise in a seasonal column for Bad At Sports called Mantras for Plants. Norton is represented by EBERSMOORE gallery in Chicago. She is faculty in the photography department at the School of the Art Institute of Chicago.
GUEST POST BY RACHEL MASON
*Note: New York-based sculptor and performer Rachel Mason recently completed a guest-blogging stint at Art21 Blog. Her run there is over, but Rachel enjoyed the process of blogging so much that she asked us if she could contribute a few guest posts to Bad at Sports. We're thrilled to be able to host Rachel's writings for the next few weeks. First up: her interview with Chicago-based performer and Joan of Arc frontsman Tim Kinsella.
I met Tim Kinsella at an art show which was more like a festival organized by the brilliant photographer and artist Jason Lazarus. The show was called "Hang in There."  In addition to a huge show of artists, there were really great bands from Chicago on the bill and I was excited to be able to have a piece in the show and to play. I loved the idea of a motivational show… maybe in contrast to a motivational speech… but really to also just be a playful way to bring people together and do something celebratory in the midst of a pretty uncelebratory moment- I thought it was brilliant- and very much in line with Jason Lazarus's expansive practice with collaborations. (One of the best things I've read about Jason and this project was actually, maybe not surprisingly written by Tim).
Joan of Arc is a band I listened to and loved for years, but hadn't actually admittedly stayed very current with. So I was amazed to see them on the bill and happy that they were still playing shows and totally curious to see what they'd play at a show at Co-Prosperity Sphere. They have a solid track record of producing unexpected surprises, and Tim Kinsella is the cult hero frontman who also is also a poetic anti-hero- and whose lyrics reflect a cavalier silliness which is part of what makes them so relentlessly fun…. (A song on their recent album is called "I Saw the Messed Blinds of My Generation").
The place was insanely packed and I really didn't want to venture in but then I saw them get started and I tried to make my way… they were playing the classic intro riff of Queen's Under Pressure. Cool! How random! Whats it going to lead into? But then the bars just continued, and continued, and continued… wow, a full minute… two minutes… three minutes… ten minutes…!! Fifteen… Twenty!! (dum dum dum da da dum dum…).
My experience went from excitement to nervousness to boredom to anxiety to excitement again. The song was actually creating pressure… I began studying the crowd because at that point, it was as much an action- in -space as it was a rock show… It was a performance piece.. it was Bruce Nauman leaning into the corner a thousand times… It was as much a let down as a feeling of blowing into a balloon with the air getting caught about halfway and just holding it there.. not deflating or inflating really… kind of seemed like a zen meditation.. but I realized also the musical athleticism of the repetition. Its not easy to play consistently the same notes for a half hour… and I ended up being highly aware of my self standing there… and then suddenly jerked back into the reality that I had to perform… I realized I didn't know where my guitar was, and I also realized..oh great…. It's my turn… and I'm going to be performing for Joan of Arc…eek… and they just did 30 minutes of a Queen riff… In a daze, suddenly they were done, and dismantled their gear and I started stressing out about my guitar… when someone suggested asking Joan of Arc, Tim in particular if we could use his… and before I knew it Tim Kinsella had lent me his guitar and I was getting it all plugged in- and then I played and he said something really nice about my set- and a few hours later I had the thought… it was a huge blur- but then wow… that was gracious of him to let me use his guitar- I would have been screwed if he didn't… and it kind of weirdly matched the dress I was wearing… Well it was a beautiful guitar…but heavy. Mine is a lot lighter.
Where's this whole intro going… ? Well, I went to see them play in New york a month after the show in Chicago and I noticed at the merch table along with all the records and CD's, a pale yellow book. Wait, Tim wrote a book…? Oh, wow, he wrote a book. Fiction. He does performance, he writes books, he plays music in like a million projects. This human is my hero….
I saw him standing there and I wanted to get something and I said, what should I get? And he said, "get the book." I didn't have anymore cash…. but later I ordered it on Amazon and (as I'm a super dyslexically slow reader.. hoping to have it read by the time I write this… but no…) I've been falling fully into a strange world of the sad and irritable characters who I'm thoroughly enjoying getting to know in The Karaoke Singer's Guide To Self Defense….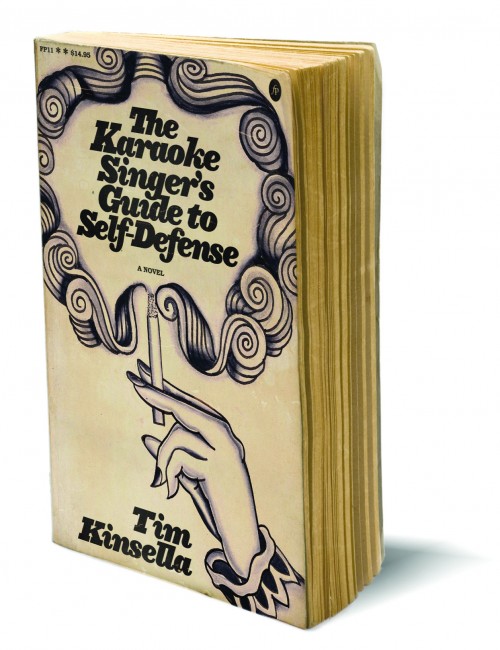 Now with that rambling introduction to Tim Kinsella, the generous rocker, the performance artist (he just did another piece at Andrew Rafacz Gallery) and the author I will lead into the questions he answered for me. Thank you Tim!
Rachel Mason:Â What was it like to write a book… like how is it different from writing a song..?
Tim Kinsella:Â The process is very similar for me at the moment – I'm just finishing a first draft of a second novel – in that it's a compulsive urge in the same way that songwriting used to be for me. Presently, I'm so burned out on music, I couldn't imagine what it would take for me to write a song. I've written and been a part of a few longer, conceptual pieces of music in the last year. But actually writing a song doesn't interest me at all right now. I have some friends waiting on me and I just can not summon the will.
And so I never could've written the novel if I had never written songs. A lot of the skills one picks up from writing songs were applied – a sense of dynamics and flow, density and space. But obviously it's a lot more to hold in your head all at once. So pacing is a lot trickier. But the ability, that balancing act, to proceed while also not squashing this fragile thing by getting all worked up layering it with your self-conscious intentions or hopes for what it will be – applying the force of routine or discipline while also holding back enough to let the thing emerge as it needs to – those are subtle necessities I learned from songwriting.
RM:Â Did you know that you were definitely going to write a full novel or did it just start off as a smaller work that then grew into it…?
TK:Â No, I was well into it, maybe 150 pages, before it sort of dawned on me what it was becoming. I just knew that I was enjoying writing. I knew that I not only enjoyed the process and getting swept up in momentum and looking back over it and finding surprises and sculpting it in strange ways – but it felt necessary as much as it felt enjoyable. It was almost like I couldn't help it. I was irritable (as I generally remain) whenever I was forced to step away from writing. But I never thought about what it was or might become as a sum. I was simply invested in the process for a long while before I looked back over it and recognized the next step would be drawing some path through these scattered pieces to connect them. So at that point I began plotting and charting and building prepositional bridges. And that was fun puzzle-making. It's funny how everything you try seems barely wrong until you end up at the solution that seems inevitable.
RM:Â Were there any actual events that inspired parts of the story?
TK:Â Eh, I have witnessed and been party to loss and shame and hurt and regret. The circumstances of my own life and those of the book have very little in common, probably no more- or less-so than any other adult has suffered. The book is about a lot of common problems and how they compound and amplify and how coping becomes a routine. I realize that's vague, Â and maybe the book really is that much of a sprawling mess. But the events of the book occupy a very small ratio of even what I hope is present to propel a reader forward. There are few, if any, events. So yes, what is there is directly based on my experience of the world and it is splintered through many voices, each of which I feel tender towards and ashamed by their behavior at times. But there's nothing about it that one would call "autobiography."
RM: How was the recent tour? I saw the pictures- it looked super fun. Anything really strange or funny happen on the tour..?
TK: I think it's fair to say that I am not dispositionally-suited for touring. However, it's tough to state that and not feel like a jerk because in a lot of ways – especially to people that never have toured and long to travel – it appears to be some kind of freedom. And so I feel rude deflating anyone's illusions. I like playing music very much. But for me, personally, touring is by no means The Dream Job. Priceline helps, but I would much rather never leave Chicago city limits if I didn't have to. Mostly tour feels like 23 wasted hours a day to me. But whatever, I'm done with it for at least a year or so, and then we'll see.
********
Rachel Mason's work has been shown at the Detroit Museum of Contemporary Art; the School of the Art Institute of Chicago; the Henry Art Gallery in Seattle; the James Gallery at CUNY; the University Art Museum in Buffalo; the Sculpture Center in New York; Andrew Rafacz Gallery; Marginal Utility Gallery; The Hessel Museum of Art at CCS Bard and at Occidental College. She has performed at venues that include the Kunsthalle Zurich; the Museum of Contemporary Art Detroit; The New Museum; Park Avenue Armory; Club Tonic; Art in General; La Mama; Galapagos; Dixon Place; and Empac Center for Performance in Troy. She has written and recorded hundreds of original songs and performs large scale experimental plays involving dancers, musicians and other artists with her band and theater troupe Little Band of Sailors. Rachel has been featured in publications that include the New York Times; the Village Voice; the Los Angeles Times; Flash Art; Art in America; Art News; and Artforum.