guest post by Dan Gunn
Alberto Aguilar announced his Instagram takeover of the @artinstitutechi feed in a bathroom mirror selfie. He positioned the cellphone to obscure his face and captioned the post with the deadpan statement "This is a takeover. I am Alberto Aguilar. This will last one week." With that single post already several people vowed to unfollow until "the art returned", while others were convinced that the feed had been "hacked", while still others lamented that selfies "degraded" the museum.
The Chicago-based artist Aguilar is the Art Institute of Chicago's 2015-2016 Artist in Residence for Museum Education. He was chosen because education features prominently in his artistic practice through his professorship at Harold Washington College. The residency includes an on-site studio housed embedded in the Ryan Education Center, various opportunities to lecture and conduct public events and the Instagram takeover at hand. From January 11th to the 18th Aguilar regularly posted his activities within the museum and selectively interacted with the Institute's followers. That his actions could provoke such an extraordinary response, both positive and negative points to the power of social media and the effectiveness of Aguilar's approach.
The takeover phenomenon itself comes from a marketing strategy wherein corporate brands partner with "influencers" in order to heighten their credibility and deepen their "brand engagement" with consumers. Influencers are considered influential because they are authentic and credible examples of the brand image to the brand's target audience. In this case Aguilar is a living example of an artist in a museum that celebrates art. The Art Institute of Chicago, which declined to comment for this article saying instead in an email that they wanted to "keep the focus on Alberto's practice and his ownership of the creative process on the Instagram project" presumably wanted the artist to perform contemporary art for the audience.
The two previous AIC social media takeovers from LA-based artists Frances Stark and Charles Ray delivered tepid posts. Charles Ray seemed largely disinterested and Frances Stark's output was subsumed by her already voluminous social media presence. Aguilar approximated a living specimen of an artist inside the hallowed repository of mostly dead-artist's art, like a genetically engineered T-Rex on view next to Sue at the Field Museum. Why then would people prefer to view the plaster casts when the real thing was available? The takeover and its response charts a competing trio of interests between the venerable museum, an irascible artist and the expectant Instagram audience.
rosiefomalley @artinstitutechi what kind of horseshit
For Aguilar's part he was given the account for Instagram for a week without restrictions. The canon for Instagram artworks is still being written but his approach was unique in several ways. The most comprehensive work to date is probably by the artist Amalia Ulman who over the course of months believably transformed her feed into a record of her life as a vapid LA impresario. Photos of brunch and breast enlargement scars were all faked for a scripted 175 post drama presented as if it were her real life. The piece called, "Excellences & Perfections" functions as both feminist and social media critique unveiling the double desire to share and to craft one's image at the same time; a.k.a. to not really share.
Alberto Aguilar instead reinforced the believability of the Instagram image by performing simple actions in the recognizable space of the museum and by responding selectively to the instructions of certain followers. He roamed the galleries opening telephone panels, propping open doors, overturning chairs, placing a half styrofoam cup in front of a Magritte, arranging a floor full of doilies in the room with the paperweights and other forms of aesthetic littering. Aguilar's approach to objects is inflected by Minimalism, frequently using simple geometries like grids, lines and zig zags that make the actions seem deceptively matter-of-fact more akin to crossing items off a to-do list than making a drawing. This functional relationship between his activity and the resultant situation bolstered the trustworthiness of the feed at the expense of artifice.
Aguilar describes this approach as "using a regulated form in a very regulated building in order to have a moment of intimacy myself in this space." Aguilar's language in the posts also plays to this calculated blankness. "I don't like being overly poetic. I like when I state facts and those things act as poetry also."
rs_gould Sweet litter. Good thing you got that MFA
Not that Aguilar's practice doesn't also rely on metaphor. In one of the earliest posts he and fellow artist Alex Bradley Cohen held up homemade cardboard signs that read "Trouble Maker" or "Problem Solver" as an introduction to the takeover. Other works refer to issues of accessibility by opening "doors" or creating "bridges" within the museum experience. Here the artist functioned as a surrogate museum goer, a tester of the institution by filling voids, mimicking gallery architecture and associating objects of the present with the past, culture outside the museum with culture inside and personal history with art history.
The inclusion of his personal life was another source of audience annoyance and yet another way Aguilar aimed to disarm them. When Alberto wasn't in the museum, he was frequently at home.
"People were annoyed about the home photos and would try to tell me what they wanted to see and what they didn't want to see. So I thought that it would be funny to put a picture of my kids all playing [the board game] Trouble while my wife was sleeping just because I wanted my family to be recorded forever on the Art Institute's Instagram feed. Because anybody would want to make their presence known! Right? Isn't that what Instagram is all about? That's also why I kept saying "This is a takeover". Someone who was angry called it something else, they said this is a hijack!" So the next post I used that. "This is a hijack."
The pedestrian nature of Alberto's life, indeed that of most working artists when viewed up close, was off-putting to people who tuned into the museum's feed for Culture with a capital "C". The personal moments presented within his factual, monotone voice were disarming to the point of becoming intimate. The high point of this being a touching snippet of song performed on ukulele by Aguilar's two kids on the final day. What becomes clear through reading comments is that the dissenters find Aguilar's lowering of the Art Institute's high cultural voice disrespectful. But why is this act disrespectful when the institution has invited him to do it?
andiamojoe @mimi_marg @eggwithoutyolk @artinstitutechi all that wonderful art around should be inspiring to this feed, the content is lackluster and not representative of the great works and artists within one of the greatest art museums in the world… Step it up or face a mass unfollow!
The answer, at least partially, seems to be that the Art Institute was operating outside of its understood brand identity, or were purposefully trying to expand it to encompass more contemporary art. There was a general tone in the comments of dissatisfaction, not with the idea of a takeover per se, but with the particular type of plain dealing, found-object arranging, conceptual social practice that Aguilar uses. The only charge directed at Aguilar as a person was that of self-indulgence. Presumably this was for the posts that actually contained his image, not for posting his artwork because that was at least part of the point.
robby47 Blame Andy Warhol. But compared to this, Warhol looks like freakin Rembrandt.
Aguliar's "lazy Dadaism" as one follower put it, in turn led to charges of "pretentiousness", where pretension is understood as thinking oneself important when in fact you aren't. These commenters saw no value in his use of simple arrangements of recognizable material through easy to replicate gestures. As a counterfactual, it's hard to imagine any controversy over a representational artist painting museumgoers as they tour the galleries, a kind of museum-cum-landscape.
Other moments pitted the artist's interests more directly against that of the institution. The museum has always catered to the civic pride of Chicago through various means, including the decoration of the famed entry lions with whichever sports team is prospering at the time. Recently that has been the NHL's Chicago Blackhawks. An ill-advised attempt to find common cause with fans in anticipation of a Stanley Cup playoff game resulted in an image of a Medieval knight's helmet adorned with the Blackhawk's logo being posted to the account. Considered alone, the Blackhawk's logo is controversial enough, but to layer onto a stereotype of indigenous peoples an item symbolizing the systematic religious violence of the Crusades defies common sense.
Aguilar at this point had been "building bridges" between separate time periods of the museum collection by holding up gift-shop postcard images in front of related artworks. Now he responded by holding up a phone with the Instagram of the knight's helmet in front of a display of a Native American ceremonial headdress and pressed the send button. The image pits the legacy of American oppression of indigenous peoples through caricature and confiscation of property against the museum's desire for greater mass media relevance beyond expected elite cultural circles. The reaction from the audience was swift and intense and for the first time Aguilar himself felt conflicted about his usage of the takeover.
"People were confused as to what I was trying to say. I didn't want to offend Native American people, but that's what started happening right away. There was this young Native American commenter who took it out of context and didn't realize it was a takeover. He was angry at the museum for putting up this image and began swearing in his comments. So the museum's social media manger deleted them which I was told is regular practice whenever people swear in comments. And he would come back and wonder why he was being censored on top of being offended by the image. I went to sleep and had a terrible dream that night. I woke up and decided that I was going to delete the image all together. I just didn't feel right about it anymore, mainly because I was offending Native Americans but also because I didn't think that it was fair to the institution that had given me this freedom."
Aguilar did in fact delete this post, though at the time of publication the original Blackhawk knight's helmet post still remains.
The ingenuity of this takeover is the way that it placed the artist at the ethical intersection of several public discourses.
Who is the artist responsible to represent? For Aguilar, what began as an attempt to confront an ethnic stereotype instead ended up propagating it. The museum, for it's part, has the difficult task of picking artists as influencers because of the legacy of avant-gardism still ingrained in contemporary art. They will be critical of their museological handlers, which both present dangers for their brand identity and simultaneously reinforces the credibility and authenticity of the influencer. Meanwhile the audience has to decode the layered experience of these images and deal with their frustrated expectations. Social media seems to give viewers a sense of propriety over the institution that is illusory. What ability does the Instagram public have to shape museum policy or image? Not much. The tradition and cultural prestige of their brand expectations had been substituted with contemporaneity and uncertainty.
"People were telling me what they wanted to see and what they didn't want to see, they were angry. I said something like "This is a takeover. I will decide what is shown." Then I said "I will use whatever is around me as a tool. I was referring to the physical objects around me I used as a tool for revealing and concealing but also to the camera which can serve the same function. I'm wasn't trying to be arrogant, but the truth is that it was a takeover, I did have control but I also personally have control of what I show and don't show of myself."
The ironic thing is that the space of institutional (or branded) social media requires an audience, no matter how inflexible. The commenters certainly weren't worried about the authority or appropriateness of their comments in their ill-conceived defense of the museum. The social media space requires a back and forth in which Aguilar fully engaged. He would take suggestions from the comments about what to do next actually giving the audience some ability to interact with the museum that they love. Instead of getting into a comment tit-for-tat he would perform actions just to show them that he was open to their input. And for all of the dissenters there were also people who appreciated the unique perspective on the museum that Aguilar came to offer. The masterful nature of the takeover was the way that it revealed the contours and fissures of the public's relationship to 21st century institutions. It showed the historical problems and contemporary possibilities while insistently, even stubbornly, keeping the approach intimate and personal.
---
Dan Gunn is an artist, writer and educator living and working in Chicago. Dan writes about Chicago art, including a history of alternative and apartment spaces in conjunction with the Hyde Park Art Center's "Artists Run Chicago" exhibition and the Artist Run Digest published by Threewalls and Green Lantern Press. Dan has written for for Bad at Sports, the Museum of Contemporary Art Chicago, Depaul Art Museum, Loyola University Museum of Art, Newcity Magazine, Proximity Magazine and ArtSlant.com. He was a contributor to Fielding Practice podcast, a collaboration between Bad at Sports and Art21.
Right now, poetry is everywhere in the art world. Its resonates locally in murmurs and shouts, ranging from Diana Fridd's whispered eulogies –for which she mines obituaries for nuggets such as "We Have No Words For This In English"—to Cheryl Pope's hollering "Just Yell!" Globally, it culminated this winter, with Ugo Rondinone's summa cum laude tribute to his friend, lover, and mentor, in "I <3 John Giorno" at Palais de Tokyo in Paris.
Caption: Installation shot of "Thanx 4 Nothing" in "I<3 John Giorno!" at Palais de Tokyo, October 2015 Photo by Lise Haller Baggesen.
The show opens with the gratefully nihilist mantra "Thanx 4 Nothing," a meditation on "letting go" so profound it is like yoga in a bottle –but without the spandex and the body shaming:
may all the suicides be songs of aspiration/thanks that the bad news is always true/may all the chocolate I ever eaten/ come back rushing rushing through your blood stream/and make you feel happy/thanks for allowing me to be a poet/a noble effort, doomed, but the only choice.
The piece builds up like a crescendo until that moment, you fully realise what you have known all along: "Damn! Donna Summer was right! We are all 'Full of Emptyness.' Brimming in fact. Overflowing." So much so, that when you enter the next room your minds eye is already dilated sufficiently to receive the message "I Want To Cum In Your Heart." Gulp!
Taken as a whole "I <3 John Giorno!" is a sumptous, luscious, and yes, orgiastic, tribute to a life well (albeit sometimes reluctantly) spent, out- but mostly inside the flamboyantly gay New York art scene of the late 20th century. Its monumental scope, archival depth, and intimate tone, gives the viewer a feeling of being a peeking-Tom into art history in the making. But above all, it is a lesson in—if we all knew more about POETRY—what a wonderful world this could be!
Where John Giorno's poetry mainly flows inward, and takes you on a journey to the bottom of your heart, the borders of your mind, poetry equally willingly travels in the opposite direction—out into the chartered territories where art meets community in a battle to win our hearts and minds—while fixing a neighbourhood, a public school education budget, or a prison reform in the process. These are tricky positions to navigate.
Poetry's appeal to the art world is easy to spot: it's fresh, it is angry, it is credible, it is appealing, it is endearing, it is gritty, it is rousing, it is sincere and it is portable and pocketable; all the things "art world art"—with its cluncky logistics, inflated production budgets, and art fair schmucks—is forgetting how to be. The art world's appeal to to poetry? Not so much. Caution must be advised if you are considering adding a little youth poetry to your art event, lest the effect will be that of a gospel choir at a Madonna concert—the sincerity of their little prayer drowned out by the artist's blonde ambition.
To avoid such embarresment, I greatly encourage you to visit "Louder Than A Bomb 2016." This, the Largest Youth Poetry Festival, not in the city, the country, but in the world (and probably the universe), is entering its sweet sixteenth season featuring 120 teams with participation of more than 1200 youth from 60 different zip-codes. Its umbrella organisation YCA (Young Chicago Authors) was recently awarded a McAuthor fellowship in acknowledgement of the leagcy of this program and others like it.
The festival is the brain child of Kevin Coval, who declares: "this is the best theater in Chicago, and I think it's the best political platform in Chicago."
Titles of poems such as "Islamophobia," "How to get into College,""Crafting Your Gender," "How to Friend a Suburban Black Girl," and "The Rage of the American Dream" speak to the breath of topics being not only explored, but deeply felt and internalized, and to the urge to, as one poet put it: "pick up your pen and change society!"
To really drive home the impact of the written word, showmanship, choreograpy and performance is added, hightened by the additional excitement of scores awarded. The public participation is what makes this theatre truly one of the greatest in Chicago; judges are cheerd, boohed or given the unsolicited advise to "Listen To The Poem!" and the atmosphere at times is so rowdy it is hard to remember that "The Point is not the Points, the Point is the Poetry!"
The preliminary bouts are in full swing as I write this, and by the time you read it the scores are in. But fret not: tickets are already on sale for Quarter Finals (Malcolm X College 3/5/16), Semi Finals (Metro Chicago 3/13/2016), Indy Finals (Du Sable Museum 3/17/2016) and Group Finals (The Auditorium Theatre 3/19/2016) via the YCA website.
My favorite so far (and I am biased, yes, but not alone in this opinion) is team REBIRTH's "If Hogwarts was an HBCU." Speculating on the all-star faculty of a Historically Black Magic Academy, this fun, timely, and above all, incredibly DOPE piece is infused with such much swag, that before you know it you will want to enroll in the LTAB lifelong learning program. I guarantee you will walk out of the theatre, not believing, but fully knowing, that if we all knew more about psychology, sociology, and (Black) history—but above all, if we all knew more about POETRY—what a wonderful world this would be!
---
Lise Haller Baggesen is an artist, writer, and proud poetry-mom, living in Chicago. Her book "Mothernism" was co-published by Poor Farm Press (Milwaukee) and Green Lantern Press (Chicago) in 2014, and her Mothernism show is currently touring the United States. More info on the work and writing by Lise Haller Baggesen can be found here: lisehallerbaggesen.wordpress.com
On Sunday February 7, 2016, the date that will now forever be known as the day a politically aware and majestic Beyoncé won the Super Bowl, an article written by Daniel Grant ran in the Education/Life section of the New York Times titled "

For These Pieces Hold the Paint: Social Practice Degrees Take Art to a Communal Level

." The Art and Social Practice MFA program at Portland State University (PSU), where from 2008-2014 I taught and was for the majority of my time there the Co-director and Chair,  was heavily featured in the article.  Before joining the faculty at PSU, I also founded the largest annual international conference on socially engaged art, Open Engagement. My background as the director of this conference, my intimate knowledge of the program at PSU, and my position in the world as a woman of color led me to read the article (one of the first circulating these ideas to a broad and mainstream readership) and wonder who gets to speak for socially engaged art? Whose voices are privileged? And what types of projects get circulated?Social practice feels as though it could hold the potential to change the world. As Harrell Fletcher stated in the article, many artists working in this way could be described as politically progressive, some "fairly extreme in their anticapitalism." I would say that much of the ethos behind this way of working as an artist is about re-evaluating and challenging systems of power. It is about the value of art in daily life and the belief that art is for everyone, not just the elite. Its commercial value can be slim as much of the time this kind of work might not look like art at all. This work promotes agency in artists, it is made alongside and with it's intended audience and necessitates being in the context of the world.

Because social practice can be so seemingly outside of what we have traditionally framed as art it often has a problem with tone and form. Artists wishing to tackle the most pressing and serious issues of our time sometimes land on a dinner party, or a walk as a way of addressing these problems. While I believe that real change can emerge from seemingly small gestures, it is undeniable that there are clear tropes that have emerged in socially engaged art. One of the most troubling things for me in the New York Times piece was that while Grant talked about social practice's historic connections to figures like community organizer and agitator Saul Alinsky—whose work was able to help lend power to the voices of so many who have been disenfranchised, that one of the main projects of graduates of the PSU MFA program that was featured was "Grocery Stories", a project installed at a locally owned Portland boutique chain grocery store, giving voice to artisanal cheese makers. I know from first hand experience that the PSU MFA program has produced projects and artists that deal with immigrant rights, housing justice, shifting institutional power, LGBTQIA communities, and media access. As I read I wondered where was the radical work? Why were only white students highlighted? In addition to this omission of these student projects, there was a lack of diversity in the interviewed leaders in the field ranging from program directors, to chief curators—many of these voices representing the usual suspects for social practice.

Grant's article ends with a sentence that is undoubtedly supposed to elicit a response and understanding in the reader about the new level of awareness that the students and artists working in this way have achieved, "They shuffle, reach, grasp the air, and ultimately open their eyes." If this is a practice that is truly woke I would hope that it would not continue to perpetuate the models of the dominant art world that continue to exclude women and people of color. In 2013 The National Museum of Women in the Arts estimated that 5% of artwork currently on display in the United States was made by women, and the famous Guerrilla Girls poster outlining the breakdown of artists in the 1991, 1993, and 1995 Whitney Biennials show that the numbers of women of color included in the art world are significantly less. Jillian Steinhauer's article for Hyperallergic titled, "The Depressing Stats of the 2014 Whitney Biennial" shows that sadly little has changed in almost two decades.

In

April the 8th

Open Engagement will feature Keynote speakers Angela Davis and Suzanne Lacy. This edition of the conference is the first in a trilogy that will explore the themes of POWER, JUSTICE, and SUSTAINABILITY,  2016 in Oakland at Oakland Museum of California, 2017 at University of Illinois at Chicago, and in 2018 back at the Queens Museum in NY.  Open Engagement has worked alongside practitioners and institutions to make sure that the conference symbolically and literally is as capacious as the art by spanning geography, recognizing spaces both inside and outside the academy, and embracing all people who are engaged in transforming the world through creativity and radical imagination. These struggles are continual and each year we acknowledge that this work is never done—that is the nature of social change.  As the Associate Director of the UIC School of Art & Art History currently developing socially engaged curriculum at a large public urban research university,  I hope that within this freshly institutionalized area of art making that has its roots in activism, social justice, and community organizing, the promise and values that I see in social practice will hold space in the art world for all of us. Before my own time at Portland State University ended I was told by an older white male tenured colleague that I had, "become too visible, and was taking too much credit for the work I was doing." If we can't shift these paradigms of oppression and fight these inequities within our own field, what hope do we fare when we take on the world?
Jen Delos Reyes is a creative laborer, educator, writer, radical community arts organizer, and author of countless emails. She is the director and founder of Open Engagement, an international annual conference on socially engaged art that has been active since 2007. Delos Reyes currently lives and works in Chicago, IL where she is the Associate Director of the School of Art & Art History at the University of Illinois Chicago.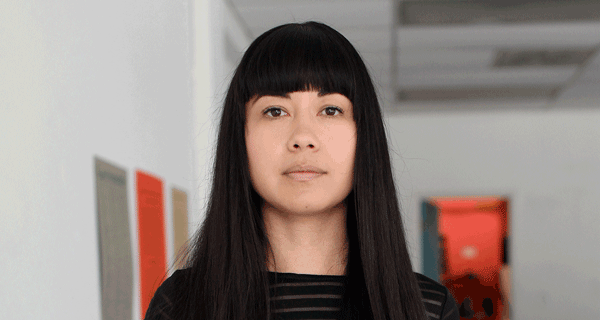 by Jessica Cochran
In her recent memoir poet laureate Elizabeth Alexander wrote of her deceased husband, "he left us with his eyes on the world." He was a painter.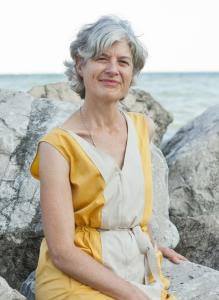 Deborah Boardman (1958 – 2015), who once described herself as a "painter and…" worked in Chicago for nearly three decades. We saw her "eyes on the world" through solo exhibitions at the Gahlberg Gallery at the College of DuPage, the Chicago Cultural Center, Ebersmoore, and, most recently, the Experimental Sound Studio to name a few that were local. There were many more nationally and abroad. An educator at the School of the Art Institute of Chicago since 1997, she influenced hundreds of artists, some of whom became her collaborators.
Deborah worked across painting and drawing, installation, writing, environmental sustainability and sound/video, and she often employed dowsers to "map" her installations. Through it all, she became known for her approach to color, pattern and poetic text as vehicles for emotional content and narrative potential, as well as a uniquely gestural approach to mark making and hand lettering. Years ago, Deborah was of the first Chicago-based artists I discovered utilizing the bookform in a way that I found captivating. And as critic Lori Waxman wrote recently, newer work addressing her struggle with cancer grappled with the unseen and ineffable, articulating "what life looks like in that gracious limbo between life and death."
Testimonial after testimonial gives evidence that Deborah's "fierce," visionary and "generous" creative ethic was not confined to her artworks, but also it governed the lived spaces of her life as an educator and collaborator: there are the students she engaged as her studio interns and treated like family; the friends with whom she sang joyfully in her living room and purposefully in the gallery; there were the women artists' reading and figure drawing groups in the early 1990s; a spectacular dance party at Oxbow; "meaty" collaborations over years and years, and the concurrent friendships that burned slowly and brightly; pivotal residency and art-making trips to India to learn things like Vastu and develop exhibitions like Magic Mountain at Bangalor and Rooting: India with Akshay Rathore and Tricia Van Eck for the Kochi Biennale. Morning walk after morning walk to Albion Beach with her beloved dogs. The students she taught to write grants, not to "overpaint" and to make artists' books. The yoga, meditations and gurus: she was a Catholic child turned seeker, spiritualist.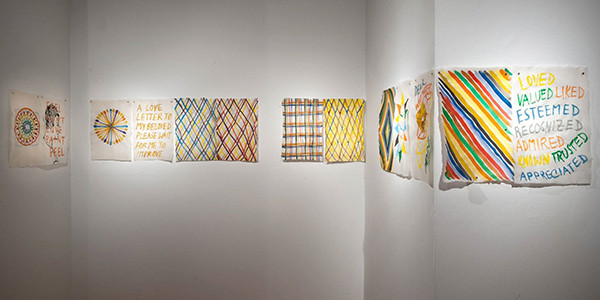 Perhaps the sum of the many, many contours of Deborah's art-making life is this: in each studio visit was an implicit gift; embedded in every syllabus was an invitation; in each collaboration an emergent provocation; and in every artwork a public offering, a lesson.
My relationship with Deborah grew over six years or so through some group shows I curated, periodic studio visits and friends in common. But was in the last eight weeks of her life that she, her family and close (and by close, I mean indescribably loving) friends invited me into the more intimate dimensions of her life to begin to do the curatorial work of considering her oeuvre, to embark on a deep engagement with her work in order to develop a retrospective exhibition down the line. To begin to locate the magnitude of her influence, position her output within a broader historical and social context, and to understand the genesis of her work over decades—is a project I am coming to understand through a new and fascinating curatorial lens and as my own biggest collaboration with Deborah.
Deborah worked through her final days of treatment and hospice—finishing her memoir, setting into motion plans for a new sound installation and making her last exquisite painting with the help of those at her bedside. By all accounts her fervor was punctuated with wit and that inimitable smile.
In an artist's book produced for a recent exhibition at 6018 North, Deborah wrote: "Xavier Le Pinchon, a plate tectonic expert, suggests that fault lines, the open spaces between the plates in the earth's crusts are… analogous to human frailty. Because we are vulnerable, we find it necessary to depend on others for survival. It is through our vulnerability that we bond with others and thrive."
Deborah's work had many facets, but it is her brave articulation of her own perceived faults, frailties and vulnerabilities—her commitment as an artist to learning in public—that will demand of us and viewers of her work for years to come a deep reciprocity, a Deborah-like generosity. Through these exchanges—made possible by the "work" of her artwork—she will live on and her ideas will continue to shape the world in meaningful, collaborative ways.
Bad at Sports would like to congratulate the 2015 Propellor Fund Grant Recipients! 
Propeller Fund proudly announces the fifteen grant recipients for 2015. Selected from a pool of over one-hundred candidates, these small, self-organized, and radical projects are vital to Propeller's mission of encouraging more varied models, spreading these activities into more diverse areas, and to spark ambitions beyond current formats in Chicago's visual art world. Propeller Fund offers $50,000 (five grants at $6,000 and ten grants at $2,000) annually to artists producing a wide range of public culture.
Propeller Fund recognizes that such independent artist-organized events, informal roundtables and workshops, collectively organized exhibition spaces, and publishing endeavors constitute a large catalyst for the creative activity and vitality of the Chicago visual art world. These projects are responsible for much of the complexity and richness in the art community.
Propeller Fund 2015 Award Ceremony and Reception
This year's recipients will be recognized in an award ceremony on Wednesday, November 18 at the Jane Addams Hull-House Residents' Dining Hall. Join grant recipients and the community to celebrate with food, drink, and a reception.
Wednesday, November 18, 6–9pm
Jane Addams Hull-House Residents' Dining Hall
800 South Halsted Street
Chicago, IL 60607
Award Ceremony: 6:30pm
Awardee Reception: 7–9pm
Free and open to the public
Propeller fund would like to thank this year's distinguished jury: Jen Delos Reyes, Associate Director of the School of Art & Art History at UIC and Founder and Director of Open Engagement (Chicago, IL); Deana Haggag, Director of The Contemporary (Baltimore, MD); Nicole Marraquin, Artist, Co-Organizer of Multiuso, and Associate Professor of Art Education at SAIC (Chicago, IL); Meida McNeal, Artistic/Creative Director of Honey Pot Performance and Arts and Culture Manager for the Chicago Parks District (Chicago, IL); and Astria Suparak, independent curator and author (Pittsburgh, PA). And much appreciation to the Andy Warhol Foundation for the Visual Arts, funder of Propeller Fund through its Regional Regranting Program.
2015 Awardees
$6000
BRUJOS (Stephanie Jeter, Ben Kolak, Ricardo Gamboa)
BRUJOS is a queer-of-color, radically politicized web series following four gay Latino doctoral candidates—that are also witches. They navigate magic, sexuality, and surviving a witch-hunt led by a secret society of white heteronormative male descendents of the first New World colonizers. BRUJOS blends Latino soap opera and U.S. sitcoms to deliver 12, seven-minute episodes developed through queer men of color testimonies, interviews with magic pracitioners, and cultural studies academics. In a world conditioned by white supremacy and inequality, BRUJOS makes visible people and ways of life that have been made invisible by dominant culture and mainstream media.
filmfront (Alan Medina, Malia Haines-Stewart, Alyx Christensen, Rudy Medina)
filmfront is a multidisciplinary project that uses the exhibition of film, video, and new media from around the world and down the street to facilitate exciting, challenging conversations that are open, free, and accessible to everyone. Curation is based on a collaborative model of programming in which artists, curators, and free thinkers are invited to work together to create exhibitions, interactive projects, performances, workshops, and lectures open to the community.
Floating Museum (Faheem Majeed, Jeremiah Hulsebos-Spofford, Andrew Schachman)
Floating Museum is a mobile exhibition structure and structural interpretation of the DuSable Museum of African American History that will move by land and water through the city of Chicago in 2016 and 2017. The project blends creative place-making, activism, and exhibition design to make a platform for conversations, art viewing and community engagement.
https://museumfloating.tumblr.com
In the beginning, sometimes I left messages in the street (Allison Glenn)
In the beginning, sometimes I left messages in the street is a public art exhibition that couples artists and practices with the materiality of the built environment. Through the use of junior billboards, sculpture, performance, media, and sound, the artists in the exhibition will consider landscape and the built environment, encouraging viewers to traverse rich and varied expanses of the city.
Report to the Public: An Untold Story of the Conservative Vice Lords (Benneth Lee, Lisa Junkin Lopez)
Benneth Lee will organize film screenings and train young people to lead tours expanding upon the exhibition, Report to the Public: An Untold Story of the Conservative Vice Lords. By training former gang members to become community docents and targeting youth audiences, the project demonstrates that young people in gangs are capable of addressing the most challenging issues in their communities. Report to the Public draws upon the thesis that gang members, like all of us, have "multiple, conflicting identities" and that we must affirm their positive identity formation in order to decrease violent and destructive behavior.
$2000
The Chicago ACT Collective (Sarah Atlas, William Estrada)
The Chicago ACT (Artists Creating Transformation) Collective is a diverse collective of artists creating work to support movements, struggles, and communities in Chicago. Through a partnership process, this project generates art that reflects on and responds to current and local needs identified by those most impacted. This project has many facets—building a collective of socially and politically engaged artists, forming partnerships with grassroots organizations and social justice movements, and producing prints, graphic arts, and visual campaigns for social change that promote collaboration and dialogue across multiple communities.
Fielding (Amber Ginsburg, Sara Black, Billy Dee)
Fielding is a collaborative art and design practice, a youth workshop series, a design/build service and a social justice initiative. Fielding leads workshops for girls, young women and gender variant youth to design and build structures while learning to use woodworking tools competently and confidently. In addition, a diverse core crew of skilled women and gender variant carpenters will respond to invitations (local, regional and international) to design and construct building projects.
Freedom Dreams (Alice Kim ) 
Freedom Dreams is a project that creatively connects Illinois prisoners serving long-term sentences with local and national artists. Their writings and visual art will be featured in a multi-media exhibit and series of events centered on the question: What does freedom look like?
HAIR CLUB (Suzanne Gold, Kelly Lloyd, Michal Lynn Shumate )
HAIR CLUB is a growing community of artists, writers, and scholars whose aim is to conduct a collaborative inquiry into the multi-valent topic of HAIR in our wider culture via conversation, publication and meaningful programming, and organizing HAIR-centered work across medium and discipline into thematic publications, exhibitions and events.
https://www.facebook.com/hairclub
Kitchen Space (Traci Fowler, Trevor Schmutz, Mirko Velimirovic)
The organizers of the project/exhibition space Kitchen Space will develop a cookbook that provides readers with a variety of recipes for main dishes, appetizers, drinks, etc. from the unique perspective of two artists who have to combat monthly exhibitions in the very kitchen they cook their meals.
https://www.facebook.com/kitchenspace
One Room (Kate Thomas, Devin Pendergast, Kitty Conde, Jessica Rosenbaum, Roxy De Luca, Jeanne Walker)
One Room is a social practice project that invites the public into conversations with CPS artist-teachers to playfully explore the complexity of a teaching practice within our current climate of constraints and monitoring. Artist teachers in conversation with the public will generate creative approaches to systemic problems.
Paper Work (Third Object: Gan Uyeda, Ann Meisinger, Raven Munsell, Elisabeth Smith)
Paper Work is an exhibition organized by Chicago-based curatorial collective Third Object that, through a central exhibition site and office-bound satellite locations, explores a range of current artistic responses to notions of bureaucracy, administration, and the ordering of information.
Social Furniture (John Preus, Jamie Kalven )
Social Furniture produces 2x4s out of materials salvaged from closed Chicago Public Schools. Working with Lathrop Community Partners and the Invisible Institute, we will work to develop projects that provide both a source of income for Lathrop residents and a forum for developing relationships between the developers and the residents. The 2x4s are both literal and figurative building materials to produce new structures.
UnJustified (Jacob Klippenstein, Crista Noel, Ric Wilson, Teresa Campagna, Deonta Terry) 
A series of screenings and discussions will debut a series of UnJustifiable mini-docs. The series will provide a retrospective and prospective look at Chicago Police violence from the 1800s to the present with a timeless focus on educating and engaging Chicagoans especially youth through dialogue led by community elders, analogue, and digital media.
W.A.R.P. Westtown Artist Residency Program (The Weaving Mill: Emily Winter, Matti Sloman, Eva Joly, Monika Kimrey, Envision Unlimited, and more)
W.A.R.P is a series of short-term residencies at The Weaving Mill, a small-scale production mill in Humboldt Park. In partnership with Envision Unlimited's Westtown Center, The Weaving Mill pairs artists with developmental disabilities with visiting artists from the wider Chicago community. The groups are guided through a series of workshops that allow the artists to approach an unfamiliar industrial textile technology together.
About Propeller Fund
Launched in May 2010, Propeller Fund is administered jointly by Gallery 400 at the University of Illinois at Chicago and threewalls. Propeller Fund provides grants to artists, curators, and groups living and working in Cook County, Illinois, and seeks to support projects that are independent, informal, and self-organized. Propeller Fund receives support from Andy Warhol Foundation for the Visual Arts through the Regional Regranting Program.
Further descriptions of Propeller Fund projects can be found here.