This weekend, Every house has a door will be performing their original work, Mending the Great Forest Highway, on February 15 and 16 at 8pm, and then again on February 17 at 7 pm as part of the IN>TIME festival at Links Hall (3435 N. Sheffield Avenue) $15 general/$10 students. For information on this and other upcoming events, please visit IN>TIME's website. You will find an interview between myself and Matthew about this same piece on the Art21 blog here. More recently, Matthew submitted the following piece of writing about MTGFH's latest iteration. – B@S
Returning to They're Mending the Great Forest Highway
by Matthew Goulish
When people ask about the name Every house has a door, I say it has to do with aesthetic hospitality. In a sense the name stands as an invitation, and the invitation takes two parallel courses. First, each performance as a project assembles a team of specialists in response to the specific demands of that performance's set of ideas. In this way, the company remains open like a house, and collaborators come and go like visitors. Second, each finished performance demonstrates our ongoing interest in separating the elements of performance and weaving them in some configuration particular to that work. Different aspects of the work may appeal to different audience members. In this inflection, each mode offers a different door, standing open for a different audience member as an invitation into the house of the performance.
We made a performance called They're Mending the Great Forest Highway. The Chicago Dancemakers' Forum supported the original version, because choreography lent this work its core. We borrowed the title from a song by the twentieth-century composer Béla Bartók, but the choreography derived from his trio for clarinet, violin, and piano, Contrasts, composed in 1938 in response to a commission by Benny Goodman. We had the idea that three men would dance the parts of the three instruments, transposed from music to movement, adhering to the composition's precise timing. Brian Torrey Scott danced the part of Benny Goodman's clarinet, and John Rich that of Joseph Szigeti's violin. We listened to the original recording by those great musicians, with Bartók himself on the piano. I claimed that part for myself. It was only fair. I had worn out the record through repeated listening in my undergraduate years, and already had it nearly memorized.
We presented the piece at the Holstein Park field house gymnasium in June 2011. Lin Hixson had guided the three of us in the first months of rehearsals, giving us directives for generating movement to retrofit to the score. The directives suggested a second degree of translation from the music; for the first movement: a dance in daylight, movements of labor, social/club movements, army recruiting song; for the second: sounds of a summer night in the country; the flitterings of nocturnal frogs, automatic insect chirping, a bird taps its beak on a hollow wooden tree trunk … concentric circles … restful … volcanic … human singing rises from far away in the darkness; for the third: the fast dance, furious, interrupted, side-slipping tri-tones reminiscent of the end of Berg's Wozzek.
We invited Charissa Tolentino to compose a score that combined found sounds and samples with original sonic inventions, and to present this live, sharing the stage like a DJ with us dancers. This music, twice removed from Bartók's composition, responded to the movement, largely free from the score's constraints, but retaining its broad structure.
Finally, Lin and I collaborated on the writing of an extensive prose introduction. For this part, she, the director, would speak directly to the audience, detailing our intentions and processes, as well relating relevant, if somewhat fictional, autobiographical background from her director's notes and journals. Lin would not deliver this herself, however. Instead we invited Hannah Geil-Neufeld, a young performer whom we had known since she was a child, to perform the part of the director Lin Hixson. We had in mind a contemplation of youth and aging, with which the introduction concerns itself, as well as that strange area in which the familiar becomes just unstable enough to appear unfamiliar. Hannah returned to conclude the piece, after the roughly 21-minute dance, with an epilogue that included all the performers in the staging of the last moment's of Büchner's Woyzeck, taking those liner notes literally. Guided by the tone of Hannah-as-Lin's semi-autobiographical monologues, a tone lifted from the dual inspiration of J. M. Coetzee and Robert Bresson, the piece somewhat unexpectedly became an indirect meditation on the fraught and sometimes brutal relations between generations, the anxieties of production and reproduction.
We finished the dance today.
It's called They're Mending the Great Forest Highway.
I didn't think it was about mending when we started. I just liked the title.
Now think that thinking that – that the dance was in fact about mending after all – was what stopped me there on the sidewalk in the rain.
So says Hannah-as-Lin near the end. Each element – words, dance, music – had their own life, their own independence on the stage, no one of them as  accompaniment to another, and often not even happening at the same time. Each performer, or set of performers, had been delegated to one of these modes. I hope the house/door metaphor is clear now. To divide the finished performance from the process of its creation is largely an artificial exercise, but one that helps clarify our intentions and the work's meanings and energy. The introductory speech makes some audience members impatient for the dance to begin. Others concentrate on the music as central, and still others need the words as their anchor. The piece asks everybody to assemble the parts into a coherent whole after the 65-minute structured sequence of their presentation.
Now we return to the piece for three performances at Link's Hall on February 15, 16, and 17, as part of the IN>TIME Festival, and with the support of an Illinois Arts Council fellowship. Brian Torrey Scott has moved to Providence, Rhode Island. Jeff Harms has taken over the violin part. Charissa Tolentino has also departed the piece. Now Liz Payne performs the DJ role, with her own original sound composition. In this series of rehearsals, Lin has asked us to revisit the third movement's choreography. She put it this way in an email from January 2nd:
Dear Jeff, John, and Matthew,
At our next rehearsals, I would like to work on new choreography. Below are YouTube sources for these new movements, divided between Lower Body and Upper Body. I used the Mending video from Holstein as a reference to locate the choreography I'd like you to change, embellish, or hybridize. Many, many thanks, Lin
Jeff
30:57 – 31:35
Embellish the repetition of this movement using the Lower Body sources.
John and Jeff
31:56 – 32:24
This is after the shaving bowl move and around 28 seconds of material. Keep all your timings and positions in the space but consider using a different vocabulary from the Upper Body sources. So, for example, if you are doing something together this would remain. What you are doing would change.
32:24 – 32:35
Matthew – replace somersault
Jeff – replace head movement
Both using Upper Body sources
Jeff
32:36 – 32:49
Embellish leg slapping using Lower Body sources
Matthew, Jeff, and John
37:43 to end
Keep positions in space and timings but change the vocabulary using Lower Body/Upper Body sources

Lower Body Sources
Hungarian Folk Dance

Arms/Upper Body Sources
William Forsythe

Solo – William Forsythe from Tom Balogh on Vimeo.
See a longer version of Forsythe's Solo here. 

Lin sent three links for each source, but I have only included one of each type here. I asked the performers about their thoughts on returning to They're Mending the Great Forest Highway. John responded with this paragraph:
I counted my jumps one day. There are several hundred – not big jumps, mostly hops. I did not realize this in making the piece, did not realize it even until well after we finished and someone pointed it out. The dance acts as an accumulation that way. It is a complex field, but it is built by simple acts.
Jeff Harms wrote this:
The way in which I am finding the meaning of the piece is a physical process, born of patience and repetition. It seems that the art world often replaces meaning with "intention", as if we were all in art school, or as if we all agreed on the path or even method art should use. The methods of Every house seem to be humble in this regard, and I think it's for that reason, if we do succeed here, it will be a rich and meaningful experience for the audience.
In the years since we began working on this piece until our February performances, Hannah will have nearly earned her entire undergraduate degree from Macalester College. She answered this way:
What is exciting to me about They're Mending the Great Forest Highway is the realization that one can mend something without being entirely sure of what one is mending.
We have been working for almost three years now to mend something that was not one thing to begin with.  This is like darning a sock that does not exist before one begins to darn.
Bodies engaged in speaking the thoughts and dancing the labors of other bodies is, I think, necessarily an act of mending, regardless of the thing being mended.
We prepare for February by rehearsing, I imagine the way musicians would, our collected movements, playing and replaying them alongside Liz's composition, to fix in the mind and body these odd new aggregates. In his book Music and the Ineffable, the philosopher Vladimir Jankélévitch wrote of how a musical work does not exist except in the time of its playing. Can one say the same about a work of performance? He further distinguished that one does not think about music as much as according to music. With that in mind, please click the link below to hear a sample of Liz's composition, from the second movement of They're Mending the Great Forest Highway.
Thanks, and see you soon.
Matthew Goulish, dramaturg

[soundcloud url="http://api.soundcloud.com/tracks/75059086″ params="" width=" 100%" height="166″ iframe="true" /]

Matthew Goulish co-founded Every house has a door with Lin Hixson in 2008. His books include 39 Microlectures – in proximity of performance (Routledge, 2000), The Brightest Thing in the World – 3 lectures from The Institute of Failure (Green Lantern Press, 2012), and Work from Memory: in response to In Search of Lost Time by Marcel Proust, a collaboration with the poet Dan Beachy-Quick (Ahsahta, 2012). He teaches writing at The School of the Art Institute of Chicago.
For my time in Kansas City, I have created for myself a program of full emersion. I am doing my best to live, learn, read, hear and see this city inside out. From my outsider-on-the-inside position, I am looking deep down inside of Kansas City for themes currently pulsing through its contemporary art and culture scenes.
My first day at work, my boss and Charlotte Street Foundation Co-Director Kate Hackman loaned me The King of Kings County, an extraordinary novel by local author Whitney Terrell. Teenager Jack Acheson, this book's loveable narrator, takes the reader on a vivid journey that roars through mid-century downtown Kansas City, Missouri, into the development of its expansive Kansas suburbs.  In the mid-1950s, Alton Acheson — part con man, part visionary, and Jack's dad — begins developing Interstate 70 and building a suburban empire as the freeway exits the city amid the cornfields of Kings County, Kansas. As Alton bluffs his way into prosperity, Jack becomes an accomplice to his grand ambitions. But when greed, corruption, and organized crime combine to create an urban nightmare instead — abandoned buildings, ghettos, and slums — Jack is forced to reexamine not only his father's legacy, but also that of his city and its community. Though fictional, this incredible story draws extensively from a sordid history of urban culture, as well as the race relations and class conflict that come with it, to examine the making of Kansas City's so-called American Dream, one whose contradictions continue to surface in every American place to this day.
One reason I find The King of Kings County so fascinating is that the story and Jack Acheson could be based in any city.  Chicago, Philadelphia, Detroit, Houston, among others like Kansas City, have dreamed the big dreams of industrial Modernism to simultaneously magnificent and disastrous results. To me, a Midwesterner but non-native, Kansas City's artists and cultural organizers seem eager to seriously investigate, to look deep down inside of their hometown in their efforts to explore it inside out. (Since this is my first Bad @ Sports blog post and because they are thematically relevant, please forgive me two bits—another to come in the next paragraphs—of shameless self-promotion:) With this observation in mind, I curated Have I been here before? this past November, my first exhibition for Charlotte Street Foundation's la Esquina gallery. Through images, writing, and events, this show wondered whether Kansas City 'places'—some strictly based in Kansas City, some less so—could be those that make up any town. Have I been here before? set up some interesting questions for me (and I hope for the audience): Even with rigorous study and years of analysis, can one truly know a place? And furthermore, does one's knowledge of that place color their understanding of every place?
Jill Downen, an artist who recently migrated West along Alton Acheson's I-70 from St. Louis to Kansas City, understands places by their insides. She looks deep down inside to see the architectural bones and tendons that make up a location's structures. In many cases, those insides are sculpted, agile muscles trained to carry the weight of societies for years to come. In others, insides are aged and weak, crumbling under those same societies and the changes, like those led by Alton, they impose. For the most part, Downen recreates these insides full-scale, filling whole rooms in galleries and museums across the country with few giant sculptures. Opting for a bit more intimacy in Three-dimensional Sketchbook, the artist's first solo show in her new hometown at PLUG Projects, Downen has set up a series of small-scale models that invite viewers to look deep down inside both structures and her studio practice. With each miniature architectural ligament or joint, this installation shows just how hard Downen studies, analyzes, and tries to know a place.
(Second and final shameless self-promotion you have to forgive me for:) Composite Structures, the second show I have organized for la Esquina, features contemporary artists who meditate on the designs and architectures of Bauhaus Modernism and the International Style. This exhibition consists of two parts: Mending Fences, curated by yours truly, which showcases Midwestern artists who apply multiple layers and manipulations—some conceptual, some formal—to the ideas of Modernist architects which feature prominently within the Midwestern urban landscape; and Low Accumulations, curated by Los Angeles-based curator and co-director of Actual Size L.A. Lee Foley, which includes Los Angeles-based artists who use assemblage and design to reflect a post-structural viewpoint and an urban sensibility unique to Southern California. In these paired presentations, we the curators show how artists and architects alike investigate places inside out in their efforts to know what of any given place works and what does not, what can be carried forward, and what must be left behind, cast out and/or obliterated for its failures. As the title of this show suggests, these artists rely on their own expert knowledge of the legacies of older places to create new and improved ones.
Much like Jack Acheson, Kansas City-based artist Anthony Baab reexamines the legacies of places that enjoy legendary status in art and architectural history. Baab looks inside out, on top of, from behind, and underneath the dense structures that make up any given place and its monumental systems—sculptures, buildings, cities, and so on. For his solo exhibition A Strenuous Nonbeing on view now at Grand Arts, Baab documented a number of places, extracted from them certain architectural elements which he then layers together to build/rebuild another place (a gesamtkunstwerk much like Kurt Schwitters's Merzbau) of his own volition. This presumably giant structure is as much like every place you have ever been as it is like no place you have ever been. However, the viewer never actually experiences this new structure firsthand because Baab presents it only through photographic and video documentation. With this process that only allows mediated looking, Baab illustrates that no matter how closely, critically, exhaustively one tries to look at a place, whether it be Kansas City, Los Angeles or Berlin, one can never truly know it because time, space, and humanity always render it new and unrecognizable.
Though perhaps in vein, I am willing to continue to search deep down inside Kansas City in my efforts to recognize the unrecognizable before time turns it into something else altogether.
-Jamilee Polson Lacy, Charlotte Street Curator-In-Residence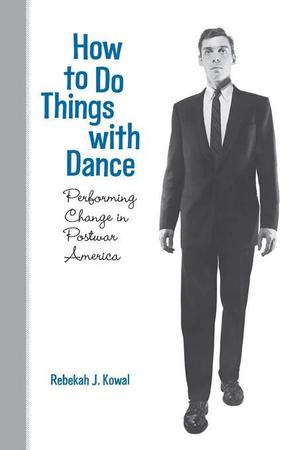 This post initiates what I hope will be a series of posts made in response to the question: "What can be done with dance?". The question is taken from the book, "How to Do Things with Dance: Performing Change in Postwar America" by Rebekah J Kowal. In the book Kowal suggests that the political potential of choreography to enact real societal change exists as much on the street as it does on the stage. I won't go into too much detail about the book, as I will be posting an interview with Kowal shortly, but I would like to linger a little while on this question of doing. Following Kowal's lead I would like to consider the potential of dance as extending beyond the "power of embodied action". Let us take for granted, just for now,  this particular kind of power in bringing about experiential or social change in order to consider other aspects of dance. Like poetry, dance is a way of making graspable what might otherwise elude us. It is a way of capturing the wordless sensations that arise in the body at any given moment.
While I may be inclined, from time to time, to believe that what constitutes the world is nothing more than a series of words, names really, I am also quick to point to the pleasure of unknowable sensations or passions. This is what dance does. It gives us access and makes available that which we feel but do not know. Choreography, in this vein, is a way of working with newly acquired bodily knowledge. In this way, dance is perhaps more grounded than poetry, in that what is being expressed is rooted in the architecture of the body. This of course only leads us to more questions: What is the relationship between the architecture of the body and the space in which it moves? and in the context of my initial inquiry, how might dance help us re-imagine this relationship?
Very often, when speaking about performance, we speak of the space of the event. That rather fluid relationship between the invisible boundaries of the performance arena and the bodies that occupy it. This is the basis for many conversations concerning theater, dance, and other body-based performance practices. Conceptions of space, as they attempt to describe a kind of container, allow for the conceptualizing of bodily volumes. They allow us to speak of the mobility of bodies as it pertains to the environment in which they move. While there is certainly a value in thinking of the relationship between the body and space as one of volume to container, it is also problematic in that it most often privileges an unrealistic idealized body.
Space as it exists conceptually promotes an occupation of itself by a certain kind of body. A body that is best represented by the athletic body. While this may not be the image of interest for most performers the image of the idealized body has a particularly strong hold socially and is continually circulated through the design and conceptualization of space. Day to day routines are policed by the proportions of the spaces in which they take place. Door frames, floor tiles, counter tops, the boundaries of our movements are dictated by standardized measurements. Proportions that are more often than not disproportionate to the bodies that they contains. So internalized are these dimensions that they are manifested non-consciously in the very way that we imagine space around us. To overcome these biases and to allow for other or differently abled bodies is to reconceptualize the relationship of the body to space.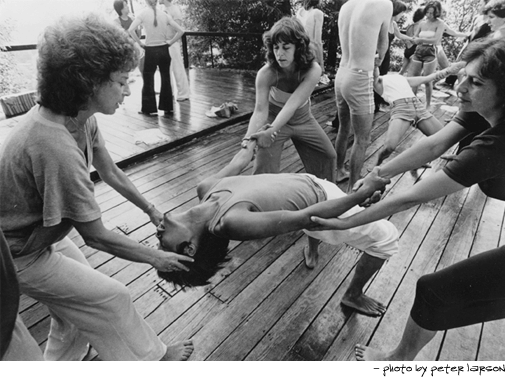 The dancing body is not immune to these prejudices but dance as a practice of acquiring new insight, new knowledge, allows us to use the body to think around our internalized prejudices. The dancing body, for example, does not occupy space so much as facilitates a collaboration between space and the body, it pushes itself against the space that envelops it and in turn that space pushes itself against the body. The body leans against the wall and the wall leans away. Weight is distributed, balanced and shared. The dance is made in collaboration with its environment. It is in this spirit of collaboration, that we begin to find the seedlings of a new way of identifying the performance space. With this dynamic relationship in mind the dancer imagines space as the limbs of another dancer, the back of a chair, the side of the body, an immobile leg, a sleeping hand. The imagination then elaborates and the process of choreography itself becomes about finding ways to express two sets of information, the choreographers and the dancers, and in so doing the hierarchy of values that determine the acceptability of bodies has begun to disintegrate in the wake of collaboration. We have used dance as a practice and a metaphor to circumvent internalized prejudices and to imagine new ways of being in space. I am reminded here of Cornel West's description of Percy Shelly's poet.
"He is talking about all human beings who decide to muster their imagination and empathy to conceive of a better world, given the social misery and suffering of this world."  
Perhaps, this is what we can do with dance.
– Anthony Romero
by Abraham Ritchie
When is the proper time to review an exhibition? It's a seemingly simple question that has become complicated because of another question: what constitutes an exhibition? Concluding on February 17, the Industry of the Ordinary's sprawling retrospective Sic Transit Gloria Mundi pushes these questions to their limits, mirroring the shift in contemporary practice from traditional expectations.
Industry of the Ordinary (IOTO) is a collaboration between artists Adam Brooks and Mathew Wilson, and as this exhibition demonstrates, IOTO is also a collaboration between their collective and other artistic collectives, the artists and the viewers, the artists and the general public. The objects on view reflect these interactions: photographs document various interactions both with a participating audience and with the unsuspecting public; an entire section is set apart by a kind of wooden mobile home-like structure that contain contributions from a healthy percentage of Chicago's art world.
Given the artists' wide-ranging connections to the art community it seems relevant to say that I have almost no connection to IOTO aside from meeting Mr. Brooks twice. However Bad at Sports as an entity does, and so may some of its constituent members, depending on the person.
Throughout the course of the exhibition, framed as a mid-career retrospective, a multitude of events have been scheduled and taken place. These have spilled out of the main exhibition hall into other galleries, into the interstitial spaces of the building, and to other locations throughout the city. They've branched off into multiple sub-events—the month-and-a-half performance series from the Happy Collaborationists featured no less than seven artists.
It should be abundantly clear that these events are to be considered just as much a part of the exhibition as the physical objects on display, which are themselves often documents of those events. Certainly a visit to the Chicago Cultural Center could yield a variety of experiences depending on the day, and the gallery has refigured itself over the course of the exhibition. A recent visit on a weekend day was the kind of experience that would be typical of a mid-career retrospective, with documentary materials and art objects occupying the space, whereas at the opening the art itself was set in motion, literally being actively created.
The crucial point above is that the exhibition becomes self-generative and therefore is not complete until the end. This is, of course, in contrast to the traditional art exhibition that is at the outset self-contained and complete. Therefore, one can only review and assess an exhibition like this at the end, when all of these elements have been realized.
This seems to be the essential point that the Wall Street Journal ignored to their own detriment.
Guest Post by Jane Jerardi
Miguel Gutierrez comes to the Museum of Contemporary Art, Chicago this weekend with one of his newest works, And lose the name of action.  The evening-length piece features a striking cast of note-worthy performers – Michelle Boulé, Hilary Clark, Luke George, Miguel Gutierrez, K.J. Holmes, and Ishmael Houston-Jones. Inspired by Jørgen Leth's film The Perfect Human, the elusive logic of dance improvisation, philosophical quandaries about the brain, and the 19th century spiritualist movement, the piece draws connections between the analytical and the unexplainable, grappling with the limits of language and the ever-present spectre of death. It features music by Neal Medlyn, lighting design by Lenore Doxsee, and film/text by Boru O'Brien O'Connell.
Often cited as a provocative voice in the contemporary dance and performance scene, Gutierrez — like many in his generation — works across mediums.  His poems appear as published performance texts and he designs solo performance works as well as projects with collections of performers and collaborators under the moniker the 'Powerful People.'   A Guggenheim Fellow, his work has appeared as such venues as the Festival D'Automne in Paris; the TBA Festival/PICA in Portland, OR; the Walker Art Center in Minneapolis, MN; UNAM in Mexico City, and ImPulsTanz in Vienna, among others. Equally admired as a teacher, he has built a following for his improvisation/choreography classes as well as his 'DEEP Aerobics' workouts. In mid-January, I met Miguel Gutierrez at the Abrons Arts Center amidst the first weekend of the American Realness Festival – an annual festival of contemporary dance and performance in New York. We chatted in a quiet spot near the dressing rooms about his upcoming engagement at the MCA – including the powerhouse cast performing, the ghost hunt they went on during a residency to build the work, and the limits of language when it comes to dance.  Here are some excerpts from our conversation…
Abrons Arts Center, New York, NY, January 13, 2013
Jane Jerardi: Maybe first we should start first with you just talking a bit about the genesis of the project you'll be performing at the MCA, And lose the name of action?
Miguel Gutierrez: Sure.  I think I'm going to paint my nails as we do this [pulls out two shades of blue metallic nail polish] if that's okay with you.
JJ: Sure.  Talk about mind and body…!
MG: It feels like the right question to paint your nails to…  Well, the piece really came out of a couple of things.  In some ways it was an extension of Last Meadow [Gutierrez's previous piece], which is unusual for me, because usually when I finish a piece I want to change gears.  But, by the time we got around to finishing Last Meadow, I realized I was only beginning to understand what I was doing.  Towards the end of the project, I was introduced to this book The Meaning of the Body, by Mark Johnson, which calls for getting rid of the mind/body split, once and for all.  It's beautifully stated, but reading it as a dancer, there was a moment where I thought, "This seems fairly obvious."  For a person who has any kind of relationship to somatics, you of course recognize that the mind and body are connected; that perception is an embodied practice, and that all contexts are experienced through a sort of corporeal interaction. I thought to myself, This sounds like a contact improv class. And I thought, why is this new? I think it was that initial indignation that led to the piece. I felt like why isn't this something that is known?  The second impulse for the work, was my dad.  My dad had a series of neurological problems in 2008.  He had a series of blood clots in his brain that were note properly diagnosed for several years. He had stroke-type things and then seizures, which then progressed during my research for And lose the name of action.
JJ: That sounds scary.
MG: Aside from the fact that it sucked, I think a couple of things came out of it. Here was a person I knew in a certain way, and suddenly he was changing. It sounds sort of basic, a basic experience of change. I say basic, but it was a quite radical. Suddenly, I was subjected to doctors telling me, This is what's happening, This is what's not happening – but no one knows what's happening. Everyone is guessing.  You start to see that that the way we constitute a sense of self and reality are deeply subjective. And, out of your control. You're in the hospital with your dad and there's nothing you can do, aside from being present.  At the time I was thinking, "What is it that I can offer here? As a dancer? As a person with some naïve study of somatic practices?" I can be present.  I can be an emotional support. I can be resonate and present in a way that is specific to what I do. It felt clear, but I felt very conscious that I don't share a language with these doctors.  I can't assume they know of specific somatic practices or say, "Hey, have you heard of the Feldenkrais Method?" or "Do you know about Body Mind Centering?"
JJ: You realize how marginalized some of these movement practices are.
MG: Absolutely. I mean marginalized isn't even the word.  They're invisible. I started to see how when people talk about brain, they are talking about mind. Lots of words are being used interchangeably.  There's a lot of lack clarity in definition between disciplines.  How is it that we have the same vocabulary but we aren't using words in the same way?  I started to examine the value system around my teaching and practice.  What is valuable about an improvisational performance practice?  It is a kind of knowledge and a way of knowing, but quite different than other modes of knowing.  And I though about Why am I so invested in this 'unknowing knowing'?  Why am I so mistrustful of alleged truths? That was all the stuff that led me into And lose the name of action. Then, I started thinking about ghosts and the paranormal. What about an immaterial body?  What about a discipline of study that doesn't even presume that the body has to be tangible anymore? When we had our first residency we went on our first ghost hunt.
JJ: Tell me about that.
MG: We went on this ghost hunt with paranormal investigators–crazy ladies in Tallahassee, FL…  which sounds funny, but are these 'paranormal investigators' wrong?  For them, it is true.  If they see a ghost or hear a voice, if they're having that experience, then that's their embodied truth.  That's what's going on here in this conversation of perception and truth. If I experience my father as my father even if he's in a coma, is he not my father? If I feel that this is blue [pointing to his nail polish] and this is a lighter blue than the other blue [pointing to another bottle of darker blue nail polish] and I have a certain feeling about it. Am I wrong? Because there's actually no way for me to definitely know how blue this is.   It's all these kinds of…
JJ: Big questions.  Really big questions.
MG: So, yeah [laughing] that's what the show is about.  [Joking] It's just about a couple small things…
JJ: So how did this all play out in your explorations in the studio?
MG: A lot of talking, a lot of improvisational exploration… In the piece, the bodies are the proof of themselves.
Because of the way that the piece exists – even though the audience is onstage, even though people are really close to us – it feels like something is at a distance. I had originally thought it would be really great to make a piece that didn't involve bodies at all.  I mean why do there have to be bodies?  It's so weird and silly – why are there bodies on stage at this point in history?  Can't we just go…
JJ: Totally virtual?
MG: Yeah – not even virtual or holograms – but… there are people that are doing that – work that's about post-human bodies – but, I am still invested in the interpersonal dynamics of being in the room with people. That's what keeps me interested in my work.
JJ: I think it goes back to the value thing.  What's at the core of what you do?
MG: And where do you build knowledge? Where do you build a sense of how you understand things and how you perceptively locate yourself in the world? When I look at dance, I can understand it. What does that mean? Not one specific, concrete meaning.  Rather, as I'm watching the dance, I am understanding it and grappling with comprehension.  And that perceptual act becomes a way to construct meaning.  That doesn't necessarily translate easily into language. I mean I like words. I can talk. But, dance actually offers another perceptual experience in time. I don't think this is exclusive to dance, either. Mark Johnson argues that reality is actually an aesthetic experience. He doesn't use this exact language – but we're choreographing our way through our lives. And, that feels really powerful in relationship to what performance or a body in action can do. It doesn't always happen. Most of the time, dance is written about exclusively as a visual rendering but, that's not the whole picture…
Working with Deborah Hay was pretty instrumental for me.  Something she would say is, "The movement is just a costume for perception."  And, I feel that's really true. That's my experience of dancing actually…  So much of what intrigues me about dancing is about contending with myself in the moment.  And all the fucked-up-ness of that question.
JJ: "Contending with things in the moment" is the way that people talk often about improvisation. You're working with a pretty incredible set of improvisers as collaborators performing in the work.  I wondered if you wanted to talk a little bit about that?  I mean it's a very diverse, powerhouse group of people.
MG: Yes.  I wanted to have a group – well first, that weren't all young 20-year olds.  I wanted a diverse age range for this piece.  I hadn't worked with a group of people who were older than me before.  And, I wanted a group of improvisers who could own themselves in a very clear way. I wanted to work with people who seemed restless or curious.  And, I feel like that's pretty true of this group!
JJ: So, you're working with Michelle Boulé…
MG: Hilary Clark, Luke George, KJ Holmes, and Ishmael Houston-Jones.  At first, I was a little like – oh my god, who am I to tell these people what to do? It really did feel that way.  Which was great, because I wanted to be challenged directorially.
JJ: It seemed to make a lot of sense to me because you're dealing with a kind of big existential topic – life and death, philosophical truths such as 'person-hood' and 'being.' It requires a certain maturity.
MG: Yes.  It feels important that the audience is looking at people who have contended with things. I also think that I was going through something about casting in general. This thing that often happens in the dance field is people don't take into consideration the representational value of the bodies that are there.
JJ: Which is kind of saying, maybe the visual does matter.  The way that we read bodies matters.
MG: Absolutely.  Bodies come marked. But, it feels like often the problem with the visual rendering thing is that people ignore it in the most important aspects in some ways.  Because they think "I'm dealing with abstraction." Or, something neutral. I know that when I first went into dance as an adult, I was excited about how it contrasted to theater, because I didn't feel like I could get type-cast in the same way. I didn't have to audition to fulfill just one thing. It wasn't like – "Oh, I'm that Latino kid." So, it's funny to have come full circle and now become hyper-conscious about who is on the stage.  But also, I think now more than ever – the way artists work – you'd be hard-pressed to find a choreographer whose not working explicitly collaboratively with their dancers. Although, I sort of suspect that's always been true.  There's a real thought around how you have people involved in your process.
JJ: I wonder if we could talk about some of the other collaborators involved and, some of the sources because in a way you could think of sources as collaborators.
MG: Somewhere towards the beginning of the process I read Freedom, by Jonathan Franzen. I realized that writers give themselves permission to do so much.  You really can go there.  You can interrelate different things.  A novel – or that kind of novel let's say – doesn't aspire to be minimalist. Certainly there's editing. But it doesn't see reduction as the only compositional value to explore.  As someone who has struggled with living in an aesthetic climate where minimalism is privileged above all else, I'm excited to encounter work that deals with interrelating or association. I started to realize that what we were making – in a sense – was a novel. For example, each dancer wears multiple costumes in the piece – I'd never done that before.  Or, even having people leave [the stage space].
JJ: By having people leave and re-enter there could suddenly be chapters.
MG: Yes, I really feel like the piece does unfold in that way.
JJ: Even though a lot of the piece comes from the idea of embodiment, you're also using text in the piece. Could you could talk a little bit about how the text figures into the work? What drew you to using text?
MG: The bulk of the text it written by Boru O'Brien O'Connell (who also collaborated to create video projections).  Some of the text is an appropriation of George Berkeley's writings.
Text is often used as the locator of meaning. And, if it exists in a performance – that's when we're like – there's the meaning!  That definitely happens in this piece. But, it also functions as a texture. It functions…almost like a kind of perfume….
JJ: That's a nice image.
MG: …A kind of experience that's not even exclusively about it being attached to understanding.
And lose the name of action appears at the MCA, Chicago January 31 – February 3, 2013.  For more information and tickets: http://www.mcachicago.org/performances/now/all/2013/884 This performance is part of the IN>TIME Festival. http://www.in-time-performance.org/
Jane Jerardi is an artist working in the media of choreography, performance, and video installation.  Currently based in Chicago, her work has been presented at such venues as Transformer and The Warehouse (Washington DC), Defibrillator (Chicago IL); Danspace Project at St. Mark's Church and the LUMEN Festival for Video and Performance (New York), among others.  She is one third of the cohort that runs Adult Contemporary, an alternative art space in Logan Square.  She teaches at Columbia College, Chicago, where she is also on staff at the Dance Center.