by Abraham Ritchie
When is the proper time to review an exhibition? It's a seemingly simple question that has become complicated because of another question: what constitutes an exhibition? Concluding on February 17, the Industry of the Ordinary's sprawling retrospective Sic Transit Gloria Mundi pushes these questions to their limits, mirroring the shift in contemporary practice from traditional expectations.
Industry of the Ordinary (IOTO) is a collaboration between artists Adam Brooks and Mathew Wilson, and as this exhibition demonstrates, IOTO is also a collaboration between their collective and other artistic collectives, the artists and the viewers, the artists and the general public. The objects on view reflect these interactions: photographs document various interactions both with a participating audience and with the unsuspecting public; an entire section is set apart by a kind of wooden mobile home-like structure that contain contributions from a healthy percentage of Chicago's art world.
Given the artists' wide-ranging connections to the art community it seems relevant to say that I have almost no connection to IOTO aside from meeting Mr. Brooks twice. However Bad at Sports as an entity does, and so may some of its constituent members, depending on the person.
Throughout the course of the exhibition, framed as a mid-career retrospective, a multitude of events have been scheduled and taken place. These have spilled out of the main exhibition hall into other galleries, into the interstitial spaces of the building, and to other locations throughout the city. They've branched off into multiple sub-events—the month-and-a-half performance series from the Happy Collaborationists featured no less than seven artists.
It should be abundantly clear that these events are to be considered just as much a part of the exhibition as the physical objects on display, which are themselves often documents of those events. Certainly a visit to the Chicago Cultural Center could yield a variety of experiences depending on the day, and the gallery has refigured itself over the course of the exhibition. A recent visit on a weekend day was the kind of experience that would be typical of a mid-career retrospective, with documentary materials and art objects occupying the space, whereas at the opening the art itself was set in motion, literally being actively created.
The crucial point above is that the exhibition becomes self-generative and therefore is not complete until the end. This is, of course, in contrast to the traditional art exhibition that is at the outset self-contained and complete. Therefore, one can only review and assess an exhibition like this at the end, when all of these elements have been realized.
This seems to be the essential point that the Wall Street Journal ignored to their own detriment.
Guest Post by Jane Jerardi
Miguel Gutierrez comes to the Museum of Contemporary Art, Chicago this weekend with one of his newest works, And lose the name of action.  The evening-length piece features a striking cast of note-worthy performers – Michelle Boulé, Hilary Clark, Luke George, Miguel Gutierrez, K.J. Holmes, and Ishmael Houston-Jones. Inspired by Jørgen Leth's film The Perfect Human, the elusive logic of dance improvisation, philosophical quandaries about the brain, and the 19th century spiritualist movement, the piece draws connections between the analytical and the unexplainable, grappling with the limits of language and the ever-present spectre of death. It features music by Neal Medlyn, lighting design by Lenore Doxsee, and film/text by Boru O'Brien O'Connell.
Often cited as a provocative voice in the contemporary dance and performance scene, Gutierrez — like many in his generation — works across mediums.  His poems appear as published performance texts and he designs solo performance works as well as projects with collections of performers and collaborators under the moniker the 'Powerful People.'   A Guggenheim Fellow, his work has appeared as such venues as the Festival D'Automne in Paris; the TBA Festival/PICA in Portland, OR; the Walker Art Center in Minneapolis, MN; UNAM in Mexico City, and ImPulsTanz in Vienna, among others. Equally admired as a teacher, he has built a following for his improvisation/choreography classes as well as his 'DEEP Aerobics' workouts. In mid-January, I met Miguel Gutierrez at the Abrons Arts Center amidst the first weekend of the American Realness Festival – an annual festival of contemporary dance and performance in New York. We chatted in a quiet spot near the dressing rooms about his upcoming engagement at the MCA – including the powerhouse cast performing, the ghost hunt they went on during a residency to build the work, and the limits of language when it comes to dance.  Here are some excerpts from our conversation…
Abrons Arts Center, New York, NY, January 13, 2013
Jane Jerardi: Maybe first we should start first with you just talking a bit about the genesis of the project you'll be performing at the MCA, And lose the name of action?
Miguel Gutierrez: Sure.  I think I'm going to paint my nails as we do this [pulls out two shades of blue metallic nail polish] if that's okay with you.
JJ: Sure.  Talk about mind and body…!
MG: It feels like the right question to paint your nails to…  Well, the piece really came out of a couple of things.  In some ways it was an extension of Last Meadow [Gutierrez's previous piece], which is unusual for me, because usually when I finish a piece I want to change gears.  But, by the time we got around to finishing Last Meadow, I realized I was only beginning to understand what I was doing.  Towards the end of the project, I was introduced to this book The Meaning of the Body, by Mark Johnson, which calls for getting rid of the mind/body split, once and for all.  It's beautifully stated, but reading it as a dancer, there was a moment where I thought, "This seems fairly obvious."  For a person who has any kind of relationship to somatics, you of course recognize that the mind and body are connected; that perception is an embodied practice, and that all contexts are experienced through a sort of corporeal interaction. I thought to myself, This sounds like a contact improv class. And I thought, why is this new? I think it was that initial indignation that led to the piece. I felt like why isn't this something that is known?  The second impulse for the work, was my dad.  My dad had a series of neurological problems in 2008.  He had a series of blood clots in his brain that were note properly diagnosed for several years. He had stroke-type things and then seizures, which then progressed during my research for And lose the name of action.
JJ: That sounds scary.
MG: Aside from the fact that it sucked, I think a couple of things came out of it. Here was a person I knew in a certain way, and suddenly he was changing. It sounds sort of basic, a basic experience of change. I say basic, but it was a quite radical. Suddenly, I was subjected to doctors telling me, This is what's happening, This is what's not happening – but no one knows what's happening. Everyone is guessing.  You start to see that that the way we constitute a sense of self and reality are deeply subjective. And, out of your control. You're in the hospital with your dad and there's nothing you can do, aside from being present.  At the time I was thinking, "What is it that I can offer here? As a dancer? As a person with some naïve study of somatic practices?" I can be present.  I can be an emotional support. I can be resonate and present in a way that is specific to what I do. It felt clear, but I felt very conscious that I don't share a language with these doctors.  I can't assume they know of specific somatic practices or say, "Hey, have you heard of the Feldenkrais Method?" or "Do you know about Body Mind Centering?"
JJ: You realize how marginalized some of these movement practices are.
MG: Absolutely. I mean marginalized isn't even the word.  They're invisible. I started to see how when people talk about brain, they are talking about mind. Lots of words are being used interchangeably.  There's a lot of lack clarity in definition between disciplines.  How is it that we have the same vocabulary but we aren't using words in the same way?  I started to examine the value system around my teaching and practice.  What is valuable about an improvisational performance practice?  It is a kind of knowledge and a way of knowing, but quite different than other modes of knowing.  And I though about Why am I so invested in this 'unknowing knowing'?  Why am I so mistrustful of alleged truths? That was all the stuff that led me into And lose the name of action. Then, I started thinking about ghosts and the paranormal. What about an immaterial body?  What about a discipline of study that doesn't even presume that the body has to be tangible anymore? When we had our first residency we went on our first ghost hunt.
JJ: Tell me about that.
MG: We went on this ghost hunt with paranormal investigators–crazy ladies in Tallahassee, FL…  which sounds funny, but are these 'paranormal investigators' wrong?  For them, it is true.  If they see a ghost or hear a voice, if they're having that experience, then that's their embodied truth.  That's what's going on here in this conversation of perception and truth. If I experience my father as my father even if he's in a coma, is he not my father? If I feel that this is blue [pointing to his nail polish] and this is a lighter blue than the other blue [pointing to another bottle of darker blue nail polish] and I have a certain feeling about it. Am I wrong? Because there's actually no way for me to definitely know how blue this is.   It's all these kinds of…
JJ: Big questions.  Really big questions.
MG: So, yeah [laughing] that's what the show is about.  [Joking] It's just about a couple small things…
JJ: So how did this all play out in your explorations in the studio?
MG: A lot of talking, a lot of improvisational exploration… In the piece, the bodies are the proof of themselves.
Because of the way that the piece exists – even though the audience is onstage, even though people are really close to us – it feels like something is at a distance. I had originally thought it would be really great to make a piece that didn't involve bodies at all.  I mean why do there have to be bodies?  It's so weird and silly – why are there bodies on stage at this point in history?  Can't we just go…
JJ: Totally virtual?
MG: Yeah – not even virtual or holograms – but… there are people that are doing that – work that's about post-human bodies – but, I am still invested in the interpersonal dynamics of being in the room with people. That's what keeps me interested in my work.
JJ: I think it goes back to the value thing.  What's at the core of what you do?
MG: And where do you build knowledge? Where do you build a sense of how you understand things and how you perceptively locate yourself in the world? When I look at dance, I can understand it. What does that mean? Not one specific, concrete meaning.  Rather, as I'm watching the dance, I am understanding it and grappling with comprehension.  And that perceptual act becomes a way to construct meaning.  That doesn't necessarily translate easily into language. I mean I like words. I can talk. But, dance actually offers another perceptual experience in time. I don't think this is exclusive to dance, either. Mark Johnson argues that reality is actually an aesthetic experience. He doesn't use this exact language – but we're choreographing our way through our lives. And, that feels really powerful in relationship to what performance or a body in action can do. It doesn't always happen. Most of the time, dance is written about exclusively as a visual rendering but, that's not the whole picture…
Working with Deborah Hay was pretty instrumental for me.  Something she would say is, "The movement is just a costume for perception."  And, I feel that's really true. That's my experience of dancing actually…  So much of what intrigues me about dancing is about contending with myself in the moment.  And all the fucked-up-ness of that question.
JJ: "Contending with things in the moment" is the way that people talk often about improvisation. You're working with a pretty incredible set of improvisers as collaborators performing in the work.  I wondered if you wanted to talk a little bit about that?  I mean it's a very diverse, powerhouse group of people.
MG: Yes.  I wanted to have a group – well first, that weren't all young 20-year olds.  I wanted a diverse age range for this piece.  I hadn't worked with a group of people who were older than me before.  And, I wanted a group of improvisers who could own themselves in a very clear way. I wanted to work with people who seemed restless or curious.  And, I feel like that's pretty true of this group!
JJ: So, you're working with Michelle Boulé…
MG: Hilary Clark, Luke George, KJ Holmes, and Ishmael Houston-Jones.  At first, I was a little like – oh my god, who am I to tell these people what to do? It really did feel that way.  Which was great, because I wanted to be challenged directorially.
JJ: It seemed to make a lot of sense to me because you're dealing with a kind of big existential topic – life and death, philosophical truths such as 'person-hood' and 'being.' It requires a certain maturity.
MG: Yes.  It feels important that the audience is looking at people who have contended with things. I also think that I was going through something about casting in general. This thing that often happens in the dance field is people don't take into consideration the representational value of the bodies that are there.
JJ: Which is kind of saying, maybe the visual does matter.  The way that we read bodies matters.
MG: Absolutely.  Bodies come marked. But, it feels like often the problem with the visual rendering thing is that people ignore it in the most important aspects in some ways.  Because they think "I'm dealing with abstraction." Or, something neutral. I know that when I first went into dance as an adult, I was excited about how it contrasted to theater, because I didn't feel like I could get type-cast in the same way. I didn't have to audition to fulfill just one thing. It wasn't like – "Oh, I'm that Latino kid." So, it's funny to have come full circle and now become hyper-conscious about who is on the stage.  But also, I think now more than ever – the way artists work – you'd be hard-pressed to find a choreographer whose not working explicitly collaboratively with their dancers. Although, I sort of suspect that's always been true.  There's a real thought around how you have people involved in your process.
JJ: I wonder if we could talk about some of the other collaborators involved and, some of the sources because in a way you could think of sources as collaborators.
MG: Somewhere towards the beginning of the process I read Freedom, by Jonathan Franzen. I realized that writers give themselves permission to do so much.  You really can go there.  You can interrelate different things.  A novel – or that kind of novel let's say – doesn't aspire to be minimalist. Certainly there's editing. But it doesn't see reduction as the only compositional value to explore.  As someone who has struggled with living in an aesthetic climate where minimalism is privileged above all else, I'm excited to encounter work that deals with interrelating or association. I started to realize that what we were making – in a sense – was a novel. For example, each dancer wears multiple costumes in the piece – I'd never done that before.  Or, even having people leave [the stage space].
JJ: By having people leave and re-enter there could suddenly be chapters.
MG: Yes, I really feel like the piece does unfold in that way.
JJ: Even though a lot of the piece comes from the idea of embodiment, you're also using text in the piece. Could you could talk a little bit about how the text figures into the work? What drew you to using text?
MG: The bulk of the text it written by Boru O'Brien O'Connell (who also collaborated to create video projections).  Some of the text is an appropriation of George Berkeley's writings.
Text is often used as the locator of meaning. And, if it exists in a performance – that's when we're like – there's the meaning!  That definitely happens in this piece. But, it also functions as a texture. It functions…almost like a kind of perfume….
JJ: That's a nice image.
MG: …A kind of experience that's not even exclusively about it being attached to understanding.
And lose the name of action appears at the MCA, Chicago January 31 – February 3, 2013.  For more information and tickets: http://www.mcachicago.org/performances/now/all/2013/884 This performance is part of the IN>TIME Festival. http://www.in-time-performance.org/
Jane Jerardi is an artist working in the media of choreography, performance, and video installation.  Currently based in Chicago, her work has been presented at such venues as Transformer and The Warehouse (Washington DC), Defibrillator (Chicago IL); Danspace Project at St. Mark's Church and the LUMEN Festival for Video and Performance (New York), among others.  She is one third of the cohort that runs Adult Contemporary, an alternative art space in Logan Square.  She teaches at Columbia College, Chicago, where she is also on staff at the Dance Center.
While the Chicago art scene may still be reeling from the AFC Midway coverage, divided opinions on EXPO and the domination of the Whitney Biennial by Chicago curators, it's a new year and B@S is looking forward to a 2013 full of surprising exhibitions, breakout successes and hurt feelings. Here's a recap of the most interesting Chi tidbits as far as I can tell.
#Seen on Instagram
Last week, Red Eye Chicago posted a list of 15 musicians to watch in Chicago. Though I've never even heard of most of them, there are a couple notables. A personal fav, Gel Set, made the list at #11. Also making the list at #4 is Supreme Cuts, a Chicago duo who apparently "will never move to Brooklyn under any circumstances." SC's Austin Keultjes was recently spotted on SAIC dropout and NY based performance artist Mykki Blanco's instagram feed.
Former Chicago artist turnt "mini-film" babe
In other superstar sightings, everyone is in the new SSION video for Luvvbazaar. It's the best and gayest dance party you've ever virtually attended, featuring none other than 2012 SAIC grad and LA transplant, Marcel Alcalá, shirtless and werkin' it. Before becoming a profesh video ho, Alcalá organized the Mega Mall Exhibition Series and moonlighted at Roots&Culture. Additional cameos include Colin Self, another long lost Chicago luminary, and House of Ladosha, who I fucking LOVE.
Aunt Flo meets The Whistler
Since talking about your period is always prurient in my book, I'm particularly excited about the upcoming flow at CRIMSON GLOW at the Whistler this Thursday night (January 24th). Arrive at 10pm to catch Melina Ausikaitis, a story-telling musician who is not to be missed. Her performance last September at the recently concluded New Capital Projects was nothing short of a miracle.
Art Classifieds
If you're looking for a job (like I am), forget about the Chicago Artist Resource. LVL3 is looking for an intern. Responsibilities include sweeping and mopping the gallery and updating their mailing list. If you're looking for studio space on top of sweeping, I hear Peanut Gallery is also hiring, sort of. The gallery's post advertises "valuable arts administration skills and networking opportunities in exchange for covering 25% of the rent."
It's not me, it's you
In other non-essential news, it's almost almost Valentines Day and Heaven Gallery in Wicker Park is commemorating this non-event by exhibiting collaborations by local art "power couples." IT'S NOT ME, IT'S YOU will feature work from couples Culp/Foch, Gent/O'Brien, Chitty/Baird and Green/Mike(?).
Real Shit opens February 3rd
Speaking of openings in February, the award for best exhibition title next month goes to Shit is Real at Devening Projects. Not only does the title rule, the artists featured in the show are pretty rad, too.
Performance Art continues to confound
Also coming up (wait, already happening?) is the IN>TIME city-wide and winter-long performance festival. I'm not quite sure whats up with this, all I know is "performance festival" screams nudity and controversial boredom. What is performance art? What isn't it.
Thankfully, some things never change: This is still the most entertaining Facebook feed in 2013.
Muti Flu-ti
Finally, in "real" news, I am seriously horrified about the mega-flu going around this season. As we say in this column, shit is real, and none other than the Chicago Symphony Orchestra's own music director, Riccardo Muti, had to drop out of the company's upcoming Asia tour due to a particularly virulent case.
Clogging up my inbox
Oh yeah, one more thing: What's up with this Michelle Grabner tat pic? And why can't Shane Campbell send out one email listing all his space's openings instead of one email for each of his three spaces?
Got any T? email me!
GUEST POST BY MARISSA PEREL
Marissa Perel : Here we are in Brooklyn talking about your solo show, "Game On" at threewalls, March 9-April 21st. You are going to give an artist talk at the gallery on April 21st?
Michael Fleming : Hello. Yes, we'll be giving our talk from 2-4 PM that day.
Alan Fleming:Â Then we open our solo show, "Spatial Reasoning" at the Happy Collaborationists that night at 6.
MP : So busy! I wanted to ask you guys about your studio practice. Your threewalls exhibition has sculpture, works on paper and performance for video, which is a lot to cover at one time. I'd like to know specifically what your practice was while you were apart in from 2010-2011, and then what it was like when you came together in Brooklyn in 2011.
MF: After working together for several years in a practice that was mostly focused on performance and video and our bodies physically being dependent and in the same proximity, we were were trying to wrap our heads around what to do not being in the same place. How do we collaborate if we are not doing the type of performance and body-based work that we're known for? So, I think it started to lead us into these questions about communication and connection. People used to poke fun at us or asked us about these issues in our daily lives as twins, like if we had telepathy, or our own language. We tried to take that as a starting point, playing with the idea of latent twin "psychicness," but also investigating it as a metaphor for how we stay connected when we're not in the same physical location. How do we collaborate across distance?
One of the pieces that we started the first month of last year resulted in these calendars but it originated from this game where we would try and think of the same color and shape at the same time every day for one month. We were both spending time thinking about these things. We came up with drawing and sculpture, as a means of working out a problem but still trying to hold on to an embodied practice.
MP: I can see that happening in this show, testing the space between game and science experiment, and modes of embodiment. I really enjoy your games, especially the rock, paper, scissors sculptures. I heard that you both didn't actually know who won until you made the molds? Is that true?
AF: We actually didn't know who won until we installed the show. So, we had the molds made and we were like, "ok we're ready to go," but we didn't know until the day of the install, which is probably nine months or something after the initial game which we played over the phone. So, we didn't know until that moment who won.
MP:Â Because you had to set them in chronological order?
AF: Â Yeah, so even though we saw the casts in our studio, we didn't know what permutation of the game they represented. I knew from left to right, this one, this one, this one, and then Mike had something to match that, but we didn't know which one matched up with which. And, that's kind of the point of that game. There is no stronger piece, like there is in chess or something, where you have better odds if you go with a certain one in terms of probability. Rock, paper and scissors are equally good choices no matter what you choose.
MF: We were really interested in this idea of a really ephemeral game that we would play when we were younger that was kind of a low-stakes game. But, that if we stretch it out over time and distance, and we embody it in this classical medium, it becomes something larger than itself, or something larger than a game between us, it becomes this metaphorical, conceptual object.
MP: Yes, I noticed that about your mis-matched chairs, too. They made me think of Kosuth's semiological deconstruction:Â what happens when you see a thing and then a definition of the thing? Does the language equal the object? But, for you guys, it's like, each half of the chair is supposed to symbolize you, and then you're putting them together, and it creates a third idea of what you are.
MF: I think there's definitely something related to that in terms of the disconnect, because we had a prompt for each other where we said, "Ok, at the same time on the same day we are just going to find a generic, wooden chair; just four legs and a back." Those were the parameters we used to work with this readymade object. But then, other factors came into play, like what were choices in picking out the chairs and what the limitations were of what was available.
AF: Yeah, our location, too. A chair from Brooklyn Heights versus a chair from Lakeview, not that you can tell which is which…
MF: I think the manifestation of them became these readymades that were dependent on our own choices and the difference inherent in that, along with the difference of our locations and places and two different sites, even though they're generic chairs. This idea of a readymade that is spliced in half and superimposed on another to make this third, new thing that isn't either of our chairs.
AF:  The point of that wasn't to have two distinclty different halves of a chair. We first thought that it would just look like a chair with a line down the middle – that the two sides would have a kind of a similar character to them.
MF: We kind of thought of it as one thing split in two by its origin.
AF: The most interesting thing to me is looking at the different rungs of the chairs and how they don't match up.
MP: It's interesting that once the chairs are conjoined, they are no longer functional.
AF: Yes, they become nonfunctional objects. That reinforces the readymade nature of these things because they're not meant to be sat on, they're meant to be looked at. But, it's also this weird psychic collage that we made.  Conjoined chairs that no longer function separately.
MP: You also show the sculptures that I saw in your thesis show [at the School of the Art Institute of Chicago] of the measurement of your height and weight and the measurement of time between when you were each born. Those objects are highly refined and manufactured, they're in plexiglass as opposed to the readymades that you used in the rest of the exhibition that are definitely from the everyday and meant to be low, like the cardboard box. In thinking about difference and how you're recording distance and communication, how do you discern between these refined objects and the everyday materials?
MF: Even though they're refined in their look and feel, I think, for both of us, we think of them as a kind of farce in that way. They have the austerity of minimalist sculpture, but they point to something very human. It's showing an objective difference from each other, but the mathematical reduction doesn't tell you anything about either of us. The piece points to difference being found in other things. Individuality is found in ways that can't be measured objectively. That's the lesson of that piece to me.
AF: The "Our Difference" sculptures are analogous to how I think of "100 tilted cans of beer." Even though there's a high and low, or readymade to highly manufactured comparison, I feel like this idea of embodied practice is still present in each of those. The beer cans balancing for two months on their edge reference our bodies just as much as this little cube with our weight difference. But, as far as the plexiglass and this sterile environment, I felt like we created those as units. Before digital times, I guess, scientists had a certain weight that they kept in this big vault for the measurement of a kilogram. Everyone referenced it as this one truth, everything pointed toward this one unit, which our whole system of measurement is based on. We are creating a unit from a system of measurement to show the difference between our bodies, and putting meaning and truth to that as something that defines what a twin is. It's an idea of a protected unit, and why those were on a different level, or plane, but I feel like they still have the physicality of the rock, paper, scissors, or the balanced cans.
MP: Â In talking about units of measurement, I'm thinking of the Tetris drawings that you each made. Did you each make a drawing for every lost game? Explain how you went from playing Tetris to drawing it.
AF: We went to an arcade and played an hour's worth of Tetris and we did these drawings of all the "Game Over" screens. The point of Tetris is to keep this grid of blocks completely clean by completing lines. A "Game Over" screen records your failure to perform this task of puzzling together these different shapes. We each have different ways of failing at that task. What gets recorded in each drawing is the inability to perform this puzzle.
MF: I think the ways [we're failing] are important because one of the reasons we wanted to find an actual arcade with Tetris, is that for the original two-player Tetris, if you're playing against someone else, you both get the same Tetris pieces at the same time. So, if you were to mirror each other perfectly, you could go on endlessly. But because of the choices you make, how you decide where you place the pieces, variations start to occur.
AF: It's a record of human error.
MF: A colorful record. The game pieces made for these beautiful drawings of failure.
MP: I do want to carry on with talking about failure as material in your work. There is something between farce and failure that's constantly at play in this show that, to me, is a huge departure from your previous work as I've known it. I want to hear a little more about your interest in difference now and what you're bringing out about it through playing these games.
AF: I think we definitely tried to have fun in a new way with this work, where we might have been more serious in other work in the past. I think it comes from this time when we were apart, asking ourselves if we wanted to keep collaborating. Is it fun? Is it something…
MF: Of value?
AF: Yeah, and I think a lot of the value for us was this idea of play…
MF: I think that came through for us in "Lessons in Gravity" because that is a video work where we tried to create these short clips where it was us just going out, doing these actions, and not knowing the outcome of it. They were kind of down and dirty, quick video shoots at all different locations. "Who's Bad?" is a departure from our past work because it's not edited. I think that's something that's changed, how we're now showing our process of collaborating, showing this discovery, which is an experience of going through something instead of going for the final product.
MP: Â Which is definitely revealed in "Psychic Color Pour."
AF: Yeah, exactly. It's putting out on the table how we're going through these processes, or how we're collaborating, and how having fun is a part of that.
MP: Al looked really excited to pour paint on you, Mike [in that video]. I feel like between that one and "Who's Bad?," I was seeing the individual in this way that I haven't seen in your previous work.
AF: I don't think we'd allowed that before because I think we felt like deadpan humor required this seriousness about it in order to get our intended reaction. I think Mike put it perfectly, [when he said that] the video works  show a process. Our personalities leak out in that moment, when we're not posing for the picture. It's recording just before that moment of performing or putting forward your 'best face'; it's a little bit more raw…
MF: Â And unrehearsed.
AF: Yeah, it's rehearsal takes. For "Who's Bad?," after I had been teaching Mike the moves, we were becoming precise, performing the whole combination. But when we started to look at the footage, we were struck by the moment of learning. So, I told Mike, "Don't learn any choreography before you get to the subway." The only times he would learn were in front of the camera. So, I would introduce new material to him, explain it, and he would have to learn it on the spot, on site, with people looking.
MP: You have that experience with intervening in public space from your past work.
AF: Â This is funny because one of the things that we learned when we were doing those performances in architecture, is that if any authority figure would come over and tell us not to do it, we would tell them we were dancing. It was a more legitimate response than saying we were doing performance art. If we told them it was dance, they were like, "Oh, I understand what that is so I am going to keep watching."
MF: But if you're climbing a building, then you're a burglar.
AF: Yeah, basically!
MP: Tell me more about this turn between the deadpan and this place where you're being sincere or serious about what you're doing, but what you're doing is totally ridiculous.
AF: Well, I think the turn comes in this idea of no rehearsal that we talked about with "Who's Bad?". In the "Psychic Color Pour" it's just inherent. We can't rehearse it, it's a game, it's always going to be this live recording of reactions and choices and, therefore we can't know the outcome. It's nice because then it is just about that process of playing this game. Guess wrong and it'll be colorful. [laughs]
MF: It's important that we made this body of work that was interdisciplinary and experimental for our practice. We're in the same city again and trying to make performance and video work again, but it feels more open and more complex. It felt like we were ready to have fun in a new way.
AF: Since we have a studio together again in New York, it has become this really generative site where we we're like, "Ok, are we going to make a drawing today? Are we going to make a dance? Are we going to make a sculpture? Is this going to be something that lives on for us?" Basically, it's very open-ended, the studio feeling after this roundabout journey. I don't know if any of that makes sense.
MF: It's good!
Alan and Michael Fleming will give their artist talk for their threewalls SOLO exhibition, Game On, April 21 from  2-4 PM in the gallery. That same evening, their show Spatial Reasoning, opens at Happy Collaborationists, 1254 N Noble, Chicago, IL, reception: 6-10pm.  Spatial Reasoning runs through May 9th by appointment.
Marissa Perel is an artist, writer, and independent curator based in Brooklyn, NY. Current projects include "Days of being good to you, always," a collaboration with Anthony Romero for the ITINERANT Performance Art Festival, NY  and co-curation of the Movement Research Festival Spring 2012: Push It. Real. Good. She is co-editor of the on-line dance and performance journal, Critical Correspondence. Perel is also the author of Gimme Shelter, the exclusive column on performance for the Art21 blog.
Guest Post by Monica Westin 
The first time I saw Karsten Lund's project, currently exhibiting at Peregrine Program, while still evolving in the workspace in his apartment, I immediately thought of Difference and Repetition, Gilles Deleuze's exploration of what difference and repetition would look like simply as functions, as opposed to functions premised on recreations of an original object. In other words, giving the act of repeating primacy rather than the original thing being repeated.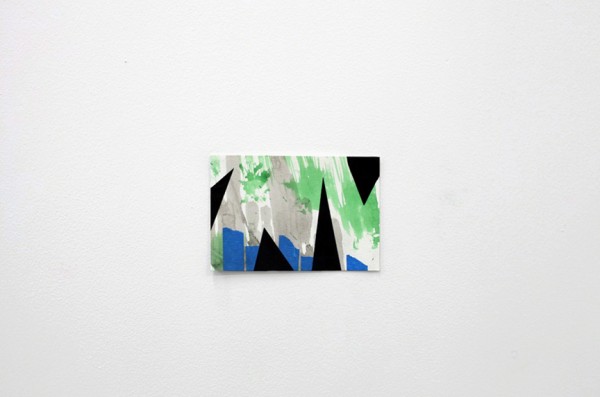 For one of the bodies of work in "Strange Weather, Vague Suspicions," Karsten (full disclosure: he is a friend of mine, and I cannot call him by his last name) uses a strikingly similar logic, with black geometric shapes, painters tape, and luminescent green watercolor forming fractals and patterns in endless formations of postcard/snapshot-sized drawings. The other grouping uses found pages from old Life magazines (right before it shut down as a weekly publication, hence the title A Few Scraps from the Void, or The Last Days of Life), affixed to another surface and then torn away on a woven sheet of masking tape, leaving behind soft white textures of paper and accidental images.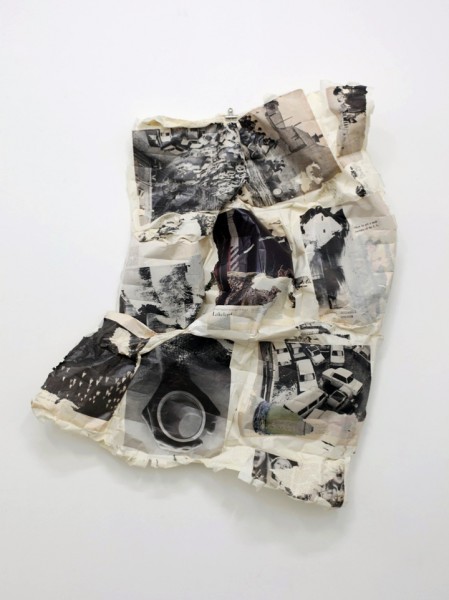 Seeing the show is a bit like talking with Karsten: ideas spin off constantly, with tangents and trajectories that seem to be pointing off into the stratosphere but which are carefully looping back into a holistic weave. It's also like talking with Karsten in that the project is sometimes almost maddeningly open-ended; the curator, artist, writer, and general surveyor and careful comber of ideas purposely keeps the potential of the show quivering with signification without spelling anything out too easily– though "generating ideas in its wake," as the press release accurately describes.
Karsten will be giving a talk of "afterthoughts" talk this Sunday at 1:30, which combines his thoughts with texts lifted from various sources, in a kind of verbal analogue to the show. I emailed with Karsten between when I saw the show and this talk to compare my impressions with his. 
Let the conversation begin! It was exciting and sometimes discombobulating to see the show in its finished form after watching the projects progress along various forking logical and associative paths over the last year, with these ever-shifting images and texts on the walls of your second bedroom every time I would come over (there were those zip-reminiscent pieces using the blue tape that dominates the show, the larger and much-larger versions of the smaller pieces). By the end, you had a really quite large body of work, from the small rectangular "aeriel view" drawings as I call them (Edmund Chia of Peregrine says they remind him of car windows looking out onto landscapes), to medium-sized and very large versions using the same logic. The edited body of work at Peregrine does gesture toward the evolution of the process, but it's somehow extremely restrained, resulting in a more ephemeral experience. The work has room to breathe. 
Also, maybe it's because I have this perspective of the sheer amount of work that was a part of this project, but the grouping at Peregrine was most striking for the way it was almost more about framing as an act than anything else… and not only framing your project, but also physically and literally playing with notions of the frame: the giant paper remainders from your smaller cutout shapes on one wall, the pieces involving cut-outs from life magazine, the sense that you were severely limiting your own activity (which played out in the proportions of tape and paintbrush, palette and form in the smaller pieces) even as you left a lot up to chance with the torn tape pieces.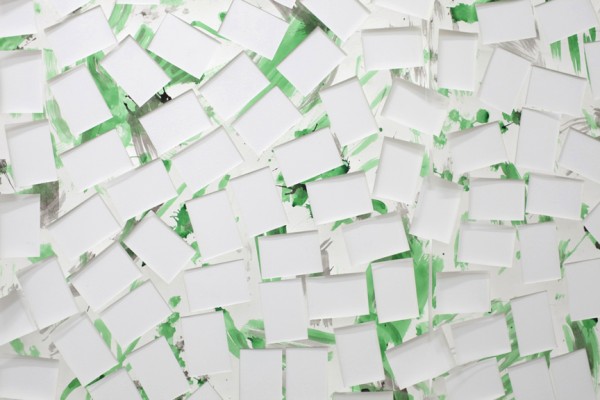 As your note about forking paths suggests, the larger process behind all these works (collectively) has a very different logic: it's much more expansive, almost opposite to the narrowing effect that framing implies. Over time a web begins spreading outward as little accidents in the process open up new directions or the strange results of working with these precarious materials (whether masking tape or magazine pages) spin off new ideas.
But at the same time I think your observations about framing are interesting and sound. The small drawings here, for example, all begin from much, much larger sheets that are just a chaos of marks in watercolor. I start looking for potential compositions, latent within that field, and cut them out, so there's an almost "photographic" process in there. Then drawing takes over again and I augment each of the excised compositions with other elements.
And on a larger level, to present a modestly scaled exhibition like this one you have to make selections; this particular configuration accentuates certain aspects in the work (while others momentarily shift into the background). Maybe the notion of framing is one way to think about that…. The next time the picture might change and certain other works you mentioned might be presented instead, or in addition, whether it's the more sculptural iterations or scaled up versions of drawings made using similar processes and wider blue tape. 
A lot of the exciting tension I feel in the show is regarding control… first you have a strong formal emphasis on control, with the explorations of the frame you're making, but on the other hand, much of the "content" of the Life series are discovered or accidental rather than made. This seems exciting but also potentially sort of frightening. How do you see your relationship to these texts that poke their heads out of the work– and the accidental as part of the process? Is it a system for invention, or as you've said for generating ideas, perhaps a way of breaking free of a certain way of thinking? These kind of images make me think about a kind of resisting of their own representation (along with your decontextualized quotations,which I want to bring up later), but which find their own logic and of course their own way of representing themselves… and which involves giving up an enormous sense of authorial control.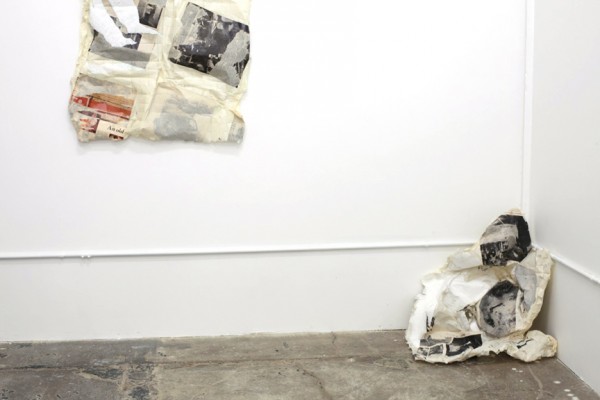 Well, one thing that shapes these works are various processes that involve some kind of pseudo-system — but one that tends to have these pockets where productive accidents can happen, or which allow for discovery within the bounds of set procedures. If it's a system for invention, it's one that works just as well when the system is going slightly haywire. It does become a different way of thinking that can be pleasantly unfamiliar at times.
There is something open ended about it in that way. And maybe not only in the sense of not knowing exactly what's going to happen in any given case but also in that these works could almost seem to keep on replicating in endless permutations — all the while bearing traces of how they're extracts from a more expansive world (let's say) of related visual material. I like the idea of discovered content though, and I think that element makes things pleasantly more complicated. When that's paired with these kinds of processes, meaning also appears and sometimes congeals in unexpected ways.
The work has evolved over time, as you noted before, but I'm not sure in the linear sense the word evolution implies. To go back to the metaphor of the web I mentioned before, David Shields offers an analogy in his book Reality Hunger. He's talking about forms of writing specifically, but it might easily apply elsewhere, too, in relation to art or artists' practices:
This quotation reminds me that I want to ask about your use of found text in the process of this project as well as the forthcoming talk. I was always struck by the typewritten notecards in your studio with what I thought of as "foundling" quotations, often very provocative or funny or sad. They formally matched some of the work through their rigid lack of context. I remember also you showing me a selection of them that you had written up into a longer document, and reading it felt like a tornado– a maelstrom– of ideas. That feeling is borne out in the show, at least for me. How will you be incorporating the found text (which is also in the press release) into your "afterthoughts" talk? What prompted you to use this format? What can we expect from this talk? 
So as you describe, for a while I've had a wall full of post-it notes, which I've added to one by one. (Since then this material has taken other forms, too, whether a deluge-like flow on a sheet of paper or a stack of uniform notecards like Mel Bochner might do.) At first this was a way to let my own thoughts trail after the work. Gradually I became fascinated with things I read elsewhere — either encountered randomly or while doing focused research for other essays I was writing at the time — and how they seemed to say something about the work at hand. So I began to collect and compile them; people like John Ashbery, Anne Carson, Susan Sontag, Italo Calvino, Robert Smithson, Perec, Adorno, Borges, and a hundred others start to mingle side by side.
I like your phrase "foundling quotes"; it suggests these little lost things trying to find a good home for themselves. But the works, and not just the words, could be a band of foundlings, too, in a way, pushed out into the world of ideas to find their own way. This manner of bringing language in contact with the work isn't about applying critical methods or opening up your theoretical toolbox and digging for the right wrench; it's more like letting outside thoughts, other people's writings, poetic fragments, even errant ideas, gravitate to the work (though at some point who can say how they in turn effect the work as they glom on).
So the talk I'm titling "Afterthoughts" brings my show at Peregrine Program to a close, this coming Sunday. I won't tip my hand too much, but I'm not really interested in doing a standard artist talk. Instead it takes this growing accumulation of written material, these foundlings as you call them, as its starting point. Rather than making a case for the work or telling you what you need to know, it's more like looking back at it from a speculative distance, and then opening it up even further, letting it spin outwards even more.
Monica Westin is a writer, editor, and PhD student in rhetoric. She teaches arts writing and media theory classes at DePaul.