Guest Post by Robert Burnier
Normally when you think of covering all your bases it's a way of being non-committal, of hedging your bets. But in Steven Husby's case, it is precisely the opposite: showing different sides in order to invite you into a world and a mindset that can't be contained in one object. In this way he takes a leap of faith beyond becoming enamored of any one approach to his work. Even the title of the show – BRUTE FORCe – seems meant in this inverted sense. It refers less to a domineering position than to exhaustively being open to a wide range of possibilities, to traverse as many combinations as one can.
This, then, seems to be both the form of the show and its central investigation. On view are the different worlds that can emerge when even a single aspect of each has been changed, and when we look in toward the building blocks of a certain "fact" of existence. We see what could have happened, and find the minute aspects of our situation in altering the path our universe can take.
For example, a set of eight meticulously crafted canvases of shaded triangles installed in a grid on one wall offers relationships where something in one is not like the other. We can determine that they are related somehow, and if we keep going, it is possible to suss out the entire potential set – exhaustively, as it were. But it could be otherwise, so a closed system like this also stands, in a way, for infinite alternatives. The surfaces are exquisite, displaying a minimal sense of touch. Brush strokes are sumptuous but also absolutely registered directionally to one side of each triangle, in a fusion of organic movement and idea.
Another canvas of interlocking red semicircles seems to be totally defined except for the notion that it could go on forever beyond our comprehension and that the color has a subtle, airy modulation which is actually quite unpredictable. Color here conveys other senses of openness. Speaking with the artist at his opening, he said he took care not to wear a favorite yellow shirt so as to avoid "fast food restaurant" associations. So clearly, the subjectivity inherent in this aspect of the work isn't lost on him.
An inkjet print of a severely blown-up, half toned image rounds out the show. Ostensibly, this could have been the most distant of the works given its totally mechanical origins, but I found it to be as luscious as any color field. The discrete dots seem to gain more character as they are enlarged, and whatever image they represent dissolves into a sort of mock-expressionism. The practical uses for the half-tone seem subverted, giving us access to their blunt reality while allowing us to wander freely across the gorgeous, delicate, matte surface they generate.
Husby's work is a studied exercise in emergence and the way that severe restrictions can somewhat paradoxically throw subtle expression and gesture into great relief. Having a foot in the minimalist tradition, there is an emphasis on the presence of the object in front of us, but not to convey any absolutes about this or that thing, self-contained, so much as to be a platform to experience a more expansive potential outside of what is there.
(For an in-depth interview I conducted with Steven Husby about the work for this exhibition and his practice, check back with Bad at Sports this coming Saturday, April 27th!) Steven Husby's exhibit, BRUTE FORCe, is on view at 65 Grand until May 11th.
ROBERT BURNIER is an artist and writer who lives and works in Chicago. He is an MFA candidate in Painting and Drawing at The School of the Art Institute of Chicago and holds a B.S. in Computer Science from Shippensburg University of Pennsylvania. Recent exhibitions include The Horseless Carriage at Andrew Rafacz Gallery, Salon Zurcher at Galerie Zurcher, New York, the Evanston and Vicinity Biennial, curated by Shannon Stratton, and Some Dialogue, curated by Sarah Krepp and Doug Stapleton, at the Illinois State Museum, Chicago. He also serves as a museum departmental specialist at The Art Institute of Chicago.

Barbie and La Nouvelle Vague (part 1)
It is my interest in what Jean Luc Godard thought about Barbie, if he ever thought about Barbie, which leads me here. Pick out any one of his films as a point of reference and watch for the female protagonist. She has the essence—the je ne sais quoi. And, her hair is elegant, neatly coiffed, falling in place like the snow on all of Chicago and sliding against my window.  It's 2p.m., but it looks more like 7p.m. outside. I love her. I hate her. Barbie shaped my social consciousness. This afternoon "Barbie, Barbie, Barbie" is my constant mantra. She represents the essential feminist that I want to be and the sexual icon so many love to hate. Perhaps this is why Godard used Barbie's essence as a point of reference when casting his female characters. Consider Patricia Franchini, played by Jean Seberg, in "À bout de souffle" ("Breathless") and Camille Javal, played by Brigitte Bardot in "Le Mépris" ("Contempt"), these protagonists are much like Barbie as they appear ambivalently sexy, intelligent, stylishly dressed, and all the while aloof.
It's also at this point that I must note that Barbie helped to close the "racial divide" of my childhood. A year after I was born (1980), Mattel embraced the "changing times." The company began to produce "multicultural" Barbie(s). So, when I played with Barbie I never had to worry about being "black" or "white." She was "politically correct," especially since Midge (Barbie) was introduced to represent "mixed" girls and "family" life. Midge and the other "multicultural" Barbie(s) meant well, but overall they reinforced "stereotypes." Nonetheless, I remember playing with Midge and Barbie. The focus shifted to how "pretty" they were, how "thin" they were, and how the blue of Barbie's eyes reminded me of my grandmother. It's so "cliché" to say that I wanted to dress like Barbie. I thought, at 8, that I was a doll. My mother called, and still calls, me "JamieDoll." Perhaps a defense of my close connection is necessary as I realize that people like Dr. Kamy Cunningham say that Barbie is the "anti-clone for every woman who wishes to be more than surface deep, she is the alter ego ideal for American m[e]n [—the] virgin/whore she makes men out of little boys" (Barbie Doll Culture and the American Wasteland).  It's not easy being Barbie.
And, it must be understood that I see Barbie's anatomical faults. Laurell K. Hamilton wonders, "Did you know that if Barbie was a real woman with those proportions, she'd have to carry her kidneys in her purse" (The Killing Dance). I marvel, as Barbie's body is a scientific feat and her eyes are those of Bambi's if ever reincarnated. But, I digress. I'm not a woman that wants Barbie's measurements. I'm a woman that, on a recent trip home to California, hugged my mother only to feel her unruly scarf the color of Barbie pink. The unmistakable pink used to market Barbie's uncomplicated, uncluttered life. I saw Barbie's independence in every strand of my mother's scarf. I find a defense for Barbie at every corner.
The notion behind my mantra was reinforced as I watched Ann Romney take the stage during the Republican National Convention (RNC). Would Godard have cast Romney to play one of his protagonists? She certainly looked the part with her perfectly coiffed blonde hair falling on her shoulders, red lipstick, red silk-taffeta dress, with cuffed sleeves and small V-neck, and black leather heels. The je ne sais quoi of Romney's ensemble was its shade of red. It vacillated from fire-engine red to cerise to "Jolly Rancher red" (New York Times). Romney was reminiscent of Angela Récamier, played by Anna Karina in "Une femme est une femme" ("A Woman is a Woman") as she mirrored Angela's gentle pursuit and spoke with phrases full of spunk.  Now, I'm pacing in my office, spooning through a jar of peanut butter—the natural kind, the kind with water on the rim. Barbie posters are stacked on the desk and Midge (Barbie) is back in her box. I wonder if Barbie likes peanut butter?
Jamie Kazay teaches in the English Department at Columbia College. A California native, she holds a BA in English from California State University, Northridge and an MFA in Creative Writing, Poetry from Columbia College. She co-curates the Revolving Door Reading Series and is currently reading of a lot of Camus, Derrida, and Dorothy Allison. Her collection, Small Hollering, was published by Dancing Girl Press in 2011.
Spring always makes me anxious for that magical transition eulogized in William Carlos Williams' The Botticellian Trees:
The alphabet of
the trees
is fading in the
song of the leaves
Unfortunately, right now e.e. cummings' in Just – may be a more accurate depiction of this midwestern spring:
in Just –
spring  when the world is mud-
luscious
And so, over the course of the soggy last two weeks, I've been burying myself in books and hoping that at some point I'll look up and it'll be sunny May already… or June. Here are a few of the books that have been going on dreary bus rides with me.
The Virginia Woolf Poems
by Jackson Mac Low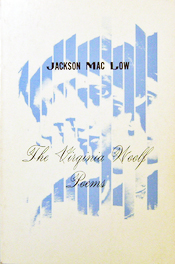 When one of my favorite writers uses another of my favorite writer's work as source material, good things are bound to happen. Jackson Mac Low, a student of John Cage, was a writer and performance artist who developed systematic writing processes to compose his poetry and performance scores. One system he developed and used often was the diastic or "spelling through" method which he applied here to Woolf's novels The Waves and Night and Day. This book was published by Burning Deck in 1986 and has a killer cover designed by Keith Waldrop (Sorry for the poor image quality – I already returned my copy to the library and this sad image is all the internet had to offer me).
The Blond Notebook
Michael Slosek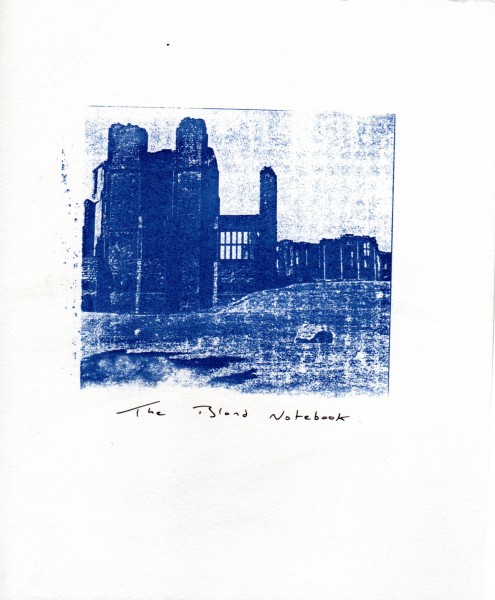 The book has been floating around my apartment since I got it last weekend. Its always a good sign when books don't go straight onto the shelf; it means I want to live with it a bit while reading it – and maybe before and after, too. The Blond Notebook is Michael Slosek's most recent book of poetry and the latest release from the Chicago based small press arrow as aarow, makers of beautiful, hand bound chapbooks with hand printed covers.
Invisible Cities
Italo Calvino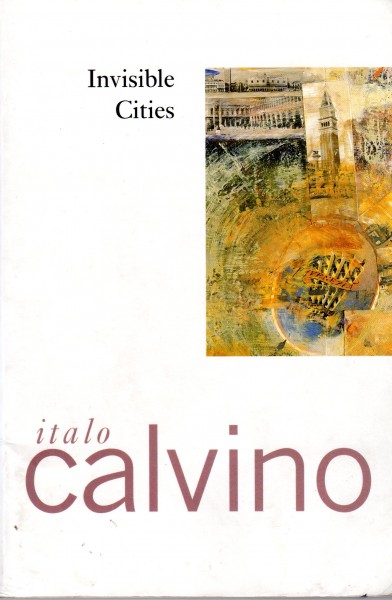 Invisible Cities is a collection of short vignettes in which Marco Polo offers descriptions of far away cities to Kublai Khan and it is pure magic.  This was my third or fourth time reading it and it continues to seduce me and inform a lot of my own work.
PQRS
Patrick Durgin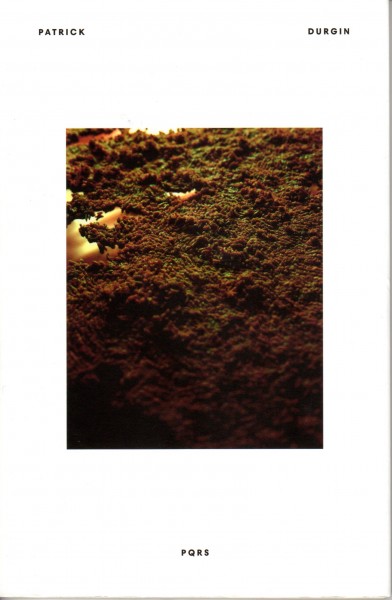 Another recent Chicago small press release – this time from Kenning Editions. I'm about two thirds of the way through at this point, but I will say that reading it while I was working the circulation desk at the library where I work gave me in an unnervingly participatory perspective. I kept shifting between Durgin's hallucinatory cultural investigation/poet's script and surveilling a room full of readers from behind a sound proof glass wall and an array of security camera feeds.
Bailey Romaine is a print maker and bibliophile currently living in Chicago.

by Richard Holland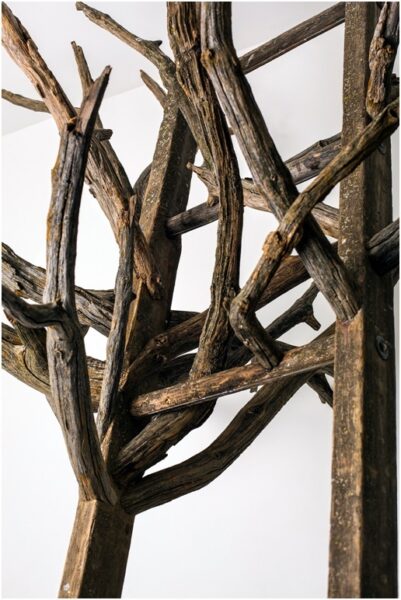 I went to law school and pursued my MA/MFA at the same time. From the academic institution/professorial perspective I suspect this made me a first class pain-in-the-ass. Pity my art professors. I hear they have all recovered well, although I don't know how much treatment or scotch it took.
Both BAS NYC chief Amanda Browder and I were lucky to work with three professors in particular (Michelle Grabner was at UW at the time, and was a shining beacon of smarts) who were exceedingly smart, kind, and when necessary not going to put up with any of my pushy-lawyery bullshit.
This was refreshing as I found a number of professors who weren't particularly interested in dialoging about their ideas, exploring the theory and practice of where the field is going, and embracing the intellectual joy in the complexity in contemporary art.
Aristotle (Aris) Georidiades and his wife Gail Simpson are clearly two of my favorite people; I admire their work ethic, commitment to educating artist as they begin their careers, I enjoy their work, and appreciate(d) their mentorship. They truly were the highlights of my MFA experience and are great assets to the University of Wisconsin art department. Fanboy gushing aside I know and enjoy their work. Aris has a solo show at Carl Hammer and will be present at the reception this Friday (Carl Hammer Gallery, 740 Wells Street in Chicago this Friday April 19th from 5:30-8:00). This show looks like an evolution and maybe a departure from the work I've seen in the past and I am looking forward to seeing the show. Upon reading the press release, I wanted to ask some questions, emailed Aris and he kindly agreed to do an interview.
RH: You new show is focused more on the idea of re-use and repurposing than your prior work, which also has used lots of materials that are construction type, non-precious materials. How does using "found" materials fit into this work? What do you mean by re-purposed sculpture? Are you reusing old work?
AG: Most of the work for this show is made of materials that I have collected that are generally related to buildings built prior to the 1960s.  I also continue to use objects that might be considered obsolete or on the verge of being obsolete. I think that by using these materials and objects in my sculpture,  notions of our current condition are brought to mind. Of course there are some typical motivations underlying this work. Typical in that I am a "maker" who appreciates materials and I notice the way the world around us is made. Materials and the methods of manipulating the materials can and should carry and covey meaning.  Visual artists know this don't they?
I should also add that I continue to believe in the power of objects. As an artist I find it very challenging to try to create compelling objects in a world filled with objects whether we call them art or not. I am not really repurposing old work although at times I do reuse materials from an old piece.
RH: You are one of the few artists I know who have pursued a career in doing public sculpture in your work as "Actual Size Artwork" with Gail Simpson, and also have pursued their own gallery career. How does that work in terms of ideas, do you have a set of Actual Size ideas and a set of ideas for your own practice? Both bodies of work have similar senses of humor.
AG: The gallery work and the work I do with Actual Size are usually pretty separate, although I don't spend a lot of time thinking about it.  They have different goals. Actual Size developed organically with Gail Simpson since we were partners working in shared studio space etc. That collaboration allows us to create primarily large scale temporary and permanent public artworks. The permanent projects usually are commission pieces that I consider more like design-build projects. There are a lot of factors that we take into consideration during the entire process, not the least of which is that it is going to exist in the public domain. Many artists can't or won't deal with many of the issues involved. We actually enjoy much of the work especially dealing a wide range of professionals outside of the art world. The whole thing ultimately makes me feel much more a part of our economy.  The temporary projects on the other hand do allow for more flexibility and freedom of "artistic" expression" than do the permanent projects. It is inevitable that some of what each of us does in the studio carries over into the public works. I would say certain shared values, a sense of humor and other formal considerations.
RH: You are a professor at the University of Wisconsin, you run a public art company, and you make your own work, that is three full time jobs? How do you manage to do all three?
AG: Frankly, I don't think I do a great job managing all three jobs. Fortunately the work of Actual Size Artworks is shared with my wife Gail Simpson.
RH: You are based out of Madison Wisconsin, which is one of the countries major public research institutions, but does not necessarily have the links to the "contemporary art world" whatever that means, you obviously have a gallery career and a collector base, how have you managed to promote your work outside of one of the major centers of art commerce? Has that had an effect on how you promote your work?
AG: Yes, living outside of a major urban area is really difficult for visual artists to maintain any kind of career. I would not be in this area if it were not for this great job that allows me a certain degree of freedom to pursue a career as a visual artist.
I am terrible at promoting my work, especially when juggling different career aspects. In general I believe artists need to do a lot of things to maintain and build a practice. Certainly there are a number of artists that have developed a collector base or some type of funding source that allows them to focus solely on the artwork they want to do, when they want to do it. A long time ago I heard a comment by an internationally known artist giving a talk at SAIC say that she knew of no successful artists in New York that did not have a trust fund. She was completely serious. I am not part of that, for better or worse. New York is still the center of the art world but most people who have been in the art business for any length of time know that there are good artists all over the place. Obviously there isn't a system to support them so major urban areas become the places where artists can be noticed. Of course in the past couple decades the concentration of power and markets in the art world has become even more concentrated in fewer and fewer places.
I can see that this could turn into a rant and I would rather discuss this in person some time. But…
Just as a side note since I think you might be interested in knowing that Wisconsin's senator Ron Johnson, soon after being elected, was quoted as saying that he did not understand why they teach the Humanities in higher education. I also understand that the governor of Florida is talking about raising tuition on students studying humanities since they do not contribute to the economy. These are really tough battles to fight, don't you think?
RH: Can you tell us about some of your public art projects people can see. 
AG: The only permanent piece we have up in Chicago at the moment is at Maxwell Street Market. It is the signage that acts as a backdrop between the Market and the highway The signs are references to the long history of the melting pot of cultures that have  driven the market over the years. We also have a temporary sculpture still on view at Morton Arboretum. 
RH: What projects do you have on the horizon?
AG: We are currently under consideration for a couple of public art projects at the moment, in Chicago and out west. We are almost always on the lookout for interesting opportunities for projects to do.
RH: Thank you for taking my questions
AG: My pleasure!
A graphic, editorial overview of art, artists, and visual art events, found in and around Chicago over the course of the preceding month. All artwork copyright original artists; all photography copyright Paul Germanos.
Daniel Shea @ Gallery 400
Above: Daniel Shea with his photography in Gallery 400, as seen on April 13, 2013, at the closing of UIC's third MFA exhibition.
"A Spectre Is Haunting"
2013 UIC Art MFA Thesis Exhibition 3
April 9 – April 13, 2013
Gallery 400
College of Architecture and the Arts
University of Illinois at Chicago
400 S. Peoria St.
Chicago, IL 60607
Artwork by Liliana Angulo Cortés, Ian Curry, Daniel Shea, and Daniel Tucker
http://www.danielpshea.com/
Jennifer Mills @ Chicago Artists Coalition
Above: Jennifer Mills (right) with collaborator Christopher Ottinger (left) in Mills' CAC/Bolt installation "101 one-liners; Falling Flat," on March 30, 2013.
Jennifer Mills
"101 one-liners; Falling Flat"
March 15 – April 2, 2013
BOLT Residency
Chicago Artists' Coalition
217 N. Carpenter St.
Chicago, IL 60607
http://jennifermills.org/home.html
Picasso @ Daley Plaza
Above: 2013 promotional "P-I-C-A-S-S-O" installation by Chicago Scenic Studios, foreground; 1967 Picasso sculpture, background.
Daley Plaza
Washington between Dearborn and Clark
Chicago, IL
http://www.chicagoscenic.com/
"Picasso and Chicago"
February 20 – May 12, 2013
Art Institute of Chicago
111 S. Michigan Ave.
Chicago, IL
http://www.artic.edu/
John Neff @ The Renaissance Society
Above: A 30-second exposure indicating spectator movement within Neff's installation.
Above: A talk with the artist (John Neff at left, Hamza Walker at right) at 5:00PM, on March 3, 2013, in Kent Hall, Room 107, University of Chicago campus.
Above: Following the artist's talk, Molly Zuckerman-Hartung (far right) raises a question.
John Neff
March 3 – April 14, 2013
The Renaissance Society
5811 S. Ellis Avenue
Bergman Gallery, Cobb Hall 418
Chicago, Illinois 60637
http://www.renaissancesociety.org/site/
Christopher Ottinger @ Chicago Artists' Coalition
Above: Christopher Ottinger, background, at the opening reception, his uncovered, kinetic light art seen rotating in the foreground.
Christopher Ottinger
"Ghost Machine"
April 12 – May 2, 2013
BOLT Residency
Chicago Artists' Coalition
217 N. Carpenter St.
Chicago, IL 60607
http://chicagoartistscoalition.org/
Lossless @ Chicago Artists' Coalition
Above: Matthew Schlagbaum's kinetic light installation visible within its smoked vitrine housing.
"Lossless"
April 12 – May 2, 2013
HATCH Projects Residency
Chicago Artists' Coalition
217 N. Carpenter St.
Chicago, IL 60607
Curated by MK Meador
Artwork by Jordan Martins, Matthew Schlagbaum and Theodore Darst
http://chicagoartistscoalition.org/
The Wail of Silence @ ROOMS Gallery
Above: Alex de Leon lifts her veil in "Ritual No. 4 – Toll of Eyes," a three-hour performance, 7:00-10:00 PM, March 8, 2013.
"The Wail of Silence"
March 8, 2013
ROOMS Gallery
1835 S. Halsted
Chicago, IL
http://roomsgallery.com/
Psychosexual @ Andrew Rafacz
Above: "Psychosexual" curator Scott Hunter in the foreground, with artwork, left-to-right, by Nazafarin Lotfi, John Neff, and Peter Otto, visible in the background.
Above: Artwork by Peter Otto, Rachel Niffenegger, and Brenna Youngblood, seen left-to-right in Andrew Rafacz Gallery.
"Psychosexual"
April 6 – May 25, 2013
Andrew Rafacz Gallery
835 W. Washington Blvd.
Chicago IL 60607
Curated by Scott J. Hunter
Artwork by Lutz Bacher, Tom Burr, Edmund Chia, Matthias Dornfeld, Jayson Keeling, Jutta Koether, Nazafarin Lotfi, Jeffry Mitchell, John Neff, Rachel Niffenegger, Peter Otto, Kirsten Stoltmann, and Brenna Youngblood
http://www.andrewrafacz.com/
Lauren Edwards & Kera MacKenzie @ ACRE Projects
Above: Lauren Edwards and Kera MacKenzie, participants in UIC's first MFA exhibition of 2013, seen within their subsequent show at ACRE Projects' home site in Pilsen.
Lauren Edwards & Kera MacKenzie
"Burden of Proof"
April 14 – 28, 2013
ACRE Projects
1913 W. 17th St.
Chicago, IL 60608
http://www.acreresidency.org/
Michael Ian Larsen @ PEREGRINEPROGRAM
Michael Ian Larsen
"The Tree, the Gift, and the Amphibian"
March 10 – April 7, 2013
PEREGRINEPROGRAM
3311 W. Carroll Avenue, #119
Chicago, IL 60624
http://www.peregrineprogram.com/
Tina Tahir @ Gallery 400
Above: Tina Tahir at her closing reception with the installation "41.876503,-87.649666," an ornamental 'rug' made of ash and magnetite mineral, whose title provides its GPS co-ordinates. Intentionally made available to foot traffic throughout the course of the exhibition, said piece is shown disturbed from its original state.
"A strange house in my voice."
2013 UIC Art MFA Thesis Exhibition 2
April 2 – April 6, 2013
Gallery 400
College of Architecture and the Arts
University of Illinois at Chicago
400 S. Peoria St.
Chicago, IL 60607
Artwork by Cameron Gibson, Ben Murray, and Tina Tahir
http://www.tinatahir.com/
Laura Wennstrom @ The Peanut Gallery
Above: Gallery patron interacts with Wennstrom's "Block City" during the opening reception; cameras hang ready to document the action.
"Artificial Turf"
University of Illinois Urbana-Champaign MFA group exhibition
March 15 – April 9, 2013
The Peanut Gallery
1000 N. California Ave.
Chicago, IL
http://artgraduatestudentorganization.wordpress.com/
Jesse Butcher & Anthony Romero @ Happy Collaborationists / ACRE Projects
Jesse Butcher & Anthony Romero
"Cyclical, Circular. Like Vultures."
April 6 – 27, 2013
Happy Collaborationists, in partnership with ACRE Residency
1254 N Noble
Chicago IL, 60642
http://happycollaborationists.com/
Michael Robinson @ Carrie Secrist
Michael Robinson
"Circle Spectre Paper Flame"
April 6 – May 11, 2013
Carrie Secrist Gallery
835 W. Washington Blvd.
Chicago, IL 60607
http://www.secristgallery.com/
Co-Prosperity School
Above: A Co-Prosperity School student's presentation on March 18, 2013.
The Co-Prosperity Sphere
3219-21 S. Morgan St.
Chicago IL, 60608
http://coprosperity.org/co-prosperity-school/
Autumn Space Benefit Auction
Autumn Space Benefit Auction
March 10, 2013
1700 W. Irving Park #207
Chicago, IL
http://autumnspace.com/
Deb Sokolow @ Western Exhibitions
Deb Sokolow
March 15 – April 20, 2103
Western Exhibitions
845 W. Washington Blvd.
Chicago, IL 60607
http://www.westernexhibitions.com/index.html
Diegesis @ Logan Center
Above: "The Index for an Encylopedia" by Daniel Rosen
Above: "Smell.RB.MFA 2013" by Maymay Jumsai
"Diegesis"
University of Chicago MFA Show 1
April 5 – 14, 2013
Logan Center Gallery
915 E. 60th St.
Chicago, IL 60637
http://arts.uchicago.edu/
Christopher Meerdo @ Document
Christopher Meerdo
"Anthology"
March 15 – April 20, 2013
Document
845 W. Washington Blvd. Suite 3f
Chicago IL 60607
http://christophermeerdo.com/
Juneer Kibria @ The Sub-Mission
Above: Juneer Kibria in his installation, opening night.
Juneer Kibria
"Hidden Noise"
March 8 – April 20, 2013
The Mission (The Sub-Mission)
1431 W. Chicago Ave.
Chicago, IL 60642
http://themissionprojects.com/
Rebecca Beachy @ Iceberg Projects
Above: An audience member views "Warm (bed)" through a rectangular aperture just above the floor; 109 dozen factory-farmed eggs, ground, lit by heat lamps, lie within the piece.
Above: Iceberg Projects proprietor Dan Berger within the gallery space on June 23, 2012
"The Bearer"
March 10 -April 1, 2013
Iceberg Projects
7714 N. Sheridan Road
Chicago, IL 60626
Artwork by Rebecca Beachy and Walker Blackwell
http://icebergchicago.com/home.html
Lisa Walcott @ threewalls
Lisa Walcott
"Pretty Good Shape"
Artists in Research – Residency
(Closed on March 21, 2013)
threewalls
119 N. Peoria #2c
Chicago, IL
http://www.three-walls.org/
---
Paul Germanos: Born November 30, 1967, Cook County, Illinois. Immigrant grandparents, NYC. High school cross country numerals and track letter. Certified by the State of Illinois as a peace officer. Licensed by the City of Chicago as a taxi driver. Attended the School of the Art Institute 1987-1989. Studied the history of political philosophy with the students of Leo Strauss from 2000-2005. Phi Theta Kappa and Phi Kappa Phi. Motorcyclist.