Guest Post by Jacob Wick.
Before we begin, perhaps it would help to get acquainted: in what follows, and in what follows what follows – over the next few months, or however long Bad at Sports allows me to report from my swiveling office chair in Little Bangladesh – I will be concentrating on what I would say is my main area of concern, or perhaps, to be redundant, a concentration of mine: the support.
Thinking about support originates, for me, with Shannon Jackson's book Social Works: Performing Art, Supporting Publics, which I read two or three years ago and which burned a hole in my mind as I drove, with Marc Riordan and Frank Rosaly, around the Midwest and Southeast on tour with Tres Hongos. Driving the potholed and congested interstates of America through climate-changed constant downpour, hating everyone on the road and being hated by everyone on the road, arriving in what might as well have been safehouses in Lexington, Columbia, Asheville, Charlotte, places where I used to be surprised but now am simply glad to arrive…
From what I can remember, and from what I can glean from skimming the book again, three or two years later, Jackson points out that much recent performance work, "relational" work, socially-engaged work, "social practice," and so on depends on a paradoxical relation to the conditions that make such work possible. A free school might, for instance, fill a vacuum left by a closed or too-expensive school; it might also absorb energy that might otherwise be used to advocate or agitate for better public access to education. The free school then either functions as a boon or a leech or both, a condition that many such attempts happily ignore. In any case, what stuck with me about Jackson's thesis – which of course is, as she writes, inherited from Marcel Duchamp and Bertolt Brecht, among others, which I write not so much for the currency of either of those names but to point out that this, like so many other "contemporary" issues, is not new at all, or is related to the period directly before the Great Depression, or, again, both – is this focus on the support rather than the effect. Instead of bitching about a free school as too aesthetic or too political or not aesthetic enough or not political enough or some combination – a, b, c, d, all of the above, none of the above – it behooves us to wonder why on earth such a school might be necessary or appealing in the first place.
Nato Thompson's recent piece in e-flux appears to be the beginning of a process wherein he either compares the strategies of socially-engaged artists to those of the US military in "counterinsurgency" mode, or compares them with the sorts of insurgent groups that counterinsurgency aims to eliminate. Regardless, I would write that what is most interesting or alarming about this comparison is not that it is possible to make – the similarities between insurgent practice, counterinsurgent practice, and "social practice" are stunning, in fact – but that the conditions that allow insurgent groups like Hezbollah or the US Army to function exist not only in what used to be the Third World but also in what used to be the First World: in Oakland, in Chicago, in rural Ohio, pretty much anywhere, even in Los Angeles. These conditions amount more or less to a vacuum of support.
In his alarming book Brave New War, published in 2006, military theorist John Robb makes an example of Hamas. Writing that Hamas thrives "in the vacuum created by failed states," Robb points out that Hamas's validity emanates from the social services it provides: education, food distribution, youth recreation, elder care, public safety, religious services, health care, grants to students and small businesses, and so on. Robb goes on to present a more-or-less identical model as an ideal model for security services in a post-nation-state age: something decentralized, something specific to its locale, something transparent: something rhizomatic, something site-specific, something participatory. Robb calls this the resilient community. The resilient community, in its very organization, builds the notion of resilience "into the fabric of everyday life," so that, when presented with a threat – a threat posed by more-or-less identical groups like Hamas or the US Army – it responds in "what seems like an effortless way." The idea seems to be to subsume ideology into everyday life, to make it seem not only beneficial, but necessary; not only ideal, but inevitable. Whether that ideology is that of an Islamic republic or that of neoliberal/-libertarian "resilience" or whatever ideology a given socially-engaged artwork might wittingly or unwittingly transmit, the methodology is the same: provide support where it is missing.
When I moved to Oakland two years ago, I read a book – American Babylon: Race and the Struggle for Postwar Oakland, by Robert O. Self – thinking I was going to take a class at CCA whose purpose was to create some sort of site-specific project in West Oakland's historic rail terminal. I did not end up taking the class – which, by the way, failed in its internal negotiations and negotiations with the relators at the terminal, who were/are intent on it becoming yet another yuppie mall in yet another tedious yuppie development in West Oakland – but I did read most of the book. As one can imagine, the history of Oakland is not pretty, and books like this tend to weigh heavily. Self focuses on the lead-up to the overwhelming passage of Proposition 13 – arguably the beginning of the nationwide tax revolt that led to the election of Ronald Reagan and the subsequent gutting of social services – as a turning point in the city's history. Beginning in the 50s, white residents in and around Oakland – with an emphasis on around, since many white residents simply left Oakland for whiter hills or whiter pastures in surrounding San Leandro, Hayward, Walnut Creek, etc – began a campaign of racist real estate practices against black and Latino populations, ghettoizing them to tiny neighborhoods, shuttering or draining business districts, reducing civic services to a bare minimum or below.
It is too tempting, at this point, to not bring up the striking similarity between the services Hamas provides and the services the Black Panther Provided in Oakland in the 70s, as described by Thompson and others, and to marvel at the implication that the Panthers, too, operated in a vacuum created by a failed state. West Oakland, at this point, had been ghettoized by racist real estate practices; physically separated from the rest of Oakland by a highway; and had lost its historic business and cultural center to the development of that highway. I suppose here the state did not so much fail as leave, or actively act against the people that constituted it (or decided, more accurately, that these people did not belong in the state and tried to make them disappear); the effect, though, was the same. The emergence and subsequent demonization of the Panthers made the "grassroots," "populist" campaign of Howard Jarvis and Paul Gann, a wealthy white realtor and a wealthy white former realtor, appear logical to white people across California; Proposition 13 passed with overwhelming support.
Proposition 13 limits property tax to 1% of real property value. Cities use property taxes to fund civic institutions: public schools, libraries, transit systems, and so on – even the police. When Proposition 13 passed, California's public schools were ranked among the nation's best; since the passage of Proposition 13, California's public schools have scuttled down to 48th. Which brings us, finally, to my swivel chair in Little Bangladesh.
Since moving to LA, I figured I should start reading City of Quartz, a sort of go-to history of the city by Mike Davis. So far, I've read the preface, which is a sobering catching up of the first edition of the book, published in the late 80s, with the second edition of the books, published in 2006; and the Prologue, the first chapter of the first edition, which relates the history of the early-20th-century (1914 actually, the same year as Bottle Rack) socialist Llano community, its demise, and Davis's discovery of and conversation with two undocumented itinerant day workers in its ruins. For now, I'll focus on the preface, which makes the case that the conditions that produced the riots of 1992 – which I think went all the way up to my neighborhood, here in the north of Koreatown (here in Little Bangladesh, in the north of Koreatown, between Historic Filipinotown and Thai Town/Little Armenia) – persist. Since the early 90s, manufacturing has continued to decline, corporations have continued to not headquarter themselves in LA, and
real household incomes fell throughout much of Southern California, but the worst drop in the median income was in the City of Los Angeles, where it fell by 9.1 per cent. At the same time, the percentage of households in poverty increased from 18 to 22 per cent, while the percentage with an annual income of more than $100,000 increased from 9.7 to 15.7 per cent. Almost 700,000 working adults in L.A. County have incomes below the poverty line, and seven of the ten fastest-growing occupations in the city, including cashier and security guard, pay less than $25,000 per year. (xvi)
If this sounds familiar, you've probably been listening to NPR or reading the news lately. Both Morning Edition and To the Point – produced here in LA! – have featured segments on growing income inequality recently, spurred by figures published last week by the Atlantic that show that the very richest Americans got even richer, richer than almost ever even, last year, richer than they've been since right before 2008 or right before the Great Depression. Davis places the blame largely on Proposition 13, writing that its effects ensure that
the greater part of the real-estate windfall annually passes through the economy, on its way to buy Hummers, Laker tickets, and vacation homes, without paying a tithe to schools and the creation of the human capital on which the future of California will rest. Luxury lifestyles are subsidized, as it were, on both ends: by a seemingly infinite supply of cheap service labor, and by the tax advantages that accrue to real-estate and sumptuary consumption. (xvi)
In the seven years since Davis wrote this, not much seems to have changed: Bentleys and helicopters shuttle the rich (or the police, or the news) across Los Angeles's jumbled civic topography while precarious service workers cram limited and inefficient public transit and the rest of us in the ever-growing swath between stew in traffic. If anything, these conditions have simply spread across the US. The evaporation of traditional middle-class jobs – manufacturing, teaching – means that a huge range of people are clamoring for the same unpredictable and unreliable service sector jobs. As one of the commentators on the To the Point broadcast mentions (I think), the evaporation of the middle class means also the evaporation of class or income mobility. The poor will stay poor; the indebted will stay indebted; the rich will stay rich.
In the months between when I decided I was going to move to Los Angeles and the day my boyfriend and I actually did move to Los Angeles, I think the most common question – after, perhaps, a disgusted "have you been there?" – was a disgusted "why?" To which I would reply something vague and unhelpful about Los Angeles being ludicrous, fun, etc. Something about the discombobulated setup of the city being exciting, full of holes in which to do something. Perhaps also I would say something about LA being a place where dreams go to die and that I was interested in being in a place where dreams died and seeing what happened next. Actually, I probably never said that; I think I wrote it in a grant application though. Â Since moving here, I'm beginning to wonder if Los Angeles is just a microcosm – I hate that word, but there you go – of the US generally. In Los Angeles, there is a horrific gap between the rich and the poor; general public disregard for public institutions; shitty public transit; overwhelming belief in outmoded or disappeared dreams. Proposition 13 heralded a nationwide tax revolt and subsequent gutting of social services, leading in part to the evacuated and disjunct nation we have today. And if art can do anything in LA, perhaps it is a signal of what art – or anything, or anyone – might be able to do in the US generally, across all of its destroyed or depressed cities and towns.
Writing seven years ago, Mike Davis argued for a "more, not less, ideological politics." Perhaps this is analogous to means more, not less, awareness of the ideology or ideologies buttressing a given socially-engaged project, relational event, or what-have-you; a focus on the support. What's interesting about Los Angeles and the projects being undertaken here is not that they exist or that their structures might be analogous to those of Hamas or the Black Panthers (or InCUBATE), but rather the ideology being communicated by their action, the thing that they aim to build into everyday life, the thing that will appear effortlessly; what's interesting about Los Angeles and undertaking a project here is not how hard or easy an environment Los Angeles is to undertake such a project, but rather if one can be organized in such a way that transmits an alternate ideology, something that focuses not on the same old neoliberal catchphrases -Â innovation, progress, a new vision -Â but on support, on fostering the conditions where mobility might have a chance to begin to occur again. We'll see…
Jacob Wick is a conceptual artist based in Los Angeles. For more information, visit jacobwick.info.
Guest Post by Hannah Verrill
I'd like to use this bit of time-space to introduce a series of posts that will use process as a way of looking at and unpacking a handful of contemporary performance practices.
Each segment exists first as an encounter between an artist and myself. In the space between maker and observer, together we excavate a process, a series of actions that the artist is currently using to create performance material. Each exchange is specific to the work at hand, necessarily time-based, and unfixed in form.
The writing, produced in response to each exchange, seeks to mirror the kind of thinking that happens for a viewer after a performance has ended. The faulty and exuberant process of sifting through, assembling, and organizing the experience of such an ephemeral form.
Why focus on process? I'll take my cue from Gertrude Stein: in order to know we always have to go back. 
I grew up in Brooklyn, NY and it was through my mother and her involvement as a performer with Elise Long's amorphous dance-theater company Spoke The Hub that I began performing at the age of four. Long's performance projects were interdisciplinary, using movement as their main component but regularly incorporating visual art and spoken text.
In one of my earliest performance memories I am six years old on a large stage at the Brooklyn Academy of Music. I am hiding behind a set piece waiting for a cue and watching Elise Long, dressed in a magnificent red lobster-gown costume, deliver a monologue to an audience of hundreds.
Two years later I was cast in Meredith Monk's work The Politics of Quiet; an ensemble piece addressing the Bosnian war for independence and Sarajevo in the 1990's. I recall the intensity of the audition for this piece: my eight-year old body crossing a room slowly, picking up a vessel, feeling its weight and carrying it with me through space, and later being asked to sit as still as possible, my legs folded in front, focusing my attention on the air surrounding me.
In contrast to these kinds of engagements, my experience with performance as a kid was just as often marked by amateur experiments: strange dance-theater pieces thrown together in collaboration with cousins and staged for the family after thanksgiving dinner; solo dance numbers set to Fleetwood Mac and performed for my brothers, my dad, and a video camera; improvised movement by myself and for myself in the attic space of my home.
Three months ago I completed an MFA degree from The School of the Art Institute of Chicago focusing in performance. From where I stand now in relation to these childhood memories, I am aware not only of the performances themselves—events characterized by the work meeting an audience—but also of a much larger and more complex sea of experiences surrounding and generating the work. Time does its thing and I am still standing inside of the processes of those past works: the scaffolding comprised of auditions, rehearsals, trials, notes, periods of waiting, of watching, of thinking, of doing.
Performance theorists assert that in the instant of performance, the work experiences a kind of disappearance. With twenty-two years as a performer, I have felt time and time again the loss that comes with a performance's end. My experience of my body as a learning-thinking-moving-performing thing, never fully knowing or comprehending the work that I was just then putting forth towards an audience—a you. This repeated rehearsal of loss drives my desire to spend time with and examine rigorously the nature of a process that works towards a disappearance.
What remains and what comes next? In a disappearing present, the past and the future takes on considerable weight. Process asserts a present. If we can agree that as a form performance undercuts the value of a static or fixed product—an end result—the questions of what remains and what comes next persist. How can the weight of the past and future be leveraged, made light and moveable? I can commit to the present just like I can feel the weight of my feet on the floor, just like I can feel my breath as it rises and sinks through the space of my torso—through a focus of attention. I will practice that attention to the present by way of this series called Process Notes.
Hannah Verrill is an artist living and making work in Chicago, Illinois.
Guest Post by Young Joon Kwak
This edition of salon talk is a conversation with artist and educator Patrick Jackson.  Jackson was born in Los Angeles, CA, where he also currently resides.  Working primarily in sculpture, he's had exhibitions in galleries and institutions internationally, including François Ghebaly Gallery, and the Hammer Museum in Los Angeles, Nicole Klagsbrun Gallery in New York, The Soap Factory in Minneapolis, MN, and CAPC Musee d'Art Contemporain in Bordeaux, France.  His next solo show The Third Floor opens at François Ghebaly Gallery in November 2013.  Jackson got his MFA from USC, where he is currently the Sculpture Area Head.  I first got to know Patrick Jackson through Mutant Salon barber Marvin Astorga, so I thought I'd ask him to say a few introductory words about Patrick:
Patrick Jackson is a regular visitor of the salon. Apart from making cool stuff, he prefers a #3 clip guard, as he likes a bit more length in the back and sides than most of our clipper-inclined clients. I've tried the #1 and #2 guards on him before, and the result was perhaps a bit too flashy. Patrick understands that, while his hair type is very forgiving (it's thick with a well-behaved curl), it's important to know what you want out of your hair, your art, and your life.—Marvin Astorga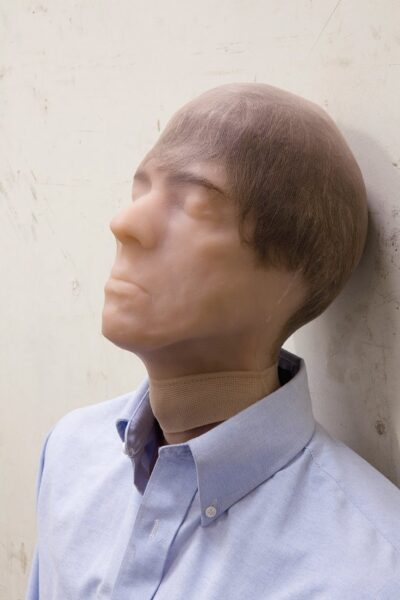 closeup of a sculpture from Jackson's All Cut Up, 2012
PJ:  Lately, I've been reading Philip Guston's writing and looking at his paintings.  I think his work is a good example of ideas and forms working off each other—clashing, in a productive way.  One can relate to it in a beyond-language kind of way, just thinking of objects like a clock and questioning it, taking it apart, and how it relates to us as an object and as an idea of time.
YJK:  Do you look at other sculptors or sculptures when you're starting a project?
PJ:  I look at a lot of sculpture, I like sculptors, but I feel like I sculpt mainly because that's what I'm good at and I enjoy it—it fits my personality.  I move slow—it's a contemplative medium by nature, I think.  But when it comes to looking at work, I'm more attracted to films and writing, just idea-wise.  Sculpture is not a thing where you can explore ideas in a really deep way.  I think if you wanted to do that, you'd turn to writing.
YJK:  What's a favorite film of yours?
PJ:  My favorite film is probably Terrence Malick's Badlands.  There's something about it similar to Guston's work, in a way.  They both deal with people's relationships to objects.  That's how I think about sculpture, as the study of relating to objects—from a rock, to something bought in a store …
YJK: Â How do you feel about a lot of sculptors today using stuff that they bought from stores, readymades?
PJ:  Some of it's too heavy on the "purchase and lay it on the ground" approach, without any alteration—or perspective.  But it's an important part of considering objects, I think—how we navigate the aisles.  I've always thought Rachel Harrison is good with that kind of stuff and I've flipped through her books, trying to figure out how to use them in my own work.  Her show, If I Did it, has been a big influence.  The title for the show came from OJ Simpson's book, by the same name, which I think is him telling how the murders would have gone, if he had done it—something like that.  But for Harrison, If I did it was the idea of the readymade and making.  If I buy something and put it in the gallery, am I the one who made it?  The whole show was really an open consideration of objects, how we relate to them, understand them, our connection to them, how we're involved with them …
YJK:  Yeah, I think it's interesting that you bring up Harrison.  There are so many different ways to engage with her work, so many entry points, like pop cultural references, a mixture of readymades, and there's a sense of play in her process and certainly in the experience of the work.  I'm also interested in the formal decisions she makes—her accumulation of material fragments and how she reconfigures to incite different interactions between materials, screwing around with hierarchies of different materials, and then how some of the same sculptures that she made continue to be reconfigured and shown in different ways for different shows, like the piece Green that she showed in the 1993 exhibition at the New Museum.
PJ:  Yeah, I've heard that she describes the way she makes work as similar to the way someone shops, where it's sort of like I'll try some of this, and try some of that, and like you described, a sort of movement through objects.
YJK:  Someone told me that John Kelsey thought of her sculptures as drag objects.  I'm also interested in your use of materials, and how you animate them, imbuing them with a sense of the body, but a sort of traumatized body or a precarious body, such as with your tchotchke stacks, and certainly the show where you had a body leaning against a wall, or the one with two bodies lying on the floor, or just kind of how they're positioned with their eyes closed—they do seem like they've been inflicted, like it's the aftermath of some sort of violence or disease or something like that. And then I thought that it was funny that one of the sculptures—I think there's a stocking pulled over the face…
PJ: That was from a body cast and the cast was made for the project in the apartment, House of Double, the one with the two figures lying down.  The one that has the stocking over its head is the same body, it's from the same molds, but it's made up of leftover pieces.  I sawed the body in half, so it could sit against the wall … ended up looking more like it's folded in half and crammed against the wall.
YJK: So was it a cast of your body?
PJ: Yeah.  When I first started working on House of Double I knew that I wanted to make a body, because other sculptures I'd made were more in relationship to the viewer's body, so I wanted to make a sculpture where this body would actually be the piece and then the viewer would have a relationship to this body, as opposed to their own.  I wanted to make it lying down, on the one hand because I felt like that's what would make it feel between object and person … then there's also this idea of violence.  Again, I was thinking a lot about Badlands, and there's this idea that goes through that film, a classic philosophical consideration, of one's relationship to the world—about what's an object and what's a subject.  The movie is based on the true story of Charles Starkweather, an American serial killer.  This character is continually considering what is worthy of living, and what's not, and then it gets applied to objects too, where he's sort of, "Well, what object is useful to me and which one is not?" And that's something all of us can enter into, like a more benign consideration of use, with animals, or the coffee cup you throw away.
YJK: I'm interested in knowing more about this sense of masochism I get from the work, I mean it's cast from your body, like you're enacting violence on yourself, or a projected self, or a surrogate self?
PJ: In the House of Double, there's a body in each bedroom, and the idea was they're supposed to be relatively identical, but in the experience of being in there, you can never see both of them at the same time, so it's sort of a memory comparison, or the idea that they existed somewhat in your head.  Of course when you look at them online you see both of those images at the same time, though … I guess that doesn't answer your question.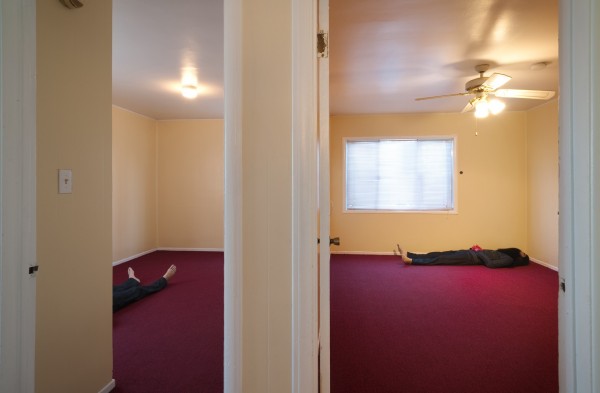 Installation view from House of Double, 2011
 YJK: I was thinking a lot about the relationship of yourself or your body, this body that you're creating in relationship to the viewer looking down at it, and there being this sort of hierarchy that's established between yourself and the viewer, so I was curious about your perspective of this body or your body or a more general idea of the self.
PJ:  A lot of ideas went into it: research, reading, movies, TV, and a lot of stuff I was going through in my own life.  It was a mix of a lot of things, and then it felt like it clicked in the end 'cause it took on a life of its own, it became something separate from my own ideas, but it was born from those. So what you're describing is really interesting and kind of true, but that's not the only thing that this piece is about.
YJK:  I think it's interesting that in relation to the work where you've created more representational bodies—you then have your Tchotchke Stacks, which are literally stacks of all these different kinds of statues and figurines, with their own histories, and the residue of their owners—They're also almost body height, but a bit taller maybe, more imposing, like a body that comprises a collectivity of varied parts. It's interesting to think about this collective body being composed of all these different little tchotchkes, and how that leads to questions of subjecthood and collective subjectivity, how we all relate to each other through objects, through tchotchkes.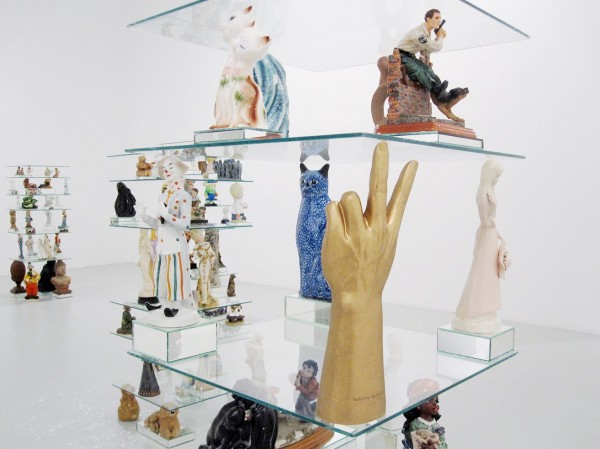 Detail view of one of Jackson's tchotchke stacks, 2010
PJ:  There's also just the fact that our relationship to our body is changing, it seems to me.   I'm a big Cronenberg fan, and he's someone who's thinking about our relationship to our own bodies and other bodies, all through changing media, from Videodrome to the availability of something on video, or through cable television, to eXistenZ and the internet.
YJK: Â With each project, does your conception of the body change or transform?
PJ:  I try to make individual projects, but as you start to make more work, it starts to add up and to turn into something on its own, like where they're not just completely divorced projects from each other, although that's usually how I try to start something, trying to make it autonomous—like a film or a book.  But before you know it, you've created this body of work, but also a reflection of yourself, basically. You see it differently than I do.  You come to the work and look at it as a whole, and you start to see these connections that I see too, when you bring them up, but I guess I don't try to approach it as this idea of "I make work about the body transforming."  But now when I hear you talk about the body transforming, I'm like, "Oh yeah, I think that makes sense."  Definitely with doing this sculpture that is partially based on my nephew for my show…
YJK:  Yeah, the scale of it's funny…
PJ:  Because I've seen him change a lot, knowing him since he's a little kid.  I've seen him go through life and that makes a lot of sense to me with thinking about that sculpture, and then also just him.  As a piece, it's just a boy, but what you're talking about … I can really see in relationship to this show.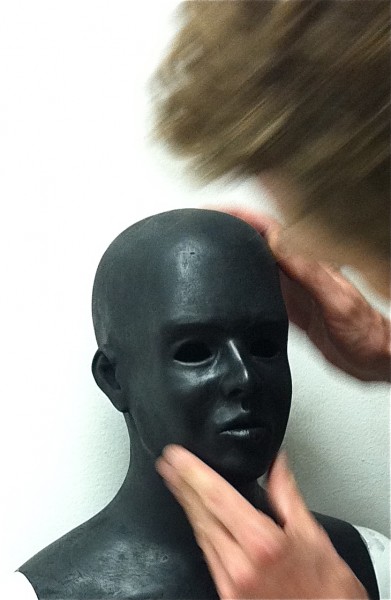 sculpture in process, 2013
YJK:  Can you tell me more about the other work you're making for your upcoming show at François Ghebaly Gallery, in the fall?
PJ:  Well, one of the things I was thinking about with the title of the show, The Third Floor, is a sort of relationship of one object to another object, or subject to subject, and this book Flatland, that classic book of circles or triangles that can only move through two dimensions of space—they can only go forward and backward, left to right.  And then us, being in the third dimension, we can see them and understand them in this really basic way, but they can't understand our world—our third vertical dimension.  And then there's an idea of the fourth dimension, where there are these eyes, this sort of knowledge that exists beyond us, that sees us as limited in movement and can observe us and can see all of time. I'm trying to do a similar thing with this show, where there's the narrative of the space where this boy's body is on the third floor, looking down, or sort of seeing everything as objects in relationship to him.  Then there's us as viewers, who come in and see him and everything else as an object in relationship to us. Also, I've been thinking of the idea of the uncanny, something like thinking that I just saw a person I'm attracted to, and then it's like, oh no, it's a 90-year old woman I just saw out of the corner of my eye, this feeling of like, "Oh, what's going on?"
YJK: How'd you end up working with ceramics for this show?
PJ: It came about because I didn't have any money.  I work at USC and I can use the facilities for free. On top of that, mold making can be really expensive, but slip molds and ceramic supplies, in general, are pretty cheap. Then I just got into the process, my hands in the clay and experimenting with the materials—especially the glazes.
YJK:  What's the relationship of your ceramics to the long history of ceramics in relation to contemporary art? Thinking particularly about how—I don't know whether it be right or wrong—ceramics occupies this place within sculpture discourse/greater art discourse of marginalization, this place of just being merely decoration?
PJ:  Well, it goes through stages.  I mean, ceramics is very popular right now, it's in every gallery, but it also has a history that you're talking about, which is, it's seen more as a craft and it's looked down upon, and there's also a certain form that I was really aware of when I was making it that I was trying to stay away from, which was just the look of something that was made in a parks and rec. course or in an elementary school, having that sort of "ceramic" look—which I think is fine, to maybe even harness, but for the look I was going for I tried to pick stuff that would look unceramic, in some ways. I've also added other materials: wax, epoxy and rocks.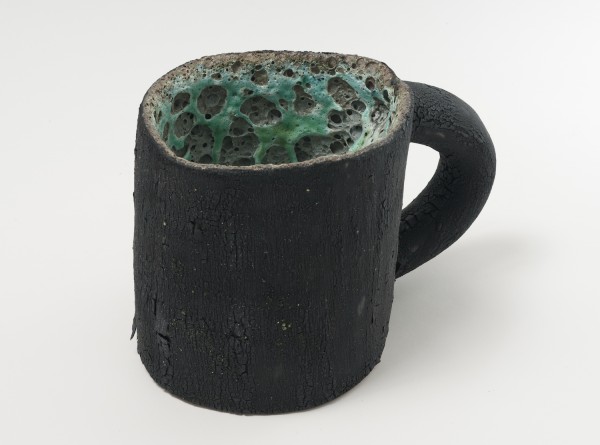 ceramic pieces from The Third Floor, 2013
YJK:  You've mentioned to me that the three floors of the space are three categories of sculpture, both in arrangement and form.  You're thinking of the lower level, where the ceramic vessels will be placed, as storage.  Do you feel like the ceramics, their importance or meaning arises more in relation to the other works that you create? Like in relation to the upper level, or more conceptual works, as you said?  And just the idea of these three floors…
PJ:  I think a big part of meaning comes from juxtaposition. It's like making a sentence, where words next to each other start taking on a different meaning instead of being autonomous. So that's part of the show, too.  I think this is something a lot of artists grapple with, nowadays.  You have the installation, which is however long, you know, six weeks, a few months, and things are arranged to be a certain way in relationship to each other and then they get broken up and they're never the same. So that's definitely what will happen to this show. And I'm trying to think about that a lot, as being part of it, of questioning what's an object alone? What is an object next to other things? But when I first started writing about the show, doing research—I have a notepad for every project I work on—I was thinking about this movie I'd seen about a girl who's discovered after being locked in her bedroom till she was like 11-years-old. So she had never learned to speak, and she hoarded.  One of the things that she did, that apparently is common with children who experience this sort of intense isolation and entrapment, is hoard water, usually containers of water, so when she lived with a therapist in her room she just had cups, she'd get cups of water in the kitchen and then leave them around her bed.
YJK:  Which makes sense with all of the ceramic vessels and cups you are making for your show…
PJ:  Yeah, it's like a hoarded kind of thing.  I looked in my notebook a few months after I started making these and I realized, "Oh yeah, I forgot about that, but that's what started it all.'
YJK: Â So is this show all about you being really isolated and trapped in the world?
PJ:  Ha-ha, no comment.  I don't know … It is what it is … I mean, it's about my family too. But it's also about thinking about a basic form, that everyone can relate to.  I've been thinking of Brancusi—he did a cup piece.  That's one of the fascinations with children like this. When children like this are discovered, it's like, every scientist, every therapist wants to work with them, because now we can get to the bottom of things, like how does language work? How do we develop it? When are you too old to learn how to speak and interact with another person? How is this person going to understand things? They're fresh, they've never been educated in anything. And so, to look at something that they do, like hoarding water, hoarding cups or … there's also the movie The Wild Child, which is about a child who was living out in the wild and was discovered by someone, a French scientist was studying him, and in that film there's a scene where he drinks from a glass of water while he looks out a window, it was one of his great joys and I think it was used as a reward when he was being trained how to read and stuff like that.  I'm just fascinated by that.  What is it about having a cup of water and looking outside?  Of connecting to nature, I guess, with water, this basic thing that we all need.
YJK:  We talked a bit about The Third Floor before, and how the unique architecture of the space—how on the second and third floors one can see the lower level—influenced formal decisions you made, such as extending the second floor with scaffolding, covering the lower level and making a basement of sorts.  I'm curious about your decision to have scaffolding, just thinking of all the exposed parts underneath.
PJ:  From underneath where one encounters t­he ceramics, it will look like regular scaffolding, and then from up top it will look like a wooden floor, or like an old wooden floor, 'cause you won't see any of the mechanics holding it up.  From underneath, it's more of what you would think of as an unfinished basement, where you see the structure of the house and everything that sort of holds things up, it's sort of the raw elements of things. So it seemed to just make sense that way and also, yeah, just sort of revealing the structure I think goes along with part of the narrative that basements have and of the show … I think of hidden things happening.
YJK: Â What keeps you going in your practice?
PJ:  I just want to make work that I like and that I feel like I changed because of it, like I had an experience out of doing it, where it affected me from making the work—it didn't feel like I was just going to a job and making stuff.  There's a Tarkovsky quote that I often think of and I have on a notecard, on my studio wall.  The Tarkovsky quote is something like … I'm gonna slaughter the quote, but it's something like, "Your work shouldn't be the next step in your career, but a turning point in your life." Like any quote that one pins up on their wall, it's a bit cheesy, but I think it's something that I agree with—and it's not practiced enough, these days.
Young Joon Kwak is resident Queen at Mutant Salon and performer in the band Xina Xurner.  Hailing from Chicago, she currently lives in Los Angeles while pursuing her MFA at USC.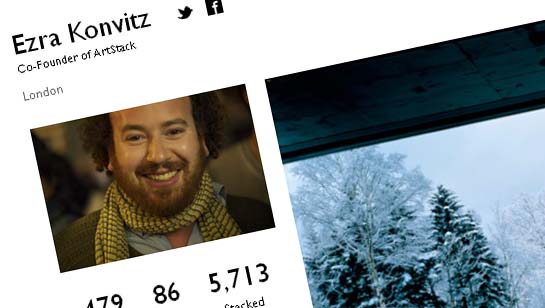 Guest Post by Mark Sheerin

Art needs networks, and the 20th century testifies to that. There could never have been a lone fauvist, a solitary cubist, an isolated futurist, etc, etc. The avant garde loves company, and, without it, could never have made the great strides which came along with modernity.
Now we live in a different landscape. Cafes have become corporate part-time creches and third place venues for business meetings. Cigarettes and pipes, both intellectual props, are banned. And just try paying for your triple shot latte with a sketch, it can't be done.
The avant garde have been in retreat everywhere for decades now. So it is good news to have some networking technology which might serve as a focal point for new visual ideas. So brew your own coffee, and read on, then redirect your browser to ArtStack here.
"How do these groups of people come together?" asks Co-Founder Ezra Konvitz. "What do they come together around, what was the particular moment where you have a group of people who have all converged around an idea?"
Some journals and meeting places may still exist, but these days many artists find it just as easy to share works, inspiration and ideas online. Like any social network worth its salt, Konvitz says his project hopes to replicate the social dimension of the real world.
For those new to ArtStack, the beta-stage website is a minimal, intuitive platform on which you can post images of your favorite art and browse those pertaining to other avant garde spirits. But I jest; the site is not at all elitist.
It is instead a space where you might find super-curator Hans Ulrich Obrist's profile along with those of well-known artists from around the globe and emerging names from the most far flung parts.
"What's really cool now is you've got people from Australia talking to people who are in New York and collaborating on shows. It's so quick now," says thirty-something Konvitz, whose democratic start-up is the fruits of a Masters in Art History and a timely enthusiasm for new and social media.
He talks of providing young people and other outsiders with, "the inspiration to go and be an artist, to go and be a curator, to get involved with art". You don't need a residence in a capital of culture to participate; ArtStack brings together people from 198 countries.
Konvitz is under no illusion that his site will replace the first-hand experience of a gallery. "Of course, real world interaction is always stronger," he says. "Being able to have a conversation with somebody, or to see something in real life, is always going to trump an online interaction."
And yet research has shown that some 60 percent of visitors to a show at Tate Liverpool, previewed online, said that seeing the displays online made them more likely make a visit.
At a later point in our conversation, Konvitz compares visiting an exhibition to experiencing live music. Jpegs and mp3s can help make you familiar with the work, but a live experience is always something special.
Perhaps it is inevitable, but the musical comparison brings to mind the rapid rise of band Arctic Monkeys, thanks to a page on music networking site MySpace. Anecdotal evidence suggests ArtStack has hooked up artists with curators, but the art world is still waiting for the meteoric artist without gallery representation.
However, interested parties might still learn something from a check-in with the website's trending page. Major exhibitions in major cities tend to drive traffic to certain artists. "It's a good way to keep tabs on what's going on in the world," says Konvitz.
It also offers the chance to see much loved works in new contexts – 3D pieces and video are both well served. "You can see a sculpture from the front, from the back, during daylight, at night, when it was in France, when it was in New York," says Konvitz,
"It's nice to get more of a rounded experience of a work or to view video art in your living room." Indeed, to visit a page on which Giotto could rub  shoulders with a 21st century art student is the most rounded of experiences.
"Finding the way in which artists can have that success and connect with the people who will make a difference to them is a really important thing", Konvitz says. Avant garde movements may be a thing of the past. But, all the same, you might watch this virtual space and hope.
Mark Sheerin is an art writer from Brighton, UK. He can also be found on Culture24, Hyperallergic, Frame & Reference and his own blog criticismism.com
This piece was originally submitted to Chicago Artist Writers:
Guest post by Daniel Baird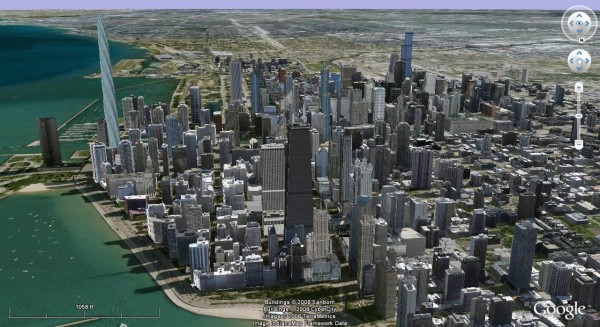 In the recent Field Museum exhibition 'Scenes from the Stone Age: The Cave Paintings of Lascaux,' perfect replicas of a 20,000 year old archaeological site in the Southwestern countryside of France are brought to Chicago by way of 3D models, to-scale stone replicas and cast artifacts. The process by which the drawings and cave structures are being visualized shows a contemporary trend of using advanced imaging technologies to digitally represent and conserve the surfaces of objects and locates it purely within an aesthetic analysis of surface.
The recent predominance of surface is seen most notably in cultural objects that come to us via the internet and hand-held mobile devices. Google Earth is a leading proponent that is warming us to this way of being in the world. Ambitious in its scope, it seeks to map out by way of photographic image an accurate depiction of the entirety of the earth. It does this via satellite imagery and numerous on land instruments that take 8 simultaneous pictures and seam them together as a flowing surface. In this digital replicating of the world through image, one is able to traverse any place on earth through a screen. Spin-Cam, a recent application for the iPhone, allows viewers to download panoramic images of locations from around the world and view them, hands outstretched, through the surface of their screens at the same position they were taken. Literally spinning in place while a different location is grafted onto the present. A recent development in printing technologies, centralized to the advertizing industry, has allowed for images to be placed onto a mesh vinyl that is able to be seen though when near, but at a distance reveals an image. Used in construction sites during the restoration of important structures, it has been used to place an image of the building as it is planned to look on the outer scaffolding, or skin, to mask the potentially unflattering things being done to its exterior facade. In all of these instances, including the recent Field Museum exhibition, the surface of the experienced world is presented as disembodied and able to be understood as object.
Lascaux, as the caves paintings have come to be called, was discovered in 1940 and made into a tourist attraction in 1948. Due to heavy carbon monoxide levels generated by roughly 1200 visitors per day, the caves were shut down to conserve them from damage. To satisfy the desire to see these ancient discoveries, in 1983 a nearby quarry was used to house a pair of to-scale replicas of walls from the original. It was given the name Lascaux II in recognition of its artifice. Constructed with armatures and concrete, detailed diagrams were made of the original paintings and reproduced by hand using pigments and tools similar to what may have been used by the creators of the original. The field museum presents another, mathematically precise, iteration of the replicated cave drawings.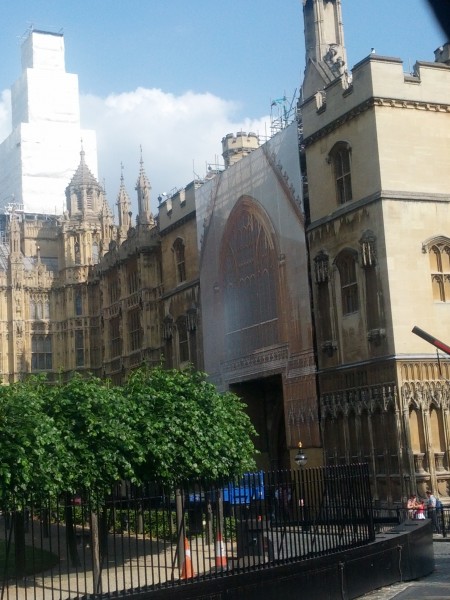 The entrance of the exhibition begins with a stone object that is worn, weathered and dimly lit. This initial confrontation with the stone object anchors the viewer in a familiarity to the real. Light slowly traces the contours of faint engravings on the fragment calling our attention to an abstracted horse hidden within the surface. The revealing of a hidden illusion on the surface of the stone sets the stage for a type of reversal between the real and the artificial that occurs throughout the exhibit.
In an adjacent room, the mesmerizing sound of a synthesizer pulses soothing digital tones that feel like a sacred chant. Six stark-white, bulbous vessels recall decayed and hollowed out tree trunks resting on skewed geometric bases. At waist height, these objects refer to horizontal bodies balancing precariously on the peaks of mountains. Sleek, bendable lights are perched at the entrance to each of these forms illuminating the interior surface. The hollow vessels are so thin that the interior and exterior skins appear to be the same.
A realistic digital animation projected onto the wall is the heart of the exhibition. It connects the forms surrounding the viewer into a single entity that slowly rotates amidst a black background. It looks like an organic spaceship, floating with no reference to its own scale. As the animation rotates the cave structure, the viewer becomes aware that the exterior surface is derived purely from images of its interior. The cave as 3D model is a pure flowing surface. This visualization of the cave structure as an absolute object is an experience that would be impossible to attain in real life.
The camera enters into the digital cave structure and moves with anthropomorphic gestures through the detailed interior, bobbing ever so slightly to the left and right as if to mimic how we walk through the world. Artificial bats rush through the caves and floating balls of fire illuminate the chambers casting faux shadows on the walls. At the end of the tunnel is a bright light that obscures any further view. This visualization of the caves interior is key to understanding the objects in the room. The white vessels in the space become blank sheets of paper that the viewer can now graft the cave drawings onto. It is impossible to resist imagining oneself inside the vessels at a 1:10 scale.
Surface and replication are emphasized by the exhibition. In digitally acquiring the undulating surface of the cave drawings through 3D laser scanning, we are left only with images that can be grafted onto mathematically precise points in virtual space. These points hold no depth and can be seen anywhere in the world, at any time with any digital device. The caves are now pure information. The thinness of the physical structures throughout the exhibition exemplify the 'zero-dimensional' quality of 3D models. Each physical object we encounter is derived from the original 3D model and pushes against its own architectural and structural limits in order to maintain this illusion of immateriality.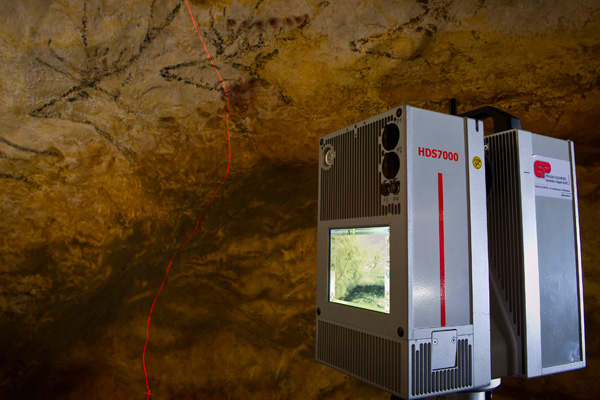 The next room in the exhibit presents enormous, to-scale wall replicas of select rooms of the caves. Faux-stone surfaces with crude pigmented drawings tower over the viewer. They appear rocky, irregular and roughly an inch thick while being held from behind by large geometric structures (mirroring the display techniques holding the 1:10 scale models) Termed 'stone-veils', these massive replicas attempt to enter into this depth-less and perfect zone of the digital. Lights subtly change in this new space, revealing different perspectives of the drawings that are on the walls similar to how the faux-candles changed the surface in the animation. Two hyper-real sculptures of a man and woman clad in animal skins and jewelry peer out of the cracks of adjoining walls. The woman points her finger outward with a look of fear on her face while the male, much older in age, sits beside her with a passive expression. Their uncanny expressions, particularly that of the woman's, instills a feeling of trespassing and self-awareness within the viewer. Despite all attempts, eye contact with the ancient figures is impossible. They always look through you.
The translation of the physical into the perfect digital and back again into the physical is tested in this part of the exhibition. In placing the figure physically into the 3D caves represented in the prior room, we physically enter into a world understood to be built from the virtual. The forms are fragmentary and stand in as samples for the entire structure. In bringing together these fragmented 1:1 replicas, the entirety of the cave is presented. In encountering these forms, the question as to whether or not the replica can carry more weight than the original is predominant. Would the replicas and the recreated 3D model shift in meaning or value if the interior structure of the original cave tragically collapsed in on itself and became forever lost? Would the 3D model, and the perfect reproductions that can be derived from it, function as the new original? Or, to speak to recent cultural apocalyptic fetishism, if the world should disappear would Google Earth be the perfect world before it beset an unfortunate event? The ancient cave drawings at Lascaux now digitally exist everywhere and at all times simultaneously, trapped photographically in the moment they were recorded. Visiting the original now seems fruitless and arbitrary.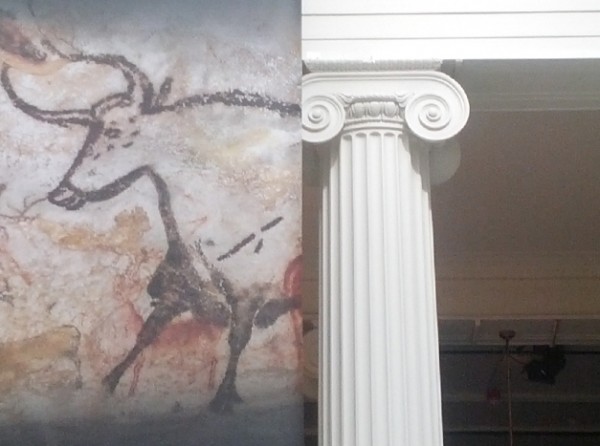 This possibility of representing the cave structure in virtual space results in a new consideration of aura. In becoming virtual, the caves are now equated with any digital model of any object and as a result now exist in historical ambiguity. A digital spoon, table, asteroid, CAT Scan, height-field map of a farm in Nebraska or the Lascaux Caves all share the potential to exist simultaneously with one another, and at any scale, in the digital terrain. The digital caves are now a pseudo-artifact that share a likeness with the function of the souvenir. The 3D model of the cave presents the possibility for an acute historical analysis of the markings on its surface by way of mimicking the lighting conditions, zooming into the surfaces and experiencing time inside of the virtual models.  It also allows for them to be placed in any virtual situation as object, container or reference.
The trans-historical preoccupation with the surface of objects is emphasized by these contemporary reproductions of the Lascaux caves. Created 20,000 years ago, these early articulations of physical reality on a flat picture plane have traversed through time to be embodied by our most recent iteration of representation. Whereas historically the placement of images on surfaces has been the dominant concern of art and aesthetics, we are now seeing a preoccupation with the pure surface able to exist anywhere and in any form. We can now experience the cave with more exactitude than we ever could in real life.
The Field Museum exhibit, "Scenes from the Stone Age: The Cave Paintings of Lascaux" closes on September 8th, 2013.
Daniel G. Baird (b. 1984) received his BFA from the School of the Art Institute of Chicago and MFA from the University of Illinois, Chicago. Recent Solo exhibitions include 'Vestige' at the Institute of Jamais Vu, London, 'Has the World Already Been Made? X4' at both Roots and Culture, Chicago IL and Hedah, Maastricht, Netherlands, 'Meridian' at Robert Bills Contemporary, Chicago, IL and 'This New Ocean,' at Appendix Project Space, Portland OR. Recent Group exhibitions include Bowling Alone, Andrew Rafacz Gallery, Merge Visible, Prairie Productions, Chicago, IL. He will present work at the Elizabeth Foundation, NY and Leeds College of Art in 2014.