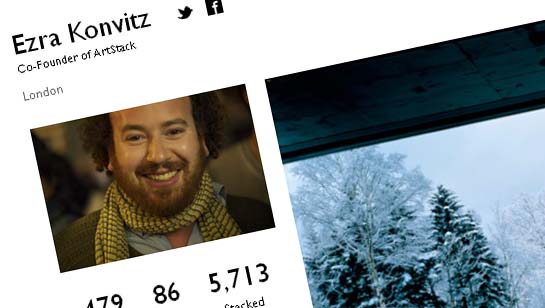 Guest Post by Mark Sheerin

Art needs networks, and the 20th century testifies to that. There could never have been a lone fauvist, a solitary cubist, an isolated futurist, etc, etc. The avant garde loves company, and, without it, could never have made the great strides which came along with modernity.
Now we live in a different landscape. Cafes have become corporate part-time creches and third place venues for business meetings. Cigarettes and pipes, both intellectual props, are banned. And just try paying for your triple shot latte with a sketch, it can't be done.
The avant garde have been in retreat everywhere for decades now. So it is good news to have some networking technology which might serve as a focal point for new visual ideas. So brew your own coffee, and read on, then redirect your browser to ArtStack here.
"How do these groups of people come together?" asks Co-Founder Ezra Konvitz. "What do they come together around, what was the particular moment where you have a group of people who have all converged around an idea?"
Some journals and meeting places may still exist, but these days many artists find it just as easy to share works, inspiration and ideas online. Like any social network worth its salt, Konvitz says his project hopes to replicate the social dimension of the real world.
For those new to ArtStack, the beta-stage website is a minimal, intuitive platform on which you can post images of your favorite art and browse those pertaining to other avant garde spirits. But I jest; the site is not at all elitist.
It is instead a space where you might find super-curator Hans Ulrich Obrist's profile along with those of well-known artists from around the globe and emerging names from the most far flung parts.
"What's really cool now is you've got people from Australia talking to people who are in New York and collaborating on shows. It's so quick now," says thirty-something Konvitz, whose democratic start-up is the fruits of a Masters in Art History and a timely enthusiasm for new and social media.
He talks of providing young people and other outsiders with, "the inspiration to go and be an artist, to go and be a curator, to get involved with art". You don't need a residence in a capital of culture to participate; ArtStack brings together people from 198 countries.
Konvitz is under no illusion that his site will replace the first-hand experience of a gallery. "Of course, real world interaction is always stronger," he says. "Being able to have a conversation with somebody, or to see something in real life, is always going to trump an online interaction."
And yet research has shown that some 60 percent of visitors to a show at Tate Liverpool, previewed online, said that seeing the displays online made them more likely make a visit.
At a later point in our conversation, Konvitz compares visiting an exhibition to experiencing live music. Jpegs and mp3s can help make you familiar with the work, but a live experience is always something special.
Perhaps it is inevitable, but the musical comparison brings to mind the rapid rise of band Arctic Monkeys, thanks to a page on music networking site MySpace. Anecdotal evidence suggests ArtStack has hooked up artists with curators, but the art world is still waiting for the meteoric artist without gallery representation.
However, interested parties might still learn something from a check-in with the website's trending page. Major exhibitions in major cities tend to drive traffic to certain artists. "It's a good way to keep tabs on what's going on in the world," says Konvitz.
It also offers the chance to see much loved works in new contexts – 3D pieces and video are both well served. "You can see a sculpture from the front, from the back, during daylight, at night, when it was in France, when it was in New York," says Konvitz,
"It's nice to get more of a rounded experience of a work or to view video art in your living room." Indeed, to visit a page on which Giotto could rub  shoulders with a 21st century art student is the most rounded of experiences.
"Finding the way in which artists can have that success and connect with the people who will make a difference to them is a really important thing", Konvitz says. Avant garde movements may be a thing of the past. But, all the same, you might watch this virtual space and hope.
Mark Sheerin is an art writer from Brighton, UK. He can also be found on Culture24, Hyperallergic, Frame & Reference and his own blog criticismism.com
This piece was originally submitted to Chicago Artist Writers:
Guest post by Daniel Baird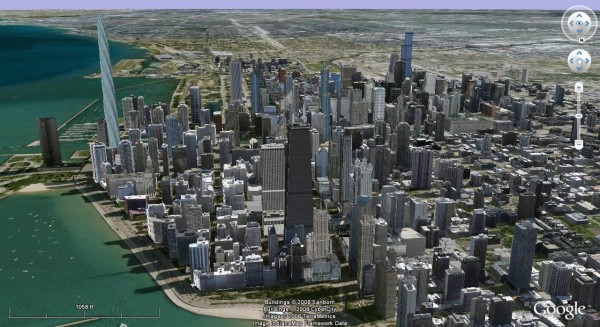 In the recent Field Museum exhibition 'Scenes from the Stone Age: The Cave Paintings of Lascaux,' perfect replicas of a 20,000 year old archaeological site in the Southwestern countryside of France are brought to Chicago by way of 3D models, to-scale stone replicas and cast artifacts. The process by which the drawings and cave structures are being visualized shows a contemporary trend of using advanced imaging technologies to digitally represent and conserve the surfaces of objects and locates it purely within an aesthetic analysis of surface.
The recent predominance of surface is seen most notably in cultural objects that come to us via the internet and hand-held mobile devices. Google Earth is a leading proponent that is warming us to this way of being in the world. Ambitious in its scope, it seeks to map out by way of photographic image an accurate depiction of the entirety of the earth. It does this via satellite imagery and numerous on land instruments that take 8 simultaneous pictures and seam them together as a flowing surface. In this digital replicating of the world through image, one is able to traverse any place on earth through a screen. Spin-Cam, a recent application for the iPhone, allows viewers to download panoramic images of locations from around the world and view them, hands outstretched, through the surface of their screens at the same position they were taken. Literally spinning in place while a different location is grafted onto the present. A recent development in printing technologies, centralized to the advertizing industry, has allowed for images to be placed onto a mesh vinyl that is able to be seen though when near, but at a distance reveals an image. Used in construction sites during the restoration of important structures, it has been used to place an image of the building as it is planned to look on the outer scaffolding, or skin, to mask the potentially unflattering things being done to its exterior facade. In all of these instances, including the recent Field Museum exhibition, the surface of the experienced world is presented as disembodied and able to be understood as object.
Lascaux, as the caves paintings have come to be called, was discovered in 1940 and made into a tourist attraction in 1948. Due to heavy carbon monoxide levels generated by roughly 1200 visitors per day, the caves were shut down to conserve them from damage. To satisfy the desire to see these ancient discoveries, in 1983 a nearby quarry was used to house a pair of to-scale replicas of walls from the original. It was given the name Lascaux II in recognition of its artifice. Constructed with armatures and concrete, detailed diagrams were made of the original paintings and reproduced by hand using pigments and tools similar to what may have been used by the creators of the original. The field museum presents another, mathematically precise, iteration of the replicated cave drawings.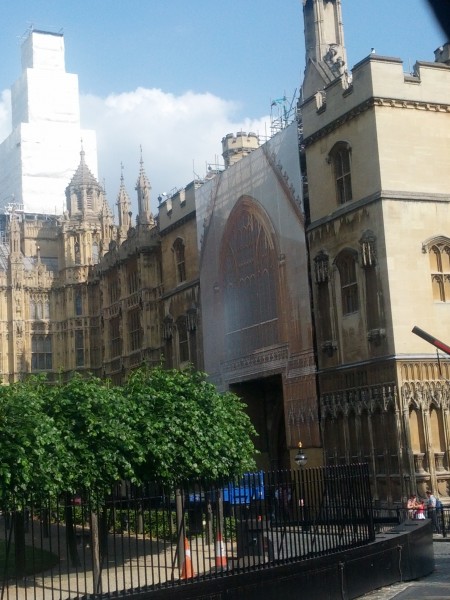 The entrance of the exhibition begins with a stone object that is worn, weathered and dimly lit. This initial confrontation with the stone object anchors the viewer in a familiarity to the real. Light slowly traces the contours of faint engravings on the fragment calling our attention to an abstracted horse hidden within the surface. The revealing of a hidden illusion on the surface of the stone sets the stage for a type of reversal between the real and the artificial that occurs throughout the exhibit.
In an adjacent room, the mesmerizing sound of a synthesizer pulses soothing digital tones that feel like a sacred chant. Six stark-white, bulbous vessels recall decayed and hollowed out tree trunks resting on skewed geometric bases. At waist height, these objects refer to horizontal bodies balancing precariously on the peaks of mountains. Sleek, bendable lights are perched at the entrance to each of these forms illuminating the interior surface. The hollow vessels are so thin that the interior and exterior skins appear to be the same.
A realistic digital animation projected onto the wall is the heart of the exhibition. It connects the forms surrounding the viewer into a single entity that slowly rotates amidst a black background. It looks like an organic spaceship, floating with no reference to its own scale. As the animation rotates the cave structure, the viewer becomes aware that the exterior surface is derived purely from images of its interior. The cave as 3D model is a pure flowing surface. This visualization of the cave structure as an absolute object is an experience that would be impossible to attain in real life.
The camera enters into the digital cave structure and moves with anthropomorphic gestures through the detailed interior, bobbing ever so slightly to the left and right as if to mimic how we walk through the world. Artificial bats rush through the caves and floating balls of fire illuminate the chambers casting faux shadows on the walls. At the end of the tunnel is a bright light that obscures any further view. This visualization of the caves interior is key to understanding the objects in the room. The white vessels in the space become blank sheets of paper that the viewer can now graft the cave drawings onto. It is impossible to resist imagining oneself inside the vessels at a 1:10 scale.
Surface and replication are emphasized by the exhibition. In digitally acquiring the undulating surface of the cave drawings through 3D laser scanning, we are left only with images that can be grafted onto mathematically precise points in virtual space. These points hold no depth and can be seen anywhere in the world, at any time with any digital device. The caves are now pure information. The thinness of the physical structures throughout the exhibition exemplify the 'zero-dimensional' quality of 3D models. Each physical object we encounter is derived from the original 3D model and pushes against its own architectural and structural limits in order to maintain this illusion of immateriality.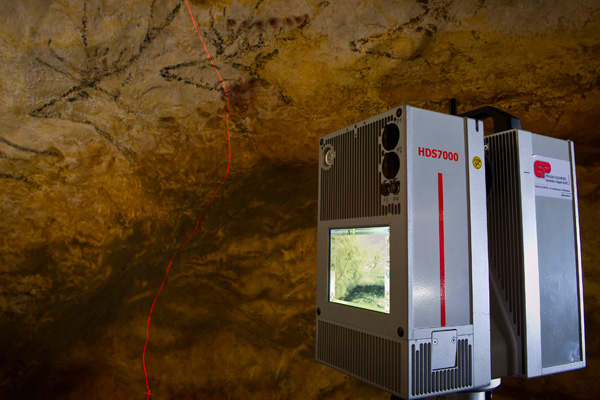 The next room in the exhibit presents enormous, to-scale wall replicas of select rooms of the caves. Faux-stone surfaces with crude pigmented drawings tower over the viewer. They appear rocky, irregular and roughly an inch thick while being held from behind by large geometric structures (mirroring the display techniques holding the 1:10 scale models) Termed 'stone-veils', these massive replicas attempt to enter into this depth-less and perfect zone of the digital. Lights subtly change in this new space, revealing different perspectives of the drawings that are on the walls similar to how the faux-candles changed the surface in the animation. Two hyper-real sculptures of a man and woman clad in animal skins and jewelry peer out of the cracks of adjoining walls. The woman points her finger outward with a look of fear on her face while the male, much older in age, sits beside her with a passive expression. Their uncanny expressions, particularly that of the woman's, instills a feeling of trespassing and self-awareness within the viewer. Despite all attempts, eye contact with the ancient figures is impossible. They always look through you.
The translation of the physical into the perfect digital and back again into the physical is tested in this part of the exhibition. In placing the figure physically into the 3D caves represented in the prior room, we physically enter into a world understood to be built from the virtual. The forms are fragmentary and stand in as samples for the entire structure. In bringing together these fragmented 1:1 replicas, the entirety of the cave is presented. In encountering these forms, the question as to whether or not the replica can carry more weight than the original is predominant. Would the replicas and the recreated 3D model shift in meaning or value if the interior structure of the original cave tragically collapsed in on itself and became forever lost? Would the 3D model, and the perfect reproductions that can be derived from it, function as the new original? Or, to speak to recent cultural apocalyptic fetishism, if the world should disappear would Google Earth be the perfect world before it beset an unfortunate event? The ancient cave drawings at Lascaux now digitally exist everywhere and at all times simultaneously, trapped photographically in the moment they were recorded. Visiting the original now seems fruitless and arbitrary.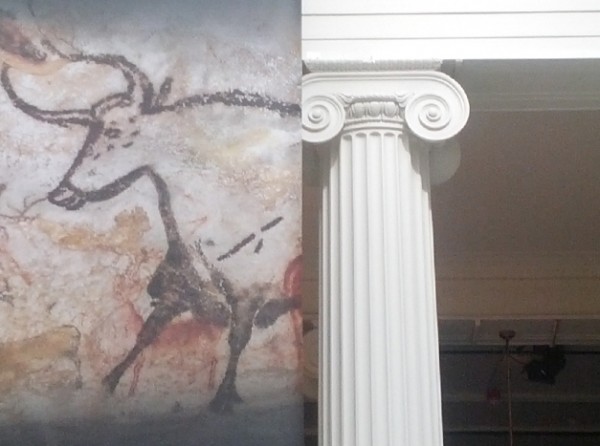 This possibility of representing the cave structure in virtual space results in a new consideration of aura. In becoming virtual, the caves are now equated with any digital model of any object and as a result now exist in historical ambiguity. A digital spoon, table, asteroid, CAT Scan, height-field map of a farm in Nebraska or the Lascaux Caves all share the potential to exist simultaneously with one another, and at any scale, in the digital terrain. The digital caves are now a pseudo-artifact that share a likeness with the function of the souvenir. The 3D model of the cave presents the possibility for an acute historical analysis of the markings on its surface by way of mimicking the lighting conditions, zooming into the surfaces and experiencing time inside of the virtual models.  It also allows for them to be placed in any virtual situation as object, container or reference.
The trans-historical preoccupation with the surface of objects is emphasized by these contemporary reproductions of the Lascaux caves. Created 20,000 years ago, these early articulations of physical reality on a flat picture plane have traversed through time to be embodied by our most recent iteration of representation. Whereas historically the placement of images on surfaces has been the dominant concern of art and aesthetics, we are now seeing a preoccupation with the pure surface able to exist anywhere and in any form. We can now experience the cave with more exactitude than we ever could in real life.
The Field Museum exhibit, "Scenes from the Stone Age: The Cave Paintings of Lascaux" closes on September 8th, 2013.
Daniel G. Baird (b. 1984) received his BFA from the School of the Art Institute of Chicago and MFA from the University of Illinois, Chicago. Recent Solo exhibitions include 'Vestige' at the Institute of Jamais Vu, London, 'Has the World Already Been Made? X4' at both Roots and Culture, Chicago IL and Hedah, Maastricht, Netherlands, 'Meridian' at Robert Bills Contemporary, Chicago, IL and 'This New Ocean,' at Appendix Project Space, Portland OR. Recent Group exhibitions include Bowling Alone, Andrew Rafacz Gallery, Merge Visible, Prairie Productions, Chicago, IL. He will present work at the Elizabeth Foundation, NY and Leeds College of Art in 2014.
Hello friends,
It has been a pleasure to be able to share my love for all things art in Indianapolis with you over the summer!
This will be the final installment of my series. For this post I'd like to focus on looking forward at what Indianapolis has in store for the fall.
Perhaps it will be enough to convince some of you Chicago-dwellers to make the 3 hour journey down?
THESE ARE MY TOP FIVE FALL PICKS
5. General Public Collective Opening – September, Fountain Square Neighborhood
General Public is an artist-run project space and concept shop dedicated to sharing ideas through exhibitions, performances and original works of art. They are opening their unfinished space for a special performance on September 11th featuring Calvin Johnson from K Records – Donations are encouraged. I'm excited to see how this space evolves. Right now it has a lot of components – shared work space, concept shop, art gallery, music venue, self-service print kiosk- I wonder which will come to the forefront, or if all can be simultaneously relevant. A wonderful experiment!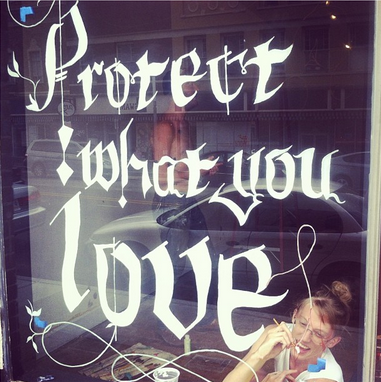 Image via General Public Collective
4. September First Friday Openings – Friday, September 7, All over Indianapolis
September First Friday brings a number of exciting openings around town. The Harrison Center for the Arts is featuring work by Kyle Herrington, Jude O'Dell, Tom Peck and more. They will also be giving away $10,000 through the final 5×5 competition (a local initiative to give $10,000 to ideas that combine art + community, art + placemaking, art+technology. The 5×5 has funded pop-up movies and a mobile literacy lab). The Murphy Building in Fountain Square's Mt. Comfort Gallery will feature work from the collectiveEverything is Anything  Else.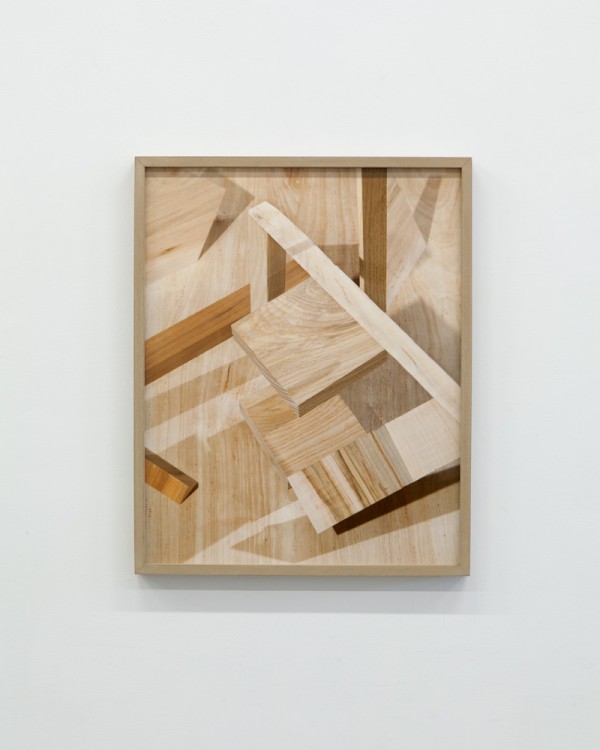 Image via Everything is Anything  Else Tumblr
3. Touchy Subjects at the Indianapolis Art Center – Friday September 27, Broad Ripple
Art, Sex and Humor. Touchy Subjects will feature SAIC alum Jedediah Johnson's Makeout Project, Kyle Herrington's collection "Catcalls" and work from the Kinsey Institute.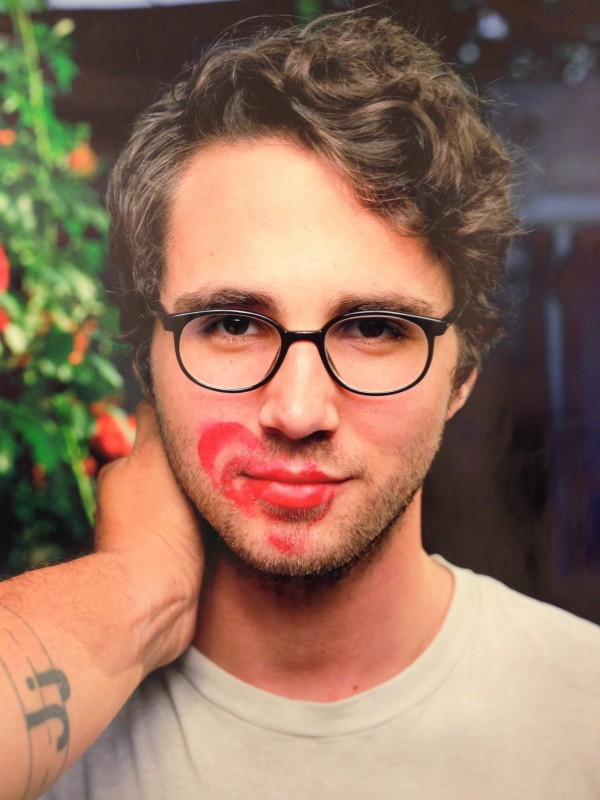 Jedediah Johnson's Makeout Project
2. Art Squared Festival + Art Parade – Saturday, September 21, Fountain Square Neighborhood
For a single Saturday in the month of September Fountain Square explodes with activity. The day starts with an art and writing competition called Masterpiece in a Day. Artists and writers register in the morning and create a piece of work in less than 12 hours using the neighborhood as their studio. At the close of the competition judges pick a winner for a cash prize. The afternoon closes with a rag-tag art parade put on by residents and local businesses.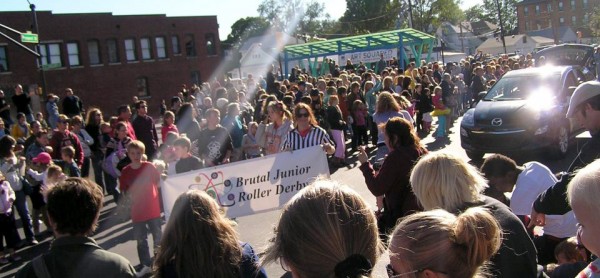 Image via Discover Fountain Square
1. Optical Popsicle – Friday, October 18th, Athenaeum Theater
A visual treat! Know No Stranger's annual visual variety show is back with more puppets, music, dancing and laughs then ever before. This is the most wonderful feel-good night for Indianapolis. Know No Stranger is all about bringing folks together with their unique brand of performance art. Trust me, you've never had this much fun.

With love from No Mean City,
Wendy
Wendy Lee Spacek is a poet who lives and works in Indianapolis, Indiana. She likes her city very much. She is a core volunteer of the Indianapolis Publishing Cooperative (Indy Pub Co-Op), publishes small editions of handmade books under the name Soft River and is an arts administrator at the Indianapolis Art Center. She will be posting monthly all summer long about her encounters with art, culture, creative experiences and resources in her city.
Guest Post by James Pepper Kelly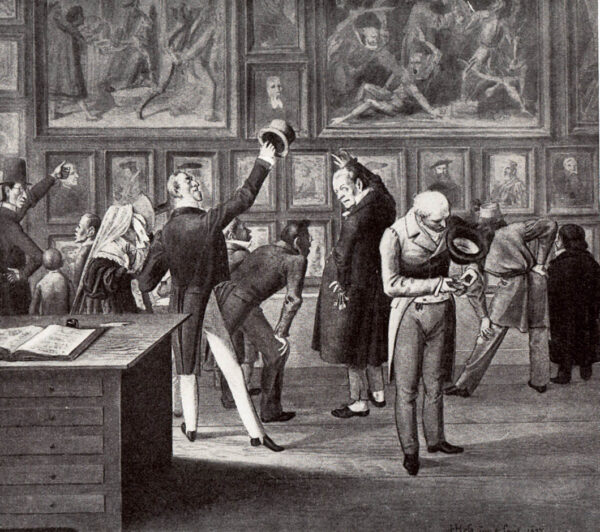 Imagine that a writer named Judith H. Dobrzynski boards a plane. She's ambivalent about her recent op-ed for the New York Times, "High Culture Goes Hands-On," in which she mourned the loss of a classic, passive museum experience. The response was decent (63 comments and a spot on the "most-emailed" list), and the negative response didn't go much beyond baseless ad hominems ("crank," "elitist"). But real-world impact? Judy sighs. She tries not to think about institutions these days, their obsequious rush to digitize, crowdsource, and create a "fun experience" for all. Instead, she thinks about real change: about her upcoming fellowship at the Salzburg Global Seminar in Austria, and how she helped influence the country's new Holocaust restitution laws. Judy sinks back into her business class seat (being a Fellow has perks!), orders a tomato juice and relaxes, thinking of all the reading she'll be able to catch up on in the air.
Imagine that a writer named James Durston is excited. He's boarding the brand new Boeing 797 Dreamliner and is going to be live tweeting the experience from business class (dimming windows PLUS free booze!). He's got way too much editing to do, but right now he's feeling good about his latest op-ed for CNN Travel, "Why I hate museums." Sure, only 400 comments (something like 10 times that many for the "fat tax" piece) but he did score official responses from the Art Institute of Chicago and the American Alliance of Museums. He makes a mental note to re-stir the pot with a follow-up in early December. James tosses his bag in the overhead and sits down, mentally composing a tweet about the woman beside him and WHY anyone drinks tomato juice on planes?? Still, he did use SeatID–they must have something in common. He'll save the introduction for later when he runs out of content for his posts.
Imagine that now, today, both look back and still wonder what happened. They remember the start—the Eyjafjallajokull volcano waking up, their flight being grounded in Greenland, the nervous stewardesses plying them with drinks, and more, and more. The introductions, the argument, and then the gradual, dizzy belief that their two opinions needed to be reconciled. Had to be, in fact. What if this was the end of world? Reconciliation–for humanity, for the future. So they set about writing the op-ed of op-eds, tapping out the characters on James's phone. Finally an op-ed truly for everyone. The Dobrzynski/Durston piece appeared on a brand new WordPress site, shocking the likes of Robert Connolly, Dana Allen-Griel, Dennis Kois, Ed Rodley, and all the other voices of studied moderation stuck further back in economy, sipping orange juice, thoughtfully biding their time. As Judith and James know, sometimes the world needs action. We should thank them for reminding us of that. Below is the full transcript of the Dobrzynski-Durston article.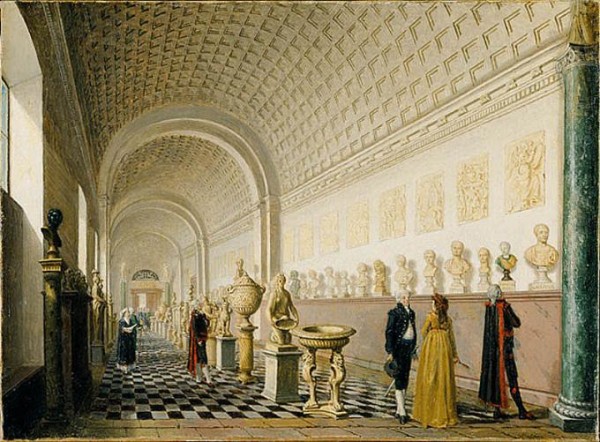 The Greatest Proposal for hi-fiving high culture
The current institutional climate is unsustainable. And no fun. Most museums are in grave financial straits, mostly because there are better things to spend money on. It's time for institutions to become the friendly, self-supporting, no-gift-shop entities they always should have been. The following is a list of proposals we urgently urge to be effected.
1. We've heard about museums, especially smaller, local ones, creating wonderful exhibitions on tight budgets. Maybe so. Those people sitting back in economy can really chew your ear off with examples. We both enjoy periodic visits to the provinces, and writing about them too,  but let's be honest—it needs to start in New York or Hong Kong. Trickle-down culture is real.
2. Institutions claim to generate 7 public dollars for every $1 invested. (Right. Where'd they get those numbers?) The people of Detroit did vote to raise their own taxes to support the DIA—it's called millage, James—but that's an exceptional case. Ann Arbor residents were forward-thinking enough to reject a new art tax. Bleeding heart art lovers need to be realistic: public funding = not the answer. Private funding = yes.
3. Museums do need to sell off work—that's called deaccessioning (thanks, Judy). Some call up the auction houses and rush the work out the door on a stretcher. Others are models of ethical responsibility–the Indianapolis Museum of Art, for example, lists all the work being sold on its site along with reasons for each sale. That's good, but not good enough. They should show their reasons, not just tell us about them. Imagine if the DIA did something like: [pic of Diego Rivera mural] = [pic of 25 million open lunchboxes with PB&J, apple, milk]. #Prioritize.
4. Old vases are boring (especially ones from Iran, imo). They should be sold to established patrons of the arts and other old rich people. Who else cares about/truly appreciates them anyway? Same goes for anything  more than 30 years old or that doesn't inspire transcendence. If in doubt, just tweet us a pic.
5. In the spirit of compromise, museums should divide their days between different audiences. On Wednesdays through Saturdays they should distribute free popcorn and edamame, fill the gallery with animals from a local petting zoo, and encourage full interaction—touching, smelling, licking—with the entire collection. On Sundays through Tuesdays, the cicerones will make sure that no more than four people are in any one room at the same time, monitor how fast individuals walk, and confiscate any and all electronic devices. Individuals will be required to spend set minimum amounts of time contemplating each piece. If any individual fails to adhere to these measures, they will be required to write an essay explaining why.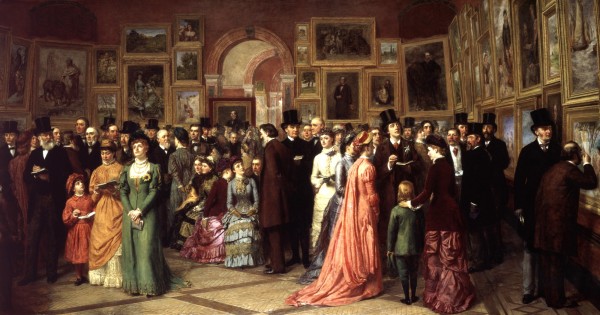 6. Eliminate gift shops and cafes. They're so bourgeois.
7. To generate revenue, offer paid chances to feed the animals and the option to limit the gallery to even less than the standard four people (on respective days, of course). Employ local actors who will alternate between impersonating art world authorities, historical figures, and general celebrities.
8. Reenact the creation and history of items throughout the week. It will be a little like Dante's Inferno, each actor trapped in a different area, telling his story over and over again (Judy's description, my idea). For example, one of the actors can be Leonardo da Vinci: put the Mona Lisa on an easel in front of him and have him paint and tell the sad story of Lisa over and over to the general audience. Add drama when appropriate, regardless of accuracy. Reach out to Hollywood and book publishers, offering to add their narratives to the "official" institutional version in exchange for sponsorship.
 9. Fully integrate work on display with life by created rentable, themed rooms, e.g. The Birth Room, The Death Room, etc. True art lovers will be able to pass with their eyes locked on an original Georgia O'Keeffe, or to bring a new being into the world under Van Gogh's sunflowers, or to make love under the Venus de Milo. Anyone attending that day will be able to watch. Both sides will pay—
Phone's about to die, got to post now. Whatever happens, this is the truth. Follow me online!
Imagine that that this is how the op-ed ends. The volcano went back to sleep and the sky over the Atlantic cleared. Fifteen hours later the Boeing landed at Heathrow, the passengers half drunk and half hung-over, but otherwise unscathed. There, Judith H. Dobrzynski and James Durston seem to have parted ways, never to collaborate again. Judy went back to lucid commentary on the art world, James to commissioning and writing popular travel articles.
If the phone had been fully charged, how would the Dobrzynski-Durston op-ed have proceeded?  What unfortunate circumstance might the expert commentators have leant themselves to next?  Whether "real people" can or can't actually afford to collect art? Would we be more prepared to address how an elderly Romanian woman destroyed several masterpieces in an effort to protect her son? How much change to give beggars outside famous institutions? The alleged difficulty Chicago's south siders have had in visiting Theaster Gates's Dorchester Projects, even as the art star is lauded for the project's success at Art Basel?
What further op-ed wisdom could we have learned from? We can only imagine.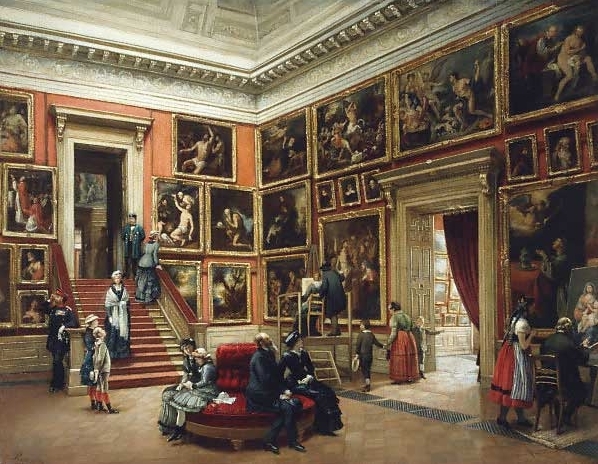 James Pepper Kelly likes words, images, and the plants in his apartment. He writes for ArtSlant and Bad at Sports, and he serves as Managing Director of Filter Photo. He is currently studying to be a pataphysicist. For a little while, back in the early '00s, he was really good at Ms. Pac-man.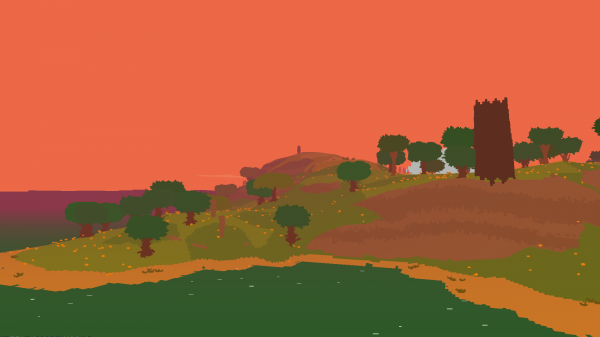 Guest Post by Paul King
The sole page of Proteus' help screen begins "Move with WASD. Look around with the mouse."
No other controls exist, besides the space bar. Instead of offering a traditional jump, it commands the player's avatar to sit, peacefully, for as long as they might. The help screen's final instructions begin with what seems like half of a warning: "Each island is unique, but familiar."
To move past the title screen and into the game, you begin by clicking the silhouette of a distant island. After fading, the screen opens from a murky black into a gently disappearing elliptical shape, as though you were slowly opening your eyelids. You've awoken in what appears to be an endless ocean, a muted sea-green punctuated by the gentle lapping of white reflections. In the distance, you begin to make out the outline of a shrouded landmass. As you trudge towards it, the only anchor in the game's ceaseless sea, you can practically feel the sunlight of the raincoat-yellow orb shining in the sky.
Everything in Proteus is rendered in a blocky, colorful style that should be familiar to everyone who's ever seen an early pixelated video game. (Think the "ball" of pong, or the sharp edges of Mario.) But the style isn't due to a lack of processing power or graphical method; instead, the world's lack of texture translates into a picturesque canvas of flat colors, almost as though you were gazing directly into a visual interpretation of one of Brian Eno's ambient tracks.
As you climb onto the shores of your island and walk past the flat browns of tree trunks and across the rolling green hills dotted with single-color flowers and blocks representing dandelions, an ambient soundtrack erupts. These are the changing environs and characters, and your interactions with them feel as though they were entirely up to you.
When somebody completes any video game, they tend to have finished a universal experience. Though the person playing it might have preferred a different gun, or tactic, or motorcycle, their journey is usually one shared by all other players. Certain blockbuster titles, usually role-playing games, offer choice and varied game paths as a selling point. There, you might choose to be a thieving elf that sneaks through danger, or a devil-may-care warrior slaying all in your path. Ultimately, however, the same challenges are present.
Proteus doesn't exactly offer a challenge. There are no tests of dexterity or hand-eye coordination; there is only your movement through and consideration of the world, your journey. Pass by a stone obelisk and hear a great deep bass noise burst and fade slowly into a background of crickets. Chase a frog and hear its hops become the staccato twang of a distant guitar, or reach a mountainous peak above a plateau of raining clouds and listen to an uplifting crescendo.
Some sound origins are obvious. The crickets cricket, and leaves fall like soft glass. Still, there are other tones I'm uncertain about. Perhaps it was my position on a specific hill, or maybe it was the shadow of a pink-tufted tree.  Proteus' soundtrack—a constant soothing orchestration of hidden instruments—is only one of the complex machinations behind deceitfully simple visuals.
Each island in Proteus is procedurally generated. Algorithmically, one comes together in a way that is unique, but familiar, placed together by a machine, or equation.
At a certain point, the boxy sun sets and is replaced by the moon. Night arrives, marked by a deep blue and a subdued soundtrack. Slowly, the bright dots of the island's airspace—be they fireflies, wisps, spots of cotton—swirl and gather, until finally, they culminate in a furious whirlwind at the center of a circle of stones. As you approach it, time speeds up. Clouds and stars race above you, the trees around you begin to shudder and dance. The music, now faster, eggs them on. Enter the circle and soon, the screen fades to white, almost as if signaling an end to your time on the island, a quiet release from the frenzied energy. But then island returns, rewarding a patient moment of darkness in the same way a morning welcomes those just stirring from sleep.
The colors have changed slightly, and the music with it. In the air before you dances a swarm of bees. Above you the calm sphere of the sun now has flaring tendrils, shining down harder than before. Vibrant collections of flowers have sprouted up since you walked into the mystical circle of stones and its swirling puffs.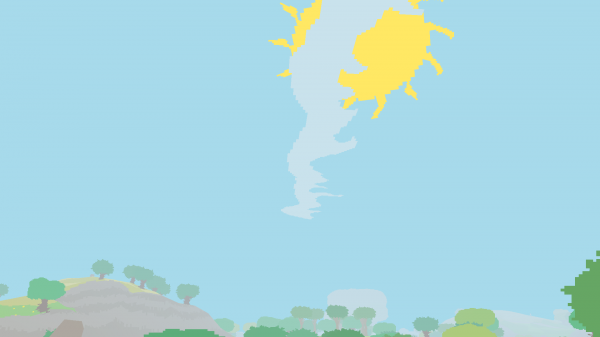 Usually when a game environment transforms, dangers arrive. Night might reveal prowling tigers, shambling zombies, or some spooky other. Proteus remains peaceful, instead signaling the end of its day and condensed season with frenetic motion. Though you act as a catalyst in the seasonal change by entering that swirling circle, you can't help but feel a small component of a greater cycle;  a piece in an action that comes from a living, breathing land mass. The whole island, player included, enters a chrysalis and emerges anew.
Often, a game's digital world exists solely as a static landscape with one-sided interaction. Usually, it is up to us as individual players to act as the experimental component or the dynamic instrument. But though we, as individuals in a programmed world, might be dynamic, we all fulfill the same role. We are the same cog that fits into a developer's machine, makes it turn linearly through its universal paces. This tends to result in an identical experience for all who play the same game.
There are pieces of Proteus that hint at an identical experience. You awake in an ocean; you climb ashore a distant island; you swirl through the seasons. But since each island is procedurally generated, no two islands or games will ever truly be the same.
At a certain point during my night in Proteus, a white owl appeared in a tree, staring at me before taking off and flying to the next tree; later, I walked towards the crude ruins of a tower to find myself teleported to another crumbling monument.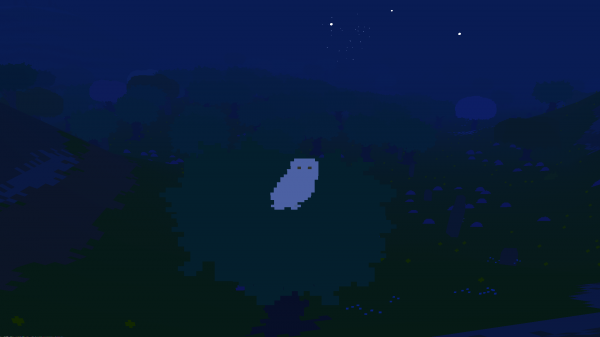 I learned later that others retelling their experiences on the game's forums had not encountered the owl. Instead, one account was dominated by a dark figure that appeared after the night sky had turned red, only to run off, while making sure the player was following. Some played with constellations; some sat in solemn graveyards. While we had all played Proteus, it became clear that we did not share the same experiences; we all wandered through different worlds, encountering familiar aspects in a unique way.
The main difference between unique play in Proteus and role-playing games is agency. In a massive fantasy or space world, the player is given what appears to be wide path to play how they wish. They move through a static world and sculpt it in a pre-designed fashion. Ultimately, the developers of these games give players the gift of agency, the ability to move through that world and shape it.
This also forces the game to be reliant upon the player. Even if a game's narrative is linear, it depends on the player to advance it. For example, a programmed character within a game may walk a programmed path, forever, until a player enters and engages its route. By interacting with that non-player character (NPC), the player has helped it fulfill its destiny, and furthered the action of the world. The expectation is that the world exists at the behest of the player, and the player is often imbued with the power of a god who may alter the world.
While Proteus as a game—and product— exists for the player, its world isn't reliant upon a specific player experience. Because it isn't static, differences occur, many and obviously, around the player. Because the world is produced dynamically, the player must act as a static element with practically no control. And though each player may in turn approach the game in an identical capacity, once the island is generated, it is a fresh, dynamic world each time, reducing the potential for a homogenized experience.
The largest contributor to this success is the way in which Proteus plays with music. The endless cacophony (both aural and visual) that permeates the atmosphere is so incredibly active. As a player explores, animals or flowers don't change course like an NPC. Instead, they react naturally, not as though they were born for your experience, but almost as if the opposite were true. When you approach an area that produces a sine wave—be it a tree, a slope, or some other mystery—the feeling isn't that Proteus or the object in Proteus has begun to play for you, but that the sound, or owl, or structure was always there, and you just happened, through a chance generation, to wander into it. Starting a game of Proteus is not like listening to a pre-recorded album, but like listening to the chaotic throng of generative music. And though you might begin and stop Proteus at will, there's no guarantee that the island's music will follow.
Paul King is a poet, writer, and video game enthusiast currently living in Chicago, IL. He grew up in Austin, TX and graduated from Bard College with a BA in Liberal and Written Arts.