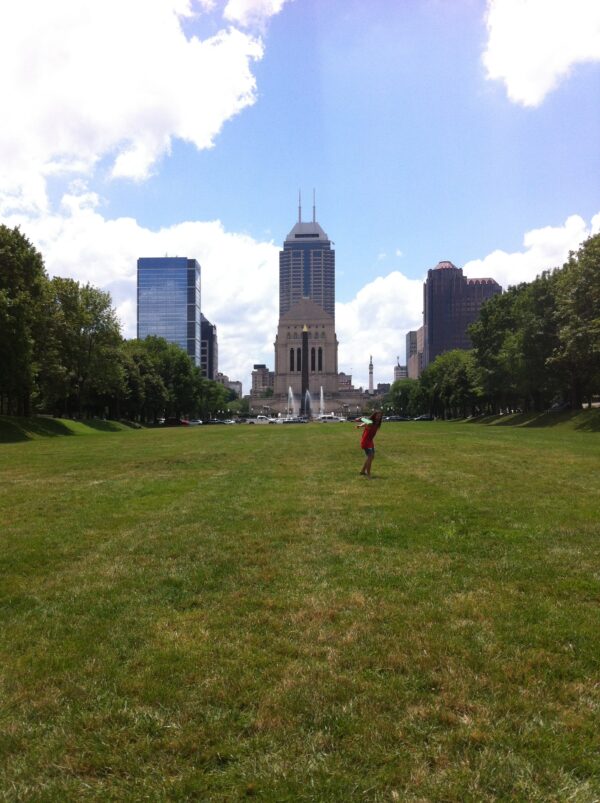 American Legion Mall downtown Sunday Frisbee photo by Benjamin Bernthal

Greetings from Indianapolis, friends!
July is a lovely time here. One of my favorite things about July is the 4th. Here in Indy the thing to do is to watch the fireworks display that is set off from atop the Regions building downtown. The best place to do it is from a rooftop with a bunch of friends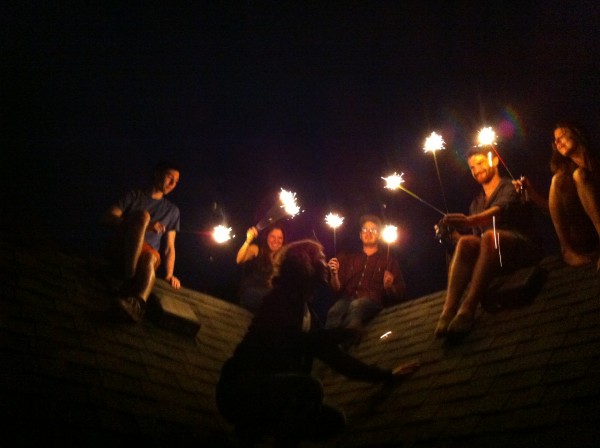 photo by Benjamin Bernthal
In the way of Art, July brought to an end a lengthy and large exhibition of work by Ai Wei Wei at the Indianapolis Museum of Art. This was an interesting exhibition to get to see. It included a series of photographs, pieces of modified ancient art (such as the image below), and a few pieces related to measuring the tragic earthquake that took place in China in 2008. This is a traveling exhibition and I highly recommend seeing it if it comes to your town. I went on the very last day that it was open, and the gallery was buzzing with conversation and lots of people moving around the space.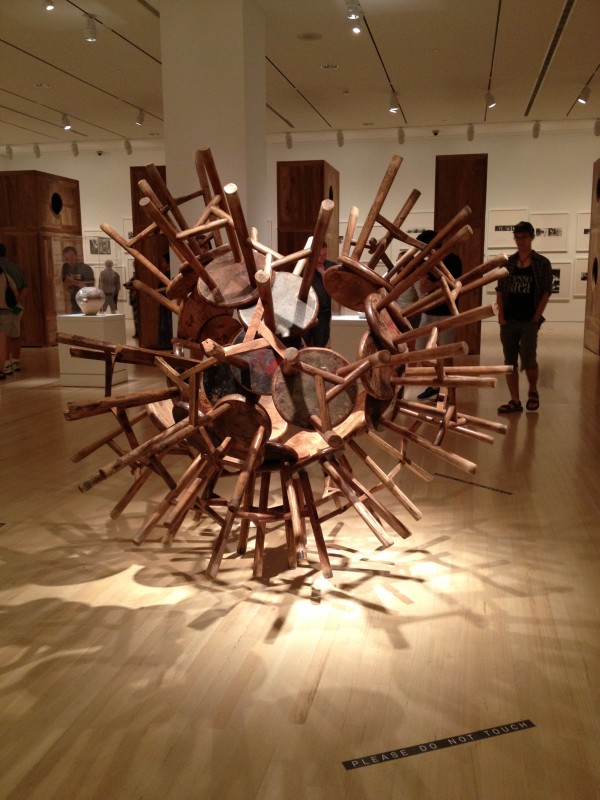 Ai Wei Wei exhibit at the Indianapolis Museum of Art
The 100 Acres park at the IMA (a 100 acre sculpture park that deserves its own blog entry) has a new installation called Flock of Signs by Kim Beck. Some of the signs are blank, others point to the air and state "Bug." others list scientific names for plants. All I know is that they are beautiful.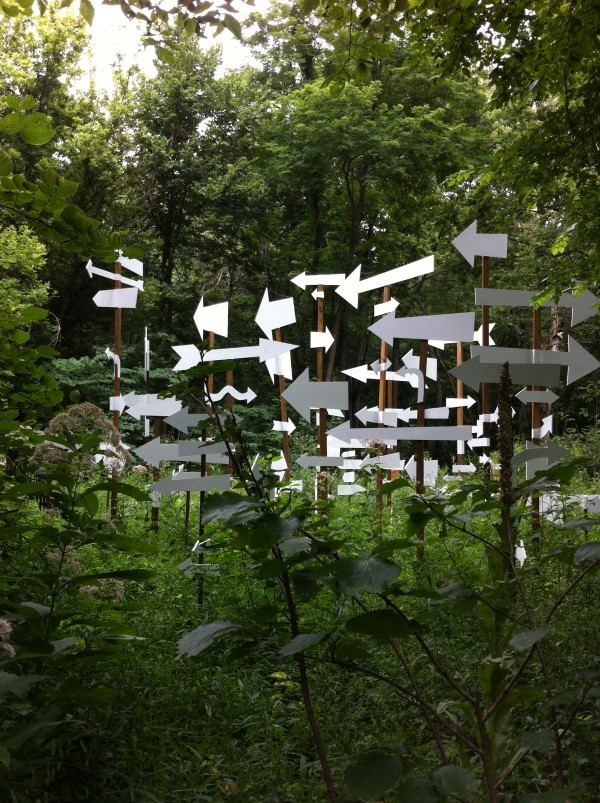 photo by Benjamin Bernthal
A few weeks later I finally made it to one of the Listen Local concerts put on by Musical Family Tree and Indy Parks. This is a "pay what you want" fundraiser for the Park consisting of live performances by local bands. This installment included Amo Joy, Vacation Club and United States Three. The Set Design was so cool! It is a cardboard and acrylic piece by BrainTwins that can be arranged in a variety of ways to create different color patterns. BrainTwins is an Indianapolis art duo composed of Jessica Dunn and Justin Shimp. They create a variety of 2D, 3D and 4D based works of art.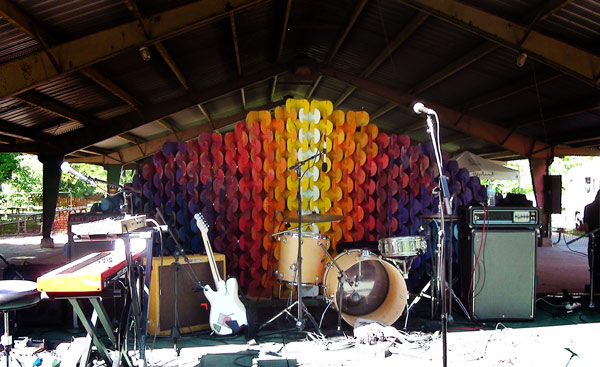 Stage at the Musical Family Tree Listen Local concert series at Indy Parks. Set design by BrainTwins
Later in the month I was lucky to be able to visit the studio of one of my favorite Indianapolis artists Kyle Herrington. Kyle has several shows coming up in September, so there was plenty of new work to see. One show is called Backyard Phenomena and chronicles Herrington's struggle with being thrust into new found adulthood, which culminated in him turning thirty and buying a house. His anxieties about something catastrophic happening to his house has translated into sculptural pieces as well as paintings. We talked for quite a long time. I admire Kyle's commitment to making everysingleideathathehas. I think it is what has allowed him to make such a large body of work with what I see as having very consistent and complete conceptual ideas in relatively short time frame (just one year). Kyle's work makes reference to sci-fi logic, modern obsessions with the apocalypse and celebrity and mashes them altogether into a funny, but kind of scary reality.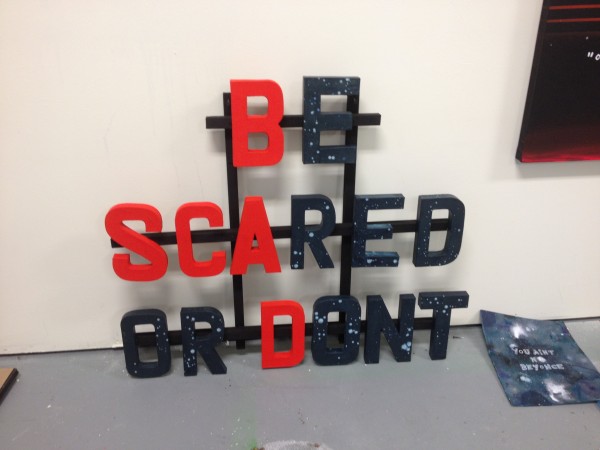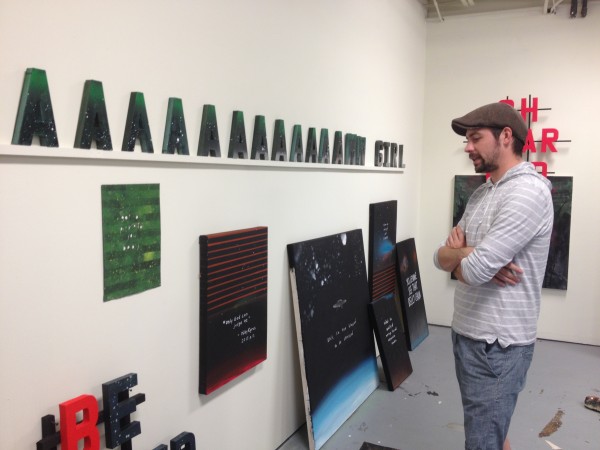 Kyle Herrington with his work.
For August First Friday I went to the Harrison Center for the Arts to see the Spineless book arts exhibition. This yearly exhibit features work from bookmakers in the region. The IUPUI libraries also curate a selection on display from their collection of artist's books.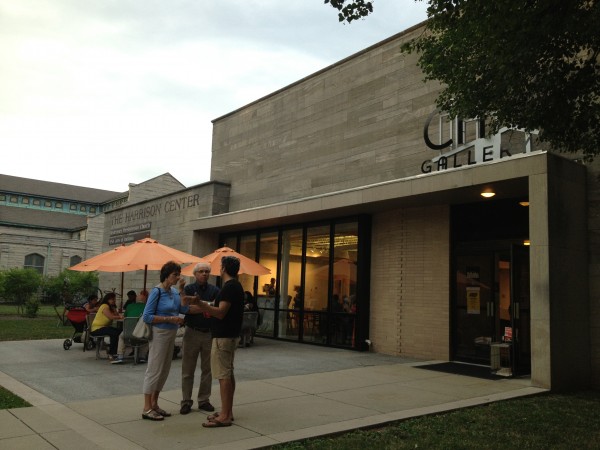 First Friday at the Harrison Center for the Arts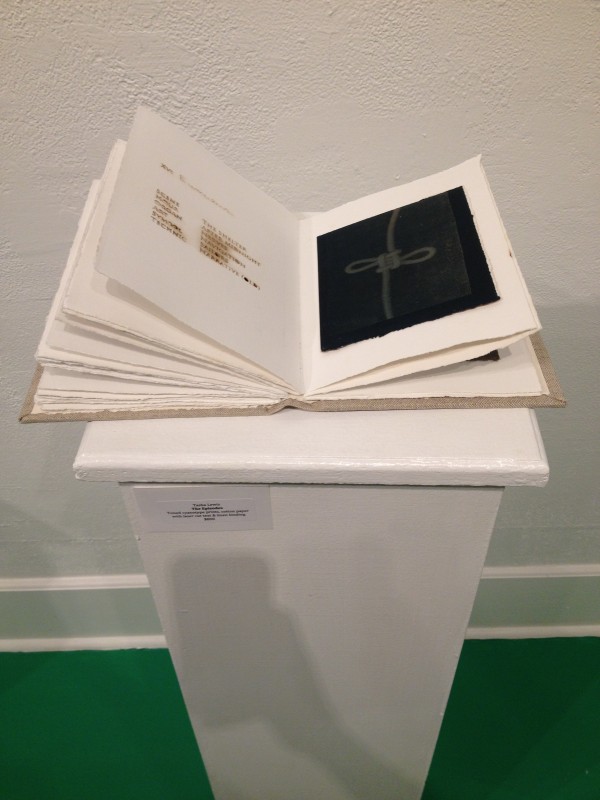 Cyanotype book by Indianapolis Artist Tasha Lewis
While on the subject of Cyanotype, and given the fact that I saw him shortly after taking this photo, I think I should mention another mind blowing artist here in Indy who uses it as his primary material for art making- Casey Roberts.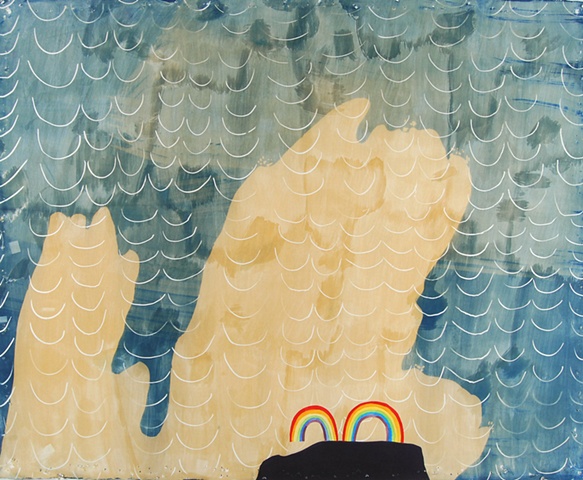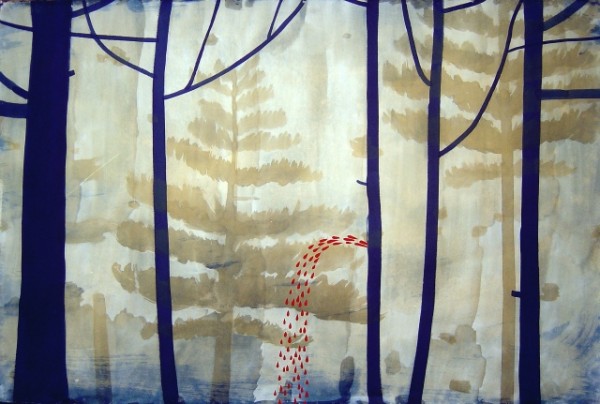 Images via wildernessoverload.com
Until next month!
Yrs,
Wendy
Wendy Lee Spacek is a poet who lives and works in Indianapolis, Indiana. She likes her city very much. She is a core volunteer of the Indianapolis Publishing Cooperative (Indy Pub Co-Op), publishes small editions of handmade books under the name Soft River and is an arts administrator at the Indianapolis Art Center. She will be posting monthly all summer long about her encounters with art, culture, creative experiences and resources in her city.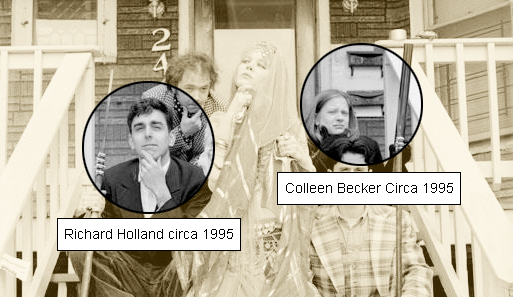 Today Richard had the good fortune to e-mail interview friend, former colleague, mischief maker, and all around giant of consciousness Colleen Becker.
Colleen Becker is an American writer and academic living in London. Her published work spans fiction and non-fiction genres, including flash fiction, academic articles, journalism, art reviews, and essays, and she has read at numerous venues including Princeton University, the Tate Modern, and Foyles Bookshop. She holds PhD, MPhil and MA degrees from Columbia University and a MA from NYU, and she is a 2013-14 Visiting Fellow at the University of London, School of Advanced Studies, Institute of Germanic and Romance Studies. She has text based artwork included in an exhibition at the Anatomy Museum, King's College London. "Translation Games"Curated by Ricarda Vidal (KCL) and Jenny Chamarette (QM) which runs from 31st July to 2nd August 2013
Richard Holland: Colleen Becker, welcome to Bad at Sports!
Colleen Becker: Thanks! I'm so happy to participate in this interview!
RH: You are currently, among a vast number of other titles and pursuits, a visiting fellow at the University of London, School of Advanced Studies, Institute for Germanic and Romance Studies. What are your researching?
CB: I'm doing a post-doctoral fellowship within IGRS's Centre for Cultural Memory. Broadly speaking, my area of research is the cultural history of German nationalism. My project is titled: "The Art of Becoming a Nation: Turn-of-the-Century German Visual Culture," and if you're still reading, I will be examining and positioning artifacts of visual culture as manifestations of identity that memorialize understandings of the self in relation to others, from the individual act of depicting one's own or another's milieu to the collective feat of representing an entire community in both political and visual terms.
RH: What are "Translation Games"?
CB: "Translation Games" is the brainchild of curators Ricarda Vidal (King's College, London) and Jenny Chamarette (Queen Mary, London), who were interested in exploring the concept of translation through various textual, auditory, and visual media. They hired me to write a flash fiction piece of 250 words, with a conventional narrative structure (beginning, middle, end). My story "What We Made" formed the basis for a game of "Chinese Whispers" ("Telephone" in American English), in which only a couple of the artists or foreign language translators received the original text while all of the others worked off of received "translations." Interestingly, the first textile designer who read my work was dyslexic and misread the story before passing it along to the other textile artists—so, even the original version was "lost in translation."
RH: The Anatomy Museum, sounds dirty, what is the Anatomy museum and is it a contemporary art venue, or is in more like the Museum of Surgical Science in Chicago which is *not* and art venue but has the occasional show to be quirky?
CB: I have a soft spot in my heart for the Museum of Surgical Science in Chicago. During my most memorable visit, a swarm of flies hovered menacingly over the vitrine of Pompeian gynecological instruments.
The Anatomy Museum is part of King's College, which is Ricarda's affiliated institution. It has a creepily fascinating Victorian history as an anatomy theatre, but it's not a contemporary art space per se.
So the project takes language, in this particular case a short story that you have written, and through the process of translation and retranslation the text evolves into a new form, is that a fair summary of the core idea? Yes.
RH: Are you familiar with Alvin Lucier's "I am sitting in a room"? Lucier made a recording himself narrating a text, and then playing the recording back into the room, re-recorded it. The new recording is then played back and re-recorded, and this process is repeated over and over again. All volumes of space have characteristic resonant frequencies, the repeated recording and re-recording eventually acts to, in essence, filter out the language and what is left is a set of frequencies emphasized as they resonate in the room. Finally the words become unintelligible, replaced by the pure resonant harmonies and tones of the room itself like a signature. This project seems like the language version of Lucier's piece. If you were to translate and retranslate over and over, do you eventually end up with the resonant frequency of the translator or of the text itself, common tonal elements that could not be lost in translation?
CB: Thank you for the enormously flattering comparison! In addition to the physical works of art, the story and its translations also have been performed a number of times. At a workshop in early July, for example, Ricarda and Jenny grouped artists and translators together and we read the text all at once, or in orchestrated sections, and the result was a living Tower of Babel. There is a certain musical quality, and rhythm, to each group reading, which is possibly best experienced by viewing the video of the performance. "What We Made" was translated into several different languages, and then retranslated back into English, which changed the length of the text in each instance. So when the translated versions were read out loud at the same time as the original version, the distinctions between them were quite noticeable.
RH: In addition to the linguistic part of the project, the text is re (and re-re- and re-re-re- etc.) interpreted through varieties of art media as well. I wonder how the 27th re-re to the 27th iteration of the work will relate to the original text.
CB: Curiously, the common elements you described in the previous question were more obvious in the works of art. Even though artists were working from received translations, rather than the original text, we noticed that they all seemed to convey a similar mood, attitude, or tone, also found within the story.
RH: You have had an impressively diverse and fascinating career as an author, a critic and an academic. Over the course of this career have you found that, to speak in clichés, your ideas are at times lost in translation, and somehow fail to make the leap from what we assume to be a common symbolic language (text)utilized to convey ideas to each other? In the face of, for example, an English fluent reader missing the point of an English language text, when your work has been translated in to other languages it must be a source of concern that your ideas are additional steps away from the original meaning and stand a reduced risk of reaching the target audience in pure form.
CB: It's a challenge for any writer, working in any genre or format, to precisely convey their ideas to their audience. I've always been fascinated by what happens at the intersection of intention and reception; there's a bit of alchemy, in my view. Maybe I'm being pessimistic, but I doubt there's any such thing as pure or unmediated communication. On the other hand, I'm a thorough editor and unflinching critic of my own writing.
RH: Is the answer then to sit everyone down and explain your ideas specifically? I suppose that assumes a world where the person listening is *actually* listening and not checking twitter on their phone.
CB: It's the writer's responsibility to connect the dots, but also to communicate in terms that are appropriate for the intended audience. When you publish something, you don't know how it's going to be received and there's no accounting for other peoples' attentiveness, or lack thereof. But I think the best writers are able to hold their readers' attention for the duration of their engagement with the work.
RH: How did you become involved with this project?
CB: Ricarda remembered me from the Shortness at Tate Modern conference, which she organized along with Irini Marinaki and Konstantinos Stefanis. She approached me about writing a text for Translation Games.
RH: You were a participant in the "[V]ery short conference and a very long dinner" called SHORTNESS AT TATE MODERN, along with DJ Spooky, Jonathan Allen, Matthew Steven Carlos, Steven Connor and others. You spoke under the auspices of being a "flash fiction writer". I like the idea of short conferences and long dinners. What is flash fiction and what was the focus of the conference?
CB: Flash fiction is a story written in 1,000 words or less. The most famous example is Ernest Hemmingway's "For Sale: Baby Shoes, Never Worn," which is the entire narrative. I'm fascinated by the way in which subtext provides as much, or even more, of the story to the reader. More so than other genres, flash fiction operates at the interface between the writer and the reader.
Shortness At Tate Modern had two components: conference papers presented in an auditorium and a long dinner in an upstairs room that was interrupted by various performances, demonstrations and interventions. That's where I read my short story "B&I," which is set in Chicago. I was pretty nervous about presenting to an audience that included DJ Spooky, since I'm an admirer of his and I had taught his work to undergraduates at Barnard the previous year.
RH: You recently did a reading at Foyles Bookshopin London, the write up of which referenced you are working on your second screenplay. Aren't the 8 degrees, lovely family, multiple book projects, art projects and being a Huffington Post correspondent enough? Screenplays? I recently completed my work on Angry Birds Star Wars (admittedly playing it not developing it, but it was hard work to defeat Darth Pig). Now, c'mon, you are just embarrassing the rest of us. What is your most recent screenplay about? We have a huge Hollywood studio exec. fan base.
CB: I wrote a feature-length screenplay a couple of years ago, marketed it, and stirred up enough interest to motivate me to write another one. At the moment, I'm writing a contained location action-thriller.
Usually, I work on fiction and non-fiction projects in tandem, exploring concepts and narratives through different genres. Some things that work in fiction just don't pan out in non-fiction and vice-versa. Lots of projects remain unfinished, or are discarded along the way but that doesn't bother me since I usually manage to recycle ideas. I'm easily bored, and it's easier for me to accomplish tasks when I'm slightly distracted so I tend to toggle back and forth between projects. When I lose my focus with one thing, I go to the other, and then back again.
And, yeah, I wake up every morning and think to myself: How can I make Richard Holland feel like less of a person today?
RH: Very popular choice, there is a support group out there, I think they give out grants.
CB: Something to look forward to! Some of what you're responding to is my effort, as a former full-time mom, to find some means of engaging myself intellectually while remaining present for my children. When you're pushing a kid on a swing for forty minutes straight, it's useful to occupy your mind with thoughts of something other than pushing a swing. A story or an article that's already been threshed out in your mind comes much quicker to the page.
RH: What are you working on currently?
CB: I'm focused on the academic work described above, speaking at the GSA conference this fall, and putting together a seminar at IGRS for next spring titled "Emotional Response in Historical Practice: Methodological Approaches to Representing Collective Experience." I'm also publishing an article about Aby Warburg, historiography, and metaphors of German national identity in an upcoming issue of the Journal of Art Historiography. Through "What We Made," an independent publisher approached me about writing long-format fiction and so in my spare time I'm also rewriting a novel I had roughed out a few years ago in addition to working on the screenplay.
RH: Thank you for joining us! We need to get together for an audio interview the next time we end up in relatively the same city. Thanks!!
CB: It was my pleasure! These were great questions!
RH: I'll pass along the compliment to my writing staff.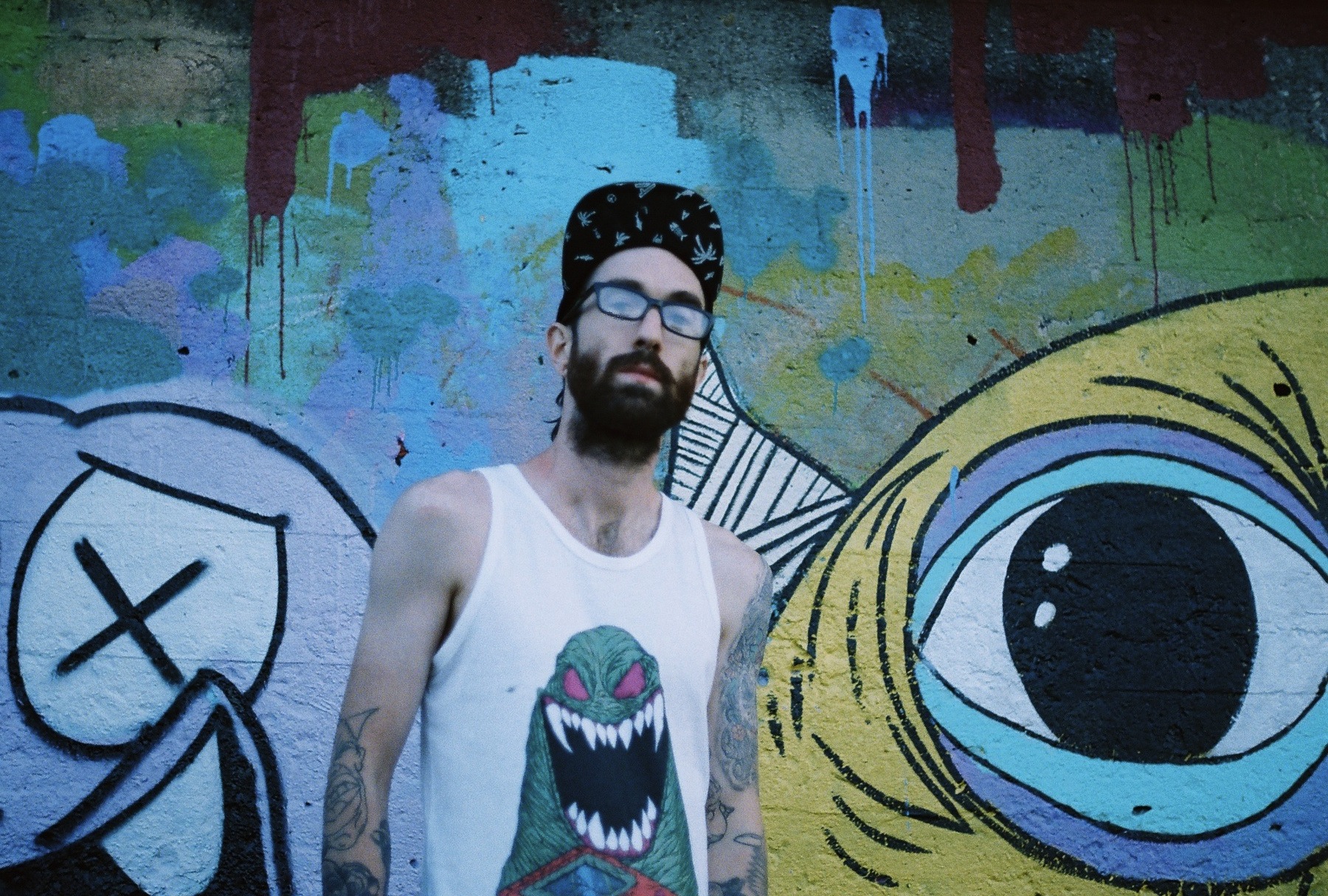 After losing his job and apartment on the same day a couple of years ago, Los Angeles-based street artist Gune Monster says he contemplated a suicide. Instead, he picked up a marker and begin drawing the toothy, ghoulish figures that would eventually become the hallmark of his  alter ego.
First, he drew about 50 stickers a day. The number quickly climbed to upwards of 350 hand drawn, colored and cut stickers , many of which would eventually make their way onto the poles, benches and other public spaces scattered around Los Angeles. Larger murals would eventually follow as the street artist's ambitions grew.
"Murals change people's lives" he says. "They change your opinion of the wall. It changes it from being some ratty wall that's got some tag or some weird penis that's got some hair to an amazing, beautiful mural that's got a hummingbird flying through the sky with birds and mountains."
Gune Monster also feels that creating murals offers developing graffiti artists an opportunity to mature by forcing them to openly confront the public with their work in a more much more personal and direct way.
"You've no longer going out at night" he says. "You're no longer hiding in a gallery. You're no longer putting up stickers. You are now in daylight, in the public, being judged by everybody that sees you. And that's when you're at that point where you're confident enough to spread your art."
Gune Monster returned to his hometown of Kansas City this past June to live mural at the City Ice Arts Building — a converted warehouse in the city's arts district that houses a collective of local artists and artisans. Though he wasn't able to paint at the Kansrocksas Music Festival (the event was cancelled), his new clothing line and projects in Los Angeles, Miami, New York and Las Vegas continue to keep this elusive artist fully occupied.
Check out his website for more great images of his work.
Words by Carolyn Okomo, a Kansas City, MO-based writer. 
Images by Dave Dumay of City Ice Arts and Carolyn Okomo.
Barbie and La Nouvelle Vague (part 3)
I'm on the porch rifling through Barbie posters and notes on what she would prefer when running away to a deserted island. I know Barbie would want to be with Ken. The way "Marianne," played by Anna Karina in "Pierrot le fou" ("Pete the madman"), ran away with "Ferdinand," played by Jean-Paul Belmondo, to live in the French Riviera. The couple ran away for two different reasons, and their fears kept them together. At the end of the film, I like to reinvent different outcomes. Perhaps they should have stayed in town.
This argument applies to play with Barbie as well. I take her outside of the box, adjust her arms and legs, and am free to imagine Barbie in a variety of ways. She is Ken's girlfriend getting ready for date night when I put black high heels on her. She is Midge's friend getting ready for brunch when I put strappy sandals on her. She is Skipper's sister getting ready for a yogurt run when I put sparkly flats on her. I assign Barbie various identities, and each time the fictional truths may be compared to real-world cultural representations.
My adjustments to Barbie's identity are necessary. For many she seems such a frivolous thing. Questions about her importance reinforce the idea that Barbie encourages the creative interpretation of identity. I cannot escape her. I have spent so much time alone with her. Some have not understood, but many have been supportive—my man included. (I say "man" because after a certain age "boyfriend" just doesn't seem to be able to sustain the weight of an adult relationship.) Things changed along the way. I changed when I got close to the essence of Barbie. I got close to myself. I learned to trust myself. I learned about the superficial sting.
I also know that Barbie is "plastic" and "anatomically incorrect"—like some "real" women that I know. But, she's gotten a "bad rap." I know that I "just can't change" the opinion of some. That sometimes it just "is what it is." That Barbie is made for "art's sake" and that some "art" is inspired by Barbie. That Barbie "inspired" the long list of female characters of La Nouvelle Vague. Consider Artist Nickolay Lamm's "comparison of bodies." Lamm suggests that the "average" woman's body is "no match." In fact, Lamm found "unrealistic measurements of 36-18-33, compared to the typical 19-year old girl's 32-31-33" (Revealed: What Barbie would look like as a Real Woman). This explains why Barbie can't stand-up on her own.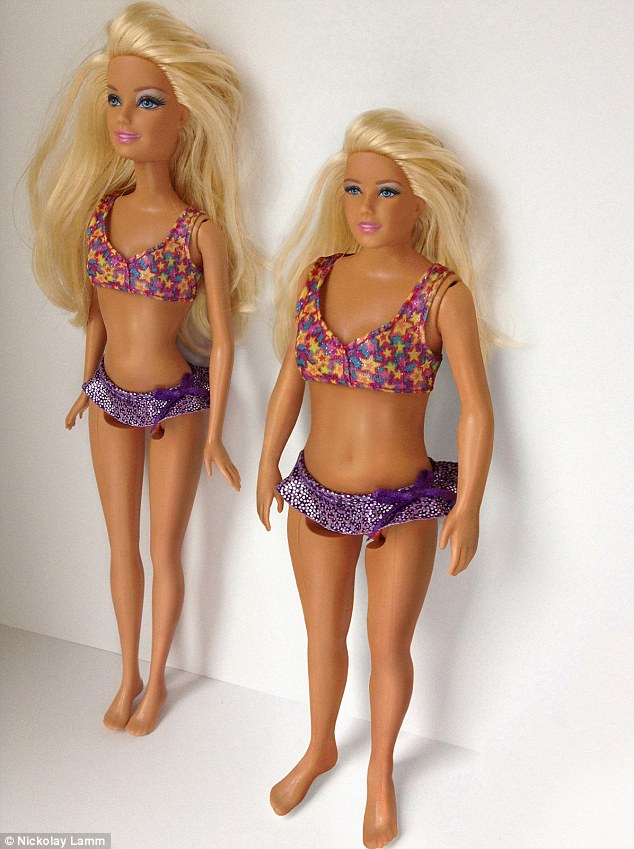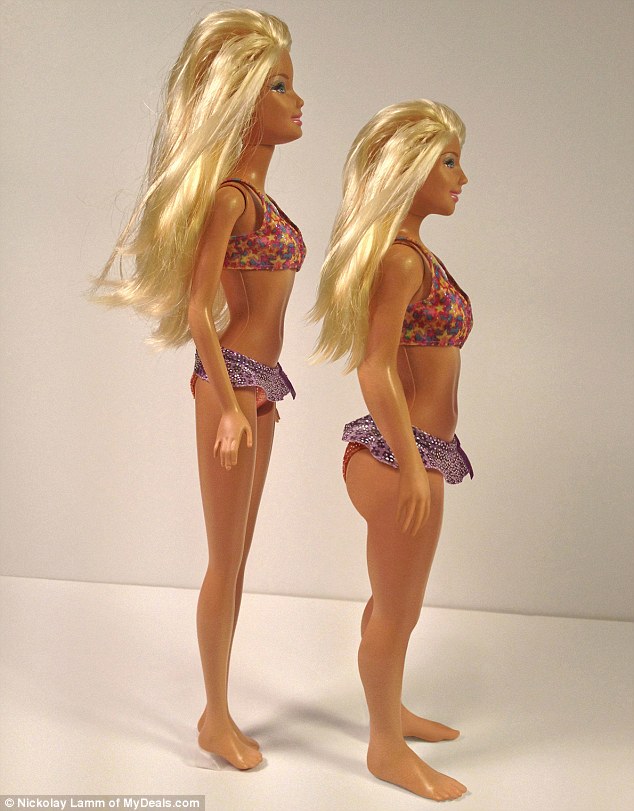 I'll admit, I "agree." She sends the "wrong message" to "impressionable" girls. Barbie is not for the "weak." I learned this my "first year" in Chicago. We went to some "pop-up" art gallery on a Friday night and there was Barbie—"decapitated," lying in the "middle" of the room, on the "floor." I asked the artist "why" he'd done this. He calmly, "sipped" red wine out of a mason jar, said "I used to do this to my older sister's Barbie when I was a kid." He then joked about Barbie's "power" to revert him to "childhood." This has always stayed with me. Barbie brings out the angry adolescent in every adult.
Who is not disappointed, enchanted, or tempted by Barbie? Most days, in the world of Barbie, the view from the porch provides a narrow balconyscape which hosts the angular silhouettes of red-tipped bricks. Sometimes we have company and they join us on the porch. In these moments the table is cluttered with wine glasses, water crackers, cheese platters, Barbie, Midge, and Skipper. On an eventful evening, Barbie is a kaleidoscope twirling from hand to hand. Soon we are scampering. There aren't enough hours. There is never enough time, just the way time ran out for "Ferdinand."
Soon, I feel the twin twinkle of goodbye kisses. It's just me at the door. At the heart of La Nouvelle Vague is a breathless, powerful glance because it is difficult to turn away from the beautiful tragedy. It is difficult to answer and dispute the fullness that Barbie deserves. I only rarely come close to completing the lanky jigsaw puzzle. I cannot really see the end. The journey is mine, this Barbie pink path that leads to the unknown, the pink purgatory.
Jamie Kazay teaches in the English Department at Columbia College. A California native, she holds a BA in English from California State University, Northridge and an MFA in Creative Writing, Poetry from Columbia College. She co-curates the Revolving Door Reading Series and is currently reading of a lot of Camus, Derrida, and Dorothy Allison. Her collection, Small Hollering, was published by Dancing Girl Press in 2011.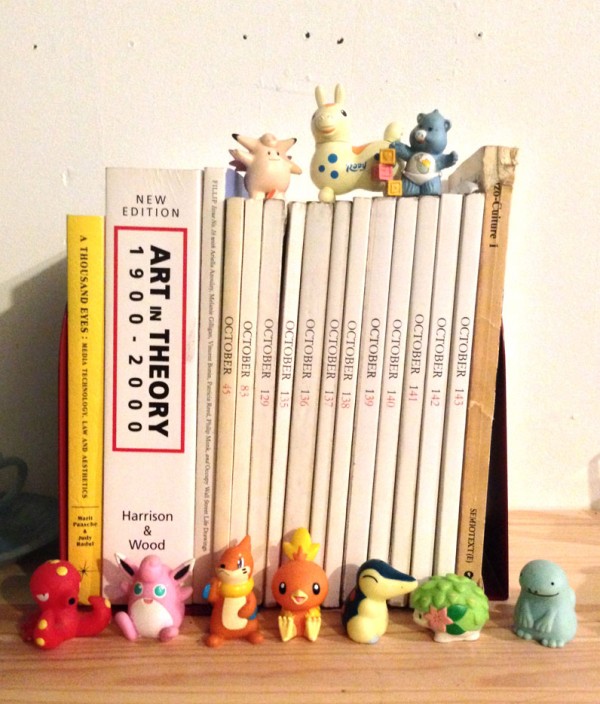 Guest Post by Faye Kahn
Every Sternberg/Semiotext(e)/Verso volume with Yale Design School layout is an impenetrable brick of ostensible magic that's going to save the human race. I really think this for a range of 10 minutes to 10 years per book. Yet even though I have been reading October every day for three years on every NYC Transit route there was only one time I was ever confronted about it & the guy was laughing! Â Still, the mystery of the text is irresistible, though after chatting with other arts writers, there seems to be a concern about the future of art criticism; that it's not as integral a part of the structure & motivational force of the art world as it used to be, & furthermore, there is confusion in identifying an audience. The source of this anxiety is varied & not everyone subscribes to it. Still, through my personal experience with theory I can understand why a frustration exists, both for authors & audience.
Slowness
It's difficult to read art theory & criticism. It's impossible for me to know how other people interpret text, but as an a person of average intelligence I can describe a sensation of mental aimlessness & meandering when trying to parse an uphill paragraph. Putting on blinders & focusing intently on the words the I gradually collect rewarding instances of realization & perspective. This is enough of a carrot to keep me reading. Still, the going is slow. Theory is slow, the contemporary is fast: it's entirely possible that this is the final conclusion. Like most professional fields, the barrier of slowness is a mental hazing method but the rewards here don't seem to pay off enough for large-scale generation-defying fraternities. However, if it's true that it's losing connection or usefulness to its own field, the effort can start to seem myopic.
Barnett Newman famously said that "aesthetics is to the artist as ornithology is to the birds." Birds are not only not interested in ornithology but they are incapable of being interested in it. Such a terse reading of that quote might be a little unforgiving, but it's interesting to revisit this notion from late-Modernist times today in regards to the perceived identity crisis of art writing. All artists are certainly not unaware of it, but it is easier today to be an artist without a knowledge or involvement in traditional art theoretical discourse. Faster modes of communication than text (images) are more conducive to conversation today. Â The image response, as the most expedient & accurate modes of communicating quickly, is a much more handy tool. ASCII, Unicode, & Emoji: day to day communication is condensed (& the phrase "hard to follow" now refers to twitter), alienating the dry over-enunciated walls of text that make up theoretical contributions.
Art-Theory-Genre-Art
As Hal Foster points out, during ArtForum's heyday in the 60s & 70s,"late-modernist criticism made fine distinctions on which the fate of art was thought to depend—the difference, say, between a 'deductive structure' by Frank Stella and a "specific object" by Donald Judd—and often it presented these differences as absolute."[1] This necessity for theoretical discussion is not totally absent today- but art dependent on by critical analysis has become a genre of sorts. Boris Groys says that
"A work of art is traditionally understood as something that wholly embodies art[…]When we go to an art exhibition we generally assume that whatever is there on display–paintings, sculptures, drawings, photographs, videos, readymades, or installations, must be art. The individual artworks can of course in one way or another make reference to things that they are not, maybe to real-world objects or to certain political issues, but they are not thought to refer to art itself, because they themselves are art. However, this traditional assumption has proven to be increasingly misleading. Besides finding works of art, present-day art spaces also confront us with the documentation of art." [2]
Although Groys is referring to the position of the artwork in the exhibition space as the documentation of the art itself, the statement is haunted by the situation of an exhibition space with placeholder artworks that function solely as referents to outside documentation & unstable explanations to be determined by later analysis. Movement away from aesthetic to conceptual merit is now common practice, though certainly more in some cases than others. Aesthetic attractiveness is more often seen now as a measure or capability of capitalist valuation of the object rather than an agent for a deeper social commentary or revolution. Thus, birds interested in ornithology & birds uninterested.
***
Lately I have found art theory exhaustingly cynical. I suppose the word "criticism" has a lot to do with this, however much of it seems to only a self-serving end. Often as a reader I approach the text with wonder & leave it feeling like a fluorescent light has been turned on to reveal all pleasant things have poisonous blemishes. A person can only take so much of this before becoming fed up or hopeless or annoyed that something prescient about how to live life is being ignored because the art community is busy circle-jerking to their exclusive & privileged (negative) perspectives on the world. That said, art theory ensconces beautiful ideas within its heavy labyrinthine walls of referential grandiloquent & excessively punctuated & footnoted jargon ("International Art English"?), & somehow this keeps me (us?) going. However, more & more, it has been exceedingly reassuring to go to the exhibition & realize that art has been growing & still grows around you when you & intellectuals aren't looking.
H. FAYE KAHN is a freelance animator in NYC &  a free-format radio DJ at listener-sponsored WFMU in Jersey City, NJ. She resides in Brooklyn, NY & holds a BFA in Film/Animation/Video from Rhode Island School of Design. 
1.  Foster, Hal. "Critical Condition," Artforum International, Sep2012, Vol. 51 Issue 1, p147-148
2. Groys, Boris. e-flux, December 2009, Issue 11, p1-11