Guest post by Sonja Hornung
When the shit hit the fan about three weeks ago, this image came up in my Facebook feed, along with the caption 'Transfield is everywhere':
The lead-up to the 19th Biennale of Sydney has been riddled with controversy. Just three weeks before opening, the Biennale's only private sponsor, Transfield Holdings, has ended its forty-one year relationship with one of the country's longest-running international arts events. This happened after Transfield copped heavy criticism from artists, the public and international government agencies for its commercial involvement in Australia's system of mandatory detention of asylum seekers.
In 1975, Australian painter Ivan Durrant dumped a dead cow on the steps of the National Gallery. The media went wild and the public was outraged. Back then, at the end of the Vietnam War, this reaction threw the public's ability to overlook far worse horrors into stark relief. For Australia possesses a sort of covert public hangover derived from two-and-a-bit centuries of enjoying a wealth built on colonial exploitation and xenophobic border politics. At certain moments the silence is shattered and we are forced to address the elephant (or dead cow) in the room using more than the usual token gestures. The scandal surrounding Transfield's involvement in the Sydney Biennale presents us with one such instance.
Perhaps there is some information to be shared here for artists and curators elsewhere wondering about how to negotiate the murky territory of compromised funding sources.
Here are the 'knowns' of the situation:
The current Australian government 'outsources' asylum seekers to its former territory Nauru, an island in the South Pacific, and Papua New Guinea's Manus Island. These two island detention facilities are located on the edges of the Australian territorial imaginary, but they sit at the dark heart of the controversy over the sponsorship of the Sydney Biennale. Transfield Services has run the detention centre on Nauru since February 2013. At the end of January, it secured a governmental contract to take over 'garrison and welfare services' on Manus Island, previously run respectively by Transfield's rival service provider GS4 and the Salvation Army.
Australia has been detaining immigrants without papers since 1992. Today, both Australia's ruling coalition and its political opposition support a mandatory detention system where asylum seekers can be detained for an indefinite time period. Moreover, mid-last year, the previous Labor government designed a 'solution' in which confirmed refugees were to be resettled not in Australia, but in Papua New Guinea. This meant that when the Liberal-National coalition was elected late last year, the new Immigration Minister Scott Morrison could freeze all asylum seeker applications for Australian visas, even though the terms of the 'PNG Solution' have not yet been accepted by the PNG government.
The situation's 'unknowns' are best expressed by the asylum seekers of Manus Island themselves, who on the 17th of February issued the following questions to the detention centre management:
Is there a process? What is it?
How long are we going to be here?
When will we have our freedom?
Will transferees who have been deemed refugees in other countries be given priority in processing?
Why is there no PNG Partnership?
Some of the transferees have been interviewed some time ago, what is happening with our process? What is the hold-up?
Who is responsible for us here on Manus – PNG or Australia?
Why won't Immigration (department) allow media to come here and interview us?
Will the Australian Government take responsibility for our mental health problems?
The Playfair lawyer said there was a third country option, why can't we be sent to this other country?
Why are our human rights not respected?
The asylum seekers received only one answer to their questions: that they have definitively no chance of resettlement in Australia whatsoever.
On the night of the 17th of February, clashes on Manus Island took place between asylum seekers, security guards, PNG police, and island locals. No less than 62 asylum seekers were injured. Iranian Reza Berati was killed, allegedly by multiple blows to the head with a plank of wood, according to a leaked PNG police report which also details the use of rocks and weights as weapons, and points out that blood could be seen on the boots of detention centre security staff as they patrolled the centre on the following day.
The results of the autopsy of Reza Berati, the exact details of the situation, and likely the final investigations of the Manus Island incident remain unknown, as media access to detention centres is strictly controlled by the Australian and PNG governments.
And what of Transfield? As a result of its new contract to take over Manus Island, worth $AUD 1.2 billion, Transfield Service's previously shaky share prices shot up by 21%. Transfield Holdings, which holds a 12% majority stake in Transfield Services, reaped the rewards accordingly. Transfield Holdings is the sole private sponsor of the Sydney Biennale.
After a series of public meetings twenty-eight Biennale artists penned a carefully worded open letter to the Board of Directors of the Biennale of Sydney petitioning it 'to act in the interests of asylum seekers. As part of this we request the Biennale withdraw from the current sponsorship arrangements with Transfield and seek to develop new ones.' This letter, dated the 19th of February and widely circulated in the Australian press, was subsequently signed by 41 of the 94 participating Biennale artists.
The Board issued a response to what it reasoned were 'claims over which there is ambiguity', and 'assertions and allegations that are open to debate', stating that 'the only certainty is that without our Founding Partner, the Biennale will no longer exist.'
In light of this statement, the ensuing events have landed the Biennale of Sydney with a decent amount of egg on face. On the 24th of February, the first five artists withdrew their work from the Biennale, stating that 'We do not accept the platform that Transfield provides via the Biennale for critique. We see our participation in the Biennale as an active link in a chain of associations that leads to the abuse of human rights. For us, this is undeniable and indefensible'. On the 5th of March, an additional four artists withdrew their work.
What precipitated the final break between Transfield and the Biennale of Sydney was not a response from its staff members, nor was it a reaction from curator Juliana Engberg, who has remained more or less publicly silent on the topic. The break between the two entities originated from the very curious reaction of Luca Belgiorno-Nettis, Chair of the Biennale and Director of Transfield Holdings. On the 7th of March, Belgiorno-Nettis resigned as Chair of the Biennale Board taking with him Transfield's money: this, despite previous claims that the Biennale could not exist without Transfield's support.
Reading between the lines, it seems that Belgiorno-Nettis is both indignant and insulted. To put this in context, the Sydney Biennale and Transfield have been in tight collaboration since the event's inception – so much so, that in its early days it could just as well have been called the Transfield Biennale. Transfield's executive director was then Luca's father Franco Belgiorno-Nettis, a well-moneyed Australian Italian who established the first Biennale in 1973 guided by 'civic-minded boosterism, nostalgia and philanthropy', and inspired, apparently, by the mother of all Biennales in Venice. The exhibition, a conservative selection of mainly local artists presented in the brand-new foyer of the Sydney Opera House, was funded largely with Transfield money and staffed largely by Transfield workers.[1]
1973 also saw the establishment of Australia's current arts funding body, the Australia Council. When Transfield secured significant Council funding for its second Biennale, Transfield's involvement in philanthropy extended slowly to the Australian Chamber Orchestra, the Art Gallery of New South Wales, Sydney's Museum of Contemporary Art, and numerous other community and art-based ventures. Thus, when Transfield Holdings cut its ties with the Sydney Biennale, one of Australia's longest-standing private/public funding relationships came to an end, leading to fears that, under the current conservative political climate in Australia, other public-private funding relationships could be jeopardised. These fears have been confirmed by Australian Arts Minister George Brandis's less than constructive response to the situation: a letter urging the Australia Council to punish arts funding recipients who reject private funding on political principle.
But where does the rest of Transfield's money come from? Over the decades, the company has acquired significant contracts from the Australian Department of Defence worth over AUD 400 million, not to mention a series of businesses providing services to the oil, gas and coal sectors in Australia, India, the Gulf Region, Chile and North Dakota. Undisclosed proportions of Australians' retirement funds are invested in the company. Tony Shepherd, the former chairperson of Transfield Services, now heads Australia's new Commission of Audit, which is mandated with recommending spending cuts in the public sector. Transfield is, indeed, everywhere, but its omnipresence seemingly does not equal omnipotence. Instead, it has become a slave to the bottom line.
For Belgiorno-Nettis' decision to end Transfield Holding's relationship with the Biennale sits in direct contradiction with his own principles. Belgiorno-Nettis has heavily criticised the 'spectacle' of contemporary politics as a process caught between 'two candidates on different sides of an issue, each attacking the idiotic ideas of the adversary.' His own NewDemocracy Foundation agitates for forms of citizen involvement that draw on the model of juried collective decision-making as an alternative to bi-partisan representative democracy, a process not dissimilar to the community consultation artists undertook in the lead-up to their withdrawal from the Biennale. In a recent interview, however, when asked what he thought of Transfield Service's involvement in the mandatory detention industry, Belgiorno-Nettis proclaimed that Transfield Services are 'doing nothing wrong anyway, in our view', arguing that the company's role is simply part and parcel of a government policy voted in by the people of Australia. Putting aside the dubious ethics behind this statement, this position sits in total contradiction with Belgiorno-Nettis' own doubts of the efficacy of the democratic system.
Clear thinking is here undermined by complicity: in this case, a financial complicity. There are, however, other forms of complicity that are perhaps more universal. The complicity of being an Australian citizen who voted for the current government. The complicity of being an Australian citizen despite having voted differently. The complicity of enjoying the wealth of a country that has put a barbaric system of mandatory detention to use since 1992. The complicity, more generally, of being a person who uses a passport when there are people who cannot. The complicity of being human when other people are treated as if they are not.
The following is addressed to the many media commentators, politicians, and individuals who, over the last two week, have criticised the artists of the Sydney Biennale who took a stance against this unbearable complicity, attempting to steer the narrative away from the inhumane mandatory detention of asylum seekers. To those who would accuse these artists of 'sheer vicious ingratitude'. To those who would argue that the artists' actions will make no difference to government policy. To those who will say that artists who have a problem with governmental policies should also now reject all forms of public funding (should senior citizens or those on disability pensions then also reject government funding?). And especially to those who say there is no alternative to this muddle of policies designed to satisfy some cruel regime of border control we should have left behind in the nineteenth century:
1) Complicity is an unbearable part of being human. Its very unbearability makes us turn away. When someone faces their complicity in all its complexity, when someone faces their imbrication in a system of horror, when someone acts in a situation where action makes no sense, the rest of us have a responsibility to listen very carefully.
2) Where we are not complicit is where commercial bodies have the run of power. A policy of mandatory detention upheld by governmental institutions is subject to the democratic reckoning of voters and governmental transparency, ideals that – as Belgiorno-Nettis himself argues – are troubled enough as it is. A detention process executed by private contracters and subcontracters, on the other hand, acquires an unbridled trajectoy and opacity of its own, filching away from the right of the people to determine the conditions of their own political existence.
3) Artists exercise the right to unbridled and uncensored freedom of speech. Those who seek to draw a division between art and politics are also those who are afraid to listen.
It may well be that, when voting in the current conservative government, the Australian people indeed 'imagined what they desired', and, in a perverse reversal of Engberg's own slogan for the Sydney Biennale, they also got it. But now, pardon the bad joke, the proverbial dead cow is on the steps of the gallery. It's a indictment on the Australian political system that some people have to get hurt for other people to take action, and a twisted irony that, in the very moment when we realise that our day-to-day life is built on such horrors, our right to have a voice in shaping our political reality is being eroded at the edges by incremental processes of privatisation. In this context, the dissenting Biennale artists have confronted our complicity, acting in defiance of a situation where, if you ask Transfield, the Australian government (including its Arts minister), the Biennale Board, and the mainstream journalists, action makes no rational sense whatsoever.
It is worth noting that Durrant's cow-dumping occurred neither inside the gallery, nor on the steps of Parliament House. The carcass was left on the steps of the art institution, at that troublesome threshold between art and the street. In his case, as in the case of the nine artists who refuse to take part in the Sydney Biennale, the power of art lies in its withdrawal from the institution and its reappearance elsewhere, in a space where it might be confused for madness or activism, for an attempt at dialogue or a rash act of love, where it might disturb a public order we can no longer bear.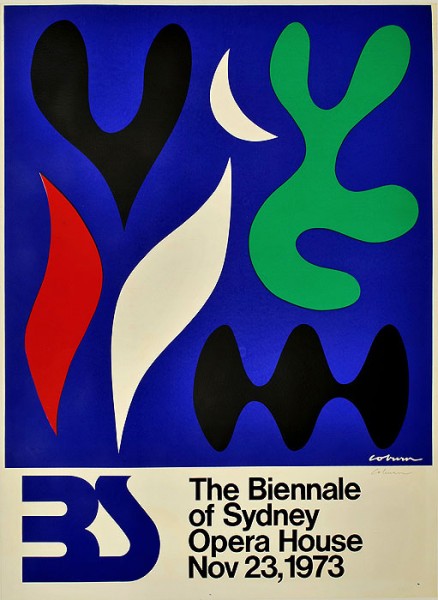 The Biennale of Sydney will open on the 21st of March.
The names of the artists who have withdrawn their work are: Libia Castro, Ólafur Ólafsson, Charlie Sofo, Gabrielle de Vietri, Ahmet Öğüt, Agnieszka Polska, Sara van der Heide, Nicoline van Harskamp and Nathan Gray
Sonja Hornung is a Melbourne-born artist and writer currently living in Berlin. She is undertaking her Masters in Spatial Strategies at Weissensee School of Art.
---
Over the coming months, the Bad at Sports blog is featuring quick glimpses of the art world as it exists in smaller cities across the country and around the world. Each glimpse is byway of some of the said city's local characters, which include but are not limited to artists, curators, creative writers, and critics. In part 2 of this Oklahoma Day, curator Lauren Ross takes a spin around culturally revived Tulsa, Oklahoma. 
T-Town Transformation
Guest post by Lauren Ross
I moved to Tulsa in the summer of 2011.  As a relative newcomer (and New York City native), I may not be privy to the long view of the art scene in "T-Town," but the visual arts in Tulsa have gone through a transformative shift so recent that, even in my short time here, I have borne witness to the sea change.   I'm referring to the revitalization of the downtown neighborhood known as the Brady Arts District.  With its assortment of arts organizations, creative industries, music and performance venues, and overall cool and energetic vibe, this small, long-neglected neighborhood has become Tulsa's artistic nerve center.
Brady had already been dubbed with the arts district moniker due to the presence of a pioneering few organizations, but critical mass was achieved in 2012-13, primarily due to the efforts of the George Kaiser Family Foundation (GKFF).  Established by the eponymous local philanthropist, GKFF's main target is combating issues of urban poverty, but it also has done wonders for the civic enhancement of Tulsa.  Rather progressively, many of its efforts to improve the city have been focused specifically on developing arts and culture.  Simply put, the foundation bought up a good deal of dead space in Brady, fixed it up, and turned it over to various arts organizations.  Former empty warehouses now house museums, nonprofit spaces, and teaching facilities, and what was once a truck depot is now a public park and performance space.
Today this neighborhood features a vibrant mix of organizations.  Neighborhood pioneers include the Brady Theater, the legendary music venue Cain's Ballroom, the alternative space Living Arts, Tulsa Glassblowing School, and the cooperative gallery Tulsa Artists' Coalition.  More recent additions anchor Brady Street itself.  The Henry Zarrow Center for Art and Education is a three-story building housing classrooms, art studios, galleries and event spaces, jointly administered by the University of Tulsa's School of Art and Gilcrease Museum.  108Contemporary (formerly Brady Craft Alliance) is a nonprofit space dedicated to contemporary craft that showcases local and national artists.  The archives of Oklahoma son Woody Guthrie, recently relocated from New York, are housed at the Woody Guthrie Center, a museum and research center that also sponsors live music.  Philbrook Downtown, a satellite location for Philbrook Museum of Art, presents exhibitions and programming dominated by modern and contemporary art by Native American and non-Native artists, and houses the Adkins Study Center for Native American art.  Adjacent to these institutions, the Arts and Humanities Council built the Hardesty Arts Center (better known by the acronym, AHHA), a brand new Cor-Ten steel clad, 42,000-square-foot building that features exhibition spaces, artist studios, classrooms, and more.
The Brady renaissance wasn't achieved by the presence of arts organizations alone.  GKFF's revitalization of the neighborhood also included creating subsidized housing, street-scaping and tree planting.  Perhaps most significantly, the foundation created Guthrie Green, a public park with a stage area that serves as a venue for everything from farmer's markets and food festivals to movies and concerts, all free of charge.  GKFF's work was matched by a variety of efforts, funded by both public and private sources, which added such amenities as a baseball stadium, television station, and new hotel.  Together, these catalysts had an almost immediate effect.  Seemingly overnight, coffee shops, restaurants, bars and boutiques followed.  An area that used to feel post-apocalyptically deserted on evenings and weekends is now buzzing and humming.  And while the gentrification has spurred a small contingent to grumble over the area getting "too fancy," the economic benefits to the city have been palpable, and continue to accrue.
I don't want to imply that Brady is the only area of Tulsa with rich offerings.  Important players in Tulsa's art scene are scattered throughout the city: Philbrook Museum of Art and Gilcrease Museum, the two largest museums in town, serve as cultural anchors.  Commercial galleries and artist-run spaces are peppered across various neighborhoods, from Brookside to Cherry Street.  Fab Lab provides cutting-edge design and fabrication technologies.   Additionally, other neighborhoods are on the tipping point of Brady-like transformations, notably the Pearl District and the East Village, the latter home to the Creative Room, a collective workspace for people working in creative industries.
These recent pushes for public and private redevelopment with an eye towards culture and the creative class are healthy and productive.  But the city and state governments have far more work to do to make Tulsa a hospitable place for artists to live and work and nonprofits to thrive.  A bill currently in the state's House of Representatives threatens to eliminate the autonomy of the Oklahoma Arts Council and jeopardize significant amounts of funding for the arts.  Such eliminations could be devastating.  If funding and community support can survive, Tulsa's ability to enrich artists and audiences will continue to grow.
I have a personal wish for the arts in Tulsa, one that admittedly may stem from my status as a relative newcomer: to see more interaction with what is happening beyond the city's borders.  I believe local artists could benefit from increasing their awareness of what is being made, experienced, and discussed in other places.  Organizations can serve those same artists by opening up dialogues and exchanges with their counterparts in neighboring cities and states.  I see these efforts being done successfully by the Oklahoma Visual Arts Council (OVAC), one of the few organizations working hard to bridge gaps, for example, between Tulsa and Oklahoma City, two cities geographically close but psychically distant.   Tulsa is situated midway between Kansas City and Dallas, both centers of dynamic, cutting-edge arts scenes.  Engagement with places like that would not only broaden our horizons, but promote the great things that are going on here to others, not to mention move us towards raising the city's profile on a national stage.  Tulsa is closer than ever to being "discovered" as a hidden cultural jewel, and to showing the rest of the nation what many people here already know.
Lauren Ross is the Nancy E. Meinig Curator of Modern and Contemporary Art at Philbrook Museum of Art in Tulsa.
Over the coming months, the Bad at Sports blog is featuring quick glimpses of the art world as it exists in smaller cities across the country and around the world. Each glimpse is byway of some of the said city's local characters, which include but are not limited to artists, curators, creative writers, and critics. In part I of this Oklahoma Day, artist Romy Owens gives you a sense of the artist and arts culture in Oklahoma City and its namesake state at-large. 
Guest post by Romy Owens
My great grandmother grew up in a sod house in the side of a hill. Why? Why is this relevant? Oklahoma is young. We're 108 years old. We are not so removed from the reality that community equaled survival. We're still a highly community-minded state. That is not to imply that you live in a non-community-minded state, or that we're super special. (We are.) Unless you're meeting Sally Kern, when you meet someone from Oklahoma, you'll probably like him/her… because lots of us are friendly, and smart, and funny, and attractive.
So, with that said, we are also a state steeped in terrible statistics and stereotypes. We love football, basketball, rodeo, beef, pork, incarcerated women, pregnant teenagers, and energy. We cling to religion. We have extreme weather events. We have a majority conservative political representation. (FTR: I am part of the minority.)
However, thankfully, Oklahoma City is not a cultural dustbowl. (Oooh, Cultural Dustbowl is totally the name of my next body of work.) We love art too.
In Oklahoma City, we have institutional arts organizations that receive significant support from foundations, corporations, and individuals. More often than not it seems like the focus is on dead people's art, but recently all of the major art institutions have started to embrace contemporary art and artists. (Hooray!) I'm sure the ballet, philharmonic, museums, and theaters would say they need more money to do bigger and better and serve more people, and sure, they could use more money, and probably deserve more money, but in the big picture of arts institutions serving the public, they are all doing great. Thanks for asking.
We also have many small arts organizations (dance and theater companies, non-profit art spaces, arts districts) that receive financial support from foundations, corporations, and individuals. All of these agencies are providing contemporary art programming, often using Oklahoma playwrights, choreographers, performers, and artists. These organizations need money. They might need better organization as well, but to do that they need financial support.
And then we have the individual artists, and there are a lot of us, working diligently, and with a few exceptions, most of the time for less than minimum wage. (I know this isn't just an Oklahoma problem.)
I am a visual artist in Oklahoma City, and if Malcolm Gladwell's assessment of what makes an expert an expert, I am an expert regarding the contemporary art scene of Oklahoma City.
In Oklahoma City, I am part of a small, tight-knit community of contemporary artists. Among us, maybe two dozen work as full time artists. There are easily another 200 who self-identify as artists and consistently create, but work 40 hours a week at another job (many art related). Add to that another 1000 people who make art for an occasional group exhibition, but not necessarily professionally, and that makes up the visual art community in Oklahoma City (and probably in other small cities like Omaha, Louisville, Columbus, Birmingham…).
Like every other state, Oklahoma has decorative interior designer artists, conceptual artists, performance artists, safe festival artists, established name-brand crank-it-out artists, street artists, craft artists, eager experimental emerging artists, and weary-but-still-eager experimental established artists. We represent all media and movements. If you broke it down proportionately, I'm sure we are identical to the artistic fabric of the art meccas, just on a smaller scale. And like all artists everywhere, we have a lot of dialogue about art: my art, your art, that art, current art, past art, artistic practices, ideas, residencies, grants, fellowships, studios, patrons, opportunities, money, money, money.
For visual artists in Oklahoma City to make ends meet with part time contract gigs, there are numerous afterschool and seasonal school break art teaching opportunities, some art preparatory opportunities, and a few art administrator opportunities.
We only have one paid yearlong residency program at a historic downtown hotel. And we have one unpaid one month-long residency program for printmakers at a downtown art gallery.
There is an art walk happening in a different art district three weeks out of each month. We have two art festivals that occur each spring. Nearly every weekend, there is something new to see or attend. Scoff if you want, that wasn't always the case here.
We have a public art program at the city level. We have a quarterly crowd-sourced grant for artists of all disciplines modeled after the Brooklyn FEAST. And we are about to see the renovation of a historic building west of downtown for a new 21st century Museum Hotel. This has all really developed in the past ten years. I am certain that we wouldn't be where we are now if it weren't for OVAC.
Oh yeah, we have OVAC. The Oklahoma Visual Arts Coalition is the only arts organization that benefits individual visual artists exclusively. Before OVAC, there was no institution in Oklahoma providing financial support to individual Oklahoma artists, except art buying patrons. As many artists know, when the successful continuation of an artist's career is solely determined through patronage, the contemporary art changes and the voice becomes… decorative. OVAC empowers us to take risks, stray from the safety of the known, and to change the conversation as we deem necessary.
So in a state where prior to 1988, the only way to make a living as an artist was to 1) make art that people will purchase, 2) be independently wealthy, or 3) leave the state, having an organization provide grants to make art, or provide exhibition opportunities with honorariums is a game changer. (OVAC does so much more than that, but money talks.)
The contemporary art scene has been significantly improved by OVAC's work. It's one of the few art organizations in the city that has a zero censorship clause. The ideas are richer, the discourse is stronger, and the networks are wider. Its mission is to support visual arts and artists and their power to enrich communities. Done. And more please.
So back to the charm of Oklahomans, as a tightly knit art community—we are highly supportive of one another. Of course, as individual artists, we are competing over limited opportunities within our small cities and throughout the state, and competitive opportunities out of state, but we all know, when one succeeds, we all succeed.
I feel fortunate to be aware of what many of my contemporaries are doing. I also feel fortunate that for our size we have so many creative and talented artists contributing to the conversation of what is art. I couldn't begin to list everyone whose work I admire, but here are a few:
Deep down in my heart, I know there are many Oklahomans who understand the significance of what my contemporaries and I contribute to the cultural landscape of the state, and who understand the value of visual arts past the formal museum setting or the decorator showcase home. But in accessing the contemporary art scene of Oklahoma City and knowing what is happening even just five hours north in Kansas City, we still have a long way to go.
We still don't have enough galleries that exhibit and sell art. (I know this is a problem even for artists of the largest cities.) We cling to the art auction-as-fundraiser model like it's going to leave us for another city. Affordable studios aren't easy to secure. And more paid residency programs or professional opportunities could transform careers, but establishing and funding them seems challenging at best.
In a recent article in the city's mainstream newspaper, I was featured in a story about the Affordable Care Act, and the backlash regarding my receiving subsidized insurance (for the first time in eleven years) was hateful, mostly centered on the fact that I "should get a real job." Unfortunately, such phrases are proffered to artists regularly in Oklahoma and elsewhere. So, while we truly are a nurturing supportive community trying very earnestly to keep a diverse cultural experience viable, it's still a struggle for the individual artist in Oklahoma City.
Oklahoma does have a lower cost of living though. Like super low. Like maybe you should move here and join our art community. Consider that an invitation.
With all this said, personally, I myself am a thriving Oklahoma artist at a pivotal point in my own career, and I know that I need to find opportunities outside of Oklahoma. Ultimately, the outward extending success of my studio practice and well as those of my peers will make for a better cultural landscape in Oklahoma. So, hit me up if you have any leads. And of course, hit my fellow Oklahoma artists up, too. They're all making great work in Oklahoma.
—
Romy Owens is an interdisciplinary contemporary artist living and working in Oklahoma City, Oklahoma. www.romyowens.com
Guest Post: This essay is part of a series by David Carl
If I had created the City of my dream, the City that is not, never was and yet manifests itself with acuteness, smells and loud sounds, if I had created that City, I would not only have been moving in complete freedom and with an absolute sense of belonging but also, most importantly, I would have taken the audience into an alien but secretly familiar world. Â  Â  Â  Â 
–Ingmar Bergman, The Magic Lantern
Barton Fink presents us with an opportunity to reconsider that most magical aspect of the cinema, mise-en-scène. Mise-en-scène is nothing less than the visual world created by the filmmakers to tell us everything about the movie that is not conveyed by the dialogue, the story, the plot, the characters, and the acting. It is the physical setting of the movie, the very stuff of its visual being.
This is of central importance in any film, but in Barton Fink it is of particular interest because the world of the movie is such an unusual one. In most films mise-en-scène is created in the service of calling a particular world into existence. Often it is some version of the world we are already familiar with (either in our experience, our memory, or our imagination): for example, such and such a city in America in such and such a year. It may be a period piece: A suburb in the 1970's, New York of the 1920's, the Chicago of prohibition, the American West in the 1860's, Europe during WWI, or Vietnam in 1969. Sometimes it is a fantasy world that has been created expressly for the movie: a science fiction landscape, perhaps on a spaceship or on another planet, or some fantasy version of our own world in the future. Mise-en-scène can be used to recreate the Wild West, the roaring 20's, World War II, an alien invasion, the Zombie Apocalypse, the town we grew up in, an all-too-familiar office building, a typical American high-school, an apartment complex, a jungle, a desert, or an urban wasteland. Mise-en-scene creates a world, whether it is the lush, visually brilliant Britain of Kubrick's Barry Lyndon or the rainy Los Angeles of Ridley Scott's Bladerunner.
Mise-en-scène tells us where we are. But the Coen brothers don't need mise-en-scène to tell us where we are as we enter the world of Barton Fink because they use a title to do it instead: "New York, 1941", even though everything about the setting would have conveyed the same information. But they're reserving mise-en-scène for something else; let's call it establishing a mood. What is this mood? What is "mood" in the movies? What else but how a movie makes us feel. Which, in the case of Barton Fink, is a very special kind of creepy; Poe would have called it an example of "the uncanny."
Lets review the first 10 minutes of Barton Fink: The movie begins with the credits appearing against a background of gold textured wallpaper (we see later that it is the wallpaper from Barton's room at the Hotel Earle). Wallpaper is important in the movie. It's a surface that hides another surface. The first cut takes us behind a surface, not of the wallpaper but of a stage. We're behind the scenes, listening to the over-acted, over-written, overblown lines of a "common man" in Barton's successful play:
"Dreamin' again," a woman says.
"Not anymore Lil. I'm awake now. Awake for the first time in years."
The movie's main themes are presented in the first few seconds: surfaces and what they conceal, actors and what they portray (or pretend to be), the tension between dreaming and being awake. The first shot, after the credits, is of something being lowered.  We are descending, from the very first image, going down, figuratively, accompanying our characters on their descent into Hell.
These first few seconds also illustrate Barton's illusions about his work as an artist. (Movies and the theatre are about creating illusions (not always illusions of reality), and Barton's illusions are largely "in his mind.") On stage and out of sight wildly improbable lines are delivered ("I see the choir and I know they're dressed in rags, but we're part of that choir") by a character meant to represent a "common man" (although the voice sounds strikingly like John Turturro's) while backstage a "real" common man works the ropes and pulleys that allow the fantasy to unfold. On the very line "we're part of that choir" we get our first shot of a human figure in the movie, bent over and working, completely uninterested in, unengaged with, and detached from the lines being delivered ostensibly to give him, the "common man," a dramatic voice in the world.
The shot of this man walking away behind Barton is of someone who couldn't care less about the lies and fantasies of dramatic representation. A second stagehand sits nearby smoking a cigarette (beneath an eerily red-lit "NO SMOKING" sign) and reading a newspaper, equally uninterested in Barton's paean to his fantasy version of "the common man." This is all the visual evidence we need to see that the movie wants us to think of Barton's play (and thus of Barton himself) as a pompous ruse (albeit a sincere one). A sincere ruse; that is: excellent raw material for Hollywood.
In the restaurant after the performance Barton says, "I can't kid myself about my own work. A writer writes from his gut. His gut tells him what's good." But throughout the movie Barton does nothing but kid himself about his own work. He's a bad writer who knows nothing about the people he wants to write about (ironically, since the implication is that he grew up with them in New York, and that his own background is working class). The Herald review of his paper says that his play is about people "whose brute struggle for existence cannot quite quell their desire for something higher"; but this describes not the people Barton thinks he is writing about, but rather his own relationship to writing. A relationship that will unfold for the rest of the movie not in New York, but in Hollywood, a place that thrives on the tension between appearances and reality, aspiration and ambition, honesty and hypocrisy. A magical place of fantasy mixed with ruthless pragmatic business sense. (What darkness supports the light?) At their first meeting Lipnick tells Barton, "The writer is king here at Capitol pictures. You don't believe me: take a look at your paycheck at the end of every week. That's what we think of the writer." And he's right: in Hollywood a writer, like anything else, is something you buy. Pay for it and it's yours.
But Hollywood is not simply a false mistress who erects a tempting exterior over a corrupt interior. Instead, She turns out to be the harsh mistress capable of telling Barton the hard truths he has tried to hide and conceal himself from. Ironically, Hollywood is the most honest character in the whole movie; the character so expert at disguise that She not only sees through everyone else's disguises, but forces them to face and acknowledge them as well. And virtually every character in Barton Fink is pretending to be someone or something he or she is not (Charlie is not "really" an insurance salesman, Lipnick is not a colonel in the U.S. army, Mayhew is not a great writer, Audrey is "not just Bill's secretary", and who, or what, the hell is "CHET!", anyway?), which leads us to wonder, what is it that Barton appears to be but isn't? A writer? An artist? Someone interested in "the common man"?
Hollywood is a wonderful paradox: no place is more devoted to creating magic, but no place is more merciless in reducing it to a commodity that can be bought and sold. Hollywood is also the land where appearances are what is real. Obscuring the dividing line between truth and fiction, fantasy and reality is the business of Hollywood. It's a place where dreams (or nightmares) come true. Which means that the person who is the most duplicitous is, paradoxically, the most honest. (Lipnick tells Barton, "If I had been totally honest, I wouldn't be within a mile of this pool unless I was cleaning it.") Where does that leave Barton? Is he a real writer trying to pander his talent to the Hollywood beast? Or is he a hack who has to come to Hollywood to discover the truth about himself? What is truth in the movie? In the movies? In Hollywood? For any of us ever? What more do we want from a work of art than an opportunity to confront such puzzles concerning truth and fiction?
From the moment we cut from the final scene in New York to the opening scene in Los Angeles we accompany Barton into a new world, a world that has never existed outside the imaginations of the filmmakers. This is where mise-en-scène comes in. Superficially it looks like Hollywood in the 1940's, but in fact the Coen brothers have created a vision of Hollywood all their own, where nothing is as it appears to be, reality and fantasy are hopelessly confused, and truth and fiction are so entwined as to be virtually indistinguishable. The Hotel Earle, with its pealing wallpaper that seems to reveal something like flesh underneath and that appears to ooze or bleed when Barton presses on it (penetrating this "skin" with the thumbtacks provided by "Chet!" seems to provoke the sexual noises Barton hears through the wall), is a literal embodiment of this vision of Hollywood.
Meta-portrayals of Hollywood as a city dedicated to ruthlessly profiting from creations of the human imagination are common. Hollywood, as we know from movies like Von Sternberg's The Last Command, Preston Sturges' Sullivan's Travels, Billy Wilder's Sunset Blvd., Curtis Hanson's L.A. Confidential, Robert Altman's The Player, and David Lynch's Mulholland Drive, is the place where fantasy and reality enter into the most bizarre of congresses. Nowhere else in American is the harsh reality of cutthroat business so seamlessly combined with the romantic luster of our dreams and fantasies. Hollywood is where people go to make their dreams come true, or, as in Barton's case, to encounter their nightmares.
Barton does not so much enter the Hotel Earle as magically materialize in its lobby as a result of a gradual but stunning fade that, at 7 minutes and 44 seconds, for a split instant creates the image of Barton standing before a surging body of water that has flooded the hotel floor. It appears as if he has split the rock and emerged out of it to stand, suitcase and typewriter in hand, on the shores of a new land. As the water recedes, Barton begins to move forward through the hotel lobby. This is one of the most beautiful shots in the film. Barton backlit from the doors behind him, moving through a strangely empty (despite the many chairs) lobby of dusky browns and pinks that have a flesh-like character. This impression of the hotel lobby as something living is emphasized by the plants that give it a jungle-like feel. At first Barton is merely a silhouette moving through this strange new landscape.
The next cut lets us know we're not to be confined to the point of view of characters in the movie. Now we are behind and above Barton, but too far above for this to be the pov of a human observer, and as the camera pulls back we rise even higher to take in the chandeliers. The light has changed and we can see the chairs and the plants more clearly. The colors stand out more brightly and Barton himself appears in more detail. The pattern of the carpet resembles the pattern of the gold wallpaper against which the credits appeared at the beginning of the movie.
A few more things to notice about the Hotel Earle:
—the symbolism throughout the film not so subtly suggests that the Hotel Earle is a kind of Hell ("Earle" and "Hell" are end rhymes).
—not just the fact that Chet emerges from below the floor (obvious symbolism), but the mottled color and texture of the trap door from which he emerges (carrying a shoe?)
—the overhead camera angle of the spinning hotel register Barton signs (a bird's, or God's, or Devil's eye view?)
—the stains on the walls on either side of the elevator (the camera pans down though the motion should be up, to floor 6)
—the impossibly long corridor Barton walks down to arrive at his room
—the hotel's slogan, "A day or a lifetime" (ominous overtones)
—the broken pencil tip  (bad symbolism for a sexually lonely and creatively sterile writer)
—the long row of shoes outside the doors of what otherwise appear to be unoccupied rooms (in No Exit Sartre wrote, "Hell is other people," but for Barton Hell may simply be himself and his solitude)
—the (according to Geisler, impossible) mosquito as bloodsucker; L.A. as the natural habitat of vampires (cf. Joss Whedon's brilliant Buffy and Angel series)
In this movie, everything means something, which is as bad as saying that nothing means anything.
These early scenes establish the Hotel Earle as more than just a setting in the movie. It becomes an actual character, living and breathing, sweating, groaning; it acts and interacts with the other characters in the film—the hotel, like John Goodman's character Charlie, is a living embodiment of Hollywood itself. (And Barton's room is the creepiest room in the movies since The Shining's Room 237 and Henry Spencer's room in Eraserhead (whose hairdo Barton's seems indebted to as well).)
At least this is one side of Hollywood—it would be pointless to try and identify which of the various settings (Lipnick's office, the restaurant where Barton eats with Geisler, poolside at Lipnick's home, the beach at the end of the film) is the "real" Hollywood, for that is precisely what Hollywood is in the movie: the absence of a single unchanging truth. Hollywood is all surface. Peel back the surface, as the Hotel Earle peels away is epidermal wallpaper, and what is beneath is not the truth, but just a sticky mess, waiting to be covered by an appearance which will stand in for the truth. And what is a movie that is surface all the way down "really" about, if not the very question of what it means for a movie to be "about" something in the first place?
Before ending I'd like to add a few thoughts about what Charlie and Lipnick have to do with all this, and with the question of "the life of the mind." Charlie and Lipnick are doppelgangers, both for each other and for Hollywood. They do not "represent" or "symbolize" Hollywood; they embody it. They are large, dominating bodies. Bodies that embody, in different ways, what Barton calls "the life of the mind."
Think of Charlie and Lipnick as different aspects of the "entertainment" industry: Lipnick, in his Janus-like alternations between submission (licking Barton's shoe) and domination (firing and debasing Lou Breeze); Charlie in his peculiar relationship to make-believe and his own Janus-like embodiment of comedy and tragedy (the laughter-sobbing Barton hears through the wall (permeability of surfaces) representing both Thalia and Melpomene, the muses of comedy and tragedy respectively) and the friendly "guy next door" façade masking the "serial killer" interior). These ambiguities (submission/domination, laughter/sobbing, comedy/tragedy) find their way into the movie itself. Is Barton Fink a comedy, a horror movie, or a tragedy? Yes.
Lipnick tells Barton the only thing that matters is, "can you tell a story," and Charlie repeatedly offers, "I could tell you stories," but Barton can't put these two sides of Hollywood together. He's so caught up in the idea of his "work" that he can neither tell nor hear stories. He is both deaf and mute to the only thing Hollywood cares about: other people's stories. He's too busy trying to figure out his own.
Charlie says, when explaining his ear infection, "Can't trade my head in for a new one," and Barton agrees, adding "I guess you're stuck with the one you got." But later in the film the cotton in Charlie's ear reappears in Barton's (also symbolizing his deafness) and Charlie will literally give Barton a head, as if to suggest that, when it comes to the life of the mind, it's always possible to get a new one. And it seems to work, since it is after Charlie gives Barton Audrey's head that his writer's block disappears and he begins to write (just as Audrey helped Bill Mayhew with his own writer's block). The results, however, only reveal the kind of writer Barton "really" is.
Charlie tells Barton that he's in the business of selling peace of mind. In response, Barton speaks of what he calls "the life of the mind" ("I got to tell you, the life of the mind, there's no roadmap for that territory."). At one point Lou tells Barton, "Right now, the contents of your head are the property of Capitol Pictures." After seeing Audrey's body, Charlie tells Barton, "We gotta keep our heads."
"Look upon me, I'll show you the life of the mind," Charlie shouts as he rampages down the hallway. But he's talking to Barton, or to us, not to the cops (one of whom is already dead). What is it Charlie wants to show us?
Is the movie an imaginary voyage (like Dante's) into a literary hell? What is the "life of the mind" if not the life we lead in our imaginations, the life fueled by the products of Hollywood, which feed our imaginations, though whether to nourish them or enervate them may depend on what it is we're digesting. The life of the mind is about death and violence and man's journey into the depths of Hell. Barton doesn't seem to realize (yet) that there's no "common man" who doesn't carry his own Hell around with him. No vision of Hell that isn't derived from the dark imagination of the poet that dwells in each of us.
Charlie calls Barton, whose aspiration is to turn the suffering of the common man into art, a "tourist with a typewriter," but when Barton leaves the burning hotel he carries with him his script and the box, not the typewriter he arrived with.
The box has replaced the typewriter. What's in it (besides Audrey's head)?
Charlie: "It's just a lot of personal stuff, but I don't want to drag it with me, and I'd like to think it's in good hands. Funny huh, when everything that's important to a guy, everything he wants to keep from a lifetime, and he can fit it into a little box like that."
Barton: "It's more than I've got."
Charlie tells him it will help him finish his script, but overcoming his writer's block is not the same as being able to write well (since what he writes appears to be the worst kind of self-plagiarism: a repetition of something that was a cliché to begin with). After gaining from his encounter with the police a pretty good idea of what's in the box, he holds it up to his own head, as if trying it on for size. Earlier he told Charlie, "My job is to plumb the depths," and he says to Mayhew, "writing comes from a great inner pain" (In response Bill speaks of wanting to rip his head off; a desire Charlie will help him accomplish later in the film); but by the end of the film Barton seems to have learned that even "great inner pain" isn't enough to make him a good writer. It just makes him a human being. Earlier he had asked Audrey, "What don't I understand?" Perhaps this is it?
At the end of the film Barton has been sentenced (damned?) by Lipnick, "You're under contract, you're gonna stay that way. Anything you write is gonna be the property of Capitol pictures and Capitol pictures is not going to produce anything you write. Not until you grow up a little."
Barton's writing has been reduced to "property." So much for the life of the mind. Like Charlie, he has to get into the business of selling "peace of mind"—Lipnick tells him, "they [the audience] don't want to see a guy wrestling with his soul" (it's not that kind of "wresting movie"). (Akira Kurosawa wrote a wrestling movie before launching his career as a director, and his directorial debut was with a movie about a Judo fighter.) Where does that leave him, or us, at the end of the film? Are we finally damned, or only left with a more honest sense of the real challenges (obstacles, temptations, and hazards) that stand between us and the "life of the mind"?
When Barton meets the girl from the picture in his room he asks her, "Are you in pictures?" And she says, "Don't be silly." But she is a picture. She asks him, "What's in the box?" and he says, "I don't know." "Isn't it yours," she asks, and again he says, "I don't know." What doesn't he know? The movie ends as it began, the same music playing as the credits roll against the wallpaper from Barton's room at the Hotel Earle. Is Barton's "I don't know" a note of agnostic despair, or the first faint rays of dawning awareness?
David Carl is a member of the teaching faculty at St. John's College in Santa Fe and a co-founder of the St. John's College Film Institute. He is the Director of the College's Graduate Institute, a Research Fellow at the Institute for the Study of Cultural Artifacts, teaches for Curious Oyster Seminars, and has written several books, including Heraclitus in Sacramento, Fragments, Forecasts and Predictions, Meditations on Initiating the Apocalypse, and Further Adventures in the Unsubconscious. He watches movies in his living room in Santa Fe, NM.
Guest Post by Lise McKean
The six works in White Light by Fatima Haider and Nazafarin Lofti at Andrew Rafacz in Chicago's West Loop embody an elegant sufficiency of form and resonate across time and space. From Lotfi's digital photographs to Haider's found object, a weathered wooden frame of a multicolored window from Lahore, Pakistan, White Light embraces all sorts of ways of looking and seeing, thinking and making.
Hanging tête-à -tête, pigmented inkjet prints by Haider and Lotfi are straight ahead when the visitor enters the gallery. Up close the undulating shapes set in ivory-colored marble look like outside-the-lines drawing in Haider's Squared. In fact, the shapes are made of oxidized lime filling in for the lapis lazuli, carnelian, jade, and other semiprecious stones that bygone looters gouged out of the marble of the Naulakha Pavilion at the monumental Lahore Fort.
With their homely generic shapes, the five bottles in Lotfi's Untitled Family Portrait play double bass to the aria of floral ornamentation in Haider's Squared. Yet as the viewer moves closer, it becomes apparent that meticulous coils of cotton kitchen twine cover each bottle. Standing near or far, these bottles recall Morandi's explorations with light, color, surface, and composition.
Lotfi's Limits builds up its surface with rhythmic brushwork in black and white to create patterns of tessellated arcs. In Gray Field, she uses acrylic paint and ink on canvas—again in black and white—combining horizontal lines with brushwork to produce a relaxed patchwork of Gutai-like tire tracks. Or maybe a group portrait of shredded wheat. Her other work, Encounter(inplace) is a triptych made from photographs she shot through a pin-pricked sheet of paper looking out to Lake Michigan from the limestone rocks of Chicago's plebeian monument, The Point. The paper acts like the marble lattice work of Mughal architecture, blocking light and view while giving way to the emergence of larger contours such as the horizon of water and sky.
Haider's Roshandan-3548E is an example of the brightly colored windows that were once commonplace across the Indian subcontinent. Her found object is also a salvage operation. The Lahore Fort is barely off the list of World Heritage Sites in Danger and the city's old buildings are steadily overhauled or replaced by new ones. The work's  straightforward title belies its valence. The number 3548E refers to the house number for the building near the Lahore Fort that was home to the window, a number which may or may not help in finding the place. Roshandan is the word in Urdu and Hindi for this type of window (literally "that which has light"). It's typically mounted high on the wall to let in light and to send away the summer's ferociously hot air.
With works that are deeper than their surfaces let on, Haider and Lotfi open the roshandan and release some of the hot air that circulates in contemporary art circles beset with the lingua franca of research and theory. More than simply a tête-à -tête, White Light is abundant evidence of Haider and Lotfi's deepening rapport with each other—and with each one's own drive to see and to make art.
White Light at Andrew Rafacz runs through March 29, 2014
Lise McKean is a social anthropologist and writer based in Chicago. In 2013 she curated StreamLines, an exhibition of contemporary art in Vaishali, India.