Audio clip: Adobe Flash Player (version 9 or above) is required to play this audio clip. Download the latest version here. You also need to have JavaScript enabled in your browser.

download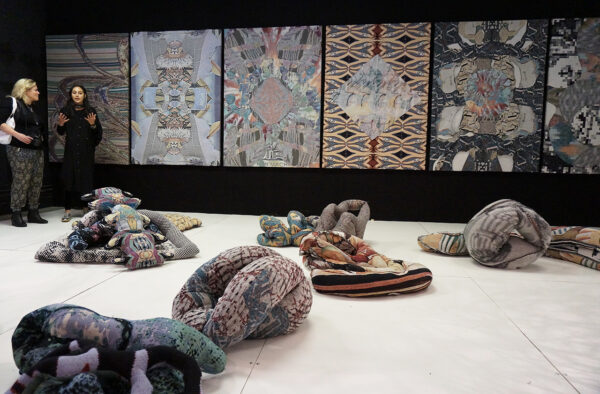 This week: Bad at Sports goes to SPRING BREAK Art Fair in the burned out section of the Post Office building on the Westside of Manhattan. Sadly we did not get loopy with jello shots and beach balls, but instead nerded out with some killer art conversations with some fantastic work! Joining Amanda this week is her co-host artist Caroline Burghardt, a Brooklyn based artists who looks at the relationship between humans and nature. Check out her site at www.carolineburghardt.com.
At the fair we first chatted with artist David B. Smith about his installation of fabric based sculptures. Then headed over to the curated exhibition "Doppelnamer" that is curated by and Elisabeth Smolarz, Lauren Silberman and Jamie Diamond. We chatted with Elisabeth and Lauren about the artists in the show, and their doppelnamers. The artists featured in the room were: Daniel Bejar, Vince Contarino, Andrew Ross, Jonathan Allen, Brent Birnbaum, Jamie Diamond, Lauren Silberman and Elisabeth Smolarz… and all of their doppelnamers.
photo:
Top: David B. Smith installation at Spring Break
Bottom: Brent Birnbaum and his Doppelnamer + Elisabeth Smolarz and Lauren Silberman chatting with Caroline Burghardt and Amanda Browder in the Doppelnamer booth at Spring Break.
Part I:
David B. Smith : artist
http://www.thedavidsmith.com/
Part II:
Elisabeth Smolarz and Lauren Silberman and Jamie Diamond curators and artists part of the booth "Dopplenamer"
Artists in the show: Daniel Bejar, Vince Contarino, Andrew Ross, Jonathan Allen, Brent Birnbaum and all of their doppelnamers.
Audio clip: Adobe Flash Player (version 9 or above) is required to play this audio clip. Download the latest version here. You also need to have JavaScript enabled in your browser.

download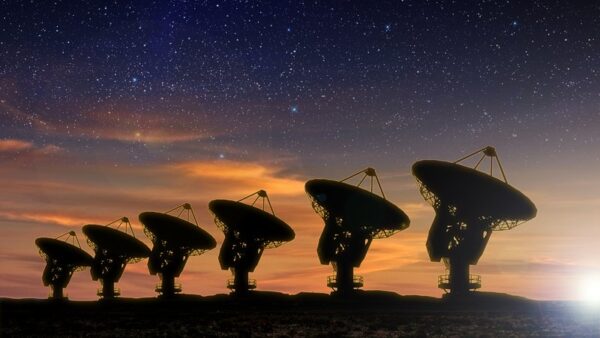 Brian and Patricia play Mulder and Scully this week as they sit down with the masterminds behind the SETI Institute artists-in-residence program. For those B@S faithful listeners unfamiliar with the Institute (An oxymoron, if there ever was one ) SETI stands for the Search for Extraterrestrial Intelligence. Yes, friends, we're talking space aliens.
As part of the Institute's goal "to explore, understand, and explain the origin and nature of life in the universe, and to apply the knowledge gained to inspire and guide present and future generations," they now host a residency program for artists based out of their Mountain View, CA headquarters. Artists work with scientists across a range of disciplines at any of the associated facilities to facilitate an exchange of ideas an create new modes of comprehension or expression. No, they didn't tell us how you can apply.
We hear from SETI AIR director Charles Lindsey, who was the inaugural AIR, and Advisory Committee chair Denise Markonish, who is curator at MASSMoCA, as well as current AIRs Dario Robleto and Martin Wilner. Listen as they receive takeout delivery from ET.
http://www.seti.org/
http://www.seti.org/artist-in-residence
Charles Lindsay
Charles is a multi-disciplinary artist interested in technology, eco-systems, semiotics and esoteric forms of humor. He was the SETI Institute's first Artist in Residence 2010 – 2015 and is now leading the SETI AIR program. Lindsay is a Guggenheim Fellow and the recipient of a 2015 Rauschenberg Residency. More about Charles Lindsay's work here.
Denise Markonish
Denise Markonish, Chair of the SETI AIR Advisory Committee, has been the curator at MASS MoCA since 2007 where her exhibitions include: Oh, Canada the largest survey of contemporary Canadian art; Sanford Biggers: The Cartographer's Conundrum, Michael Oatman: all utopias fell; Stephen Vitiello: All Those Vanished Engines, Nari Ward: Sub Mirage Lignum ; Petah Coyne: Everything That RisesMust Converge; Inigo Manglano-Ovalle:Gravity is a force to be reckoned with; These Days:Elegies for Modern Times and Badlands: New Horizons in Landscape. More about Denise Markonish's work here.
Dario Robleto (2016)
Dario is a transdisciplinary artist and storyteller whose research-driven practice results in intricate narratives and handcrafted objects that reflect his exploration of music, popular culture, science, war, and American history. He was recently appointed as the 2016 Texas State Artist Laureate. More about Dario Robleto's work here.
Martin Wilner (2015)
Martin is a visual artist and a psychiatrist interested in the processing of time-based dyadic relational correspondence, informed by principles of applied psychoanalytic theory, as a basis of his daily drawing practice. He is represented by Sperone Westwater in New York City and Hales Gallery in London and his work is in numerous public and private collections. He is also Assistant Clinical Professor of Psychiatry at Weill Cornell Medical College. More about Martin Wilner's work here.
Audio clip: Adobe Flash Player (version 9 or above) is required to play this audio clip. Download the latest version here. You also need to have JavaScript enabled in your browser.

download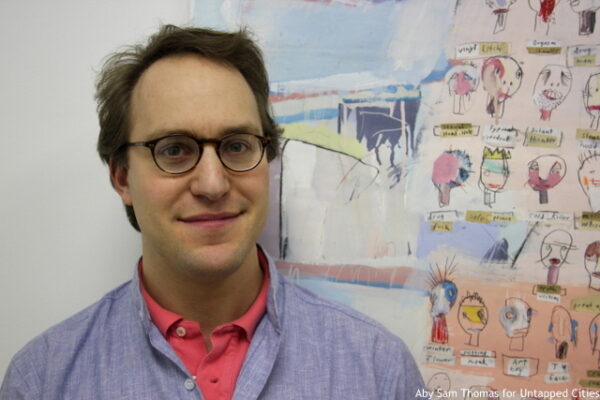 This week: Tom Sanford is back! Tom and Duncan talk to Avi Gitler about his gallery Gitler & _______ and his amazing stories of world travel and the terror of facing the NYT art critic!
Audio clip: Adobe Flash Player (version 9 or above) is required to play this audio clip. Download the latest version here. You also need to have JavaScript enabled in your browser.

download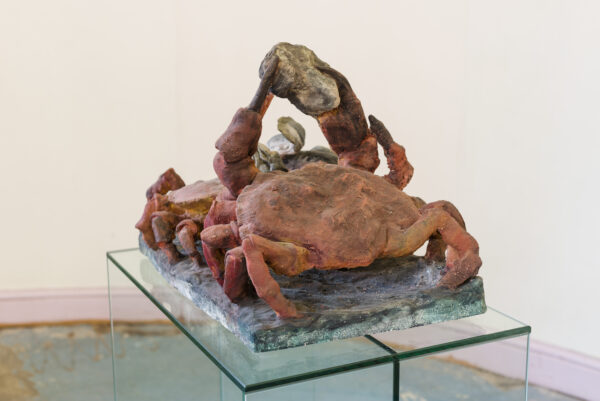 This week Dana Bassett and Duncan MacKenzie catch up with Peter Wachtler at Chicago's Renaissance Society just after their 100th anniversary.
We "borrowed" this from Art Space which "borrowed" it from the Liverpool Biennial… probably it is updated on the Renassance Society website.
PETER WÄCHTLER
Born: 1979
Hometown: Hanover, Germany
Lives and Works: Brussels, Belgium and Berlin, Germany
Education: Fine Art Studies, Bauhaus-University Weimar with Prof. Fritz Rahmann, 2004
Kent Institute of Art and Design, Canterbury / England
While it might seem foreign or unfamiliar, underwater life, bourgeois domesticity, or the world of Peter Wächtler's animated cartoons are simply habitats, each one coming with a set of behaviors, life-forms, movements, objects, images, and relationships. What is a disaster in one is a miracle in another and nothing more than routine in another. Dislocating them or mixing them together short-circuits their logic. To a butler—like the character that so frequently appears in Wächtler's work—acts of intimacy, hospitality, corruption, lust, kindness, desperation, generosity, jealousy, hypocrisy, or delinquency are all the same in the end—it's all just administration. Or,in an animated cartoon, deadpan humor can be laced with depression and pathos, and used to tell stories of heart-broken rats or hobos.
Peter Wächtler's recent solo exhibitions include dépendance, Brussels, Kunstverein Hildesheim, Ludlow 38, New York, Kunsthalle Wien, Vienna, Galerie Lars Friedrich, Berlin, Etablissement d'en Face, Brussels. His work has been included in group exhibitions atLyon Biennale, Wiels Centre d'Art Contemporain, Brussels, Witte de With, and Center for Contemporary Art, Rotterdam.
Courtesy of Liverpool Biennial
The Ren posted the audio of his reading here…
Also this episode has a strange easter egg.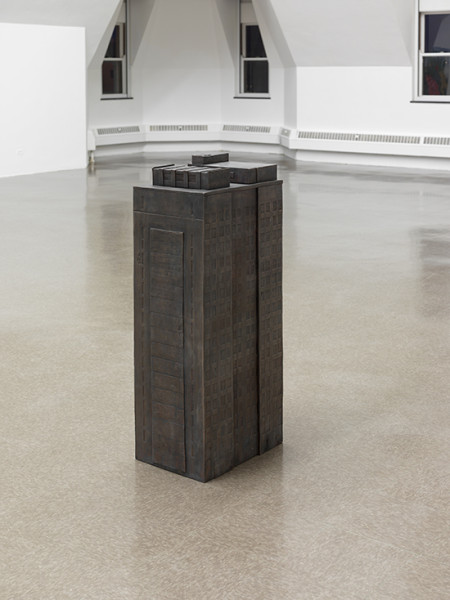 Peter Wa?chtler, IV, 2016 Bronze;471/2×181/2×131/4in
Courtesy of the artist and Lars Friedrich, Berlin Photo: Tom Van Eynde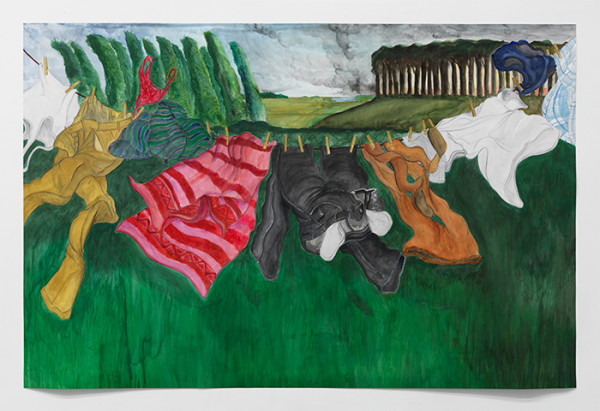 Peter Wa?chtler, Laundry 4, 2016
Watercolor and pencil on paper; 72 x 108 1/2 inches Courtesy of the artist and Lars Friedrich, Berlin Photo: Tom Van Eynde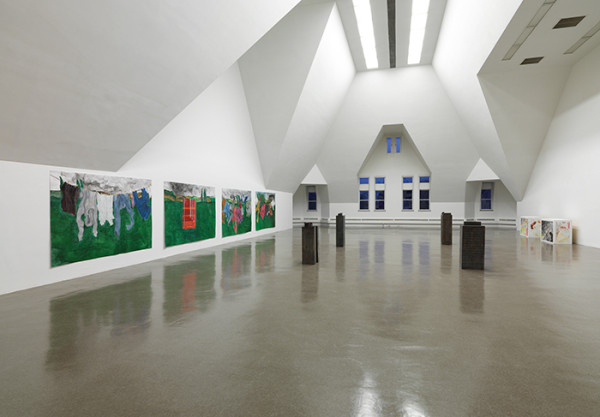 Peter Wa?chtler, Secrets of a Trumpet, installation view, 2016 Courtesy of the artist and the Renaissance Society
Photo: Tom Van Eynde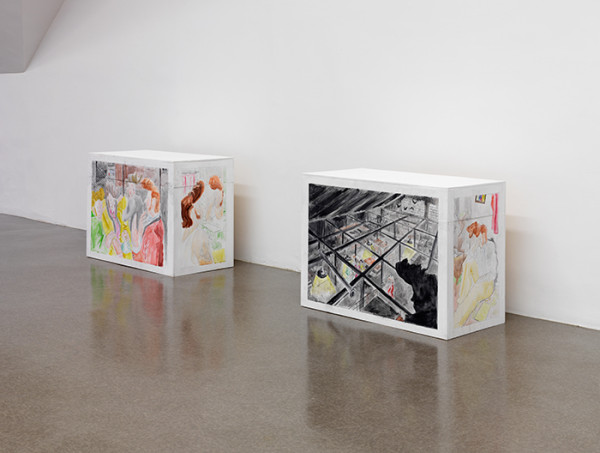 Peter Wa?chtler, Teddy Boy 1 (l) and Teddy Boy 2 (r), 2016 Watercolor and pencil on plywood; 34 1/2 x 35 x 22 1/2 in each
Courtesy of the artist; Lars Friedrich, Berlin (l); and de?pendance, Brussels (r)
Photo: Tom Van Eynde
Holy smokes. Before bed we managed to get this little tidbit (but we were *forced* to keep it quite until now)…
Our very own PATRICIA MALONEY is now the EXECUTIVE DIRECTOR of SOUTHERN EXPOSURE!
Sad news for our friends at Art Practical but she is stuck with us (and they are in great hands.) So there.
Here is the press release which is slightly more dignified then our irrepressible enthusiasm.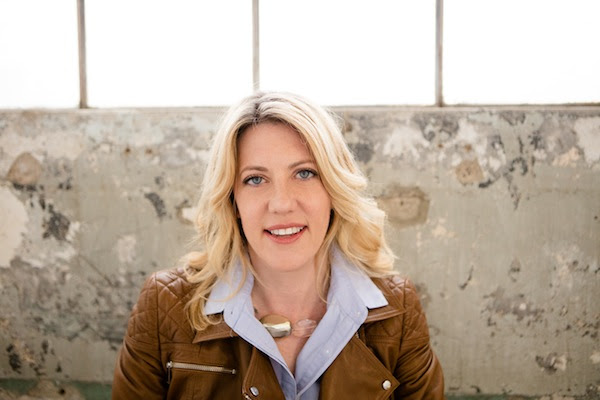 Photo credit: Ellen Shershow Photography.
Southern Exposure Welcomes Patricia Maloney
As New Executive Director
February 23, 2016, San Francisco, CA – Southern Exposure is excited to announce that Patricia Maloney has been named the new Executive Director of the 41-year-old San Francisco art organization, effective March 14, 2016. Maloney is the founder of Art Practical and executive director of Daily Serving | Art Practical, a partnership between the long-running international platform dedicated to articulating artists' voices and the Bay Area's leading visual arts magazine.
"The board and staff are thrilled to welcome Patricia to Southern Exposure," said SoEx board president Kelsey Nicholson. "Her strategic vision, leadership capacity and business savvy, along with her unwavering advocacy for visual arts are exactly what we were searching for to lead Southern Exposure in our fifth decade of supporting visual artists. Patricia is deeply rooted in the San Francisco Bay Area artistic community, while also maintaining a strong national presence that will keep Southern Exposure at the forefront of the nationwide network of alternative art spaces. Each day our excitement grows with Patricia at the helm of SoEx."
"I see a remarkable continuity of purpose between the work of Southern Exposure and Daily Serving | Art Practical," said Maloney. "Both organizations steadfastly believe in the importance of investing in artist-centered production, and both display a dynamic interchange between producer, subject, and audience. I am excited to take on this new role as the Bay Area cultural ecosystem undergoes one of the most consequential transformations it may ever experience, with the confluence of new spaces opening alongside shifting demographics and significant economic challenges. Southern Exposure's position within this new landscape is perhaps more vital than ever because of its capacity to catalyze and support artists' practices."
Demonstrating the collective and collaborative spirit that characterizes the Bay Area visual arts culture, Art Practical was a recipient of the organization's Alternative Exposure grant in 2009. This program, launched in 2007 in partnership with the Andy Warhol Foundation for the Visual Arts, supports the independent, self-organized work of artists and small groups that play a critical and significant role in the San Francisco Bay Area arts community. "The Alternative Exposure grant validated our mission and signaled to the Bay Area arts community that we were worthy of its attention. Because Southern Exposure was willing to stand behind our work in our early days, we received heightened visibility and crucial funding from other organizations, and we were able to grow in a significant way very quickly. Today, Art Practical is nationally recognized and respected for its critical content and public programming," Maloney remarked. "I'm excited to reinvest my knowledge and experience in SoEx, and I am committed to foregrounding the myriad ways by which this organization can contribute to the sustenance and growth of this community."
ABOUT PATRICIA MALONEY
Patricia Maloney is the founding editor and director of Art Practical. In 2013, she also became the publisher of the international online art journal Daily Serving. She has been an Associate Professor in Visual and Critical Studies at the California College of the Arts and is a senior correspondent and producer for the weekly contemporary art podcast Bad at Sports. Maloney has written for Artforum, ArtChronika, The Brooklyn Rail, Meatpaper, and SFMOMA's Open Space, as well as for numerous exhibition catalogues. She has organized programs with a broad range of arts organizations, including 826 Valencia, UC Berkeley's Arts Research Center, Art LA Contemporary, Cannonball, the Charlotte Street Foundation, Gray Area Foundation, Kadist Art Foundation, the Lab, Southern Exposure, and SFMOMA. With Yerba Buena Center for the Arts, she created the YBCA Artist Residency Program in 2013 and with the Asian Contemporary Arts Consortium, she created the ACAC Writing Fellowship in 2012.
Between 2000 and 2012, she held curatorial positions at Ampersand International Arts in San Francisco; the MATRIX Program of the University of California, Berkeley Art Museum; and the Mori Art Museum (MAM) in Tokyo, Japan. From 1999 to 2002, she was a Program Associate for the International Program at The Museum of Modern Art in New York. She holds her MA in Theory and History of Contemporary Art from the San Francisco Art Institute.
ABOUT SOUTHERN EXPOSURE
Southern Exposure (SoEx) is an artist-centered non-profit organization committed to supporting visual artists. Through our extensive and innovative programming, SoEx strives to experiment, collaborate and further educate while providing an extraordinary resource center and forum for Bay Area and national artists in our Mission District space and off-site, in the public realm.
An active presence in the Bay Area since 1974, SoEx is continually evolving in response to the needs of artists and the community while engaging the public in artists' work. Central to our mission is to remain the most accessible space for visual artists to produce and present new work, learn and connect. SoEx provides visual artists with the tools and resources they need to experiment in an open and supportive environment. We also work to advocate to new, diverse audiences and build an ever-growing community of enthusiasts and supporters of the visual arts.
For press inquiries and images, contact Lisa Martin at 415-863-2141 x102 or communications@soex.org. Southern Exposure is located at 3030 20th Street, San Francisco, CA 94110. Office hours are Monday through Friday, 10 AM to 6 PM and gallery hours are Tuesday through Saturday, 12 to 6 PM. Admission is always FREE. Website: www.soex.org.