Audio clip: Adobe Flash Player (version 9 or above) is required to play this audio clip. Download the latest version here. You also need to have JavaScript enabled in your browser.
This week!
EXPOÂ Panel!
"Who owns the internet?"
Josh Baer -Â Baer Fax
Forrest Nash -Â Contemporary Art Daily
Paddy Johnson -Â Art F City
Richard Holland and Duncan MacKenzie -Â Bad at Sports
So, for some reason I thought the 2014 Whitney Biennial list was supposed to be revealed in December but instead it came out today!
Congrats to all our friends and the folks we do not yet know. We can't wait to see the show.
As curated by Anthony Elms, Stuart Comer, and Michelle Grabner:
Academy Records and Matt Hanner
Terry Adkins
Etel Adnan
Alma Allen
Ei Arakawa and Carissa Rodriguez
Uri Aran
Robert Ashley and Alex Waterman
Michel Auder
Lisa Anne Auerbach
Julie Ault
Darren Bader
Kevin Beasley
Gretchen Bender
Stephen Berens
Dawoud Bey
Jennifer Bornstein
Andrew Bujalski
Elijah Burgher
Lucien Castaing-Taylor, Véréna Paravel, and Sensory Ethnography Lab
Sarah Charlesworth
Yve Laris Cohen
Critical Practices Inc.
Matthew Deleget
David Diao
Zackary Drucker and Rhys Ernst
Paul Druecke
Jimmie Durham
Rochelle Feinstein
Radamés "Juni" Figueroa
Morgan Fisher
Louise Fishman
Victoria Fu
Gaylen Gerber with David Hammons, Sherrie Levine, and Trevor Shimizu
Jeff Gibson
Tony Greene curated by Richard Hawkins and Catherine Opie
Joseph Grigely
Miguel Gutierrez
Karl Haendel
Philip Hanson
Jonn Herschend
Sheila Hicks
Channa Horwitz
HOWDOYOUSAYYAMINAFRICAN?
Susan Howe
Jacqueline Humphries
Gary Indiana
Doug Ischar
Carol Jackson
Travis Jeppesen
Alex Jovanovich
Angie Keefer
Ben Kinmont
Shio Kusaka
Chris Larson
Diego Leclery
Zoe Leonard
Tony Lewis
Pam Lins
Fred Lonidier
Ken Lum
Shana Lutker
Dashiell Manley
John Mason
Keith Mayerson
Suzanne McClelland
Dave McKenzie
Bjarne Melgaard
Rebecca Morris
Joshua Mosley
My Barbarian (Malik Gaines, Jade Gordon, and Alexandro Segade)
Dona Nelson
Ken Okiishi
Pauline Oliveros
Joel Otterson
Laura Owens
Paul P.
taisha paggett
Charlemagne Palestine
Public Collectors
Sara Greenberger Rafferty
Steve Reinke with Jessie Mott
David Robbins
Sterling Ruby
Miljohn Ruperto
Jacolby Satterwhite
Peter Schuyff
Allan Sekula
Semiotext(e)
Amy Sillman
Valerie Snobeck and Catherine Sullivan
A.L. Steiner
Emily Sundblad
Ricky Swallow
Tony Tasset
Sergei Tcherepnin
Triple Canopy
Philip Vanderhyden
Pedro Vélez
Charline von Heyl
David Foster Wallace
Dan Walsh
Donelle Woolford
Molly Zuckerman-Hartung
PS. Thanks to Jerry Saltz's facebook for the list.
Something we don't do enough of here at Bad at Sports is trumpet the successes of our various contributors.  It sort of happens piece meal, sometimes, but considering that the project is and always will be an artist run type thing – our collaborators are more then just the deep thinkers, aesthetes, and vulgarians you know them to be! Such is the case with our Tom Sanford and his new show at Kravets|Wehby in NYC.
"Café des Artistes" consists of 13 paintings. 10 paintings are images of notable New Yorkers and help define the cultural milieu of the city.
The show includes new portraits of Marcus Samuelsson, Diane Von Furstenberg, Walt Fraizer, Bill T Jones, Tina Fey, Woody Allen, Nicole Eisenman, Michael Bloomberg, The RZA,  & Jonathan Lethem, and they are featured along side three "New York Genre Paintings."
http://www.kravetswehbygallery.com
http://www.tomsanford.com/2013/08/cafe-des-artistes-at-kravetswehby-gallery/
(left) "The Writer (Jonathan Lethem)" 2013, oil on board, 36" x 24". (right) "The Clarinettist (Woody Allen)" 2013, oil on board, 36" x 24"
(left) "The Mayor (Michael Bloomberg)" 2013, oil on board, 36" x 24". (right) "The Painter (Nicole Eisenman)" 2013, oil on board, 36" x 24"
Maybe you should go see them?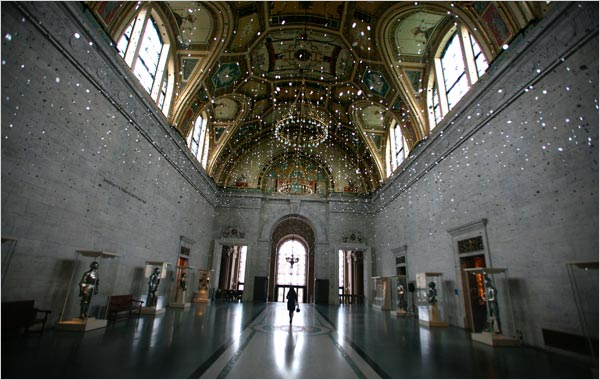 From Modern Art Notes…
In an effort to spotlight the collections at the Detroit Institute of Arts that would be lost if the threatened sale of art in collections at the DIA are sold, all day long Modern Art Notes and many other sites will be spotlight art at the DIA. I'll be featuring roughly an artwork an hour for the next ten hours. I hope this will help  spotlight both the collection at the DIA and the access we have to Detroit's art. I think that the more people think about what's at the DIA, the more concerned they'll be about what could happen there.
How can you help support the DIA? Share artwork here on MAN and at other sites with your friends. If you live in Michigan, tell your elected officials that the future of Detroit is important to you and that you don't support a fire sale of the city's future. Best of all: Join me in becoming a member of the Detroit Institute of Arts.
To read more about what we're doing here, check out these stories in the Detroit Free Press and in the Detroit News.
So genius brilliant strange that it can only be art, let's agree to call it a serious WTF? You can find their youtube channel here.