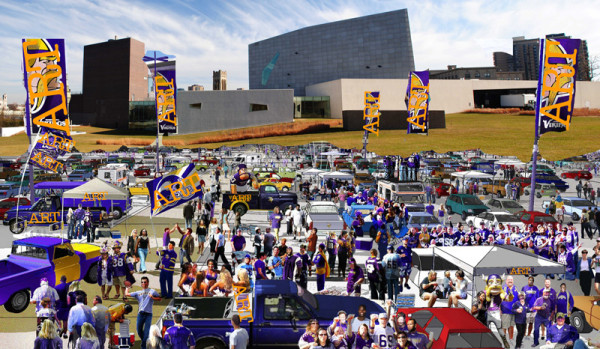 Fans of culture and brats, this THURSDAY (5-8pm) we come into our own, and we tailgate in appreciation of art.
Bring your foam fingers, tailgating supplies, beverages and a radio. We will be micro broadcasting with  David Rathman, Brian Frink, and Amy Toscani. Together we are going to chat up the MN art scene and bask in the glory of an institution one can only really love.
Bad at Sports and Cargo Space appear courtesy of mnartists.org and the Walker Art Center's Open Field project.
PS. I will let you know the frequency tomorrow!
Sad news for all of us who knew him.
From Philip von Zweck…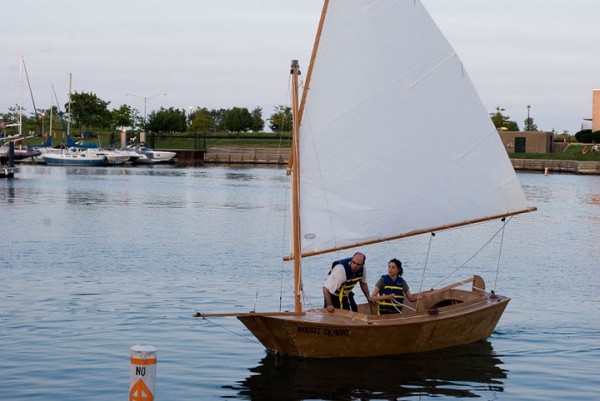 Jim Barry's last Facebook post was on July 10. The part in English simply said "Tonight I'm missing cowboys and SAIC… (the good parts)."
Jim suffered a heart attack while waiting for a bus to work on July 27 in Taiwan, where he'd lived for four years with his wife Zen "Mimi" Lulu; they'd been married just under a year.
Jim completed a BA in English in Seattle University in 1995 He then relocated to Chicago to pursue a BFA and then an MFA from School of the Art Institute Chicago. While in graduate school he was so broke that, against policy, he secretly lived in his SAIC-provided studio. He befriended the security staff, learning their routines so he could hide his sleeping mat and hot plate in the storage cabinet when they came through for inspection.
As an artist, Jim was interested in wonder and discovery and in demystifying art itself. He may best be known for his Two Foot Square art gallery, which he set up in parks and other public spaces to engage the casual passersby in a discussion about art. He was also known for his long-running project with Hui-min Tsen, The Mount Baldy Expedition. Inspired by historic voyages during the Age of Discovery, they built a boat to sail from Chicago to the Mt. Baldy sand dune in Indiana.
To make a living, Jim did what many young artists do: he was a preparator and mount builder. He worked at the Smart Museum of Art and in other exhibition spaces before site-managing SAIC's G2 (later Sullivan Galleries). He later became the galleries' Exhibition Manger. It may be in this work that Jim's greatest legacy lies, for somewhere in his job description was the one word that kept him coming back, despite the stressful work, low pay and occasional verbal abuse by a sleep-deprived students with no concept of how to install a video projector; and that word was mentor.
Jim was a recognizable figure on State Street, where he took his breaks in his Sox cap, horn rimmed safety glasses, Carhartt shorts, tucked-in, oversized t-shirt and work boots, chain-smoking Reds and elegantly balancing his cup of coffee on top of his thermos.
He loved baseball, Iggy Pop, the Cramps, cooking and the work of Tehching Hsieh. He often tried to get me to accompany him to tango lessons: the man loved to tango. He also loved to regale anyone who would listen with tales of the chaos caused by the Monkey King from the classic Chinese novel The Journey to the West. To the chagrin of the administration, Jim made the Monkey King the unofficial mascot of Sullivan Gallery.
Most nights after work Jim would say, "Let's get a quick one," which we both know would be neither quick nor just one. Over whiskey at the Exchequer, George's, or the L&L, where Jim had been a regular for years, talk would inevitably turn to our student workers: "the crew," then "the kids" and by the end of the night, "my kids."
He loved his "kids" and taught them all he could—not just about hanging art, but also about being an artist and a stand-up person in the world. Jim assembled not a team of student workers, but a family. Through his work he impacted the lives of countless SAIC students, the crew and every student who exhibited in the gallery, which means pretty much every graduating student. Jim missed the good parts of SAIC, and for many of us, he was certainly one of them.
Jim is survived by his wife Ye Mimi, his mother, the cowboys, SAIC, countless friends around the globe, and of course by his "kids."
Philip von Zweck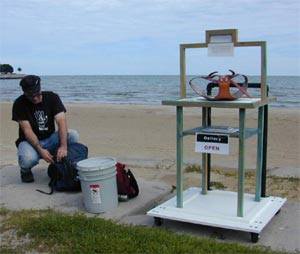 WTF? We are lecturing at an Apple store. BOOM. Yes. It is true.
We will see you and all of the Chicago area art enthusiasts at:
Apple Store, North Michigan Avenue
Chicago, IL
April 23rd at 7pm.
Bad at Sports (B@S) can be tricky to describe – it's a weekly podcast, a series of objects and events, and a daily blog that features artists and "art wonders" talking about art and the community that makes, reviews, and participates in it. Founded in 2005, the series features more than 20 principal collaborators and has included more than 450 interviewees. Join Bad At Sports cofounders Duncan MacKenzie and Richard Holland for a conversation about this constantly evolving series.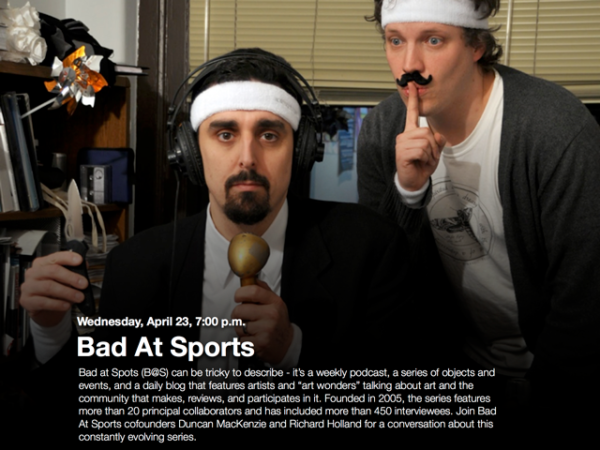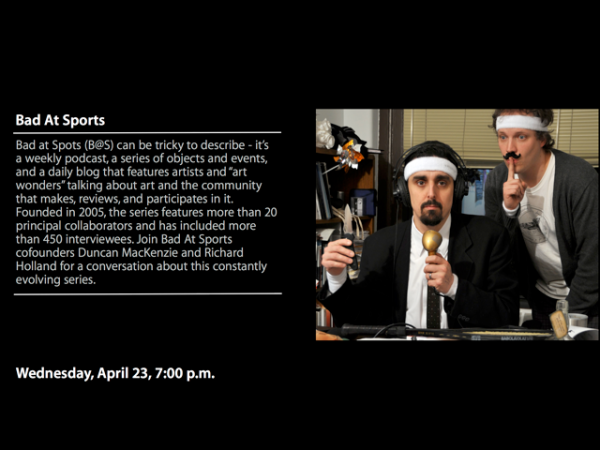 Contact: Amanda Browder: NY Bureau Chief at Bad at Sports amandabrowder@gmail.com,
badatsports.com
voltashow.com
Bad at Sports at VOLTA NY
82 Mercer Street, NYC
March 6-9, 2014
FOR IMMEDIATE RELEASE
New York, NY (February 17, 2014) – Bad at Sports Art Podcast will be featured at VOLTA Art Fair 2014 in SoHo, NYC … in bed.
This year Bad at Sports will be snuggling up with an exciting list of interviewees In Bed for coverage of VOLTA NY. Located in the heart of SoHo, the Bad at Sports "bedroom booth" is a nod to the original 1969 Bed-In performance by Yoko Ono and John Lennon. Can peace and harmony be made in the art criticism world? Will the art fairs cause extensive napping and dream-like chatter?
While trying to steer clear of pillow fights, podcasters Amanda Browder, Duncan McKenzie, and Richard Holland will be conducting live interviews with a collection of local and international artists, critics, and curators. Stop by to catch the interviews in person, or tune in online at badatsports.com to listen to chatter with participants like Adam Parker Smith, Kristen Schiele, W.A.G.E, and Hajoe Maoderegger and Franziska Lamprecht (eteam). Get the dirt later on with guest critic Katy Hamer from the art blog Eyes Towards the Dove. We will be making peace, love, and naughty jokes around the art world and fairs … in bed.
####
Featuring bedside chats with:
Franklin Sirmans – Terri and Michael Smooke Department Head and Curator of Contemporary Art, LACMA and Artistic Director, Prospect.3 New Orleans
Hajoe Moderegger and Franziska Lamprecht (eteam) – artists, NYC
Judith Reddy Blum – artist, NYC
Kristen Schiele – artist, NYC
Rebecca Goyette – artist, NYC
Jeff Stark – Editor, Nonsense NYC and artist
Critical Practices Inc. – artists, NYC
Adam Parker Smith – artist, NYC
Carolyn Salas – artist, NYC
Katy Hamer – art writer and artist, NYC
Lise Soskolne – artist and core organizer, W.A.G.E.
Vincent Dermody – artist, NYC/Chicago
Casey Ruble – artist, NYC
Willie Cole – artist, New Jersey
Martin Bromirski – artist, New York
and more…
###
Read more about Bad at Sports at VOLTA NY here.
About Bad at Sports
Founded in 2005 by Duncan MacKenzie, Richard Holland, and Amanda Browder, Bad at Sports (B@S) now features over 20 principle collaborators and is a weekly podcast, a series of objects, events, and a daily blog produced in Chicago, San Francisco, Detroit and New York City that features artists and "art worlders" talking about art and the community that makes, reviews and participates in it.
B@S can be tricky to describe: it acts as a curious investigator, an archivist, oral historian, and occasionally as a provocateur. We produce content that lies somewhere on the venn diagram of art, journalism, media, intellectualism, and "the naughty bits."  We represent artists and their art world through an archive that is text, audio, physical, ephemeral, historical, and constantly evolving through ongoing and unique projects.
Bad at Sports has "done stuff" with apexart, The St Louis Contemporary Art Museum, the Museum of Contemporary Art Chicago, Baer Ridgeway, NADA Art Fair, Open Engagement, Cannonball and many others. We share collaborators with Art Forum, Art Practical, The Chicago Tribune, Chicago Magazine, Art21, BUST magazine, Proximity Magazine, Modern Painters, Beautiful Decay Magazine, Art in America and numerous other publications.
Our podcast has included approximately 450 interviewees/co-conspirators including Kerry James Marshall, Jeff Wall, Larry Rinder, Peter Saul, Liam Gillick, Mary Jane Jacob, Chris Ware, Tania Bruguera, Jeffrey Deitch, James Elkins, Meg Cranston, Carol Becker, and Polly Apfelbaum.
Bad At Sports has been a lot of different people but is currently Brian Andrews, Amanda Browder, Stephanie Burke, Terri Griffith, Richard Holland, Christopher Hudgens, Jamilee Polson Lacy, Duncan MacKenzie, Patricia Maloney, Sarah Margolis-Pineo, Nicholas O'Brien, Caroline Picard, Abraham Ritchie, and Abigail Satinsky.
###
Hey Chicago,
We are embarking upon a new little project. Over the next 80 or so weeks we are going to do a series of micro broadcast studio interviews with the local heros that we have some how forgotten or over sited in our slapdash and ramshackle scheduling.
That's right, I said we are going to be live on the radio – boom – step back. Minds blown. But sadly, only for the few blocks around the interviewed artists studio. How it will work is, a few days before the broadcast we will let you know roughly where and roughly when we are going to do the chat. Then we will rock it out, if you are interested show up in the neighborhood with a radio and find us. We will, of course, archive the conversation and release it at our leisure some time in the near-ish future.
We are going to get started Monday around 8:30 pm in Albany Park near Lawrence and Kimball with Carl Baratta and Oli Watt. I'm pretty sure we are going to rock 91.1 fm. (#neverforget) It is going to be magic.
As we move forward with micro broad casting chicago art or the MBCCA project we need a little help from you. Here is how…
We need to figure out our initial list of the people whose contributions to our art history or the Chicago arting life have been so big that it is embarrassing that we have not already had them on the show. Â We have been compiling a list (which I have carved into my studio wall) but it doesn't feel complete.
We have a lot of the obvious people Jessica Stockholder, Michael Rakowitz, Jeanne Dunning, Dan Peterman, Barbara Rossi, Phil Hanson, David Hartt, Karl Wirsum, John Sparagana, Susanne Doremus, Gladys Nilsson, Doug Ischar, Kay Rosen, Phyllis Bramson, Jim Nutt… I could go on, possibly forever, but what we would like to know is, who do you think it is important to get on the record? Who do you think that it is tragic and disappointing that we have not already rocked the mic with? To that end, I am enabling comments again, but just for this specific post, in the hopes that we collectively can produce a list which reflects the gaps in Bad at Sports audio production and archive. Â That being said, I'm reserving the right to delete any comment I want for any minor infraction upon human decency.