Universe. It is only 2 more days till we open up in Miami Beach in the mighty Ox-Bow Cabin.
Are you ready?
We will be..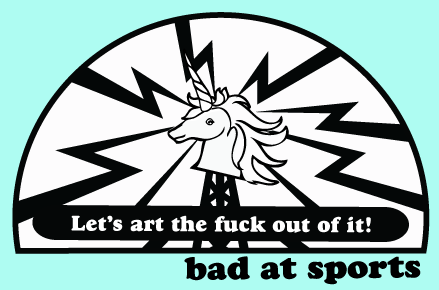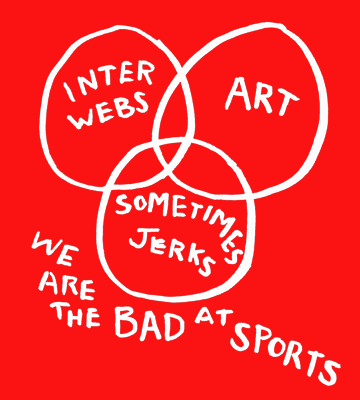 Hell yes! Internet. You need to know that we will be in Miami at NADA with the Ox-Bow. Now. There are very important points within this…
1. We are going to be in Miami.
2. We are going to make 48 hours of Bad at Sports in one weekend.
3. We are going to do that by broadcasting "pirate style" from a cabin at the middle of NADA.
4. You can listen to everything live via a radio with an FM dial but you will have to stop by the cabin/booth to find our bandwidth or you can check us out on Ustream.
5. Our Ox-Bow cabin is in fact an entirely separate piece of art by Jonas Sebura and Alex Gartelmann.
6. We have a limited amount of kick ass t-shirts which will be available for purchase.
7. YES – THIS MEANS FOR FOUR DAYS YOU CAN LISTEN TO US ALL THE FUCKING TIME. This could change your life.
8. Richard has promised to dress like a pirate.
That is all.
Here we are at the end of this cycle of the Social Practice (SoPra) interviews from Open Engagement 2011 and just in time we received this posting from the magical land of Portland…
OPEN ENGAGEMENT
is an international conference that sets out to explore various perspectives on art and social practice and expand the dialogue around socially engaged art making. The Open Engagement conference is an initiative of Portland State University's Art and Social Practice MFA concentration. Directed and founded by Jen Delos Reyes and planned in conjunction with Harrell Fletcher and the Art and Social Practice students, this year's conference features keynote presenters Tania Bruguera, Shannon Jackson, and Paul Ramirez Jonas. The work by these artists and scholars touch on subjects including politics, economies, education, and representation.
Through conversations, presentations, workshops, interviews, open reflections, and related projects created for or presented at the conference, we will be investigating, questioning, celebrating, and challenging the current state of art and social practice. This conference is a site where an intergenerational exchange can occur between emerging artists and established artists. This is also a site where transdisiplinary conversation is possible.
You are invited to contribute to OPEN ENGAGEMENT: Art and Social Practice by submitting your proposals for projects, performances, tours, interventions, presentations, or panel ideas (other formats are also welcomed).
We are organizing thematic groupings throughout the conference, so if applicable mark your submission under one of the following categories: Politics, Economies, Education, and Representation.
SUBMISSIONS ARE DUE JANUARY 3, 2012.
GO TOÂ WWW.OPENENGAGEMENT.INFOÂ TO SUBMIT A PROPOSAL FORM.
OPEN ENGAGEMENT
is a free conference that will take place May 18-20, 2012, in Portland, Oregon.
Contributors are not asked to pay a registration fee and the public will not be charged to attend.  Contributors to the event will be supported in the following ways: participants from out of town will be housed in Portland homes, select meals during the conference will be provided emphasizing community dining, and a variety of transportation will be provided drawing on Portland's bike culture and public transportation.
Good news for long time friend of Bad at Sports, Anthony Elms, he is heading to Philadelphia to curate for the Institute of Contemporary Art!
We say Hell Yes!
Anthony's departure will be a major loss to this community but our loss, is there gain and it is nice to know that the Philadelphia recognized what we had. We are sure that this is just the beginning of some fabulous things for our friend and regular contributor, Anthony.
Well done.
INSTITUTE OF CONTEMPORARY ART
FOR IMMEDIATE RELEASE: OCTOBER 24, 2011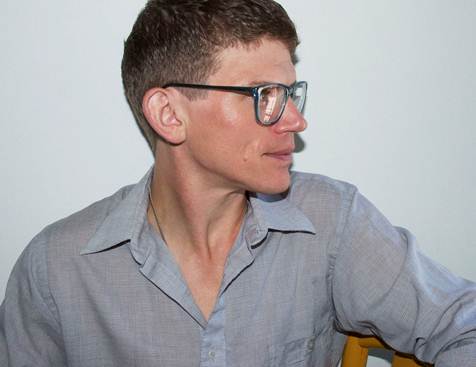 Photo: Erin Leland
INSTITUTE OF CONTEMPORARY ART APPOINTS
ANTHONY ELMS AS NEW CURATORÂ Â 
 
PHILADELPHIA, PA
The Institute of Contemporary Art at the University of Pennsylvania, is pleased to
announce that Anthony Elms will be joining the ICA as Associate Curator. Anthony
has worked as an independent curator and writer, and he was Assistant Director
of Gallery 400 at the University of Illinois at Chicago for six years. He edits and is
the curator of WhiteWalls, an alternative space for artists' publication projects
founded in the 1970s. Anthony is just completing work as part of the organizational
team behind this year's PERFORMA visual art performance biennial in New York.
"It is common to think of museums like the ICA as non-collecting, but that isn't true,"
Anthony said. "They do not have art objects, but they collect histories and
experiences with the artists that have exhibited. In that sense, I could not be
happier to join a museum with the distinguished and energetic collection of the ICA."
"I am looking forward to having Anthony's vision, and his passion for publications,
enrich the work of our stellar curatorial team," says Robert Chaney, Interim Director.
"We met Anthony when he co-curated the Sun Ra exhibition that ICA hosted,
organized by Hyde Park Art Center," adds Senior Curator Ingrid Schaffner. "This is a
wonderful outcome to our first collaboration," adds Senior Curator Ingrid Schaffner.
Anthony's recent projects include Blast Counterblast; More Alive Than Those Who
Made Them; Glenn Ligon / A People on the Cover, and Unicorn Basking in the Light
of Three Glowing Suns. He was a co-curator of Pathways to Unknown Worlds: Sun
Ra, El Saturn and Chicago's Afro-Futurist Underground 1954-1968, which enjoyed
enormous success when it traveled to ICA in 2009. His writings have appeared in
Afterall, Art Asia Pacific, Art Papers, Artforum, May Revue, Modern Painters, New
Art Examiner, and Time Out Chicago, and he has also written essays for numerous
catalogues. He received a BFA in painting from Michigan State University and an
MFA from the University of Chicago, and he continues to exhibit as an artist. In
addition, Anthony is an enthusiastic drummer and record collector. He is also
interested in ghosts. 
Tomorrow Tonight Richard Holland and Duncan MacKenzie host a live discussion with some amazing folks at the De Paul Art Museum…
Come check it out!!!
Making it in Chicago:
Building an Art Career in the Second City
September 19, 2011
Panelists include:
Monique Meloche, Director – moniquemeloche Gallery
Shannon Stratton, Executive Director – Three Walls
Shane Huffman, Artist
Oli Watt, Artist
Rob Davis & Michael Langlois, Artists
Moderated by Duncan Mackenzie and Richard Holland of the Bad at Sports Podcast