Bad at Sports would like to thank the Chicago Reader and its readers for naming us Chicago's best Visual Art Blog in their survey this year!
You can find the list here…
http://www.chicagoreader.com/chicago/BestOf?category=4053660&year=2012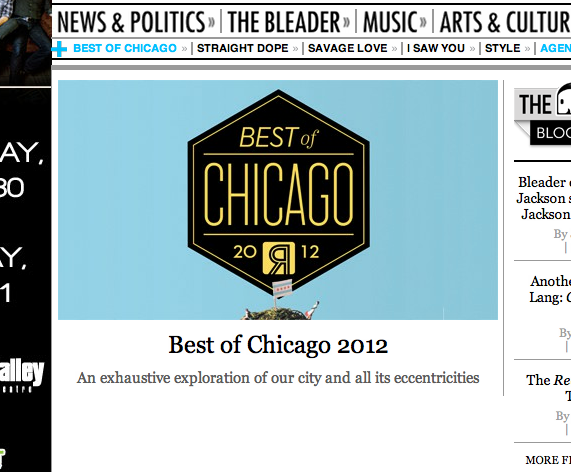 This week Bad at Sports started a residency at the A+D Gallery (618 South Wabash, Chicago) at Columbia College. We have many plans for what will be done in the space and how it will be done, but how it evolves depends on all of us and you.
In the space we will be varying our activities between meetings, live interviews, live recordings, Ping Pong (Wii and probably Foosball,) working on a couple of sound pieces, skateboarding, blogging, watching Game of Thrones, and other such nonsense. Â Watch our twitter feed for who we are interviewing, when, and what fun stuff we are doing on our Saturdays (gallery tours, live Art21 tapings, skate posse meet ups to skate Dan Peterman's skate park, and some other fun stuff) We will have the following folks in for live interviews: Catherine Sullivan, Steve Reinke, Jason Salavon, Jessica Stockholder, Joe Meno, Dan Tucker and more…
YOU ARE WELCOME ANY TIME!
We ask that you not interrupt tapings but we are happy to talk to you or play pong anytime we are not on mic.
What you missed this week…
Kate and Duncan started work on a two channel version of the piece we are working on. This time we were shaping a conversation between Nato Thompson and Mary Jane Jacob, which we will scale up over the next two weeks to include Mark Dion, Pablo Helguera, and Liam Gillick.
We interviewed Ken Fandell and Christy Matson and ran a small Ping Pong tournament on Thursday night (the gallery is open to 8pm on Thursdays) with a few people who turned up.
Here are some photos of these weeks progress. Â We can't wait to see you!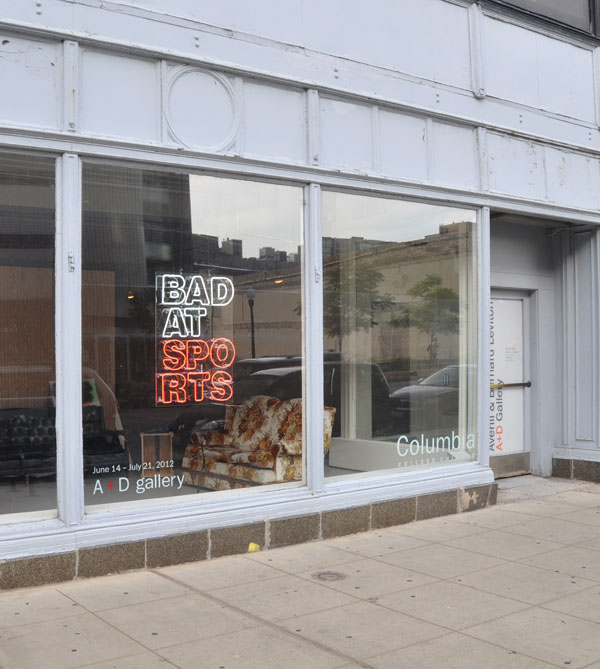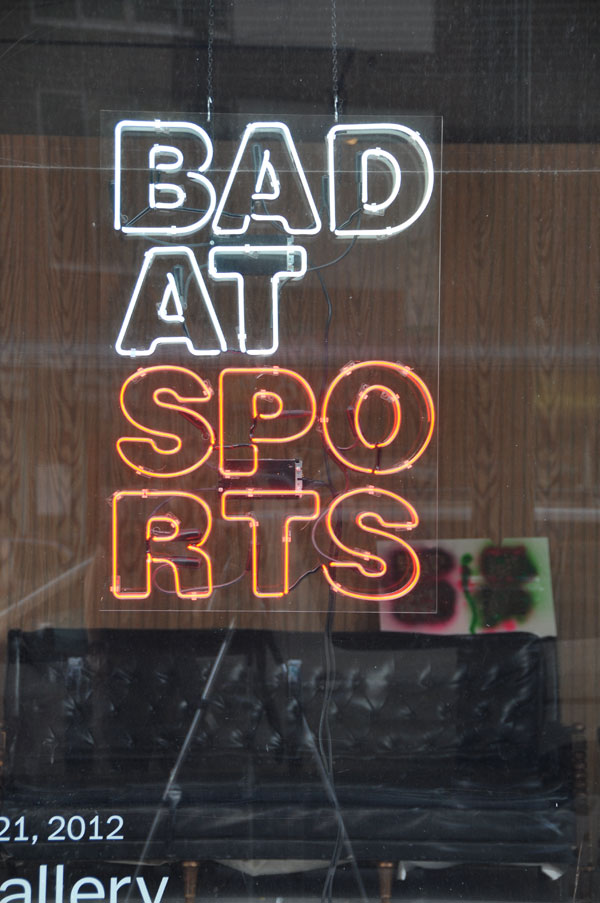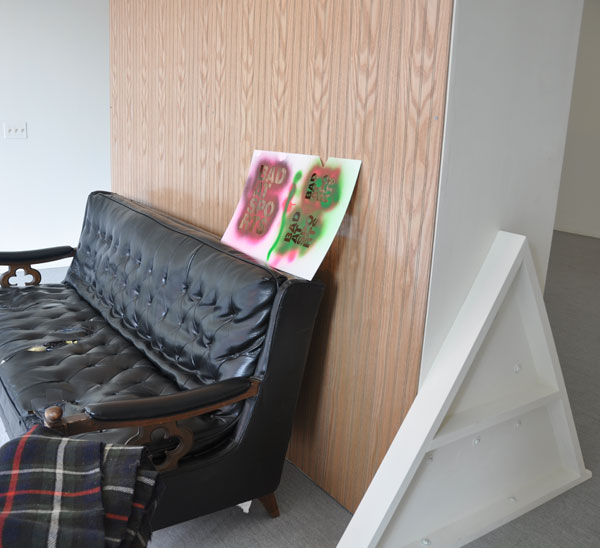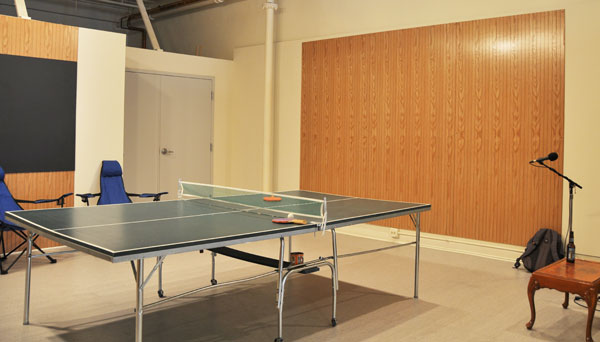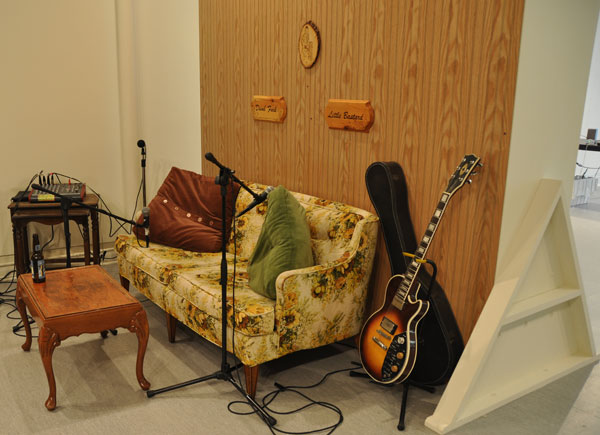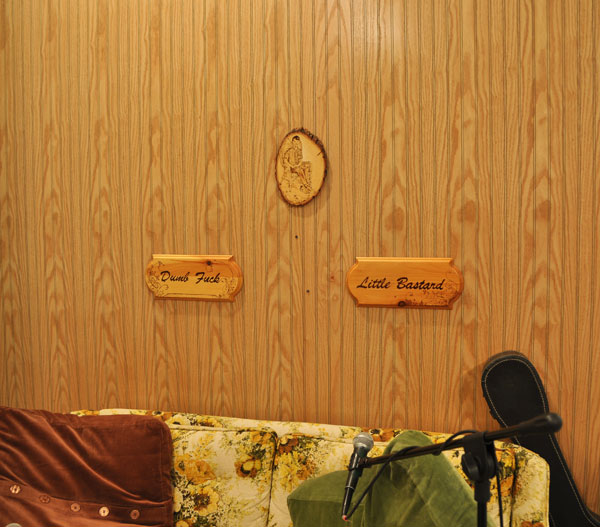 Hey B@S readers in Chicago!
I wanted to remind you about Threewalls big event and auction! It is this Friday!
Works available by many past guests and "friends of the site," including…  Stephanie Brooks,  Industry of the Ordinary, Mike Andrews, Andreas Fischer, Carol Jackson, Kelly Kaczynski, Chad Kouri, Eric May, Claire Pentecost, and a piece by Christian Kuras and myself. So get over there and get yourself some art…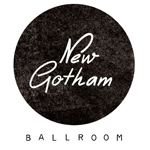 Following text from our friend Iain.
Dear Friends and Colleagues,
Please join me on July 8 in material support of threewalls annual summer gala: "The New Gotham Ballroom" at Stan Mansion. The threewalls staff, together with our board of directors, have put together what promises to be an unforgettable event. We have a live and silent auction with first rate artwork and artist-lead experiences. We have 50 dinners by Longman & Eagle Michelin star awarded chef Jared Wentworth. We have bottomless cocktails all night long. We have a fabulous entertainment program with dancing, comedy, and new music, featuring The Chandeliers and Frank Rosaly.
As this year's Gala Chair and Board Treasurer, I understand that this event is critical in raising funds to secure our budget for 2012/2013. That money goes to artist fees, exhibition costs, grants, publications, public programs, commissions, residencies and of course, our general operations.
So what do I mean when I say material support?
Essentially, we want the gala full of people having fun, buying art, and pledging their support to threewalls. If you have not already, please buy tickets at the link below. If you have bought them, please attend the event and buy artworks from the live or silent auction. If you cannot attend the event, there are still many ways to support us. You could buy tickets and give them to someone who would love threewalls. You could make a tax deductible donation. You could bid absentee on auction works after previewing them at the link below. The point is that there are a lot of ways to help us make this year's event spectacular whether you can attend or not. Of course, we would love to see you at the event having a good time.
What has your support resulted in the past year?
We hosted our first national conference this year: Hand-in -Glove, attracting over 200 artists working as grass-roots organizers from throughout the US and beyond. We published the third edition of PHONEBOOK – the only guide to artist run activity in the United States. We gave away $50,000 to artists working in the Chicago region as producers of public culture through The Propeller Fund, a program we administrate with Gallery 400. We are in our third edition of the CSA: the only kind in our region that commissions new work by local, contemporary artists to be distributed to subscribers – an affordable way to support and market strong work being made in Chicago and encourage new collectors. And of course our programs and exhibitions continue to be reviewed in the Chicago Tribune, New City, Timeout, Art Forum Print/Online, ArtSlant, WBEZ, Huffington Post and other publications in print and online.
We are an important resource for artists in Chicago – in terms of professional development, support and opportunities for exposure and audience development.
Tickets can be purchased at http://www.three-walls.org/support/fundraisers/
Artwork can be previewed at http://newgothamballroom.tumblr.com/
I hope that you can join me in supporting this event.
Thank you!
Iain Muirhead Chair, threewalls 2012 Gala
This week we are trying something new. Truth be told, we were planning on trying something new at the beginning of January but due to various mishaps we are two months late. The snappy-est title we could come up with "Great Stuff." What that really is a subtitle for is "Great Stuff that was found in our offices regardless of how it got there." So we begin "Great Stuff" with Kate Beaton's "Hark! A Vagrant."
Last fall Beaton's new comic anthology "Hark! A Vagrant" was published by Drawn and Quarterly, and is truly delightful. it arrived our offices and quietly sat in a pile of things that needed to be read for several months, never really hinting at the ridiculous good times to be had within but one quiet afternoon I picked it up and could not put it down. Beaton's a veteran cartoonist whose work has appeared in Harper's Magazine, the National Post and the New Yorker. Beaton is a kind of spiritual kin to Bad at Sports. Her work draws heavily on her degree in history and her broad knowledge of literature, and then couples those intellectual impulses with an absurd sense of humor which would make Monty Python proud and had me laughing out loud over and  neglecting phone calls. In fact, I've come back to it and reread it twice since my first reading. If you are a fan of art, literature, Canada, history, and being an intellectual well making fun of intellectuals this shit will tear you up.
The high points for me include jokes about the "Great Gatsby," the Brontë sisters, St. Francis, and Canadian stereotypes. the back covers cartoon is a special treat for those of us who've devoted our lives to things that are often difficult to empathize with.
You can find more delight with Kate Beaton here.
Do you think you are brain enough to take our friends at the London United Psychic Club? Or maybe this is the year Bad at Sports steps up to show our psychic dominance? Maybe not. But we feel that this might be your year.
2012 WORLD TELEKINESIS COMPETITION
a Noxious Sector project
Seattle (WA)
June 7 – 30, 2012
========================================
Noxious Sector Arts Collective invites submissions for the 2012
WORLD TELEKINESIS COMPETITION, to be held in Seattle (WA) from
June 7 to June 30, 2012. Participation is not geographically
dependent — teams may participate from their home locations, in
North America and Internationally. Only the first 32 teams to
register will be included in the 2012 competition.
TEAM REGISTRATION NOW OPEN
DEADLINE: MAY 15, 2012 (or until tournament schedule is full)
DESCRIPTION
——————-
The WORLD TELEKINESIS COMPETITION is a forum for speculative
action — an organized tournament in which teams from around the
world engage in psychic competition to remotely influence the
behavior of a candle. Matches are played by lighting a candle at
the centre of the official game board, at an agreed-upon time,
signaling the beginning of the game. A match lasts for one hour,
or until the game candle is extinguished, whichever comes first.
In the event of a tie at the end of one hour, the match goes into
sudden death. The object of the game is to have the wax from the
candle drip onto the opposing team's side of the game board. This
objective is to be accomplished by remote telekinetic influence.
The winning team will be awarded the World Telekinesis
Competition trophy, which they will get to keep until next year's
competition. To commemorate the 5th anniversary of the World
Telekinesis Competition, theere will also be a set of
championship rings produced for the winning team.
SUBMISSIONS
——————-
To qualify for competition, teams must submit the following:
1. A statement of interest or method;
2. A list of three (3) members who comprise the team, and a
concise biographical statement for each team member;
3. A medium-resolution (2MB) image of each team member;
4. A team name and logo (medium resolution).
Submissions should be sent by email to: noxious@noxioussector.net  with
ATTN: WORLD TELEKINESIS COMPETITION as the subject line.
For further details please visit:Â www.noxioussector.net/wtc
or email us at noxious@noxioussector.net
DEADLINE FOR REGISTRATION: MAY 15, 2012
(or until tournament schedule is full)
ABOUT US
——————-
Noxious Sector is a formalized forum for informal inquiry.
Dedicated to the exploration of questions of the imaginative, the
paranormal and the absurd, Noxious Sector attempts to redefine
the meaning of artistic possibility through extended propositions
that challenge consensual norms while also provoking stimulating
forums for dialogue and discourse.
=====================