So we at the "Bad at Sports" have been trying to only post calls occasionally, but this one seems kind of special. This one involves helping to construct a South Side Community Center. It sounds pretty freaking amazing. The downside seems to be that it is on the south side of Chicago and thus it joins the ranks of many of our favorite community-oriented projects which we don't manage to get to as often as we would like.
Why can't this be happening in Albany Park? they asked that we update with the following info…
"I wonder of we can add that we will be open every Saturday from 10-6p.m. until we open October 1st for studio visits, house tours and work days!

Each week we will have a builder/renovator on deck to teach us a special skill like how to putty windows, interior painting techniques, how to tile a floor (these should be read mentally with an upbeat voice that lifts at the end of each life skill, thick with the stuff of exuberance and anticipation!) In true Tom Sawyer style!" 
Check it out it might also blow you mind. What follows is the invite to the opening of the space and the call for builders, helpers and community fans.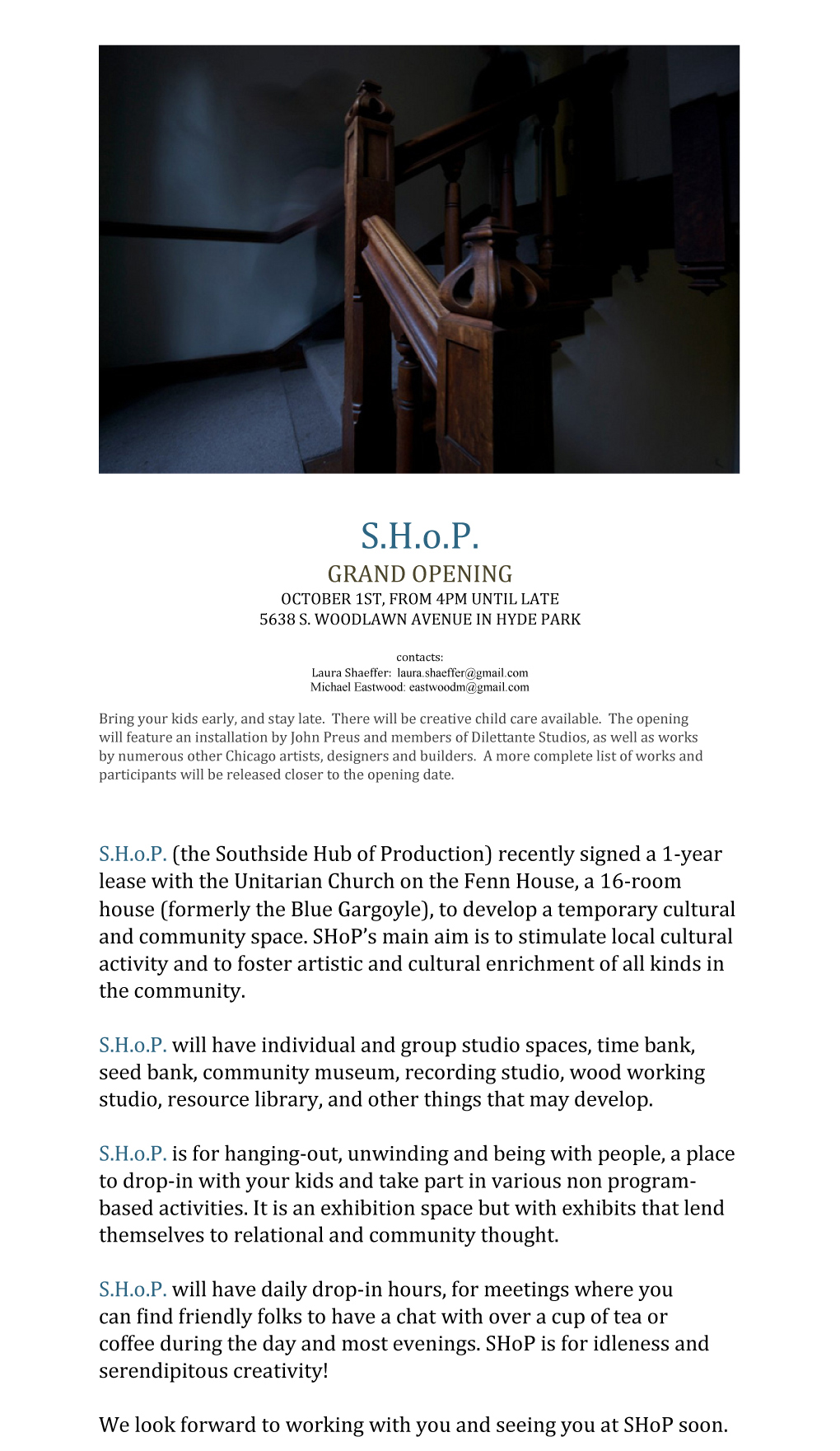 Fellow builders/makers/artists,
S.H.o.P. (the Southside Hub of Production) in collaboration with Dilettante Studios would like to invite you to propose an installation, project, built-in, or work with other artists/designers/builders on existing projects, for our upcoming grand opening.  SHoP recently signed a 1-year lease with the Unitarian Church on the Fenn House, (formerly the Blue Gargoyle) to develop a temporary cultural and community space as an extended iteration of the Op Shop, Laura Shaeffer's ongoing project.
SHoP focuses on cooperative learning, skill sharing, community involvement and development, inter-generational events and programs, and developing manual competency.  SHoP will house exhibits, salons and conversations, workshops, classes, potlucks, a kunstverein (community museum), a recording studio, a wood working studio, social clubs for various ages, a library for unpublished and self published works, a seed bank, and a time bank … and other things that may develop.
The Fenn House has 16 rooms, some available for rent as artists studios or small not-for-profit businesses.  Some may remain open as installation spaces or experimental rooms that will be adaptable to artist/design projects.  Follow this link for pictures of Fenn house.   There will be an open house this Saturday the 27th, between 2 and 4 p.m. if you would like to see the space and propose an idea.
We would like to invite you to design/build something for the space, a piece of furniture, an installation, a treatment of a room, a playful interactive design of a room, a meditation on some aspect of domestic/family (in the broadest sense)/community life… or something we haven't thought of yet.  Projects will be judged according to relevance and suitability to the space and expected audience, which will include a wide range of age and ethnicity.
Aside from proposing your own projects, there are a couple of possible ways to contribute your talents and skills.
1. Artist/builder John Preus recently relocated furniture (desks chairs, office and classroom furniture) from his installation, the World as Text, at Columbia College down to the Fenn House, as part of his project, Slow Recovery. The project considers forms of care and usefulness, and will document the varied and ongoing transformations of the pieces of furniture over the course of their lifespan, as the objects are re-written into varied and novel functions.  Some of the furniture will be turned into a bar/jungle gym, and Preus welcomes help from adults and their children in designing and building the Jungle Bar, which will serve local home brews to the parents, and lemonade for the kids.  Parents can chill while their children get hopped-up on sugar.
2. Re-imagine John's furniture in some other form, such as one of the following:
3. SHoP will need a number of functional installations that also welcome creative, artistic, poetic, conceptual play.  Needs include:
-a stage for performances, either movable or able to be used as a seating platform, or able to accommodate potlucks, sitting/eating.
-modular and portable seating
-plant life installations-things in the space that involve living elements
-office, kitchen, bathroom and library interventions
Rather than being paid in dollars, any labor you put in for SHoP can be logged into the time-bank and later redeemed for other goods and services volunteered by other community members. More detail on how the time-bank works will be available soon.
Your names will be listed in all opening literature along with wall tags describing the pieces that you work on.  Preus will be featured in an artist profile in an upcoming Chicago Reader as part of the beginning of the gallery season opening, and the SHoP project will be featured.  Installations may be proposed for the entire year, or for a shorter period of time depending upon their function and durability.
Proposals are only a paragraph describing your project, or your interest in being involved in one of the listed projects.  Skilled builders/designers can also volunteer to lead a team to build out one of the proposed Please send all proposals to: shoppropdrop@gmail.com
We look forward to hearing your ideas!
-SHoP cultural committee
Looks like our the Chicago Artist Coalition are pulling in our friends and allies all over the place!
If it wasn't enough that they had brought our friend Judy Ledgerwood ( along with Tim Anderson, Hillary Blanchard-Rikower, Lauren Brescia, Koren Grieveson, Richard Hull, Stephanie Izard, and Randy Zwieban) into their dinning and art-ing fund raiser (Starving Artist,) they have pulled in Anna Kunz and Jeff M. Ward (along with Tempestt Hazel and Jamilee Polson)  to assist them in the programing of the Coalition Gallery.
Food and Art drops on August  18th and you can get more info here.
For possibilities at the Coalition Gallery find more info here.
Polly Ullrich's service will be held Saturday August 6 at 11:00 am at Wellington Avenue Church, 615 West Wellington Ave. in Chicago. Parking will be very difficult, so public transit, taxi, bike, or walking is recommended.
As we all know, there are a number of institutional (SAIC, Columbia College, UIC…) and less-institutional (Paul Klein's Artist Works, CAR's lecture series, Three Walls salons…) ways to get yourself educated about the art world and the ways that artists support their careers. We at Bad at Sports have always been interested in and a fierce supporter of transparency and explanation, so we are excited about every affordable educational opportunity we can find.
Our friends at the Chicago Artists Coalition have gone through a number of changes in the last couple of years and look posed to dramatically change a lot of artists lives. So we have been waiting with interest to see what they would do with their educational workshops. We will no longer, the first is this Saturday.
UPDATE-They are now delaying the discussion till September as to accommodate all of us who are out of town for the summer.
Technology + Art
You understand how social networks work. Now make social networks work for you.
In this seminar, a series of speakers will demonstrate the significance of social media technology and why it's too important to ignore, how to effectively use the leading social networks to promote yourself and your work, and help you to pinpoint the social media outlets most relevant to your artistic practice.
Speakers: MartinJon Garcia, Creator of ChicagoArts; Anijo Matthew of Illinois Institute of Technology; and Pek Pongpaet, VP of Technology and Product for SpotOn Inc; Panel Moderator: Sara Schnadt of Chicago Artists Resource.
Our seminar will be a mixture of presentations, discussion and a Question & Answer segment to address your particular questions. Handouts will be provided.
Date: Saturday, July 23, 2011 now some time in september
Time: 1 – 4:30 pm
Location: Chicago Artists' Coalition (217 N. Carpenter, Chicago, IL 60607)
Cost: $25 (CAC Members) or $45 (Non-Members).
Registration is here.
It is with great sadness that we recognize the passing of a friend and stalwart of the Chicago art world, Polly Ullrich.
Polly was amazing and her passing is a loss to our art world and local community. She was kind, thoughtful and often set an example that was so blindingly hopeful that it was hard not to follow. I will forever remember her curiosity, interest, enthusiasm, and commitment to fostering a critical community.
She will be missed by all of us that knew her and by this community.
The following shared thanks to her husband David Ullrich.
In lieu of flowers, David has asked donations to be made in Polly's memory to the Wellington Avenue United Church of Christ. 
POLLY H. ULLRICH
            Polly Ullrich died suddenly on July 6, 2011, in Woodruff, Wisconsin, from injuries suffered in an automobile accident.  Polly's life was a relentless and intense search for meaning and beauty in art, literature, music, and most of all, in relationships with people.  She had the unique ability to capture the meaning and beauty in words in a way that helped others understand.  She brought insights and boundless joy to every life she touched.   She was the dear spouse and friend of her husband David and loving mother of their son Eric.
            Polly was born in Wisconsin Rapids on July 27, 1950 to Phyllis and the late William Huffman.  She was an outstanding student and excelled in journalism, forensics and theater productions at Wisconsin Rapids Lincoln High School, where she graduated in 1968.  A significant experience during her youth was at Camp Manitowish in Boulder Junction, WI, where over six years she developed her personal strengths and love of the outdoors.  She went on to the University of Wisconsin, where she majored in journalism, receiving a bachelor of arts in 1972 and a master's degree in specialized reporting in 1973.  During college, she was an active member of Kappa Kappa Gamma sorority and served as a page in the Wisconsin Assembly.  She also wrote for the Daily Cardinal in Madison and for Time magazine.
            She and her husband moved to Chicago in 1973, where she continued her writing, starting with United Press International and moving on to do stories for the Milwaukee Journal-Sentinel, Chicago Sun Times, and New York Times.  Her writing moved more and more toward the art world.   In 1980, she stopped writing and decided to learn ceramic art and developed her skills to a point where she was showing her work in Chicago, Milwaukee, St. Paul, Florida, and New York City. 
            With the birth of their son in 1990, Polly pursued both being a mother to Eric at home and her love of art at the School of the Art Institute, where she received a master's degree in art history, theory and criticism in 1994.   She expanded her writing to include all of the arts, with a special emphasis on crafts as an art form.  She lectured and served on panels widely, including at Cranbrook Academy in Michigan, Haystack in Maine, and Art Chicago, as well as writing for a number of national art publications.  She also taught at the School of the Art Institute.  Polly was active at Wellington Avenue United Church of Christ in Chicago for over thirty five years, where she served as a liturgist for many years and currently as Chair of the Worship Committee.         
In addition to her husband of 39 years and 21 year old son, Polly is survived by her mother Phyllis, sister Claire (Hackmann), and brothers Tom and Joel.  In lieu of flowers, contributions in Polly's memory may be made to Wellington Avenue UCC, 615 West Wellington, Chicago, IL, 60657