As many of you know this Friday will be busy.
If the regular handful of events and openings was not enough, then you will be excited to add the SAIC MFA show (of which I was involved as a guess curator) and then round out your night with a little bit of Ox-Bow benefiting. Many of the Bad at Sports family have participated in Ox-Bow and I am very fortunate to be teaching there this summer. If you have to pick one or the other here is a hint: the MFA show will be there Saturday, the opportunity to be in Bill Padnos's home and collection will not be.
Here is their info.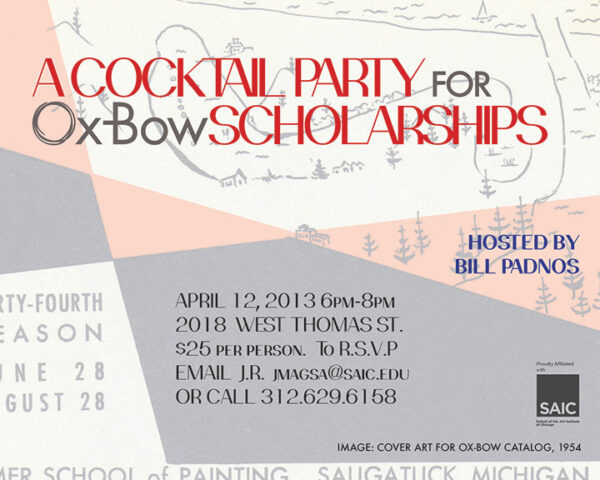 http://oxbowscholarships.eventbrite.com/
After more than a decade of inviting you to the Chicago Winter Benefit, we are taking a break in 2013 to introduce:Â The Ox-Bow Drive Series. An amazing roster of Ox-Bow friends will open their homes to host small events in order to raise funds for Ox-Bow.
You are invited to the 2nd party in our series at the Ukrainian Village home of Bill Padnos, former Ox-Bow Managing Director, a long-time supporter and, collector of Ox-Bow art. 
Featuring Mexican food by Ox-Bow Chef Eric May (http://www.ericchristophmay.com/?p=1368)Â 
$25 per person.
Directions:
2018 W. Thomas Street, two blocks south of Division
Damen Bus north to Thomas Street
Street parking available
More information:
Please call J.R.:Â 312-629-6158
or email:Â jmagsa@saic.edu
Dear B@Sers,
We are super excited about a couple of things…
In the beginning of December, Caroline Picard began acting as the Managing Editor for the Bad at Sports blog. As you know she has been writing for B@S for about two years now and we are super excited to have her taking on this roll. The blog has made tremendous strides since Meg Onli jump started it in 2008. In the coming months — particularly in the month of January — new contributors will begin to emerge as we start to see her carve out a new monthly rhythm. She will tell you more about it as she gets rolling.
And while we are looking back to those magic days with Meg we must note that her Black Visual Archive (http://blackvisualarchive.com/) picked up a Warhol Grant. Hell Yes! Meg, we could not be more proud. More from her site here… http://blackvisualarchive.com/bva-awarded-arts-writers-grant/ (sorry it took us so long to post something.)
Your Pals,
Duncan and Richard.
The holidays are here again and that means it's time for all of us to throw down on behalf of our favorite arts organizations.
Two that a few of us are involved in have events THIS WEEKEND!!!
Friday November 30th ACRE benefit at Heaven Gallery!
Saturday December 1st Industry of the Ordinary vs. Bad at Sports in a Keg Race (aka. a serious piss up) at Autotelic Gallery.
COME GET DRUNK WITH US. (I mean support good causes and good art.) You have TWO chances.
More below…
ACRE's Annual Benefit & Auction on November 30 @ Heaven Gallery
November 30th, 2012
6-8pm - Elemental Cocktail Hour – $75
8pm-1am - Zodiac Spectra – $50/$25
11pm-1am - Lunar Late Night – $15
Heaven Gallery
1550 N Milwaukee Ave
ACRE is proud to announce our annual fundraiser at Heaven Gallery on November 30th.
Celebrate ACRE with an art auction and dance party. See into your future with personal tarot readings and astrological matchmaking, take in a performance by Spectralina and dance in DJ Jean Shorts' custom cosmic atmosphere.
We invite you to draw inspiration from the Zodiac and don attire befitting this stellar event!Make sure to check ACRE's horoscope style blog to guide you.
Auction and Raffle featuring art works by:
Lauren Anderson, Caitlin Arnold, Claire Ashley, Zachary Buchner, Alex Chitty, Katy Cowan, Lorraine Dauw, Dan Devening, Chris Duncan, Paul Erschen, Ron Ewert, Edie Fake, Scott Fortino, Ben Funke, Aron Gent, Chiara Keeling Gonzalez, Jacob Chris Hammes, Jebediah Johnson, Jenny Kendler, Natalie Krick, Matt Lane, Meg Leary, Laura Letinsky, Sofia Leiby, Sarah Mosk, Jessie Mott, Laura Hart Newlon, Matt Nichols, Kristina Paabus, Michael Rea, Josh Reames, Joseph Rynkiewicz, Anna Shteynshleyger, Montgomery Perry Smith, Oli Watt, Sarah Weber, Andrew Norm Wilson and more.
Pre-order your tickets now and receive a discount on your admission!
---
ACRE Rising: Elemental Cocktail Hour – 6pm-8pm
Admission: $75
Pre-order: $70
Join us for a special preview event. ACRE's celebrated chefs will be serving an array of beautiful dishes inspired by the Zodiac. This unique menu will be paired with elemental cocktails based on earth, wind, fire and water created by the accomplished mixologists at Hornswaggler. You will have the opportunity to select and purchase auction items before the main event begins and enjoy personal tarot readings by Claire Pentecost and lively music from Tip Top Records' David Warn.
---
ACRE Rising: Zodiac Spectra – 8pm-1am
Admission: $50/$25 for Students and ACRE Alumni
Pre-Order: $45/$20
Your admission includes unlimited drinks at our open bar sponsored in part by Lagunitas Brewing Co., access to a silent art auction with works from ACRE residents and friends, as well as the opportunity to participate in a raffle of artworks and unique gift items. Students and ACRE alumni are offered a special door price of $25.
---

ACRE Rising: Lunar Late Night – 11pm-1am
Admission: $15
Want to participate in ACRE Rising but can't arrive until later? We would love to have you. Enjoy a reduced door price and our open bar from 11pm to 1am. Although the ACRE auction and raffle will be closed, you can still dance the night away with DJ Jean shorts and show ACRE your support.
---
We deeply appreciate your attendance and support for this event. Your participation will help ACREÂ continue to provide meaningful support for emerging artists from across the country.
acreresidency.org
November 17, 2012
Autotelic Studios + Third Thursday = Micro-Residency

We just wanted to give you a heads up…As some of you may know, what once stood as Autotelic Gallery now functions as a shared art studio housing the work spaces of seven local artists. This Fall, Autotelic Studios teamed up with local arts syndicate Third Thursday Symposium to form a collaborative project called Twofold Projects, and we are developing a Micro-Residency program that is set to open up in the Autotelic storefront! The deadline for submissions is coming up fast, so we wanted to make sure we spread the word far and wide!  And, a little birdie told us that you appreciate a good brew… we're having a Keg Race to fund the Micro-Residency and keep the tuition cost low for the participating artists.***Join us on December 1st, 2012 for the Industry of the Ordinary vs. Bad At Sports Keg Race!***International performance duo Industry of the Ordinary will be pitted against the infamous Bad At Sports podcast crew in a good old fashioned beer drinking contest. Anyone and everyone can participate by getting sponsors to pledge money for each beer they consume at the event. At the end of the evening, we'll tally the Dixie cups and announce the winner! The fine, fine folks at Moonshine Brewery have been gracious enough to donate beer for the event… so who wouldn't want to get in on that bubbly tastiness! Want to get in on the drinking and help raise some moolah? Send out this form to your friends and get them to sponsor your boozing! Just have them enter your name in the "Who are you sponsoring?" section and have your drinks on somebody else's dime ;) RSVP to our Facebook event and invite your friends!

******
Want to apply for the residency? Get more details about the Micro-Residency and how to apply by visiting our website, here. 
The deadline for Winter/Spring session applications is midnight, December 1st, 2012. 

Copyright © 2012 Autotelic Studios All rights reserved.

You are receiving this email because you signed up to our mailing list at an Autotelic event or subscribed through our website. These emails keep our following artists and musicians up to date on activities, events and exhibitions held at the Autotelic, but if you'd like to unsubscribe (we'll miss you!) simply click "Unsubscribe" in the footer of this email.

Autotelic Studios

2959 North Springfield Avenue

Storefront

Chicago, Illinois 60618
So. Â Lots has been happening around Chicago and we've hardly had time to keep up both textually and physically. But there is a lot of important news that we have not had a chance to post – some of it involving us. So, here it is, in all its glory, a winners post for many of the big midwestern fall-ish awards; Artadia, Art Prize, Propeller Grants, and New City's "Best of the Year." I should note before we go any further that we, your friends at Bad at Sports, were delighted to have received a propeller grant and a mention on New City's list.
Congratulations to everyone from your friends at Bad at Sports.
Artadia:
The two recipients of Artadia Awards 2012 Chicago at the $15,000 level are: Tirtza Even and Deb Sokolow. The five recipients of the $3,000 awards are: Samantha Bittman, David Hartt, Lisa Lindvay, Heather Mekkelson, and Ian Weaver. (See attachment for images and descriptions of the awardees' work.)
Art Prize:
The top winners included Adonne Khare from Burbank, Calif. for her large-scale graphite on paper drawing, Elephants, which took the $200,000, publicly decided ArtPrize Award, and Design 99 from Detroit, Mich., for Displacement (13208 Klinger St), a found artifacts installation, which was awarded the first-ever, $100,000 Juried Grand Prize. Other winners include… Alois Kronschlaeger, ABCD 83, Complex Movements, Dale Rogers, Paul Amenta, and Ann Morton. Popular vote winners… Richard Morse, Mark Carpenter and Dan Johnson, Dan Heffron, Kumi Yamashita, Dennis Harris, Sandra Bryant, and Chris LaPorte.
Prop Grant (a list we are honored to be on)
America/n, Area Chicago's Issue #13, Art Patch Project (APP), Chicago Alternative Comics Expo (CAKE), The Chicago Television Project,Comfort Station, A Day Without Public Art in Pilsen, Extinct Entities,  The Franklin, GLI.TC/H, Bad at Sports, Prison-Neighborhood Arts Project, Rooting: Regional Networks, Global Concerns,  Splitbeam, and Southside Hub of Production (SHoP)
New City Best of Chicago (another list we are honored to be on for the full break down check out Dan Tucker's list here.)
Best international showing of Chicago artists
Documenta13 in Kassel, Germany
Best dinner party with Fascists, Anarchists and Feminists
Feast at the Smart Museum
Best marching band documentary by the best Chicago artist that is not a Chicago artist
Cauleen Smith at the MCA
Best art museum that is not an art museum
The Jane Addams Hull House Museum
Best conceptually complicated exhibition to be mounted in what is essentially an office
"PROGRAM / SUFFER / ABSTAIN / DEPROGRAM" Presidents Gallery at Harold Washington College
Best art interview LP
Bad at Sports
Best political art performance reenactment
Iraq Veterans Against the War
Best shout out to the Black Power poet Amiri Baraka at EXPO Chicago
Anthony Romero and Jillian Soto reading
Best art reading
"MORE" curated by Laurie Palmer at Threewalls.
Best critical art project in Chicago this year
Chicago Torture Justice Memorials project
Full Best of here.
So there you go folks! Next time we will be faster about the posting.
Chicago? Do you remember the folks at Artadia? They are the people that made the kick ass book we spent last summer with. (pictures included here.) They are also the organization that supports the heck out of some really great local and national artists and work to foster support for and awareness of artists outside of NYC and LA.
Their application cycle has once again come back to Chicago! You should apply. We are going to. The info is below.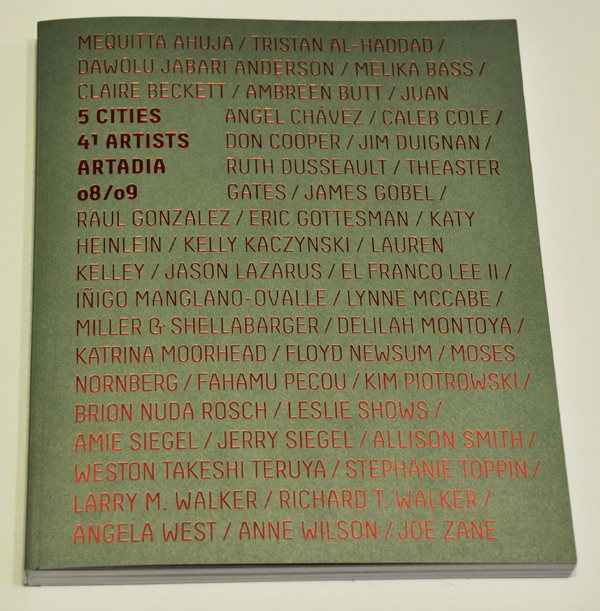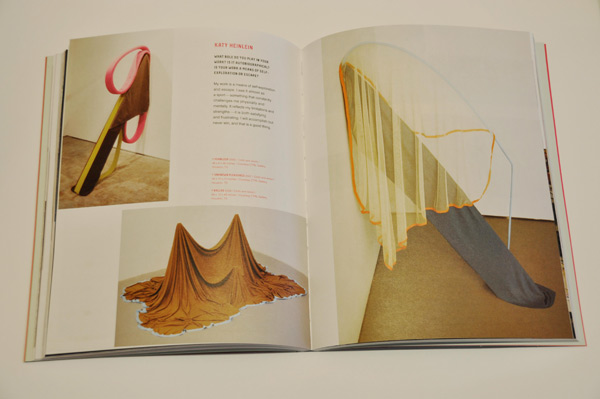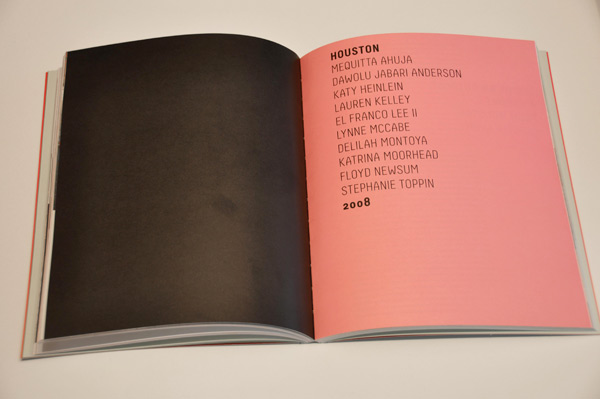 APPLICATIONS FOR THE

ARTADIAÂ AWARDS 2012 CHICAGO

CLOSE AUGUST 20. APPLY NOW!
Artadia: The Fund for Art and Dialogue is accepting applications for the 
Artadia Awards
2012 Chicago
 from all visual artists living and working in Cook County, IL. Individual artists and
collaboratives working in all media and at any point in their career are strongly encouraged to apply.
Awardees will be selected in the fall of 2012 through Artadia's two-tiered jury process. This is Artadia's
sixth awards cycle in Chicago.

Application deadline: August 20, 2012 at 11:59pm (CST).
Artadia will be hosting special programs in partnership with EXPO CHICAGO.

For eligibility requirements and to access the Web-based application, please visit

www.artadia.org
Artadia's mission is to encourage innovative practice and meaningful dialogue across the
United States by providing visual artists in specific communities with unrestricted awards
and a national network of support. Founded in 1997, Artadia is a 501(c)(3) nonprofit
organization. Artadia Awards are determined through a jury process that employs nationally
prominent curators, artists, and arts professionals. Since its founding, Artadia has awarded
over $2 million to more than 225 artists in Atlanta, Boston, Chicago, Houston, and the San
Francisco Bay Area. In 2009, Artadia launched a New York residency program for Artadia
Awardees at the International Studio and Curatorial Program (ISCP), Brooklyn. Most recently,
Artadia inaugurated a national publications and Exhibitions Exchange program offering
Awardees crucial exposure on a national level.
Lead funding for the Chicago Artadia Awards is generously provided by Larry and Marilyn Fields.
Additional support provided by Sally and Jon Kovler, Artadia's National Council members Barbara
Fosco, Jack and Sandra Guthman, and Anne Van Wart and Mike Keable; as well donations by Karen
and Steve Berkowitz, Eszter Borvendeg and Mark Wight, Curt Conklin, Dirk Denison, Brian Herbstritt,
Gael Neeson and Stefan Edlis, Pamela and Art Sanders, and Linda Warren.