Internet:
Friday, Terri is speaking at the Evanston Art Center with the always interesting Derek Guthrie!!! Then, the next day, this guy (Duncan MacKenzie) will be killing it with Lori Waxman, James Yood, and Lane Relyea over at the CAC. Strangely, We are all talking criticism. Terri and crew will talk about the current role of criticism. We will talk about what it means to you and why you should care!
Please see the attached listings…
Terri and Crew – Questioning the Art World of Today
Friday January 20th at 6:30pm
Since its founding in 1929, the Evanston Art Center has provided a forum for the discussion and debate of contemporary art issues. This evening we invite you to join our panelists for a dialogue about the art of our time as it relates to current trends in the market and academia. Topics brought to the table will include:
Has the art market become the ultimate critic?
Has boosterism replacing thinking?
Has art academia retreated into its own bubble?
What is the role and relevance of art criticism?
Have museums lost their authority?
Panelists will include: Derek Guthrie (co-founding editor of The New Art Examiner), Terri Griffith(an editor of The Essential New Art Examiner), Diane Thodos (artist and art critic), Andrew Falkowski (art instructor at SAIC & Northwestern University), and others.
This program is free for all.
If you're interested in taking part in further discussion about this topic, visit Northern Illinois Art Museum at http://www.niu.edu/artmuseum/. NIU will present a didactic exhibition exploring the history and significance of The New Art Examiner, published in Chicago between 1973 and 2002. Additionally, on Saturday, January 28, the NIU College of Visual and Performing Arts will host an engaging public symposium about the importance of the New Art Examiner to Chicago's art history and practice.
Duncan and Friends – De-mystifying the Art Critic
January 21, 2012, 1-3pm
Chicago Artists' Coalition, 217 North Carpenter, Chicago, IL 60607—312.491.8888
De-mystifying the Art Critic surfaced out of a conversation with contemporary, emerging Chicago artists and intends to define the current climate of art criticism and break down the relationship between artist and art critic. Representing local and international, print and web-based publications, this dynamic panel featuring Duncan MacKenzie , Lane Relyea,  Lori Waxman, and James Yood; and moderated by BOLT artist-in- residence Stacia Yeapanis, will speak to both the theoretical and practical considerations of art criticism for both art writers and artists.
———
Lane Relyea is Associate Professor and Chair of the department of Art Theory & Practice at Northwestern University and also editor-designate of Art Journal (for a three-year term beginning July 2012). His essays and reviews have appeared in numerous magazines including Artforum, Afterall, Parkett, Frieze, Modern Painters, Art in America and Flash Art
James Yood teaches contemporary art history and criticism at the School of the Art Institute of Chicago, where he is Director of the New Arts Journalism program and Visiting Professor in theDepartment of Art History, Theory and Criticism.   Active as an art critic and essayist on contemporary art, he has been Chicago correspondent to Artforum and writes regularly for GLASS magazine, American Craft, art ltd., and Aperture.
Duncan MacKenzie is a multi-platform Artist, Critic, founding member and Producer of Bad at Sports Podcast. Bad At Sports is a Chicago-based, weekly podcast about contemporary art. Founded in 2005, the series focuses on presenting the practices of artists, curators, critics, dealers and various other arts professionals through an online audio format.
Lori Waxman is a Chicago-based critic and art historian. Her reviews and articles have been published in the Chicago Tribune, Artforum, Artforum.com, Modern Painters, Gastronomica, Parkett, Tema Celeste, as well as the sadly defunct Parachute, New Art Examiner, and FGA. Lori  is an instructor in the Art History and Criticism department of at the School of the Art Institute of Chicago.
Humans. Our friends at ACRE lent us a radio station so we could play "Pirates" in Miami. It only seems right that we thank them by reminding you that their funding auction is happening this Friday night at Heaven Gallery! Let get out there and show them the love.
More INFO
Auction CATALOG
Full IMAGE SET on Flickr
To that end I have pulled a sort of random set of images from their auction catalog and reposted their text below.
Howdy Cowboys & Cowgirls!
ACRE invites you to join us for an escape to the Country on December 9th at Heaven Gallery! Shine up your spurs, polish your boots and pick out your best plaid for a night of art, music and dancing! The night will feature a silent and live auction hosted by Brandon Alvendia and Lil' Elote. Get into the country-spirit and whet your whistle at theopen bar stocked with a selection of Lagunitas beers, wine and hard cider and compete for a special prize in the edible cornucopia eating contest. Swing your pardner along to the sounds of The Golden Horse Ranch Band, warm-up to the sweet murder ballads of Eileen, and cut a rug when Chances Dances break out their country dance tunes. Be sure to dress in your country finest and get your one-of-a-kind live portrait by an ACRE resident. ACRE is raising funds for it's Exhibitions program and 2012 Residency Program. ACRE is dedicated to providing support to emerging artists and fostering an ever expanding community of cultural producers.
LIVE MUSIC
The Golden Horse Ranch Band
Eileen
Chance Dances goes Country
ART AUCTION
Bid on new art works by Chicago artists and ACRE alumni in both a silent and live auction! Featuring work by Adam Grossi, Alex Chitty, Alyse Ronayne, Aron Gent, Ben Driggs, Brandon Anschultz, Bryan Lear, Caitlin Arnold, Caroline Picard, Chris Meerdo, Dan Bradica, Daniel Shea, Jacob Chris Hammes, Jan Tichy, Jennifer Ray, Jeremy Bolen, Jessica Taylor Caponigro, Julia Klein, Kelly Kaczynski, Kristina Paabus, Laurie Palmer, Leo Kaplan, Matt Austin, Michelle Grabner, Olivia Valentine, Steve Reinke, Tara Hilss, Thad Kellstadt, Todd Diederich, Young Joon Kwak, Zak Arctander, and more! The silent auction will end and live auction will begin at 9:30. Cash, check and most major credit cards are accepted. Art work will be available to be taken home that night.
LIVE PORTRAIT DRAWING
Get a unique portrait solo or with a friend by a talented emerging artist. Participating artists include Betsy Odom, Caroline Carlsmith, Carson Fisk-Vittori, Chiara Keeling-Gonzalez, Lauren Beck, Leo Kaplan, Liz McCarthy, Michael Hunter, Michael Kloss, Nick Wylie, Ron Ewert, and Virginia Aberle.
CORNUCOPIA EATING CONTEST
Contestants compete in teams of two to gobble the most produce, chocolate and other goodies spilling out of five large cornucopias. The cornucopias are fair game too- they're made of bread! Prizes will be awarded for total amount of food eaten, and crowd pleasing-est groups.
ACRE (Artists' Cooperative Residency and Exhibitions) is a volunteer-run non-profit based in Chicago devoted to employing various systems of support for emerging artists and to creating a regenerating community of cultural producers. ACRE investigates and institutes models designed to help artists develop, present, and discuss their practices by providing forums for idea exchange, interdisciplinary collaboration, and experimental projects. Each year,ACRE conducts a summer residency program in rural Steuben, Wisconsin, bringing together over 100 artists, musicians, and thinkers to make and discuss their work. Back in Chicago,ACRE provides opportunities for all of its residents to exhibit at either ACREProjects, a storefront gallery in Pilsen, or one of over 10 partner spaces.
More information about ACRE can be found at acreresidency.org.
Heaven Gallery is a non-profit gallery and multi-disciplinary arts space in Chicago's Wicker Park neighborhood that encourages, mentors, and presents new and emerging artists, musicians, and filmmakers to audiences throughout Chicagoland and beyond. In order to encourage submissions from the widest diversity of artists, regardless of their financial situation, Heaven Gallery widely promotes our open proposal process, and does not charge submission or exhibition fees. All of our programs are open to the public.
More information about Heaven can be found at heavengallery.com.
Universe. It is only 2 more days till we open up in Miami Beach in the mighty Ox-Bow Cabin.
Are you ready?
We will be..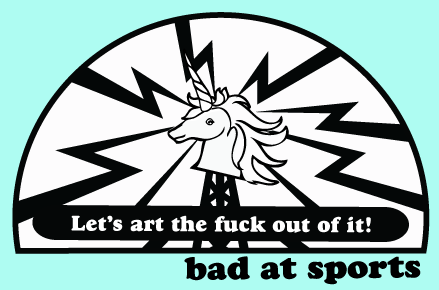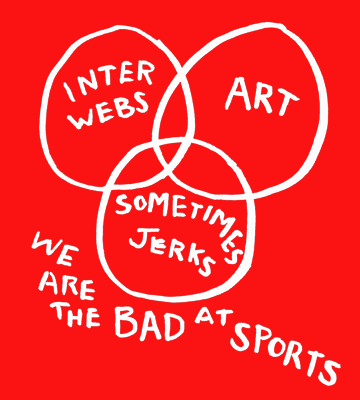 Hell yes! Internet. You need to know that we will be in Miami at NADA with the Ox-Bow. Now. There are very important points within this…
1. We are going to be in Miami.
2. We are going to make 48 hours of Bad at Sports in one weekend.
3. We are going to do that by broadcasting "pirate style" from a cabin at the middle of NADA.
4. You can listen to everything live via a radio with an FM dial but you will have to stop by the cabin/booth to find our bandwidth or you can check us out on Ustream.
5. Our Ox-Bow cabin is in fact an entirely separate piece of art by Jonas Sebura and Alex Gartelmann.
6. We have a limited amount of kick ass t-shirts which will be available for purchase.
7. YES – THIS MEANS FOR FOUR DAYS YOU CAN LISTEN TO US ALL THE FUCKING TIME. This could change your life.
8. Richard has promised to dress like a pirate.
That is all.
Here we are at the end of this cycle of the Social Practice (SoPra) interviews from Open Engagement 2011 and just in time we received this posting from the magical land of Portland…
OPEN ENGAGEMENT
is an international conference that sets out to explore various perspectives on art and social practice and expand the dialogue around socially engaged art making. The Open Engagement conference is an initiative of Portland State University's Art and Social Practice MFA concentration. Directed and founded by Jen Delos Reyes and planned in conjunction with Harrell Fletcher and the Art and Social Practice students, this year's conference features keynote presenters Tania Bruguera, Shannon Jackson, and Paul Ramirez Jonas. The work by these artists and scholars touch on subjects including politics, economies, education, and representation.
Through conversations, presentations, workshops, interviews, open reflections, and related projects created for or presented at the conference, we will be investigating, questioning, celebrating, and challenging the current state of art and social practice. This conference is a site where an intergenerational exchange can occur between emerging artists and established artists. This is also a site where transdisiplinary conversation is possible.
You are invited to contribute to OPEN ENGAGEMENT: Art and Social Practice by submitting your proposals for projects, performances, tours, interventions, presentations, or panel ideas (other formats are also welcomed).
We are organizing thematic groupings throughout the conference, so if applicable mark your submission under one of the following categories: Politics, Economies, Education, and Representation.
SUBMISSIONS ARE DUE JANUARY 3, 2012.
GO TOÂ WWW.OPENENGAGEMENT.INFOÂ TO SUBMIT A PROPOSAL FORM.
OPEN ENGAGEMENT
is a free conference that will take place May 18-20, 2012, in Portland, Oregon.
Contributors are not asked to pay a registration fee and the public will not be charged to attend.  Contributors to the event will be supported in the following ways: participants from out of town will be housed in Portland homes, select meals during the conference will be provided emphasizing community dining, and a variety of transportation will be provided drawing on Portland's bike culture and public transportation.