And also in the New York Times!!!! Â Points if you check the shirt she is wearing.
LINK…Â http://www.nytimes.com/2013/06/06/fashion/ambling-through-bushwick-open-studios.html?pagewanted=all&_r=2&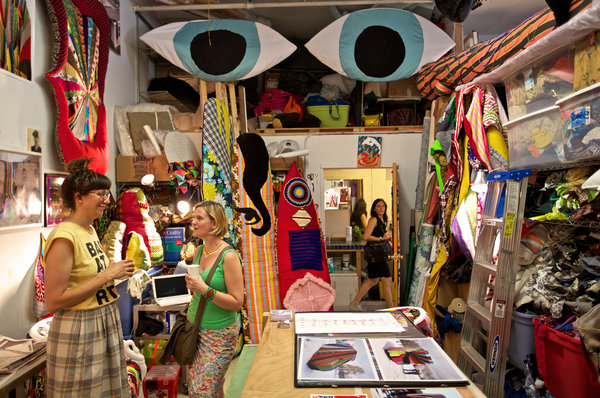 Way to represent Sister! ALSO, AMANDA WAS IN THE GOD DAMN TIMES. (This is the second time. She is killing it.)
So we will definitely be rolling down to River North on May 2nd from 5-8, (Thursday night.) Because someone (Claire Molek and co.) wrote this…
The Brave New Art World is an arts unification movement dedicated to the service of consciousness:
ART IS FOR THE PEOPLE
We maintain there is infinite, inherent value in the practice, product and distribution of art as a vehicle for consciousness. This vehicle inevitably affects every ripple of human society and therefore art is for everyone; it demands to be shared.
In this year and in this time, all classist and elitist projection represents fear and is from here on irrelevant. All value is determined in and of itself, and all conceptual activity is inherently valuable. Every exchange of idea and/or energy is conceptual, and cannot be devalued by tradition, market or judgment.
It is paramount we share our practices with one another in the fullest sense of our shared existence. We must assemble with regularity, hospitality, transparency, and acceptance.
By taking part in this movement you ultimately purpose your value as an individual, and as a member of the human race. Thereby we progress our civilization as a whole with every thought, action, expression or motion. Today we step forward in the awareness of our shared responsibility to one another and to real life, in and of our shared values; in truth, community, and growth.
…
And we at B@S want us all to march toward truth, community, and growth, (as long as we manage to do it with a health disrespect for authority but love for one another.)
Check it out here… Yup, CLICK THIS.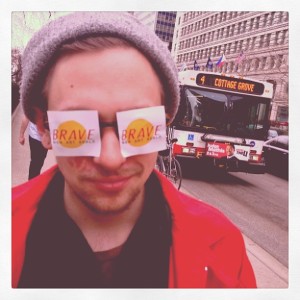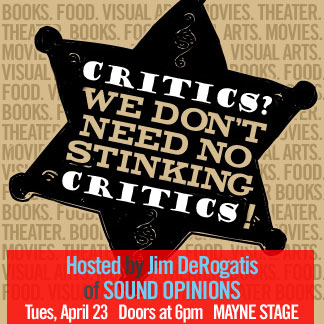 Hey. Duncan (me) is on a panel tonight.
Here are the details.
FREE – Suggested Donation $5
Presenter
WBEZ – Chicago Public Media
312.948.4600
You know what they say about opinions, right? Now more than ever, in this brave new digital world, everybody's got one. But criticism does something more—something vital to all of the arts communities it serves. Join your host Jim DeRogatis and an illustrious panel of local critics as they discuss their role in the new media landscape. We'll also enjoy some dramatic readings of noteworthy critiques by Chicago actors, and you'll have the chance to challenge what the "experts" are saying as the audience is invited to go interactive via Twitter!
Panelists include:
•    Sarah Zupko, editor the Chicago-based Pop Matters Web site
•    Andrew Barber, editor of the hip-hop blog Fake Shore Drive
•    Donna Seaman, who writes about books for Booklist and other outlets
•    LaShawn Williams, the arts editor of the Gapers Block Web site
•    Leah Pickett, who writes about pop culture for the WBEZ blogs
•    Kris Vire, one helluva great theater critic
•    Jim "Tankboy" Kopeny, ace music writer at Chicagoist
•    Duncan MacKenzie, co-founded and contributes to the Bad at Sports art blog
•    Drew Hunt, who reviews movies for the Chicago Reader
•     AND… a special guest who will appear incognito (as many food critics must)
Here is a link… LINKY
As many of you know this Friday will be busy.
If the regular handful of events and openings was not enough, then you will be excited to add the SAIC MFA show (of which I was involved as a guess curator) and then round out your night with a little bit of Ox-Bow benefiting. Many of the Bad at Sports family have participated in Ox-Bow and I am very fortunate to be teaching there this summer. If you have to pick one or the other here is a hint: the MFA show will be there Saturday, the opportunity to be in Bill Padnos's home and collection will not be.
Here is their info.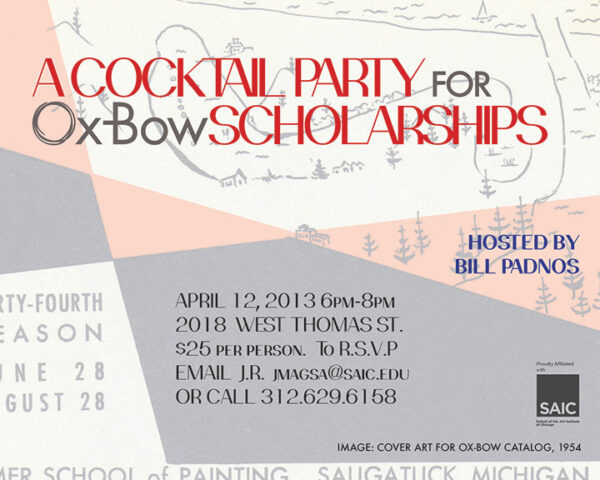 http://oxbowscholarships.eventbrite.com/
After more than a decade of inviting you to the Chicago Winter Benefit, we are taking a break in 2013 to introduce:Â The Ox-Bow Drive Series. An amazing roster of Ox-Bow friends will open their homes to host small events in order to raise funds for Ox-Bow.
You are invited to the 2nd party in our series at the Ukrainian Village home of Bill Padnos, former Ox-Bow Managing Director, a long-time supporter and, collector of Ox-Bow art. 
Featuring Mexican food by Ox-Bow Chef Eric May (http://www.ericchristophmay.com/?p=1368)Â 
$25 per person.
Directions:
2018 W. Thomas Street, two blocks south of Division
Damen Bus north to Thomas Street
Street parking available
More information:
Please call J.R.:Â 312-629-6158
or email:Â jmagsa@saic.edu
Dear B@Sers,
We are super excited about a couple of things…
In the beginning of December, Caroline Picard began acting as the Managing Editor for the Bad at Sports blog. As you know she has been writing for B@S for about two years now and we are super excited to have her taking on this roll. The blog has made tremendous strides since Meg Onli jump started it in 2008. In the coming months — particularly in the month of January — new contributors will begin to emerge as we start to see her carve out a new monthly rhythm. She will tell you more about it as she gets rolling.
And while we are looking back to those magic days with Meg we must note that her Black Visual Archive (http://blackvisualarchive.com/) picked up a Warhol Grant. Hell Yes! Meg, we could not be more proud. More from her site here… http://blackvisualarchive.com/bva-awarded-arts-writers-grant/ (sorry it took us so long to post something.)
Your Pals,
Duncan and Richard.