Chicago? Do you remember the folks at Artadia? They are the people that made the kick ass book we spent last summer with. (pictures included here.) They are also the organization that supports the heck out of some really great local and national artists and work to foster support for and awareness of artists outside of NYC and LA.
Their application cycle has once again come back to Chicago! You should apply. We are going to. The info is below.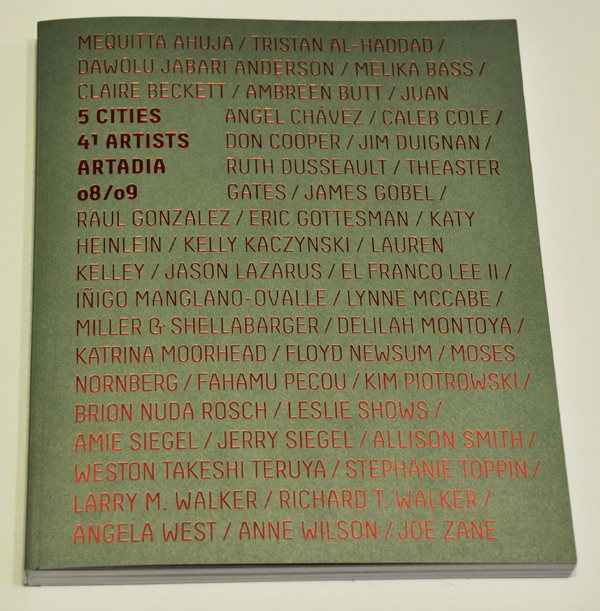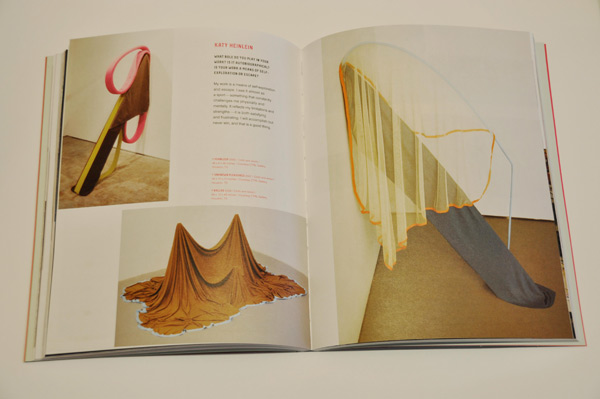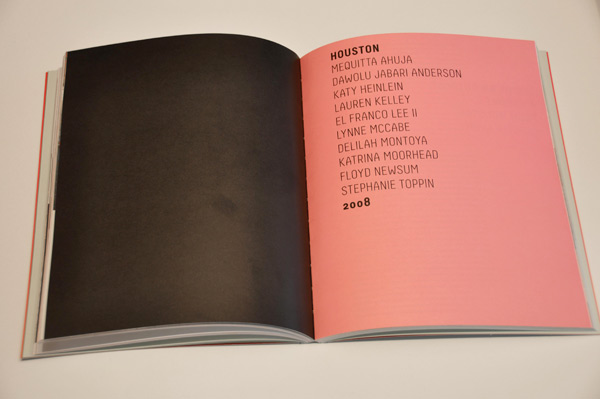 APPLICATIONS FOR THE

ARTADIAÂ AWARDS 2012 CHICAGO

CLOSE AUGUST 20. APPLY NOW!
Artadia: The Fund for Art and Dialogue is accepting applications for the 
Artadia Awards
2012 Chicago
 from all visual artists living and working in Cook County, IL. Individual artists and
collaboratives working in all media and at any point in their career are strongly encouraged to apply.
Awardees will be selected in the fall of 2012 through Artadia's two-tiered jury process. This is Artadia's
sixth awards cycle in Chicago.

Application deadline: August 20, 2012 at 11:59pm (CST).
Artadia will be hosting special programs in partnership with EXPO CHICAGO.

For eligibility requirements and to access the Web-based application, please visit

www.artadia.org
Artadia's mission is to encourage innovative practice and meaningful dialogue across the
United States by providing visual artists in specific communities with unrestricted awards
and a national network of support. Founded in 1997, Artadia is a 501(c)(3) nonprofit
organization. Artadia Awards are determined through a jury process that employs nationally
prominent curators, artists, and arts professionals. Since its founding, Artadia has awarded
over $2 million to more than 225 artists in Atlanta, Boston, Chicago, Houston, and the San
Francisco Bay Area. In 2009, Artadia launched a New York residency program for Artadia
Awardees at the International Studio and Curatorial Program (ISCP), Brooklyn. Most recently,
Artadia inaugurated a national publications and Exhibitions Exchange program offering
Awardees crucial exposure on a national level.
Lead funding for the Chicago Artadia Awards is generously provided by Larry and Marilyn Fields.
Additional support provided by Sally and Jon Kovler, Artadia's National Council members Barbara
Fosco, Jack and Sandra Guthman, and Anne Van Wart and Mike Keable; as well donations by Karen
and Steve Berkowitz, Eszter Borvendeg and Mark Wight, Curt Conklin, Dirk Denison, Brian Herbstritt,
Gael Neeson and Stefan Edlis, Pamela and Art Sanders, and Linda Warren. 
Hey universe!
Welcome to our residency/art show.  Maybe you should come visit?
We have a few events coming up in the next 8 days.
Saturday 14th noon- 4:30pm Art21 recording session/loop gallery tour.
Tuesday 17th 11am-12:30pm Live interview with a special guest
Wednesday 18th noon-1:30pm Live interview with Manuel Orellana
THURSDAY 19th 5pm-8pm CLOSING/RECORD RELEASE PARTY with DJ Richard Holland
Saturday 21st Afternoon party 1-5pm
Here is what it has looked like…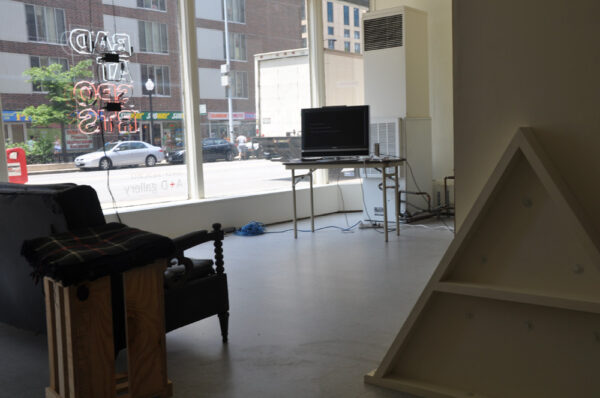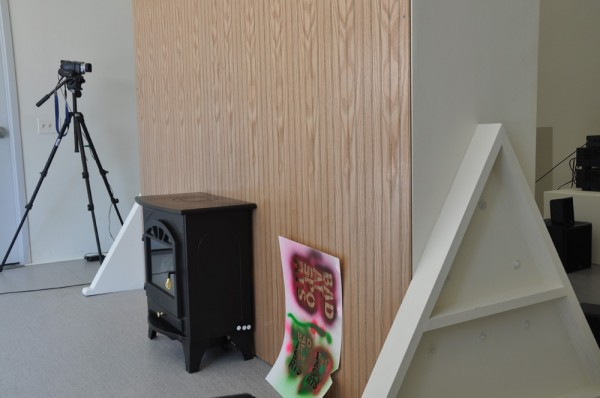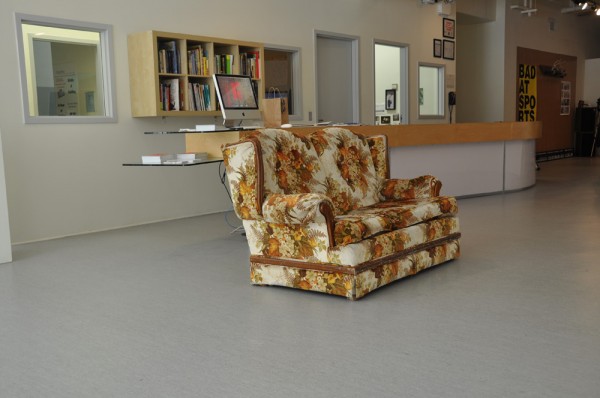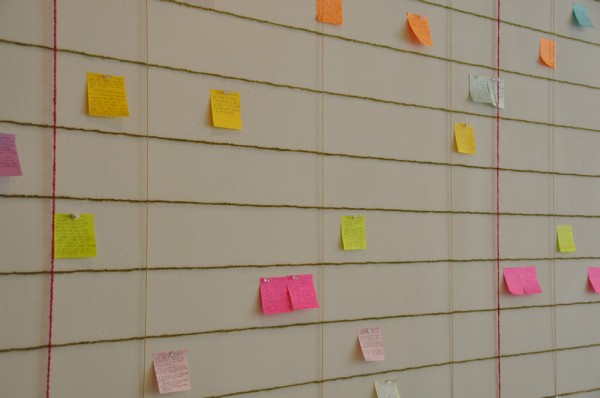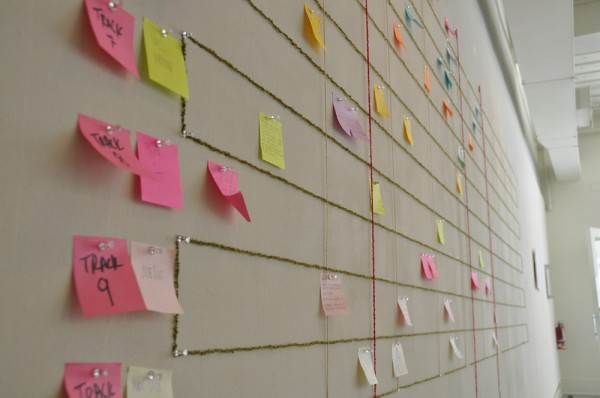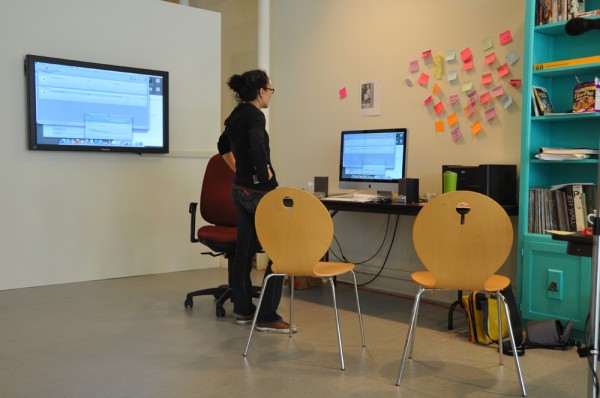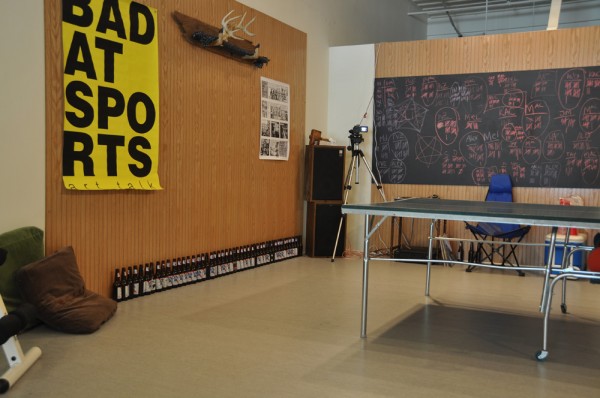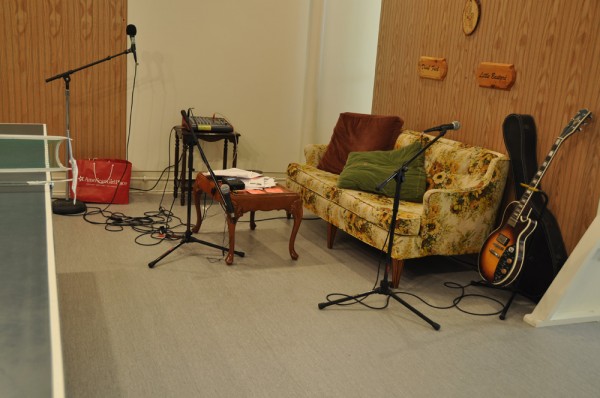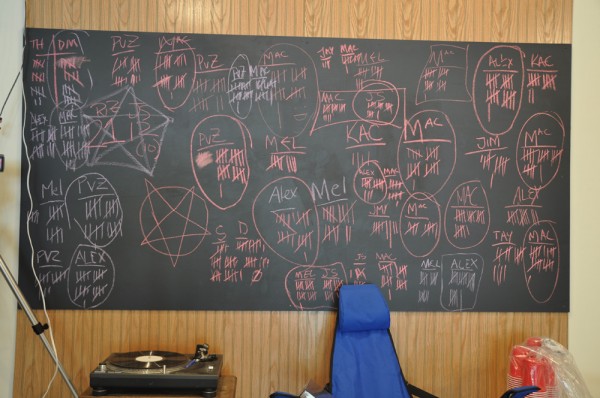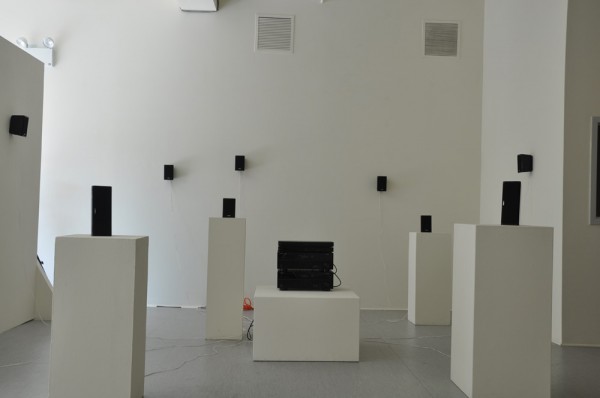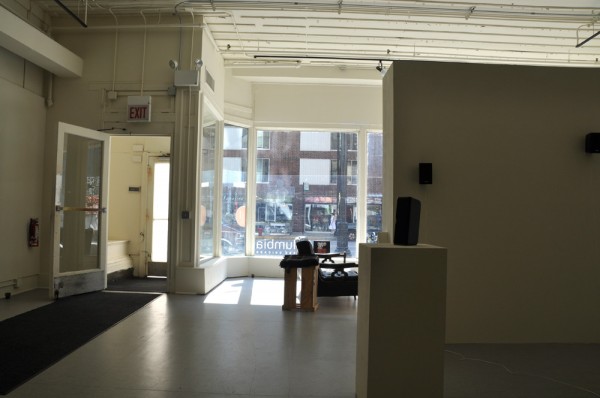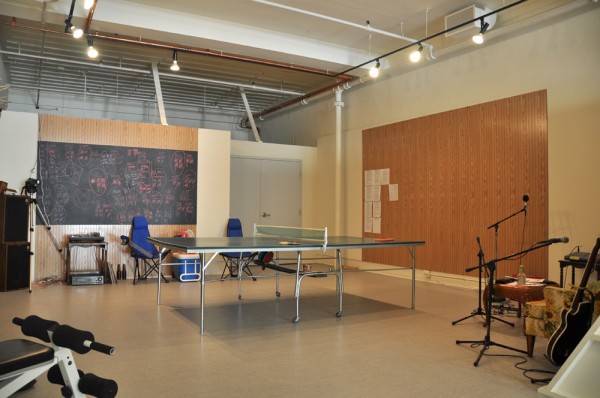 Bad at Sports needs you to know a few things…
1. Our closing reception at Chicago's A+D Gallery has been pushed back to the evening of the 19th, 5-8pm. Here is a link to the gallery page which as of this writing has not been updated.
2. This is due to our catalog/record coming out a little later then we would have liked.
3. Richard Holland will be DJ-ing the event.
4. We have two other events planned that you might be interested in. On Saturday the 14th we are going to be running a gallery tour around a number of Chicago Loop spaces and then recording the show we do for Art21 live in the A+D Gallery. The tour will start around noon and the recording session will happen around 3:30 or 4pm, all who are interested are welcome. The following Saturday (the 21st) we are planning a beer pong tournament at the A+D to celebrate the end of our exhibition/residency, "kick off" will be at 1pm.
Here is what our residency has looked like so far…

Bad at Sports Residency at A+D Gallery from A+D Gallery on Vimeo.
These are just three of the random images that are circulating on my desktop?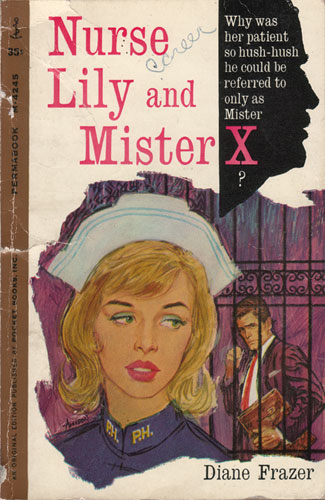 Bad at Sports would like to thank the Chicago Reader and its readers for naming us Chicago's best Visual Art Blog in their survey this year!
You can find the list here…
http://www.chicagoreader.com/chicago/BestOf?category=4053660&year=2012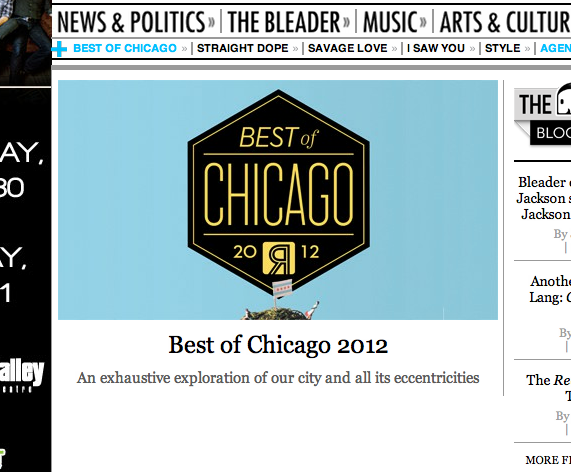 This week Bad at Sports started a residency at the A+D Gallery (618 South Wabash, Chicago) at Columbia College. We have many plans for what will be done in the space and how it will be done, but how it evolves depends on all of us and you.
In the space we will be varying our activities between meetings, live interviews, live recordings, Ping Pong (Wii and probably Foosball,) working on a couple of sound pieces, skateboarding, blogging, watching Game of Thrones, and other such nonsense. Â Watch our twitter feed for who we are interviewing, when, and what fun stuff we are doing on our Saturdays (gallery tours, live Art21 tapings, skate posse meet ups to skate Dan Peterman's skate park, and some other fun stuff) We will have the following folks in for live interviews: Catherine Sullivan, Steve Reinke, Jason Salavon, Jessica Stockholder, Joe Meno, Dan Tucker and more…
YOU ARE WELCOME ANY TIME!
We ask that you not interrupt tapings but we are happy to talk to you or play pong anytime we are not on mic.
What you missed this week…
Kate and Duncan started work on a two channel version of the piece we are working on. This time we were shaping a conversation between Nato Thompson and Mary Jane Jacob, which we will scale up over the next two weeks to include Mark Dion, Pablo Helguera, and Liam Gillick.
We interviewed Ken Fandell and Christy Matson and ran a small Ping Pong tournament on Thursday night (the gallery is open to 8pm on Thursdays) with a few people who turned up.
Here are some photos of these weeks progress. Â We can't wait to see you!