Just wanted to give a quick heads' up that Bad at Sports' blogger/columnist Nicholas O'Brien has a guest post up on The Creators' Project, a website focused on technology, culture and creativity. Nicholas writes what he describes as a "love letter" to Computers Club, "a group site dedicated to sharing art made with or by computers that was launched by artist Krist Wood." I'm posting a tiny sliver of Nicholas' essay below, but please click on over and check out his full post!
Since the first post on May 2, 2009, I have been addicted to Computers Club. The project, a group site dedicated to sharing art made with or by computers was launched by artist Krist Wood, and has been lauded as one of the preeminent locations of so-called netart and artists working with computer generated/manipulated imagery. Although the template of the site follows other previous group-based projects, I've never been completely thrilled with the idea of calling Computers Club a blog. This is probably due in part to how the content found within Computers Club has, since it's origin, been a place where artists/members have been able to share work that typically reaches beyond the standard fair of netart.

When I talked with many of its members over the course of several weeks, they discussed how previous engagements with other group projects and/or personal blog-based sites had influenced the kind of experience they expected or hoped for with Computers Club (henceforth abbreviated to CC). Former outlets had similarly served as a way of showing work, but some members felt as though those projects didn't offer avenues to push their practices beyond some self-induced restricting labeling of "netart" and whatever that label implied. As a way to combat these anxieties, CC members found ways to address more broad artistic concerns that were not solely located in computer-based art by creating works that could be conceptually considered through the lens of illustration, painting, performance, experimental video, and even music. Read more.
Check out the interview Bad at Sports' Duncan MacKenzie did with New Mediator, a podcast and virtual gallery based in New Jersey and hosted by David LaMorte! Click here to listen to the interview, and check their Tumblr site to find other interviews and happenings from this group!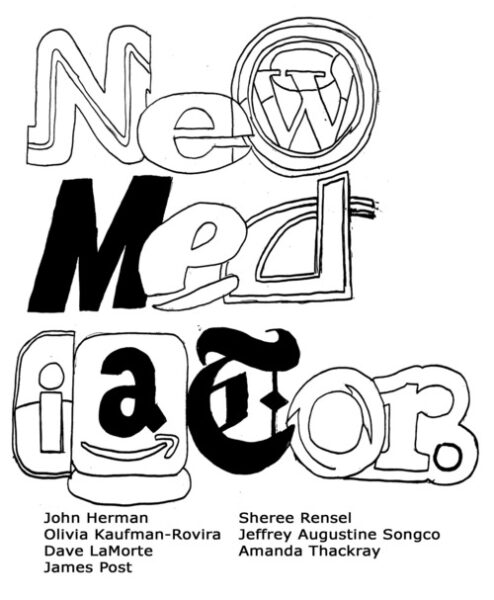 Just a heads' up that tomorrow night, Thursday June 23nd, architect and designer Catie Newell's project Second Story will have its opening at Extension Gallery for Architecture here in Chicago. Our Detroit correspondent Sarah Margolis-Pineo will be posting an interview with Catie Newell in the next few days. Photographs of Newell's project Salvaged Landscape caught my eye last year, and ever since I've been wanting to learn more about her practice and the innovative ways she helps us to re-think the existing urban environment.
Here's some background on Newell's Second Story project and its team; visit her website for more information on her work.
Amplifying, transporting, and distorting the volumes surrounding and within a contested existing domestic environment, Second Story reconfigures spaces that were once familiar into an "other" occupation and visual register. Used to imprint the space and excite the atmosphere, this inhabitable texture is driven by the manipulation of factory standard acrylic rods to capture, manipulate, and distort the existing volumes of the second story of Spencer's Funeral home in Flint, Michigan, a house slated for demolition. Inherently transparent, the material both captures and permits the passing of light, visually distorting its presence and the view beyond, through refraction and reflection, altering both the context, the perception of its physical boundaries, and heightening the role of the building in the neighborhood. The work agitates, relocates, and makes accessible new volumes otherwise once unoccupiable: the exterior zone, the wall depth, and the depth of a windowsill. As a further technique of distortion and interplay of tectonic connection and assembly, the acrylic rods are systematically manipulated through the use of heat. One such technique allows for the bending and forming of components to create a pattern that resonates with its context, but also distorts the a priori relationships within the house to construct depth and volume originally unused or nonexistent. A further alteration is the tapering and pulling of the material, developing extensions and strands that flee in a near weightless in pursuit of space, altering the perception and depth they occupy. The otherness of Second Story is further heightened by suspending the piece above the ground by tethering it to the building's roof trusses so that it hovers to promote a ephemeral sense of space, an attuned acknowledgement of its surrounding, and an implied stretched atmosphere.

Project Team:
Lauren Bebry
Chuck Newell
Katie Schenk
Grant Weaver
Lisa Sauve
Carolyn Newell
Maciej Kaczynski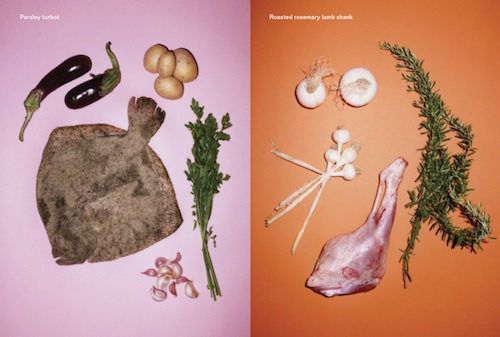 Next up in our Mantras for Plants series, artist Heidi Norton and I interview Cris Merino, Isa Merino and Carol Montpart, the directorial team behind The Plant Journal, a biannual magazine based in Barcelona, Spain (The journal's editor is Cris Merino, and its art directors/graphic designers are Isa Merino and Carol Montpart).  The Plant Journal's editorial statement describes the publication as follows:
Besides providing botanical contents in a simple, personal and cozy way, The Plant Journal offers to plant lovers a new look on greenery by featuring the works of creative people who also love plants. As a curious observer of ordinary plants and other greenery, the magazine presents a monographic on a specific plant and brings together photographers, illustrators, designers, musicians, writers and visual artists, both established and emerging, from all over the world, to share with The Plant Journal their perceptions and experiences around plants.
We love that their focus is simply on "plants," yet that subject alone can take them in an infinite number of cultural directions. Also note that Plant Journal's Spring/Summer 2011 issue features the mind-blowing photo-collages of Chicago artist Stephen Eichhorn! You can subscribe to this print-only journal by going here. We want to thank Cris, Isa, and Carol for answering our questions!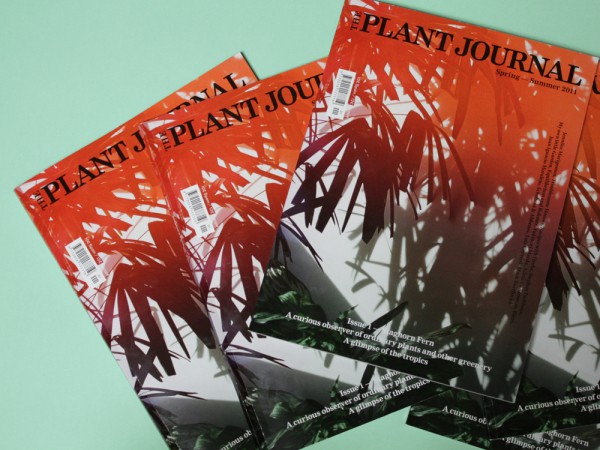 Heidi Norton: How was The Plant Journal conceived? Who are your readers? What types of people, places, things are featured?
Editors: We suppose everything began when we realized that every time we had to make a gift, it was a plant. And our friends do the same with us. Plants arrive to your home, you care of them and you establish quite a special relationship with them. Furthermore, as we love publications, especially in paper,  we thought that it will be a beautiful idea to create a magazine completely dedicated to plants, since we didn't find any that gave plants the relevance and the approach we had in mind.
The magazine is addressed to people more or less like us, who enjoy plants even if they seem incapable of keeping them alive, people who feel inspired by greenery and whose creativity is open to establishing connections with plants. That's why in The Plant Journal you can find photographers, illustrators, designers, chefs, etc. Probably they are also our readers. On the other hand, since plants spread out whenever they want to without asking anyone's permission, we look for them wherever they are, in their own natural habitat, but also in our cities, homes, offices, etc.
Claudine Ise: Yes, I really like how you use the subject of plants as a jumping off point to talk about a range of subjects — music, art, film, and other areas of culture. The essay that looked at how houseplants were arranged in some of Eric Rohmer's films as a way to investigate his approach to formalism is a great example of this. Can you talk about how you solicit articles for the journal – what kinds of essays hold appeal?
Eds: We were thinking about the connections between cinema and plants, so we looked for Lope Serrano (from Canada productions www.lawebdecanada.com). He writes articles for a cultural magazine from Barcelona, and we knew about his vast visual and cinematographic knowledge. And it was Lope himself, during a chat, who suggested the connection between the ethical and aesthetic formalism of many of Rohmer's films and the plants that appear in some scenes. As we admire Rohmer's films, we loved this approach. The result is a very academic and didactic article that completely fits with the aim of the magazine. But in general, there's a little bit of everything in the articles. There are some that are proposed by its authors and others cases when we explain a general idea to the writer and then, after exchanging ideas, we reach an agreement. In the case of sections such as "My plants by" or the interviews, our work is about finding the right person. That's why it is very important for us to have a wide network of contributors who share our interests.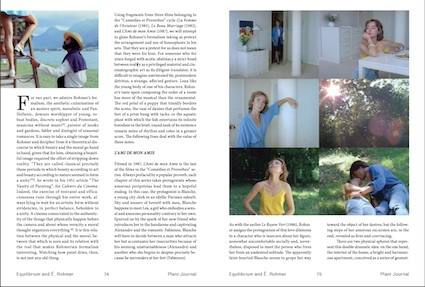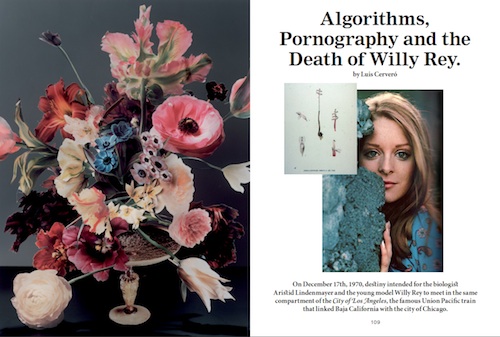 HN: The introduction that you use to promote the journal states, "providing botanical contents in a simple, personal and cozy way."  Can you explain what you mean by "cozy"? I ask because, there is something "cozy" about plants,  an unpretentiousness that makes places, objects, spaces, and materials more accessible.
Eds: With 'cozy' we want to emphasize and vindicate the affection for plants. At least in Barcelona, people don't use plants as much as we would like in the way that you explain. So we think it's not always obvious that plants are cozy by nature. You sometimes have to stop and think about it, and that was one of the reasons to create The Plant Journal. We had an example of this a few days ago. We created an installation with plants and macramé for the magazine launch party in Otrascosas de Villarosà s gallery in Barcelona. The space also contains the meeting room for an important advertisement agency, with its typical big table and nothing else. Well, yesterday Marc (who is responsible for the space) told us that since plants were there, people want to have the meetings next to them, and they even asked him to leave them there. That's nice, because plants have made that room a better place. And nobody there thought about it until now! That's why we thought we must emphasize the coziness of plants.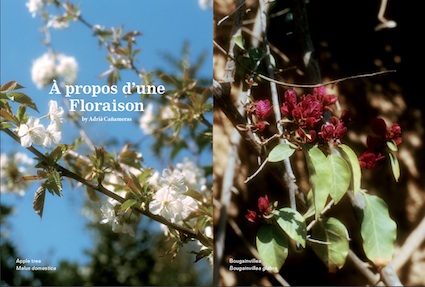 CI: Your journal's content isn't available online. Do you think it's important, conceptually or otherwise, that the journal remain a paper publication that is circulated "on the streets," as opposed to via cyberspace/the internet?
Eds: As we love publications, we like to go to a bookshop or a newsstand, choose a book or a magazine and then read and enjoy it calmly in your place. You can get it back whenever you want to, you can collect them, write on them, cut them out, etc. It might be fetishism or nostalgia, but we think that the experience of paper is more accessible, relaxed and intimate. It is obvious that the Internet offers a lot of opportunities for a publication (starting with the production costs, always more expensive in paper), but we never doubt it: the magazine is printed in paper, an object that in addition is beautiful. We will create some different contents for our site, but they will be more casual and fast consuming contents specifically created for the Internet. For us, it is priceless: the Sunday aperitif with the daily papers and that feeling is something a screen will never give you, no matter what the possibilities that an iPad can give to you.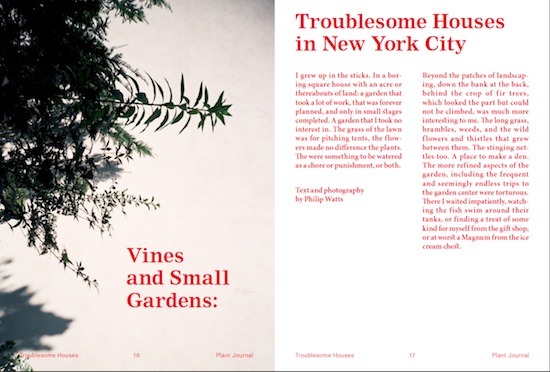 HN: What things are inspiring you today, right now?
Eds: We are now very interested in rediscovering traditions that seem to be ignored because of the high-speed way of life and the anxiousness for new stuff. That means we get inspired by and enjoy cooking for friends, going on a trip looking for mushrooms in the countryside, caring for our little gardens, knitting macrame, etc. All kinds of domestic, simple and everyday activities that make your life better. As music, cinema, arts and books also do.
****
On this month's episode of Fielding Practice, Richard Holland joins Duncan MacKenzie, Dan Gunn and I for our regular roundtable discussion about art, culture, and related happenings in Chicago. Duncan provides a brief report on this year's  Open Engagement, an annual conference addressing current issues in art and social practice; and we all discuss our views of the current survey of William J. O'Brien's ceramic sculptures at The Renaissance Society (May 15-June 26, 2011). Click on over to Art:21 blog to listen to the podcast, and thanks for tuning in!