I've been following Dmitry Samarov's work for a few years now, about as long as I've been living in Chicago. Oddly enough, I first became acquainted with Mr. Samarov through Twitter, which at the time he was just starting to play around with and I was still trying to ignore. How things change. From there, I found his website, Hack, where he chronicles his experiences as a Chi Town cab driver through sketches, drawings, and short written pieces. On Hack, Samarov's drawings and writings go hand-in-hand–it's hard to imagine one without the other, actually. I've followed Dmitry's work through his website, found some of his writings archived on the Chicago Reader's site, and even engaged in a few 140 character-length conversations with him on Twitter. But I've always wanted to interview Dmitry, and with the October 1, 2011 publication of Hack in book form (by the University of Chicago Press, no less!) and a slew of shows opening this and next month (including one at Lloyd Dobler Gallery), I realized that now was the ideal time. In this interview, Dmitry gave what is probably my all-time favorite answer to a question, delivered in his typical bone-dry style: "The dream, though, is and always will be to be unemployed."
I'm very grateful to Dmitry for taking the time to answer my questions (via e-mail, natch)–maybe someday he and I will have an actual face to face conversation. Certainly there will be lots of opportunities to have a live encounter with Mr. Samarov over the next few months–including the book release party for Hack on October 1st at the Rainbo Club, 4-8 pm–a link to his full schedule can be found at the bottom of this post.
*****
Claudine Isé: Can you take me through a typical day for you, a day that involves both work as a cabdriver and work as an artist?
Dmitry Samarov: I usually get up somewhere between 11am and 1pm. I make tea or coffee, then check email and Twitter and nose around the internet a bit while waking up. Next I work on whatever painting or drawing I've got going, or, write a new Hack story if one needs writing. In other words, I try to get at least one creative thing done before leaving the house. Typically though, I don't have more than two or three hours to devote to these things before I have to go out and drive the cab.
I drive from sometime in the afternoon until anywhere from 2 to 5am, depending on the day. I rent the cab 24-7 so I can take it home, saving the commute to and from the garage, and allowing me to work the hours that I want. In order to make a living at it however, I need to put in 11-15 hours a day. If there's a movie, a show, or something else that I want to do during work hours, I can always take a break and do it. All I'm out is the money that might've been made. It's one of the few real perks of the job: the freedom to be without a boss or manager asking you why you're not at work.
After I get home, I'll unwind with a movie or TV show or with looking around the internet (I don't have a TV). Sometimes, if I can't sleep or it can't wait til the next day, I'll write or work on an illustration for Hack. I hardly ever do any non-Hack-related work late at night.
CI: You studied painting and printmaking at SAIC in the early 1990s. Looking back now, what were the most important things you learned while studying there?
DS: It's an open question whether my time was worthwhile or not. That being said, I certainly had a few teachers that made an impression. I took Dan Gustin's figure painting and figure drawing classes nearly every semester I was there. Those classes strengthened my already-strong interest in perceptual painting. To this day, what gets me jazzed most is looking at something or someone out in the world and attempting to make marks that convey some small sense of having been there. The second most influential teacher I had there was Mark Pascale. He taught lithography but, even more importantly for me, was just starting to work as a curator at the Art Institute's Print & Drawing Room. He'd pull boxes and boxes of Rembrandt etchings, Lovis Corinth gouaches, Lucien Freuds, Max Beckmanns, and many many more for me to peruse. Even though I doubt he was ever personally much interested in my work, his generosity in getting me access to work that might help me get where I was going left a lasting impression. I still speak to him occasionally and have met few more articulate or funny people in this city.
The larger question of SAIC influence is an open one as I said before. Because of the kind of work I did (and continue to do), the school was never going to be a place that I'd truly thrive in. On the other hand, they had all the facilities in the world to put in the time and get better at what I probably would've done anyways. The trouble with art schools is that they tend to be inordinately concerned with current art world trends rather than giving students the rudiments of what they'll need to keep making work past graduation. As an example, during my time there Jeff Koons gave a visiting artist lecture and you would've thought that Jesus had returned to anoint the next generation for all the excitement it caused; in my world, Koons isn't fit to clean a grad school painter's brushes. My time there certainly made it plain to me that I didn't want to teach or participate in any similar art school program after graduation. So, perhaps by negative example, it was an important experience for me after all.
CI: To what extent are you able to make drawings and sketches while you're in the cab? I imagine that sometimes you need to work quickly to get a certain face on the page, or to write down certain things that a fare or a fellow driver has said to you. Are you constantly taking notes or do you just have a really good memory?
DS: None of the illustrations for Hack were done on site apart from the pen sketches of taxis like this one [illustrated below]. Most were done from memory days or weeks or sometimes years afterward. As to writing, over the past couple years I've used text messages and Twitter for a sort of note-taking. I'll look back through a couple days' worth of messages and if something keeps nagging at me I'll expand it into a story.
I have done a ton of artwork in the cab though. A couple years ago I did a series of gouache paintings of taxis out at the O'Hare and Midway Airport Taxi Staging Areas. There are also many pen sketches of similar subject-matter scattered throughout the Sketchbooks section of my website. I've done a fair amount of cityscapes like this one [second illustration below], from the front seat as well.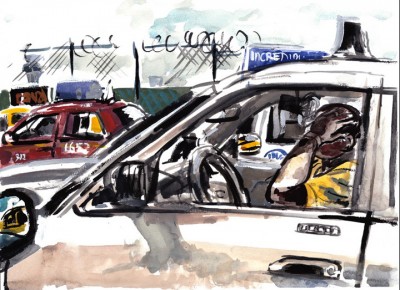 CI: I've always been interested in the fact that your art, or at least much of the work that I've seen, seems very much embedded within your work as a driver (and vice-versa). The subjects of your short written pieces and of your drawings are often based on encounters or observations you have while driving the cab (or, in the past, while tending bar). To be sure, this "entanglement" stems from necessity–we all need to work to live, to eat–but I also wonder, because your body of artwork feels so organically rooted within the other work you do–if given the opportunity, could you imagine chucking your day jobs and making artwork in some other, less-mobile fashion?
DS: I don't think I'll ever stop making paintings and drawings about living in the city. The workplace-related pictures were certainly made out of necessity and lack of alternate options. If I could stop having a day-(or more accurately)night-job, I'd walk away and never come back. I've tried to make do with the financial and time restrictions of not being a full-time painter. What else would I be doing work about but the places where I spend most of my time? I've done a lot of work that's not cab- or bar-related as well of course, but there's no way that something that you do 8 to 14 hours a day can truly be ignored.
The dream, though, is and always will be to be unemployed.
CI: The writing compiled in your book Hack was first published on your blog, also titled Hack. When did you hit upon blogging, or perhaps better described in your case, web publishing, as a way of putting your work out into the world? It's been a very successful medium for you and I'm sure an inspiration to other artists and writers. Also, you use Twitter in a way that I really enjoy – as a way of having friendly conversations and exchanges, not as a tool for rank self-promotion. I'm curious though, why did you take up Tweeting?
DS: Hack first started as a sort of 'zine or illustrated book that documented my years driving a cab in Boston (1993-1997). I didn't know how to turn on a computer until late-2003. I was briefly married to a computer programmer and got a crash course in the subject at that time. We launched my website at the beginning of 2004 and I revived Hack as a blog sometime late in 2006. It's not a blog in the usual sense, that's for sure. It's not a diary or particularly personal in the way many blogs are. For the most part, I've tried to string phrases together in some way to relate some of what I've seen from behind the wheel.
I wouldn't know what kind of impact or inspiration the thing has had on other artists, it's not for me to judge, but I know a few people have enjoyed reading my stories over the years and there's some satisfaction in that, without a doubt.
I started using Twitter sometime late in 2008, I think. I'd been sending text messages to friends about what was happening or what I saw in the cab for awhile and Twitter let me share these with a few more people. It's quite a challenge to say what I want to in 140 characters but I've enjoyed trying nonetheless. I've done plenty of rank self-promotion on there as well though. I'm not sure how much longer it'll remain compelling. MySpace has all but disappeared and Facebook will hopefully go away soon too, so who knows? If I finally figure out some way to get paid regularly for my artwork, I'll probably drop off the social networking scene altogether. Or at least, I'd like to think I would. We'll see.
CI: You are and/or have been a cab driver, a bartender, a writer, an artist, a "sketch-artist" — all of which seem to require similar skills, such as being able to listen, to observe (often from a distance), to keep calm and to be able to think and act quickly and "on your feet" (as it were). All of these positions also seem to require a large amount of empathy and acceptance of human foibles, it seems to me. In a lot of ways all of your roles have more than a bit in common with that of a shrink. Is it hard for you sometimes, to maintain a sense of openness or empathy to the strangers you encounter by the dozens each day? I would imagine that if you feel pissed off or even just psychologically closed-off, it might impact the work because it's coming from "that place" of anger or pissed-offedness. Or maybe that's the point? I guess what I'm asking is, is it sometimes hard for you to remain "open" to people, because people can be difficult to be around….
DS: I've been accused of being cynical and misanthropic most of my life. I don't know whether that's so or not. Many times people just don't get my tone or my odd sense of humor. I've been working service-industry jobs since I was 13 or 14 and I'm about to turn 41. That'd be a lot of years to hate the human race. In my own way I love people or at least I love watching them. They never cease to amaze. I've felt removed or apart from most crowds I've ever found myself in. It'd take someone smarter than me to figure out why that is but coming from another country probably has something to do with it. The critical distance has allowed me to observe others with clear eyes in my good moments. Being "one of the help", not a social equal, has allowed me to eavesdrop and overhear in a way a participant never could. For whatever reason all these years haven't soured me on the human race. We're full of faults, to be sure, but I don't hold myself above those that I see; put in their place I'd likely be making an ass of myself as often as they do, and hopefully, be funny and sad just the way most of 'em are.
I don't know that I'm "open" but I don't judge (in the sense that I don't feel it's my place to correct others' behavior); my role is to see it, hear it, and show and tell the world about it. It's what artists have always done: shown those around them the world they live in.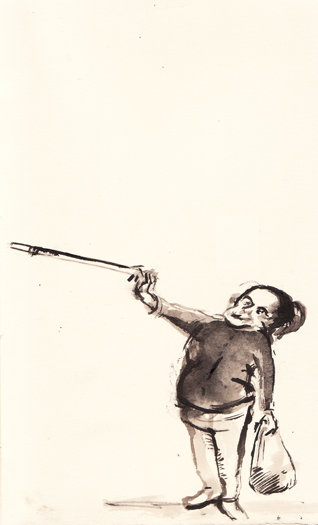 CI: A lot of your work makes me think of the caricatures of Honore Daumier – your work isn't overtly political, like his was, but it does deal with human folly and excess – especially drunkenness, or the ways that a person comports themselves in front of others when they think no one (except you) is looking. Anyway, I'm curious, which artists have had an influence on the way you think about your own work? Which artists do you love, just because?
DS: Daumier's great. I assume you're thinking about the illustrations of passengers in the book here. There's definitely a caricaturish or grotesque aspect to many of those pictures. I've loved Breughel most of my life, as well as Lautrec, Goya, Guston, and so many others that have parodied the human form in various ways. Doing pictures for Hack has always been a challenge because what I love to do best is just to look at something and react and that's just not possible there. Also, I often don't think of those pieces as stand-alone visual statements but solely as illustrations to the stories, so, when doing them there's no way not to think about book illustrations from the past and how image and text interact. Because I'm a visual artist first, doing these pictures has always been a way into the prose for me. They help me write.
CI: Tell me about your upcoming exhibitions.
DS: Here's a listing of all my upcoming events, but as far as art shows go:
1. Rainbo Club: "Pictures of Books"     September 24-October 21
I'll be showing oil paintings of books on my bookshelf. I've returned to this motif every so often for about 14 years now. The way the books lean against each other and the colors of the spines resonate against one another has always fascinated me. Also, as someone who primarily deals with a deeper space (in cityscapes or rooms) the shallow space of a bookshelf scratches a different kind of itch. It's probably as close to abstraction as I'll ever get. Finally, it's funny to me to have a show of paintings of books when I have an actual book coming out.
2. Saki:  "Music & Baseball"     October 1- October 31
This show will contain album and CD cover illustrations, concert sketches, as well as other music-related artwork that I've done over the years. As well as a series of portraits of the 2011 Chicago White Sox that I did for a short-lived baseball column from earlier this year.
3. Lloyd Dobler Gallery:  "Hack: Pictures from a Chicago Cab"    October 14- November 19th
This will bring together most of the taxi-related artwork I've done. There will also be a few of the Hack stories displayed on the walls along with the original artwork that went with them.
CI: Thanks so much for talking with me, Dmitry!
I know that we have more than a few listeners/readers based in Europe, and if you happen to be hanging out in Copenhagen this weekend, make sure to check out Bad at Sports' Tom Sanford's latest paintings at the opening for his new solo show at Gallery Poulson. (Sidebar to Mr. Sanford: when the eff are you gonna show in Chicago, so I can check your work out up close and personal-like??). Based on the images Tom sent me, this show looks hot. Below you'll find a few words from the artist that describe the show, an accompanying press blurbie, and some images to give you a taste of what to expect. The reception is Friday night from 5-8 pm, and the show runs through October 1st, 2011.
"2011 is fast, painting is slow. I am interested in history, but I work in a post-historical period. I make paintings about the time I live in. By the time I finish the paintings, their subjects are history. I am an American, living at the end of the American Century. Things are happening all the time. I learn about these things on the radio, on television, on the internet, on Twitter. The media is my muse, I paint by the light of my computer. I make paintings about the things that interest me. I wish I had time to paint more things, but art is slow and the world is fast." – Tom Sanford, 2011

For his first solo exhibition at Gallery Poulsen, Tom Sanford's work continues to reflect the artist's ambivalent fascination with a culture that is driven by the 24-hour news cycle, hungry for scandal and obsessed with celebrity. Sanford's paintings use a variety of genres to present the villains and victims, the tragedies and triumphs of the moment. The story of the hijacked Mersk Alabama and the rescue of Captain Richard Phillips by the USS Bainbridge are presented as a history painting akin to Géricault's Raft of the Medusa. The recently deceased British rock bad girl, Amy Winehouse, is painted as an icon to be venerated by her fans. The seamy exploits of anti-heros Charlie Sheen and Silvio Berlusconi are painted in a garish, yet beautiful tableaux; these paintings are part renaissance painting, part low brow political cartoon. Sanford's work is hybridized and bastardized like the culture it emerges from.

In the four Custom Mao paintings, Sanford shifts genres to the conceptual. Sanford takes advantage of globalization in his production by outsourcing a large part of the labor to China, and then adding the intellectual property himself in America. The artist has commissioned Chinese painters to paint copies of the famous state portrait of Mao Zedong, on which Warhol based his 1973 silk screen paintings of Mao. The paintings are then shipped to Sanford's New York studio, where he "customizes" them by altering the paintings to become cultural archetypes from his western cultural milieu. Through this conceptually driven means of art production, as well as the juxtaposition of eastern and western cultural iconography, the artist comments on the shifting dynamics of global cultural and economic power at the end of the American century.

Tom Sanford works in New York City and has exhibited all over the world, including solo exhibitions at Leo Koenig, Inc. in New York and Galleri Faurschou in Copenhagen. His work has been exhibited at the Cincinnati Center for Contemporary Art, the Chelsea Museum in New York City and the Palazzo delle Arti in Naples, Italy. He is currently preparing for an exhibition in November at Gallery Zidoun in Luxembourg.
Our latest post on Art:21 blog is up today; check out Terri Griffith's piece on the Skokie Northshore Sculpture Park, a hidden gem on the outskirts of Chicago containing some surprisingly good public art (and a few plops, but that comes with the territory). A brief excerpt below; check out the full post on Art:21 blog here.
Living in a fabulous art city like Chicago, it's easy to become urban-centric when it comes to contemporary art. But there's a place just on the border of Chicago that will make you forget the frenzy of the city, where you can immerse yourself in a forest of contemporary sculpture. The Skokie Northshore Sculpture Park is situated in an unlikely place, a narrow strip of land between the North Channel of the Chicago River and the super busy, five-lane McCormick Boulevard. Technically, the park runs two miles and is the westerly dividing line between the City of Chicago and the Village of Skokie, but a less official sculpture park continues on southward back into the city limits, and to the north into Evanston, though there are many fewer sculptures on the northerly end.

This charming park hugs the North Channel and winds alongside like its own little verdant river. Most of the park contains two bike paths—one on the McCormick Boulevard side that runs straight and will get you where you need to go, and the second on the river side that is much quieter and farther away from the traffic. Because the park is so linear, it is from this serpentine tributary of the path that the sculpture is most enjoyable. There are benches and big stretches of grass, conducive to a fun afternoon outing. (Read more).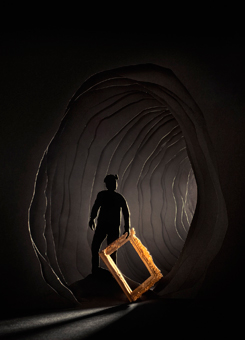 We received a plea to get the word out from Jay Kelly of TimeLine Theater, who are looking for artists who are also Chicago-area union members (service employees, road workers, teachers, glazers, painters, CPS art teachers, etc. etc.) to submit works of art for their lobby display in conjunction with Time Line's current production of "The Pitmen Painters" (September 6 – December 4th), a play "based on a true story about union miners in the 1930s who took an art appreciation class, discovered they had talent, and became the unlikeliest of art world sensations." Right on.
The hitch is, you've gotta submit your proposed work via email by tomorrow, Friday August 19th at midnight. Jay Kelly contacted us in the hopes we'd spread the last-minute word, because thus far they haven't received enough submissions to create an effective exhibition.  So, if you or someone you know is interested in submitting your work – go for it, and do it now! Click here for more information on the play itself, and see below for full details on how to submit artwork for the exhibition.
UNION MEMBERS ART EXHIBIT DETAILS

HOW TOÂ Â Â Â Â  Artists who submit their work must be current members in good standing of

APPLY:Â Â Â Â Â Â Â Â  Chicago-area union

Artists must submit a hi-res photo, preferably jpeg or TIF format of artwork.

Each submission must include:

1) Artist's name and contact information

2) Union affiliation(s) and how many years of membership

3) Year artwork was created

4) Dimensions of artwork

5) Estimated value of artwork

6) Artist statement of 100 words or less

There is a limit of three artwork submissions per artist

NOTE: Submitted artwork must be able to easily mount on a wall (paintings, drawings, photography, mixed media are all welcomed; sorry, due to space limitations, we cannot accept sculptures, video installations or anything that requires electricity)

DEADLINES:Submissions must be received via email by midnight on Friday, August 19, 2011. Send to info@timelinetheatre.com

Artists will be notified as to whether they will be invited to be a part of the exhibit during the week of August 22, 2011. Deadline for artwork to be received by TimeLine is Monday, August 29, 2011.

OTHER INFO:Artists must be willing to lend their artwork to TimeLine Theatre for the duration of the run of The Pitmen Painters.

There is no financial award given for participation.

Artwork will not be available for sale at the theater. However, TimeLine can help facilitate communication between artists and any interested purchasers as appropriate.

Submissions will be curated by a small team, to include (but not be limited to) TimeLine Theatre staff, the director of The Pitmen Painters and the theater's lobby design specialist.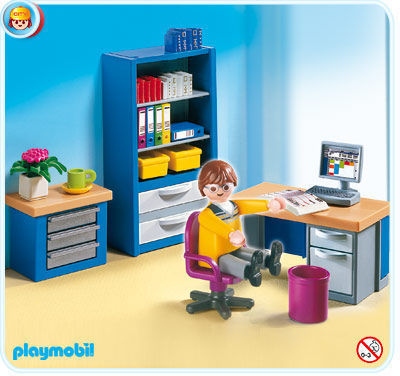 I spent a blissful week away from all things Internet last week, and have come back from my mountain vacay with an RSS feed that, thankfully, was not as much of a drag to plow through as I'd feared. In fact, quite a few interesting articles popped up that I thought were worthy of note. And you know me, I like to share.
*Triple Canopy's latest issue has a first-person piece, Matter of Rothko, written by David Levine about his father's complicated legal and personal relationship with Mark Rothko that, oddly, manages to be dry and deeply moving at the same time.
*Art administrator, writer, and former B@S guest blogger Thea Liberty Nichols contributed a slew of really good Chicago-themed interviews to Art:21 blog last week. Read Nichols' conversations with Selina Trepp, Liz McCarthy of Roxaboxen Exhibitions,  Jasmine Justice, Lilly Carré, and PictureBox Inc, along with Houston's Aurora Picture Show.
*Also on Art:21 blog, Francesca Wilmott writes on Theaster Gates' "creative rehab efforts" in Hyde Park, St. Louis.
*Hennessey Youngman aka Jayson Musson, the dude the art world is currently crushing on (okay okay, that includes me too….), will be part of The Dialogue: The MCA Chicago's Annual Conversation on Museums, Diversity and Inclusion on September 7th. Jeez, couldn't they have thought of a better title for this event? It makes it sound so dull and institutionalized….like some kind of corporate "diversity workshop" where your participation is most definitely not optional. Hopefully Youngman's participation will spice things up a bit, although I am already raising my eyebrows at the fact that Youngman is being brought to the Museum under the rubric of a "diversity" program and not as an artist in his own right. But, I will hold off on my comments until after I see the program. Tickets are $8/members and $10/non-members. Order online here. And if you haven't listened to it yet, Mr. Youngman was interviewed on Bad at Sports' Podcast a couple weeks back on Episode 306. Good stuff.
*This is fantastic: Shawnee Barton (who guest blogged over here on B@S awhile back) rejects those who wrongly rejected her. Read the letter she wrote over at Chicago Art magazine, it's a hilariously polite 'fuck you' to the organizers of Art San Diego.
*This is the opposite of fantastic: Jerusalem's Museum of Tolerance to be Built Atop a Muslim Graveyard. According to Groundswell's article, some of Edward Said's relatives are buried there, along with numerous Muslim saints and scholars, and some of the region's longest Muslim family lineages. This is the same project that Frank Gehry left in 2010, although that was apparently due to scheduling and financial reasons.
*This is a couple weeks old, but if you're a fan of our Mantras for Plants series here on the blog, you'll be into this NYT article: What's Left Behind, on scientists who are "recasting vacant lots as community assets rather than urban blight" by studying them to discover their ecological benefits.
*Would you be embarrassed to list "Winner of the Donkey Art Prize" on your CV? If not, applications are being accepted through February 2012. €30 per artwork application fee required, natch.
*Miranda July, photogenic artist extraordinaire.